Homes
Nature, intuition and everything in between: Studio Taan crafts a sublime home in Bengaluru
AUG 17, 2023
| By Bhipasha Hinduja
Nature is fascinating. Outside our homes, it flourishes with uninhibited glory. When brought inside our homes, it gracefully melds with the character of its surroundings, while also spilling its relentless beauty around. Home 111 in Bengaluru spells a similar story, where a beautiful Bonsai tree becomes the narrative foundation of the space, jutting out from the heart of the house in the central courtyard.
Nested in the eclectic neighbourhood of Indiranagar, the 4,300 sq ft home is a design feat led by Neha Sapre, Principal Architect of Studio Taan, crafted for a family of three. With an open layout, versatility, and functionality taking centre stage, the space rejoices in soothing tones and an overall easygoing appearance.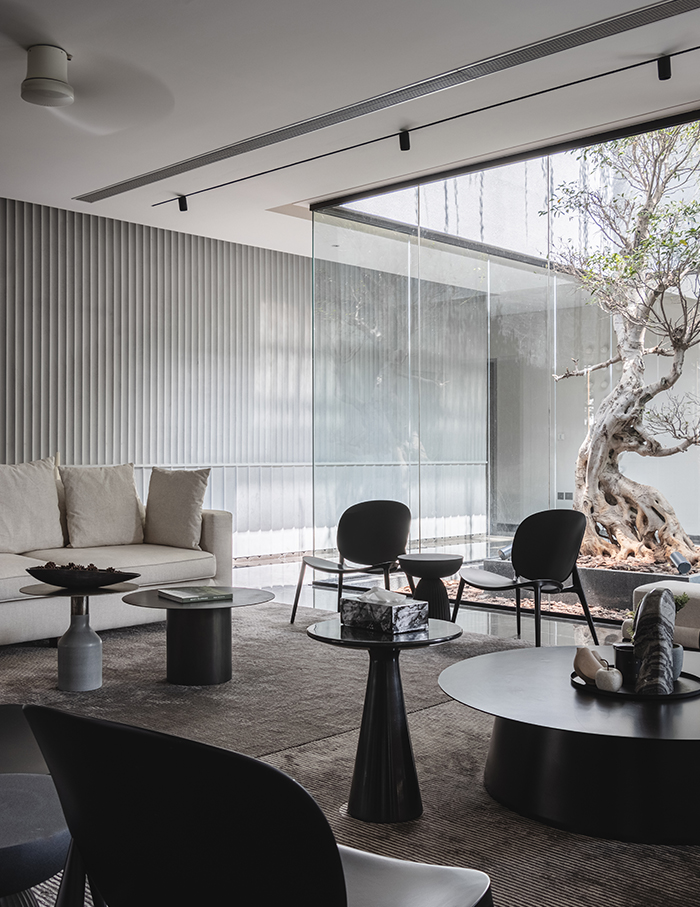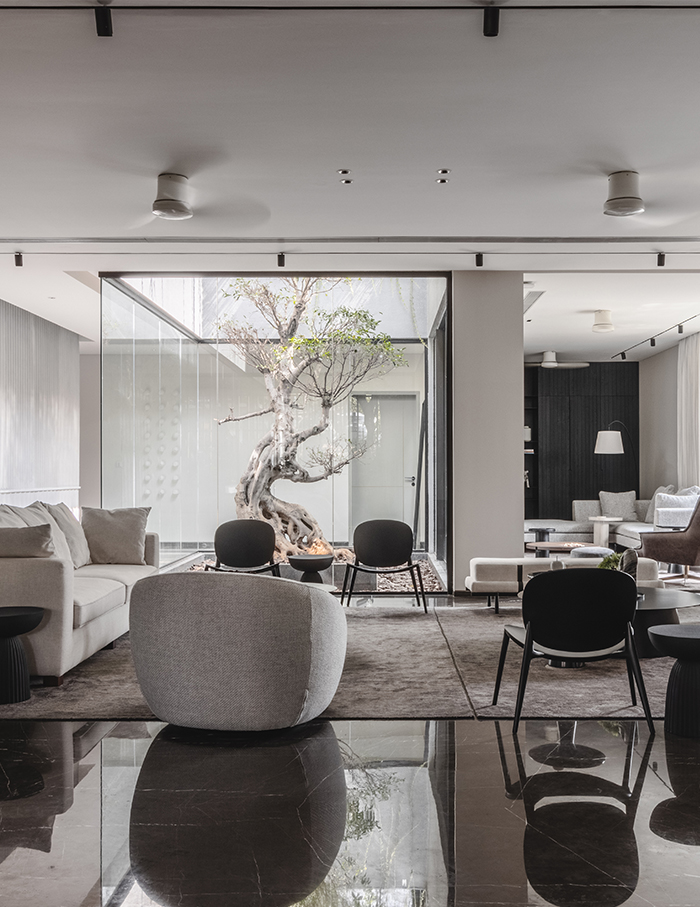 "The overarching theme was for the space to be functional and cosy, to be able to lounge and relax, to be able to curl up with a book, all while feeling you were part of the outdoors." The coming together of entertainment and day-to-day living was a sweet non-negotiable, deeply entrenched in the homeowners' lifestyle and design aspirations.  
In the sea of thoughtfully curated materials such as cement, granite, marble, and wood, the allure of neutrals, grey, white, and browns, harmoniously dance in sync with one another. In many glances, the residence stands synonymous with the newfound luxury of treasuring the rawness and warmth of nature in its truest form, in sync with the routine of every day.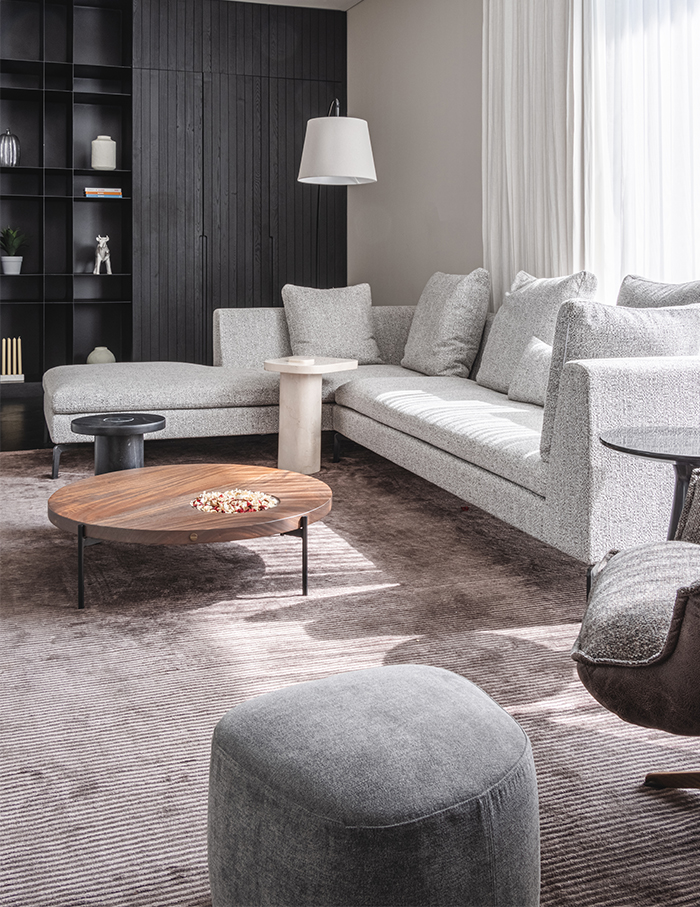 The merging of two worlds
The nature-inspired elements create an immersive experience and seamlessly merge with the interiors and serenity of the outdoor area, making it a minimal-functional masterpiece with dabs of intuitive ideas all over it.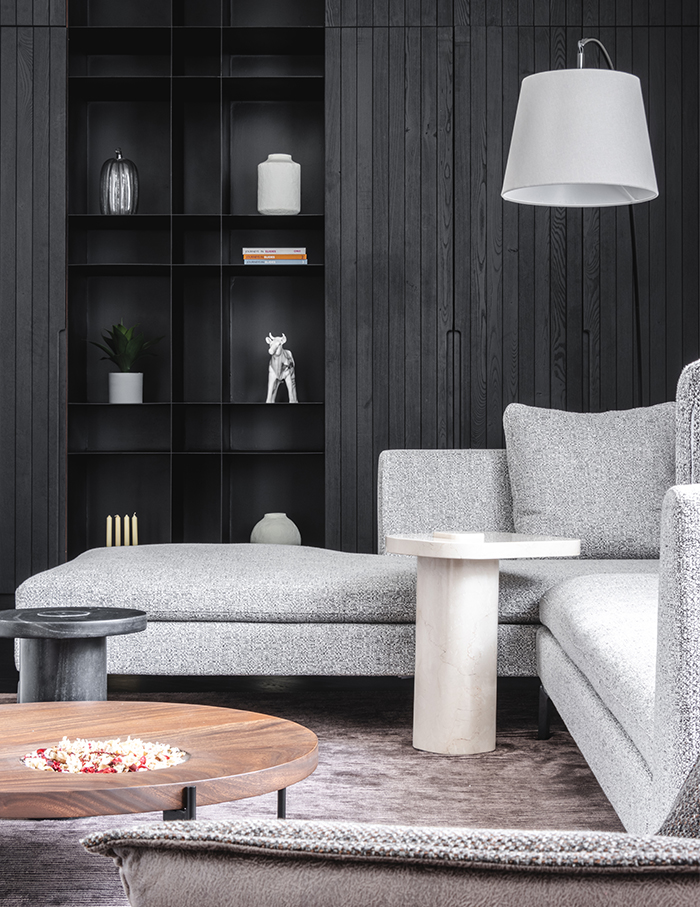 The home is bathed in soft, natural light. The open-plan layout boasts a spacious living room that flows into a warm dining area for eight, brightened up with elegant fabric lights. A secluded family room is nestled beside it, and the balcony extends towards the front, seamlessly blending indoors and outdoors.  "We meticulously devised an open layout, encompassing the living, dining, and front kitchen areas, cleverly transformed into a versatile bar when needed. Choosing lounge-style furniture over formal pieces, we aimed to cultivate an ambiance of relaxation and comfort throughout the space," Neha explains. 
The primary suite, tucked behind the courtyard, features an opulent four-poster bed. Next to it is the nursery, adorned in monochrome tones, inspired by a jungle theme. To sustain a beguiling visual element throughout the community areas, the courtyard's bonsai emerges as a triumphing focal point, guiding one's gaze almost effortlessly, visible from the long floor-to-ceiling glass screen demarcating the living area.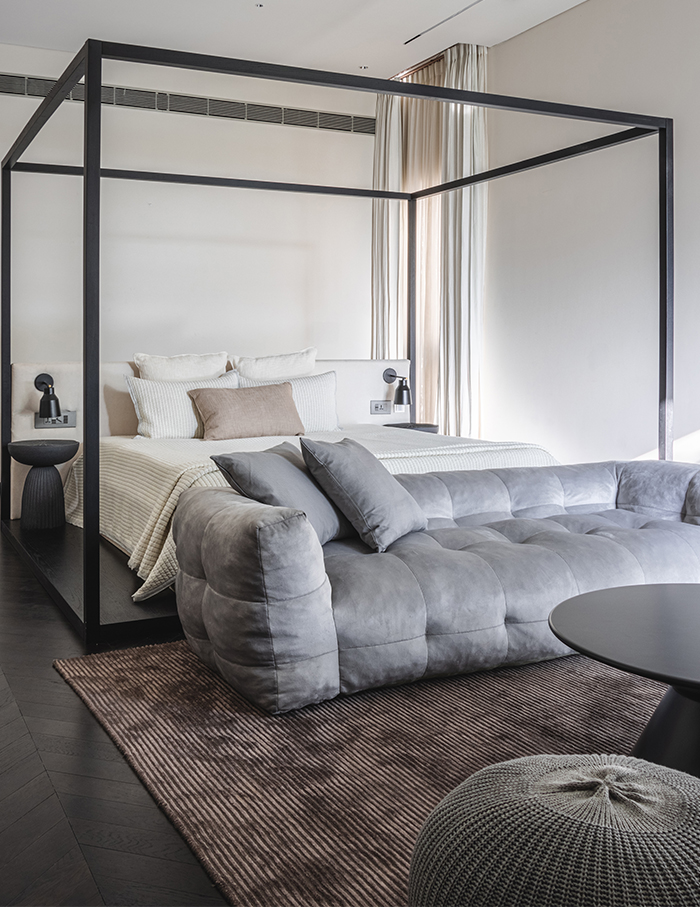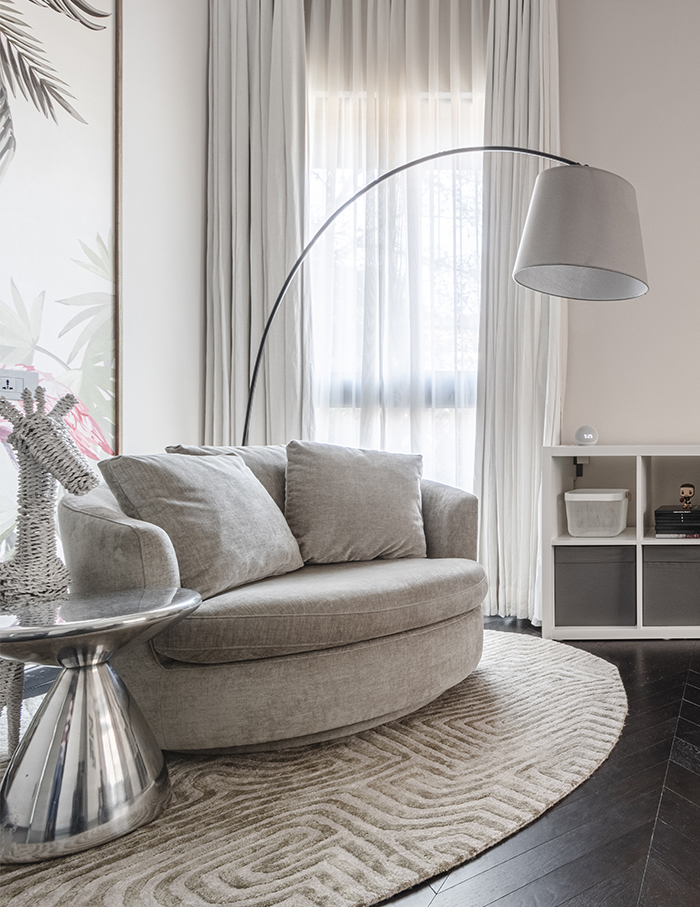 The shades of serenity 
In the company of the deep grey marble flooring and elegant earthy palette fusing with fabrics on the sofas, other elements stand out with their singular character, from cement corridor walls, marble tables, and granite backdrop to hardwood-clad balcony ceiling and charred wood cabinets. Resultantly, each element uplifts the other.
You may also like: Anjali Rawat Architects unfurls the prowess of art in a Mumbai home