Homes
Anjali Rawat Architects unfurls the prowess of art in a Mumbai home
AUG 11, 2023
| By Esha Shah
Our coves in the city are bound to meet the natural chaos that comes with it. And the only way to stave off it is by creating something personal and meaningful that will not only be timeless but relevant for the years to come. In Mumbai, Anjali Rawat Architects treads this thought by crafting a 1,735 sq ft home in Lower Parel — bringing art and minimalism into the spotlight. 
"Juxtaposing the vibrancy of the exterior with a calming interior, we achieved a harmonious balance between the two worlds," says Anjali Rawat, the creative behind her eponymous firm.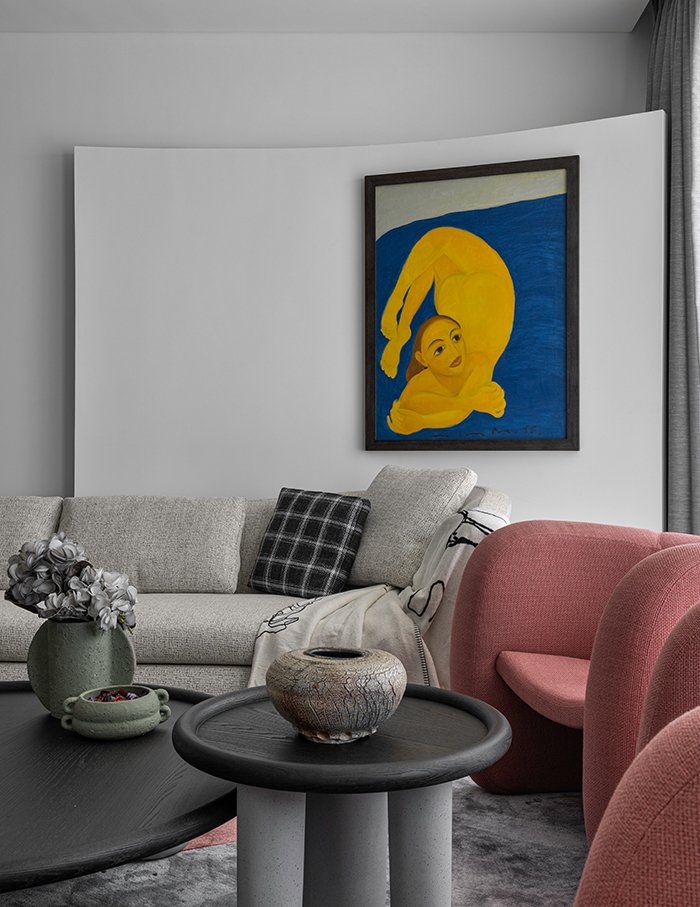 By astutely deciding on a neutral palette and decking up the spaces with clean lines, the intention was to lend an undisturbed and serene backdrop to the artworks seen across the house. Thus, was born an art gallery-like space for the homeowners who cradle a deep appreciation for art and craftsmanship. 
Though there are no major structural changes that appear here, Anjali carved up a vestibule that wasn't initially a part of the house. The entryway navigates to a tranquil six-seater dining area, carefully decked with a screen-and-bookshelf that gives it a distinct demarcation of its own. Ahead, one comes across a snug seating area, adorned with a mesmerising sculpture and a gracefully curved white wall, both accented with neutral-toned furniture pieces. Amidst this serene backdrop, a striking pink chair takes centre stage, infusing the house with an even more pronounced artistic flair that perfectly fulfils the homeowner's deepest desires.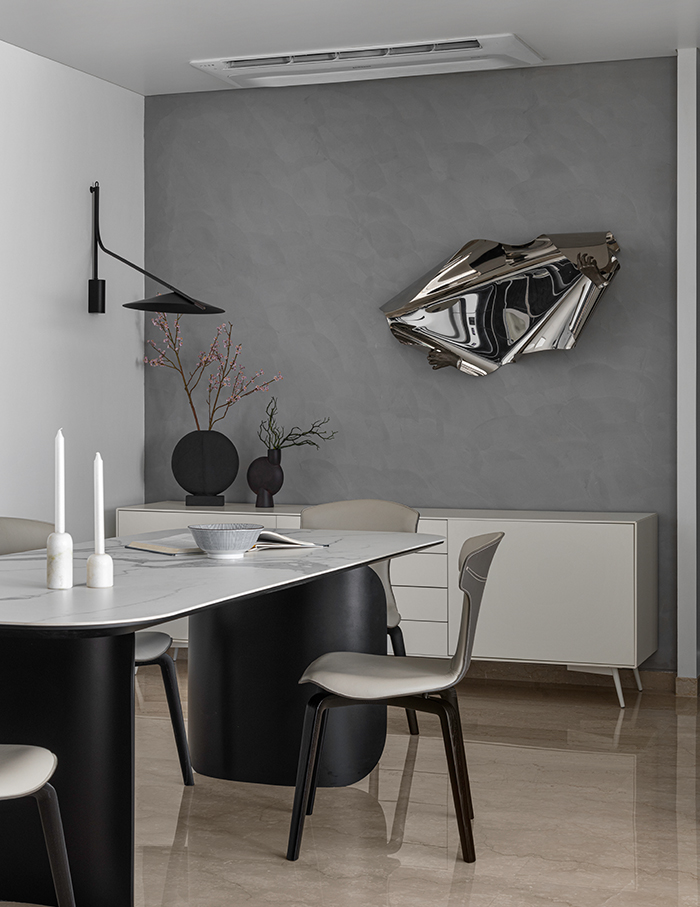 Further along, a guest bedroom doubles as an entertainment room, featuring a cool blue sofa-and-bed, accentuated with an artistic light orbiting on the ceiling creating a celestial-like mood to the room. The master bedroom follows an elegant monochrome theme, complemented by an asymmetrical hanging light that adds a touch of sophistication to the space. 
The son's bedroom stands out with its distinctive "black open-grain veneer panelling," as recalled by Anjali, showcasing creativity in design. Finally, the parents' bedroom embraces an artistic mindset with its charming blend of "pink tint" and grey wallpaper, exuding comfort and elegance, perfectly matching the couple's preferences.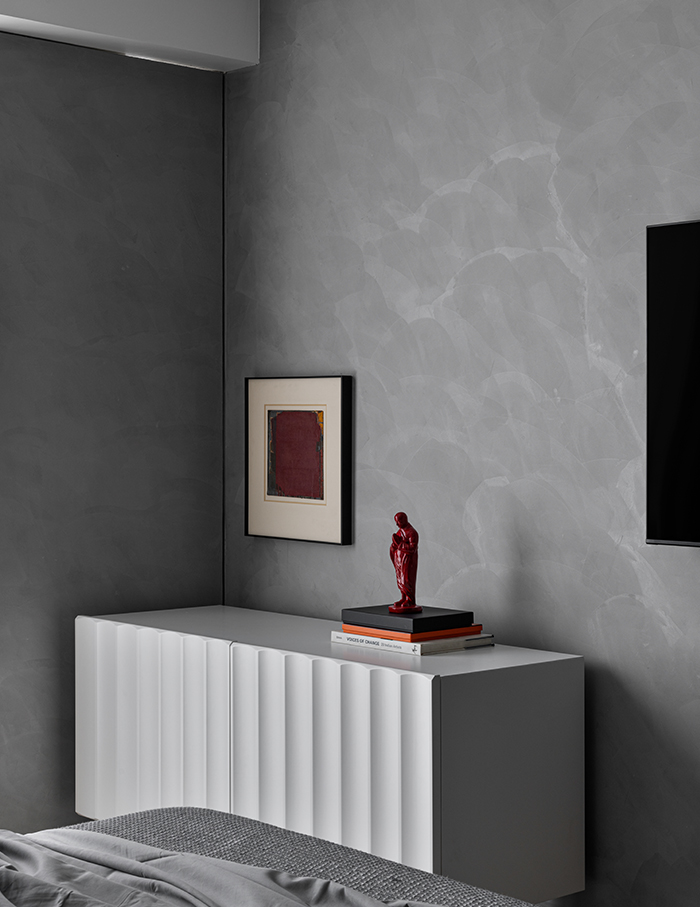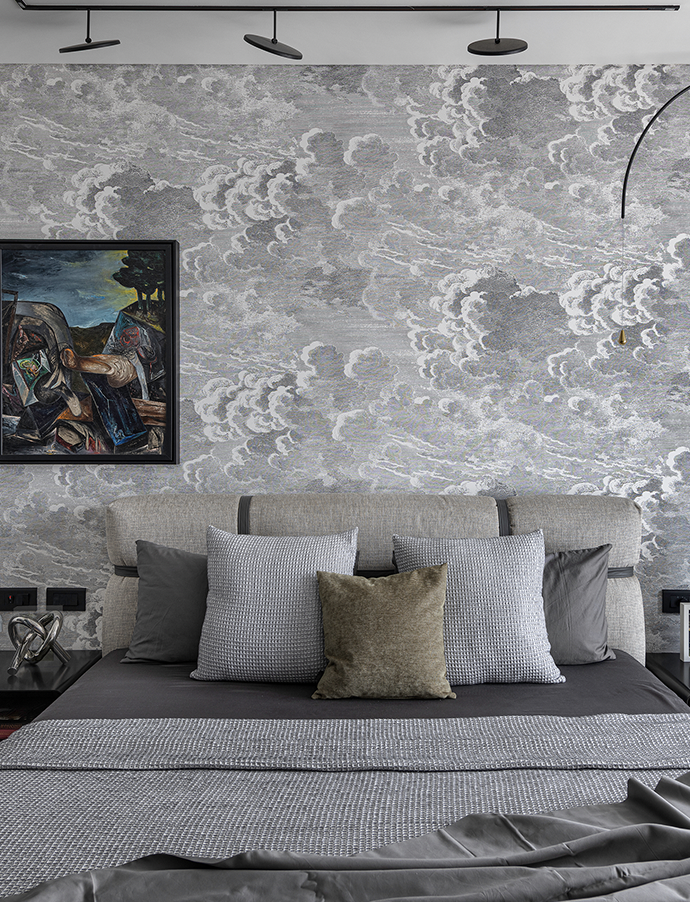 Keeping in mind, all rooms boast a remarkably artistic approach in their selection of paintings. The guest bedroom features a striking blue sofa-cum-bed that elegantly complements the blue geometrical painting behind it, creating a harmonious display of hues. In the parents' room, a small yet charming red painting and a red sculpture cohesively match the tones of the room, enhancing its aesthetic appeal. Moreover, in the living room, a standout artwork by Gogi Saroj Pal from DAG boldly showcases bright splashes of yellow amidst a backdrop of neutrals and cool colours, infusing the space with a touch of welcoming warmth.
Colliding colours
The pursuit of a sophisticated and timeless ambience guided the pared back colour palette for the walls, harmonising the artistic pieces and accessories that adorn each room.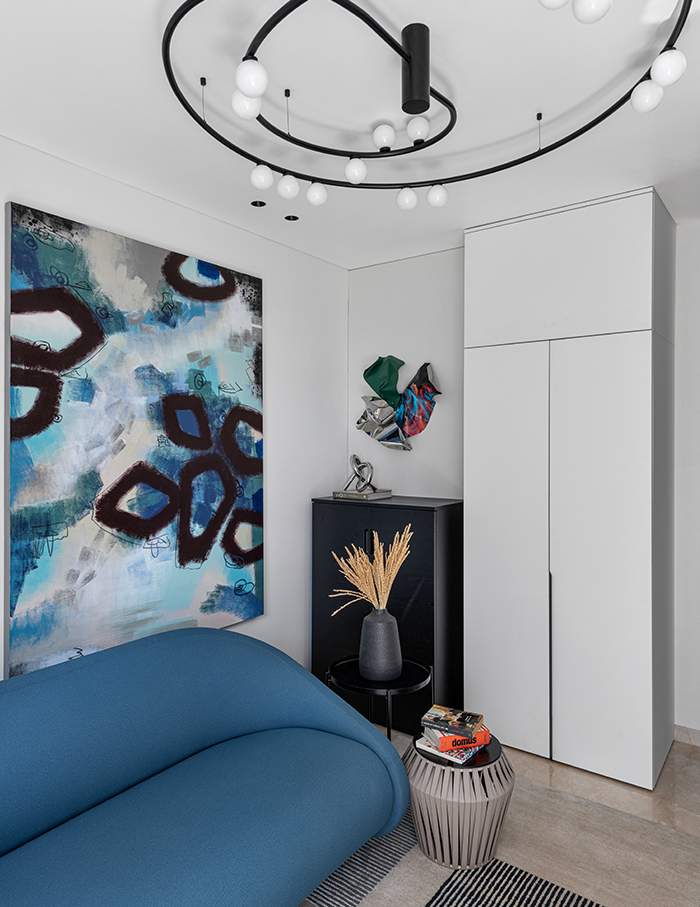 "By focusing on white hues, I have created a canvas that serves as a foundation for the artworks to stand out and we have balanced it with neutral pieces and some chairs," says Anjali. This deliberate balance between bold and understated elements reflects the designer's philosophy, where simplicity finds its stride alongside audacious expressions.
You may also read: Artisanal food meets artisanal interiors at White Garden in Bengaluru designed by Tesor Designs