Homes
Whispering inspiration—Mumbai home by Mansi Tarneja Design Studio is a life-size mood board!
JUN 20, 2022
| By Sneha Gandhi
To fabricate a cohesive tale of style and aesthetic, a designer often curates a mood board. Assembled essentially for inspiration, the mini collage holds paramount data about the project, its crux and its aspirations.
Mansi Tarneja, Principal Designer of Mansi Tarneja Design Studio fashions her latest venture—a Mumbai home as a life-size mood board. Styled by Tulsi Mehta, Apartment Resplendence is a revelation of art and charm cruising through its entirety in every shape and shade imaginable. 
Enveloped in a serene white marble base, the 2,600 sq ft home bustles with character through its handpicked books, quirky furniture and abstract paintings. Interestingly, every miniscule detail of the home was meticulously preplanned "Nothing, not even the paintings were an afterthought," reveals Mansi.
You may also like: This Ahmedabad villa by tHE gRID Architects is like stepping into an artwork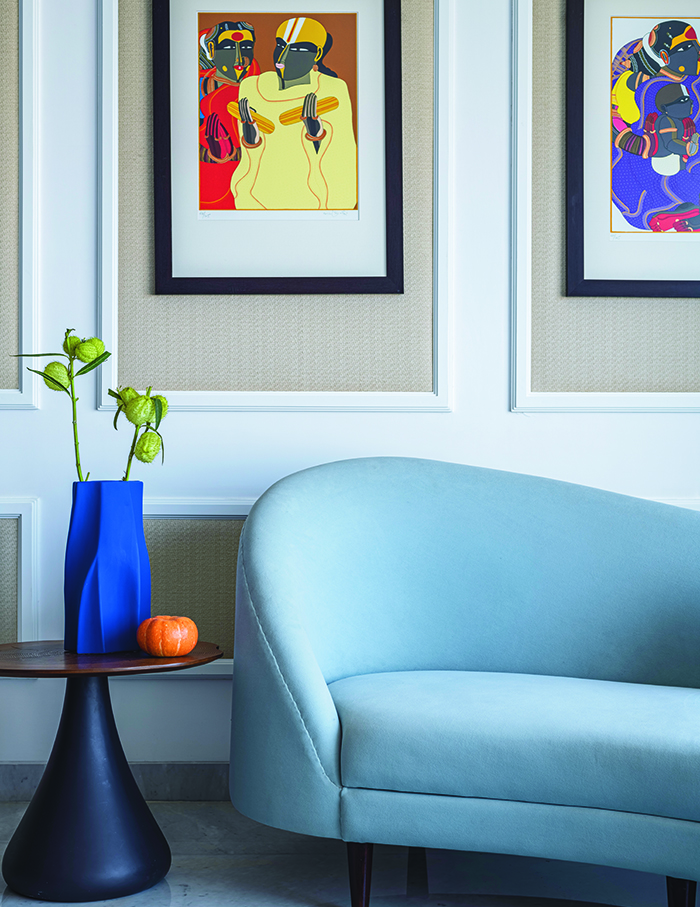 Steering clear of typical monochrome veneer and laminate dominated interiors, the homemakers were eager to experiment with colours and forms in their new apartment. When they requested a 'state of the art' home, little did they know that their home would be exactly that, both literally and metaphorically. 
Curated decor and plants augmenting the paintings adorn the modern apartment. Visualised as a design-forward home, the material palette includes a muted shell of grey and beige shades paired with ivory white PU slats, textures and wooden floors.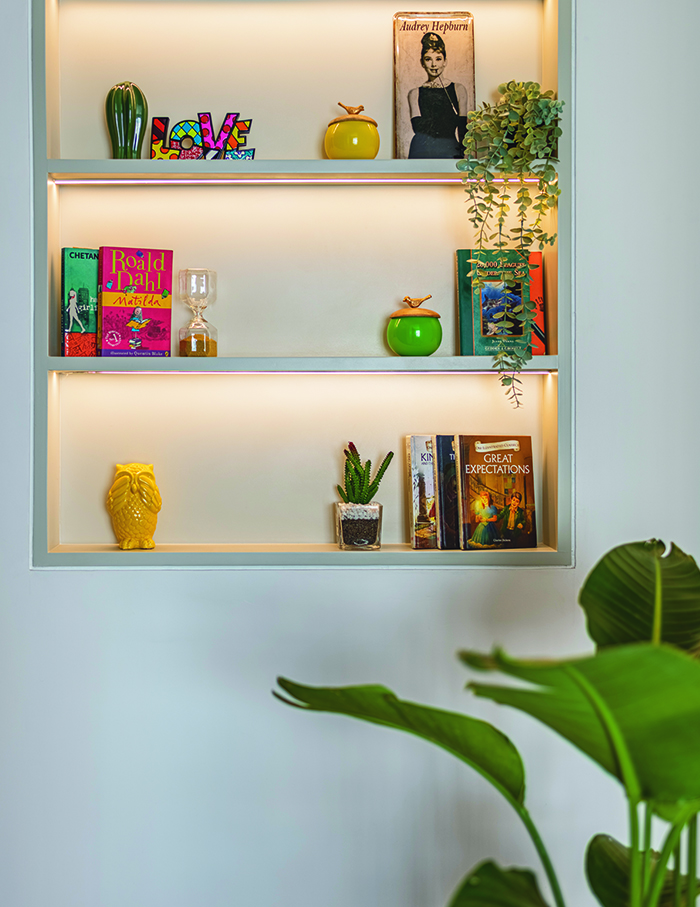 Flaunting a sleek patterned grid of identical cut marble tiles, the white lobby prefixes the creative grandeur of the home. Like a fresh breeze, splashes of colours in the entrance foyer welcome one inside.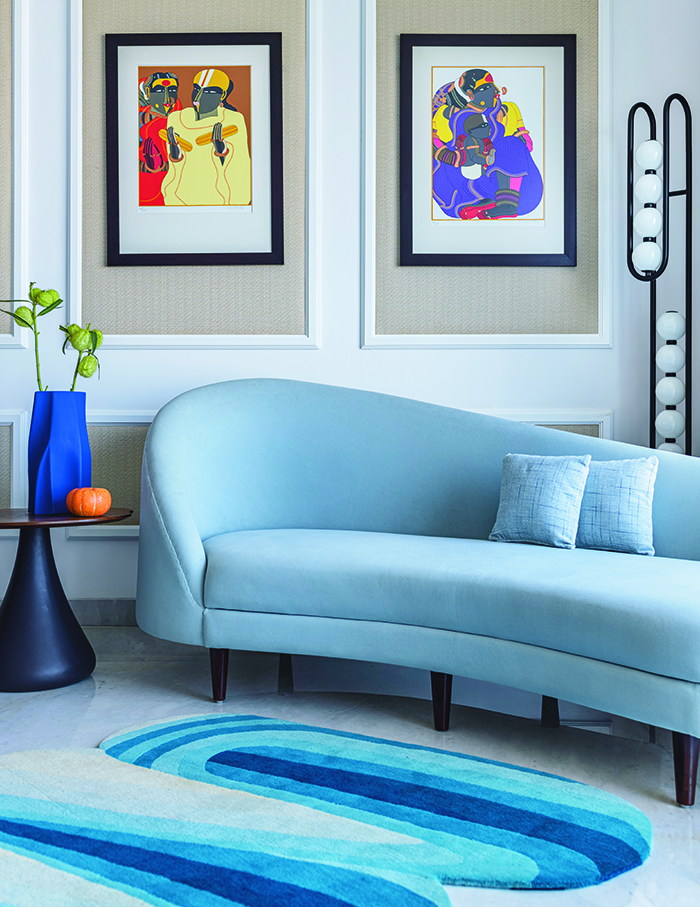 White console bar built with stacked up layers of MDF and coated with PU is a standalone beauty in the living room. The space is further divided into the formal living room and the informal living room. Influenced by the sea visible from the apartment, the informal living room embraces subtle shades of blue. Side tables, dubbed drink tables render a clean, uncluttered ambience.
On the opposite side, the dining flaunts its eight-seater table loaded with a marble buffet counter and crockery storage. As one turns towards the passage, a South Indian style mandir reimagined with a modern take beckons.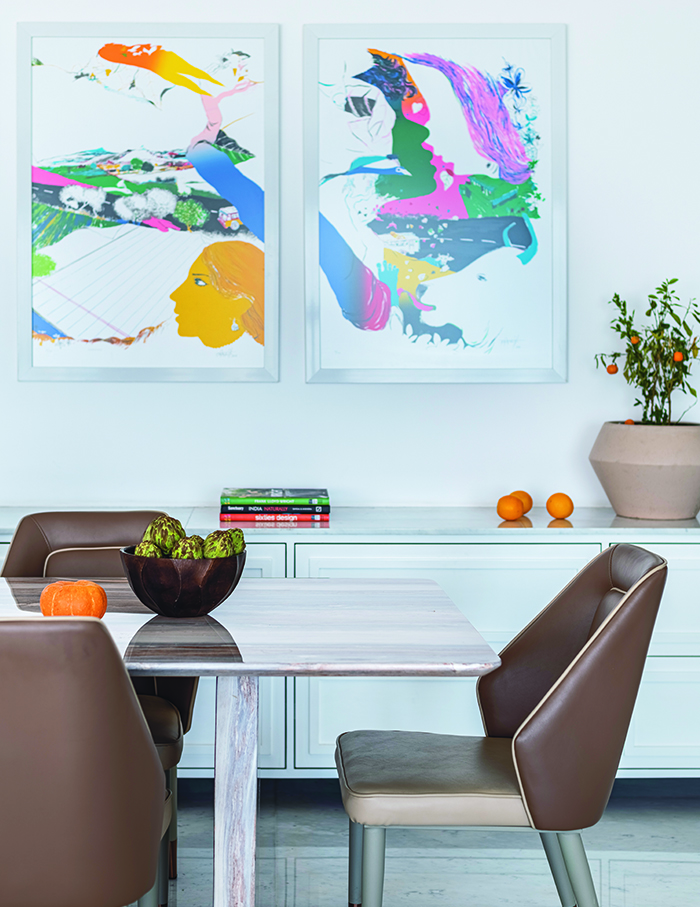 On the left, one would find the kitchen with its Irish cream colours and terrazzo backsplash. Rolling aluminium shutters neatly tuck away the majority of the appliances. The adjoining powder room presents a stark contrast with its black interiors decorated with onyx marbles and a moon-inspired mirror.
Transitioning to comfortable hues, the bedrooms are doused in pastel shades and subtly curved decor. The experimental primary bedroom wardrobe is complemented by three fabric headboard panels. The monochromatic primary bathroom houses a unique shaped mirror and marble tiles.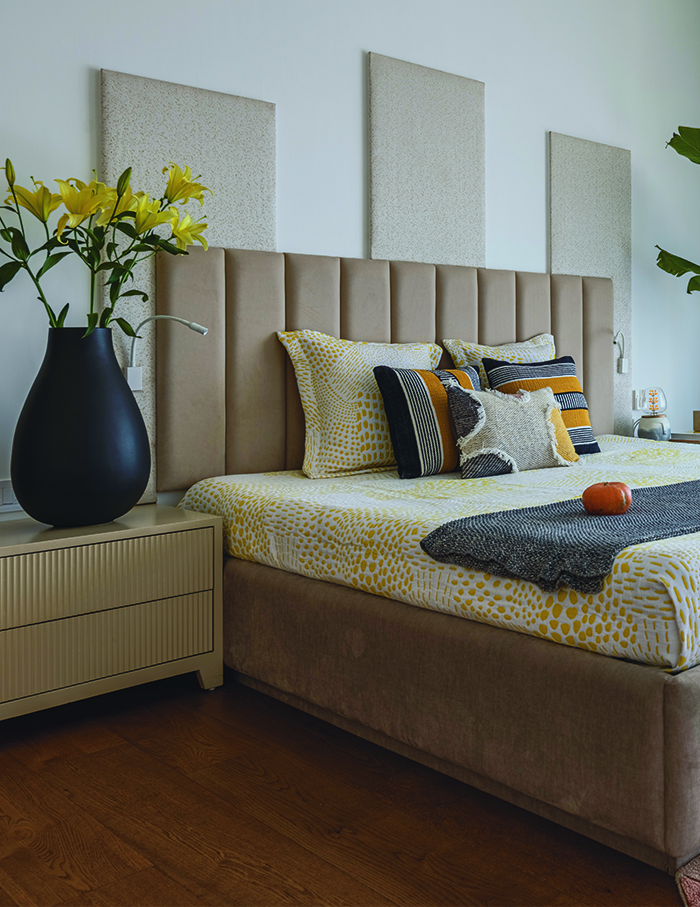 The mother's room wraps warm colours with slant shapes for headboards and wardrobes radiating an old world charm. Its cream beige theme trickles into the elder-friendly bathroom as well.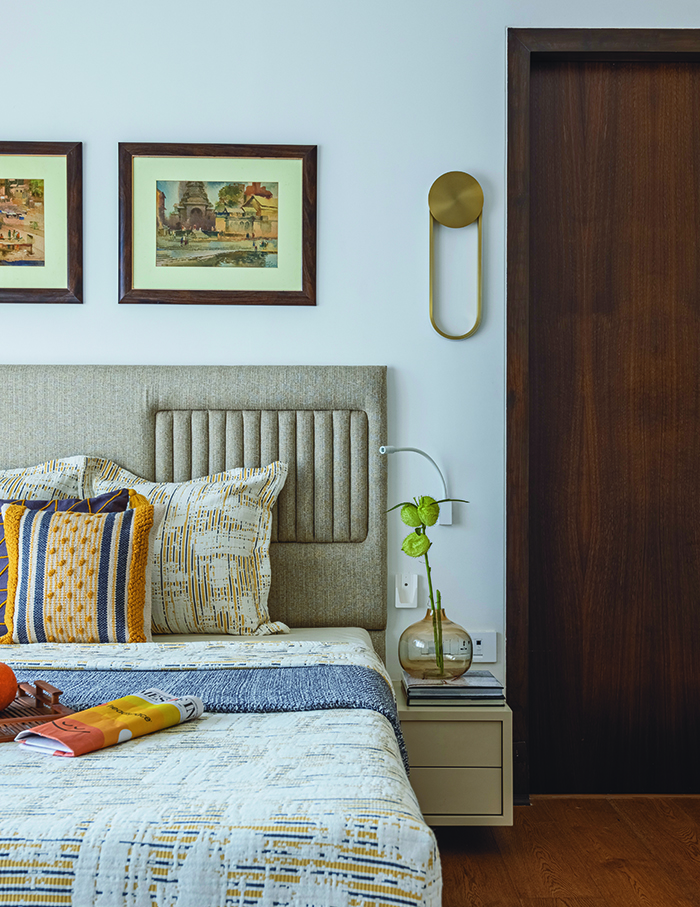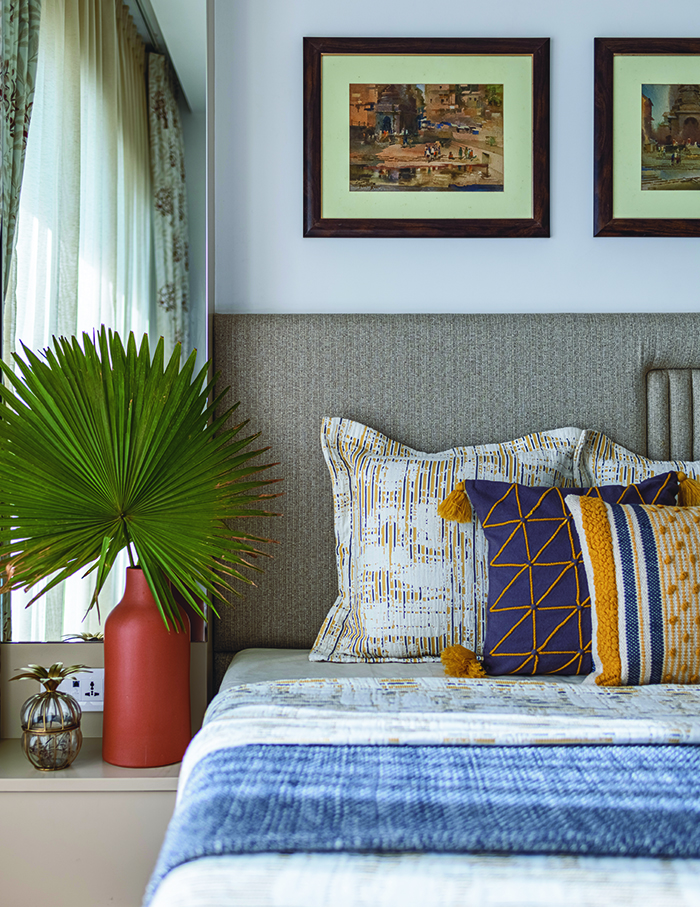 Masquerading as the essence of the home, the study area houses French doors and a vibrant rainbow-stimulated styling. The son's rooms uphold the quirky charm of the home but in a sophisticated manner.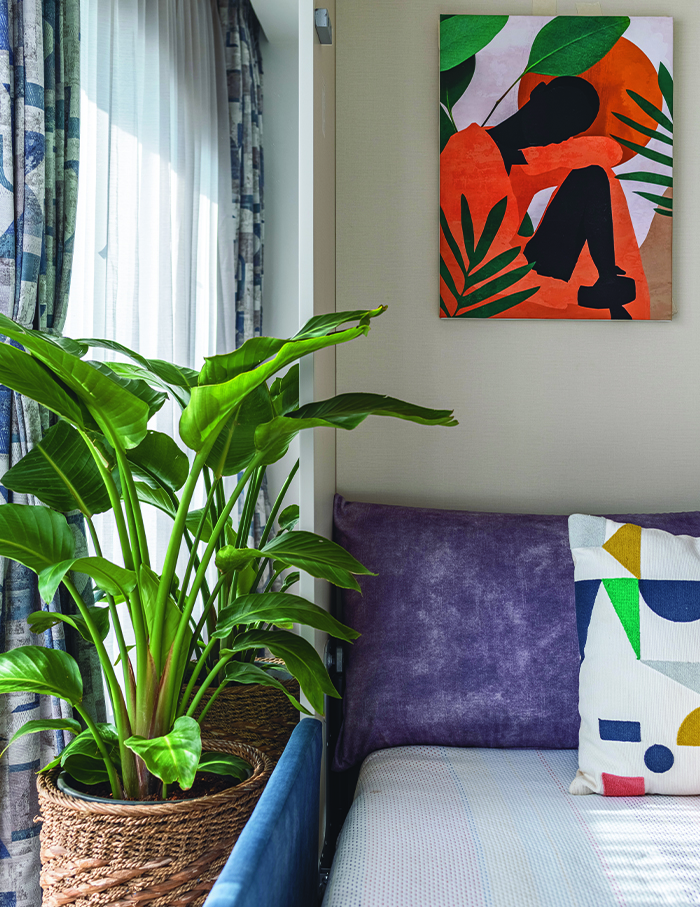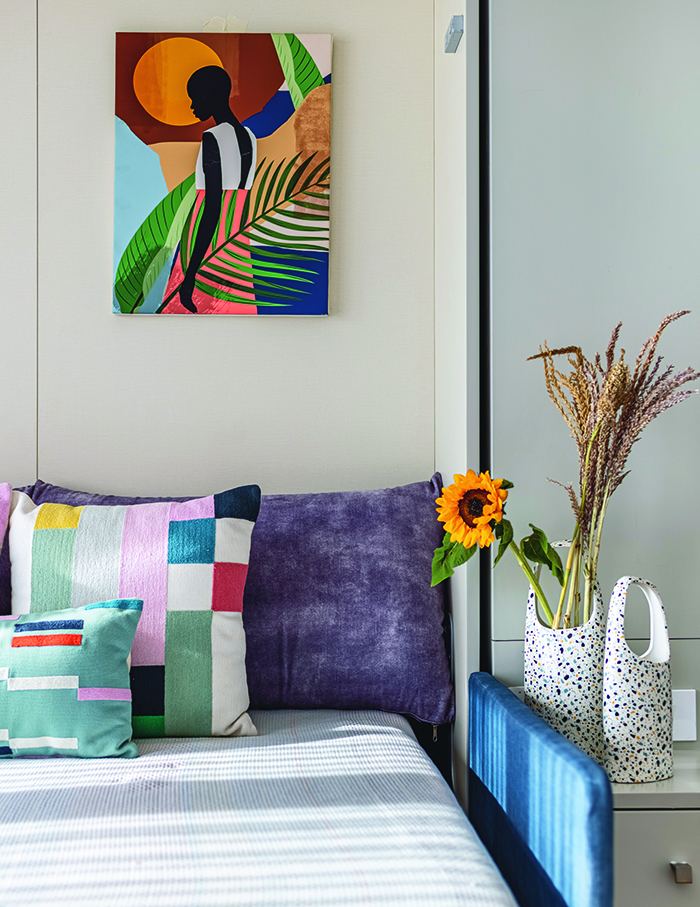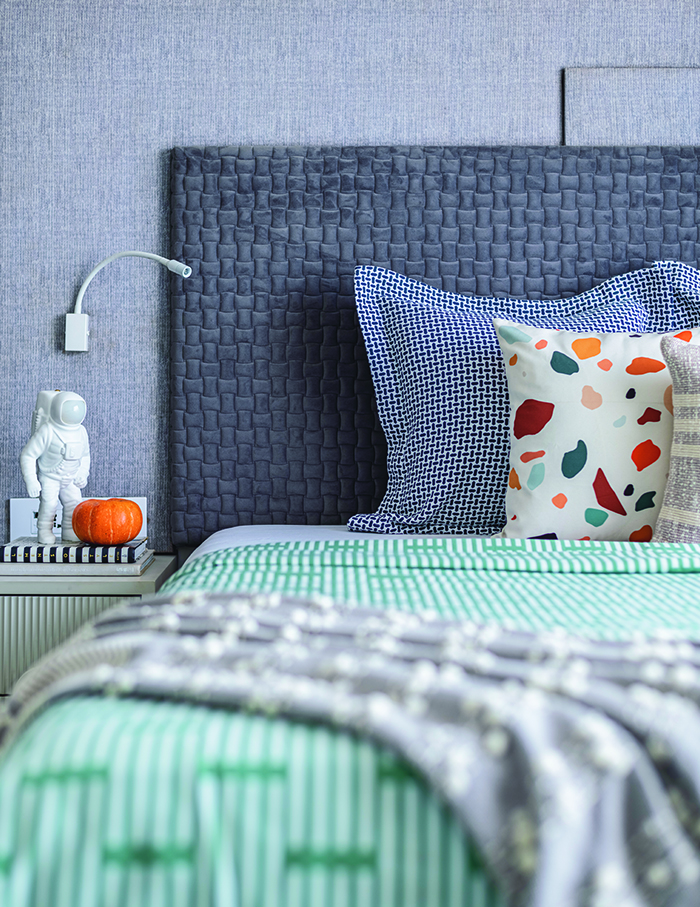 Being a LEED GA, Mansi employs sustainable design strategies in the home through the incorporation of coated glass for double glazed west-facing windows to reduce heat gain and LED lights with dimmable drivers to substantially reduce energy consumption. 
Additionally, zero VOC paints, BLDC fans, online water heaters, energy-efficient VRV systems for air conditioning and motion sensors-enabled bathrooms and passages reduce electricity consumption. All materials are locally sourced.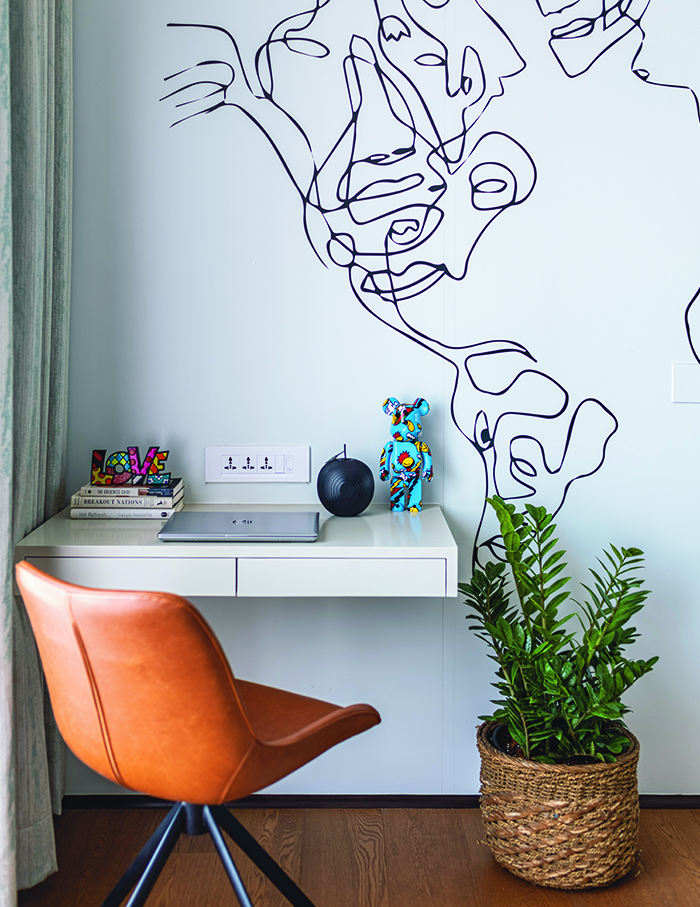 Apartment Resplendence by Mansi Tarneja Design Studio is the kind of home that whispers inspiration at every turn.
Loved the artistic theme of this home? Now check out Where we'd rather binge eat — Mumbai gets a new outpost of The Nutcracker in BKC designed by Tejal Mathur