Homes
Colours and textures coalesce as BeyondSpaces design studio marries the classical and the contemporary to bestow upon us a Parisian fairytale in Hyderabad
FEB 9, 2023
| By Siddharth Babani
Every home tells a story, each one needing a captivating introduction to hold your attention. Unlike many, this house designed by BeyondSpaces design studio in Hyderabad manages to entice you from the beginning and keep you bewitched until the very end. 
This 2200 sq ft home designed by principal architect Mounika Kodali, serves as a personal inspiration to the artistic couple who demanded a bright and airy Parisian loft. From its vivid colours to the painstaking attention to detail, Ekam is a statement, that sets the stage from the forefront and leaves you itching in anticipation.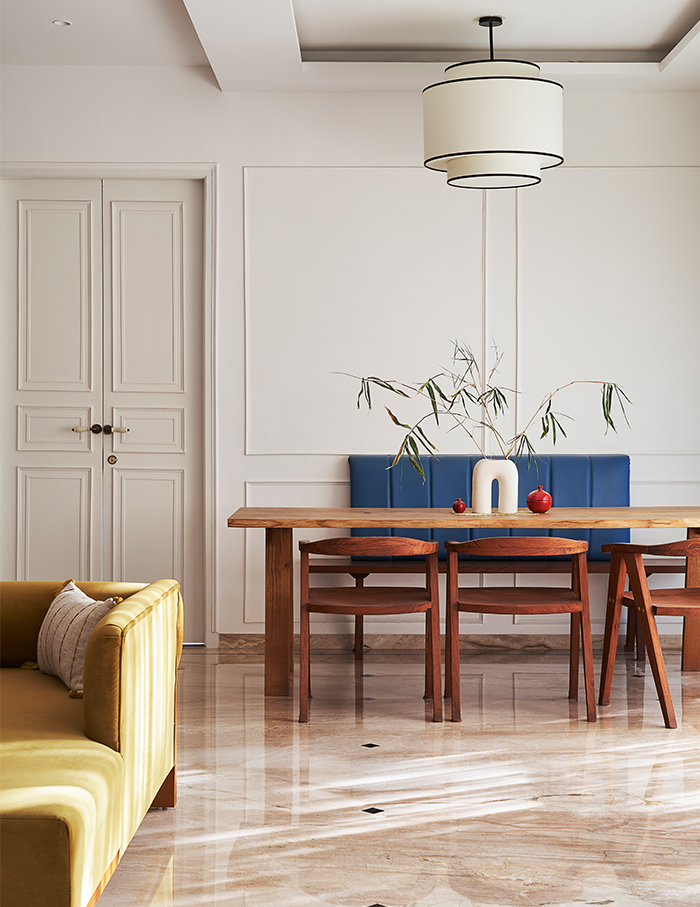 Touring the home
The tale of this home begins in the lobby where you catch your first glimpse of the striking green door with the ornate stained glass inlay. The door opens onto a sprawling living and dining room. The austere uninterrupted white walls juxtapose the dramatic interplay of colours scattered across the incandescent space, leaving you in awe of the extensive attention to detail such as the neoclassical wall panelling and the diamond inserts in the warm beige marble making it a delightful space to entertain guests
A floor to ceiling glass curtain wall separates the living room and balcony complete with custom coloured-glass insets running around its border. The balcony as described by the architect is laid with a 'very French' tile that adds colour to contrast the white walls in the living room. 
The kitchen is a bright space with teal cabinets and off-white countertops. In a modern congregation of products, the mustard flooring with wooden louvred shutters render a traditional essence to the space.
Following  a similar theme, the master bedroom features inviting shades of brown, charming textures and practical furniture. The spacious bathroom with its Spanish tiles and a freestanding bathtub is a true source of personal envy.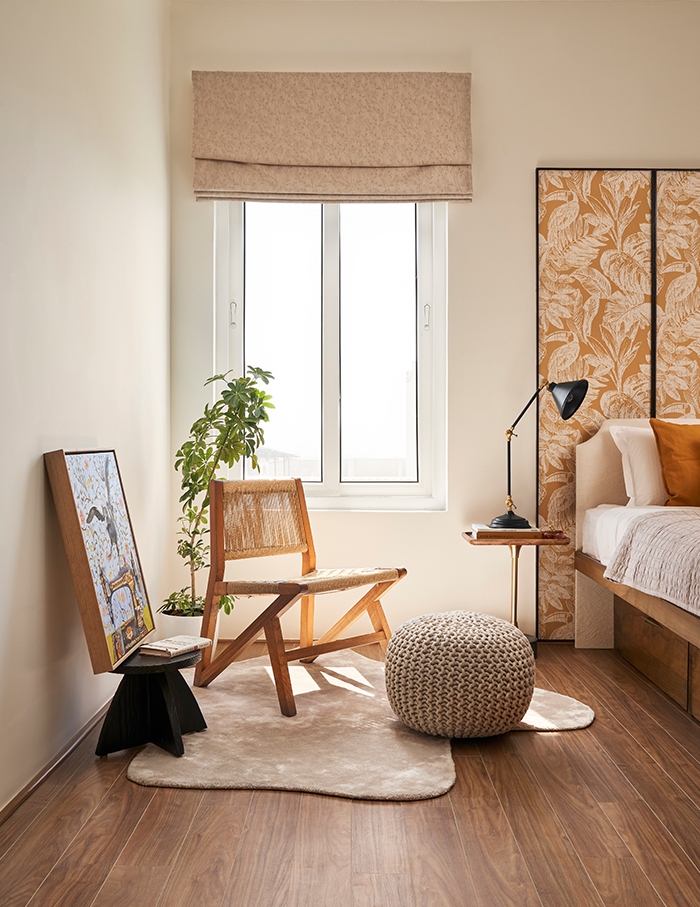 Minimal wooden furniture can be found appropriated around the studio room which showcases art from the creative owners of this home making it a gracefully refreshing place to work.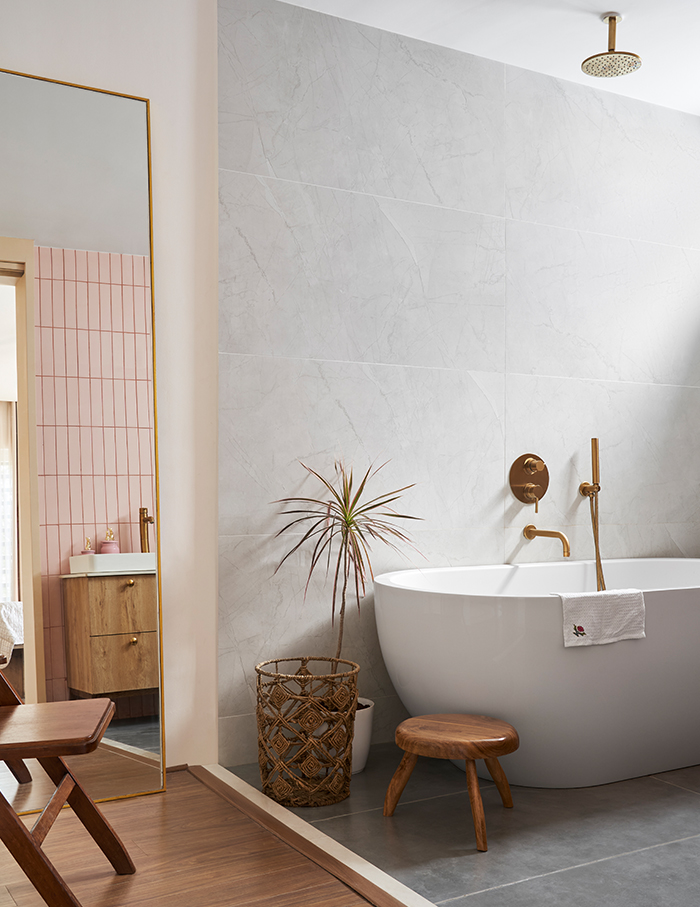 Ideas to adopt
Apart from having a statement for a door, the custom framed wallpaper backsplash in the master bedroom is a simple and elegant solution if you want to save yourself the hassle of finding pieces of art that suit your home.
Scroll down to see the rest of the home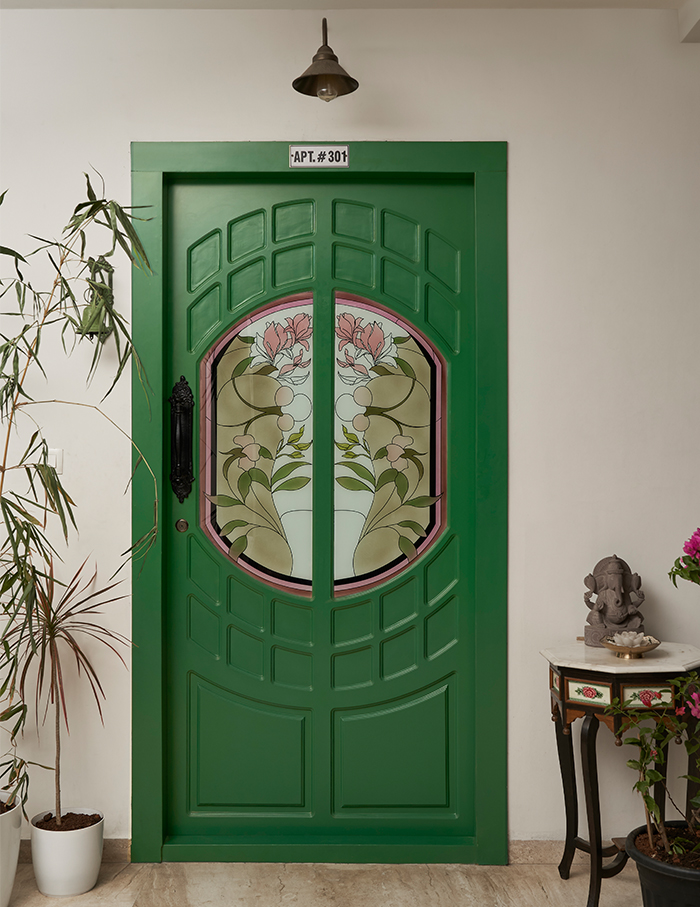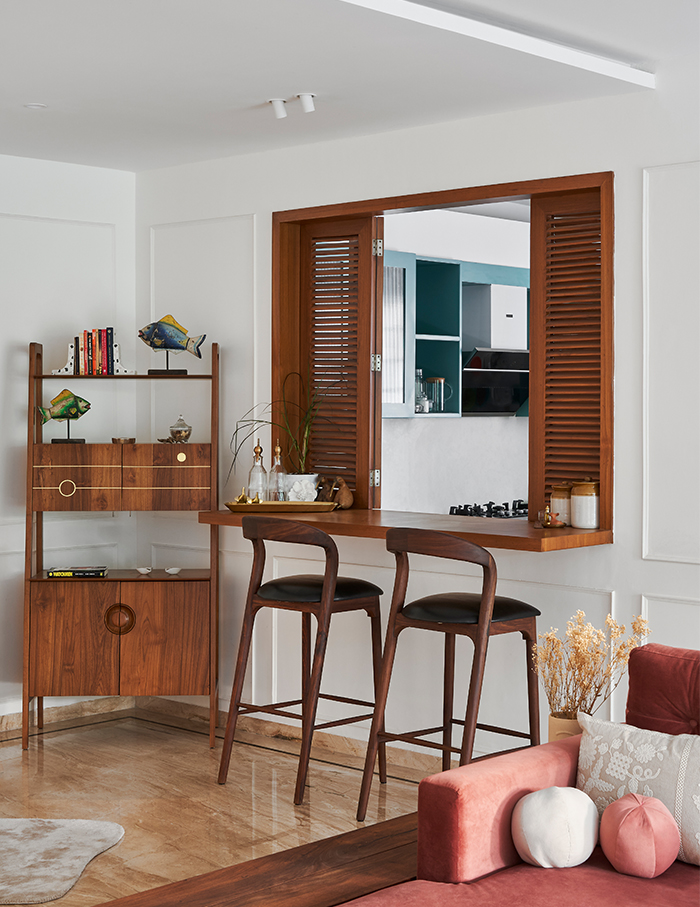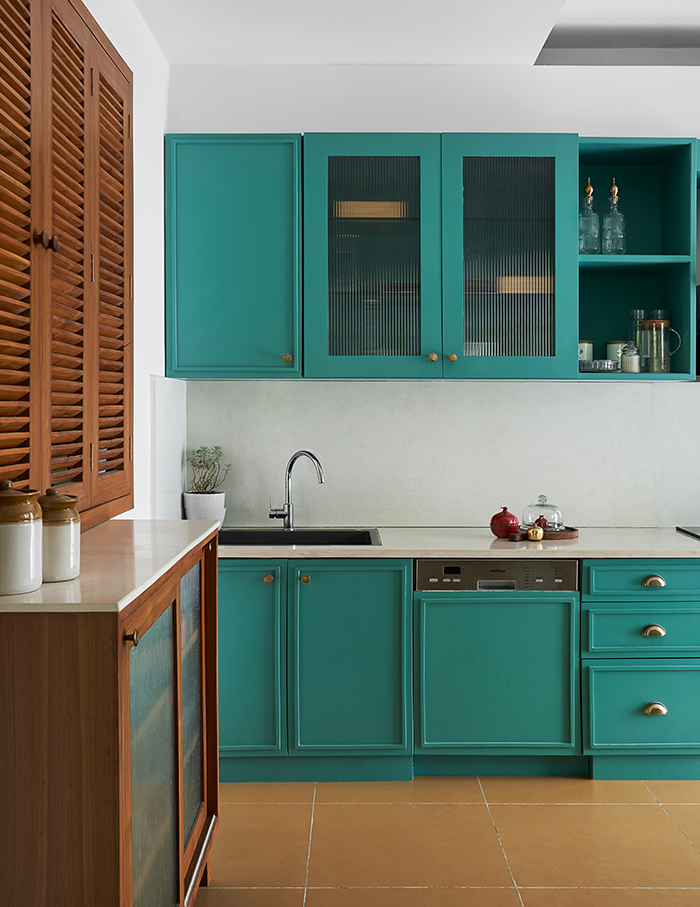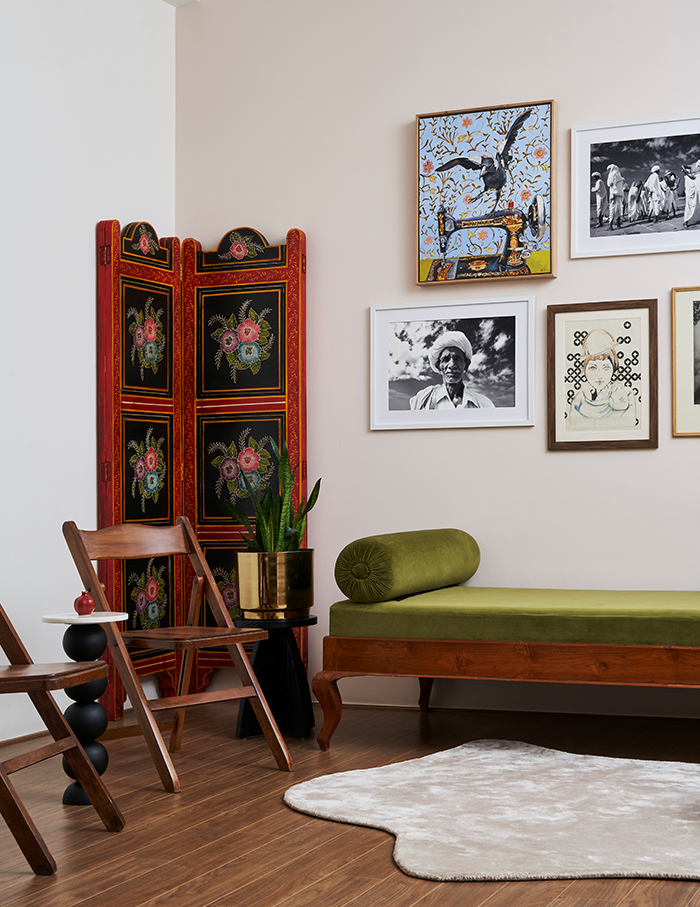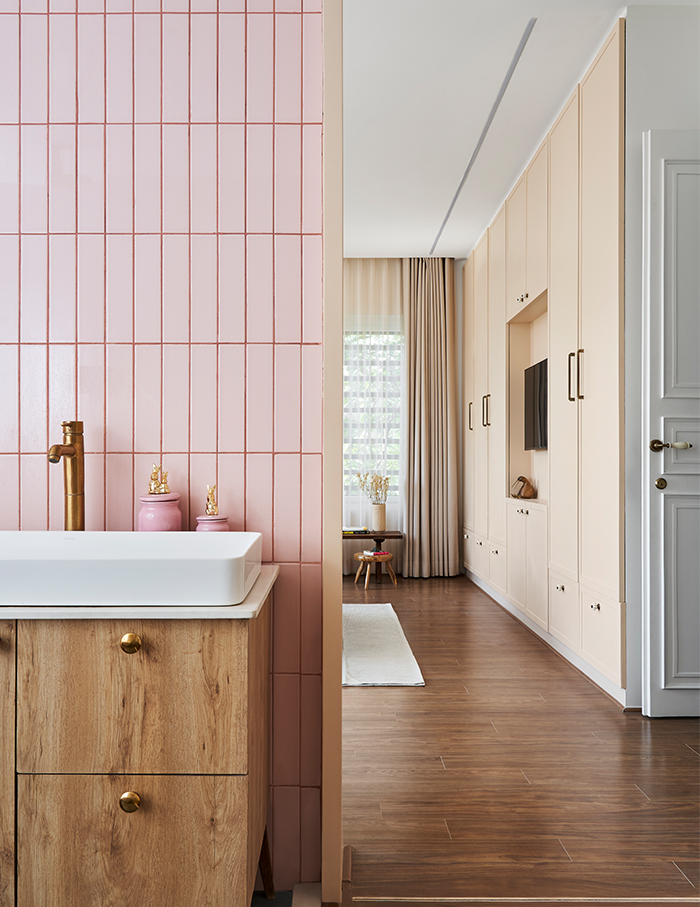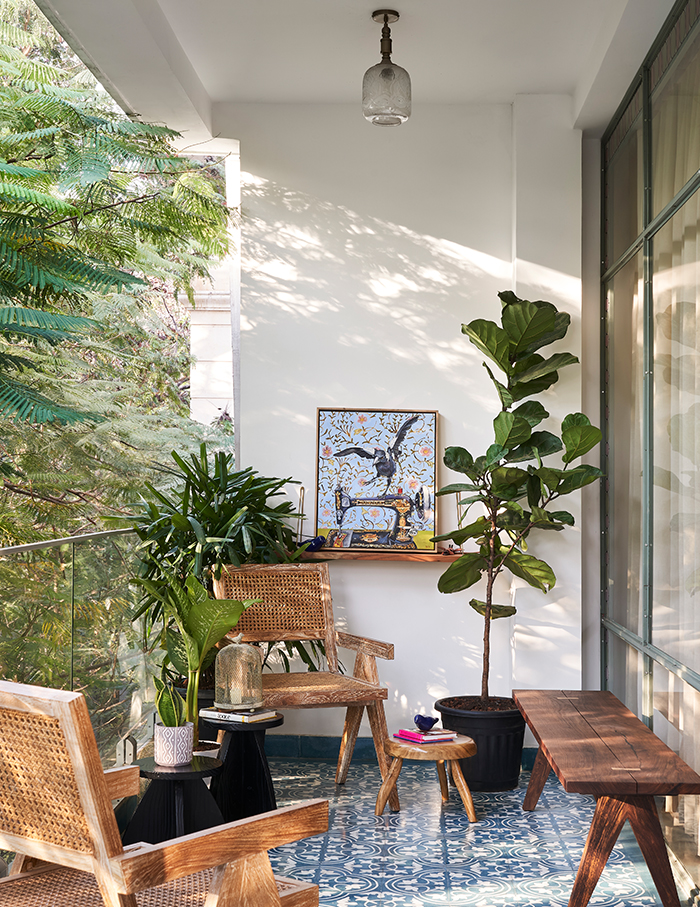 You may also like: This Hyderabad home by MakeSpace Architects exemplifies how to make minimal look magnificent