Homes
Russian interior designer Angelina Askeri fashions an enchanting abode for her sister Polina, a reputed gallery owner in Moscow
DEC 26, 2020
| By Sakshi Rai
While we all know that every sibling relationship has a special friendship, understanding and unique sense of affection bound to it, some get a chance for a more pronounced and memorable showcase of the same. This gorgeous condo for example, set in the historical centre of Moscow was designed for famed gallery owner Polina Askeri by her sister and interior designer Angelina Askeri!
It is no wonder then that the space perfectly captures the vibrant personality and style of its owner. From adding her favourite hues (blue and other sea-inspired ones), details and accents, materials that reference her favourite era to even reserving adequate room for her entire collection of modern art and collectibles—the abode is envisioned as Polina's dream residence.
The starting point and central reference for the interiors has been the classic New York apartment belonging to Nelson Rockefellor, the former Vice-President of the US, designed by legendary French interior designer Jean Michel Frank. The iconic project is much talked about for its grand and timeless style as well as its art and culture-steeped decor.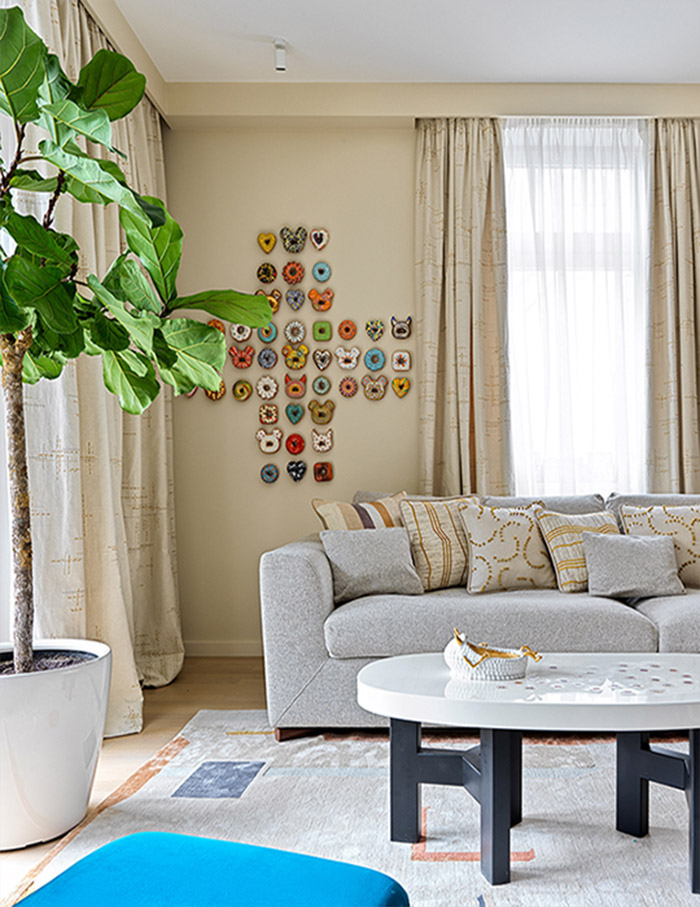 Only a 20-minute walk from the Kremlin, Askeri's nearly 1,300 sq ft residence offers panoramic windows, and is inspired from and looks out to history. Its existing trapezoidal entrance has been remodelled into a soft and welcoming version that houses a wardrobe for storage.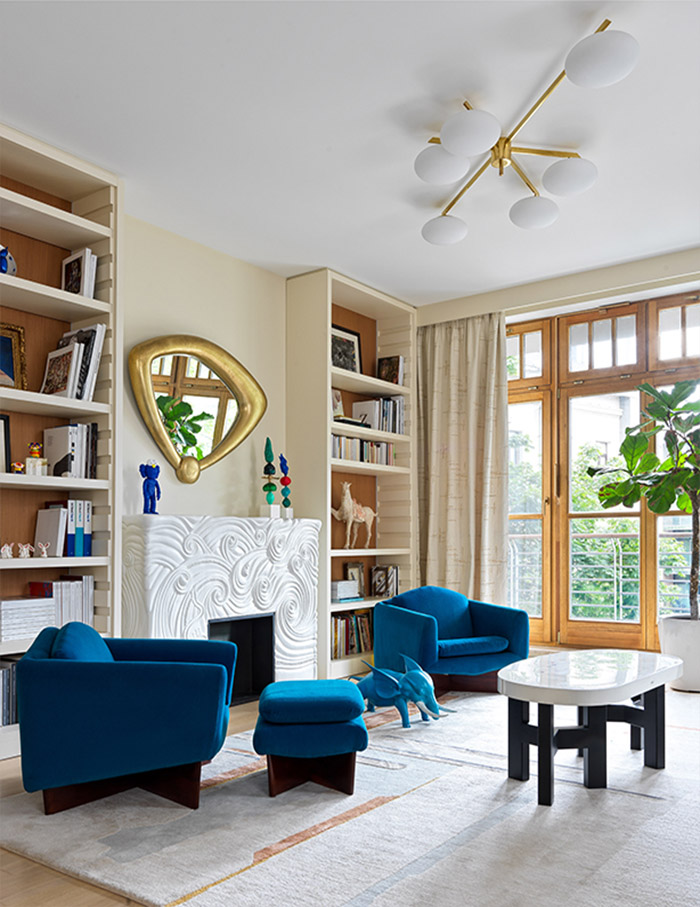 From here, one enters the cosy living room and kitchen, which are characterised by a diverse and bespoke range of artefacts—from a bronze deer and German artist Petter Ophiem's works that are a part of Askeri's art collection. A pair of cushy blue couches, one of the first instinctive picks by the interior designer even before the layout of the apartment was finalised, are placed here.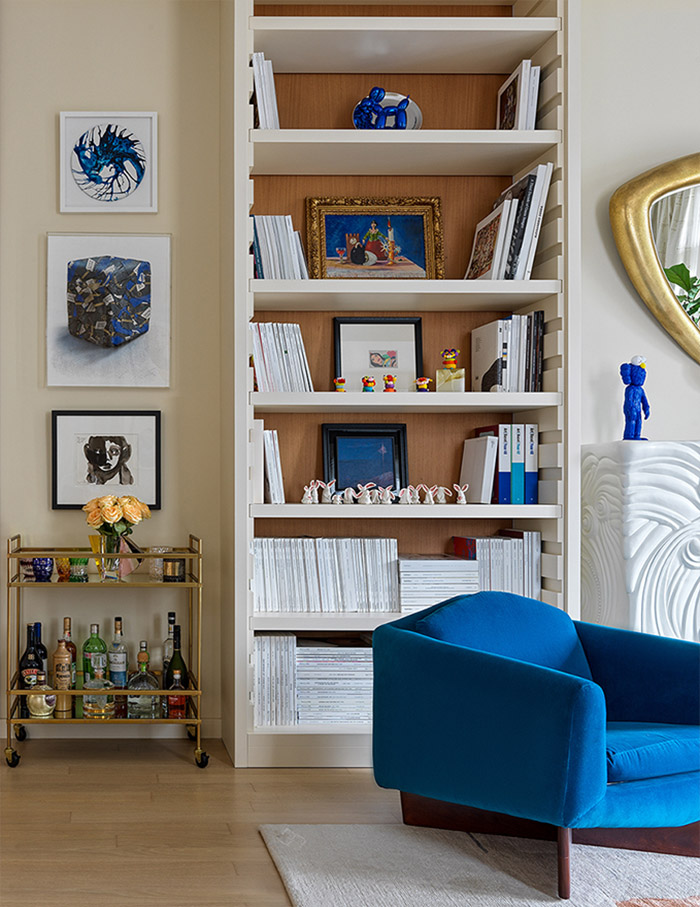 A custom-crafted fireplace occupies the centre of the soft-hued living area. This colour palette continues onto the adjacent kitchen as well. A similar choice of shades helped make the space appear larger. The abode also hosts a serene range of carpets, all of which are designed by Angelina herself and showcased at numerous brands and international fairs including Milan Design Week.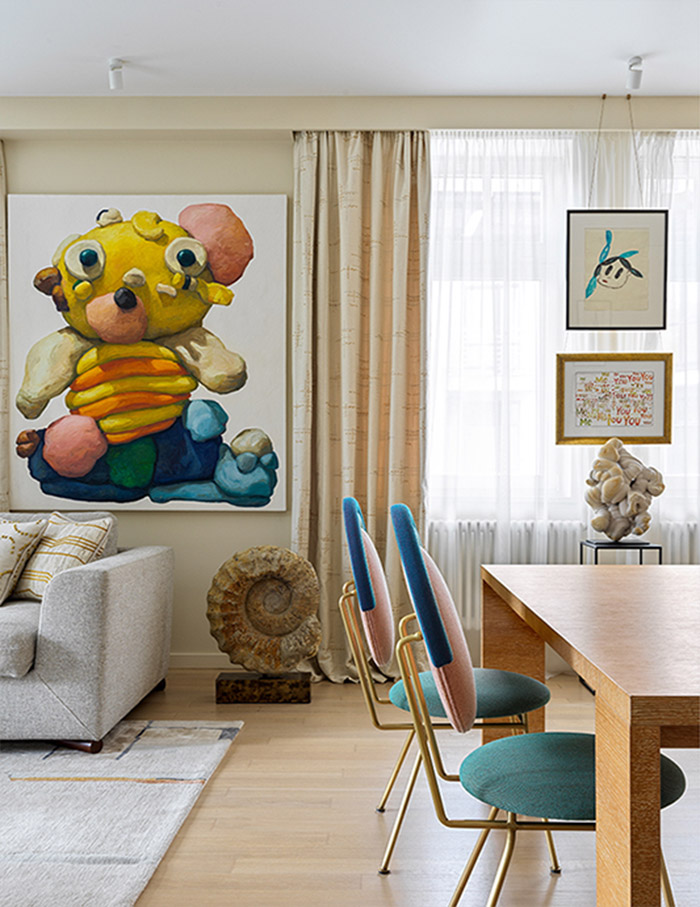 "Art seeps in to every corner of the home, be it the walls of the living room or bathroom. This is why we stuck to calmer background surfaces in shades of beige and light blue, so as to direct focus to the works," explains the interior designer and founder of Angelina Askeri Interiors. The master and guest bedrooms with their respective washrooms too employ blue tints in varying saturations.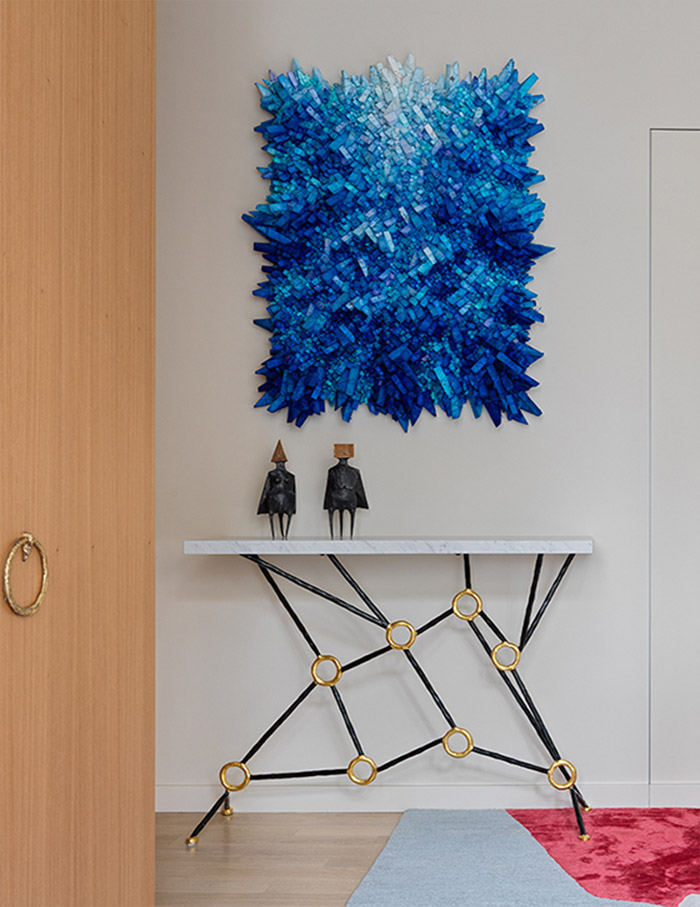 The floors are lightly textured, natural marble that reference 1960s Italian design—the homeowner's favourite period, while most of the furniture is crafted in wood, again her most preferred material. Each of these complements the other and contributes towards shaping a warm and elegant home.
Scroll below to see more images of this attractive Moscow apartment by Angelina Askeri Interiors…