Lifestyle
Fluid artistic expression best defines the eclectic Onegin bar in Moscow by Studio Only Design
AUG 1, 2020
| By Sakshi Rai
Bringing narratives to life is a passion for Olga Sedova and Prohor Mashukov of Studio Only Design. And the duo have outdone themselves with the Onegin bar in Moscow.
The venue gets its moniker from Eugene Onegin—the protagonist in 19th century novelist Aleksandr Pushkin's literary masterpiece. Plus, it is located in a portion of Prince Konstantin Aleksandrovich Gorchakov's apartment, whose father studied with Pushkin. This information became the starting point for the creative duo to conceptualise a space that's both inspired by and a tribute to the great legend of Onegin.
Sedova and Mashukov imagined and brought to life a space, where they could picture the author and some fictional characters getting together. This is a oft chosen, initial step in their creative process as the couple believe that such versatile, fictional tales lend an interesting and personalised spin to interiors.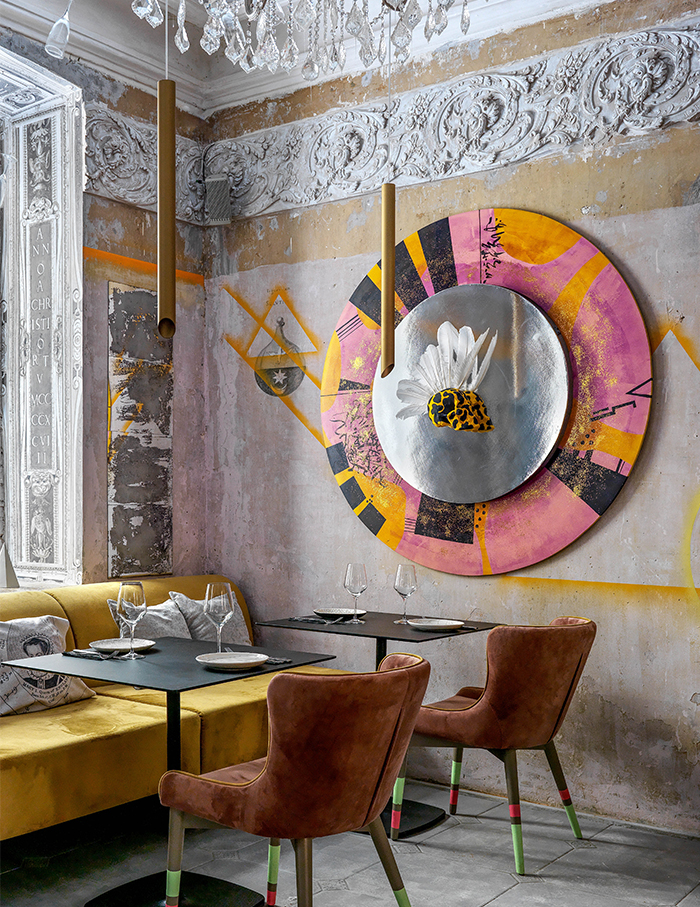 Fragments of these tales can be seen in the wallpaper that features Renaissance murals painted over with vibrant alchemical symbols. The Moscow based practice prides itself in breathing life into projects through the medium of art, impressions and emotions.
The post modern theme is brought to life with a large scale art installation that is decked with historic as well as pop culture references. Reveling in its showcase of varied eras, the interiors are spruced with striking furniture and accents from brands such as Pedrali and Premium Group, which further contributes to the interiors' timelessness.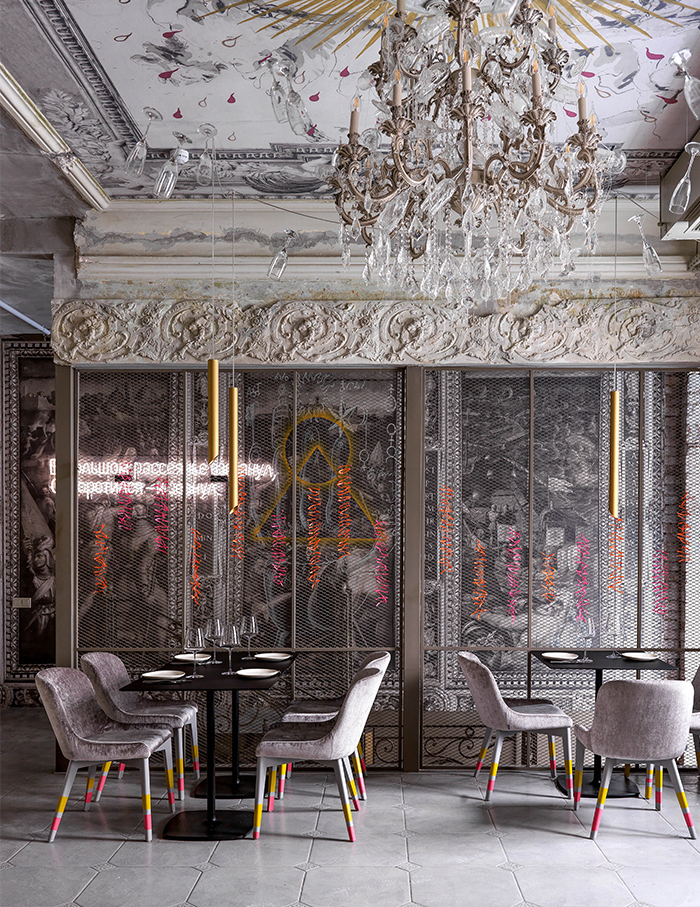 Instead of restoring or altogether replacing the aged walls, ceilings and window arches, the creatives decided to retain them as elements that would lend a sense of antiquity to the venue. At the same time, bright, hallucinogenic sofas, handcrafted by artisans in Uzbekistan, are chosen to create a visual contrast and bring in some contemporary flair.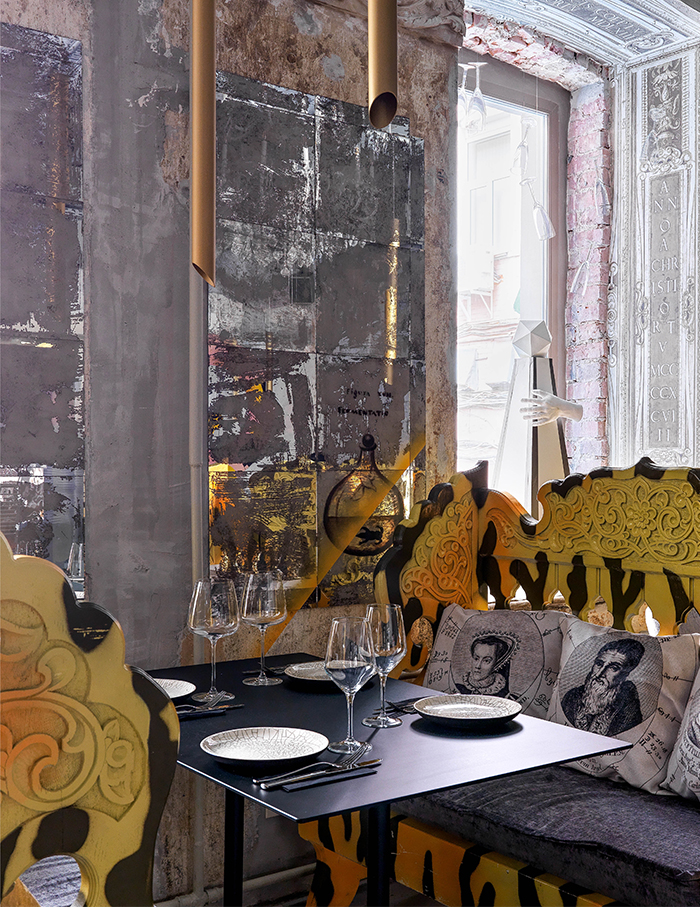 Intricate artworks by Brightbrush Studio are seen cascading along the walls and ceiling of the bar. In fact, another installation uses 400 champagne glasses that are suspended at varying heights to further increase the allure of the extravagant chandelier.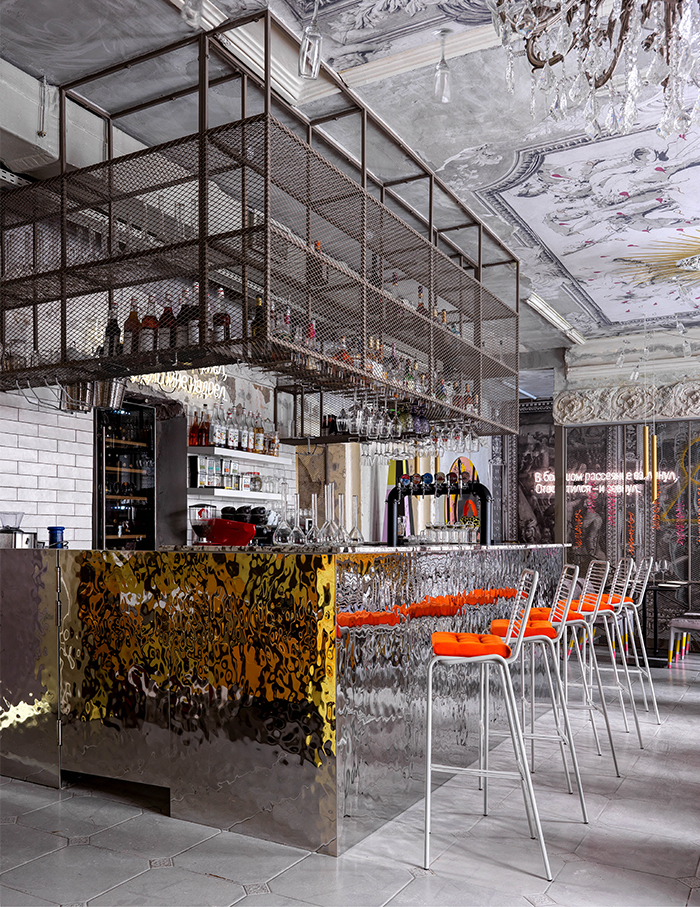 Underneath this luminous piece, a large bar counter fitted with textured metal surface and panels from Tecadeco adds a mystical touch. Also seen are a pair of table settings that are custom curated by the creatives, using champagne bottles filled with artificial strawberries and transparent plastic atop a base of plaster columns. 
Scroll below to view more images from Moscow's Onegin bar…