Homes
Morning House by Karan Darda Architects portrays a tranquil modernism with a tinge of Indian tradition
FEB 8, 2021
| By Saloni Rege
With a penchant for meditative calmness, the 2,500 sq ft Morning House by Karan Darda Architects is fashioned to render an ambience with spiritual opulence and simplicity.
Nestled in one of Pune's prime residential zone, this four-bedroom apartment is encompassed with dense foliage and opens out to the view of a panoramic hill.
"The homeowners bought a bare shell house and wished for it to be cosy and warm, where they can all live and celebrate together," shares Darda.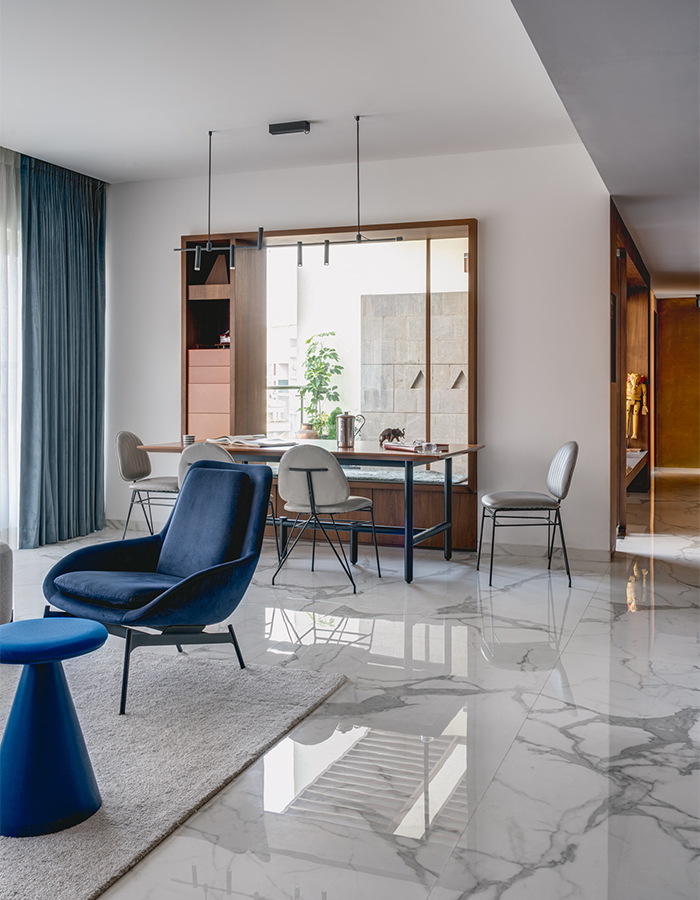 A 8ft-wide foyer leads to an open-plan living and dining zone as well as the parents' room. Starting from the spacious communal area, the house inherits a primary colour scheme with shades that are relatable to the Indian context. This palette is paired with teak finishes and subtle furniture.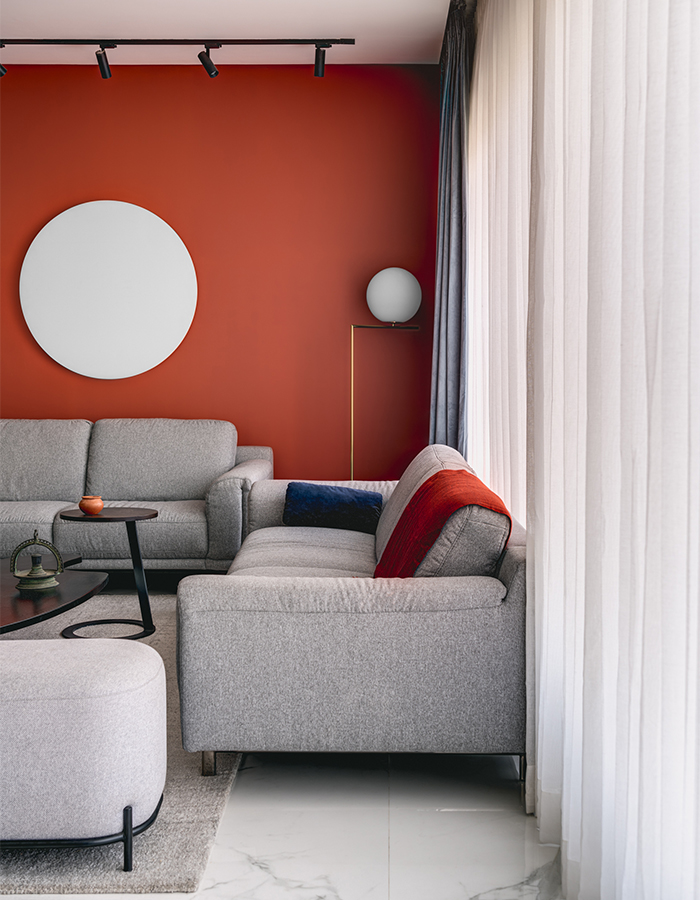 The living room also witnesses a circular pattern on a brick red wall, which acts as the focal point. Additionally, this signifies a traditional Indian teeka or bindu, considered a sacred symbol of cosmos in its un-manifested state and a point at which creation begins.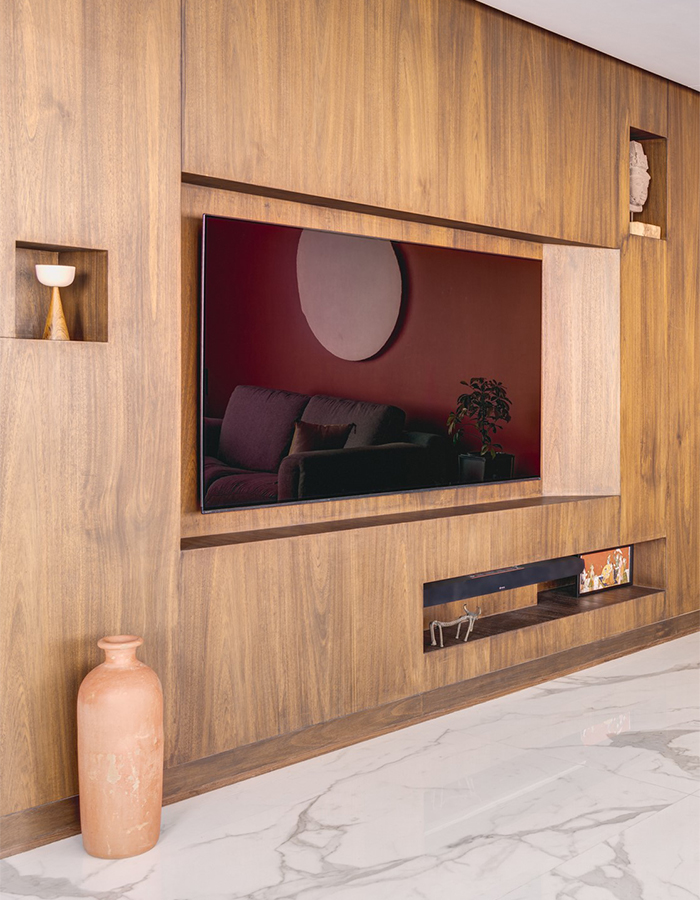 The apartment follows a contemporary theme in its trendy furniture and modish accents, while sticking to Indian roots in its functional and conceptual essence.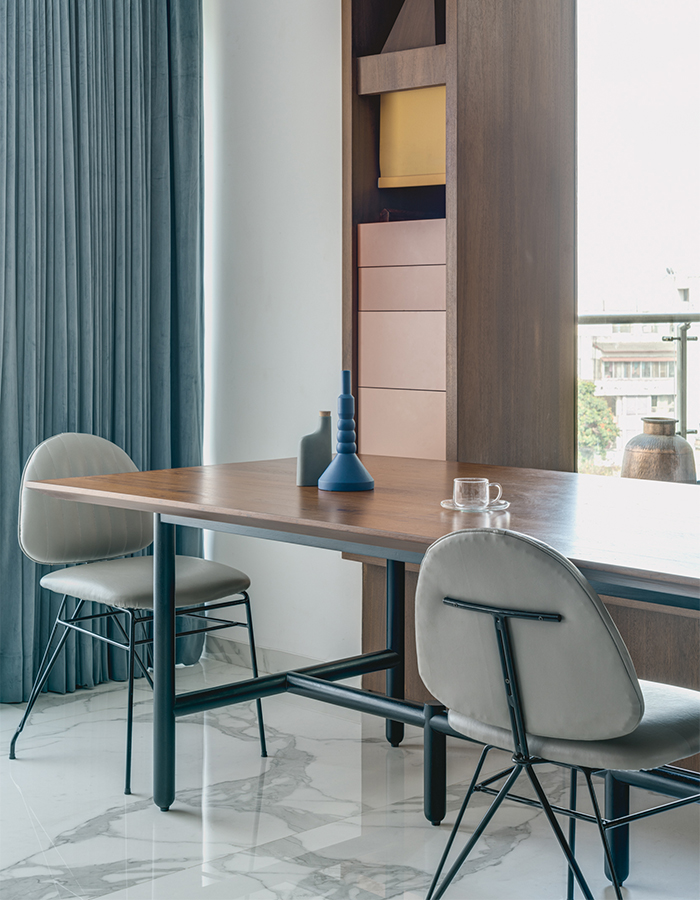 An elegant TV unit finished in timber occupies the entire wall adjacent to the living room's seating arrangement. Its minimal niches house artefacts of all kinds. It looks towards the vivid textures and colours in the living and dining zones, which pop against the pristine vitrified, marble-finished tile flooring.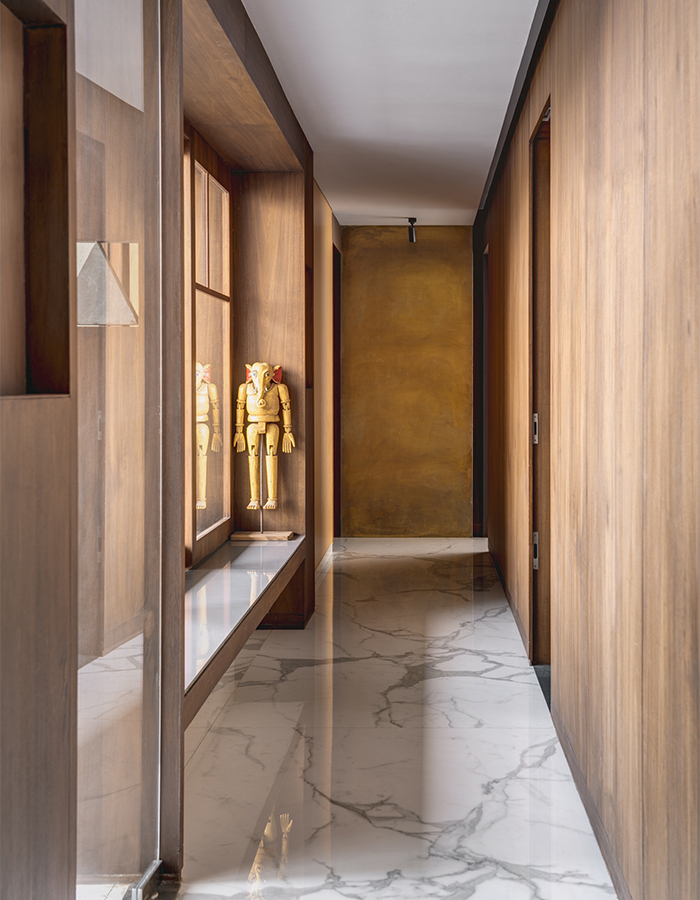 The sleek dining area looks out to the terrace courtyard and draws rich daylight in. The teak tabletop, polished in natural base, is paired with metal and fabric dining chairs and curtains from D'Decor.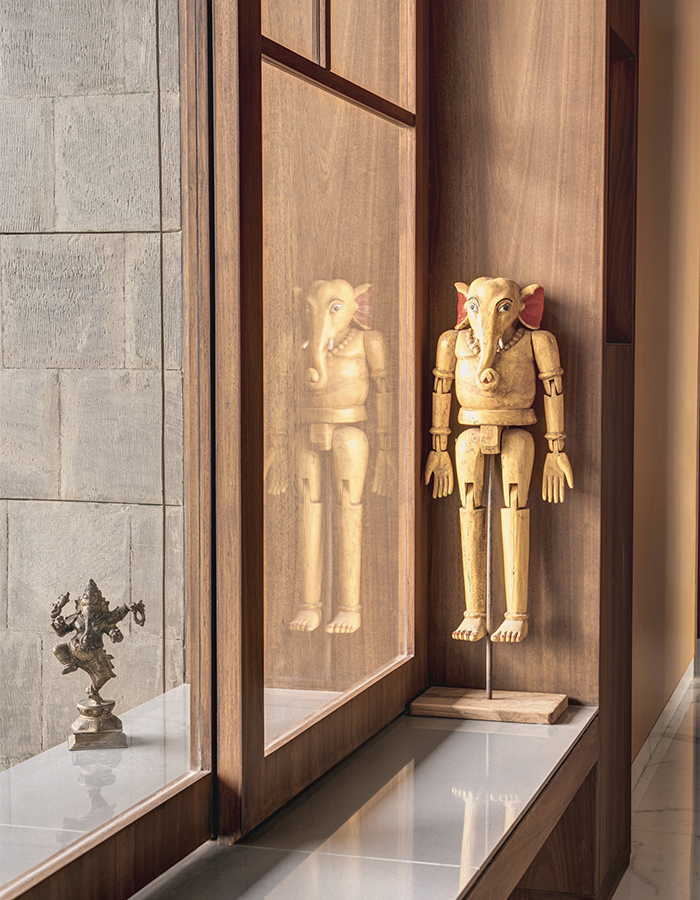 The apartment is planned in a linear manner with a long passage binding the many sections together. It starts from the living room and accesses a multifunctional room, the master bedroom and the child's room. A view of the terrace courtyard continues along the passageway, and so, the practice has carved a reading nook here.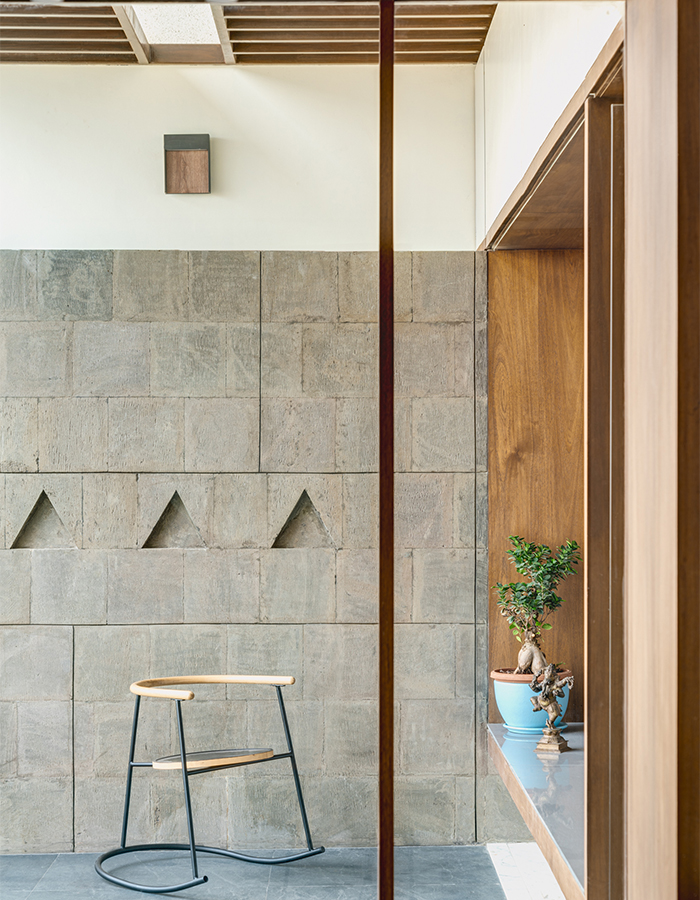 Segregating the terrace from the passage is a bench, inspired from a traditional otta and accessed from both ends. "This element makes the hallway more efficient and interesting while acting as a corner for reading a book, taking an afternoon nap, sipping an evening cup of coffee or simply unwinding with casual conversations," reveals the Darda.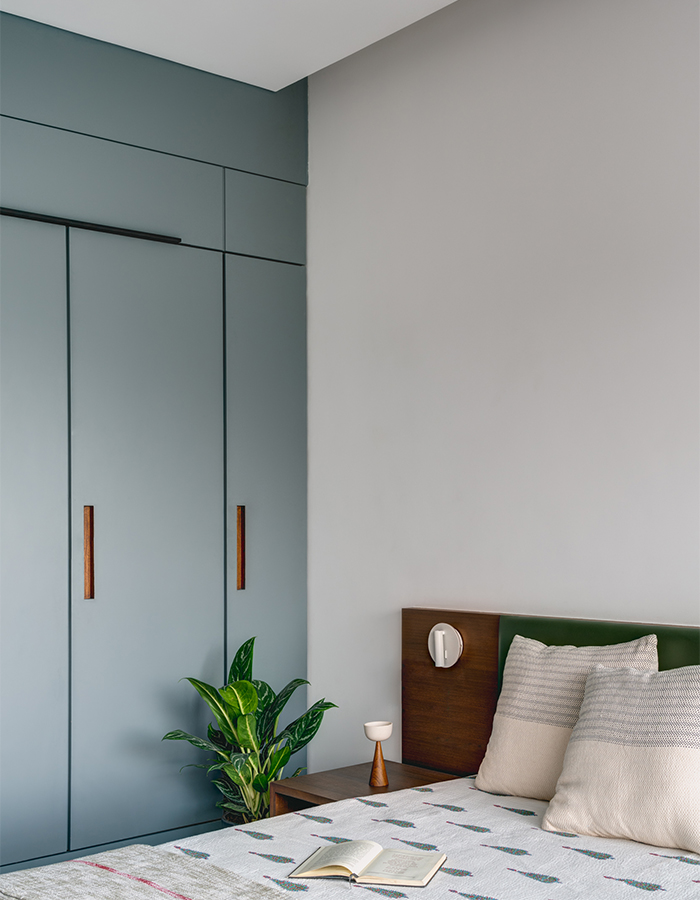 The terrace courtyard is tucked pleasantly between the dining area and the kid's bedroom. Clad in basalt grey stone and accompanied by outdoor furniture and greens, this space represents the conventional Indian-ness in an urban setting.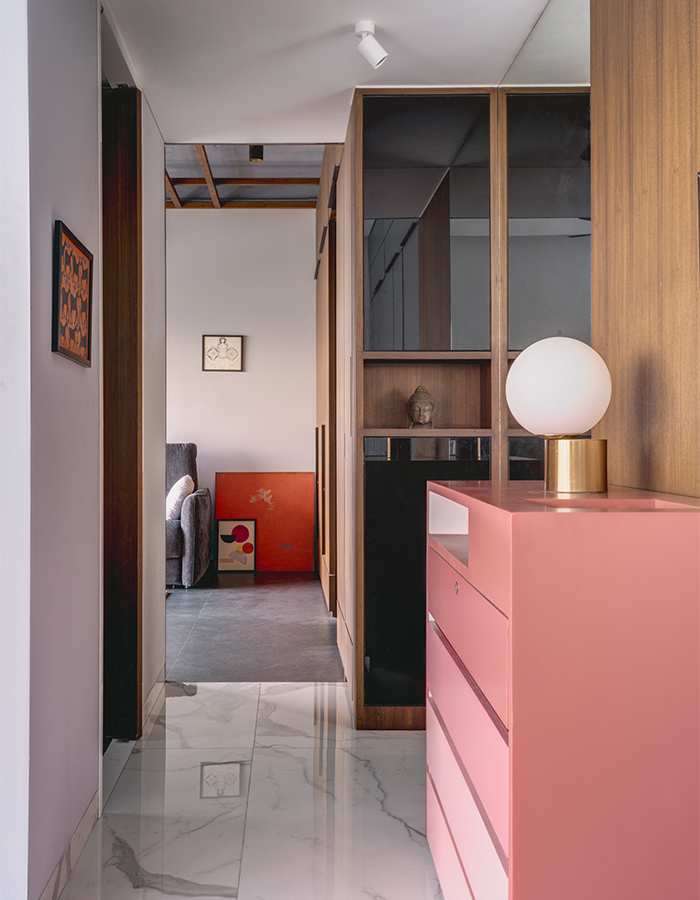 The master bedroom is minimal in its appeal and infused with visual lightness. The bed and side tables are crafted in teak and given a darker finish, while the wardrobe reflects a cool blue tone. This space also has a private access to the multipurpose room, which is ideal for meditation, intimate gatherings or simply, a lounge.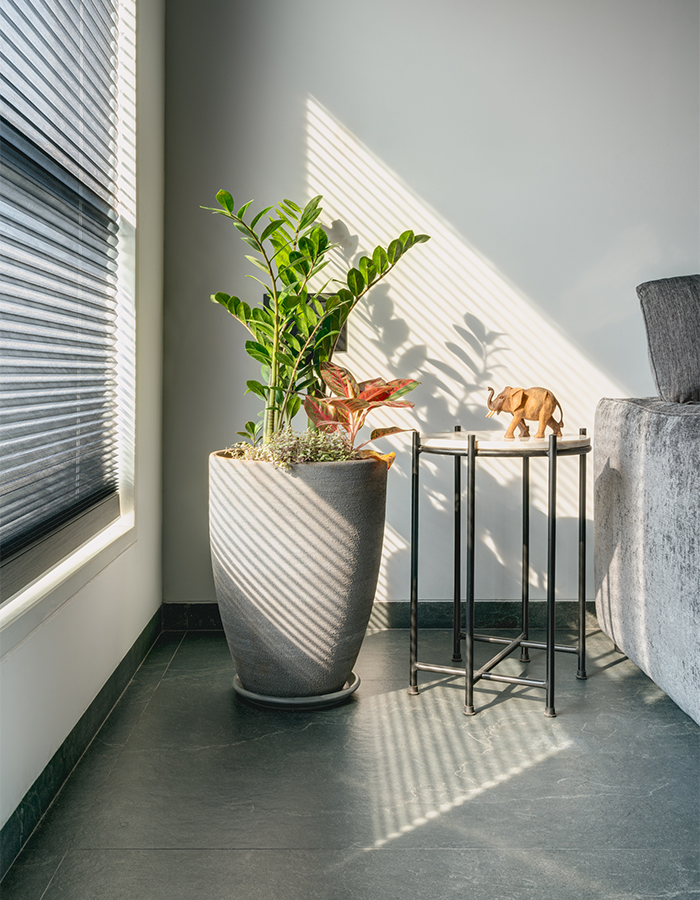 The material palette of the house includes lustre-painted walls, natural teak, basalt stone, composite stone and DuPont finishes, among others. Along with primary colours, it also plays with basic geometric patterns effectively.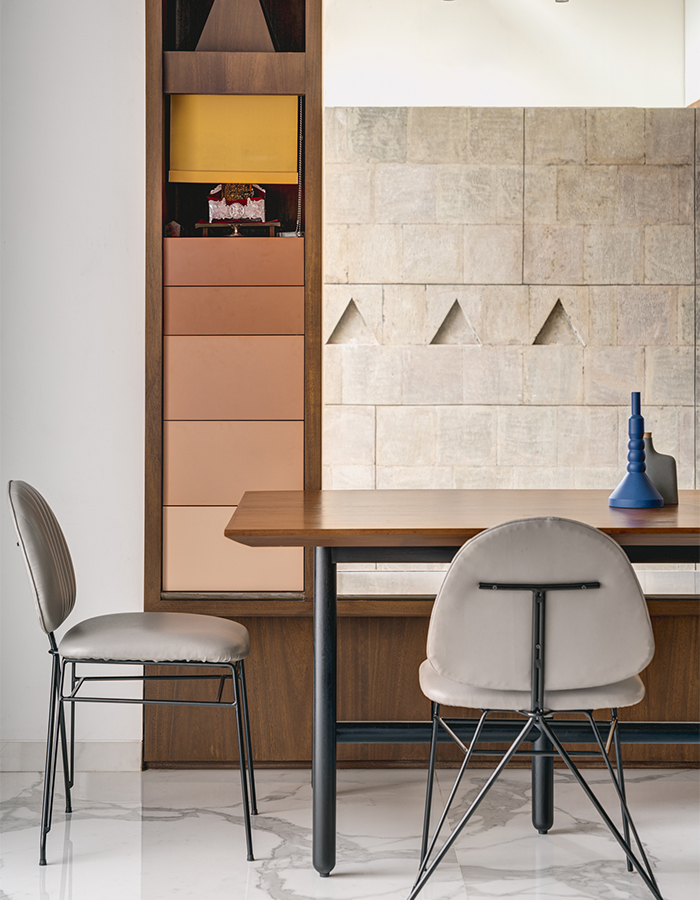 "We believe that the content with which a space is created is more important than the form, as design and architecture is not just to be looked at and appreciated but also to be felt," concludes Darda.
Scroll below to see more images from the meditative Morning House by Karan Darda Architects…