Homes
Mood and hued — This spacious minimalist home in Pune designed by S.ALT Atelier x T.T.D.S has gorgeous hues for all your moods
DEC 13, 2022
| By Tamanna Doctor
Why should maximalists have all the fun? This Pune home designed and conceptualised by S.ALT Atelier and T.T.D.S is minimal yet vivid.
The founders Shantanu Waykar of S.ALT Atelier and Twisha Thakker of T.T.D.S crafted this 1,950 sq ft space at the 11th floor in Pune that was later styled by Samir Wadekar.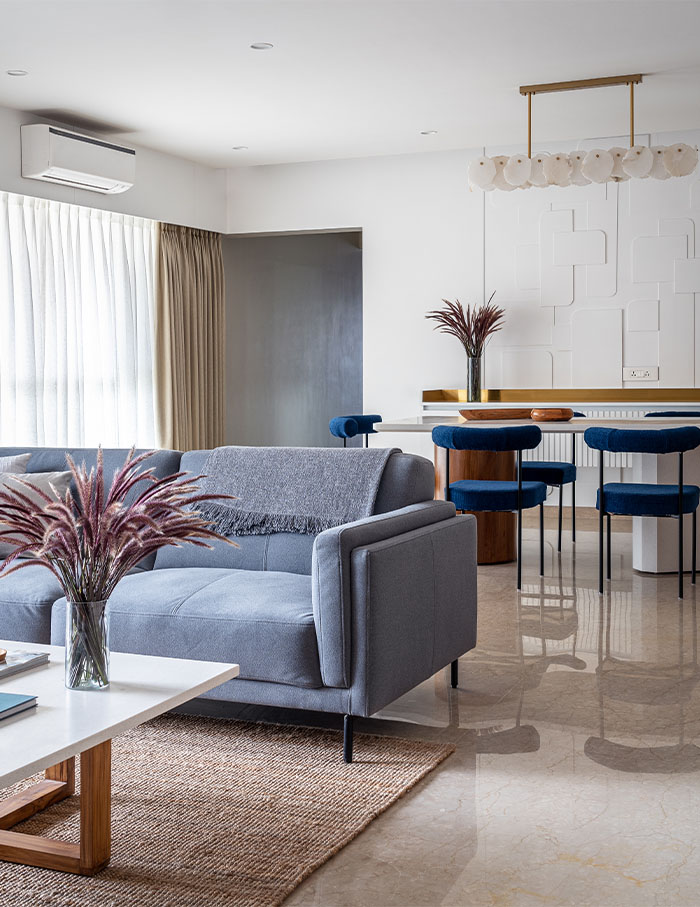 The Curious Brief 
The homeowners knew they wanted a space that was airy, ventilated and full of natural light. "In these times of excess, subtlety is difficult to achieve," says Shantanu. With open spaces as the brief, the main focus was to keep the space clutter free with clean designs and yet not make it ordinary.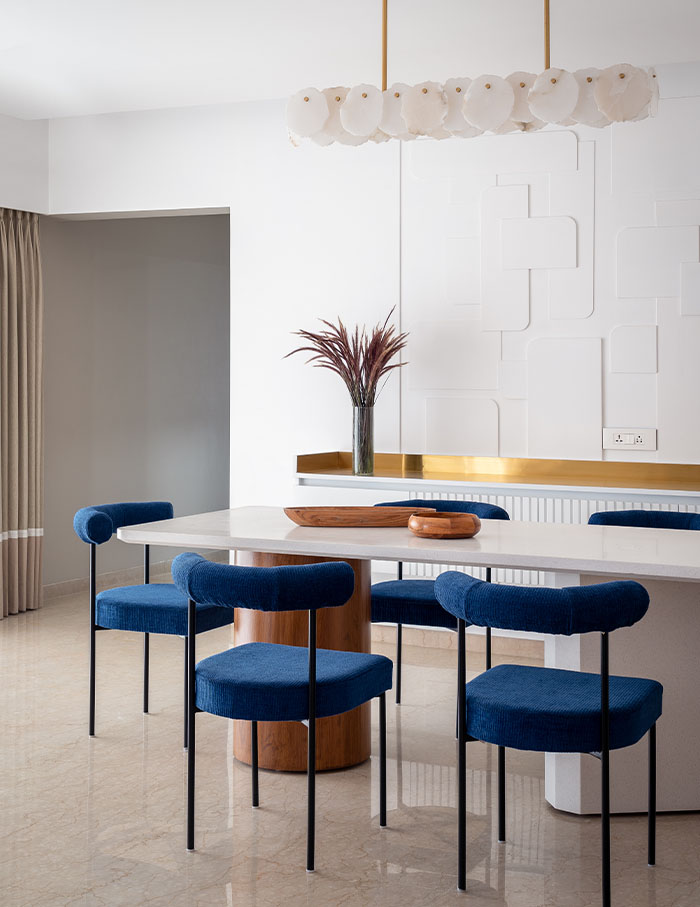 There are reflections of both contemporary and traditional values in this space, hence the homeowners don't have to choose just one.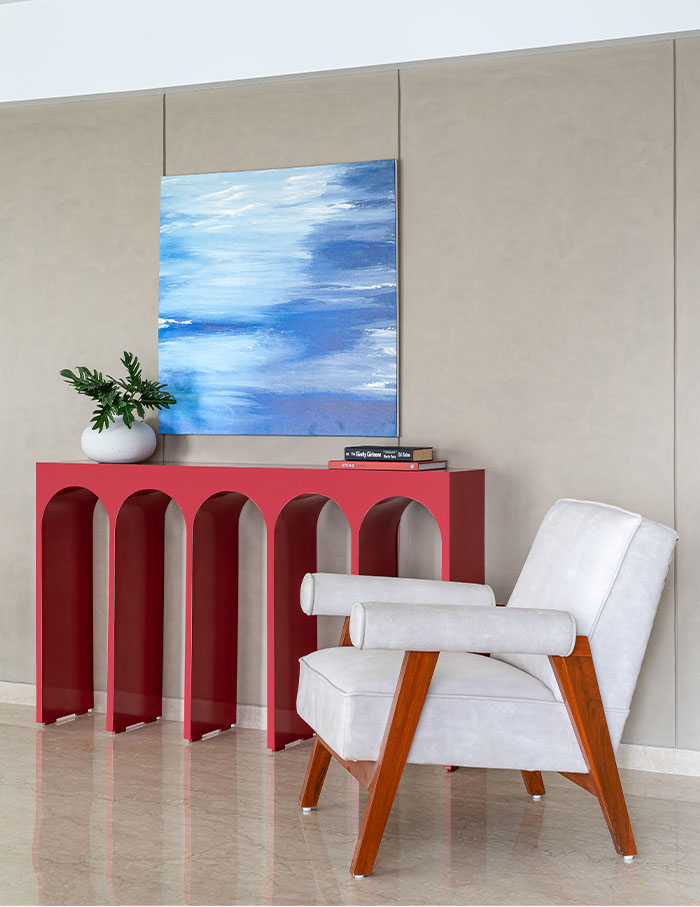 Tour every turn of the home 
The home is divided into three different sections. The entertainment space with the mandir, living and dining spaces in the middle and kitchen and bedrooms on the other side. There are hints of gold throughout the home, which provides glamour to the space. The overall tone is a delicate blend of deep blues, sandy browns, deep greys and olive-green hues making up for a comprehensive colour scheme.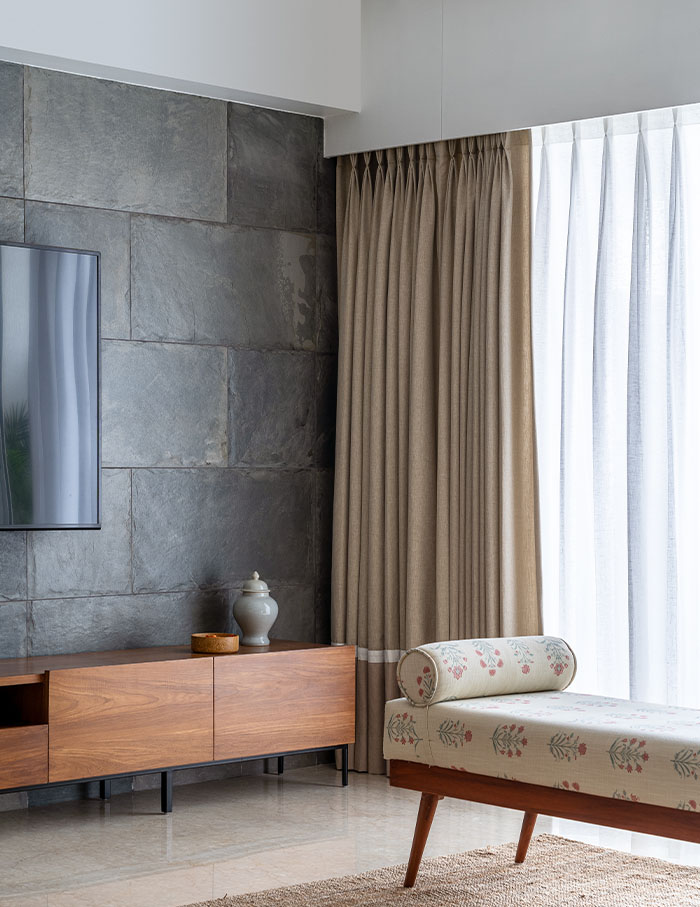 The main door opens into the foyer, which leads to a peaceful white mandir to the left. 
Moving ahead to the entertainment room, intelligent use of wooden tones along with pastel colours render warmth. It has a towering bar unit along with an olive pull out sofa that doubles as a bed for the guests to sleep in without intruding on private spaces.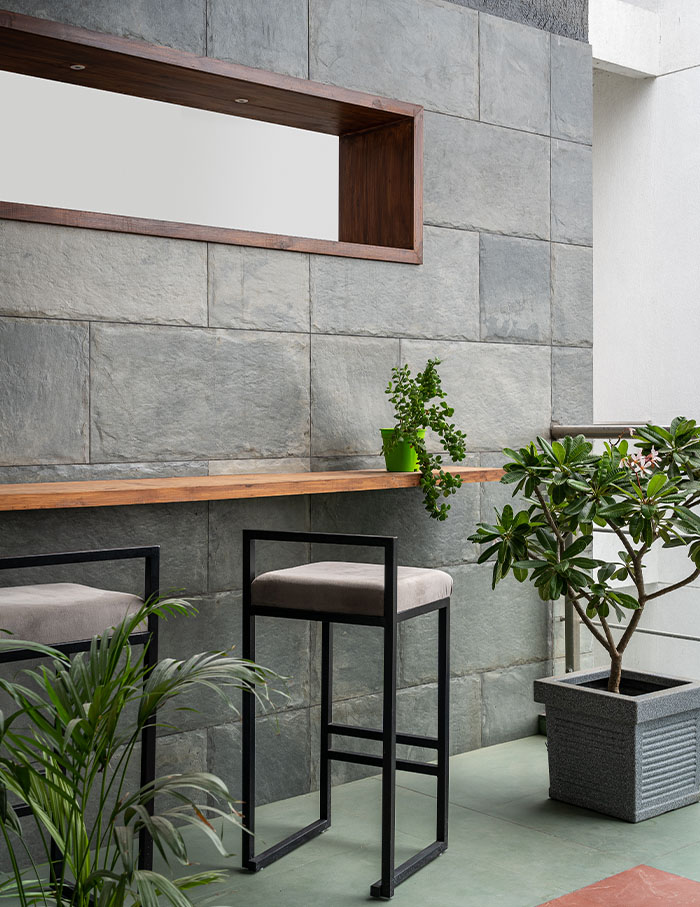 Following this, we enter the living and dining space. The full length window in the living room lights up the space. The furniture is in fabulous neutral tones with a bright red console and a flamboyant artwork on top of it to bring the space together. The attached balcony has a spacious seating area with a custom-made planter grid.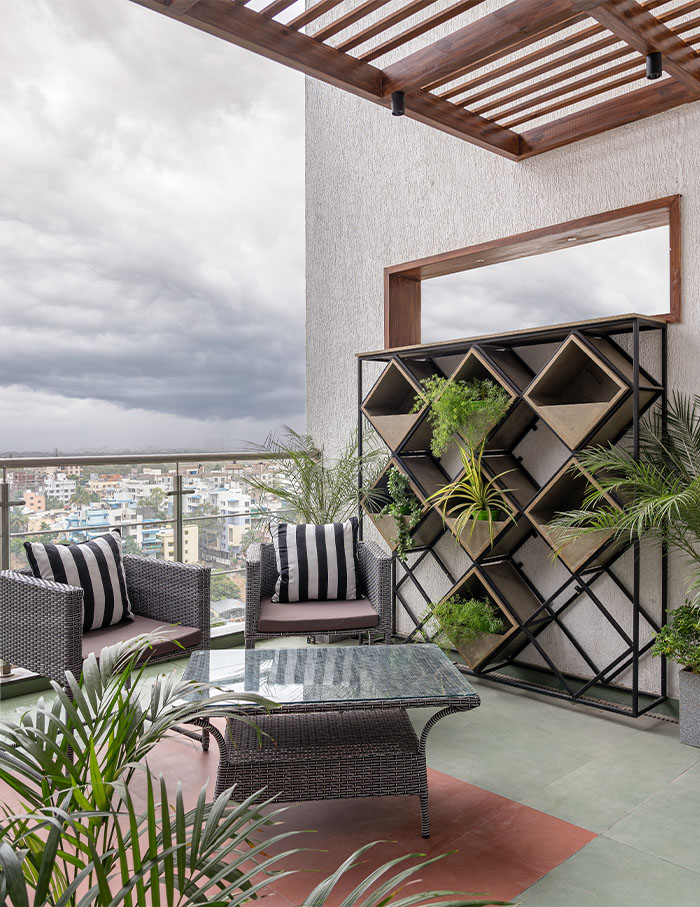 With an open space layout, the dining room has stunning deep jewels tones and an elegant setting great for hosting guests. 
Splashed with subtle shades, the kitchen comes next. A small powder room has been converted into a pantry in the kitchen, increasing its functionality and making it the ideal storage unit.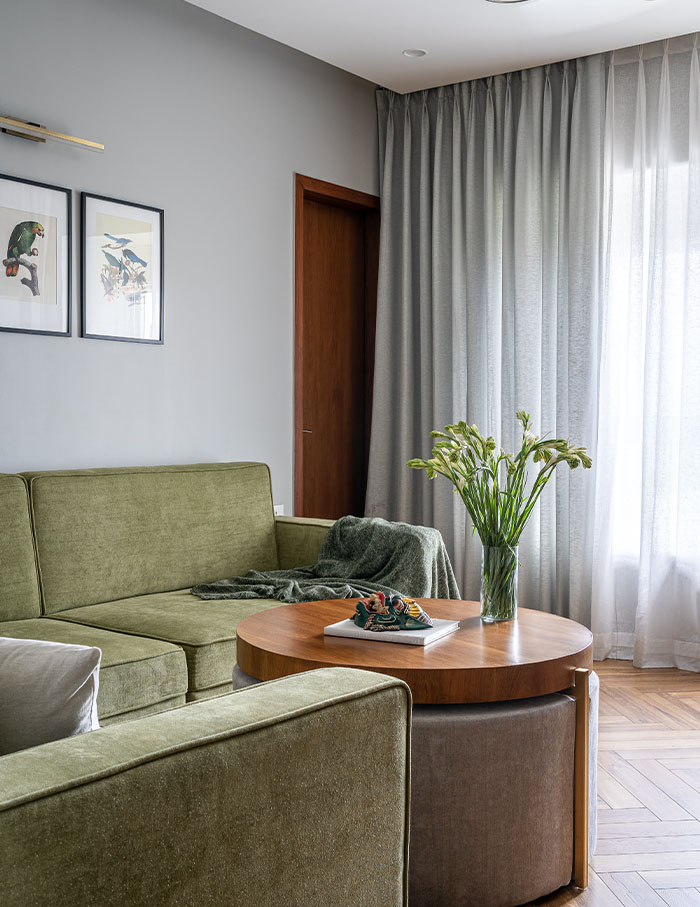 Following this, there are three bedrooms in the home.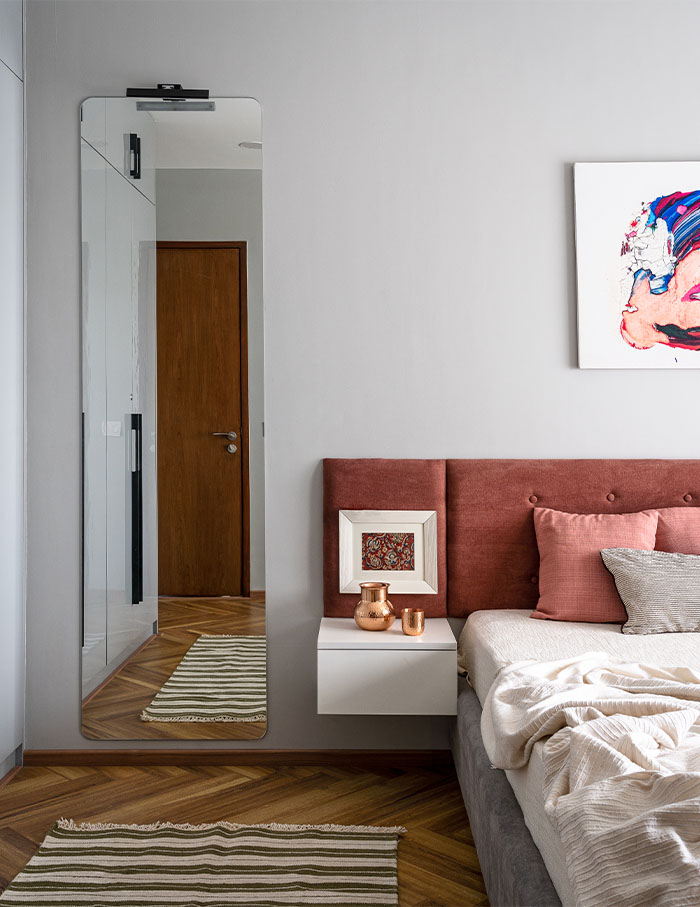 The master bedroom is designed in delicate neutral shades with impeccable furniture. It contains a walk-in closet and a terrace attached to it. 
The son's bedroom is a radiant room in blue with a luxurious back panelling in pastel blue.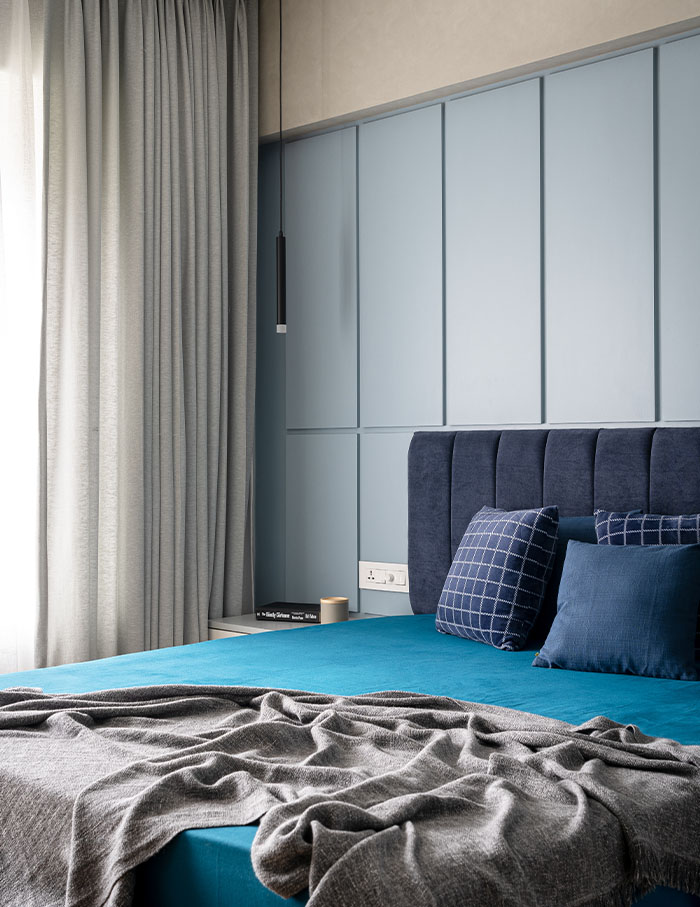 The guest bedroom is in fresh peachy tones with its own private bathroom as well. 
Ideas to bookmark
Instead of adding excess furniture, the use of pop colours to elevate the space enhances and boosts it. The designers aimed to appeal to the emotions a person feels while walking into a space rather than following fading trends.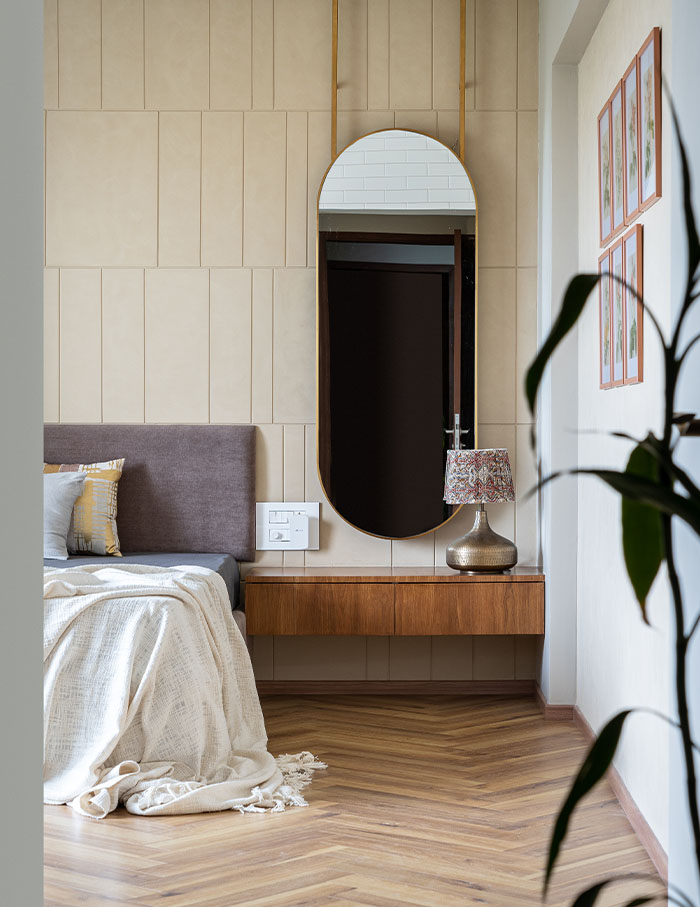 You may also like: This Bengaluru home designed by Studio GSA Architects Pvt Ltd is a bichromatic dream