Homes
Feeling grey in the best way—This Bengaluru home designed by Studio GSA Architects Pvt Ltd is a bichromatic dream
DEC 12, 2022
| By Tamanna Doctor
While Monday blues have just started, this grey and blue home designed by Studio GSA Architects Pvt Ltd will make you forget the concept of monday blues altogether.
While maintaining its individuality, the founders Gaurav Panjwani and Santosh Belani of Studio GSA Architects Pvt Ltd along with the stylist Samir Wadekar designed this 4,200 sq ft grey and blue home located on the 27th floor in Bengaluru.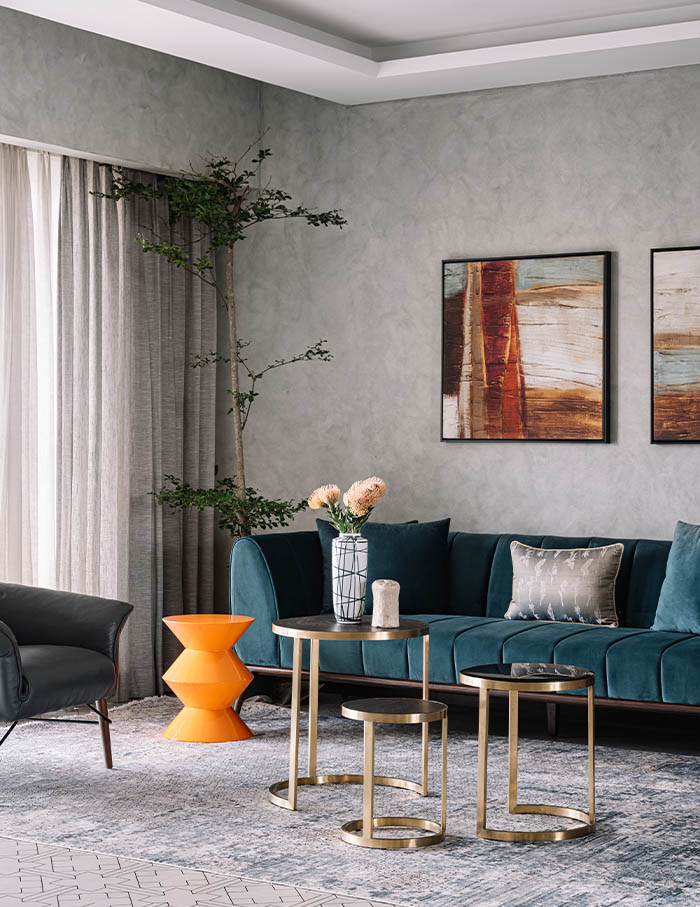 The curious brief
The homeowners of this ravishing blue and grey house are tile distributors with an impeccable sense of style, they had a clear vision of what they wanted. Wanting something sophisticated, subtle and understated. The studio helped bring their ideas to fruition.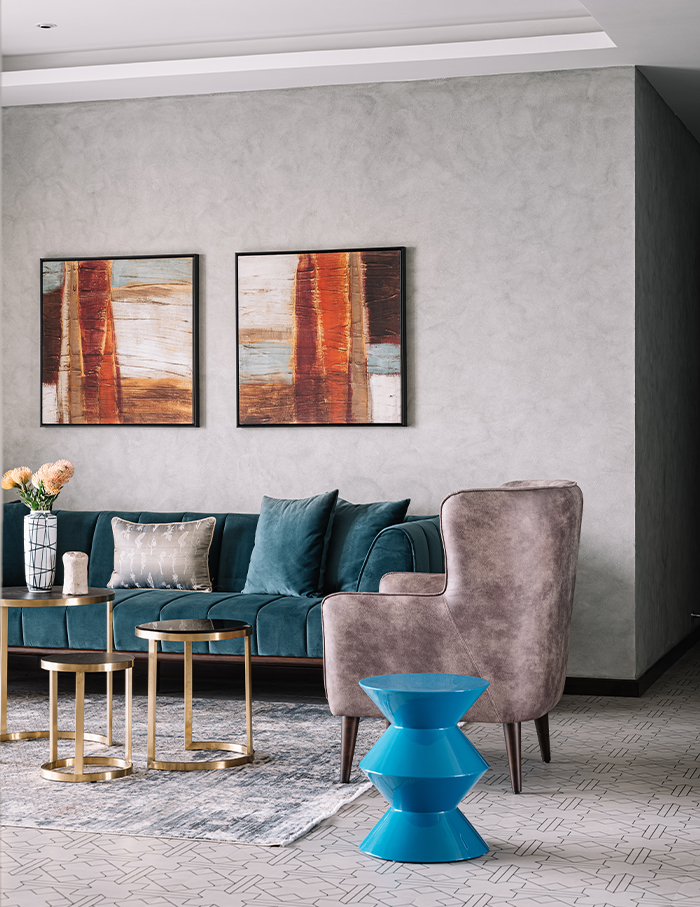 With sophistication at its core, the theme of using mainly blues and greys is evident throughout the space with random pops of colours included in the furnishings and art pieces.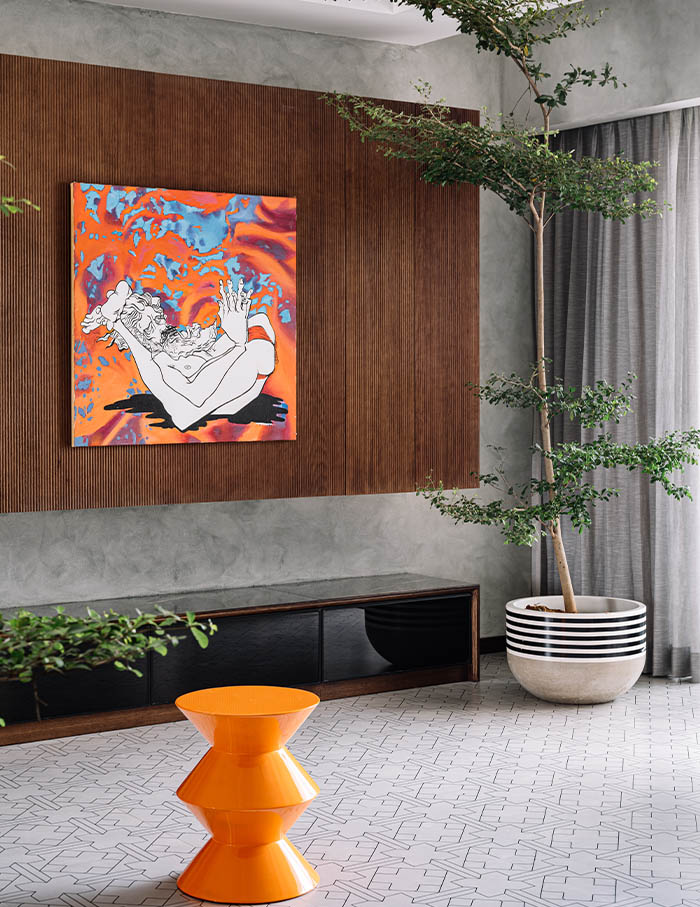 The design philosophy was to have maturity reflected in the space and make it light. The home is playful and yet exudes elegance.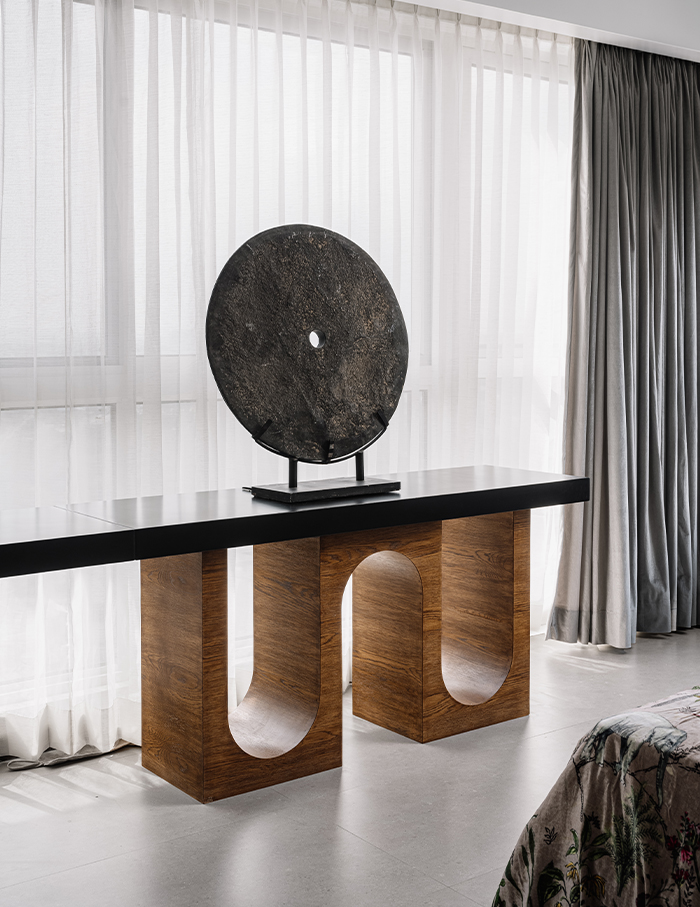 Tour every turn of the home 
Entering the space, you are greeted with the living room and the dining space. In the living room one can find stunning warm wooden accents along with an eye-catching painting. The furniture is upholstered in deep jewel tones and brings the space to life. The living unit acts as a backdrop for the TV, masks the pooja room and conceals some much needed storage.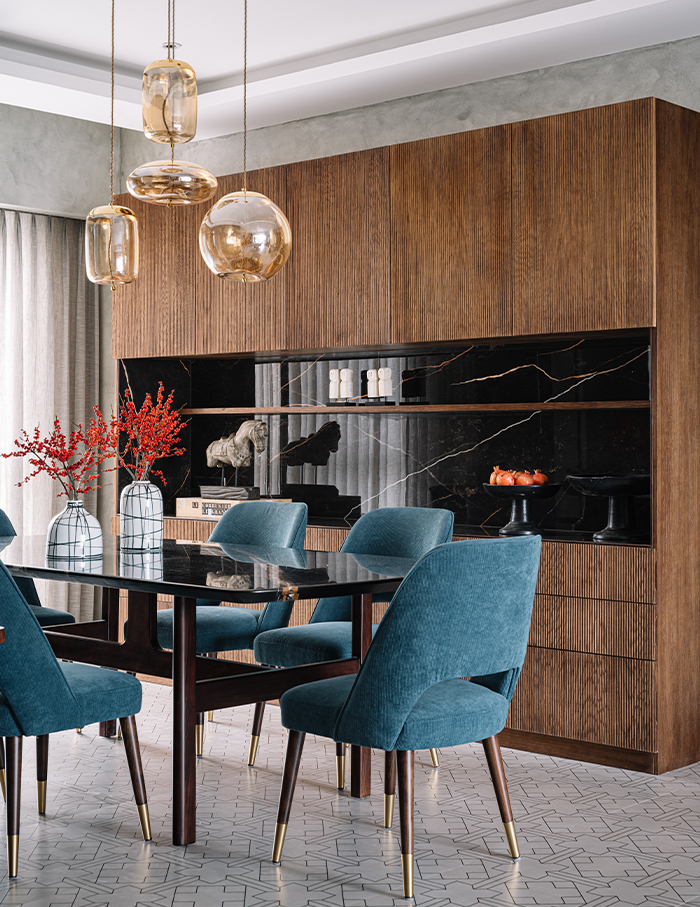 The dining room has delightful chevron groovings in the wall which conceal a frameless pivot door to the kitchen.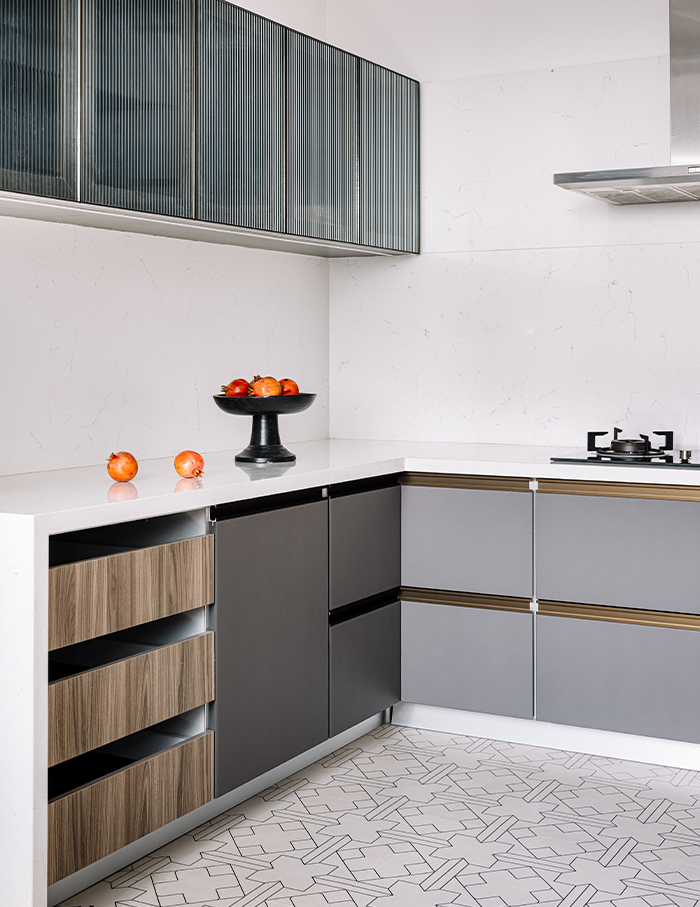 The quirky lighting above the centre of the dining table adds an extra wow factor to the place. The dining unit also acts as a storage device.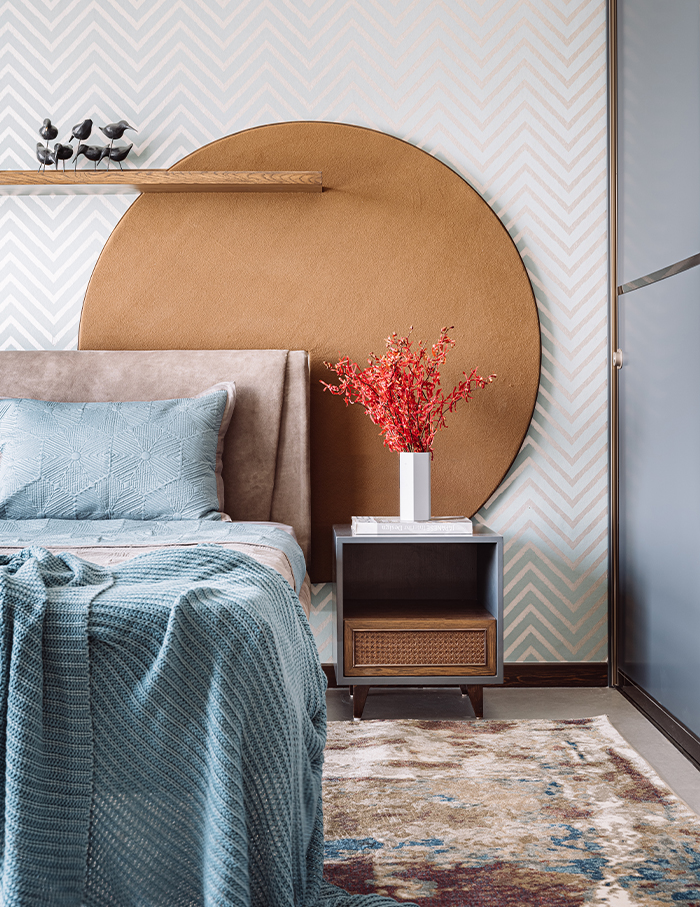 The stylish kitchen is a dream in grey. With extremely clean designs, this space screams chic. The view from the gallery attached to the kitchen is extraordinary.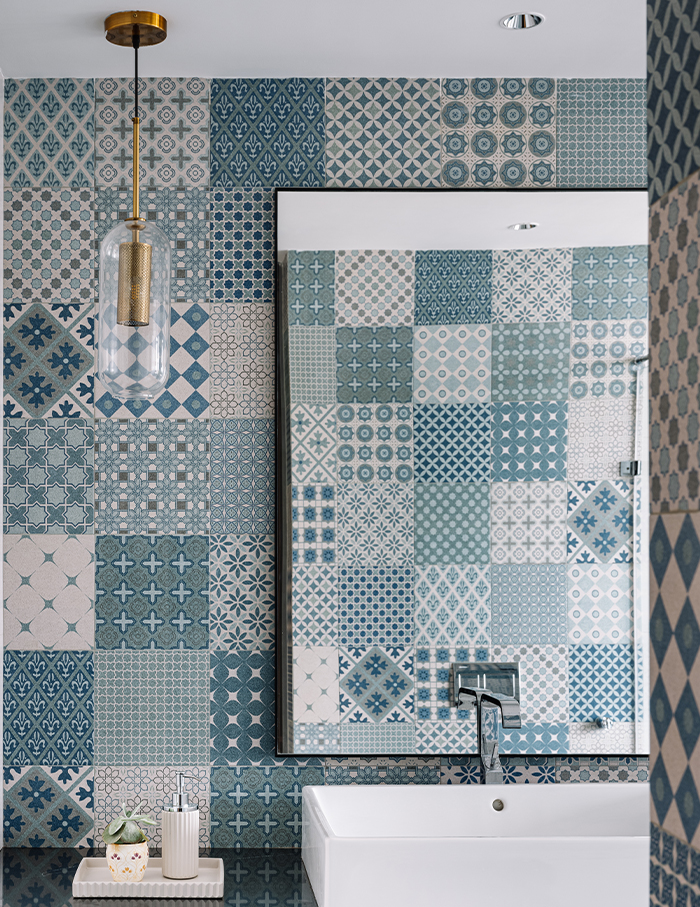 Moving onto the master bedroom, the usage of blues can be observed here as well. The fluted wood panels add an extra dimension to the room. The master toilet has exceptionally eccentric tiles in blue which make the space seem playful and yet suave.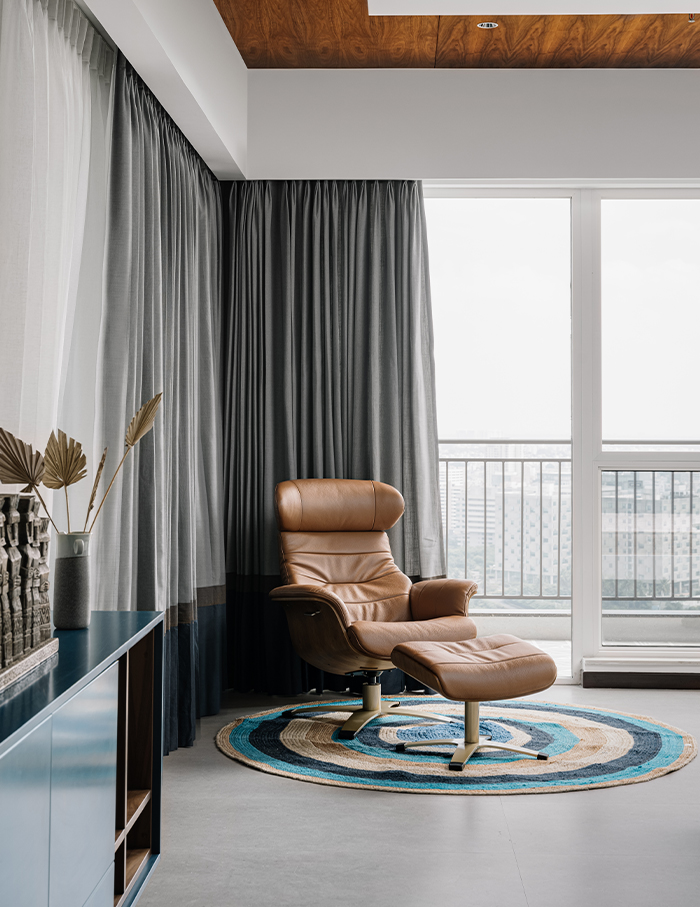 Blues and greys have been used in the daughter's room, sons' room and the guest room. Though each room has its own artistic sensibilities.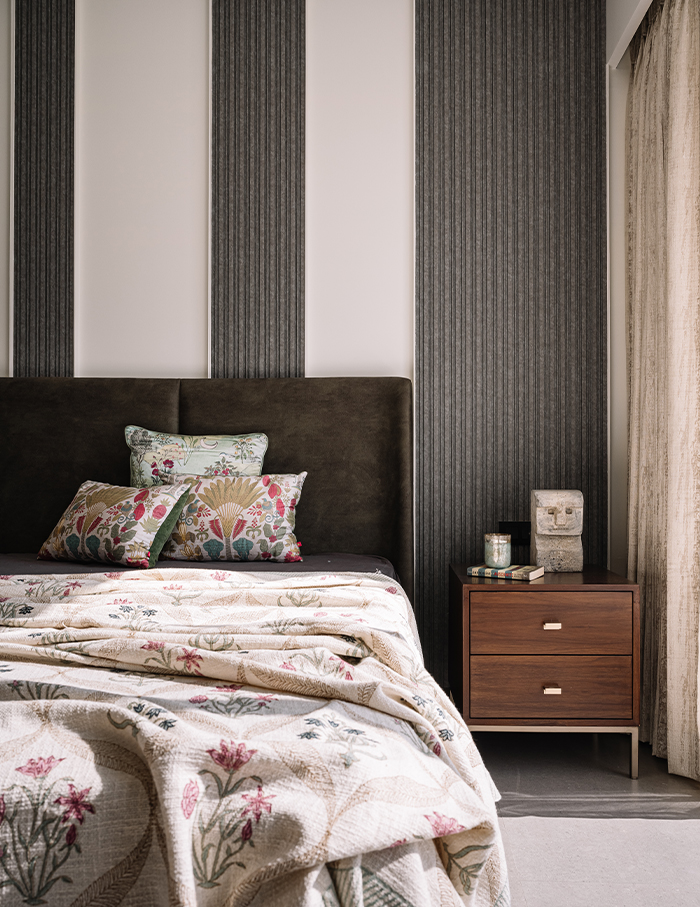 Ideas to bookmark
Each and every room has its own personality, and even though furniture plays a huge part in achieving that, the different walls and patterns in each room give the rooms their own voice.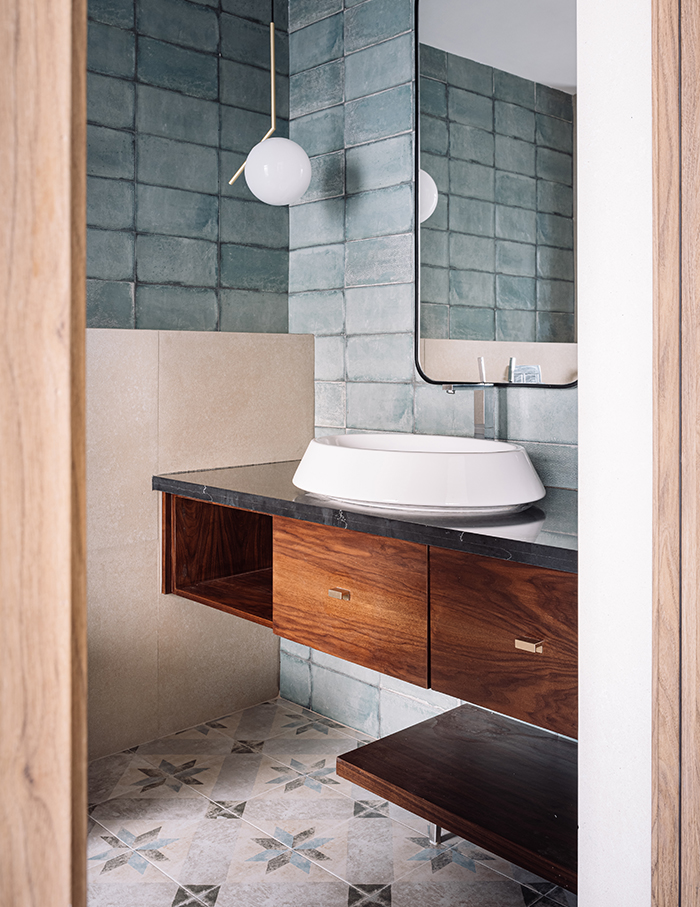 When asked what the best part about designing the home was, the designer stated that the toilets were coincidentally the best part. Being given the creative freedom and playing with colours and patterns was extremely rewarding. 
You may also like: This Bengaluru home by We Design Studio appreciates open spaces like never before