Homes
Gayatri Gunjal of YellowSub Studio infuses this home with a cocktail of black, white and grey hues
JAN 1, 2021
| By Vedika Nair
This 2,500 sq ft home is a play on monochrome aesthetics—in stark contrast from the bold and colourful backdrop of Chennai. Conceptualised by Gayatri Gunjal of YellowSub Studio, this abode is cloaked in black, white and grey hues with a rustic material palette.
With a panoramic 360-degree view of the city, the four bedroom residence is also fitted with an entertainment zone. "This house pretty much carries forward a clear linear simplicity in design and its language," shares Gunjal.
The foyer extends to a long passageway that's flanked by bedrooms on either side. It leads to the living room from where the dining zone and kitchen are easily accessible through a glass partition.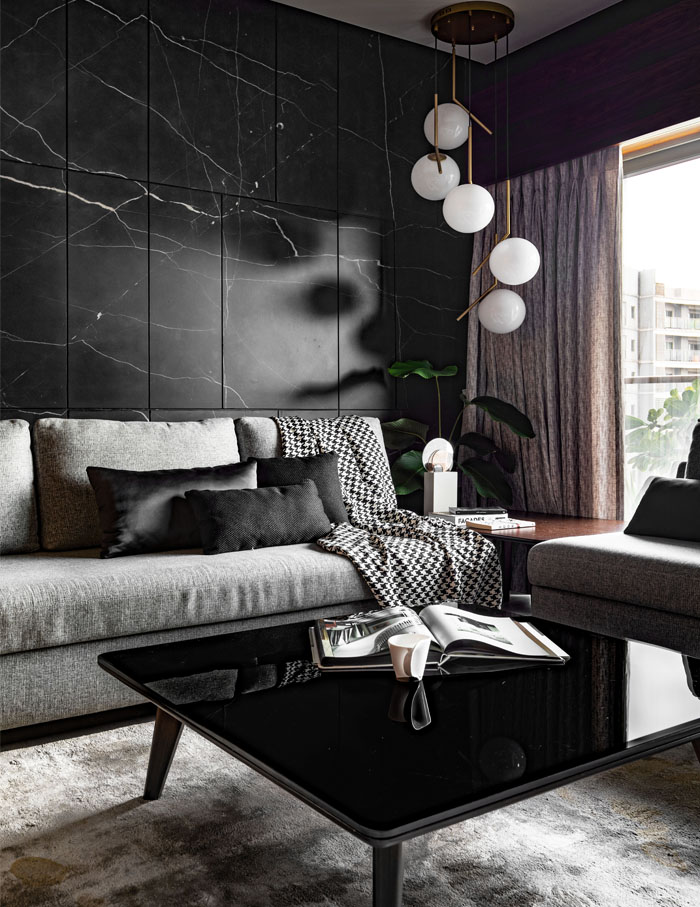 "Everything is designed to suit a certain activity along with aesthetics. All the elements needed to come together as a part of one entity and not look like they were apart from each other. That was the challenge and also the enjoyable aspect of designing this house. However, I loved working on the large, open kitchen with its varied activity counters and detailing," adds Gunjal.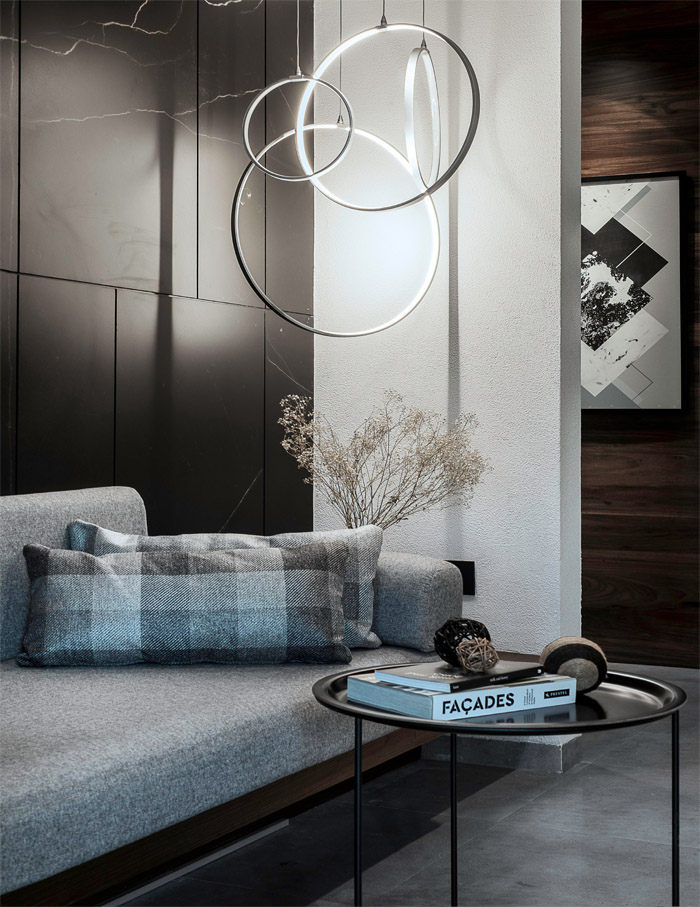 One of the bedrooms is enclosed much like a glass box to turn it into an entertainment room, while another serves as a guest room. Nearby is the master bedroom, which is complete with plush furnishings and a capacious walk-in wardrobe.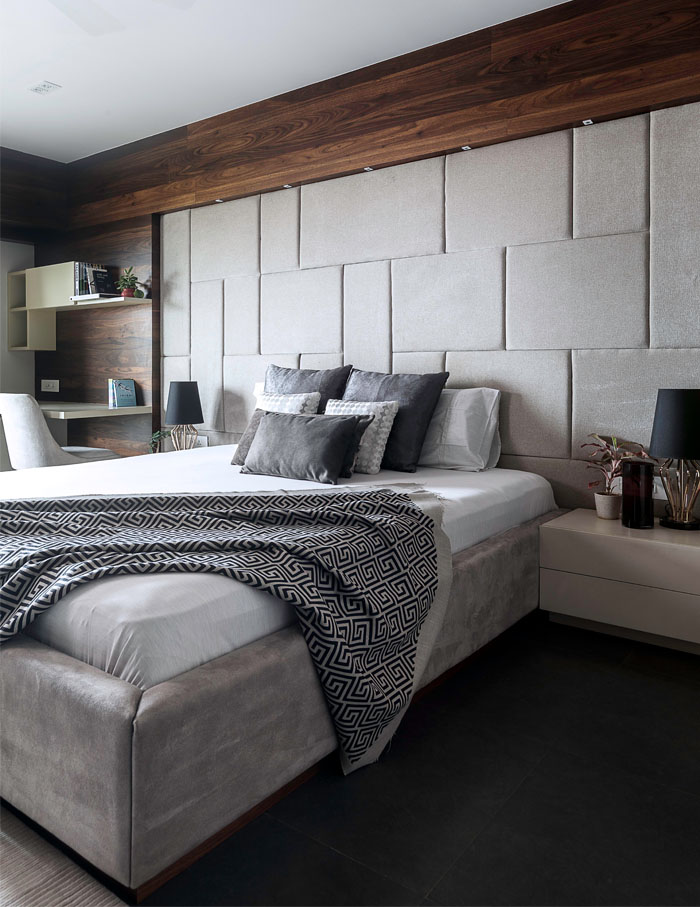 The home is enveloped in rustic grey cement flooring finishes with accent walls in an exquisite black Marquina matte finish marble. "We experimented with the finish on the marble with karigars to attain a uniform matte finish. This was challenging considering the porous nature of the material," points out Gunjal.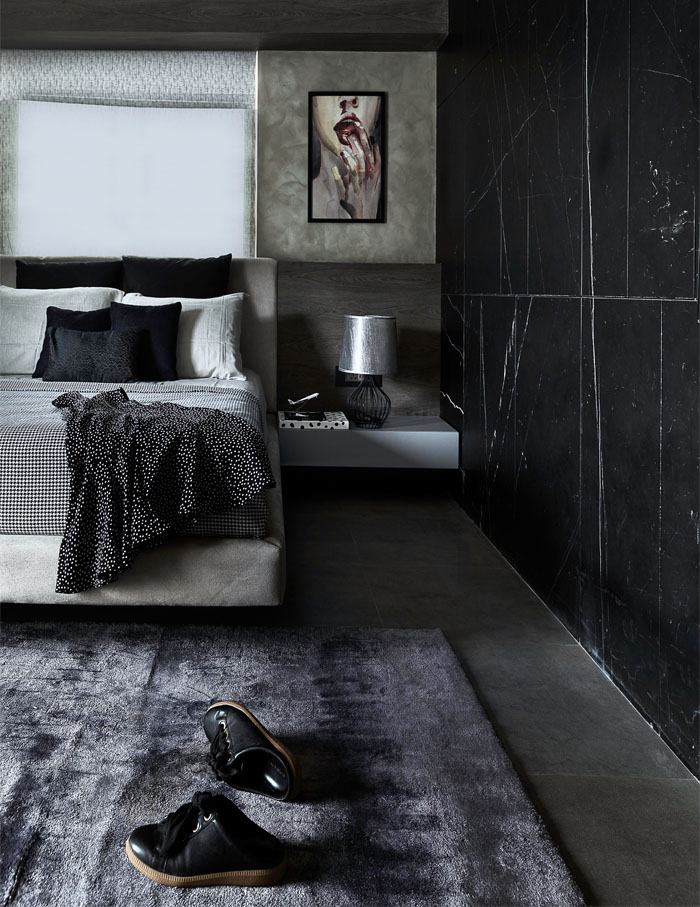 She adds, "This marble cladding welcomes visitors right from the foyer spaces to the living room (where it acts as a backdrop to the sofa) and continues on the walls of the bedrooms. Along with marble, a graphic 3D panel forms the backsplash of another bedroom and a fabric grid is used as a bed head in the master suite."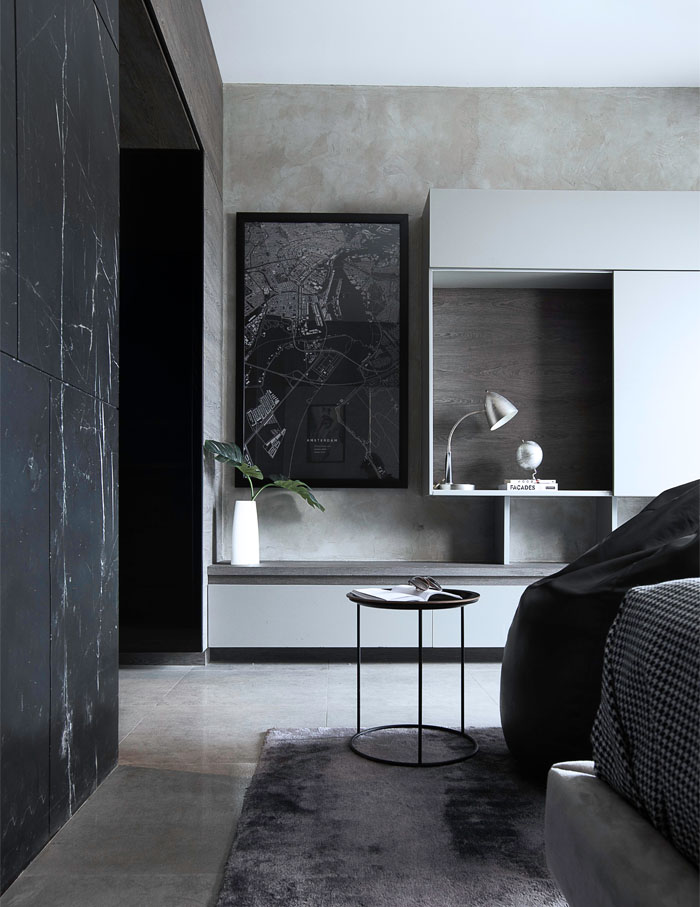 With a philosophy that pays ode to open spatial planning, both in architecture and design, Gunjal has created a monochrome marvel such that the spaces seamlessly blend with each other and emulate a rustic aesthetic.