Homes
Monochromatic Apartment by ns*a Architecture and Interiors lends a harmonious setting of minimal design
JUN 28, 2021
| By Saloni Rege
Tucked away in one of the by lanes of Mumbai's Pedder Road, this two-bedroom apartment exuberates warmth and lends a minimal design approach. Designers Neesha Alwani and Shruti Jalan of ns*a Architecture and Interiors have revamped this residence with sober palettes, refined materials and a sense of calm amidst the buzzing city life.
Realised as a modern space with clean lines, the Monochromatic Apartment covers an area of 1,200 sq ft and features varied elements and textures in a harmonious setting.
"The quinquagenarian clients wished for a simple home that felt like a serene retreat of comfort. The homeowner couple wanted to keep aside a bedroom for themselves while transform the other room into a guest space plus den for entertainment, alongside a spacious living area and dining extended out onto the balcony," shares Alwani, founder and architect, ns*a Architecture and Interiors.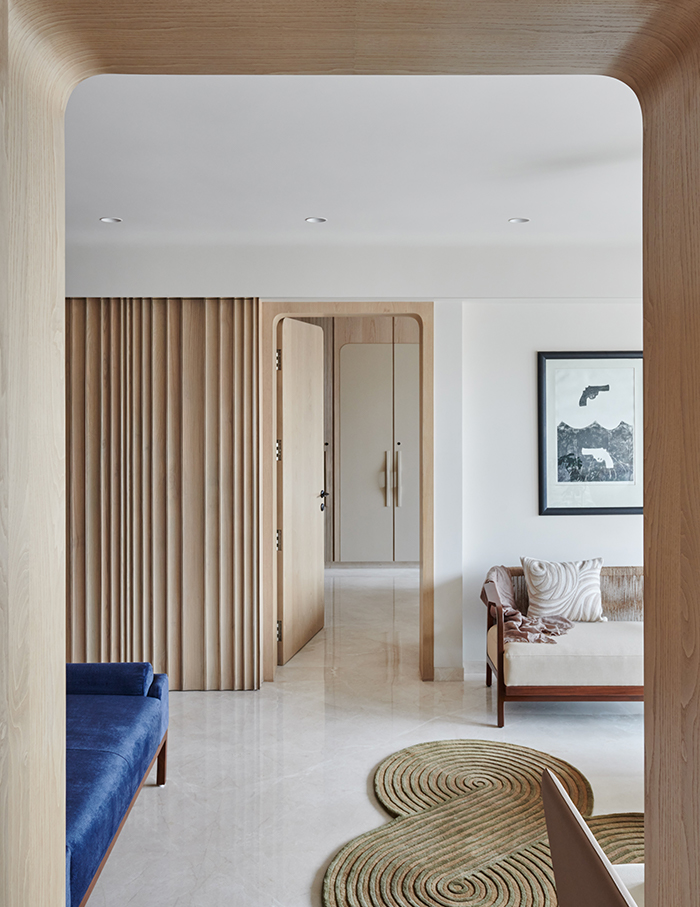 A long linear ribbed wall greets at the entrance and continues into the living and dining area, partitioning the kitchen and utility spaces from the interactive ones. The smoked ash wood ribbing renders an interesting texture to the wall with its varying sizes and extends onto an openable panel that smartly conceals a bar within the wall thickness.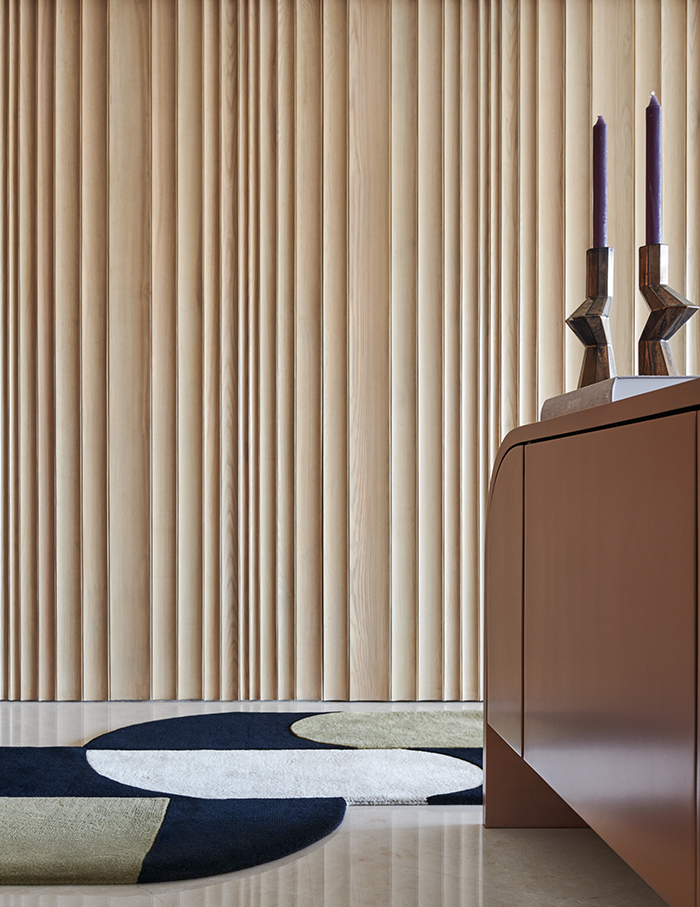 Decking the subtle and airy living room is an ensemble of a three and two-seater sofas and a lounge chair that are dressed in beige tones and shades of ivory chenille. Paired with the set is a cosy chaise in deep blue hue, which offsets a dramatic backdrop that's served by a burnished copper, curvilinear console.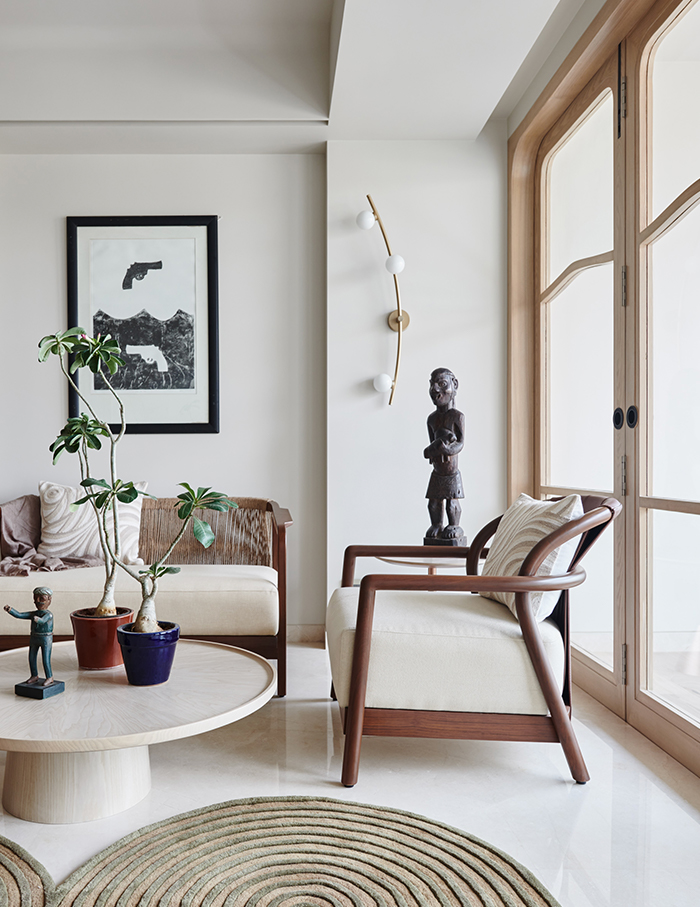 The living area opens into an outdoor balcony through a series of expansive sliding-folding doors, which are detailed in slender woodwork and glass panels. Complementing the geometric curves of the earthy carpet is a centre table, made up of a cluster of circular tables of varied heights and diameters finished in smoked ash wood.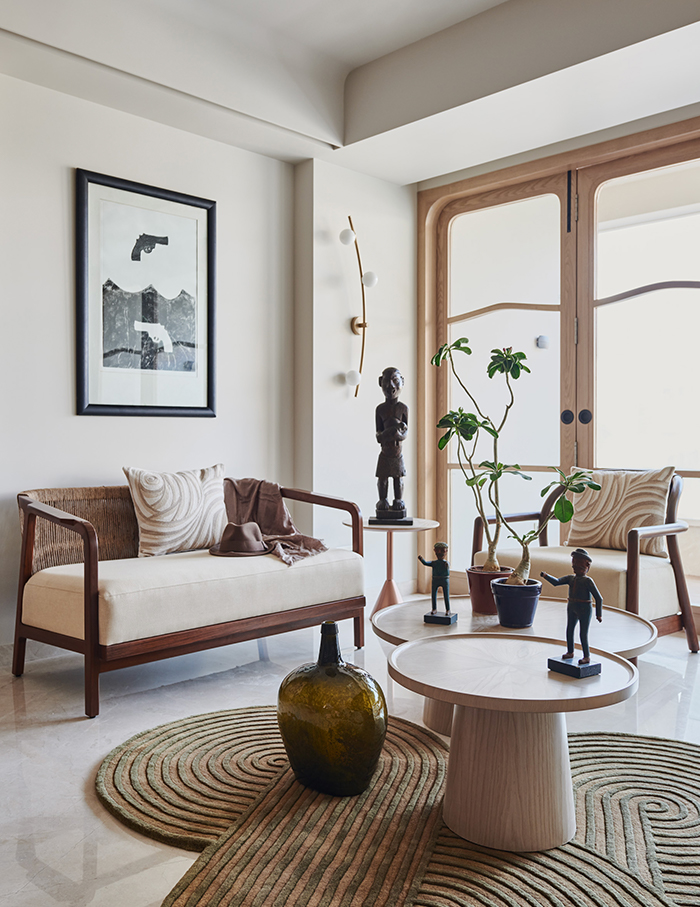 Dotting the bright kitchen is a beige marble floor and a beige quartz countertop, emanating elegance. The cabinetry portrays a combination of ash wood veneer and off-white laminate, being in sync with the neutral palette that envelops the entire house.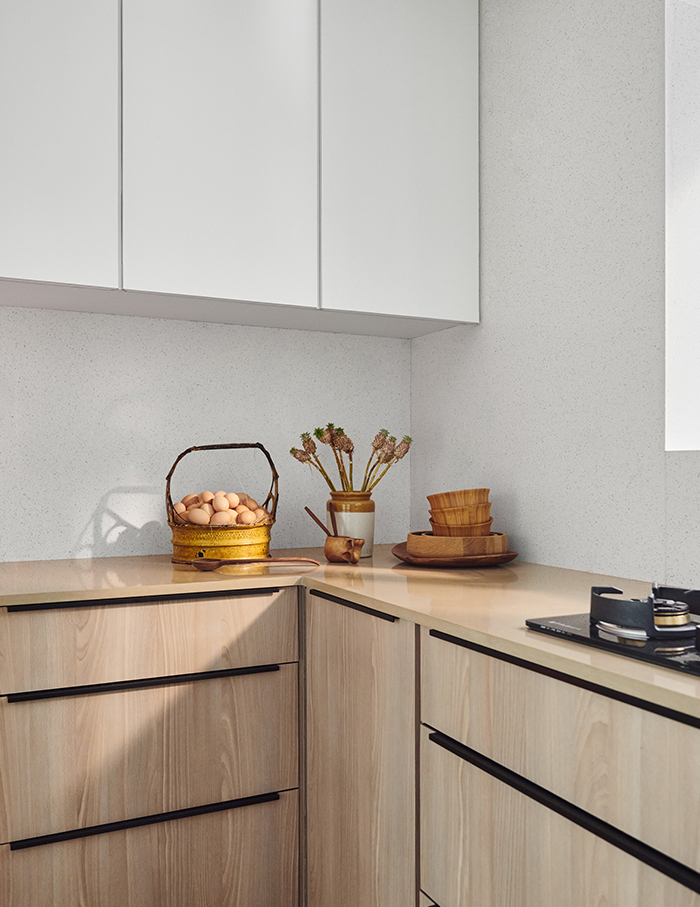 A set of panelled shutters that conceal a storage unit serve as an ideal background for a dining area. A freestanding, curved console divides the dining from the living space. The panels and console both are finished in a burnished copper matte PU that lends a unique character.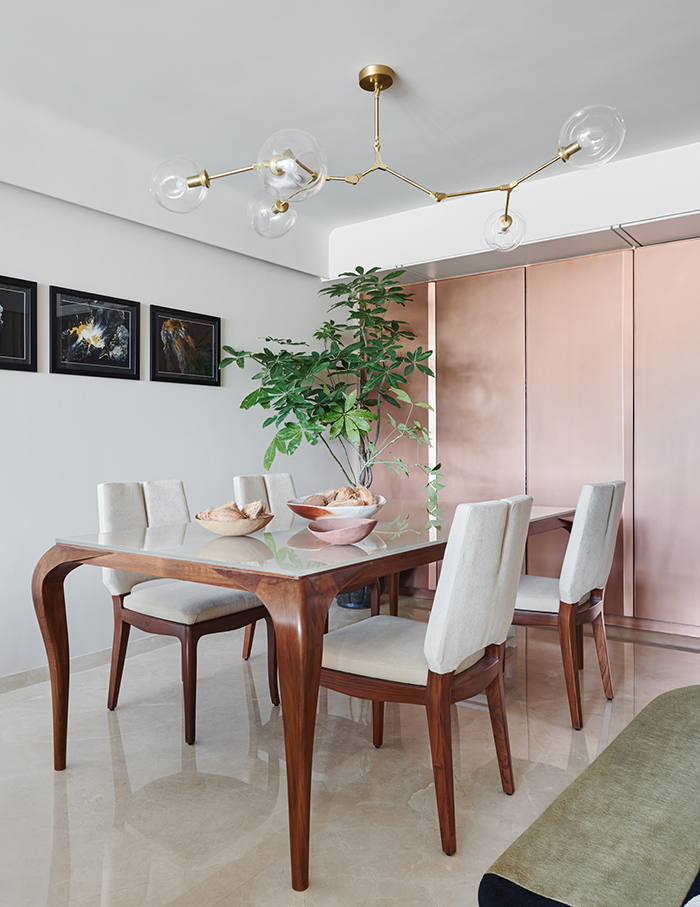 A voluptuous curve-legged, wooden dining table features a beige glass top and is paired with wooden chairs that are draped in organic white linen. An abstract, statement chandelier radiates a soft glow and striking effect in the dining space.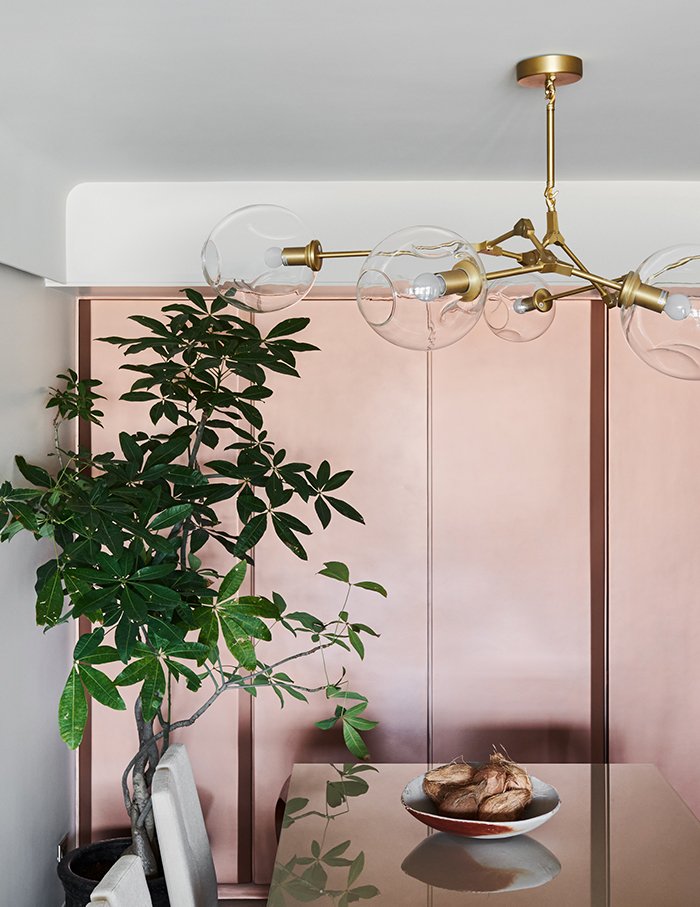 "The clients were very clear about the vision of the space they wanted to reside in. This certainly gave us a direction while conceptualising the design and the process became pretty straightforward. We instantly knew that the apartment had to be infused with monochromatic tones and clean, clutter-free surfaces," reveals Jalan, founder and interior designer.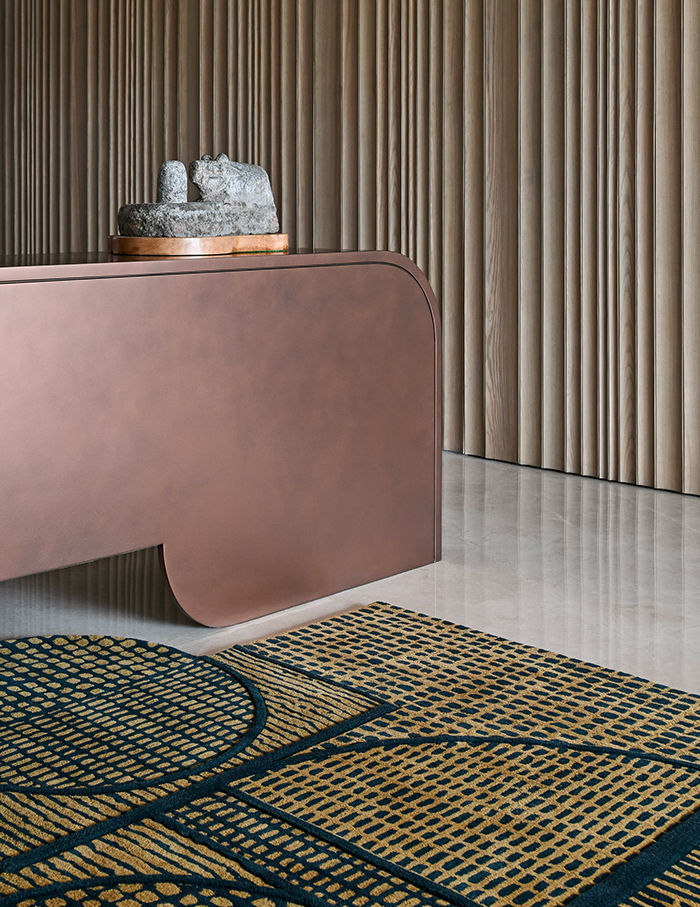 Varied architectural details, intricacies, textures and organic elements stand out against a neutral palette that binds the home in a cohesive essence of sophistication. The designers further add, "We stay away from trends and prefer to weave spaces that are customised for an individual client and suit their requirements, mirroring their personalities."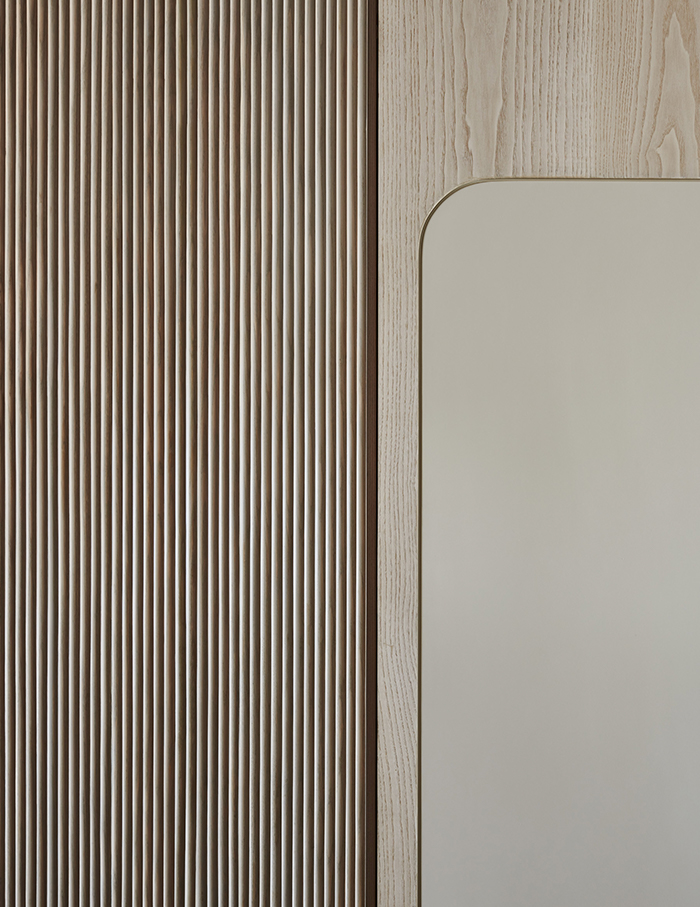 The house boasts materials that are easy on the eye as well as elements that offer a carefree, efficient and low maintenance lifestyle. The designers have strived to include materials that exude a timeless appeal and sustainability. A right balance between aesthetics, functionality and economics goes a long way!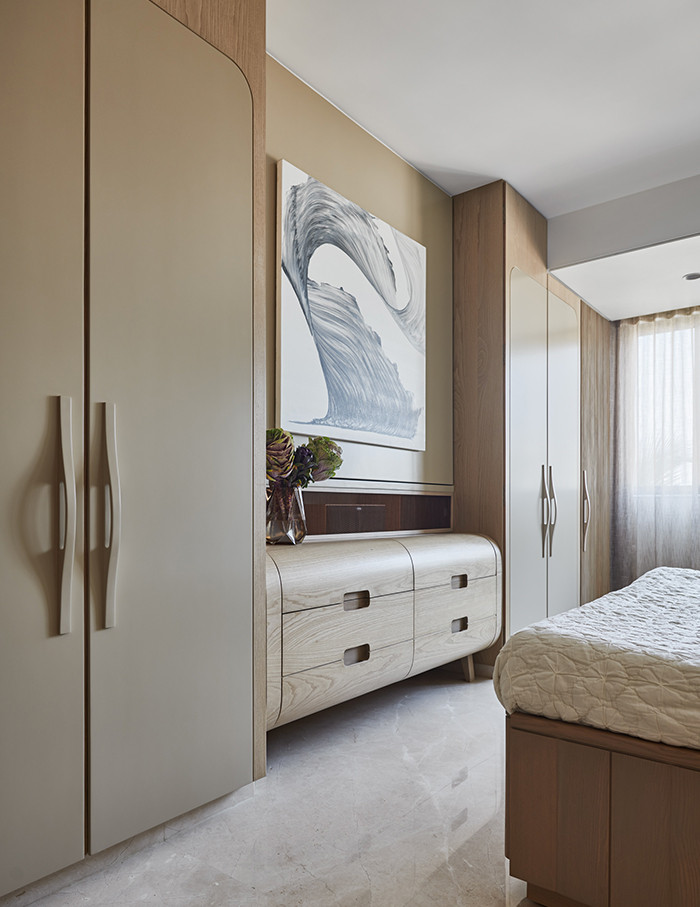 Conceptualised as a makeshift guest room, the den is dotted with a Murphy bed placed between two sets of wardrobes. A brown art leather sofa, a brown chenille and a tan art leather lounge chair embellishes the space. A circular rug in shades of ochre and pale blue accentuates the room with a splash of vibrancy. An ash wood console placed against the window carries the client's books and collectibles.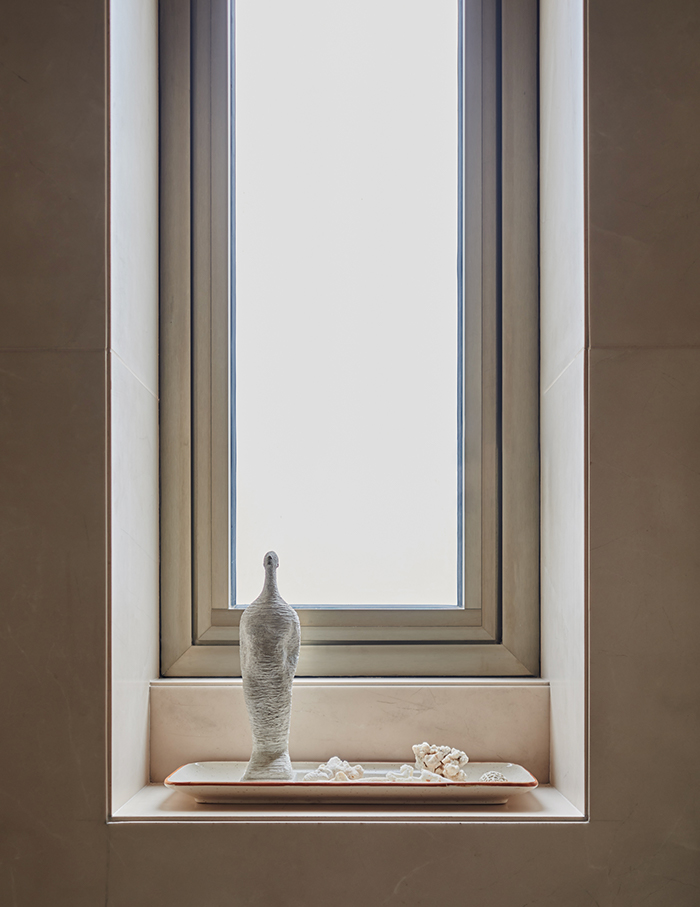 Rounded corners, arched frames and soft detailing adorn the principal bedroom. The chest of drawers between the wardrobes has a curvilinear form that makes for an interesting element. The wardrobe shutters display a fluted surface in polished ash wood and a beige matte PU finish, forming an alluring composition. A ribbed art leather panelling wraps the bed headboard, combined with ash wood side tables.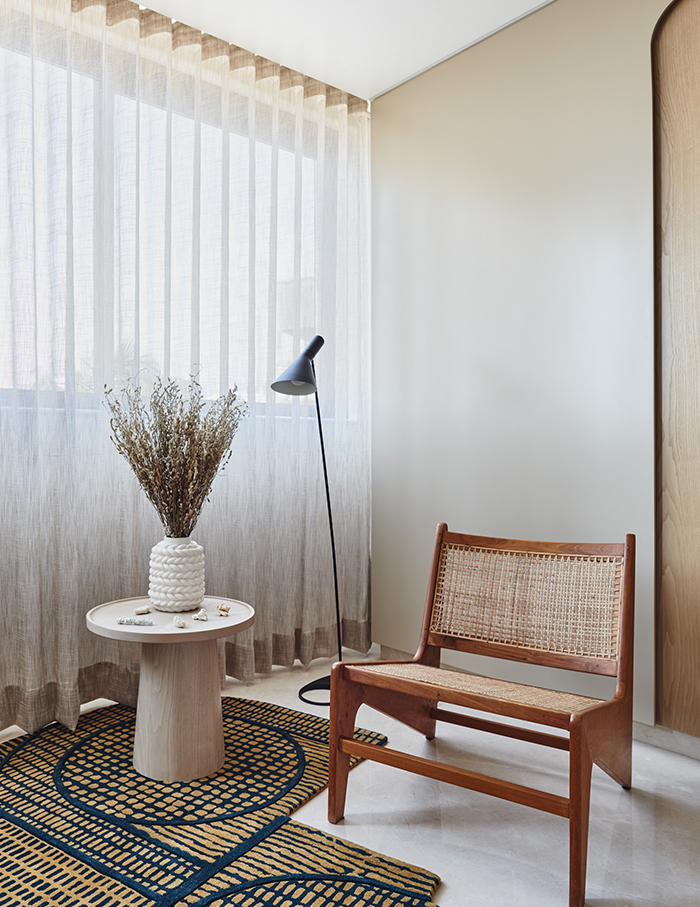 A beige marble floor unifies the primary bathroom as well and ribbed wall tiles make a pleasant appearance, encircling the curved washbasin. The under counter shutters are done up in ribbed ash wood while the drawers are finished in ash wood veneer.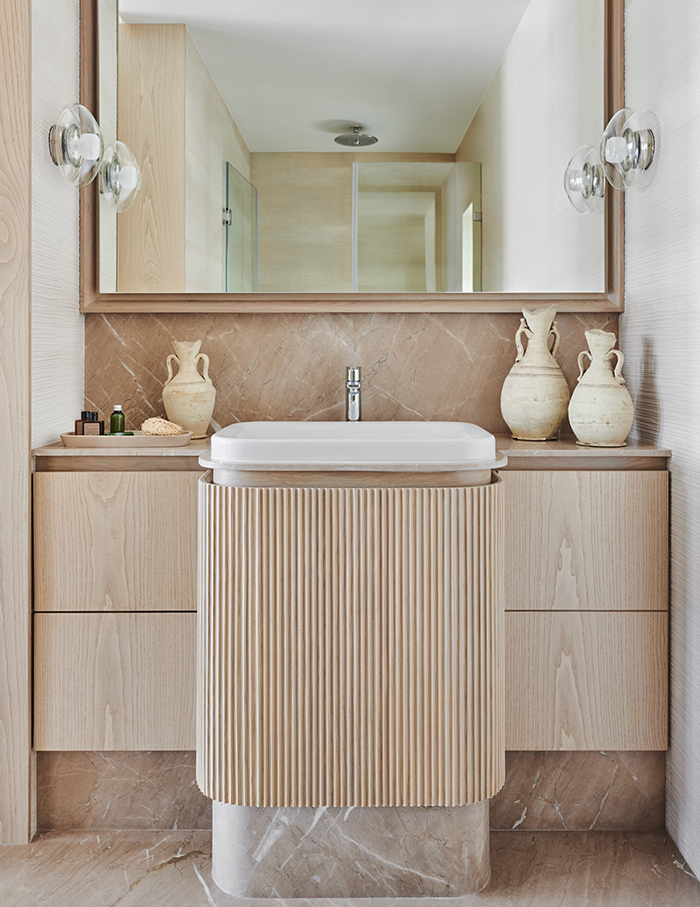 Contributing to the energy efficiency factor, the apartment is flooded with natural light and ventilation, wherein the occupants do not require to resort to artificial light and mechanical ventilation. The use of favourable natural materials like wood, stone, cotton and linen fabrics have been sourced locally.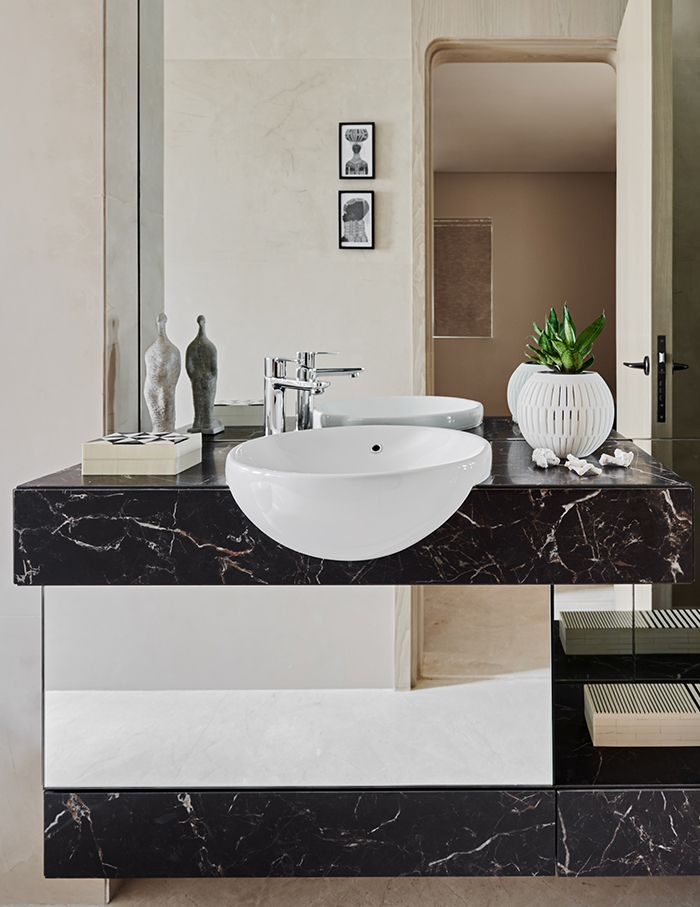 Catering to the aspect of waste reduction, the designers have tried to reuse whatever material they could salvage while gutting the apartment, mainly timber. The rest of the materials have been collected and distributed for upcycling. Additionally, durable and low maintenance decor ensures longevity.
"We aim to decipher a project's requirements and implement our skills to fabricate an environment that meets the client brief, also taking into consideration the surrounding context for a perfect fit. This apartment proves to be on the same lines! Enriching spaces and relaxing vibe layer the Monochromatic Apartment," conclude the designer duo.