Homes
Neesha Alwani and Shruti Jalan of NS*A Architecture and Interiors cloak a dapper city cove in a classy wood ensemble
NOV 6, 2020
| By Neesha Alwani and Shruti Jalan
Setting out to design a space for a family of four, comprising a couple and elderly parents, we instinctively decided on a modern yet sober theme. Marrying the sensibilities and requirements of two diverse age groups such that both are achieved amiably was quite a challenge. The existing 1,600 sq ft apartment, consisting of three bedrooms, was refashioned to make way for two larger ones. The apartment renders a feeling of modern sophistication while being warm and welcoming at the same time.
Oak flooring and wall panels add warmth in the forest of grey hues that set the tone for this apartment. The door openings see a characteristic at the arch with slightly rounded corners and sleek frames in charcoal grey PU, while the walls are covered in a light nickel grey. This detailing continues throughout the residence and can be seen on window jambs, consoles and tabletops with chamfered edges.
A ribbed console placed against a large wall mirror creates an illusion of infinite space and marks the entrance of the abode. Part of a long corridor, this vestibule bifurcates private bedchambers from the living and dining zones, kitchen and utility room.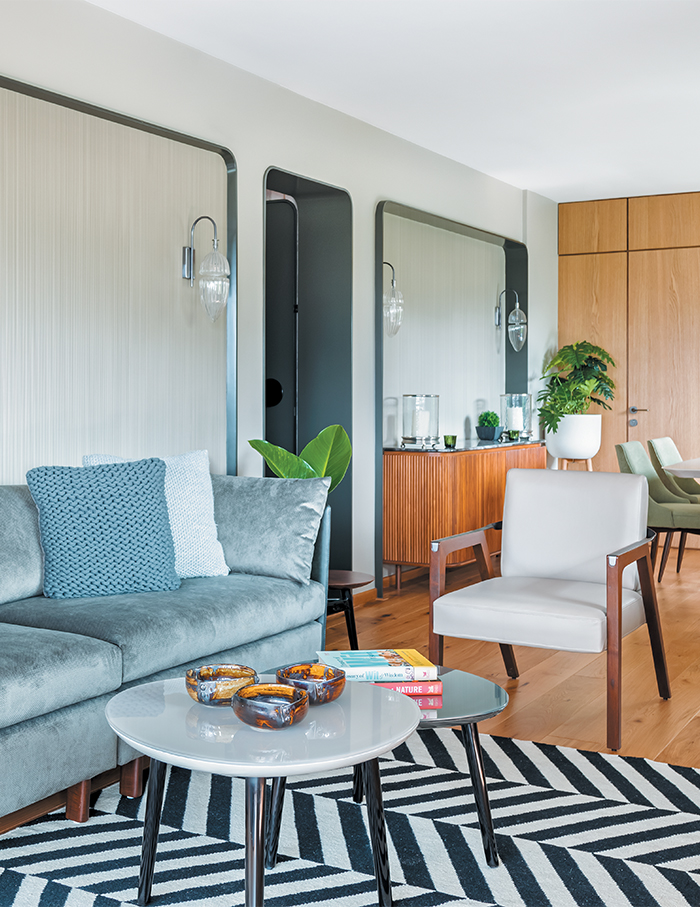 The first stop on the way is the living room, which extends to and is enveloped by a spacious L-shaped balcony with matte grey floors and textured walls. Sliding glass panels provide verdant vistas of dense foliage, resembling a mini rainforest, especially when it's illuminated after sundown using powerful LED flood lights. An interactive bar—with a fluted, ribbed exterior and blackish-grey marble top—occupies one end of the balcony.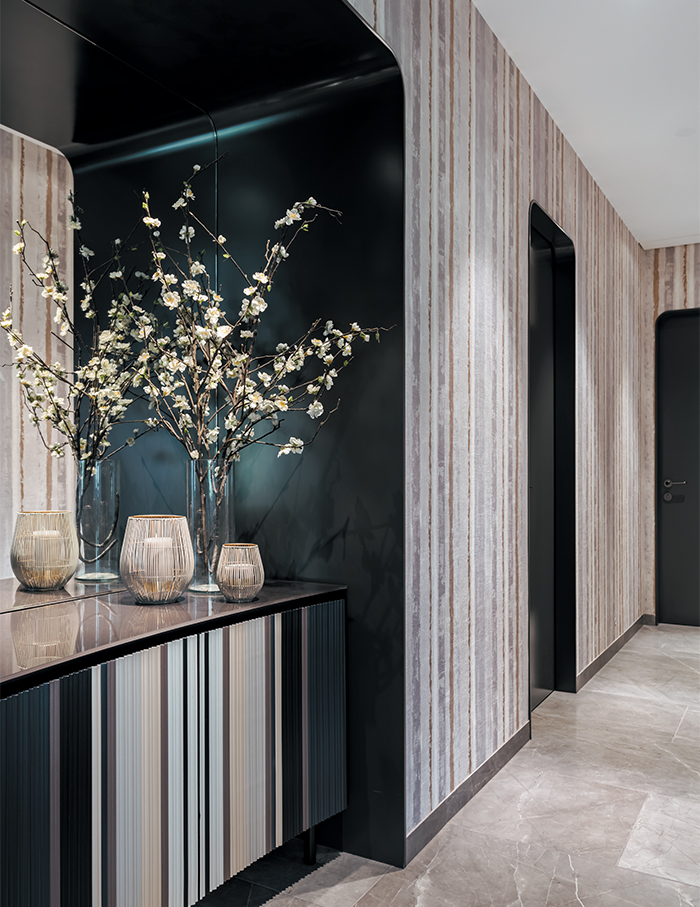 Heading further, one encounters the dining area with silver grey ribbed wallpaper and nickel grey painted walls that connects to the kitchen and utility zone. Inside, ivory, marble-finished Corian dining tabletop with a high gloss wooden base rests alongside a marble topped console in fluted dark wood polish. Six wall brackets in nickel and ribbed oblong glass decorate the walls. The kitchen features matte grey flooring, marbled white and grey wall tiles and white quartz counters with shutters in oak veneer and matte grey respectively.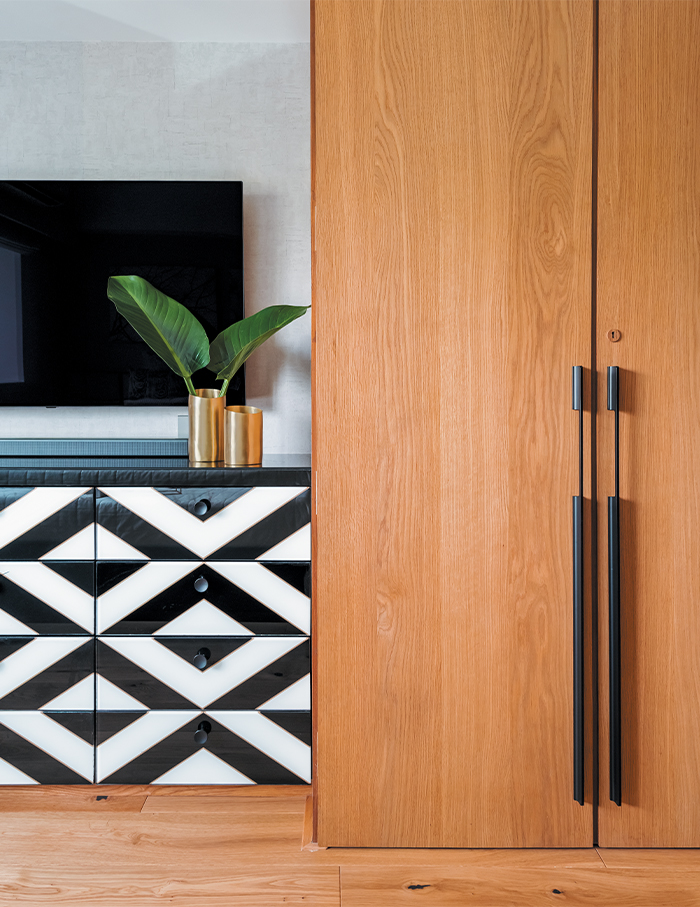 Artistically striped wallpapers contrast against charcoal grey doors and frames as one moves along the passage to private areas. In the parent's bedroom, furniture has been crafted keeping in mind the inhabitant's re ned taste and exudes an air of elegant sophistication. Here, on one side of a large, oak veneer panelled wall, the dressing area houses oak veneered wardrobes along with large mirrored panels, while the walls of the ensuite bathroom are dressed in a stone finished ivory tile with grey streaks.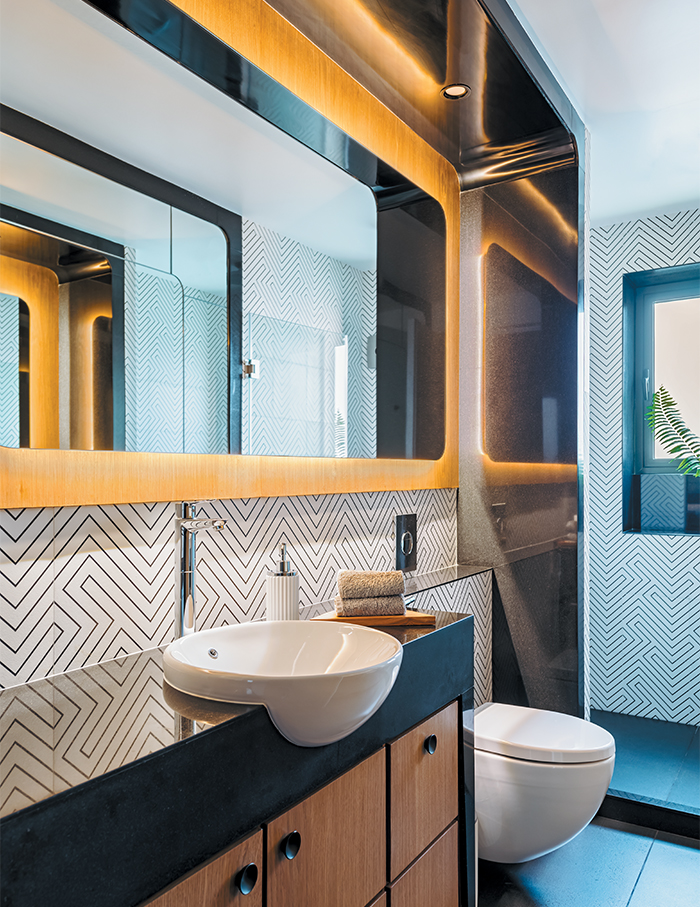 The expansive master suite encompasses a lounge, study and two ensuite bathrooms, ensuring ample space and access to all desired facilities. Oak floors and grey matte PU walls make up the shell of the space within which lies an ivory faux leather headboard detailed with antique brass studs. A striking, black and white patterned chest of drawers further punctuates the area. The lounge houses a salmon pink sofa, charcoal grey and oak side tables as well as black marble and brass table lamps.
One of the bathrooms is dressed in grey and white striped marble and large mirrors to amplify the space, while the other is clad in matte black flooring and diagonal patterned black and white wall tiles. The latter also has a counter, inbuilt within a black granite arched portal with rounded corners and huge mirror panels on the facing wall. All in all, the home addresses every need and desire of its occupants, truly making it a sanctuary for all four.