Homes
Hints of modernity align with heritage of Rajasthan in this Mumbai home by Studio Septray
JAN 25, 2022
| By Rhea Sinha
Nestled in the heart of Mumbai in Matunga is this home that poses like an intimate haveli-like haven for a Rajasthani family. Covering an area of 1,500 sq ft, this 3.5 BHK address is a feat of impeccable design planning by Kiran Mistry, Founder and Principal Designer of Studio Septray
Elevated into a lavish home rich with a legion of arcade space, it abides by a patulous plan and a balanced vastu. Cultured with ornate design facets shaped from traditional Rajasthani architecture, the home styled by Nidhi Tiwari Vyas of Spaces and Stories meets the family's brief to draw a connection to their native state thoroughly.
Mistry says, "Rajasthan is known for its beautiful architecture, motifs, vibrant colours and art. Each of these elements acted as my base to develop the design and that's how the space came alive with a blend of all these."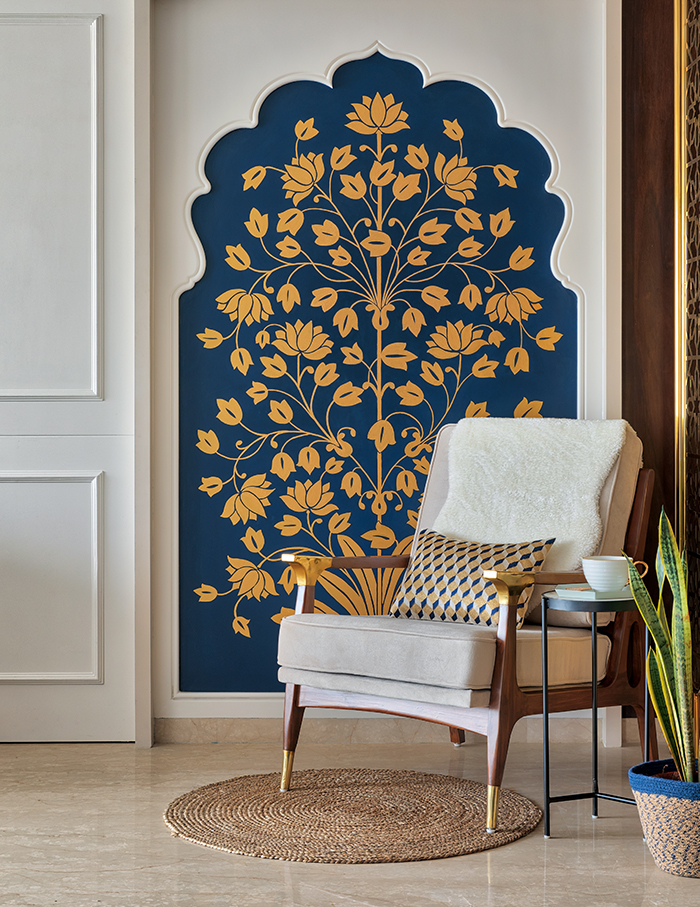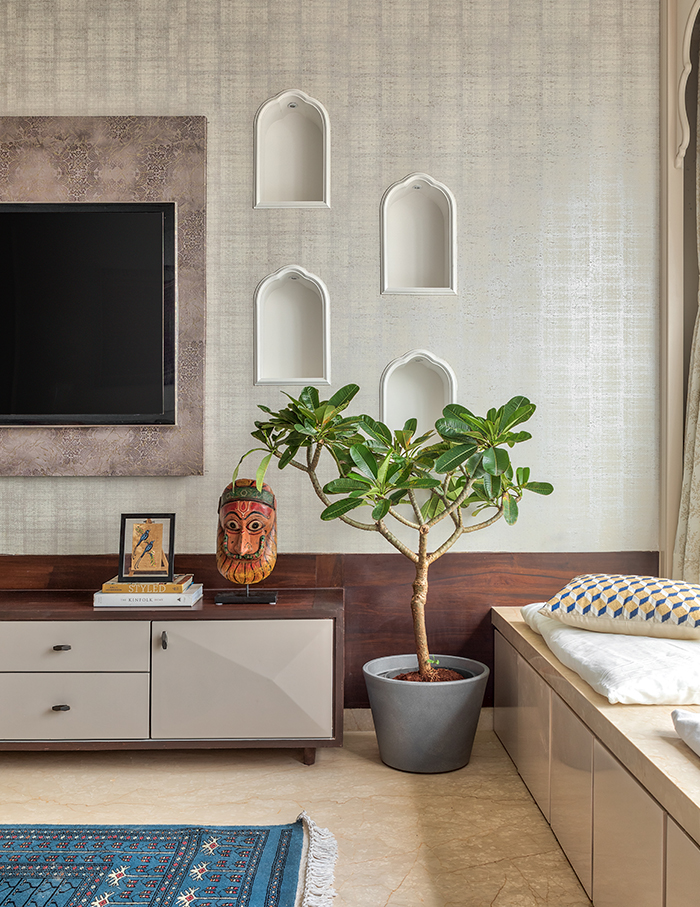 A classic construction compassed with a medley of contemporary components, the residence displays a playful material palette of neutral marble paired with veneer. 
Polyurethane-coated white walls, gold elements, and arty combinations of glass and wood offer a vanilla canvas to the punch of colour embodied in the form of art and decor.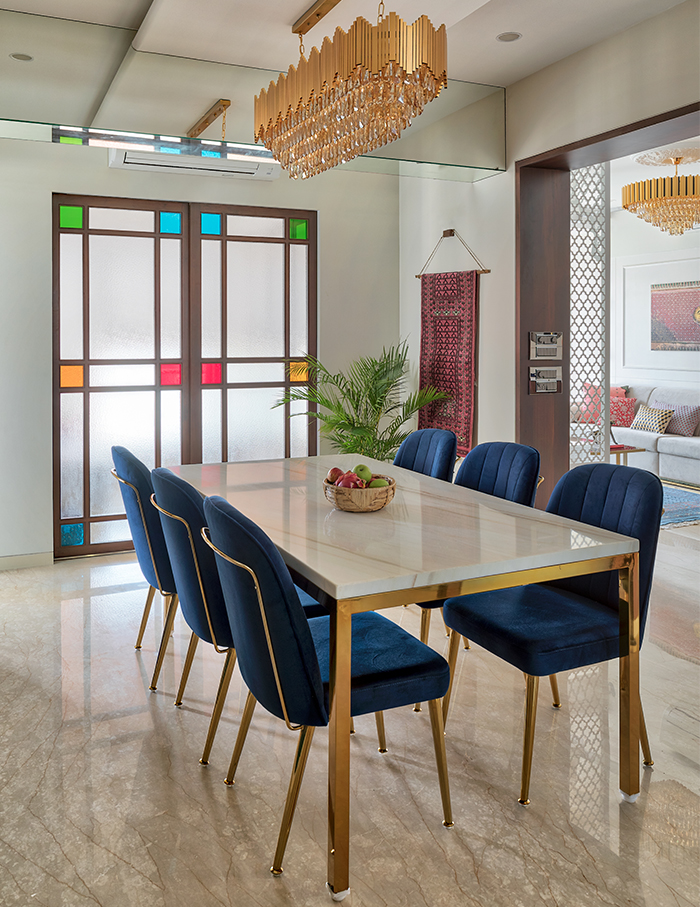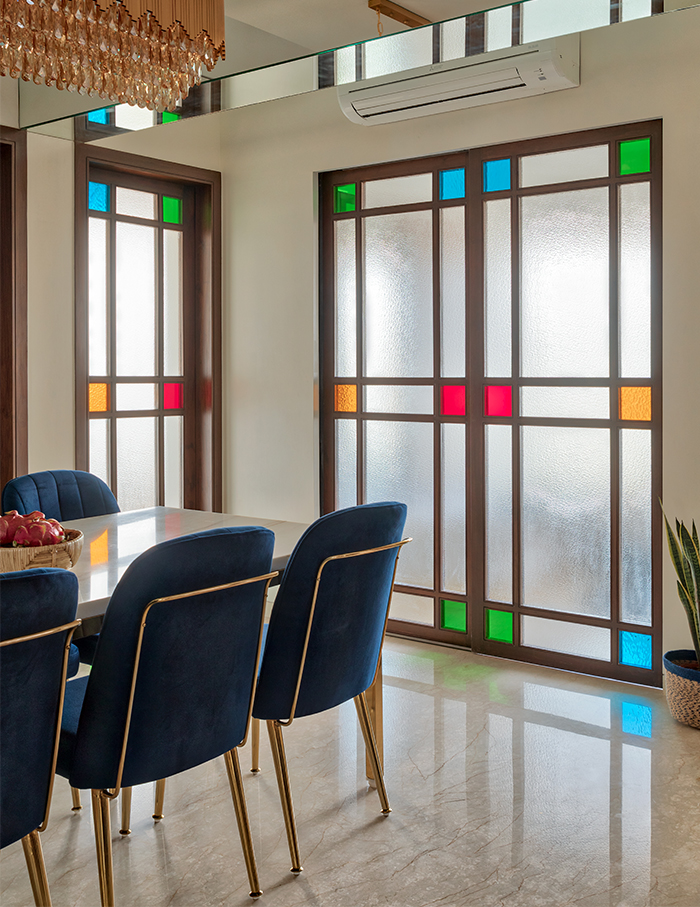 Subtle slabs of beige marble flooring laid throughout paired with minimal high ceilings forge a balanced contrast to the vibrant adornment welcoming the guests indoors.
Parted by a gold laser-cut jaali inspired by rooted Rajasthani patterns, the view from the entryway grants the spectator a peek into the main living space of the home.
At the rear of the division, a custom cabinet for footwear with carved wooden leg detail and finishing in veneer accompanied by a spherical mirror mask the main distribution board. Connected to the cabinet is an arched Indian type seating with custom elephant printed wallpaper and traditional Bani Thani painting.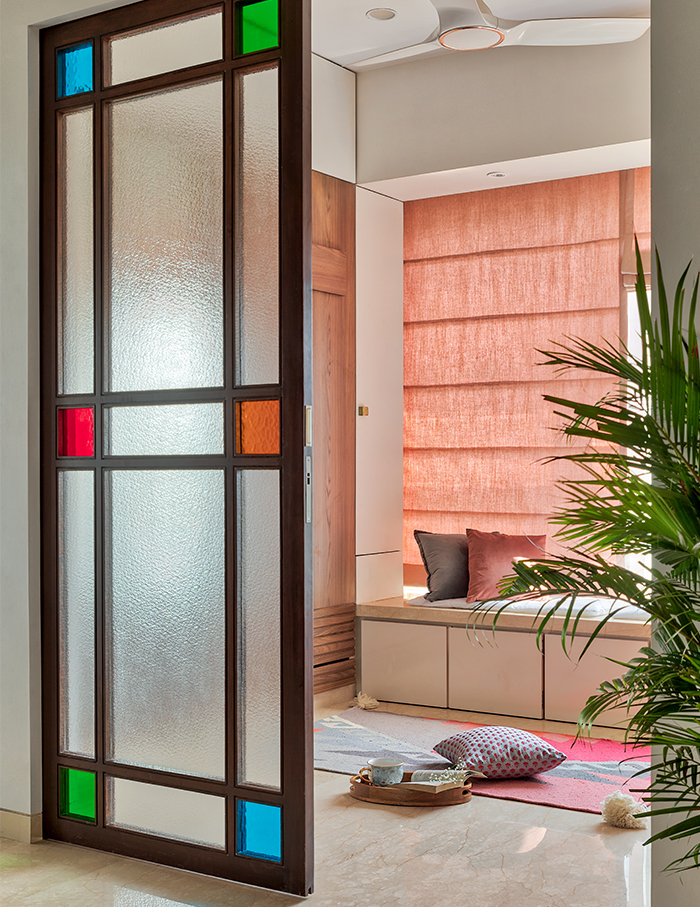 At first glimpse, the living area constructs a visional harmony between classical and contemporary design elements. An arch frame on a recessed royal blue wall with hand-painted gold art is sure to capture the observer's eye. A warm wooden lounge chair with detailed golden legs and hand rest edges and a royal gold chandelier radiating prominence furnish a fine finish to the space. This is the designer's one of the favourite spots.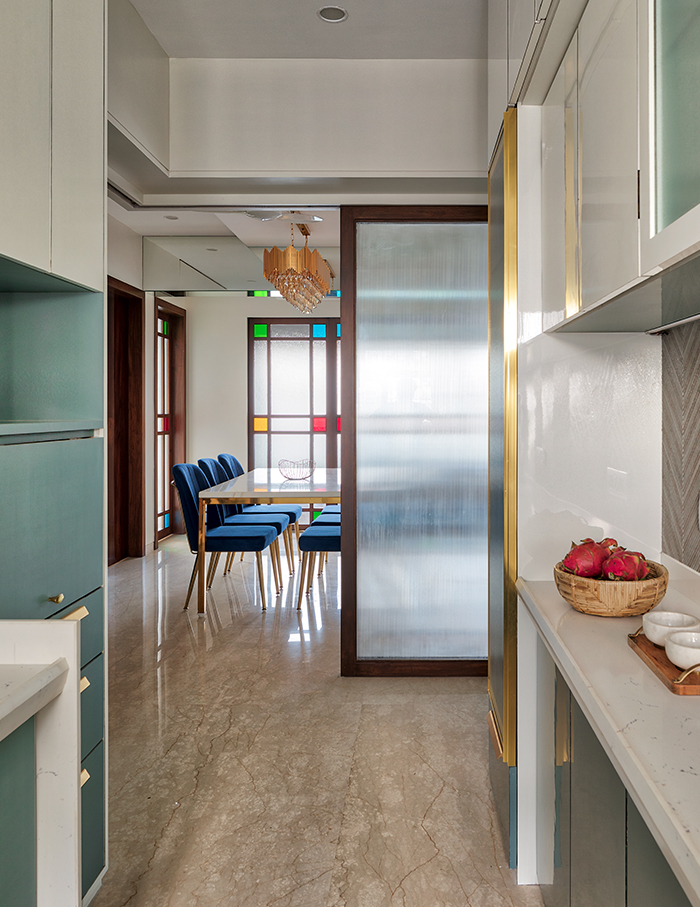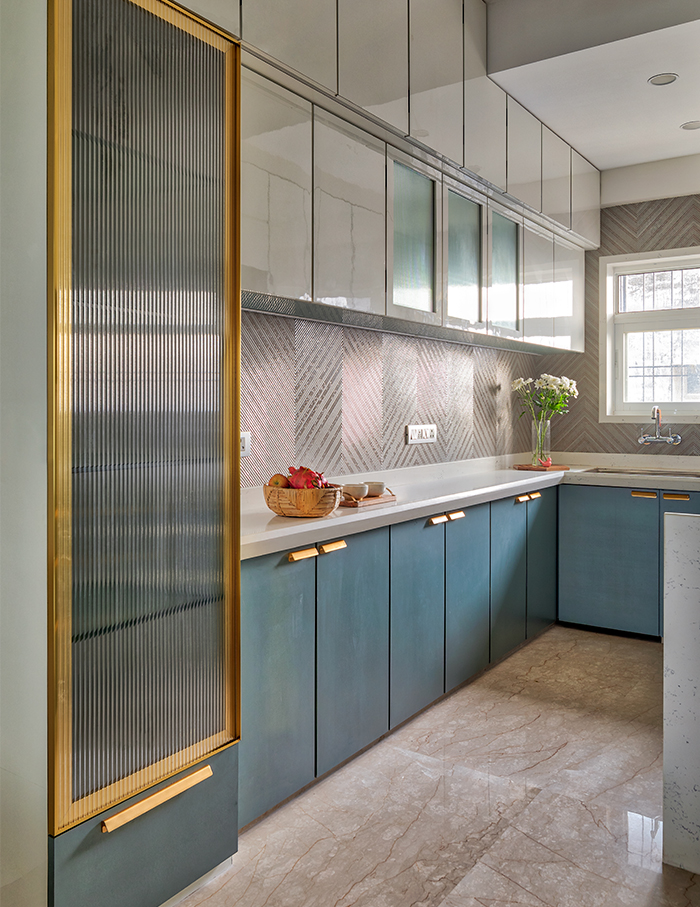 An arched window frame crafted strategically outlines a charming city view while delivering an abundance of natural light into the home. Ornated to perfection with details, the TV unit entails arched niches, textured wallpaper, and velvet cladding exemplifying a hint of luxury in the house's decor.  
Painted in the time-honoured colours of Rajasthan with a split complementary scheme of blue, green, reds and yellows is the open dining space. A modernistic one-piece Makrana Marble dining table supported with gold legs is a refreshing moderate member in the chromatic setting.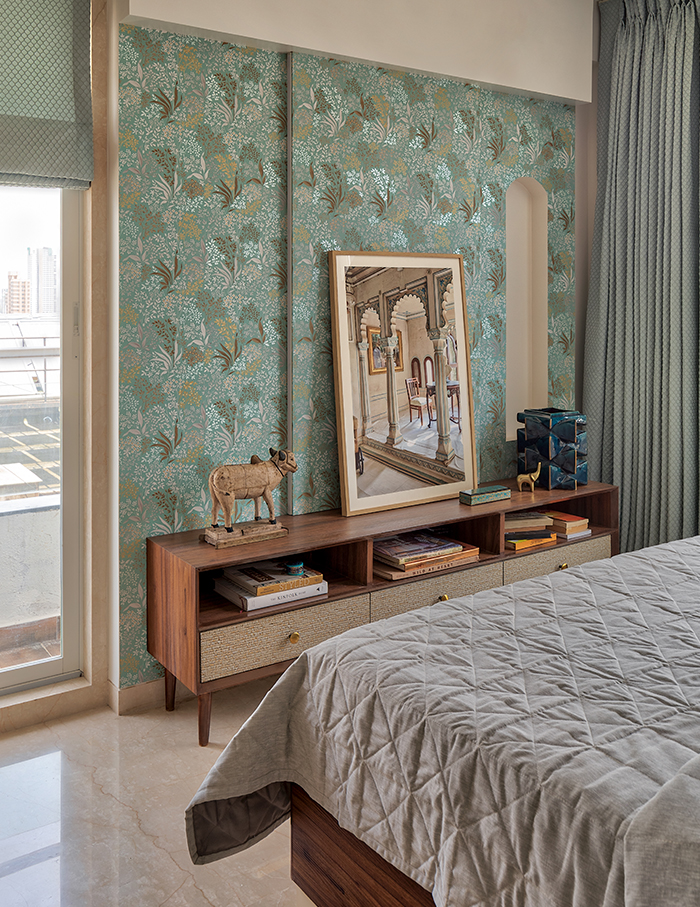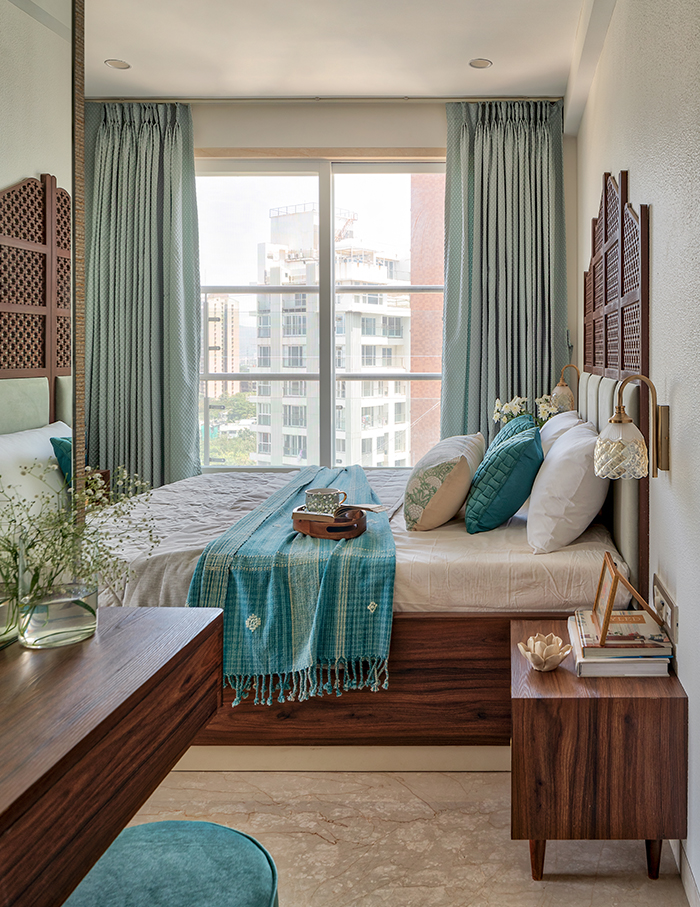 The heart of the home is the luminous and light Mandir. With an open plan, laser-cut arches and panels on each side, it fits seamlessly into the room's design. Additional fine points including the Navkar Mantra inlayed in glass with gold and a custom made-to-order marble Ganesha idol exude a homely opulence. 
Camouflaged with panelling is the entrance to the master bedroom, intended to frame the space to look larger. Vibrant tones and folk motifs throughout the residence's decor craft a balance between the transitional theme of each space in a modern setting.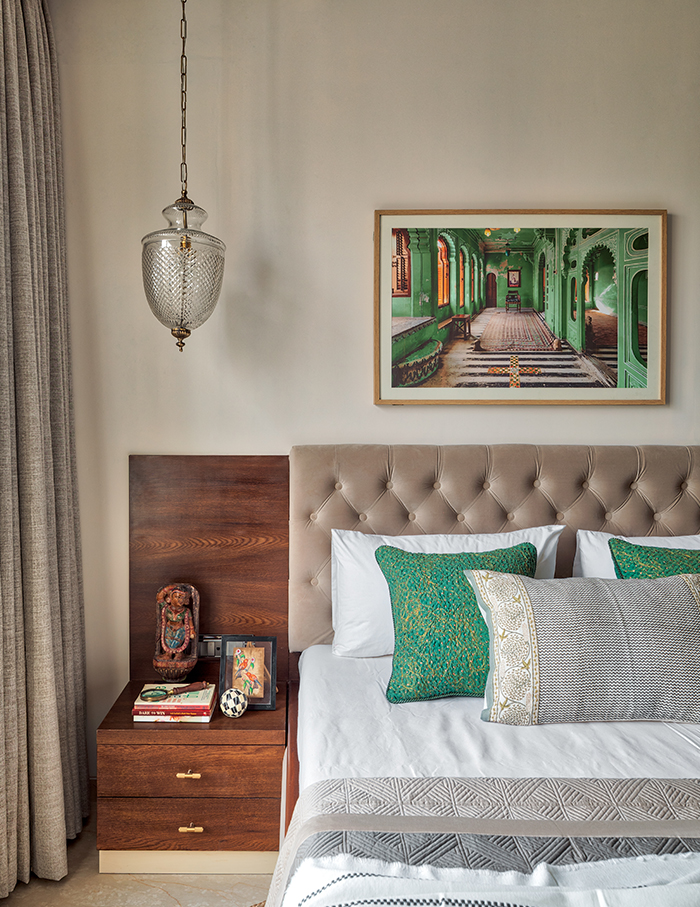 The master suite embraces earthy tones with hints of dusty pink and bottle green within its palette. A muted beige bed with a tufted backrest and a wooden wardrobe completed with a veneer finish bring in a touch of warmth into the room. 
Fixings like gold trimmings including metal patti, handles on the furniture as well as antique glass hanging lights bring in a posh impact reminiscent of Rajasthani architecture.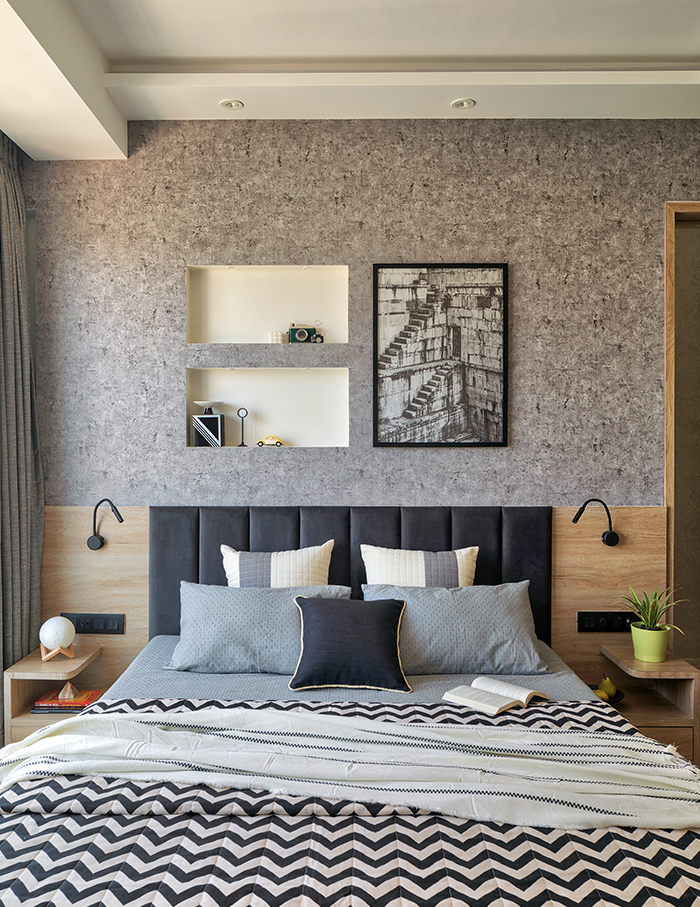 Moving further in, the son's bedroom entails subtle texture, lighter wood, and monochromatic decor. 
The parent's room emanates expressions of traditional aesthetics. Ancestral features such as a carved wooden headboard with an arc and a jaali, floral mint green wallpaper and arch niche detail accompany an art frame of a bedroom in the City Palace of Udaipur.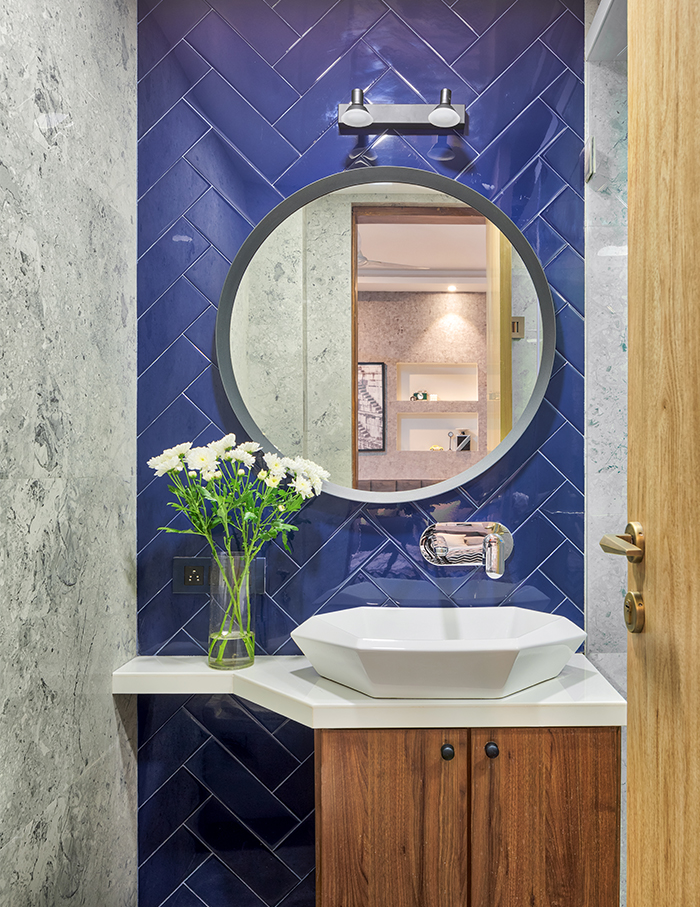 Talking about what posed a challenge for her while designing this home, Mistry says, "The most challenging part was to plan out the whole space  as it was an old property with open layout, no proper walls, damaged floor, no windows, lots of leakage and no bathrooms."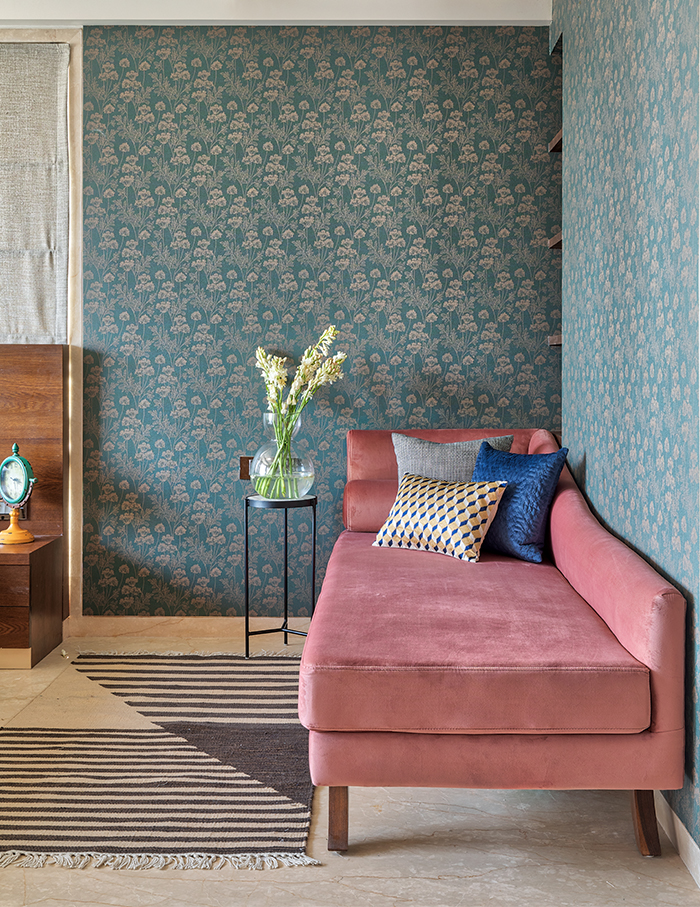 A majority of decor accessories in the project were designed meticulously so as to deliver an apt recital of heritage and its symbolism. "This whole project is a smooth blend of Rajasthani architecture, colours, heritage into modern city palace and is visible in all the decor elements incorporated in the space," says Mistry explaining the overarching theme of the home.
If you loved the elegant heritage hints in this home by Studio Septray, do check out this Mumbai home by Kavan Shah full of greens and vintage finds