Homes
Modern sensibilities get a riveting spin in The Neutral Home designed by Amol S. Divekar
AUG 24, 2021
| By Kashish Kaushal
With a sophisticated balance of colour and texture, The Neutral Home makes an elegant showcase of contemporary aesthetics. Richly layered and furnished, principal architect Amol S. Divekar of Creative Yard goes the extra mile to transform this apartment into an oasis of modern comforts. 
Home to a young couple with a toddler, the 1,250 sq ft apartment is located in the quaint neighbourhood of Avenues, Santacruz. Spatial requirements took precedence as the three BHK home was conceived as a capacious two bedroom house with the third room amalgamated into the living and dining areas. 
Flexible use of all the areas became the underlying tone for the entire apartment. Driven with the client's brief to design a spacious, functionally sound house, Divekar powered up a multi-faceted home. Elaborating on the theme, he says "The entire philosophy of  'less is more' is achieved with the use of minimal intervention but maximising the fluid nature of the space and composition of its various elements."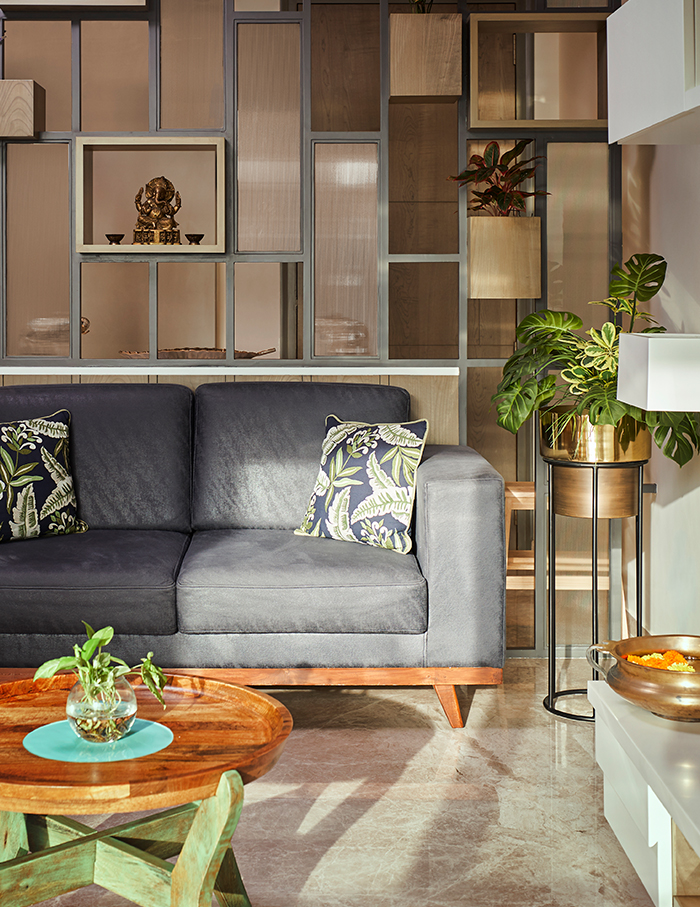 As the name suggests, the material and colour palette of this home is neutral and subtle. Overtones of both light and dark grey have been strategically used to balance the natural light. Splashes of blue create a focal point and blend seamlessly with the greys. The palette aims to explore and emphasise the openness and free flowing nature of the space in its entirety.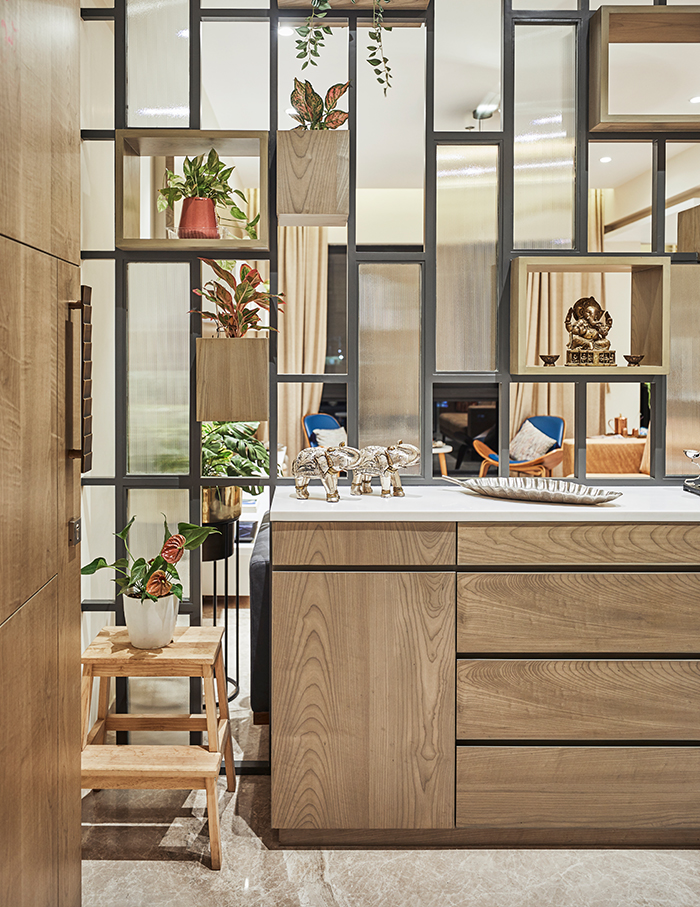 A combination of flute glass and planters create a sense of arrival at the entrance and at the same time ensure privacy. What's interesting is that these plants and screens double up as a backdrop to the forthcoming living space.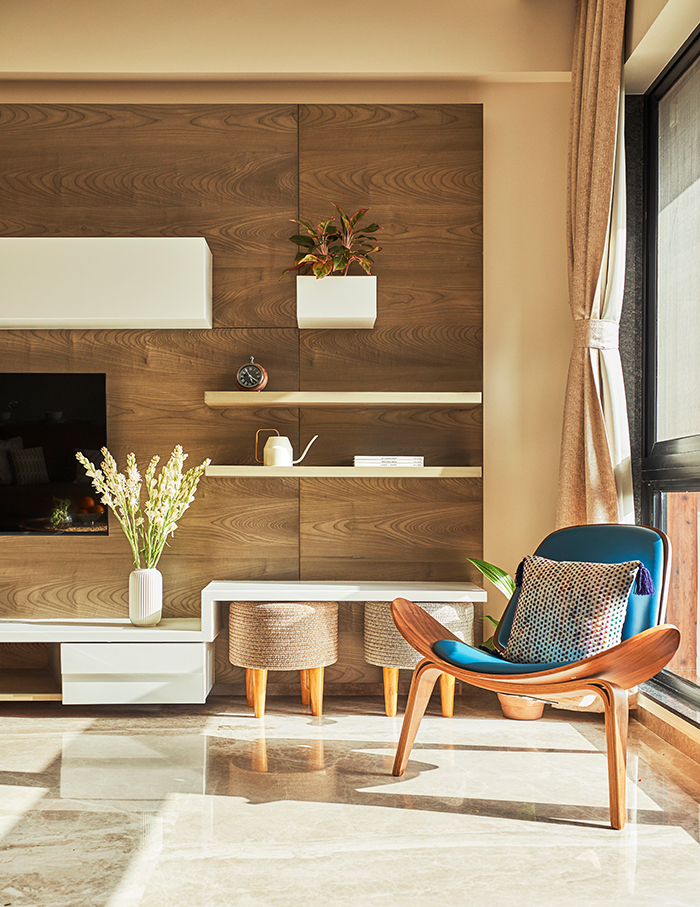 Natural light coming inside the living room through large west facing windows finds prominence in The Neutral Home. In addition, the high ceiling completely sculpts the entire volume.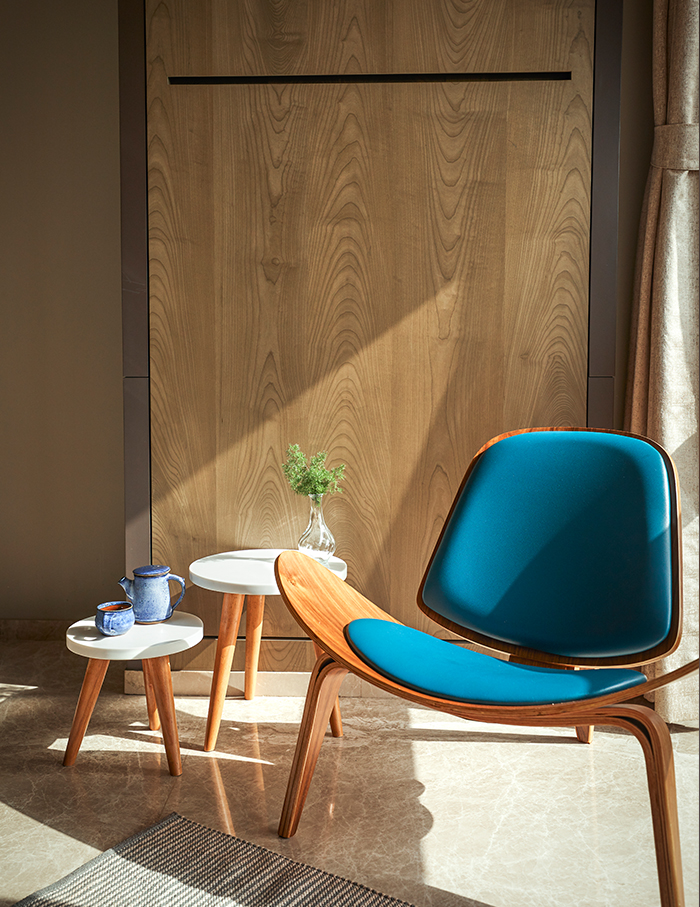 An open and flexible third room plugged into the living room acts as a buffer with a lounge chair and a nest of coffee tables. The sliding partition design creates an intriguing pattern with the door leading to the two bedrooms.
Towards the left, the primary bedroom overlooks parts of the sea while in the kid's bedroom a window opens to the north, bringing subtle light throughout the day.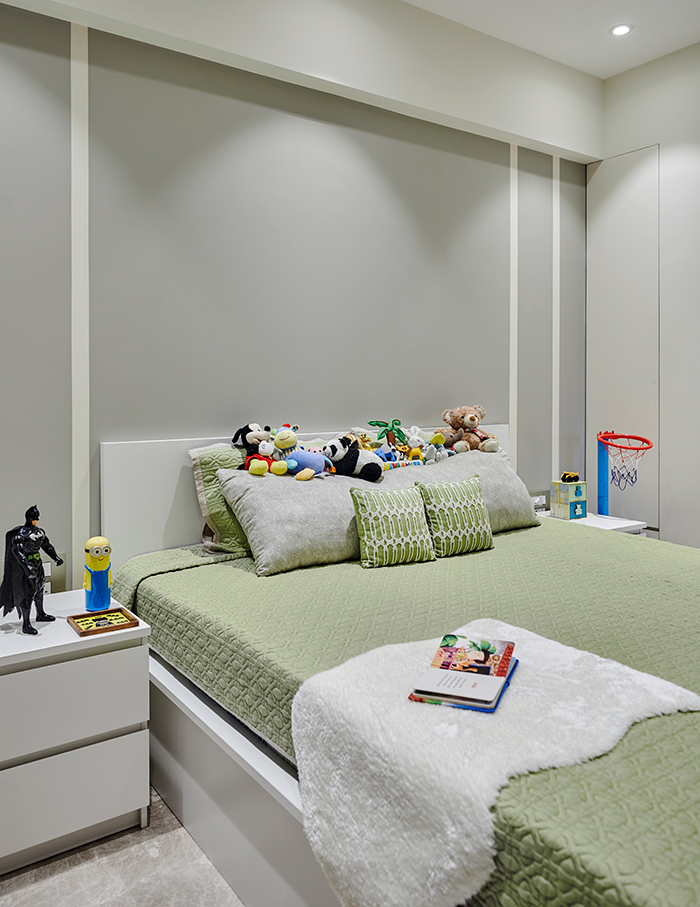 God lies in the details—this is not just an adage but a principle Divekar adhered to while designing large areas to the last minor details in The Neutral Home.
"Architecture is a balancing act like Yin and Yang. It is a fine line between what is built and unbuilt with the use of light. So there is 'dark' and there is 'light' and architecture is all that happens in between. It has the power to create and convey strong bonds and emotions. The entire house tries to achieve this with a composition of the element both individually and collectively," he concludes. 
If this modish apartment has your heart, do check out this vernacular Pune home by Mind Manifestation!