Homes
Minimalist and decorous, Ovoid by Greyscale Design Studio is a holiday home in Karnataka that redefines natural beauty
APR 27, 2021
| By Kavya Joshi
When The Coffee Brewing Co reached out to Greyscale Design Studio to create a three-bedroom holiday home in one of their prime estates in Karnataka, creatives Girish Mysore, Magesh Manohar, Ninu Ahluwalia and Sanjay Kumar knew just what they'd do.
The team planned a simple yet elegant, single-storeyed structure. Spread across 3,300 sq ft and nestled within lush coffee plantations, this vacation home evokes a sense of serenity and promises a peaceful getaway.
Exposed concrete, leather-finished Kota stone, and built-in concrete seating are some of its most prominent features.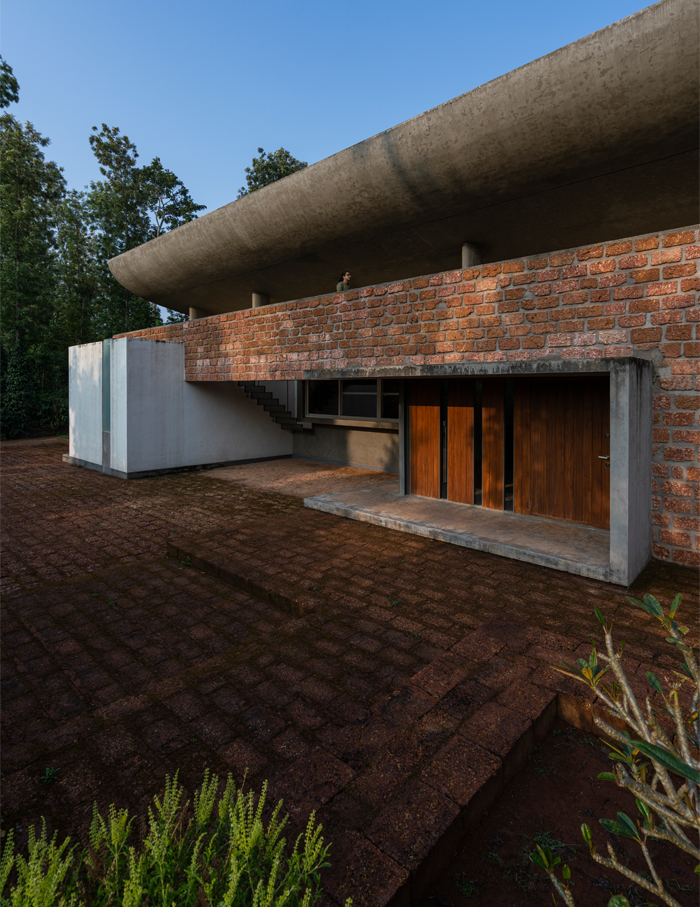 Local laterite is used as a design element as well as the base building material for the walls. Rather than camouflaging it with a surface coating, the materials' natural rusticity is emphasised. A massive roof has also been cast with a faux stage and mud was poured to achieve a finished look.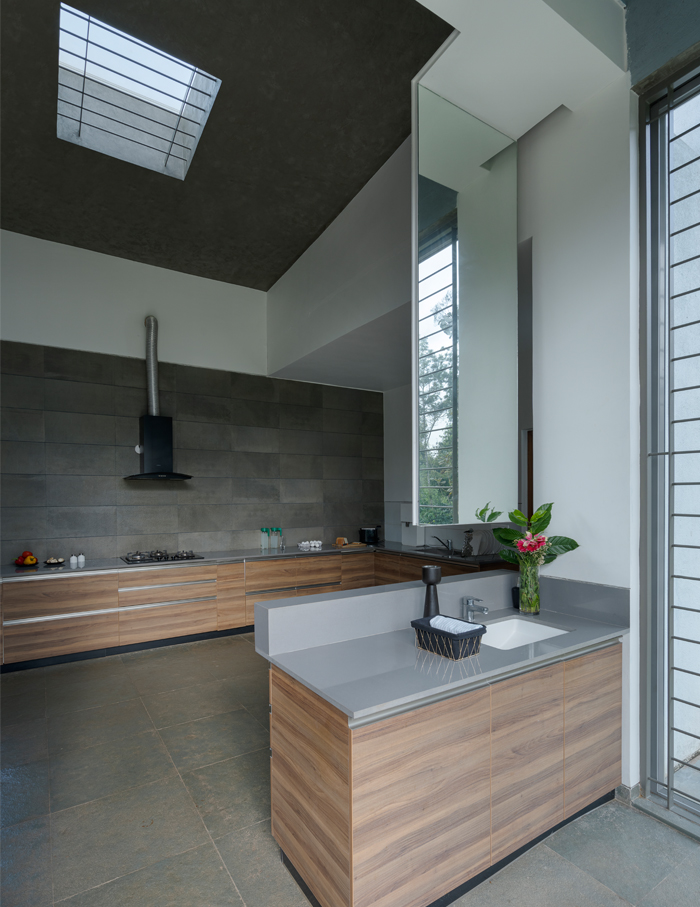 One of the first eye-catching details of this getaway is that it is laid out in a straight line. The entrance is positioned in the middle and leads to the living, dining, and kitchen areas on the right. A long corridor moves from the left of the entrance to the bedrooms. 
The designers conceptualised the space on three major factors: one, to ensure the structure responds to the local terrain, rainfall and landscape; two, to stay true to the material palette by choosing furnishings in soft whites and muted greys; and finally, to make the most of the lush greenery of the estate by installing wide bay windows.
"Arriving at the singular and yet compact form to complement the terrain was the most enjoyable part of all. Then, there was the execution of the local pitched roof—a contemporary interpenetration of traditional style. We gave it a playful feel of peeking out into the plantation," add the designers.
We love the open-plan living and dining area, which sees a play of sunlight and shadow from dawn to dusk. Similarly, the bedrooms are also sun-lit—two of them even accommodate a ledge as a sitting area to take in the view. The largest bedroom, though, is located at the end of the long corridor with a laterite feature wall. It houses an adjacent bathroom with a skylight, bathtub, and large shower cubicle. What's not to love, right?