Homes
This Bengaluru home by Greyscale Design Studio urges us to fall in love with material romance
FEB 2, 2021
| By Saloni Rege
There's no chance that we won't crush over a facade that's wrapped in exposed bricks! Painted in a traditional hue, this home christened Brickly Affair by Greyscale Design Studio embraces a vernacular charm with concrete modernity.
The earthy home sits on a 2,400 sq ft plot in Bengaluru and has three levels. It is crafted organically in a minimal theme to induce a timeless blend of past and present.
"The discerning homeowners approached us with their set of ideas for the look and feel of their abode. So, we started from that point and built this home from scratch in the urban edifice of the city," shares the practice's principal architect Ninu Ahluwalia.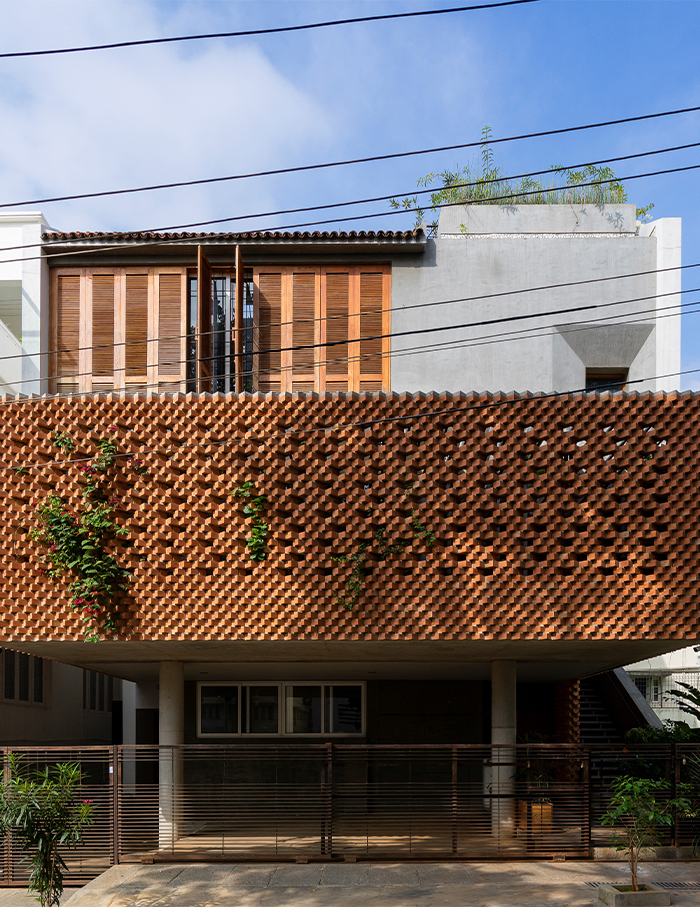 The facade greets viewers with its dramatic weaving of diagonal bricks, paired with a tinge of greens. The approach accommodates a parking space and basic amenities, and the breathing home actually opens up on the first level. It is accessed by an external staircase that is segregated by a screen of intersecting bricks.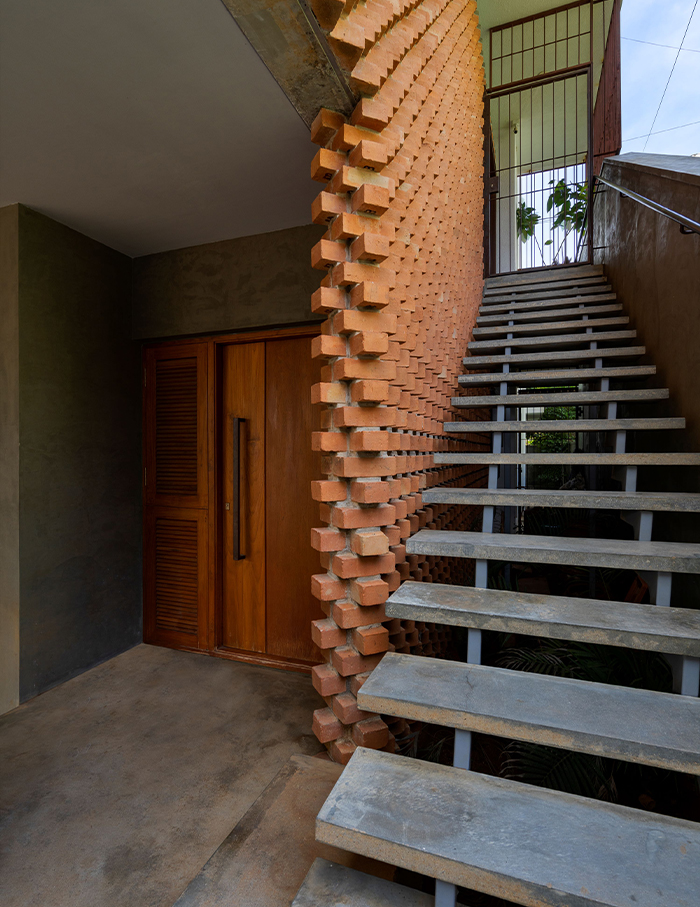 "The first level comprises a cocooned living room and a guest bedroom on one end, while the other leads to a capacious dining area and kitchen. We infused a material palette of exposed concrete, terracotta tiles, raw bricks, timber furniture and Kota stone flooring to bind the house in a rustic theme," says designer Shashil Bidare, who worked closely with Ahluwalia.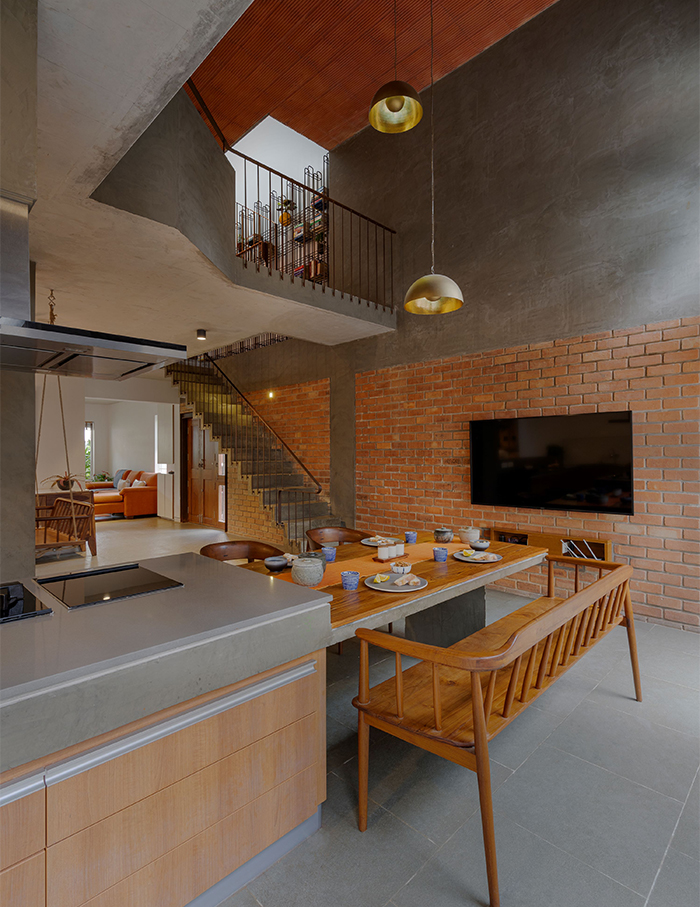 To the left of the culinary zone, a multilevel inner courtyard graces the floor with its refreshing essence and opulent daylight. The space also opens up to a semi-outdoor garden that is encased in a continual brick screen. On the right is the stairway that leads to upper level, welcomed by a bookshelf in the foyer.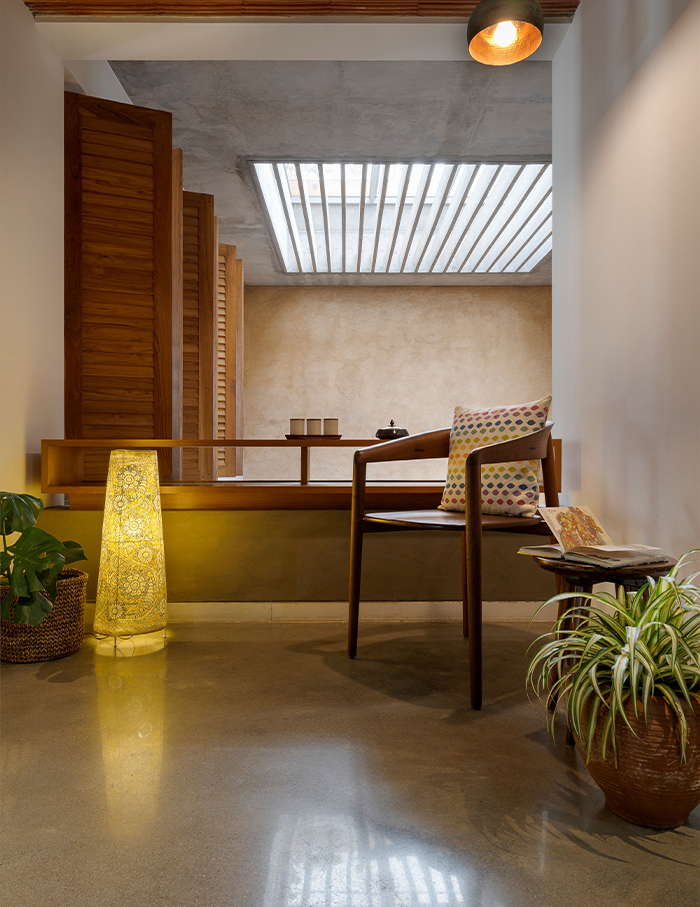 The second floor houses a study, a split-level kid's bedroom and the master room—all of which align with the material palette. On the other hand, the colour palette takes a backseat with basic soft furnishings in blue and orange hue (that resonate with the bricks).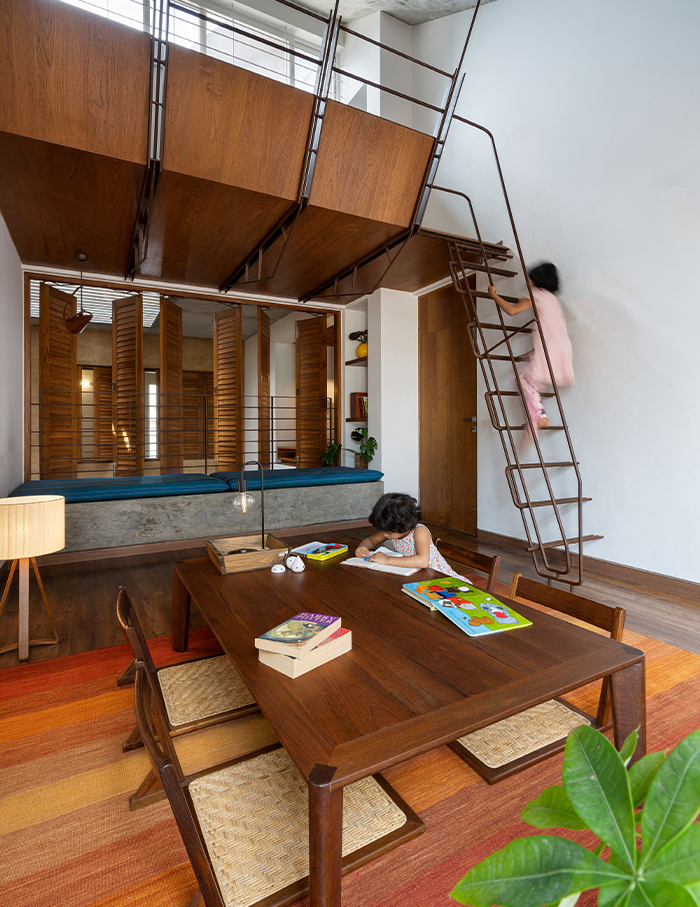 The master and kid's bedrooms are placed facing each other such that they overlook the central courtyard. These spaces along with other sections of the house are decked using furniture from Woodlabs, vivid carpets, decorative lighting fixtures from AnanTaya and Studio Saswata. The third and topmost level of the house has yet another bedroom that's tucked between two spacious terraces.
"While the accurate diagonal placement of bricks in its raw form remains the ruling element, it was also the most challenging to design and execute," reveals Ahluwalia, who worked with Bidare and team members Girish Mysore, Mangesh Manohar and Sanjay Kumar. She adds, "Laying the bricks in a precise manner wasn't just tricky as it reduces the entry of light but even one millimetre of deviation could lead to significant concerns later on. We, along with Sri Neralu Constructions managed this well."
The house also incorporates green features like rainwater harvesting and composting. It runs entirely on solar power—so much so that on certain days, it sends back additional power to the municipal body. Indeed, Brickly Affair is an aesthetic and functional design in the truest sense.