Homes
Manish Kumat has chosen to harness the forces of nature at this evocative home in Indore
MAR 17, 2023
| By Siddharth Babani
Named after the heavenly abode of Lord Shiva, Mansarovar finds the sublime balance between embracing natural materials and contemporary design. Amongst the flourishing cascades of green, the house has a propensity for combining the nostalgic with the practicalities of modern living, evident by the rustic material palette, the masterfully curated decor and a keen reverence for traditional architectural elements.
Created by architect Manish Kumat of Manish Kumat Design Cell (MKDC), the sprawling 6900 sq ft home in Indore reflects the values of the family of six who reside within. Sincere and honest, the home remains true to its design philosophy emanating a harmonious aura of devotion and sentiment underlining the core values of Indian living.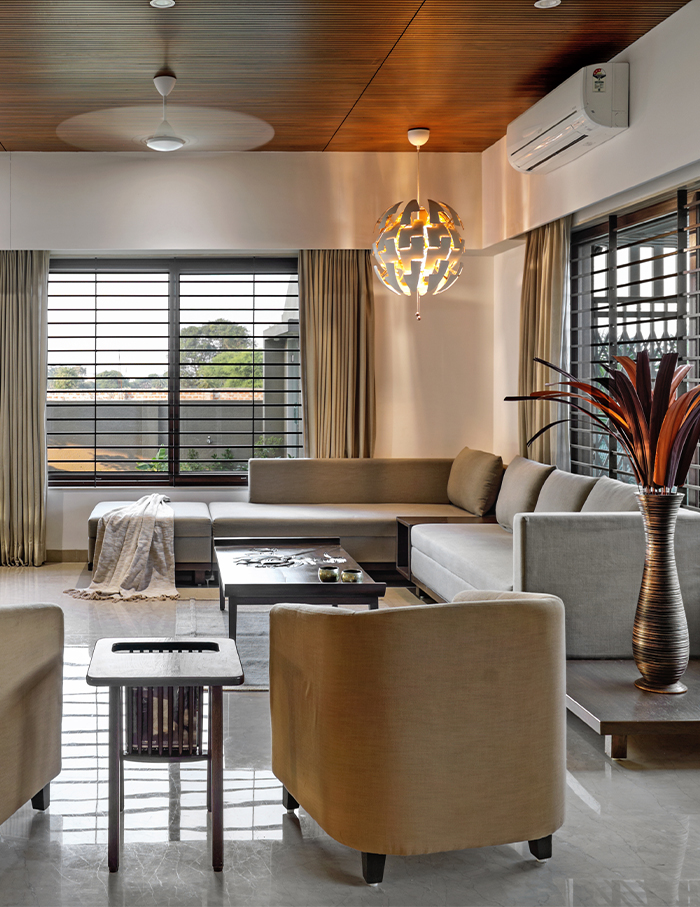 Tour the home
Mansarovar has been designed to resonate simplicity and strength through its structure of exposed brick and grey textured paint. Rooms along the boundary have been set back, to create an intrigue around the home and to accommodate the shrouded terrace on the upper level. 
A luminous skylight sits above the double-height entrance foyer that holds a prominent chandelier and a massive wall clad in Mint stone and detailed with copper inlay in the shape of a lotus. All of the rooms within have been allocated around the resplendent foyer and the grand elliptical staircase, further in, that acts as circulation for the home.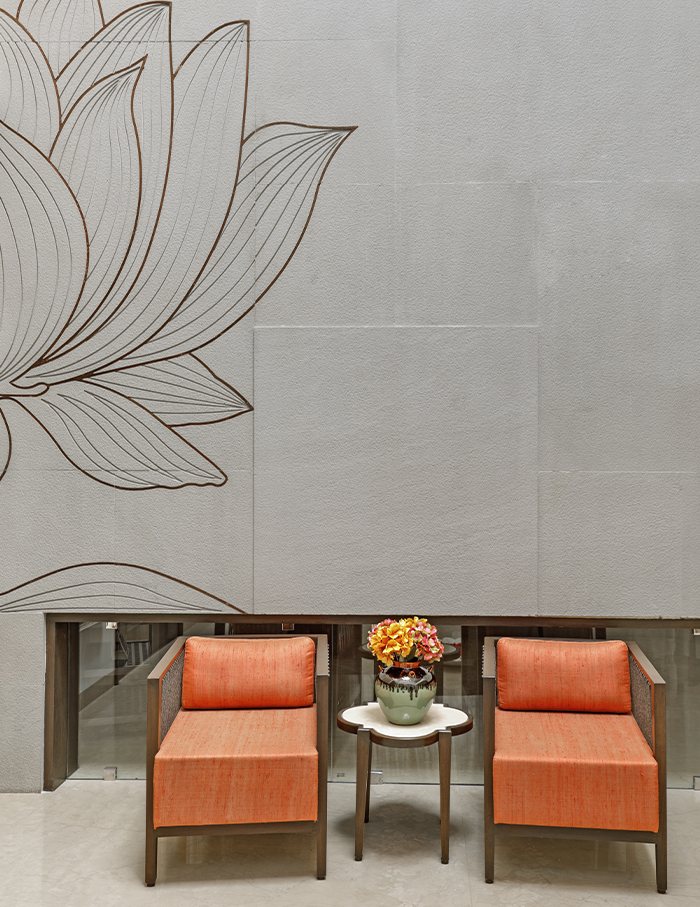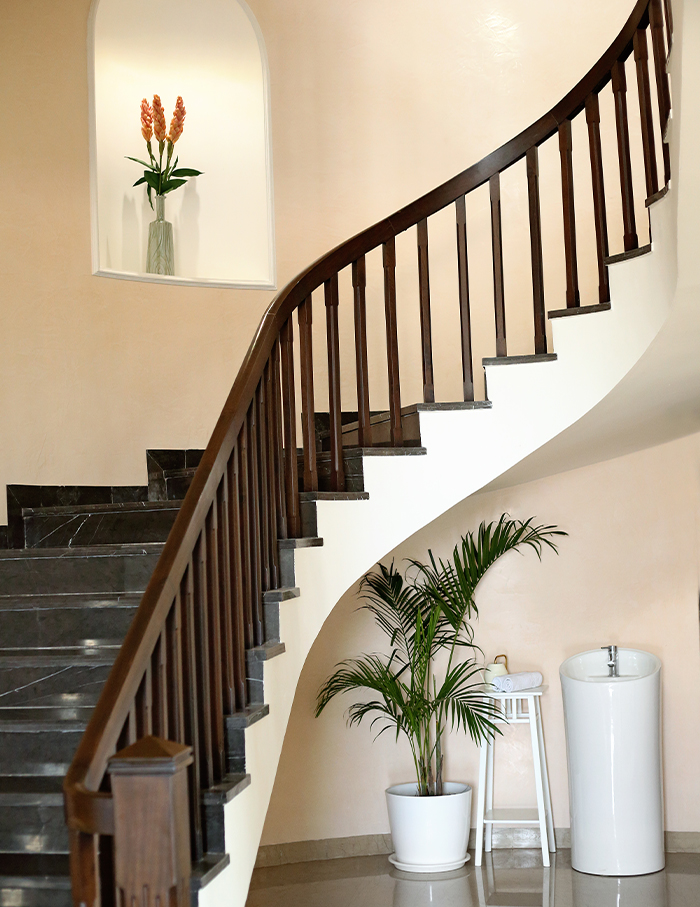 More renditions of nature can be found sprinkled around the house. The front door features a geometric pattern of flowers, there are lotuses carved onto the coffee table along with a sculptural arrangement of long stemmed leaves in a metal vase in the living room. Even the bedrooms maintain the floral decor with a hand painted mural by artist Reena Verma while a siporex wall with copper inlay makes the backdrop for the master bedroom.
The interiors within have been sensibly designed to segregate the public from the private. The formal living room is located to the left of the foyer while the family room, the dining room and the kitchen are to its right. The house also does well to connect the indoors to its environment. It is the belief of the architect that any space needs to be naturally lit during the day and well ventilated throughout the year.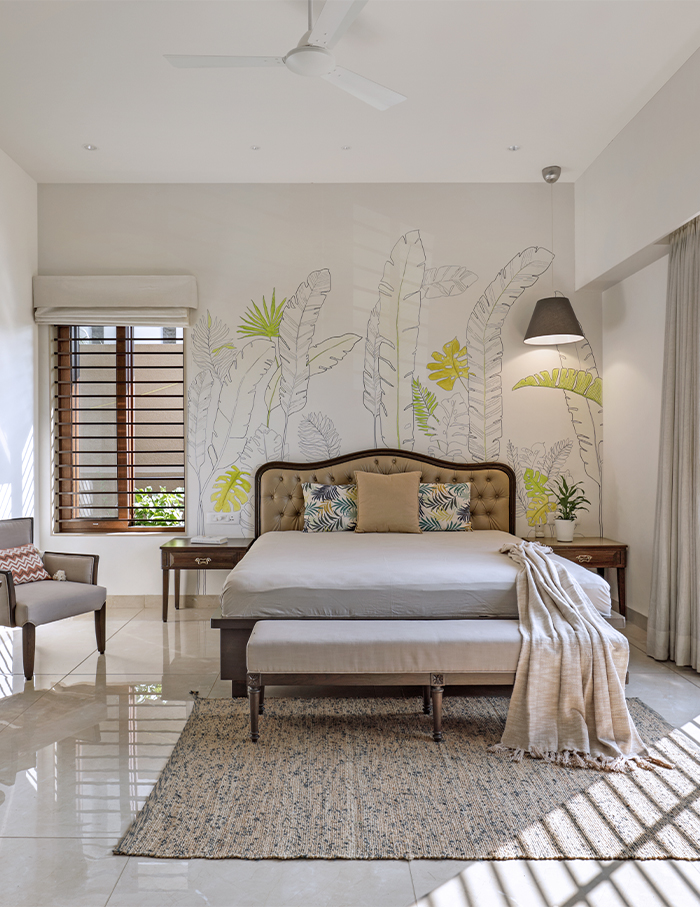 The bedrooms are altogether in concurrence with the rest of the house. Minimally designed and with beautiful accent furniture, they are immersive, framing a scenery in every window. The interplay between the gleaming Italian marble and minimalist wooden furniture throughout the house aids the architect to stay true to his design philosophy in creating a bright and effervescent space entrenched in nature made whole by pieces of craft from local artisans created specifically for the home.
Ideas to bookmark 
Anyone planning to save a bit of money on utilities can take inspiration from this home designed to harness the elements. It is truly gratuitous to incorporate natural light and breeze; a design feat that has seemingly disappeared in our contemporary world.
You may also like: Scenic views and awe-inspiring interiors await within this home that is designed by Arjun Sawhney and Namrata Datt in the Kasauli hills