Homes
A Manhattan-style penthouse in Kolkata by A Square Designs is a vivid moodboard of artworks
SEP 26, 2022
| By Maheshwari Vickyraj
This luxurious apartment is a perfect example of a style that is current yet timeless, with its use of striking natural stone and induced with unique details like colourful artworks. 
The principal designer of A Square Designs, Ajay Arya, evokes a sense of Manhattan-style clean aesthetic in this penthouse that spans a spacious 3150 sq. ft area tucked away in Kolkata, styled by Atul Pratap Chauhan. 
Shedding light on contemporary home design, Ajay Arya explains, "We experimented with the interiors by curating furniture pieces and selected art that would complement the spaces uniquely."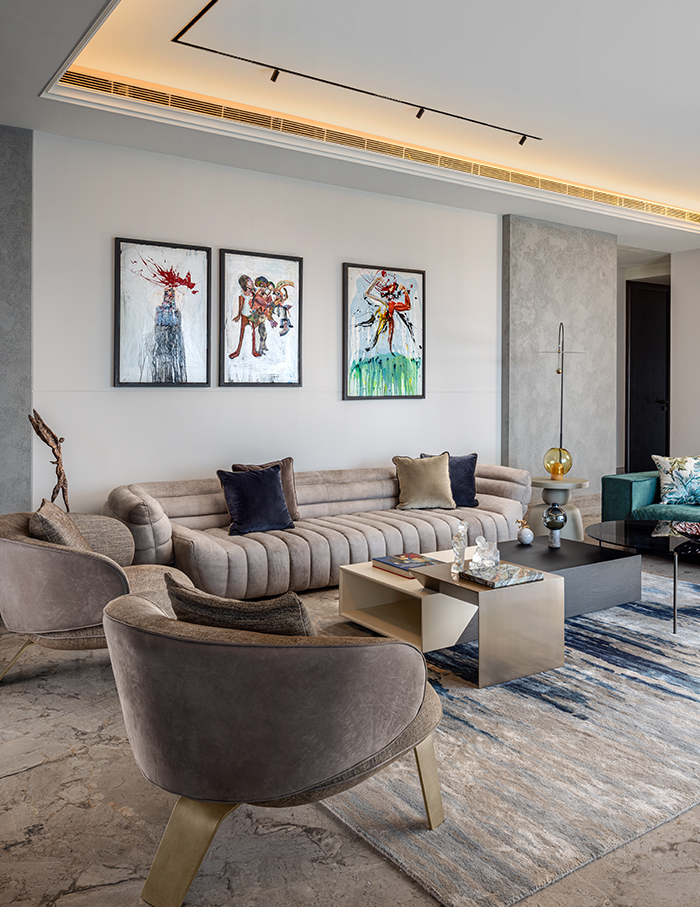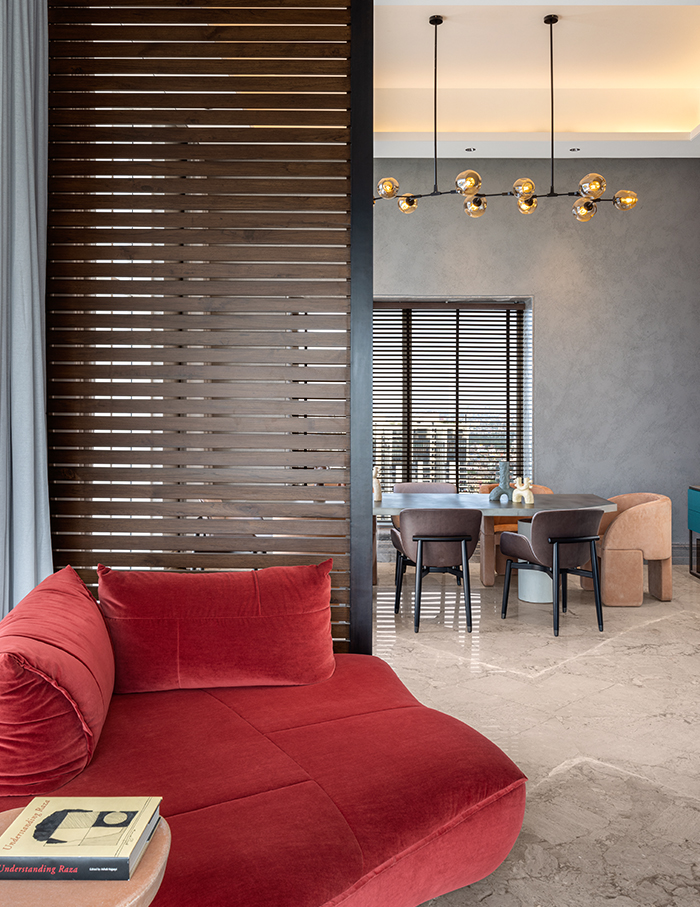 The curious brief 
The homeowners requested an ultra-contemporary dwelling with a global aesthetic. On learning that this would be their second home, which would be primarily used for socialising and entertainment, the design was set out to have a space that is the epitome of comfort and casual elegance.
Colourful artworks, unique furniture silhouettes, and lighting fixtures were used to liven up the white and neutral colour palette in the home.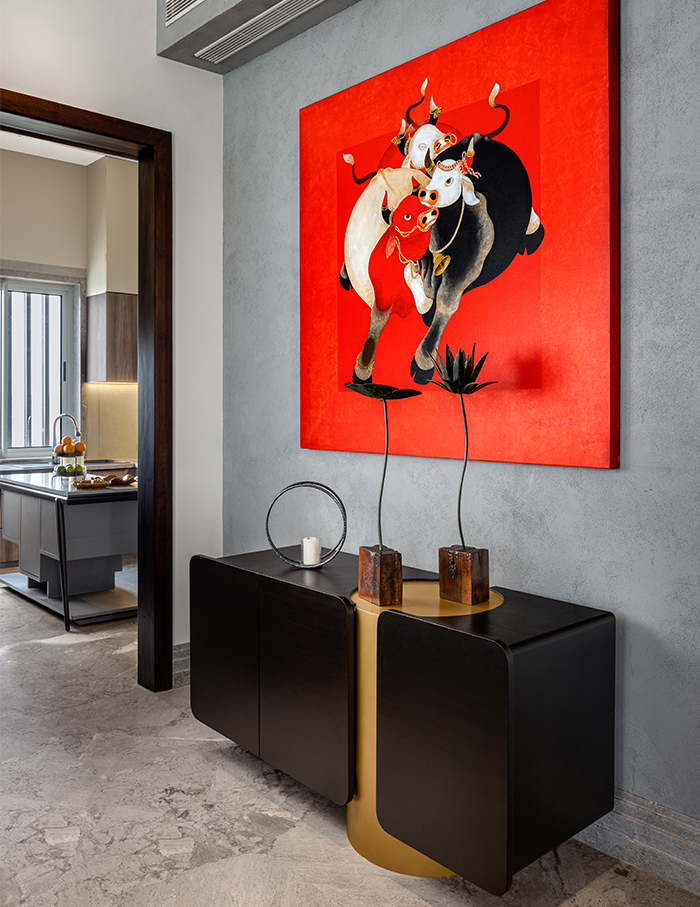 Tour every turn of the home…
The penthouse has an exclusive elevator lobby, which gives it a secluded feel. On entering this home, the living room greets you on the left, while straight ahead is the bar, the dining room, and the open-air terrace.
The furniture in the living room is in muted tones, with an accent of green on one sofa and a pop of red on the other in the lounge area which stands stark against the light grey concrete textured wall.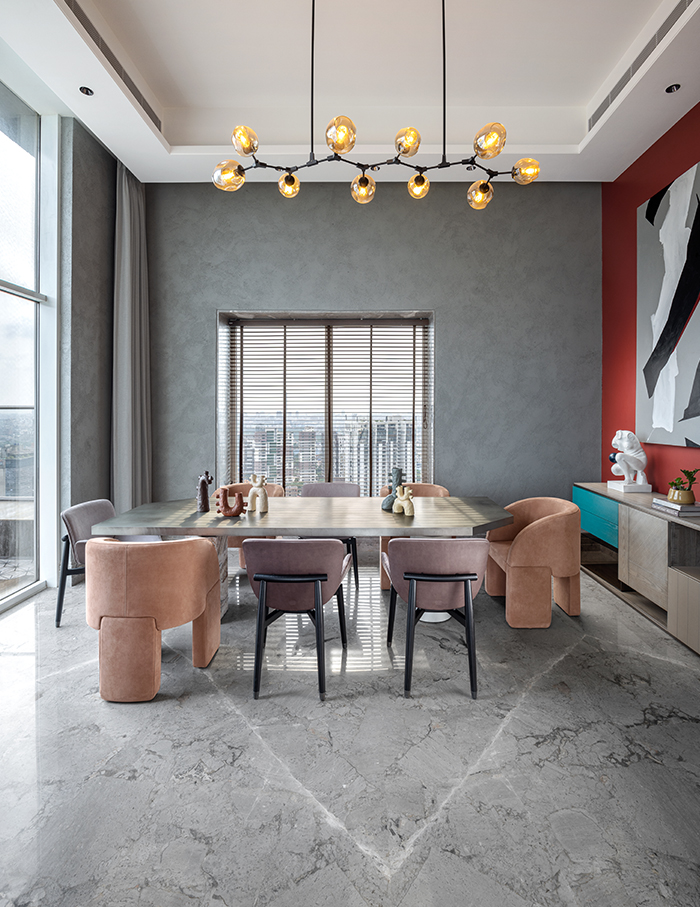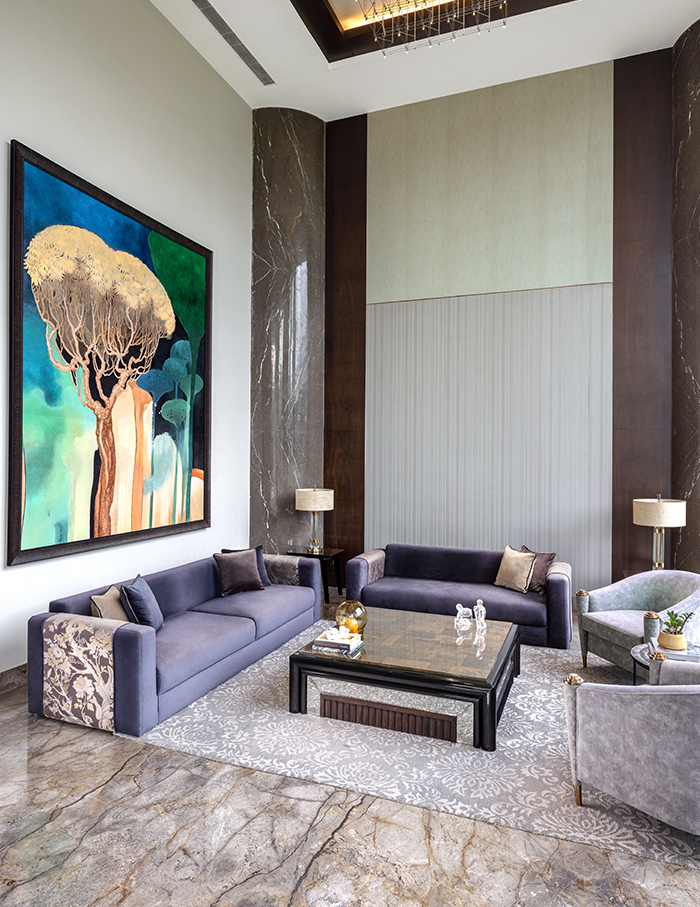 Promenading further, the kitchen, service lobby, and bathroom, are conveniently located between the bar and the dining area.
The dining area is striking, with the walls covered with striking pieces of contemporary art that make the room pop. A long, uniquely shaped table grabs the attention, which is accompanied by an eclectic assortment of chairs in soft, muted tones.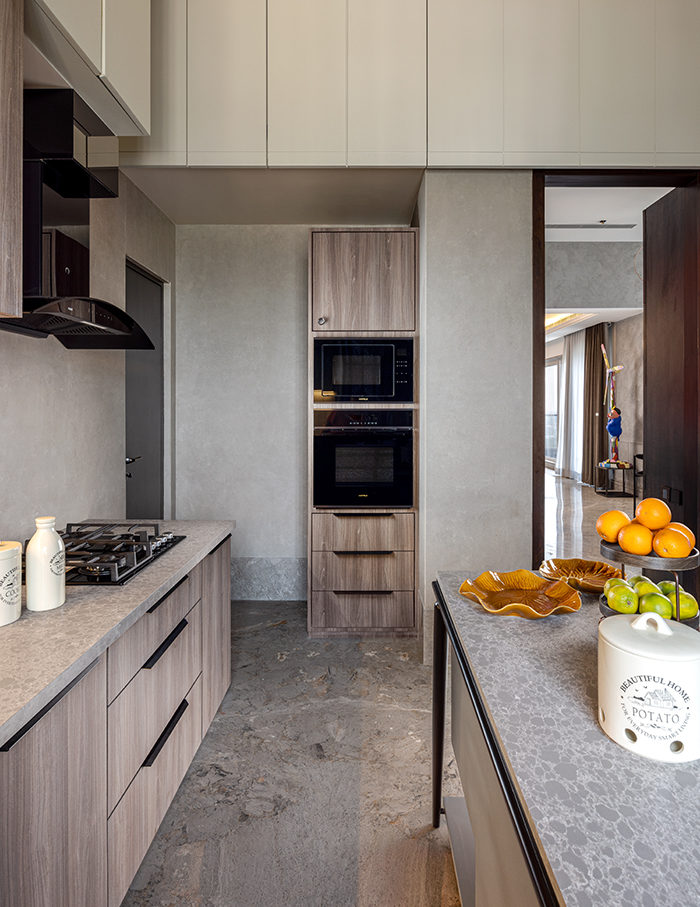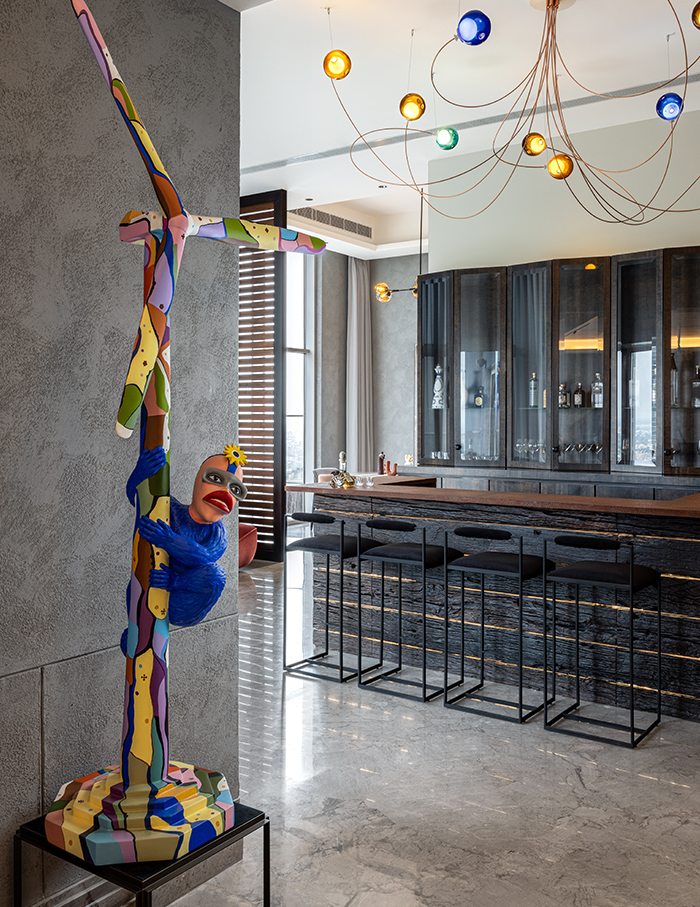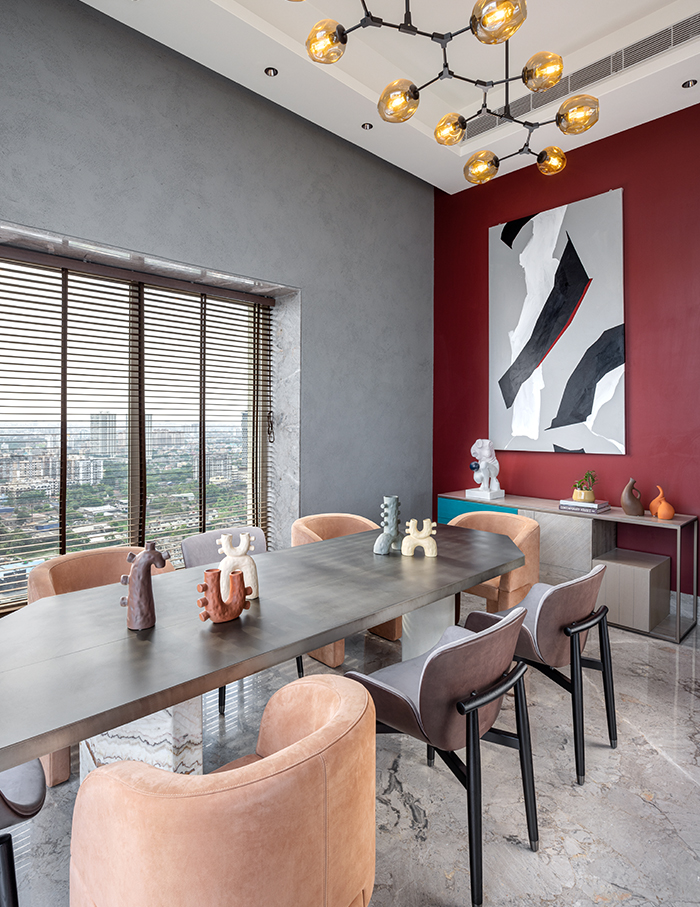 A hallway on the other side of the living room leads to the three bedrooms: the children's room, the guest room, and the master bedroom suite. 
While the master bedroom is the largest in the house, and it comes with a walk-in closet, the furniture in the room is contemporary with clean lines and neutral colours.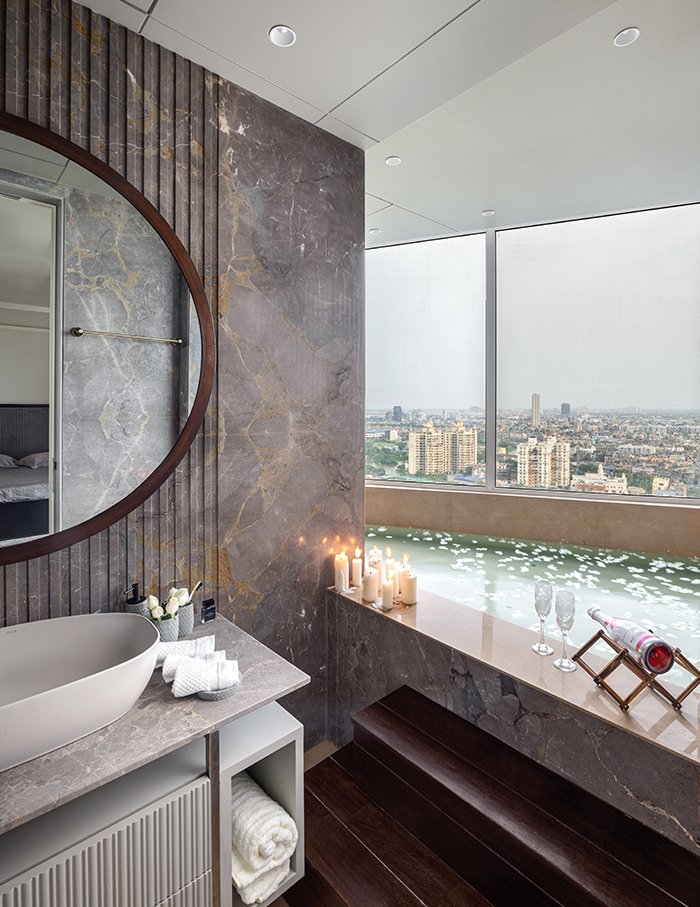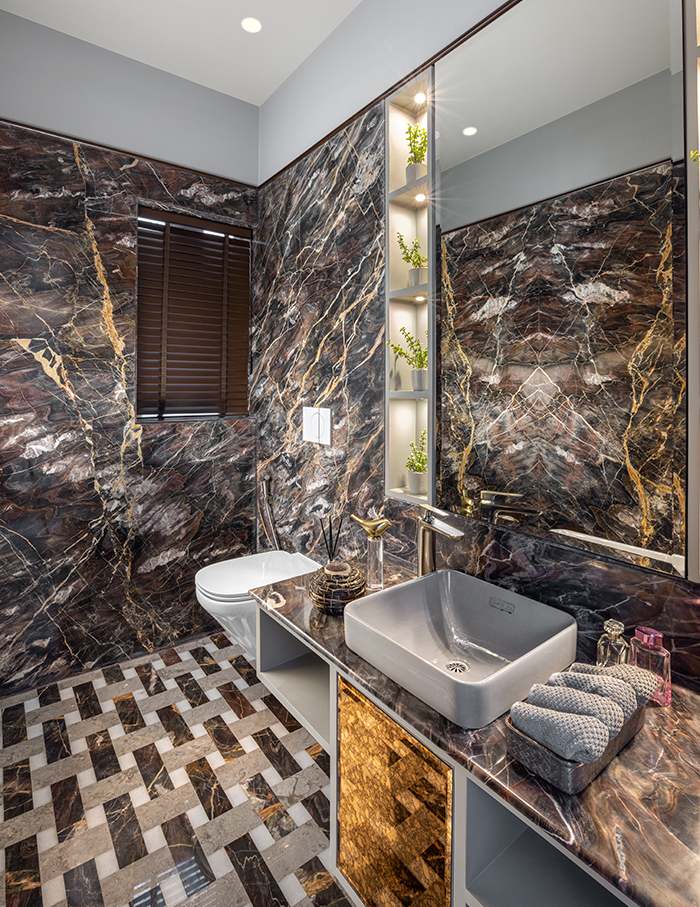 Ideas to bookmark – colours, materials, and inspiration!
Artwork, upholstery, tapestry, and lighting fixtures all have vibrant colours to complement the home's primary colour scheme of cool grey. Natural stones, furniture made of dark walnut and oak, velvets, metals, and glass make up the rest of the material palette.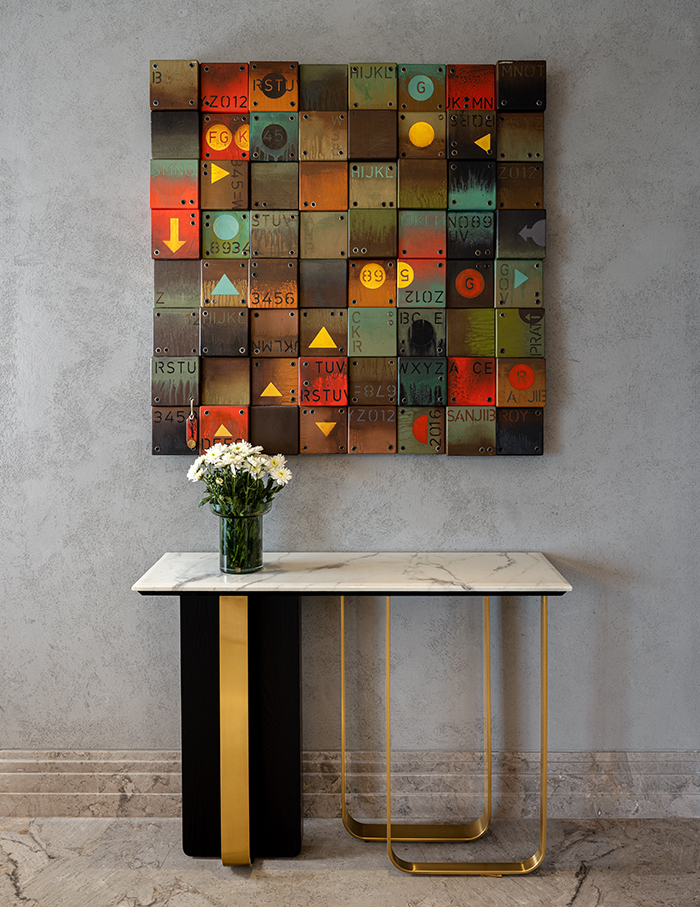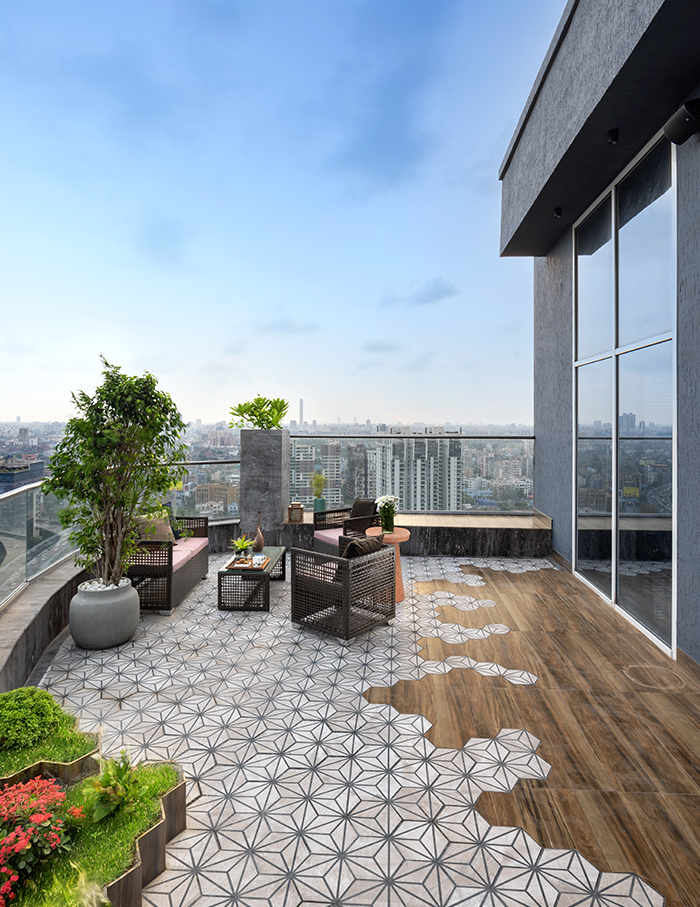 Loved this olkata penthouse by A Square Designs? Now read Retreat at these co-owned villas in picturesque locations with YOURS