Homes
Little red riding hood meets pied piper in this Mumbai home crafted by Kasturi Wagh and Vineet Hingorani of kaviar:collaborative
NOV 15, 2021
| By Kashish Kaushal
Disclaimer: Before you start rattling your brains intrigued by the title, let me put it out there—this home has nothing to do with fantasy fiction! This is just my way of highlighting its essence. Read on to know more…
Nestled in a high-rise overlooking the Bandra-Worli Sea Link, in Mahim, Mumbai, Colour Me Happy is the maiden fruit of partners and principal architects Kasturi Wagh and Vineet Hingorani of kaviar:collaborative. Spread over 1,200 sq ft this three bedroom apartment thrives as a fun, bright and mood elevating space. 
Home to a family of four— a young couple, their son and his grandfather, the brief was straightforward and simple. "We were not to change anything that was provided by the developer such as the kitchen counter, flooring, bathroom tiling and fittings and avoid civil work. Always having lived in a classic wood-heavy apartment, the clients wanted something light, vibrant and something that reflected their individual personalities," elaborates Wagh.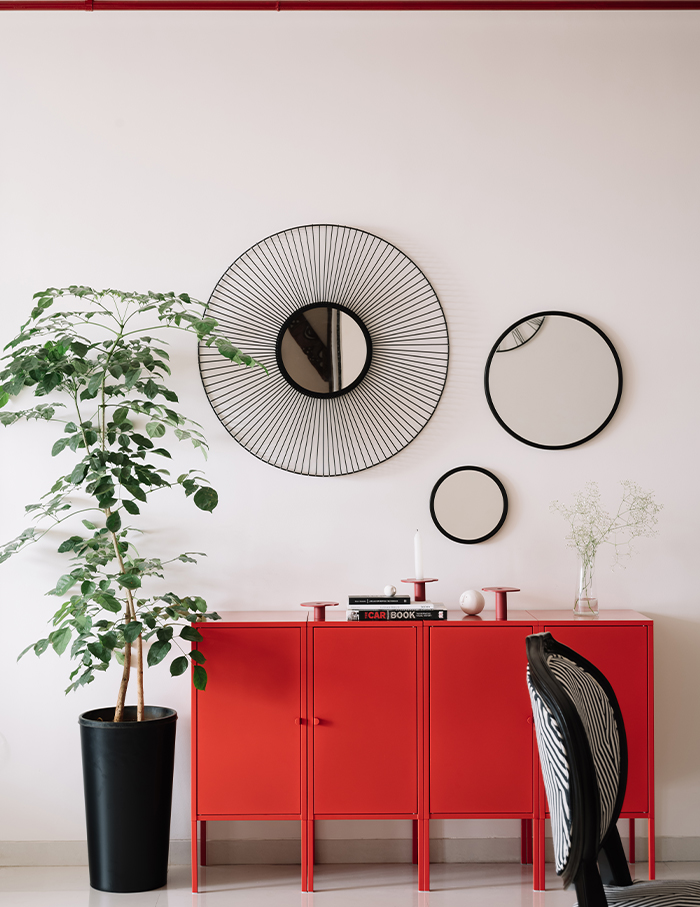 Aiming for a clutter free, functional and easy to maintain space, the designers endowed it with an emotion of cheer within the confines of a home. The dominating theme of Colour Me Home encapsulates individualistic colour schemes, personalities and breaking monotony via patterns, prints and textures. 
Time to reveal the idea behind 'the red riding hood' and 'pied piper' reference! Stepping off the elevator, one cannot miss the large red fire hydrant pipe floating above. The pipe seems to branch into smaller ones which flow down to become a safety door of an apartment. Having such an interesting element in one's home, Isn't that such a piping hot dream!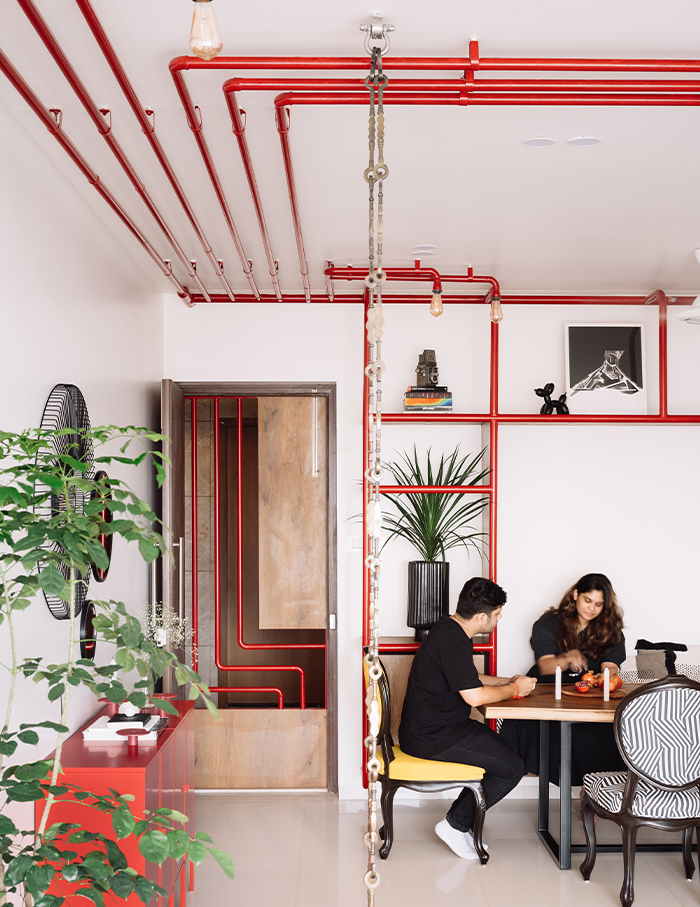 The story, however, doesn't end here. Sharing the twists encountered to accomplish this never-seen-before entity in a home, Hingorani reveals, "Although it was fun experimenting with pipes and turning them into functional elements, our first challenge lied in getting all the family members on board to not only keep these otherwise industrial live fire fighting pipes exposed but also add a couple more to them".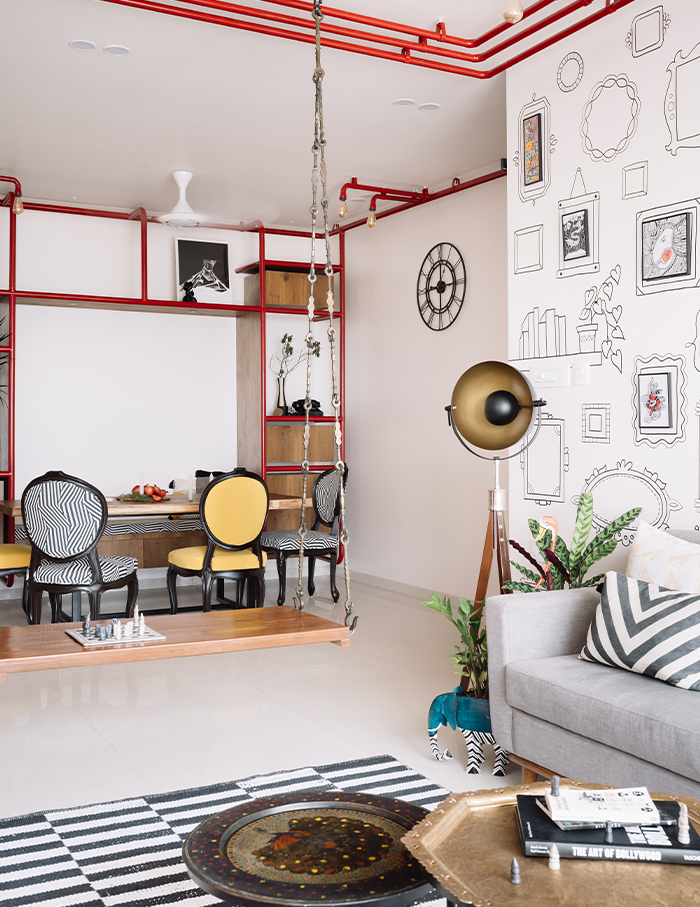 Upon entering, one notices the red pipes from the safety door flow onto the ceiling. A few of these branch out and spread over the living and dining spaces to end as light fixtures that inhabit delicate filament bulbs. 
To the left, some more of these red pipes bend down from the ceiling to form a kind of vertical shelving unit with free floating wooden storage boxes between them. A larger, central box defines a bench seating for the six-seater live edge wooden dining table that doubles up at times as a cosy reading nook.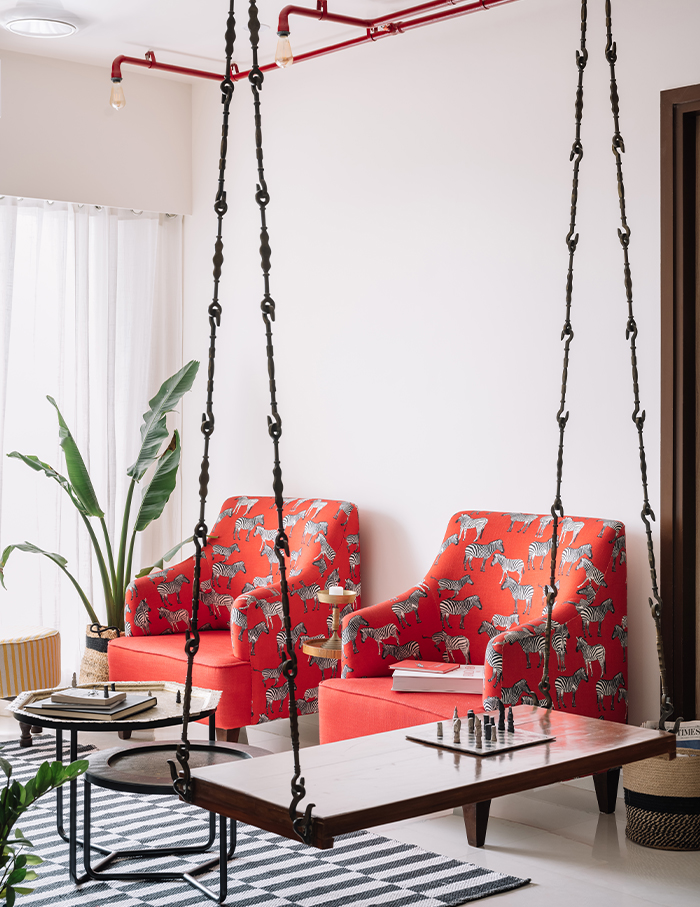 A look straight ahead reveals a long red metallic entrance console with three circular mirrors of varying diameters hung above it that reflect bits and pieces of the house as one meanders through it.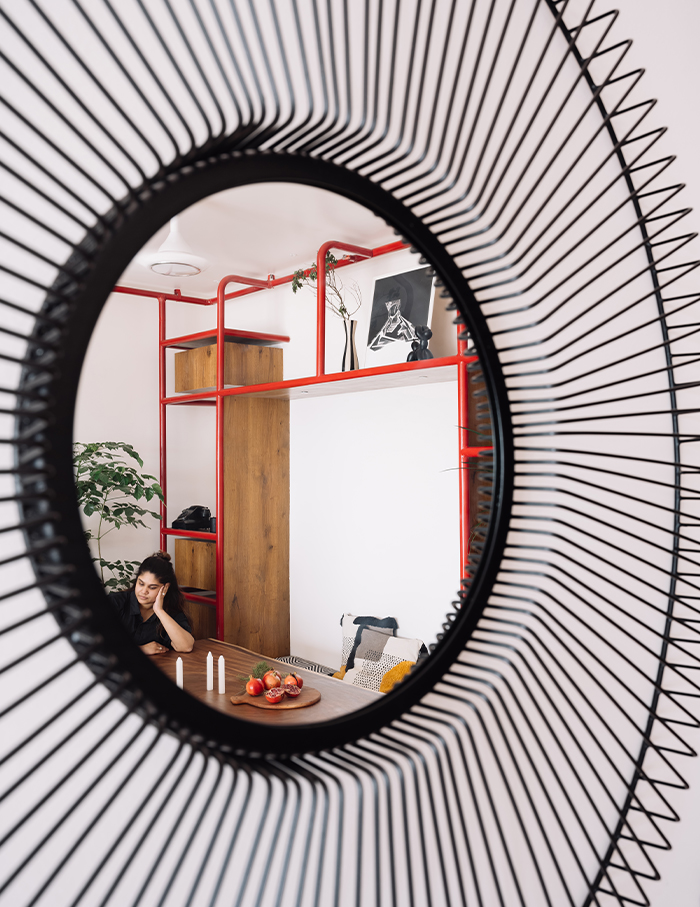 Moving ahead, a sleek wooden refurbished swing with brass chains separates the living and dining spaces. 
A bit of quirk is brought into the living space via two large refurbished armchairs with a customised zebra print red fabric that complements the overhead red pipes.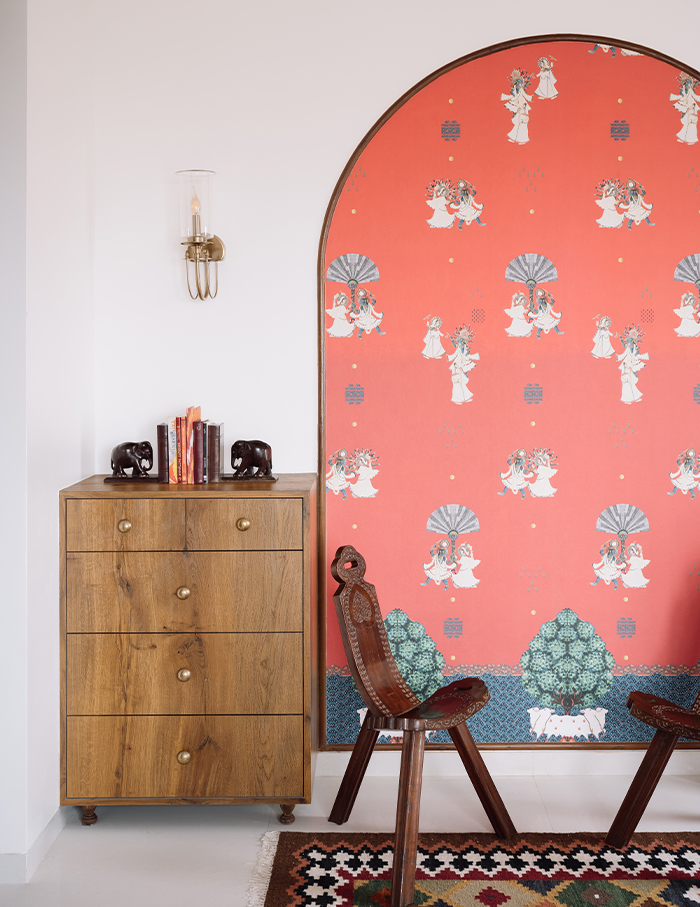 Time for another stunning discovery—mid-way into the design process revealed the client to be a closet artist. This propelled the idea of setting up the living space as a canvas to showcase her art.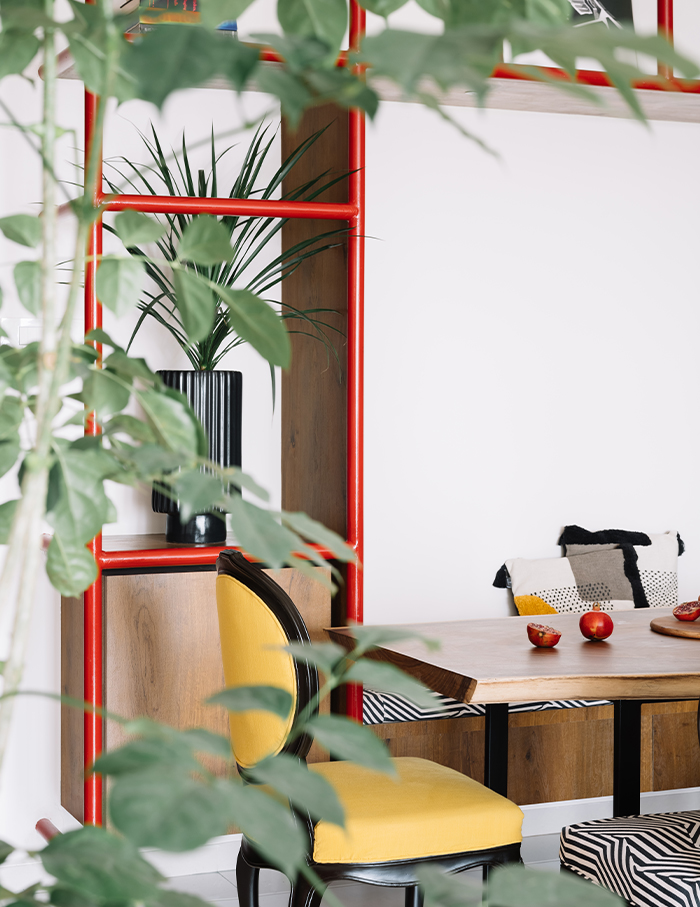 The wall behind the grey sofa is converted to a gallery-esque feature with the help of an artist. The minimal 2D line work provides a guide of reference to hang the client's colourful art work while also being a conversation piece.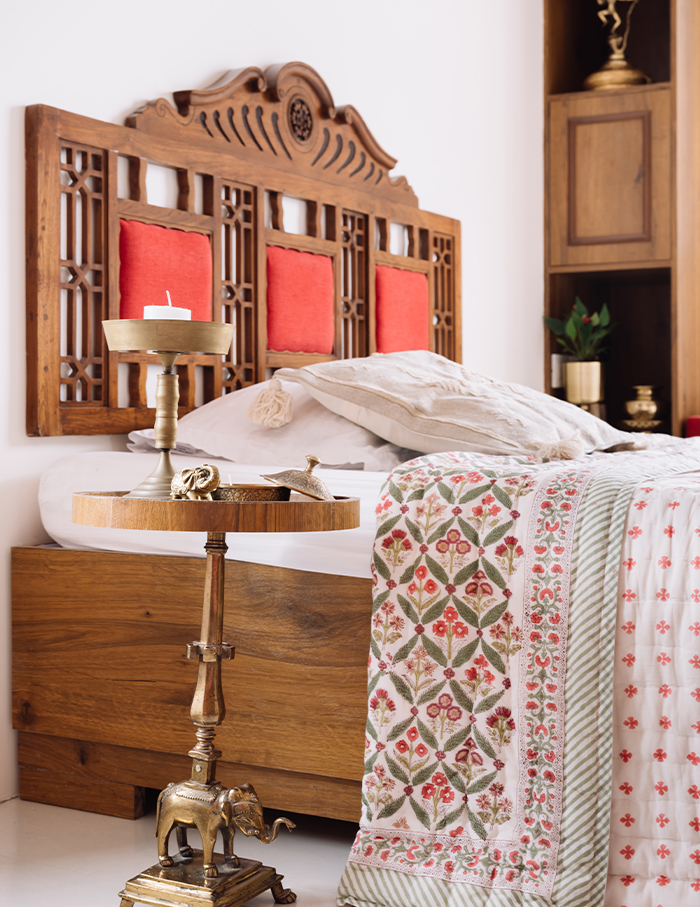 The bedrooms, although individualistic in colour schemes and personalities, stay true to the overarching emotion of joy and cheer. Here the proportionality of colour to whites is inversed in comparison to the common spaces which aids in creating a moody and comforting environment.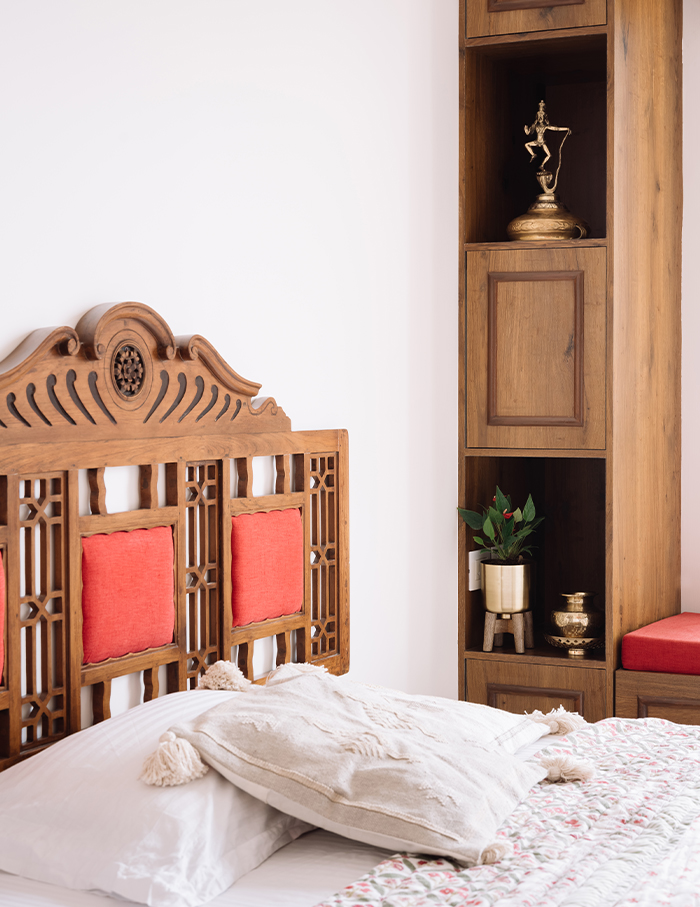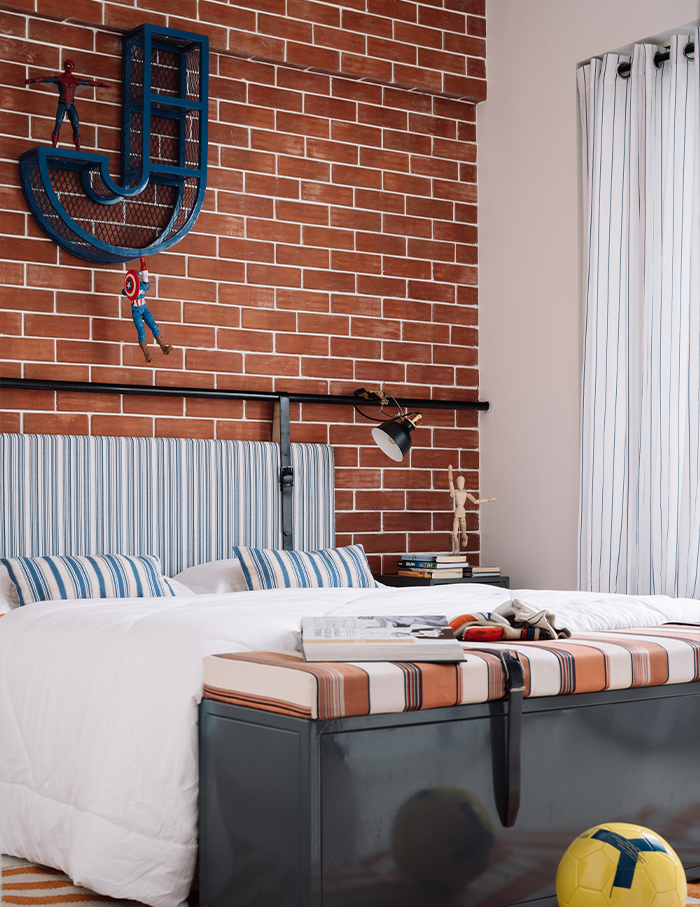 Bricks, metal and action figures dominate the kid's room to create a robust and raw palette. The brick wall acts as the piece de resistance of the room and provides the perfect backdrop to all the crime-fighting action figures and posters.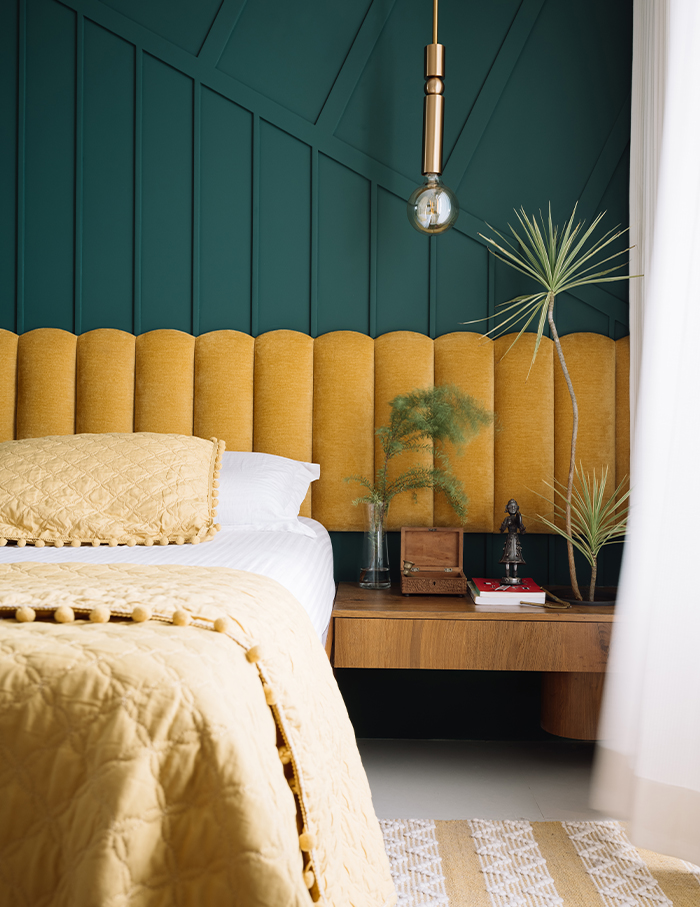 The primary bedroom is surprisingly not the biggest room in the apartment. Mirrored full height wardrobes help add visual volume to the room while enhancing the light quality.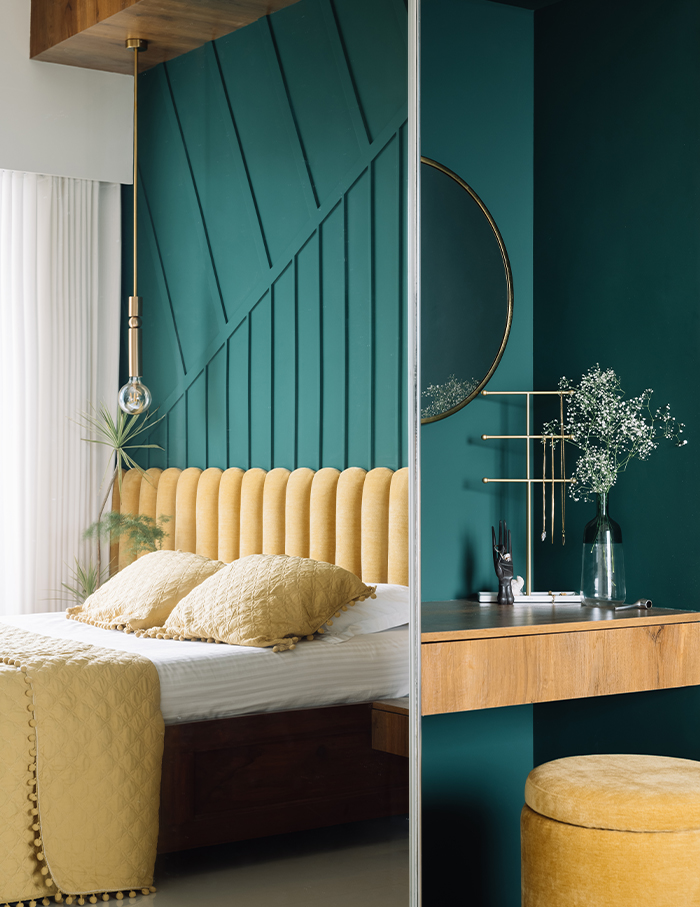 Colour Me Happy unapologetically thrives as a sophisticated blend of colours and textures. With its exposed red pipes, printed fabrics, colour block walls, the doesn't shy away from being unconventional and eccentric.
Scroll down to see more glimpses of the space—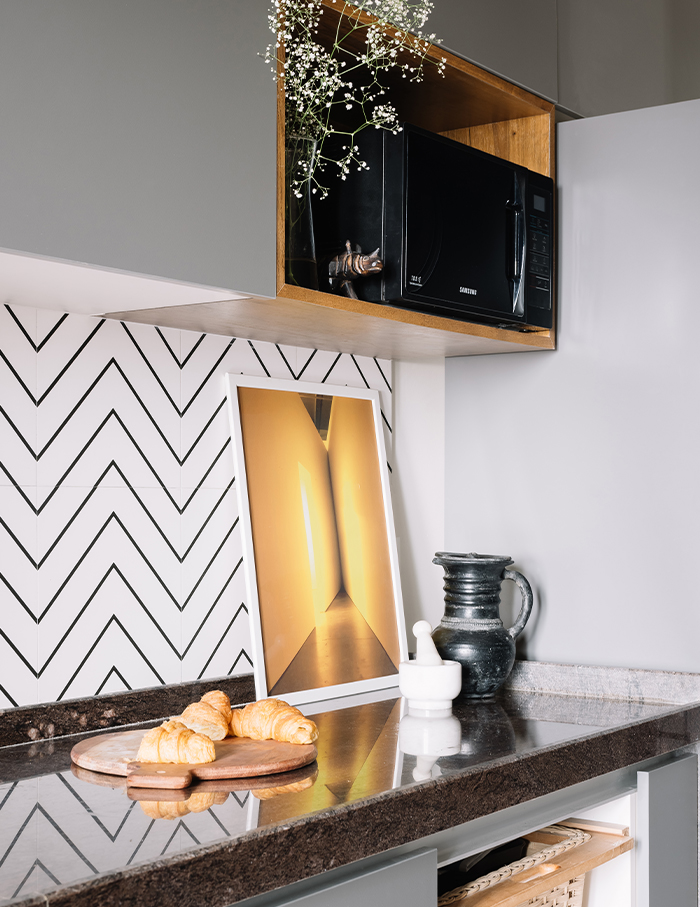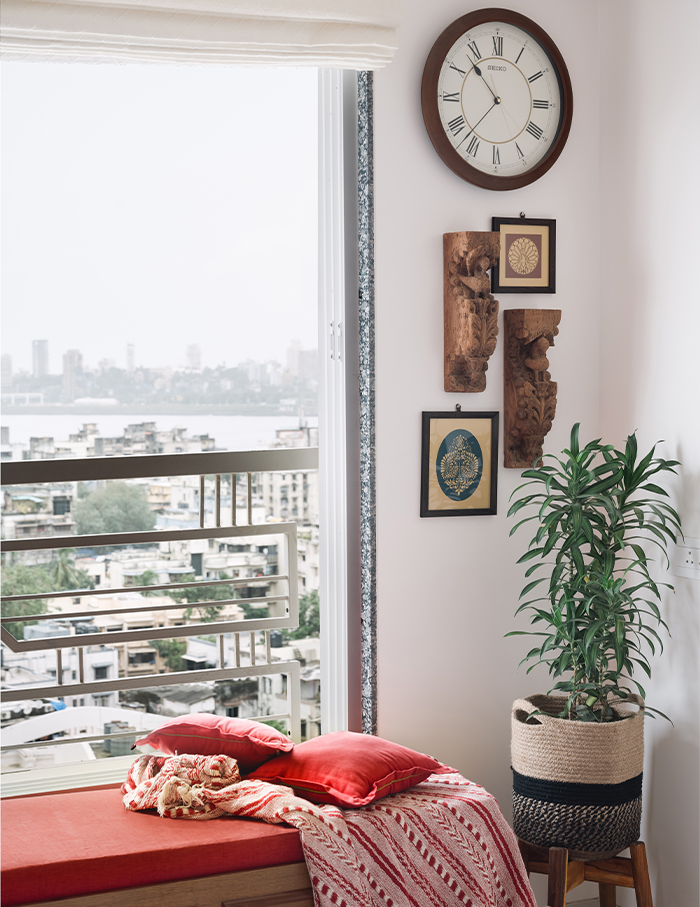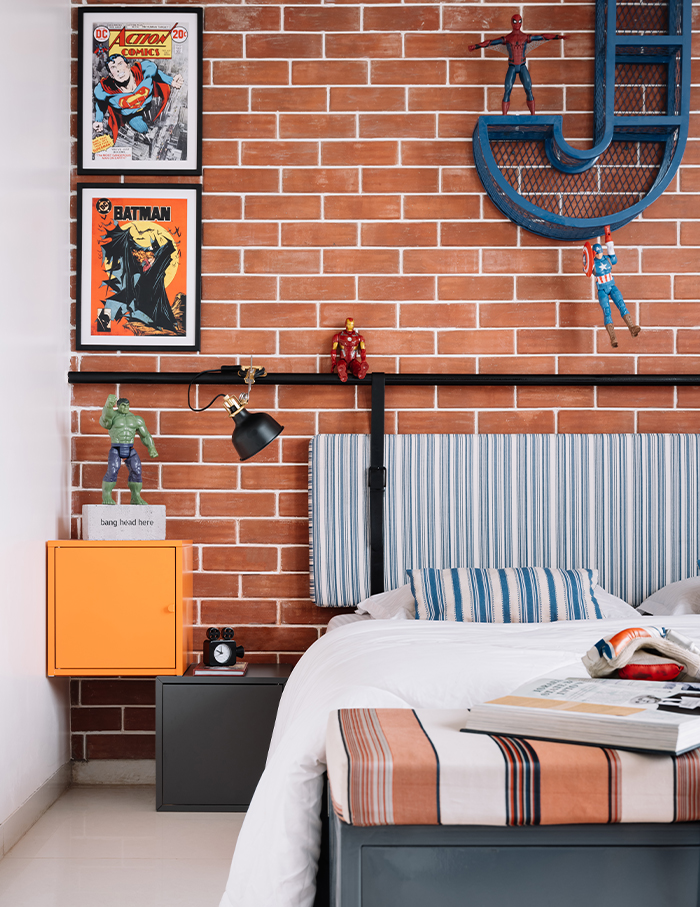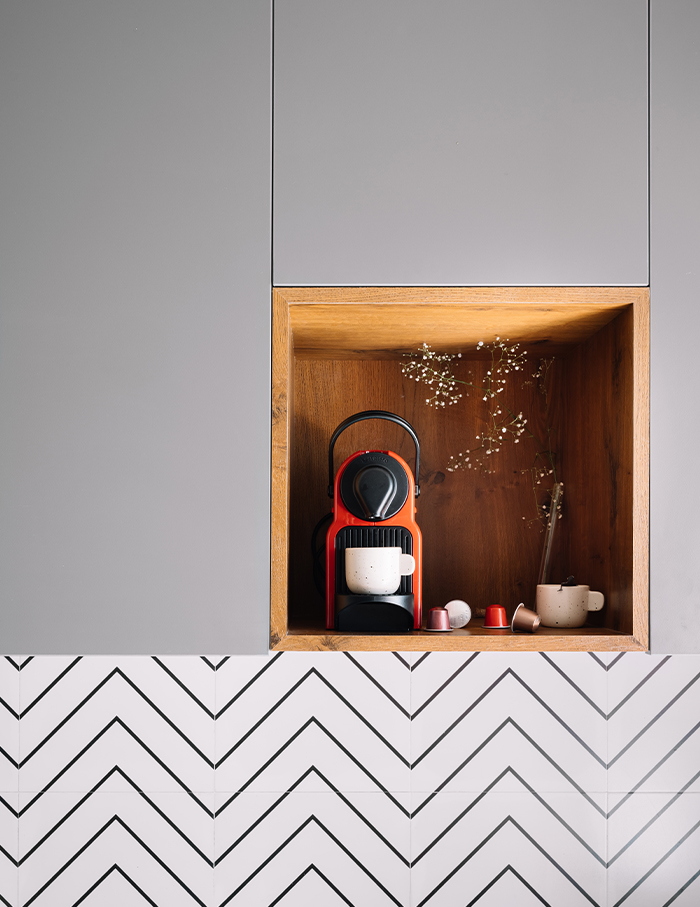 If this home motivated you to try something new with your home decor, make sure you check out this home designed by Eshita Marwah of /e !!!