Aptly named A Midnight Serenade, this capacious abode conceptualised by Eshita Marwah of /e is exemplary for its dramatic yet restrained colour palette as well as its timeless design
NOV 9, 2021
| By Eshita Marwah
We named this home 'A Midnight Serenade' for the midnight blues that have found place in this home at multiple places, and which, to us, sing a song of love and beauty! This 5,000 sq ft abode in Surat, Gujarat designed by Eshita Marwah of /e is a labour of love, designed to evoke emotions and stimulate the senses. Defined by dramatic transition areas and custom creations, the abode encapsulates the needs of a family of seven spanning three generations, executed in collaboration with V-Create Architects and Studio13 PMC.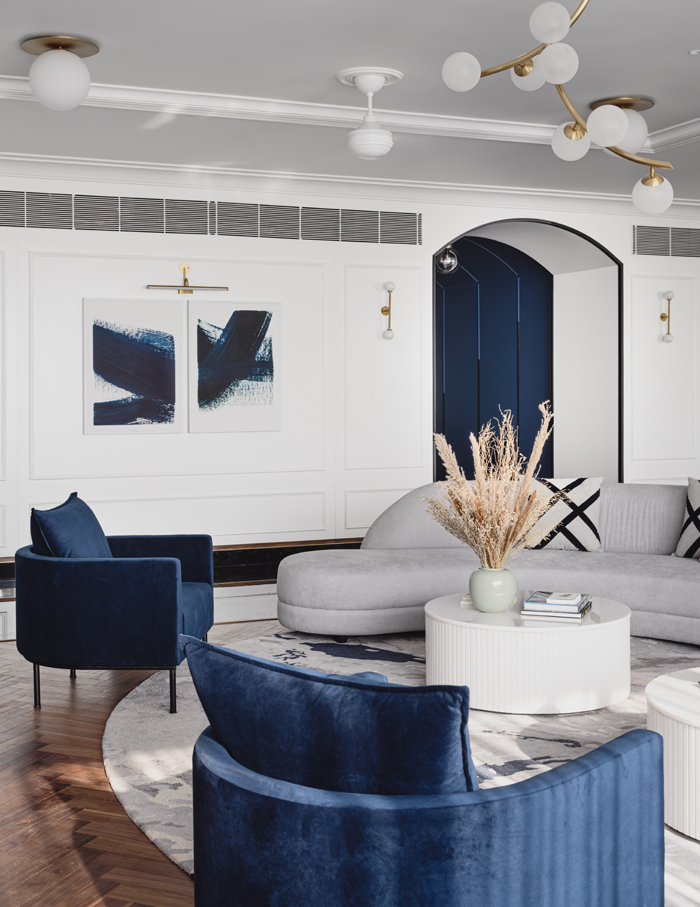 Initially, the most challenging and exciting part of designing this home was starting with almost no brief. The homeowners placed complete faith in me and gave me free rein to devise the home. While each member of the family has strong design preferences, the homeowners were clear that the spaces should be cohesive. I've always believed that the best projects come about when you have great clients, excellent design and execution teams, and creative freedom—and here I had it all!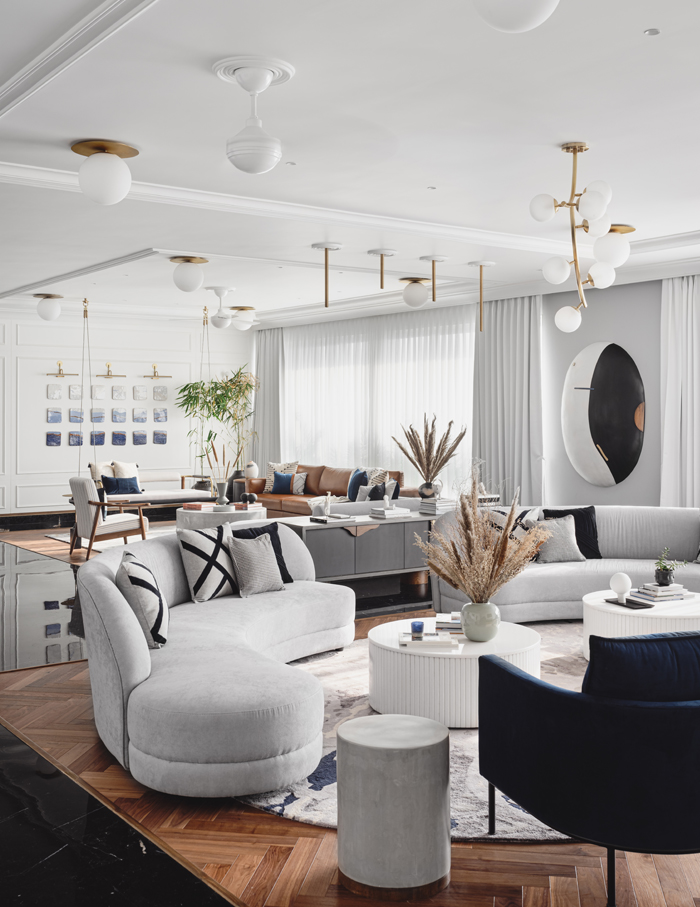 Unravelling punches of style every step of the way, the home unfolds at the black, white and vermillion entryway. A blue corridor, intricately inlaid with marble and brass, leads to the expansive living and dining areas. The spaces are bound together by Belgian black marble, hints of brass and a mélange of diverse colours and textures. Here, formal and informal seating sections are defined by two pockets of herringbone wooden flooring, and separated visually by vertical brass fixtures and physically by custom quartz cabinets. A concealed door near the dining area discloses the cabochon tiled kitchen. Meanwhile, two bedrooms have been positioned at either ends of the main living space, while the guest room named Burgundy is camouflaged in the entrance blue vestibule with another flush concealed door.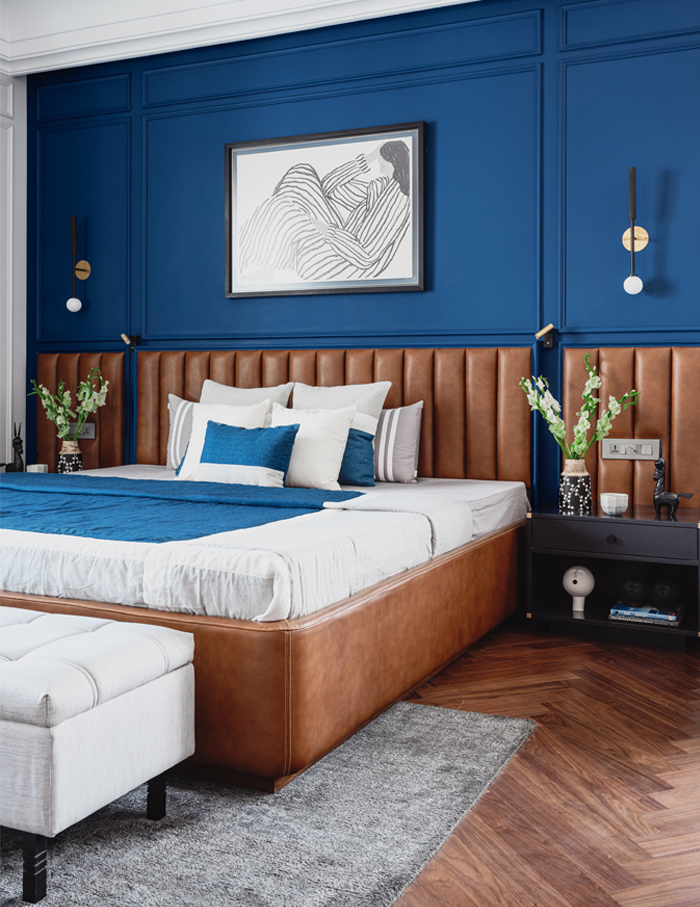 I adhered to my personal belief that spaces must be extensions of who we are, while also offering experiences that can inspire and brighten everyday life. This is why each room has a unique identity to match its inhabitants with the help of bespoke creations, yet one that maintains a sense of continuity and a unified tone throughout. To add depth and character to the rooms, I chose bold jewel tones and a limited material palette. The interdependence of elements in design and its playful execution renders a sight to behold. 
Being an engineer, I am a stickler for details which is evident since my brand /e has been involved in designing minutest entities like handles and knobs to devising oval shaped carpets that span over ten feet. Another aspect that is crucial, is that textures, prints and colours must work in tandem with one another. At the same time my work cannot be monotonous and I have an appetite for risk which came together wonderfully for this project. 
Every single detail—from concealed spaces and skirting designs to choice of hardware, lighting, furniture and furnishings—have been customised to perfection. Pretty facades conceal utilitarian functions as the home is designed as a functional yet dreamy haven for its dwellers. This approach has led to a transportive haven that's wrapped in a high contrast black, white and gold theme with mixed patterns and styles from different eras. It juxtaposes a modern elegance with old world glamour that focuses on form, texture and most importantly, comfort… To forever designing homes you want to live in!
To be more awestruck, grab the October-November 2021 issue and read about this home by Eshita Marwah…