Homes
Lijo.Reny.architects embrace the tropics in the paradisiacal oasis of Kerala's 'House That Rains Light'
APR 8, 2021
| By Saloni Rege
Enveloped within a gated community, this tropical paradise christened 'House That Rains Light' by Lijo.Reny.architects celebrates nature by showering abundant ventilation, fluid circulation and sprinkles of serenity.
This tranquil, 2,950 sq ft home in Kerala is cocooned in a tight plot of residential fringe, with only the eastern front open to vacant land. The house breaks away from a compound wall demarcation, making the plot look larger and including the silent internal roads as usable space.
Rendered with volumetric compositions and spatial manifestations, the abode is fashioned for a young family of four (a couple and their two sons), building a sense of character and individuality. "Our first discussion took place almost four years ago. They were clear that they wanted an unconventional home with a sensory experience for the kids to grow in and make memories," share architects Lijo Jos and Reny Lijo.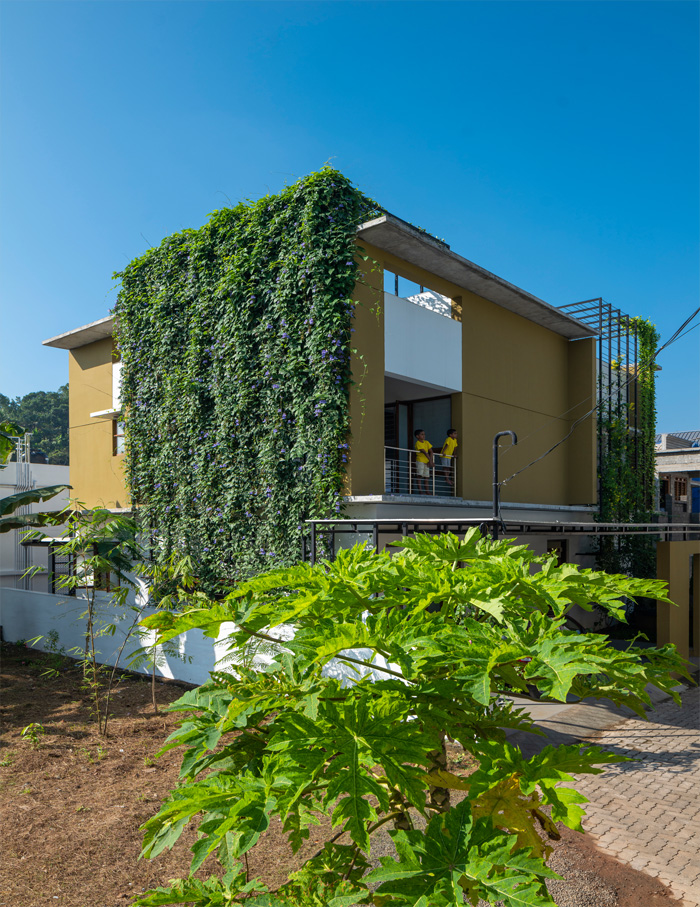 Cascading over the facades of the house are green screens with flowering creepers and climbing vegetables. These also double up as shaded canopies on the terrace, which is perfect for unwinding, barbecues and revelries. "Waking up to the chirping of birds and nesting butterflies is a simple yet overwhelming joy," says Reny. She adds, "The feature is pretty flexible. The clients can let the foliage grow for additional privacy or trim it for clear views."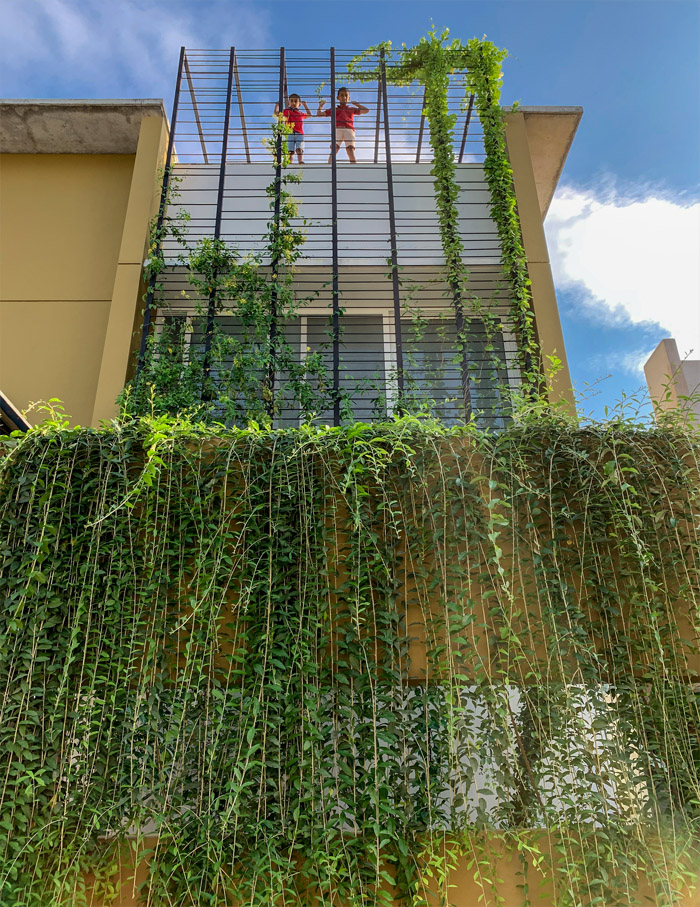 The house is accessed through a shaded front yard that houses a parking area and a patio sit-out. It is wrapped in a biophilic essence and opens up to an interspersing horizontal and vertical layout that connects visually segregated spaces under an open-plan. The ground level blends the functional areas with scattered landscape pockets, two of which are sky-lit courts (along the stairway).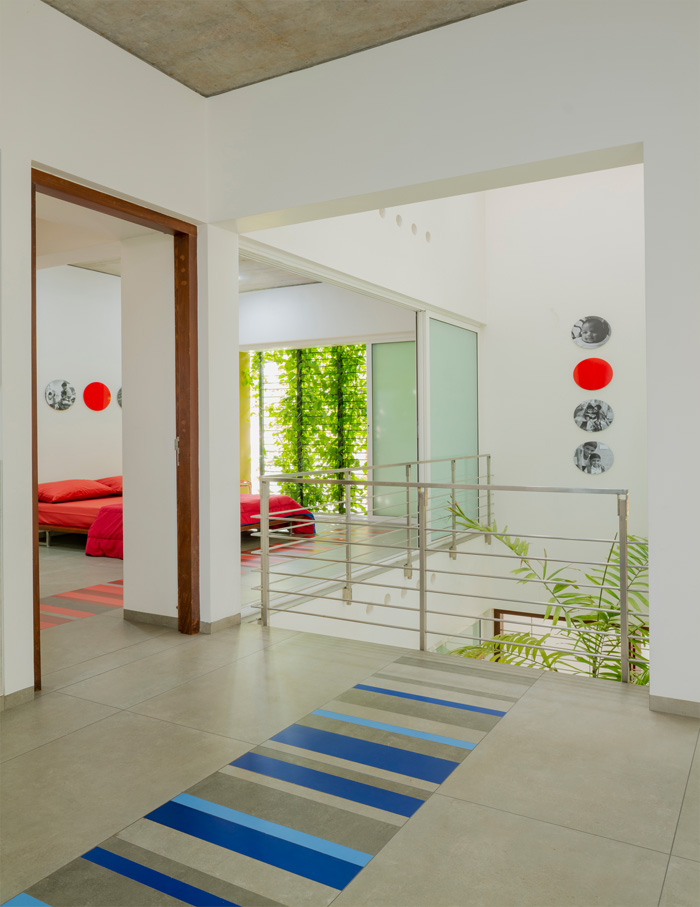 On the lower level, the living and dining areas appear seamless. Also accommodated on this storey are a blue bedroom, a kitchen and a two-way washroom (shared by the dining and bedroom)  beneath the staircase.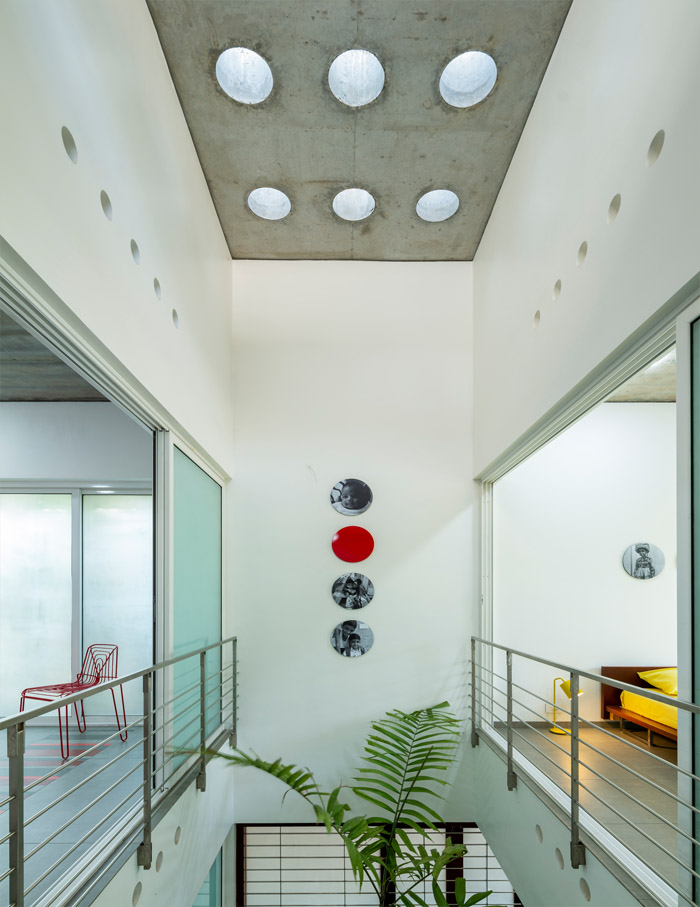 The home boasts a neutral palette of exposed concrete, cement-finished vitrified flooring and pristine walls. This makes it an ideal backdrop for highlighting primary shades that are seen in the furniture details, edges, soft furnishings, patterned tiles and customised wall artworks. "We chose these colours because they are relatable and timeless. They bring out the inner child in us and also reflect the lively personalities of the homeowners," reveals Lijo.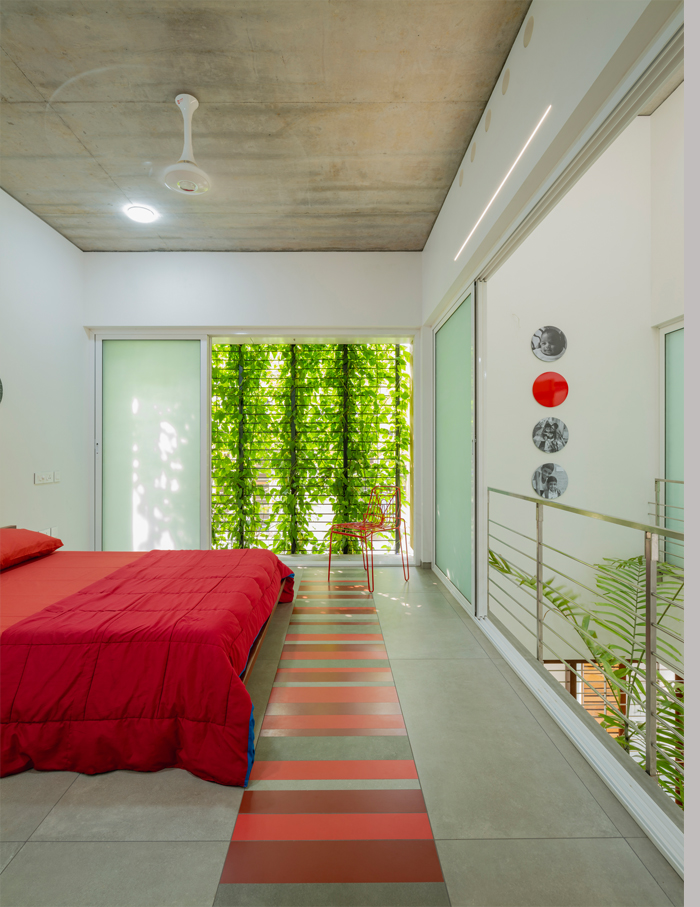 A similar design language continues on the upper level that comprises of the family room (presently, an indoor playground for the kids), two bedrooms (crimson and sunny yellow) that overlook the courtyard, a powder bathroom and a balcony.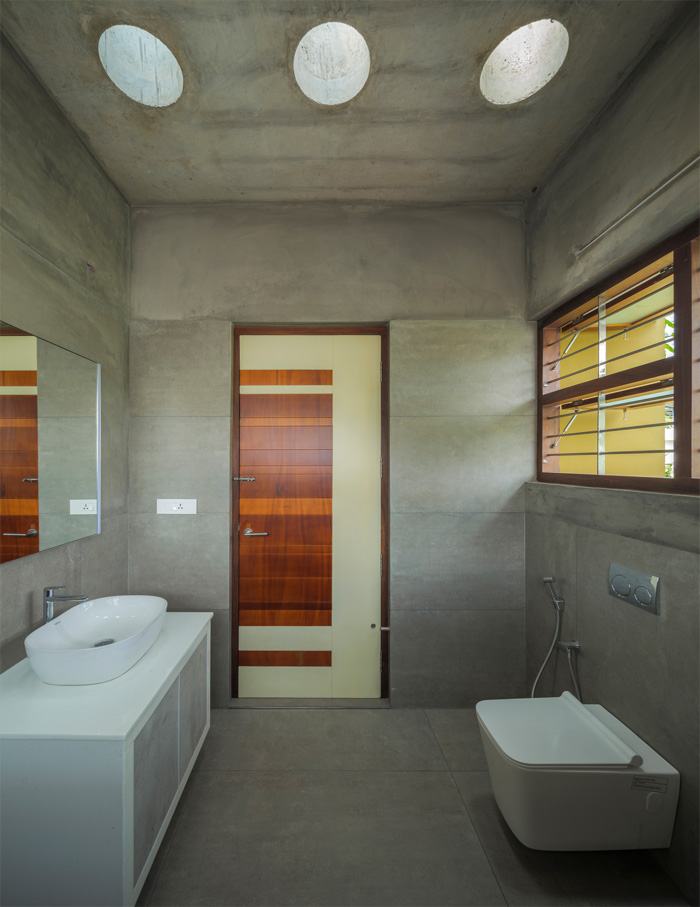 Talking about the most challenging part, Reny shares, "Crafting tight spaces to look bigger required detailed design sensibilities and were quite a task. Meanwhile, we've enjoyed designing the green canopies the most! They are an extension of a much needed garden."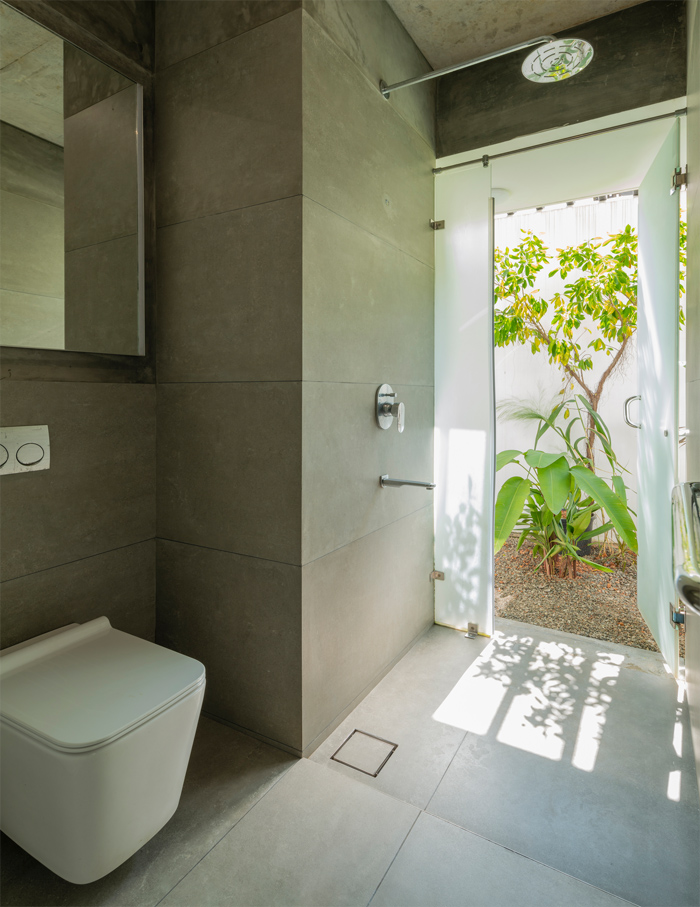 On the terrace level, raised portions of cylindrical skylights surface and spill diffused light inside the house. The elevated height also gives a scope to strategically place clerestory openings that remain shut during rains and open up for stack effect during hot summers to maintain a cooler climate within.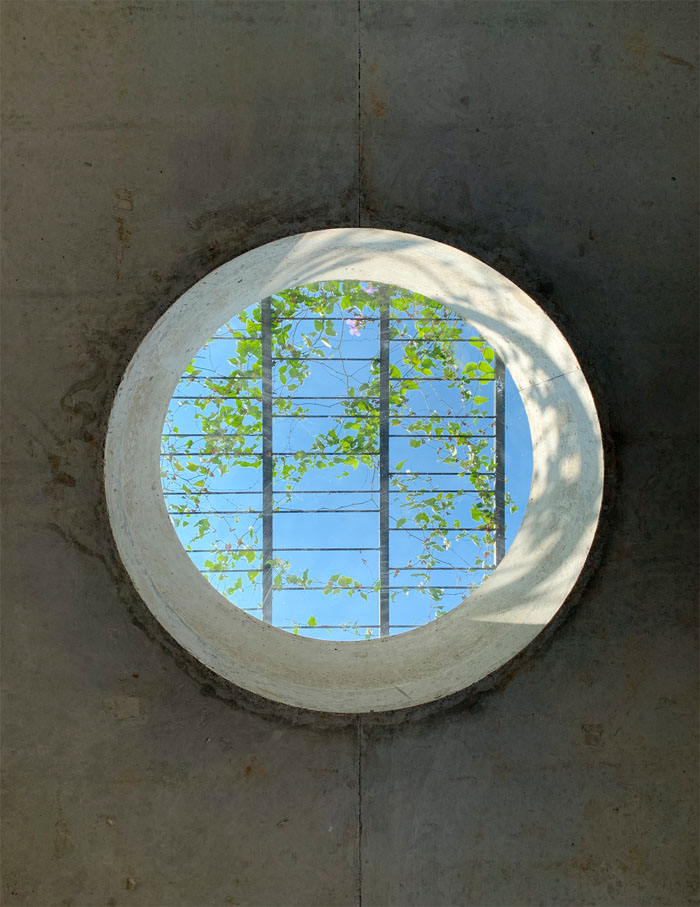 "Designing intelligently with passive cooling strategies, cross-ventilation, breathing green screens and natural daylight is the biggest green building aspect to reduce artificial energy consumption and implement cost-cutting. We've also given provision for solar panels and solar heater on the terrace," says Lijo.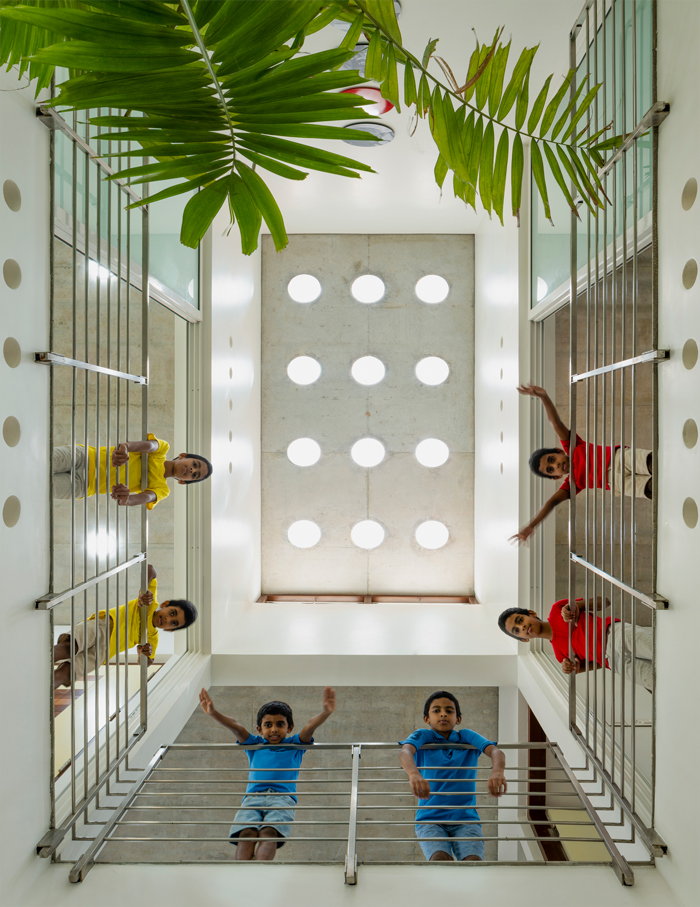 Peppered with a luxury of comfort, nature and approachable decor, this house is a rich testament to the quality of spaces and experiences, unravelled through its core. "The abode is designed as a module for the urban scenario, resonating with the idea that spaces should be liberating, and not containing," concludes the creative duo.