Homes
Layers of design unravel as you walk through this vacation home by La Sorogeeka Associates
JUL 15, 2021
| By Kashish Kaushal
A picture of magnificence and restrained calm, this three storey luxury villa located in Gurugram is spread across a whopping 17,400 sq ft. Designing for their oldest client, La Sorogeeka Associates have crafted an inviting vacation home replete with elements that guarantee warmth and entertainment. 
Creative Director of LSA—Kashish Raheja worked around the brief to design an easy to maintain, functional and contemporary home. The space has a comforting, lived-in vibe—a refuge from the city and a place in which one might truly dwell. On the other hand, it also has a sharpness and subtle restraint that lends itself to socialising and entertaining.
Sharing the nuances that have gone into devising the space, Raheja says, "My design mantra takes care of design in all its glory, where everything from the walls to the ceiling, to lighting and colour,  should get its due attention. While this can also be an uphill task, I believe that beauty in design must not just be seen, but also be felt."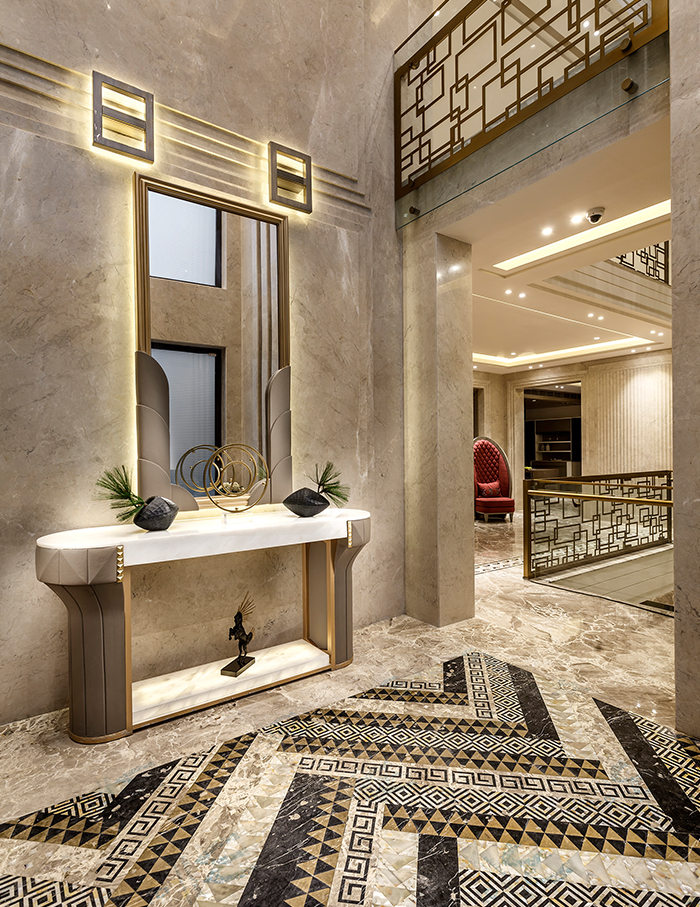 Following an ultra-modern cheer, the house is envisioned as a welcoming abode that has unique and personalised elements in every room. As a consequence, neutral and earthy tones were chosen for this property. However, the spaces are coherently punctuated with bright tones used in the furnishings, to break away from monotony. The green pockets, strategically placed in the courtyard and balconies, lend a sense of openness to the interiors.
Textures, on furniture and walls, fabrics and linen have been varied to create a mélange of experiences. Stone has been extensively used with distinct finishes to demarcate and define spaces. Contrasting textural finishes have been created with contrasting materials. Lighting too plays an important role in creating an ambience with indirect and diffused lights highlighting the artefacts and spaces. 
Elaborating further about the material palette, Raheja reveals, "The luxury design trend that the home stays true to is the extensive stone work. Be it natural stone, quartz or even granite, we made sure to use it in abundance. As per the client's requirements, their vision for the property was an easy to maintain and fuss free home. Hence, elements in stone were added everywhere, keeping the brief in mind."
A triple height chandelier right at the entrance garners a lot of attention and admiration. Along with this glorious chandelier, the entrance exhibits a console and a set of elevators. The ground floor hosts a formal living and dining room, an open kitchen and family lounge. The authentic and eye-catching shades of marble make a striking impact on the dining table, in the dining room. 
Similarly, the family lounge with an open kitchen has marble flooring that continues onto the wall and ceiling in a different texture and finishes. This creates contrasting textures, yet keeps the overall colour palette of the room similar. The ceiling with the soft lighting subtly demarcates the cosy seating space.
Moving a level up, the first floor has three bedrooms that strike the perfect balance between beauty and functionality. Through clean lines, a mix of soft colours and metallic accents these bedrooms are designed to nurture solace. The second floor has two bedrooms and an extravagant primary bedroom which is highlighted with gorgeous pieces of artwork throughout. The basement is an escape from the rest of the house and consists of an entertainment area and a bar, which opens into a subsequent seating area along with a poker table setup.
Raheja's vision for this project was an amalgamation of all the elements used in the house—stone for its practicality, glass for its effortless luxe feeling, mirrors to make the home look spacious, and lastly, emphasis on lighting. Thus, the concept of luxury design emerges from a play of materials and texture where attention to detail is of utmost importance. 
Earthy and contemporary in design, the vacation home is emboldened with luxurious finishes and glamorous elements of decor. There's an inherent richness in every material, every detail and every colour, which when put together, creates a space that makes a fresh and vibrant statement.
If this space visually transports you to a zone of lavish comfort, make sure you check out this timeless duplex in Juhu designed by Chanya Kaur of the The Pure Concept Home!