Homes
Tropical tales in the heart of Kochi — Showers of modernism and nature trickle into this home by Silpi Architects
MAR 22, 2022
| By Pratishtha Rana
A rhythm of repose that nudges you to slow down and at the same time actively saunter the spaces, this home in Kochi, Kerala by Silpi Architects is a sight to bask in and behold.
A couple, their two kids and pets call this resplendent address their abode—dubbed Muziris Residence. Informed with an innocent but crisp brief, Sreejith Pathangalil from Dtale Decor was entrusted to keep a continued dialogue between the concretes and woods indoors and the greens and breeze outdoors.  
A piquant bouquet of the seaside surrounding fills the spaces readily with a slow-paced visual underpinning the core of the residence. Sreejith adds, "With the current situation of uncertainty in our lives, the clients wanted a space that could be their calm in the chaos." Inspired by this, the designer settled on a tropical style that trickled ever so seamlessly with a modern minimalist aesthetic. 
You may also like:This Chennai home by Gayatri Gunjal is a medley of modern and traditional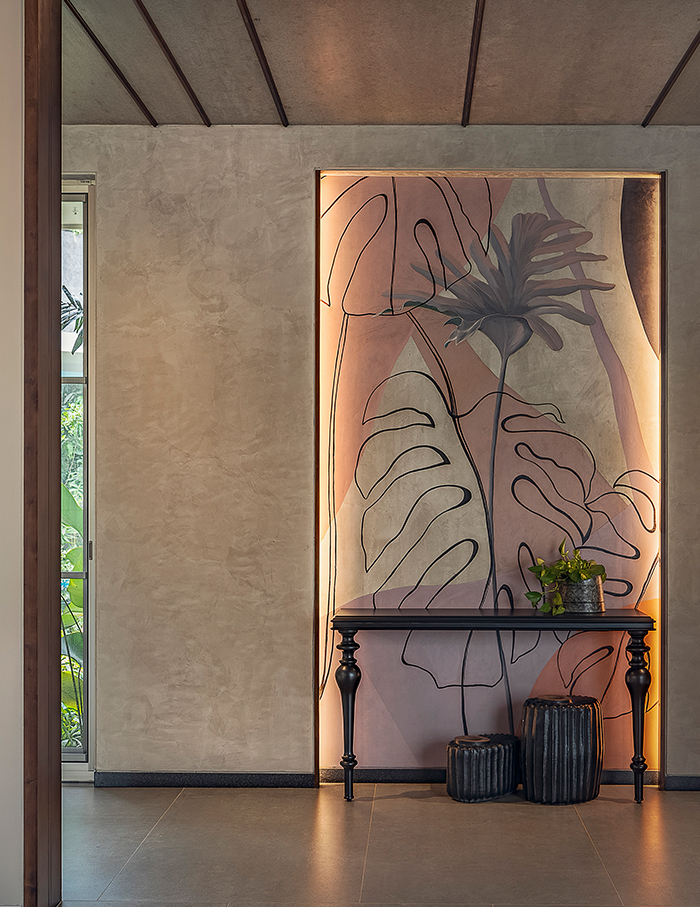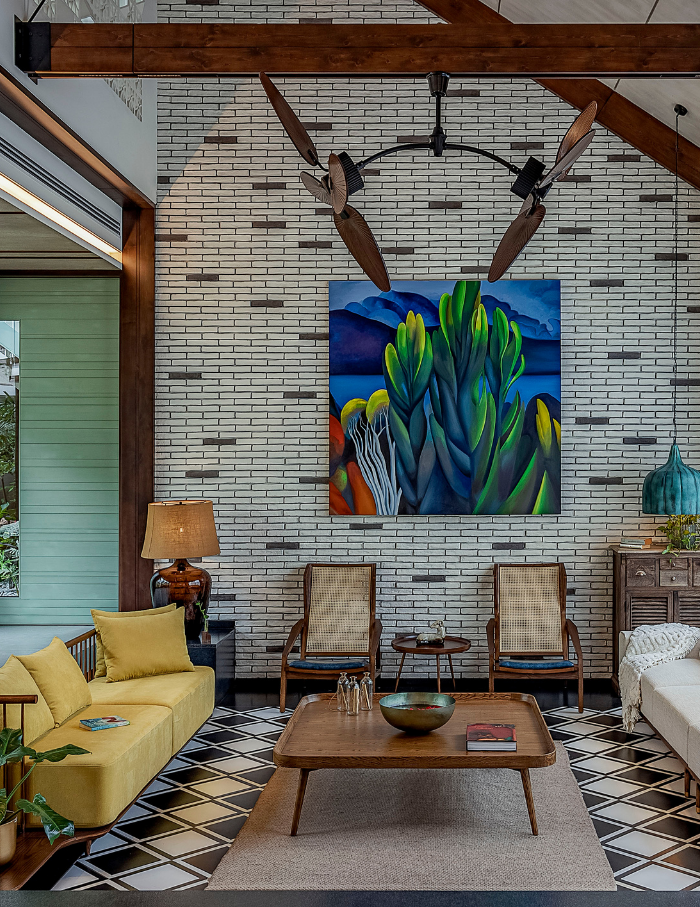 The 7,000 sq ft home skirted by the waters of Kochi extends its doors open to a foyer with an arresting tropical artwork that runs almost the full height of the wall. 
Turn right and you'll be greeted with a sprawling guest living zone breathing design hints of wooden beams, brick wall cladding and a huge glass shuttered window framing one side of the foyer.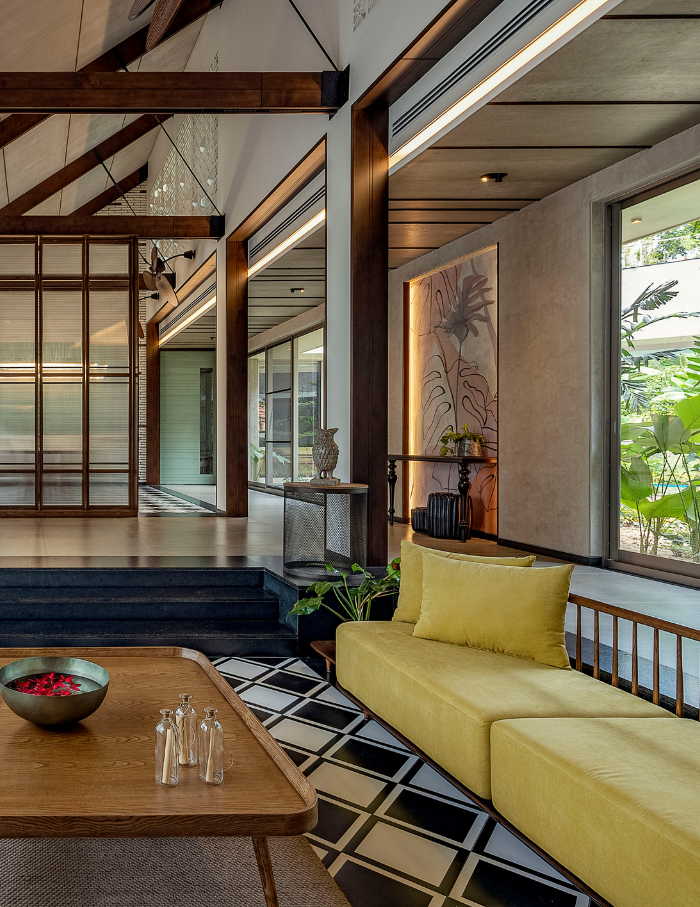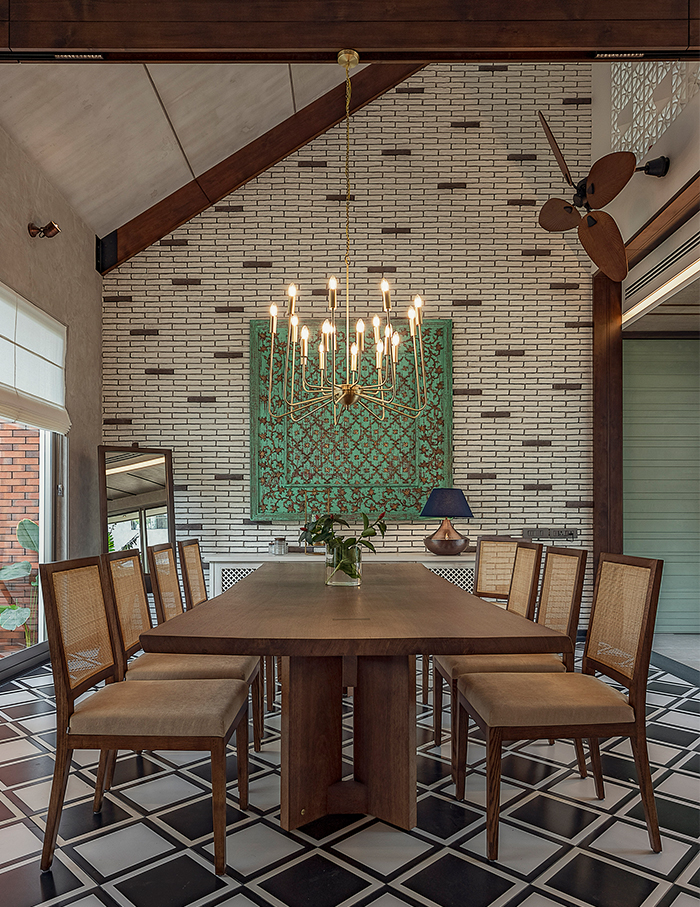 The space is touched up with black and white checkered floor tiles, on which is berthed an earthy-hued carpet and poised furniture by Dtale Decor. To the left of the entrance sits the dining area with a similar tenor of materiality enhanced with fluted glass swivel partition to outline privacy between dining and living rooms.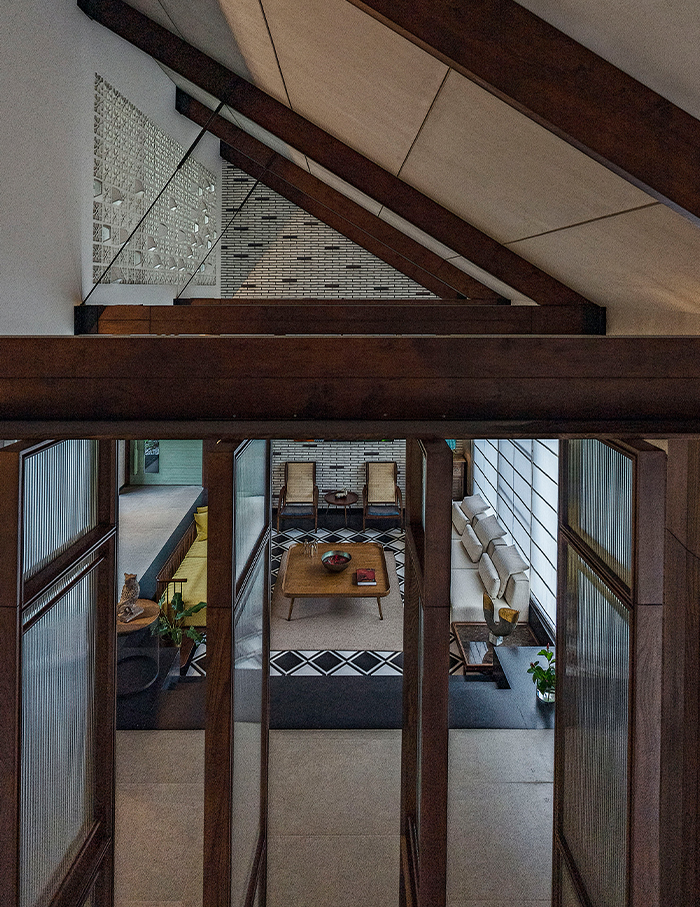 Promenading further in, the home unrolls into four bedrooms bedecked with design-forward beds and furniture by Dtale Decor complementing the interiors. Then comes the family living room soaking in views of the courtyard and pool and a staircase that navigates cordially into the home theatre and a gym upstairs.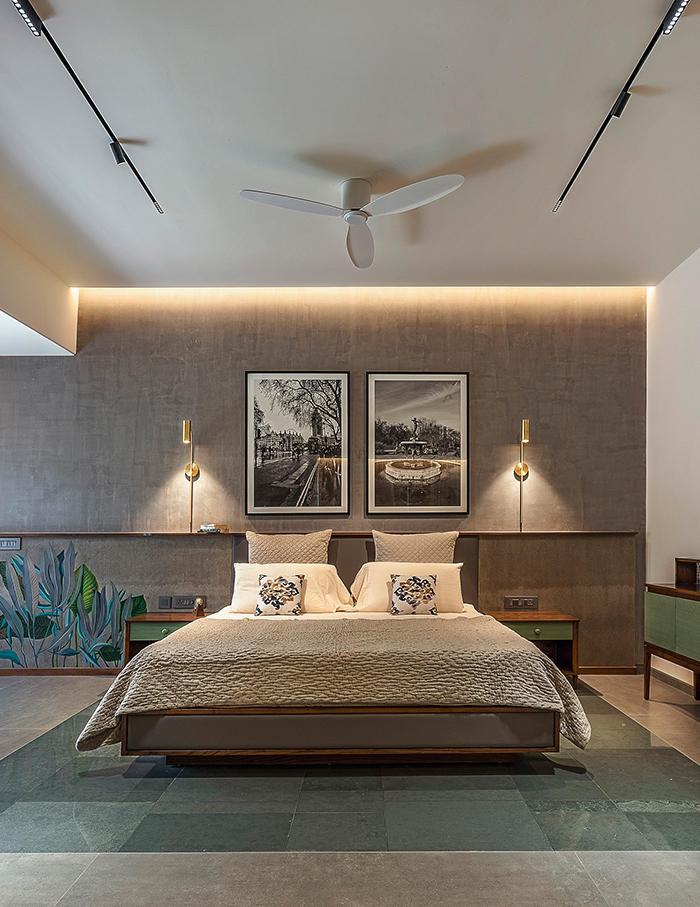 Defining the nexus of the community spaces in the home, the beamed double-height ceiling harmonises with metal ties, fluted glass and jali work.
Recalling the design process, Sreejith says, "Between guest living and dining, the area separation with a tilted divider in fluted glass & jali work in the ceiling were the most challenging part."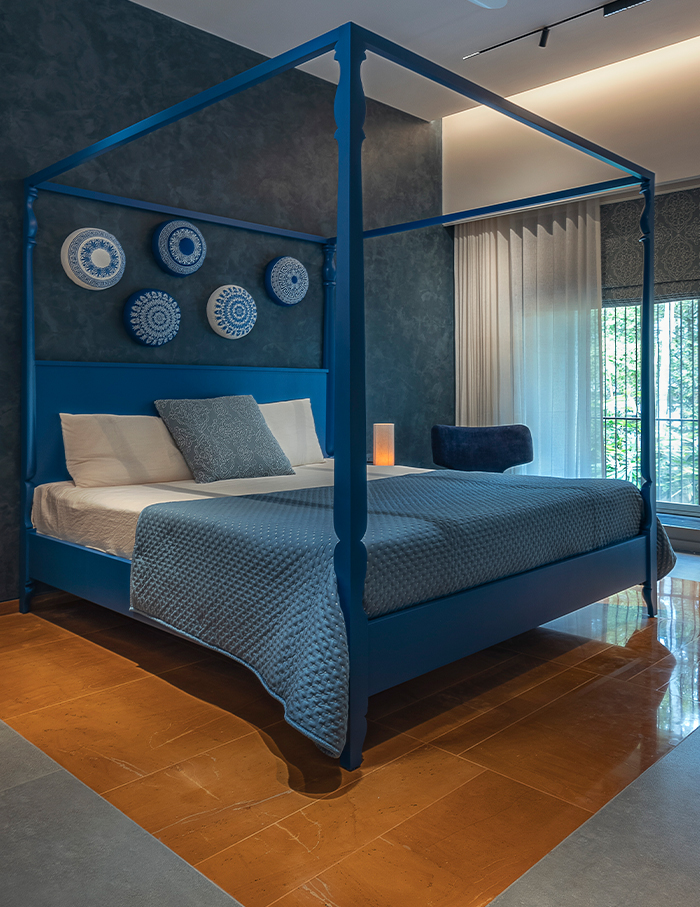 On the other end is the show kitchen that mingles with an open plan kitchen lounge leading to the working kitchen and the laundry zone.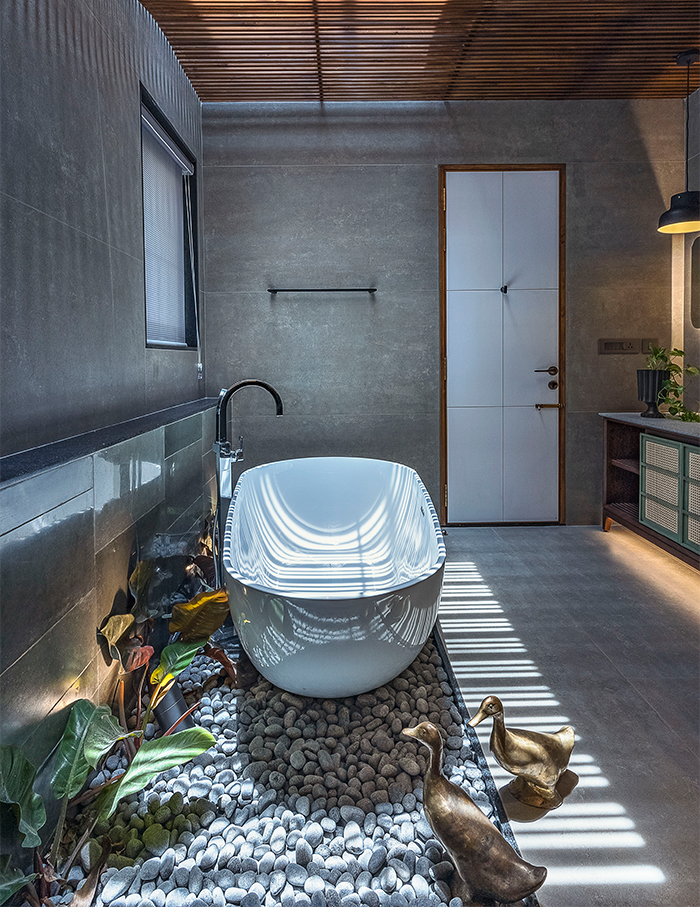 Ensuring that the sentiments of the home dwellers meld with the design grammar of the home effortlessly, Sreejith astutely introduced black and white photos taken by Aglaya Darious and her father Antony Ben's artwork made from terracotta throughout the residence.
Loved this kochi home by Silpi Architects, then check out Temple Town crafts this Kerala home with a dramatic dash of white, green and red