Lifestyle
Kisawa Sanctuary in Benguerra Island evokes a strong wanderlust and sets the vacation mood with its blissful paradise
MAY 20, 2021
| By Saloni Rege
Planning a travelling escapade, for when things are better? Look no further! We bring to you a blissful setting of Kisawa Sanctuary that's built at an intersection of wilderness, nature conservation and well being. Crafted by entrepreneur, creative director and philanthropist Nina Flohr, the paradisaical symphony is all set to tickle the wanderer's bones.
Realised as a harmonious environment, it is nestled along a 300-hectare stretch of beachfront calm, forest and sand dunes in Mozambique's Benguerra Island. Encompassing the pristine coastline of the island's southern point, the expansive property spans 5 kilometres and houses 22 bespoke bungalows across 12 residences.
Additionally, another serene abode christened Kisawa Residence settles in a private area of 2.25 acres and embraces panoramic views of both the ocean and cove sides of the island. The founding space features two bedrooms, capacious living rooms, an infinity pool, cabana and multiple outdoor decks as well as alcoves. African antiques and art collections further embellish the residence in a cultural flavour.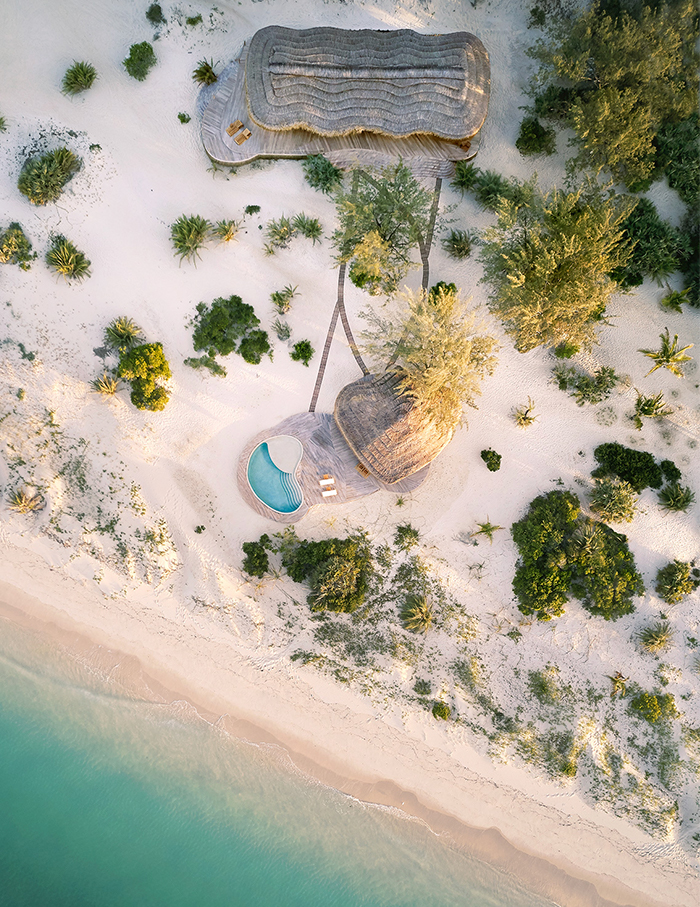 The bungalows are either settled within a sheltered cove or are placed up in the dunes, overlooking the infinite ocean. At the heart of the property, guests can explore communal spaces of dining, relaxation and a huge Natural Wellness Centre. The design has been conceptualised in a way that the visitors can choose to mingle around in the common amenity zones or hideaway in the leisure of their private bungalows.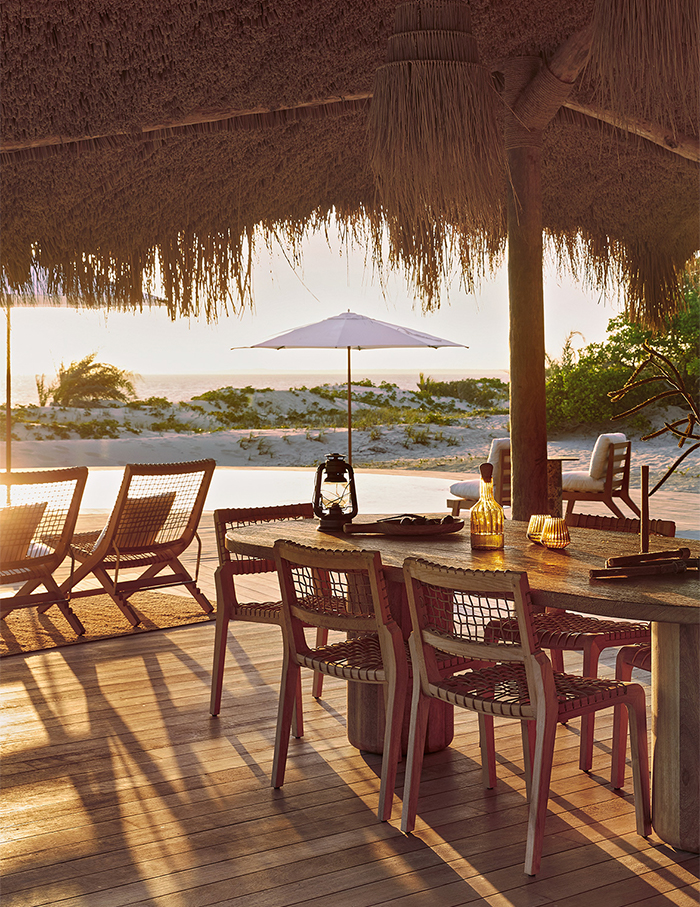 Offering a plethora of activities and services, the visitors can ride on a colourful fleet of electric Mini Mokes and discover the Benguerra Island and the Bazaruto Archipelago (home to the richest sub-tropical ecosystem and 150 bird species), at their own pace and rhythm. Furthermore, they can enjoy sundowners while sailing on a traditional Mozambican Dhow or host picnics in the red dunes, tailoring experiences to suit their liking.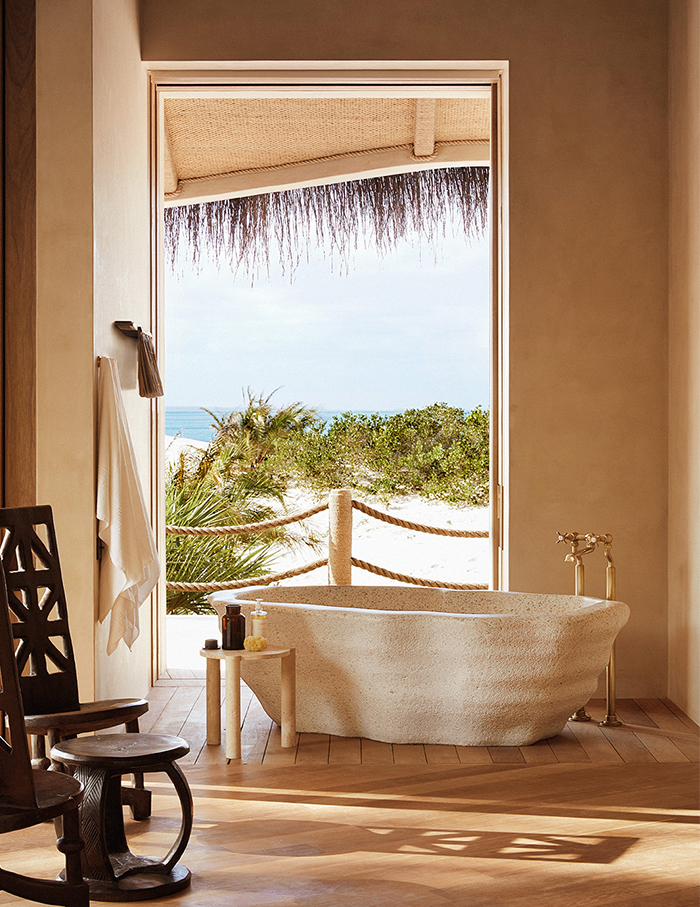 "This is our first hospitality project wherein the mission was to weave a bond between people and place; where luxury is defined by freedom and the generosity of thoughtful choices," shares Flohr. Apart from her own design studio that oversaw all aspects from interiors to master planning, she was supported by an architecture and engineering team, which helped materialise her vision. The interspersing fluidity of the contemporary design's indoor-outdoor spaces aligns with Kisawa's 'find your own rhythm' guest experience philosophy.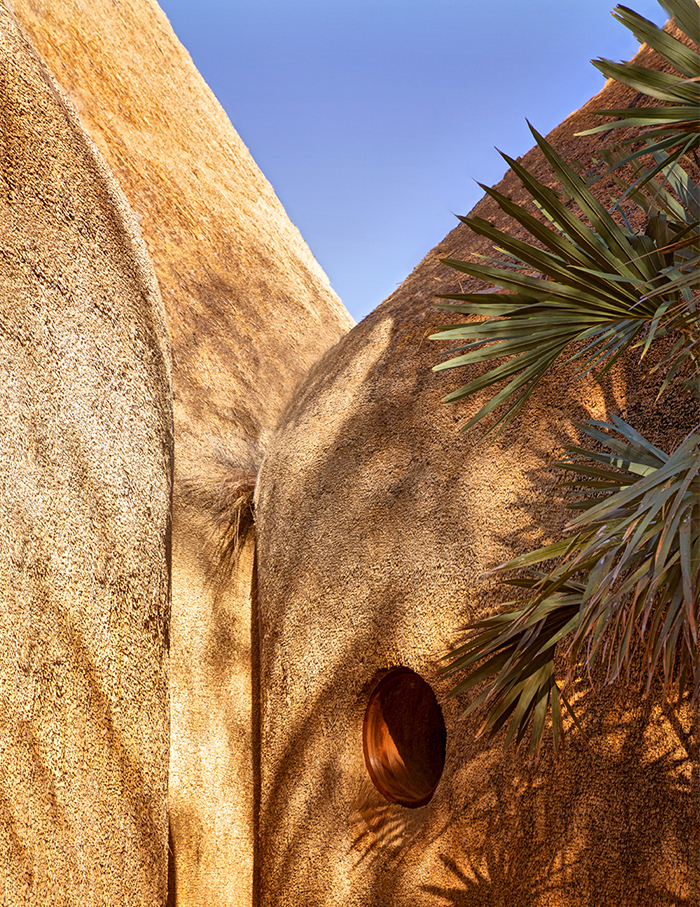 Striking in a distinct manner, each dwelling is ingeniously curated in a secluded zone with access to at least one acre of beachfront. The best part is that no two bungalows are exactly alike! They're all dressed in diverse elements and individual colour schemes, each having access to appreciate optimum natural surroundings.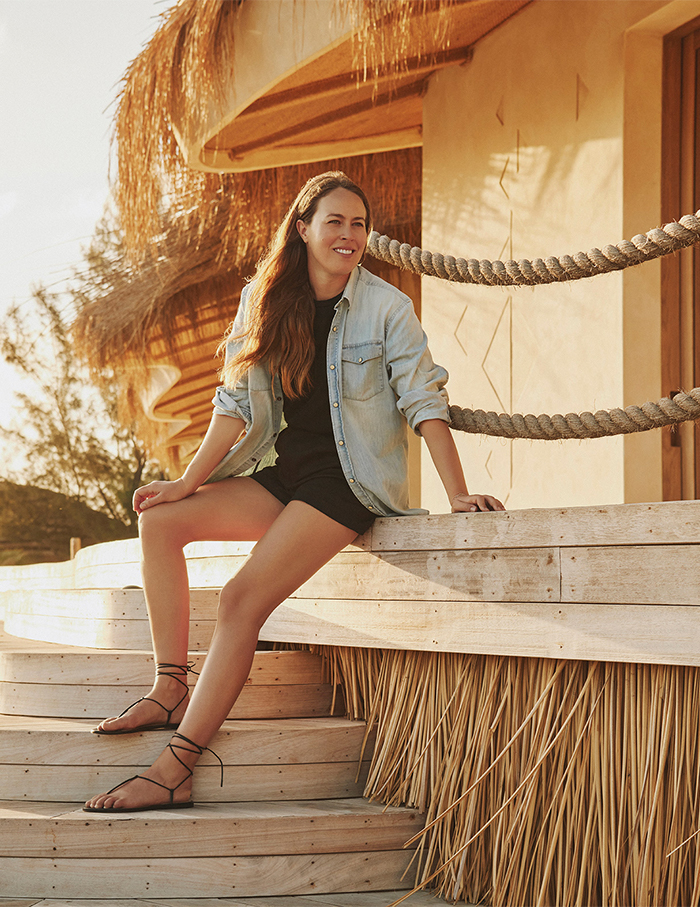 Fashioned as either stand-alone bungalows or grouped together in a cohesive unit for families and friends that celebrate togetherness, they're composed of interconnecting suites having—sleeping quarters, generous bathrooms, living areas and encircling decking. Countertops, tiling and certain furniture pieces are built using a patented 3D sand-printing technology to replace less sustainable practices.
Kisawa's main terrace is its prominent architectural structure! With its undulating organic roof geometry, the form resonates with its habitat. An open plan, it consists of a fireside library, lounge, Robata Counter and a wine cellar. Further, the island's vernacular circular houses are replicated in its Natural Wellness Centre that comprises a freestanding gym and spa, offering Ayurvedic, Chinese medicines and Japanese rituals as well as treatments.
Dining venue such as Cove Mussassa encourages a beach cafe setting, serving African dishes, seafood and international favourites. On the other hand, the Barraca surprises with its upbeat mood, barefoot living and South Indian delicacies. Additionally, a mobile Pizza Tuk Tuk is delectable, while the Robata Counter cooks up cuisines from garden vegetables and freshly produced ingredients. Kisawa advocates organic produce and a zero-waste policy.
Kisawa Sanctuary proudly showcases patterns, artefacts, prints and thatched roofs, evocative of the region. The approach to commissioned craftsmanship is adapted to create work opportunities for the natives and local artisans.
Following the April soft launch, Kisawa Sanctuary will grandly open its doors in July 2021. Layered with an authentic aura, the retreat is a graceful blend of innovation, tradition and conservation. Also, the privacy implicit in Kisawa's design blesses it with a wealth of open-air spaces and physically distant bungalows, best suited for post-pandemic travels. Ideal for a weekend getaway or a long enriching vacation, it's the perfect spot to unwind!