Lifestyle
Amoeba Designs borrows African cultural elements for Pune restaurant Baobab
OCT 12, 2020
| By Krisha Godani
Hidden under a dilapidated roof of a former mill in Pune is Baobab, a fine dine restaurant named after the tree native to Africa and Australia but synonymous with the island of Madagascar. 
On visiting the site and noticing the rusted GI sheets, the restaurateurs expressed their desire for an African inspired venue, which also retained the erstwhile mill's existing, rustic charm. This brief drove the design philosophy that led Satyajeet Patwardhan and Pashmin Shah of Amoeba Designs to create a unique 5,000 sq ft, African themed restaurant.
The interiors have been bathed in red, black and green hues, paying homage to pan African culture, while the outdoor features natural stones and a ficus tree that's symbolic of the baobab and just as captivating.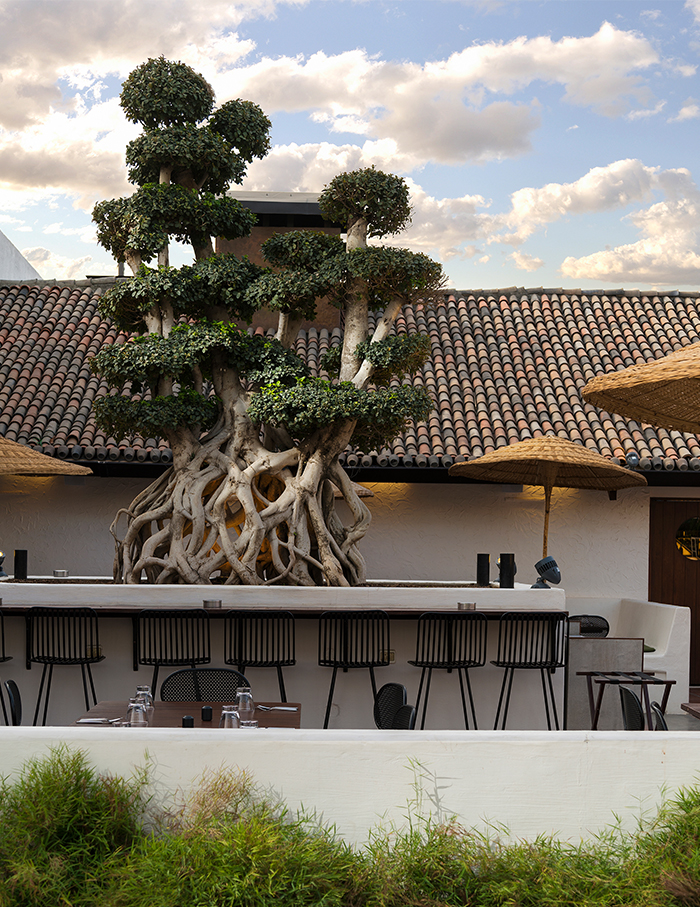 Copper and wood accentuate the palette to create a visually stunning appeal. "Our attempt was to take advantage of the existing character of the space through our design and create emblematic indoors with the marriage of rustic and exquisite aesthetics," says Patwardhan.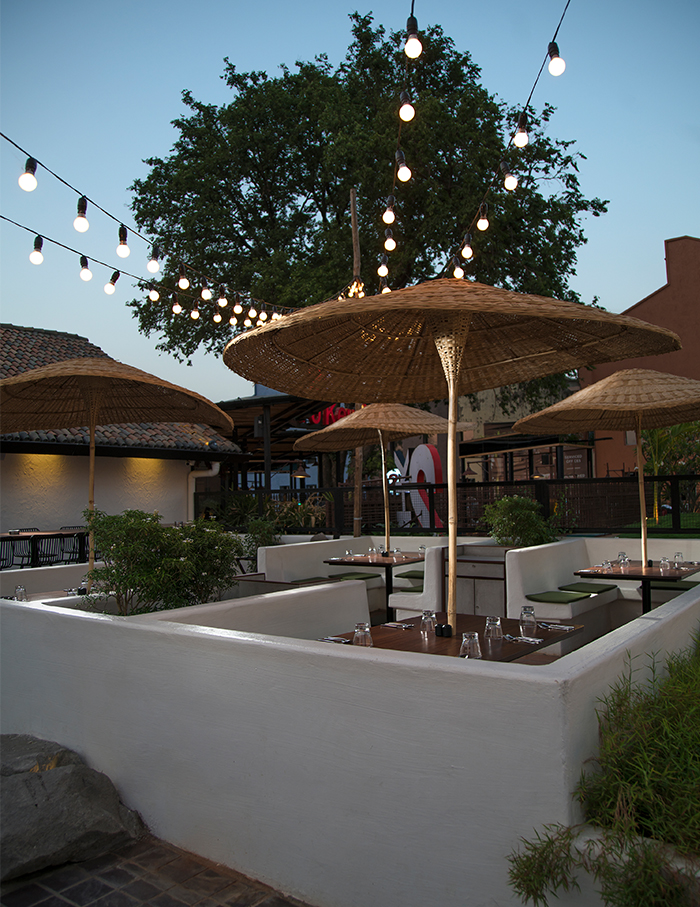 In order to keep the structure sturdy and intact, the entire space was refurbished. The original corrugated GI sheets on the roof were replaced with clay tiles. A central skylight along the edge of the sloping roofs was added as a key design feature to dramatically change the light quality of the space and provide a connection to the outdoors. Black Kadappa stone flooring was laid in concentric circles with a bright red strip right below the centrally planned skylight. "The dynamic sky and moving clouds connect you with nature's ever-changing artwork through the year. During monsoon, there's nothing less magical than dining 'in the rain'," adds Shah.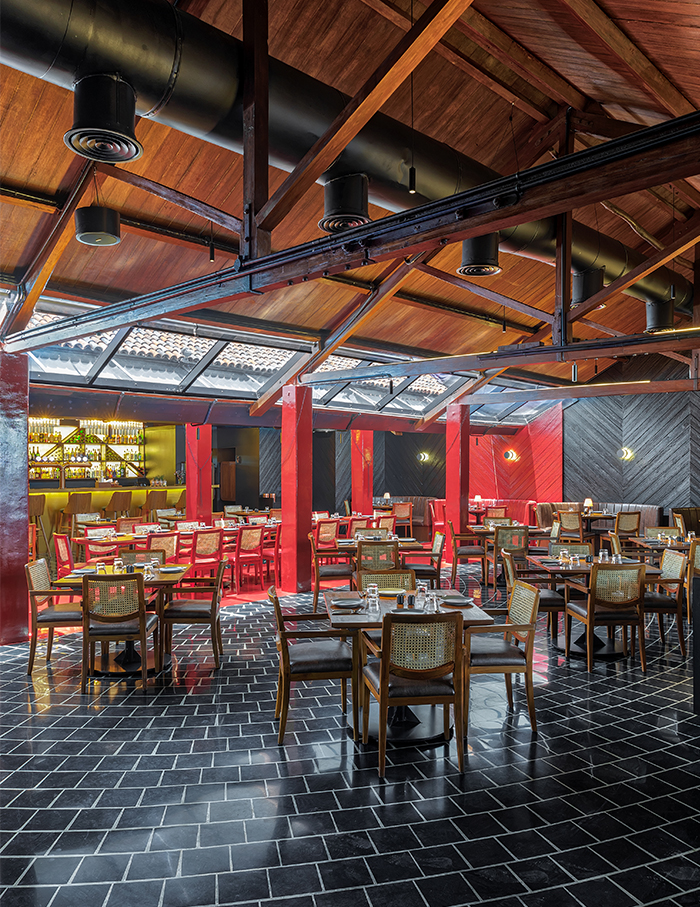 Diverse seating configurations—including clusters of booths as well as a long, community table—allow versatile social engagement. Meanwhile, natural terracotta stone and inbuilt cement seats, enhanced with green-hued cushions and surrounding plants, make up the outdoor section.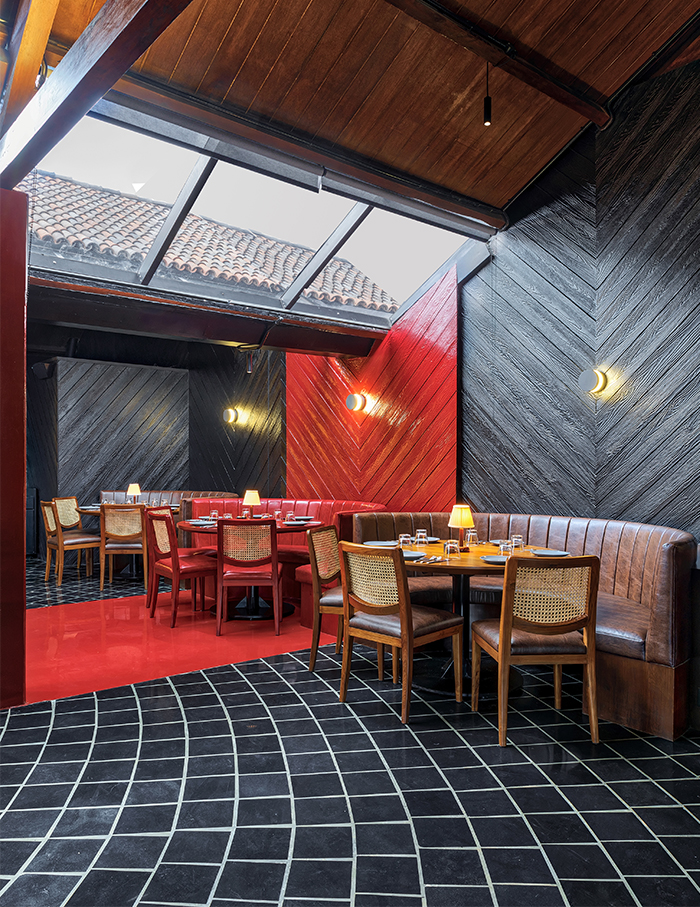 A customised, back-lit bar with art deco chandeliers is positioned as a focal attraction. It is surrounded by a dark colour palette that represents the dense, tropical lands of Africa, complemented with wooden and metallic accents. Personal touches such as deriving table numbers based on the birthdates of every person associated with the project—right from the carpenter to the designer—are part of a unique narrative. "This simple gesture creates a sense of belonging for everyone, who's played an integral role in this project," concludes Shah.