Homes
Kanan Modi illustrates a post-war modernist aesthetic through its play of solids and voids in this Hyderabad home
FEB 1, 2023
| By Kanan Modi
A man travels the world over in search of what he needs and returns home to find it," said Irish writer George A. Moore once. What can a person possibly find in a dwelling made of concrete, bricks, wood and suchlike materials? When I think of it, the answer lies in the very foundation of the home—from the first moment a layout on paper transforms into layers of bricks on site to when a whole structure stands tall with a world of its own inside brimming with character, warmth and anticipation of making memories that only its dwellers will know of.
My team and I took a similar route of birthing an idea into a home when we met a young couple a little over two years ago, who completely floored us with their passion for architecture. We were certainly excited to know what this encounter of two architecture-inclined minds will take shape into. Thereupon started our journey to design and build SI'RENITi House, a 21,600 sq ft habitat in the prime neighbourhood of Jubilee Hills in Hyderabad where days feel warmer and nights cool and breezy.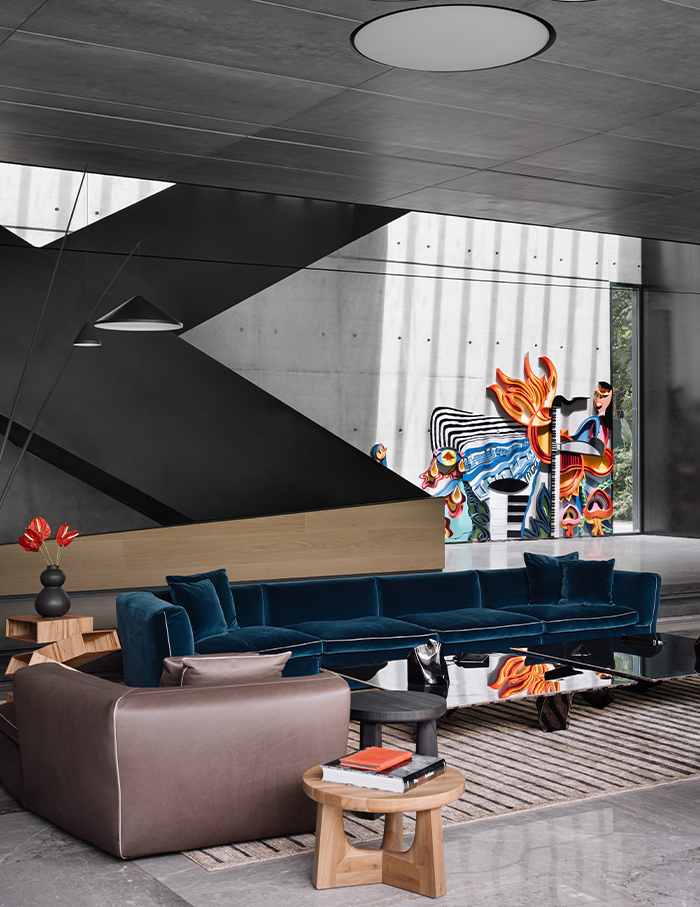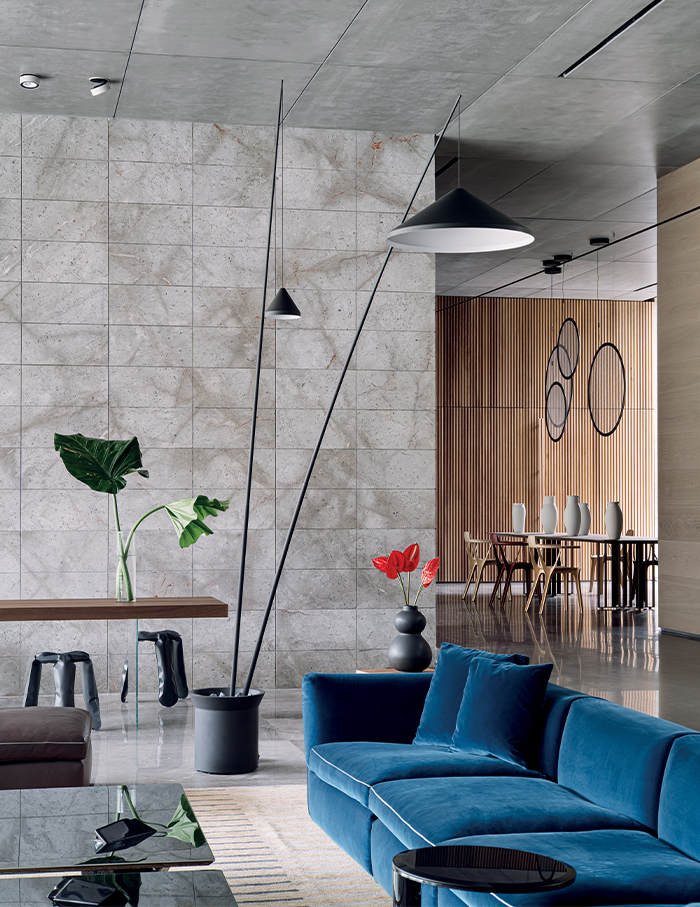 The drawing board was not just ours to work on. Our clients often spent hours with us conceptualising that added to the gradual development of the layout, combining the best of architectural practises laced with a thoughtful, joyous spirit of the homeowners.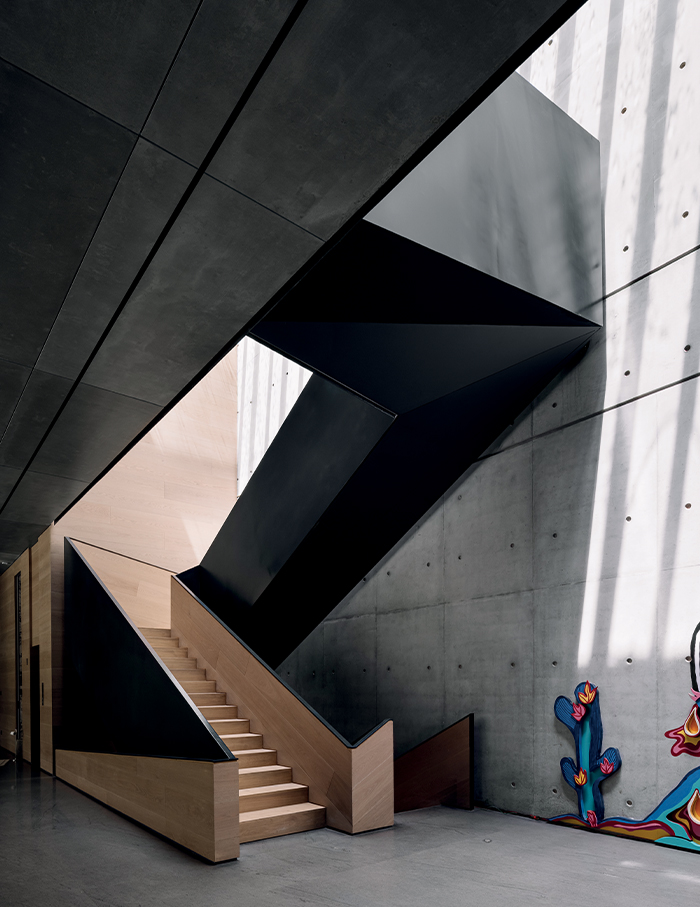 The architecture of the house is inspired by post-war modernism with formed concrete structure meticulously cast on-site that turned into our canvas for wall crafted murals and art pieces, interacting with the ever-changing light patterns caused by deep pergolas above and evoking varied emotions throughout the day.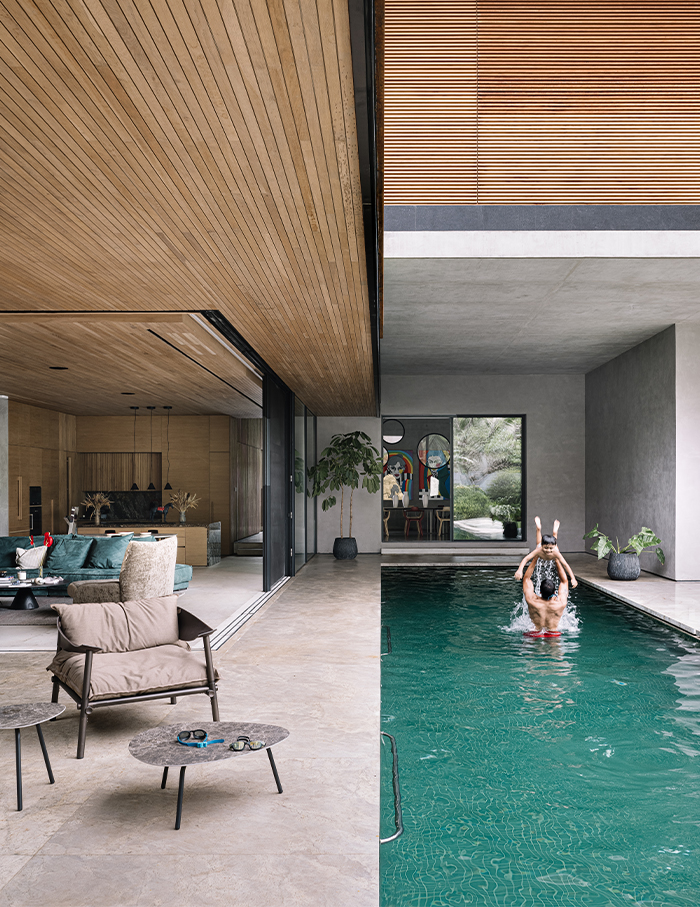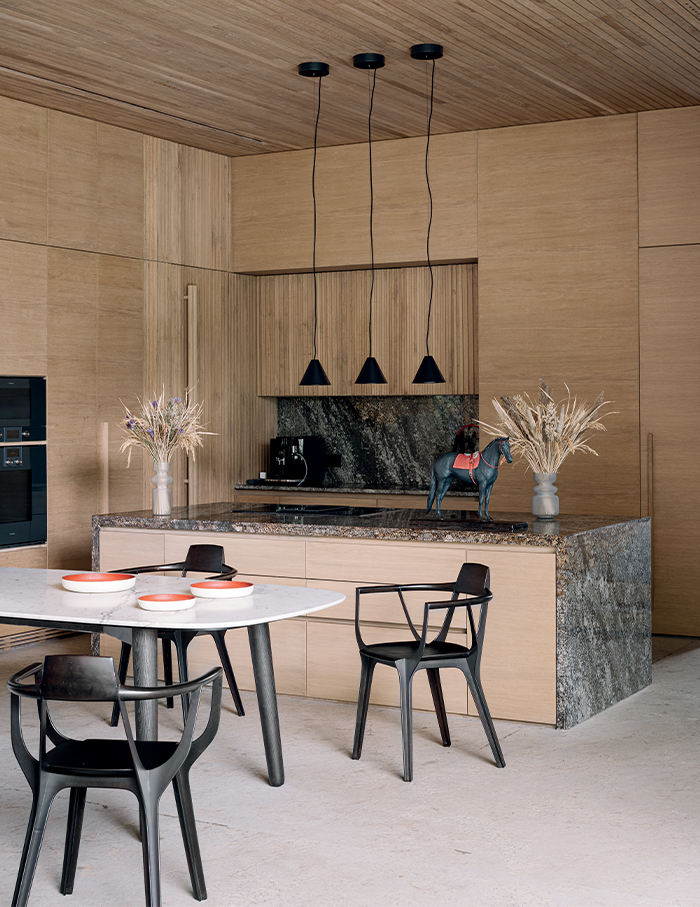 A formed concrete volume sits perpendicularly above a stone block, extending out as a large cantilever which functions as an entrance canopy, softened by the dense vegetation amongst which the house resides. A stepping stone through the water body leads into the 12 ft high floor-to-ceiling pivoted entrance door. The water body has a glass bottom that allows refracted light to penetrate into the spaces below.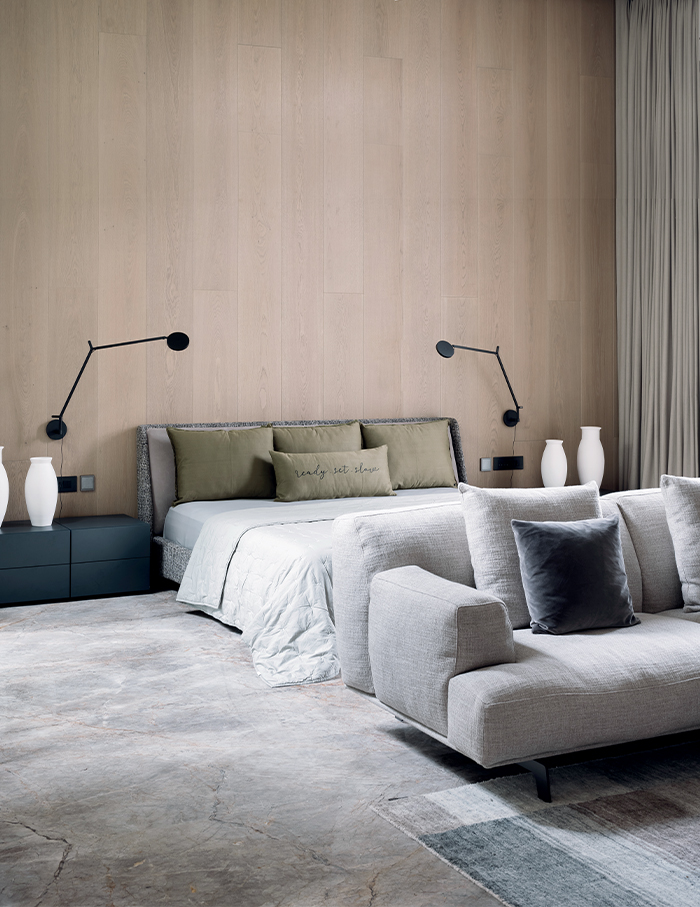 The landscape architect, Kunal Maniar designed the landscapes to fit in with the house so seamlessly, it felt magical. It was exciting that he was on the same wavelength as us right from the beginning, and knew exactly what needed to be done to make that powerful dialogue between the indoor-outdoor spaces.
At the entrance door, Maniar proposed a sculptural tree whose trunk could be slightly bent to go with the flow of the water body below and the cantilever above, and that effort added so much energy to the experience of walking in.
A predominantly concrete and basalt environment in the house is juxtaposed against slatted oak walls, which are evenly washed with daylight and strategically conceal doors into the services and storage rooms behind. Alongside physical and functional requirements of the spaces, we aligned our thoughts into how this home could play a role in the enhanced wellbeing of its occupants.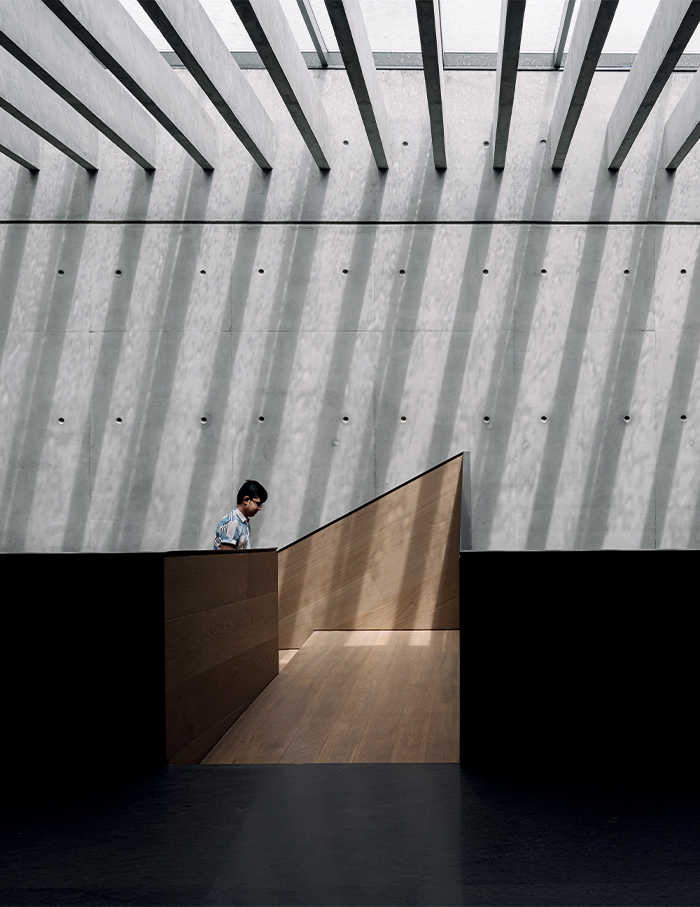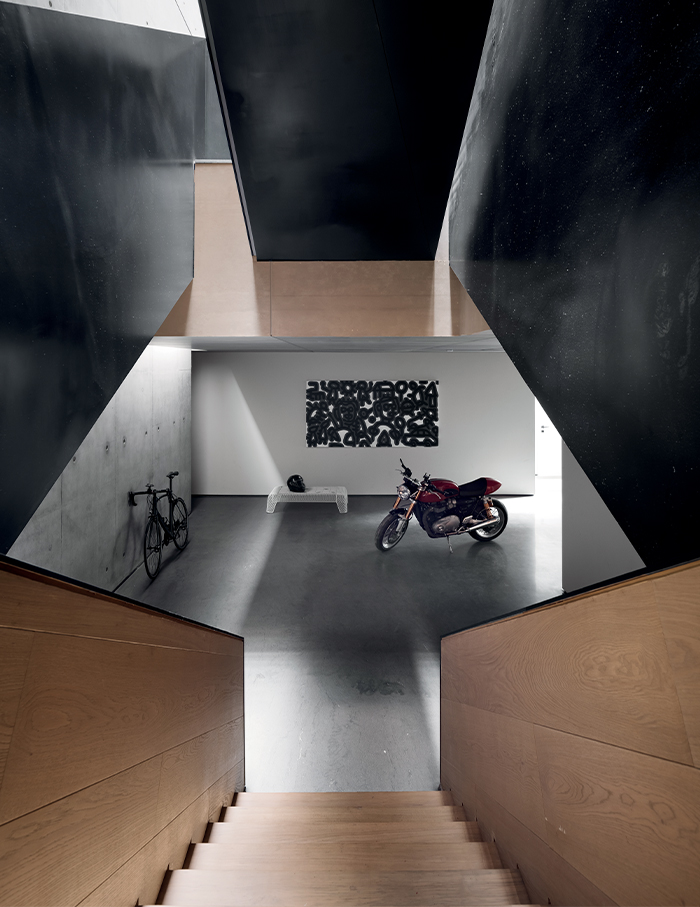 The thought led us to introduce skylights with deep, angled pergolas to bring in controlled daylight in each of the spaces. Large overhangs connecting indoor and outdoor spaces have been so seamlessly intertwined that it's hardly possible to really differentiate the two, also ensuring that the home is always a few degrees cooler and in a well-ventilated environment that minimises the need to depend on mechanical energies.
You may also like: This Ahmedabad home designed by Adhwa Architects is one with nature