Homes
Kanan Modi illustrates a post-war modernist aesthetic through its play of solids and voids in this Hyderabad home
MAR 2, 2022
| By Kanan Modi
A man travels the world over in search of what he needs and returns home to find it," said Irish writer George A. Moore once. What can a person possibly find in a dwelling made of concrete, bricks, wood and suchlike materials? When I think of it, the answer lies in the very foundation of the home—from the first moment a layout on paper transforms into layers of bricks on site to when a whole structure stands tall with a world of its own inside brimming with character, warmth and anticipation of making memories that only its dwellers will know of.
My team and I took a similar route of birthing an idea into a home when we met a young couple a little over two years ago, who completely floored us with their passion for architecture.
Know more about this Hyderabad home by Kanan Modi in the February – March 2022 issue of ELLE DECOR India…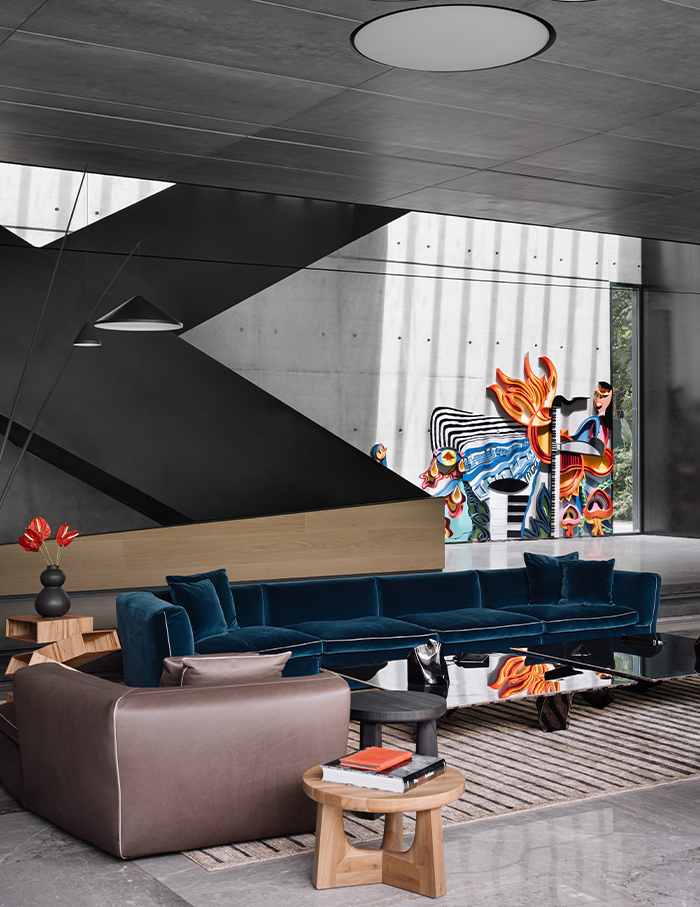 Thereupon started our journey to design and build SI'RENITi House, a 21,600 sq ft habitat in the prime neighbourhood of Jubilee Hills in Hyderabad where days feel warmer and nights cool and breezy.
The architecture of the house is inspired by post-war modernism with formed concrete structure meticulously cast on-site that turned into our canvas for wall crafted murals and art pieces, interacting with the ever-changing light patterns caused by deep pergolas above and evoking varied emotions throughout the day.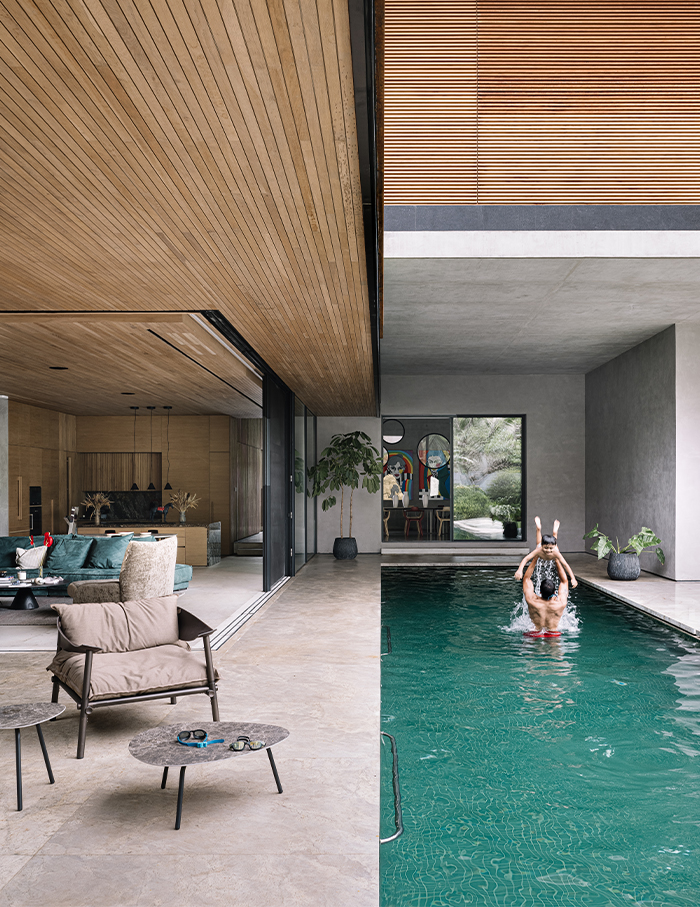 The landscape architect, Kunal Maniar designed the landscapes to fit in with the house so seamlessly, it felt magical. It was exciting that he was on the same wavelength as us right from the beginning, and knew exactly what needed to be done to make that powerful dialogue between the indoor-outdoor spaces.
At the entrance door, Maniar proposed a sculptural tree whose trunk could be slightly bent to go with the flow of the water body below and the cantilever above, and that effort added so much energy to the experience of walking in.
Discover more about this home by Kanan Modi in the February – March 2022 issue of ELLE DECOR India…