Homes
A medley of international and Indian styles come alive in this Gurugram home by Manmeet Ahuja
FEB 4, 2022
| By Shriya Goyal
Contemporary architecture with a coalescence of French, Scandinavian and Italian sensibilities meet Indian accents at this Gurugram home. The 4500 sq ft area with a villa of 200 sq yd is designed by Manmeet Ahuja and styled by Dimpy Ahuja. 
Demolished and rebuilt, the villa belongs to the architect himself along with his wife and son. Surrounded by a lush green environment, the three-storey abode is cladded with Laminam by Stonex and aluminium panels in a wooden finish.
"The key to life is balance. I seek to conceptualise simplicity and luxury, and try to balance it in all my projects," remarks Manmeet.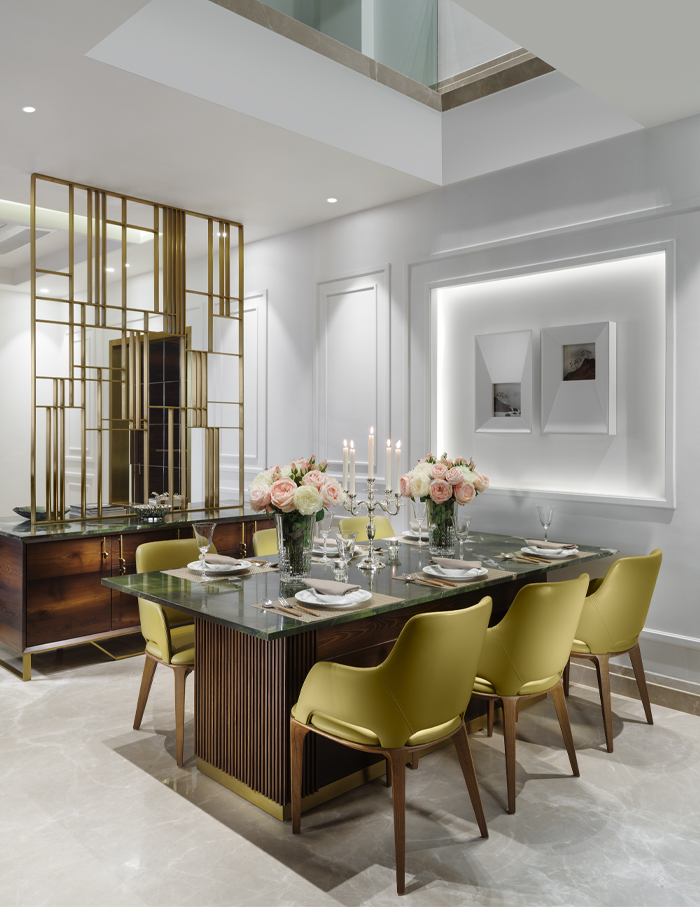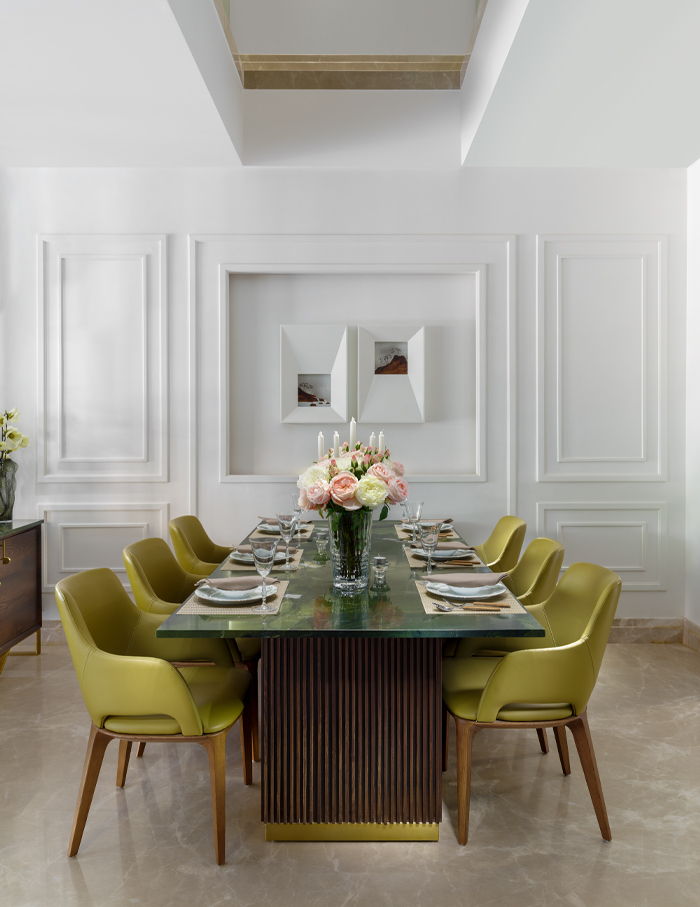 A sofa in red demands attention at the entrance. A customised metal partition above a crockery unit separates the dining room and imparts a lush appeal to the room.
In continuation to the synthesis of wood and brass finish, the dining table with olive green chairs is set against a white backdrop. Wallpaper by Sabyasachi for Nilaya by Asian Paints adds detail and grace to the guest bedroom.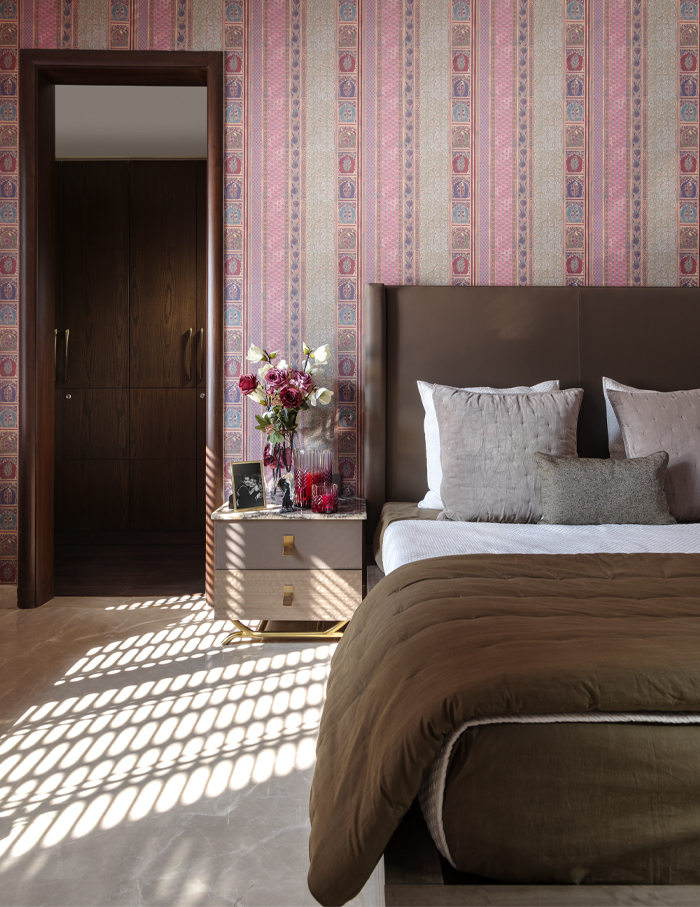 Located on the first floor is the main bedroom and son's bedroom. Washed in muted tones, the main bedroom comes alive with a red bed bench and lounge chair. The cityscape wallpaper with blue overalls in the son's bedroom yields a youthful character to the interiors.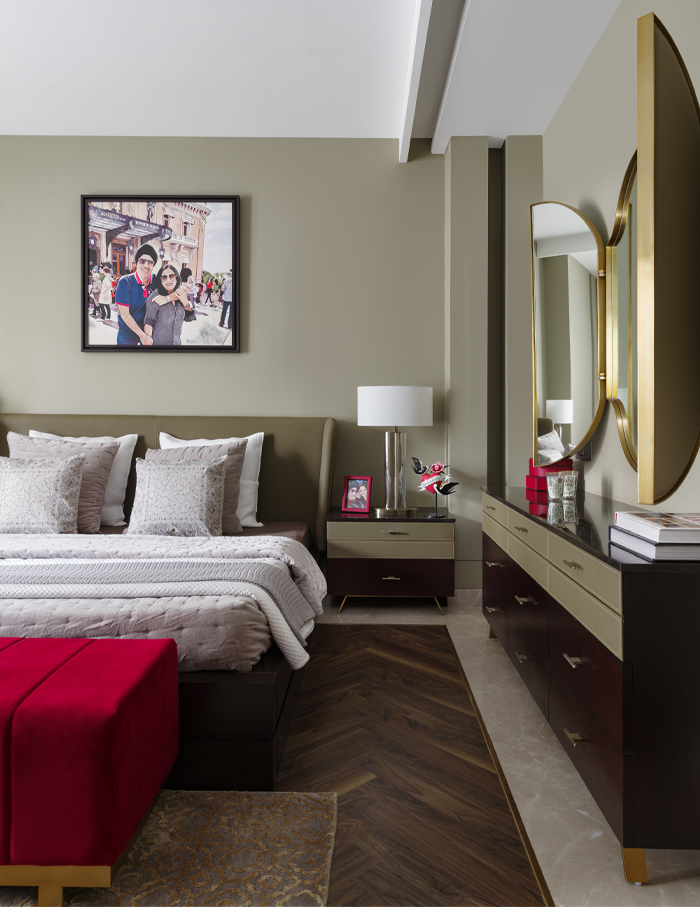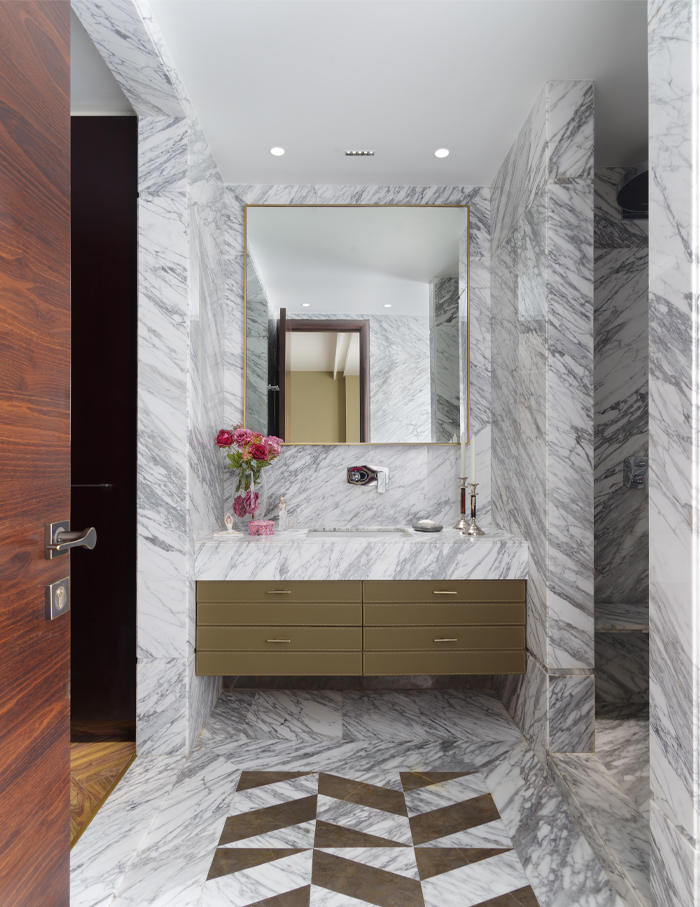 The second floor harbours a lounge and a terrace. All black, the lounge furnishes a dynamic allure with a precise selection of materials. Inspired by a vintage room, a cluster of centre tables are custom designed. An interior analogue of a horse concept, the side table is designed on a horse shoe and cushions are stirred by a saddle.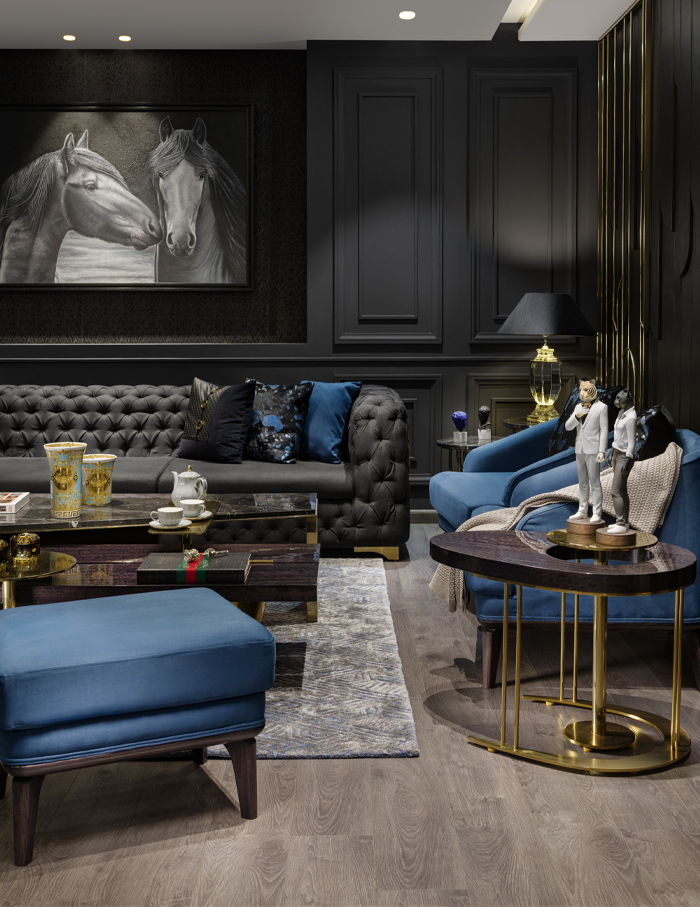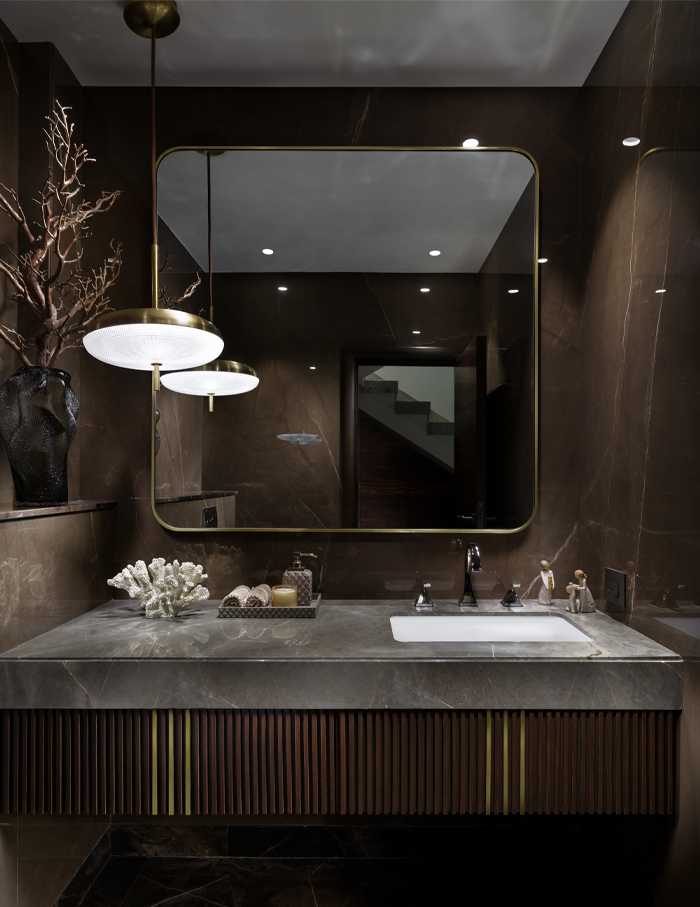 A niche terrace entrance with metal frames and mirrors visually enhances the space. Crossing the threshold from black interiors to an illuminated open terrace bestows harmony. The easy-going furnishings along with a little bar frames a mellow vibe outdoors.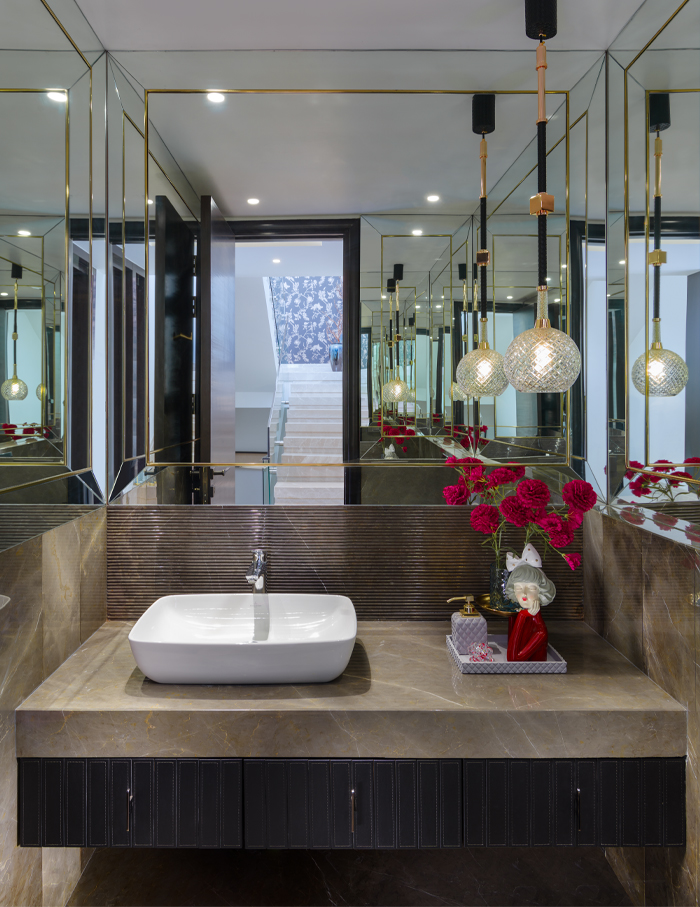 The interflow of distinct styles manifests a contemporary affair. In-house customised furniture introduces a diversity of materials and textures. Strokes of brass finishes across several segments of the house add finesse to each space. Styling and accessorising by Dimpy embellish the rooms and adheres to minute details.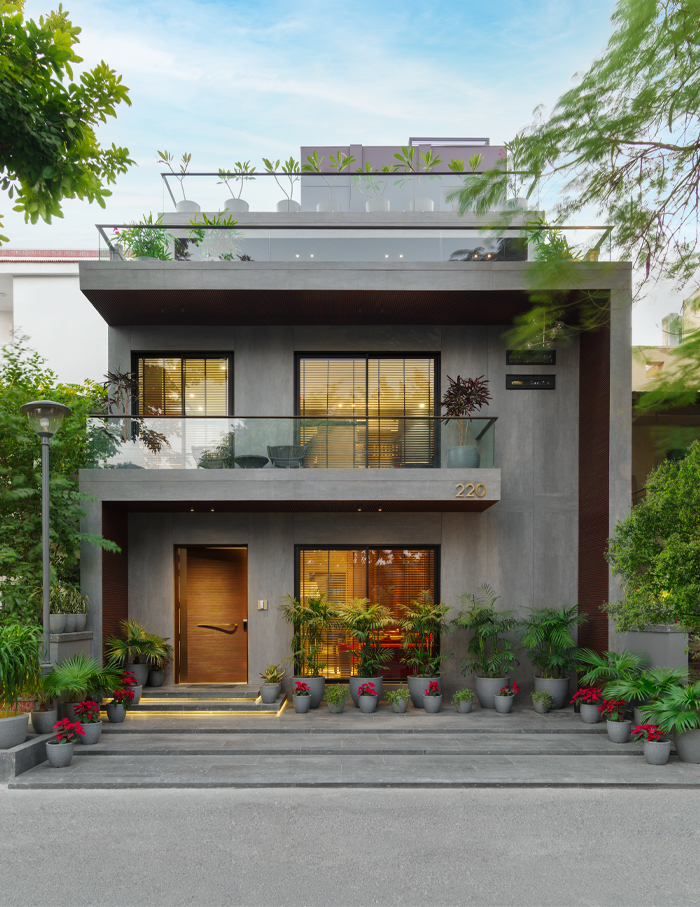 A play of dark colours, every corner of the house deviates from the neutral tones in one way or another. Accentuated with abundant natural light and cross ventilation, the abutting trees maintain privacy from the neighbourhood. Manmeet Singh sums up "Beautiful living forever is our ideology behind the entire design."
If you loved this gorgeous home, do check out this spacious Gurugram home by Nivasa