Design
A trove of inspiring design and knowledge transpires at Library Pod by Craft Narrative in Aurangabad
SEP 28, 2023
| By Bhipasha Hinduja
The Library Pod, located in Aurangabad, Maharashtra, stands as a beacon of knowledge, nestled amidst a bucolic setting. Drawing inspiration from the Gurukul system that has existed in India for centuries, and driven by an unwavering passion to build an inclusive educational system, the library pod emerges as a thoughtful lesson in design.
Crafted in a distinctive way under the shade of an encompassing peepal tree, the pods stand as a testament of contemplation and play initiated by Nabhangan Foundation and brought to life by principal architects Yatindra Patil and Vijay Kharade of Pune-based Craft Narrative.
This project exemplifies the impact that significant initiatives can have on society, amplified by the sheer curiosity for knowledge by many kids who may not have direct access to academic institutions. "When there are bus stops in each village, there should be a library stop too — This was the thought behind Rajshri Deshpande's initiation for Library Pod, an arena for knowledge that has the potential to form a communal space where villagers of diverse ages can gather, and accomplish the reading habit and also a perfect setting for storytellers too," tells the architect duo.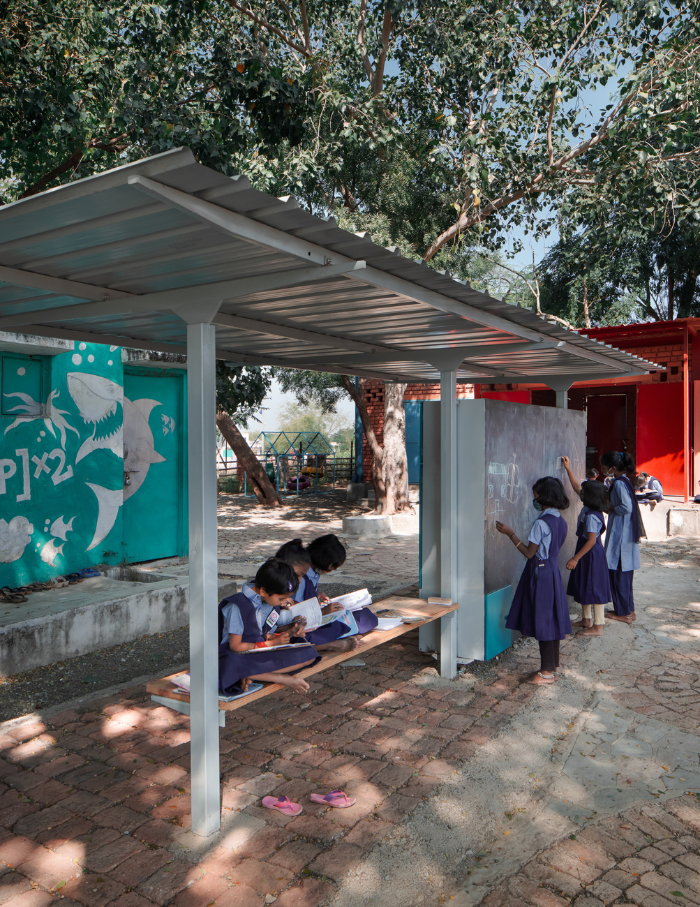 Learning with design 
Library Pod is strategically built in proximity to a school in Aurangabad, sprawling to a compact space, which also readily becomes a backdrop for morning gatherings and lunchtime play sessions in the school for students. 
To excel as individuals everyone must quest for knowledge, and this thought vividly transpires through graffiti artworks created by local artists and students that underlines the creative narrative of the entire space shrouded with trees and serenity all around.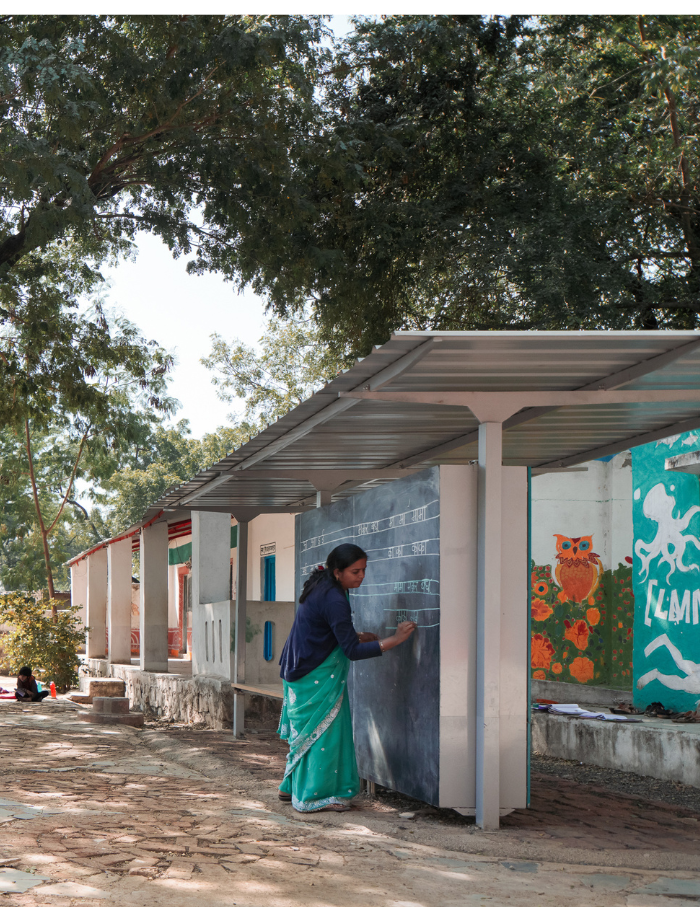 The Library Pod is no usual feat. It has astutely been assembled with a storage shelf and a projecting metal roof crafted with materials like steel plate rafters and purlin, which helps the pods stand sturdy even in extreme weather. Adding to the environ of outdoors, the pod also features a blackboard that conveniently becomes the canvas for many sessions that a teacher and students can indulge in, under the cool shade of the peepal tree.  There is a rubber-wood bench, along with brick flooring that aids small steps that seamlessly can be used as seating areas.
"Since it is outside the built school structure and open to sky, the bookshelves had to be made water and dust-free by using rubber gaskets to seal them and GI sheets to make up their framework and shutters. The bookshelves were made by the manufacturers of streetside electrical distribution board boxes, who have prefabricated the unit and assembled it at the location to maintain workmanship and quality," explain Yatindra and Vijay.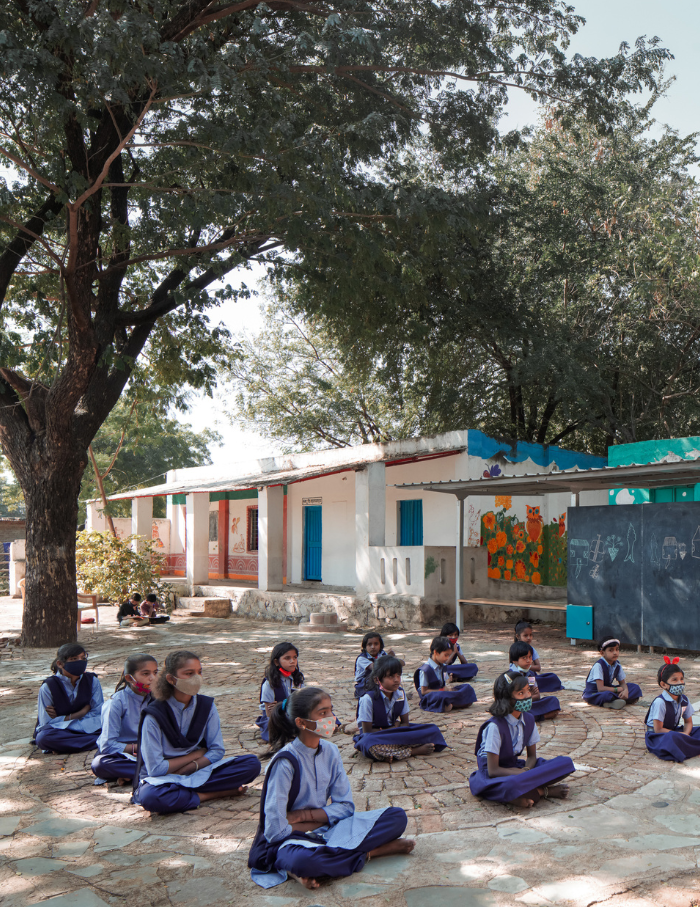 The heart of the library 
Whimsically designed tones of Turquoise Blue and  Metallic Grey are used throughout the institution, the contrast between minimal and vibrant tones makes the space distinctive. As Yatindra and  Vijay say, "The highlight of this project is most definitely is the bookshelf that doubles up as  Library Pod's blackboard. Utilising design with materials and anthropometry, the bookshelf serves as a factor of awe for the users as well."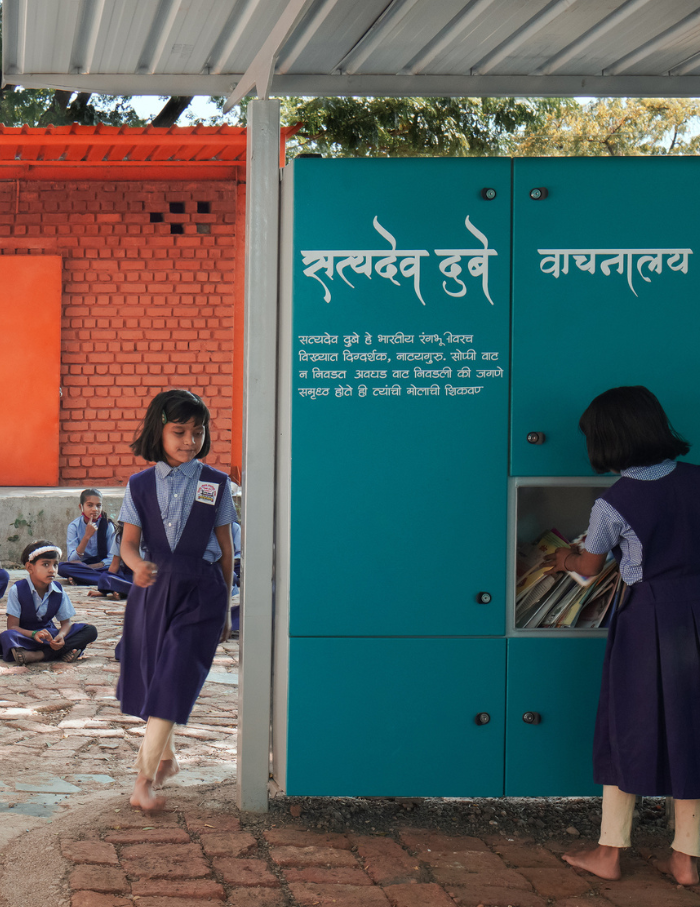 You may also like: Strokes of sea and personalisation: Karan Desai reshapes a Mumbai home into an office and party pad in Marine Lines