Homes
Insights from Essentia Environments on transforming alfresco into halcyon spaces
SEP 8, 2022
| By Maheshwari Vickyraj
Having been inside for two years, everyone has missed being outdoors, but with an alternative of designing your outdoor spaces—be it your backyard garden, terrace, or patio. Essentia Environments has imagined backyard ideas that'll transform the space into a tranquil oasis.
Use natural materials
When designing an outdoor space, use natural materials to make it look authentic. Flooring and wall cladding made of earthy natural stones or tiles, landscaping with rocks, pebbles, and plenty of flora of all kinds, all contribute to a natural feel. Go for furniture made of wood or cane. Let the greenery stand out by keeping the background colour muted. Brighten up the space with colourful flowers, plants, pillows, and other accents.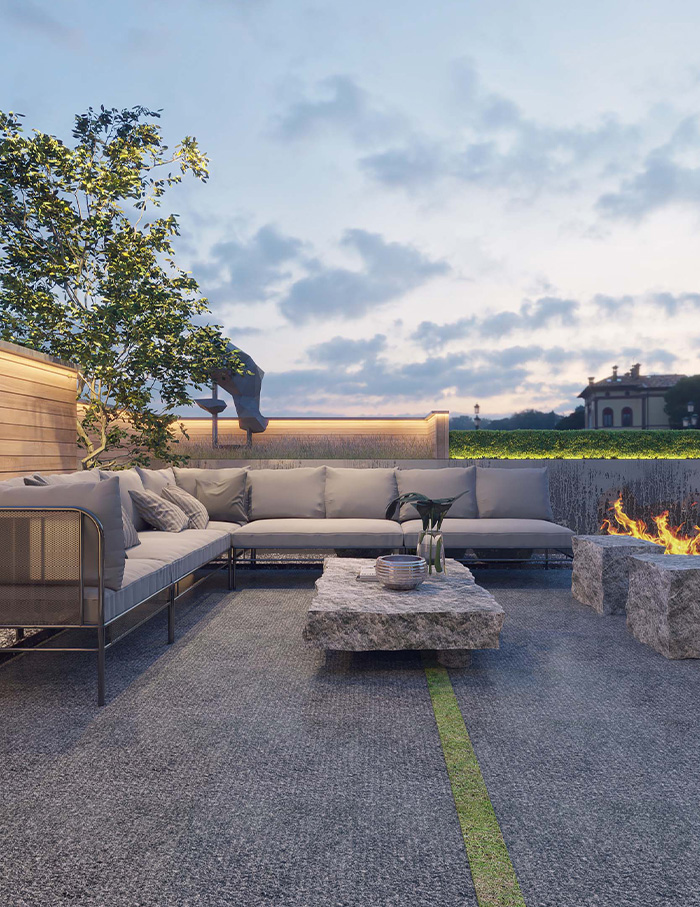 Create comfortable seating 
The aim of outdoor living is to spend time in the fresh air with loved ones. Furnish the outdoor space with cosy seating, whether it's made of natural cane or weather-resistant plastic in a variety of chic patterns. Sofas, lounge chairs, and even four-poster beds can be used as seating. Enhance the cosiness by piling on the decorative pillows.
Beautifully planned landscaping
Substitute multi-level landscaping for a flat green area to add depth and dimension. The garden landscape will seem more interesting if there is a combination of different elements, such as a sloping green lawn, planters set at different heights, and plants of varying sizes and forms. Using the same principle for gardening on a smaller scale,  the patio is an ideal spot. A little body of water with some aquatic plants or a water fountain may give any outdoor area a soothing vibe. Also, adding fake grass to your patio or terrace is a great way to make it look better.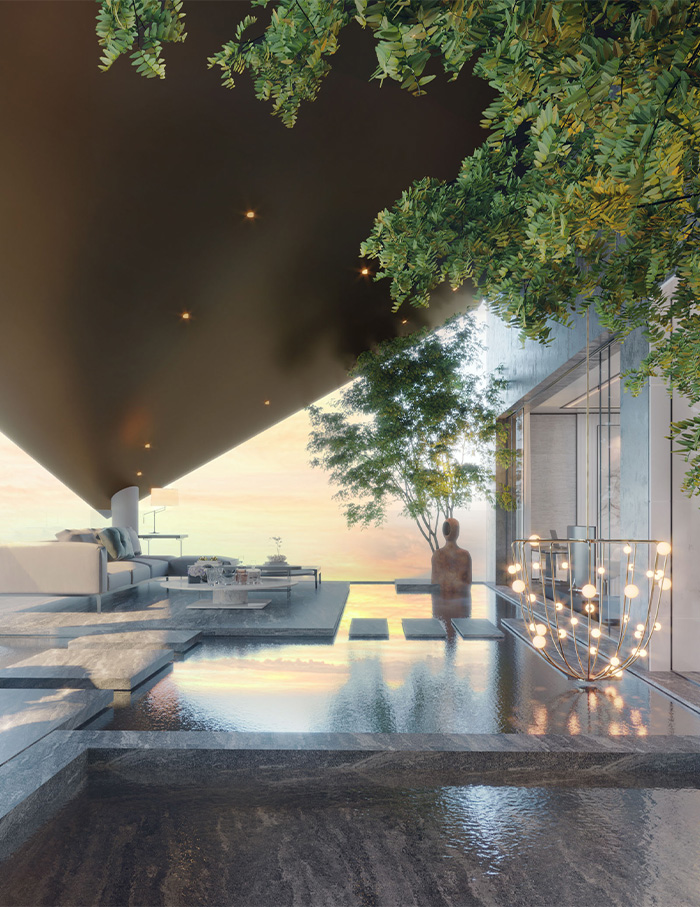 Statement sculptures
Every outdoor space needs a bold piece of art to make a lasting impression. Placing either a giant sculpture in the middle of the garden and arranging the seating around it, or placing several smaller sculptures at various locations throughout the garden, will allow the creation of visual variety. The artwork could simply be a collection of stones with a unique shape or texture, or it could be a striking sculpture or a tranquil figure.
Add charming lights
As the night falls, the outdoor area must be brought to life with a mystical glow. Along with the overhead lights set up for general illumination, concealed lights can be used to draw attention to the unique design elements of the garden. Lighting elements such as hurricane lamps, hanging lanterns, fairy lights, and candles can be strategically placed to create a dreamlike ambience.
 You may also like: Essentia Environments reveal their ultimate parameters behind crafting extravagant spaces