Homes
Incredible decor pieces offset the cool grey palette of this Mumbai home engineered by Hiral Jobalia Studio
DEC 28, 2021
| By Anushua Aich
Ornamented with stylish decor elements and furniture, this Mumbai duplex apartment reflects design sensibilities that are steeped in contemporary flair and opulence. Crafted by Hiral Jobalia, principal designer of Hiral Jobalia Studio and stylist Samir Wadekar, this home shows how design intricacies can be brought about by a playful confluence of materials and eye-catching yet minimal decorations.
Being a 5,000 sq ft duplex abode and home to a family of four with two kids, Jobalia made sure that no extra space was wasted. Further known as a 2-4BHK apartment, he intended to bring in rooms that would make the entire abode feel more wholesome, keeping dullness at bay. Designing spaces like the living area, an entertainment room, a kitchen, a powder room, three bedrooms and the worship room, finally ensued his conceptualisation.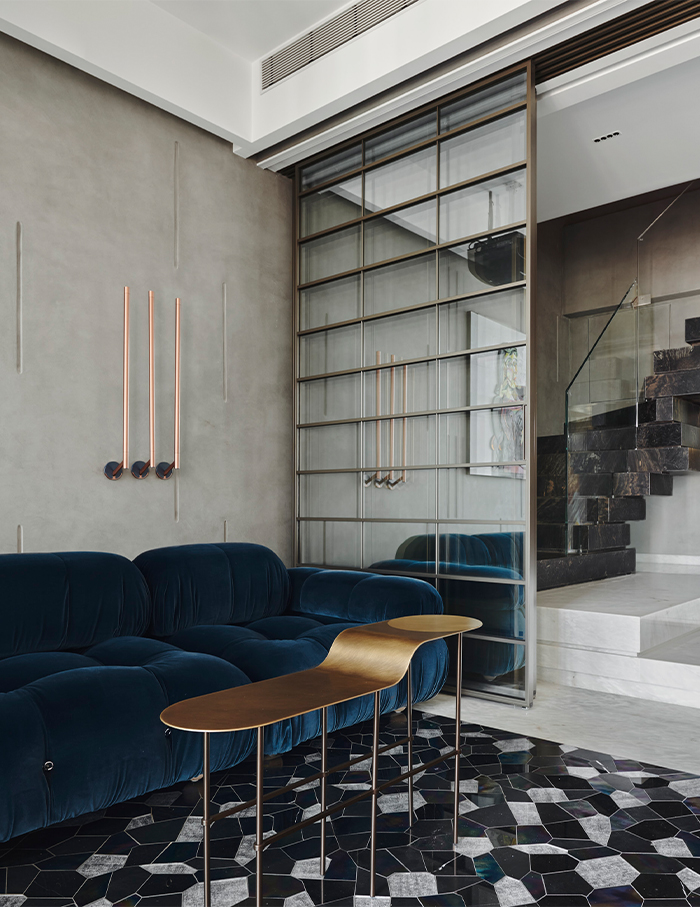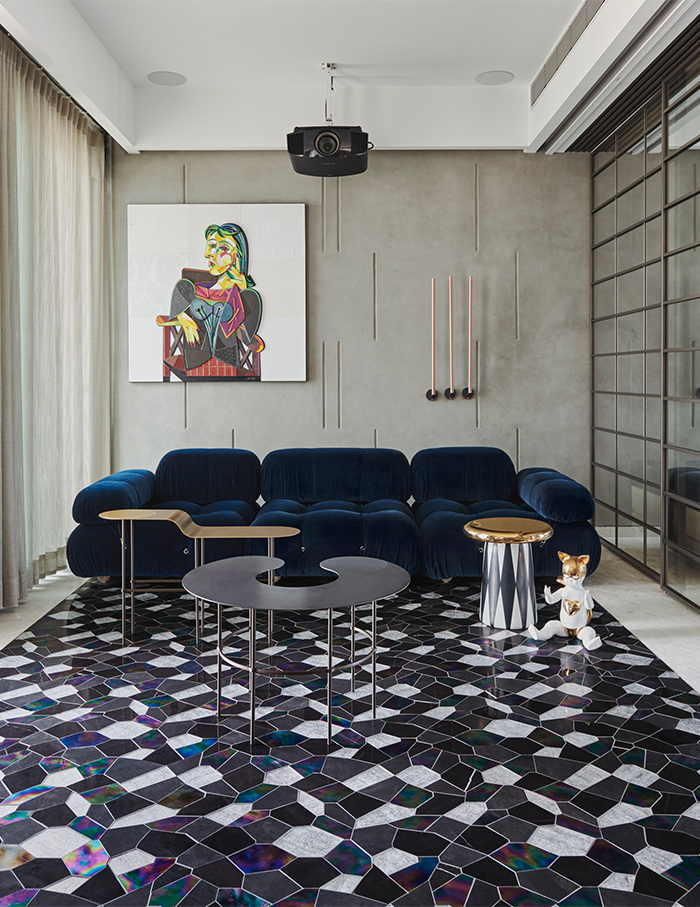 Jobalia also shares that building the staircase was one of the primary challenges he faced as he perceives this to be the biggest structural challenge that this apartment underwent, simultaneously taking care of the other spaces in the abode.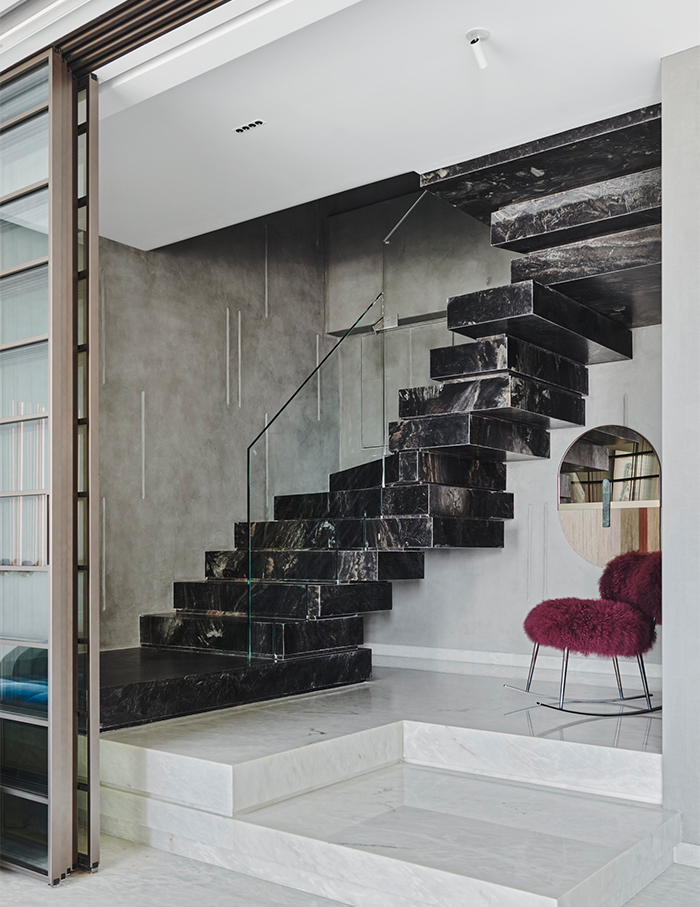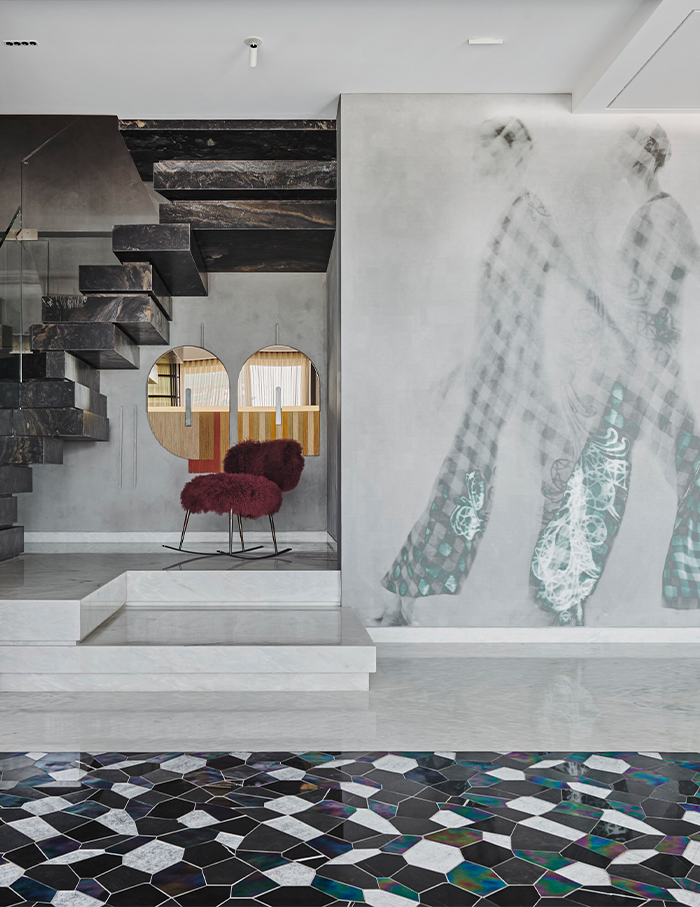 Mostly, wood and metal encapsulate the ultra-modern elegance of the first level of the apartment. As one walks into the apartment, a metal screen rendering a sense of privacy adorns the formal living area. While the informal living space soon draws attention with the massive, unconventional Roll & Hill pendant light, rendering the space a quirky look.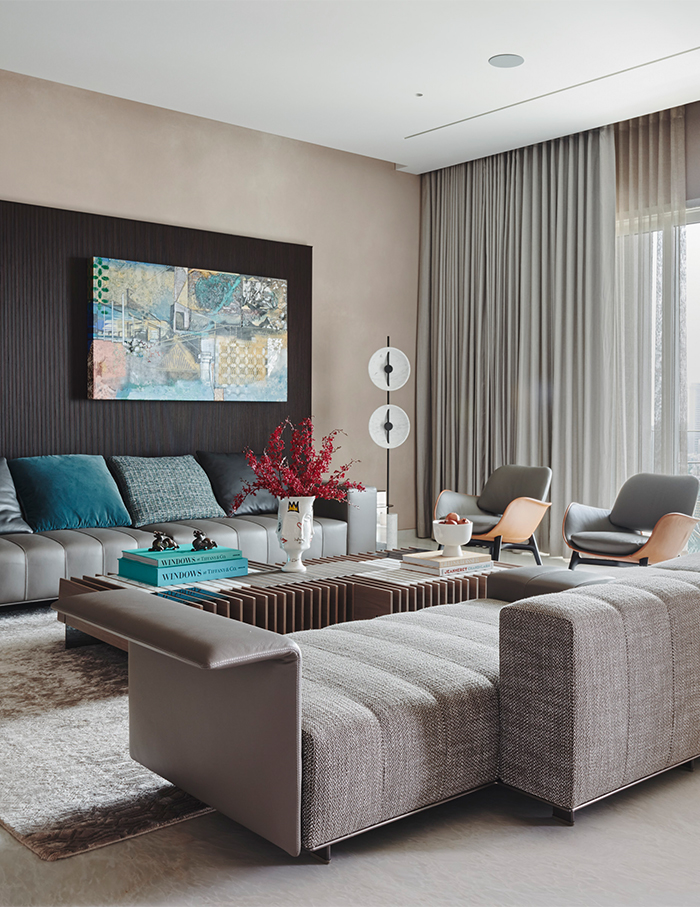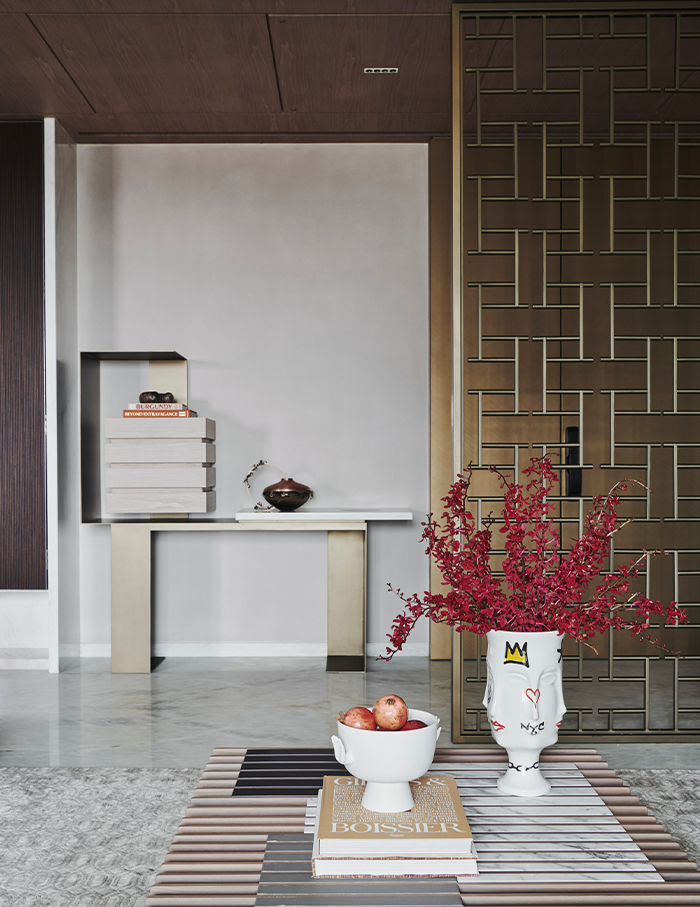 The materiality in the dining area effortlessly blends with the soft-hued composure of the abode. Fabric panelling as a backdrop which is embellished with dyed veneer panels creates a refreshing ambience for the dining space.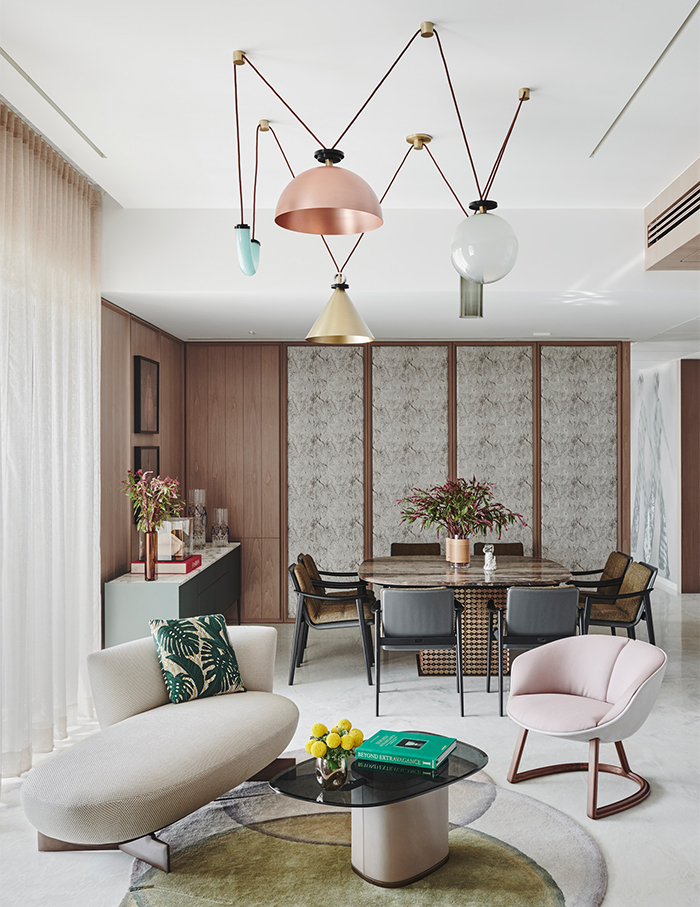 Jobalia believes the entertainment area to be the most striking space in the entire abode. He elaborates, "The main highlight of the first level is the entertainment area which has a very unique mosaic floor from SICIS (combination of marble and iridescent tiles ). Mario Bellini Sofa by B&B Italia and tables from Decastelli add character to this space. This entire space has a cool colour theme of greys with textured walls. This space is also divided by glass sliding doors which separates it from the staircases area ."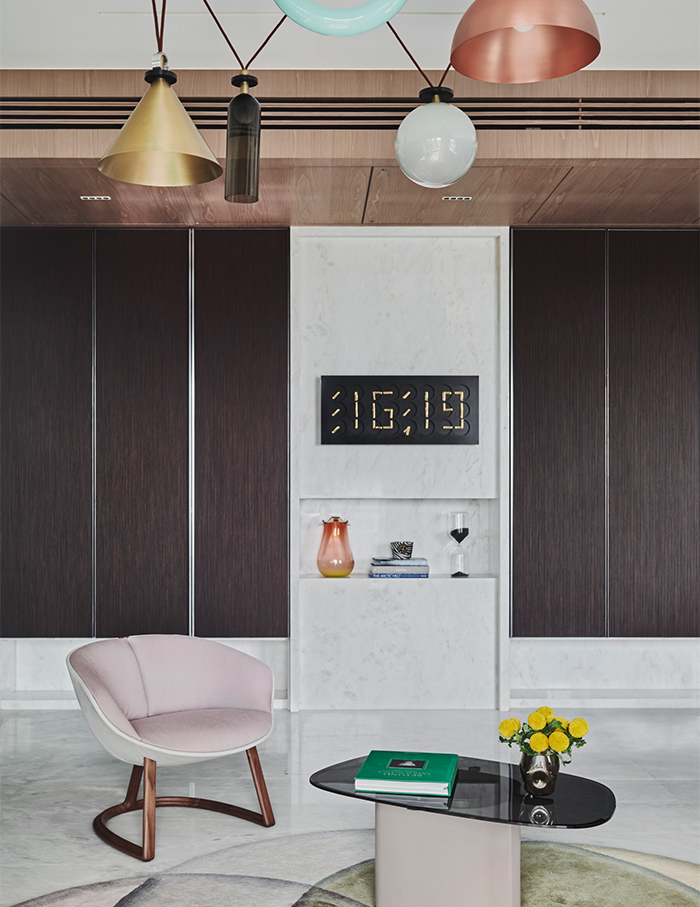 Moving forward with the second level of the apartment, the primary bedroom here features a soothing colour scheme of grey and white. Grey textured wall with ribbed concrete panels from LCDA Paris set the tone and design of this space. A lounge seating area with a small study desk accompanied by a compact library shapes the needful and functional aspects of the space.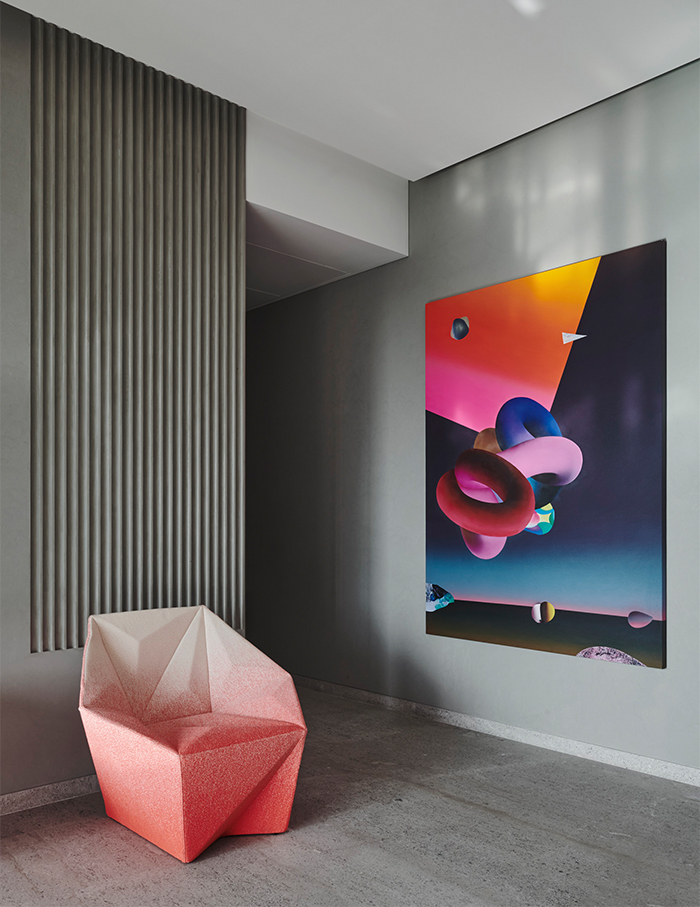 Characteristics of the daughter and the son are exhibited through their meticulously designed bedrooms. For the son's bedroom, Jobalia has installed fun, geometrical shelving boxes above the study desk to keep the cheerfulness consistently alive in the space.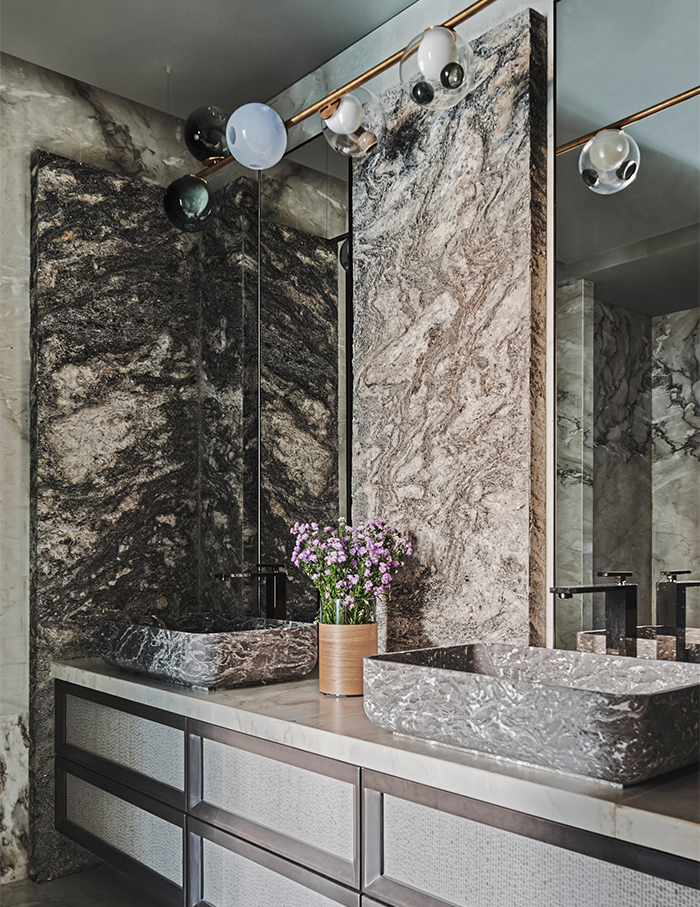 Meanwhile the daughter's bedroom showcases a surreal wall-covering by Inkistro Bianca, evoking comfort and joy. The washroom built in this space is also very unique and edgy as it is designed with Blue Calcite marble and gold wall-bracket lights that are put up above the vanity counter.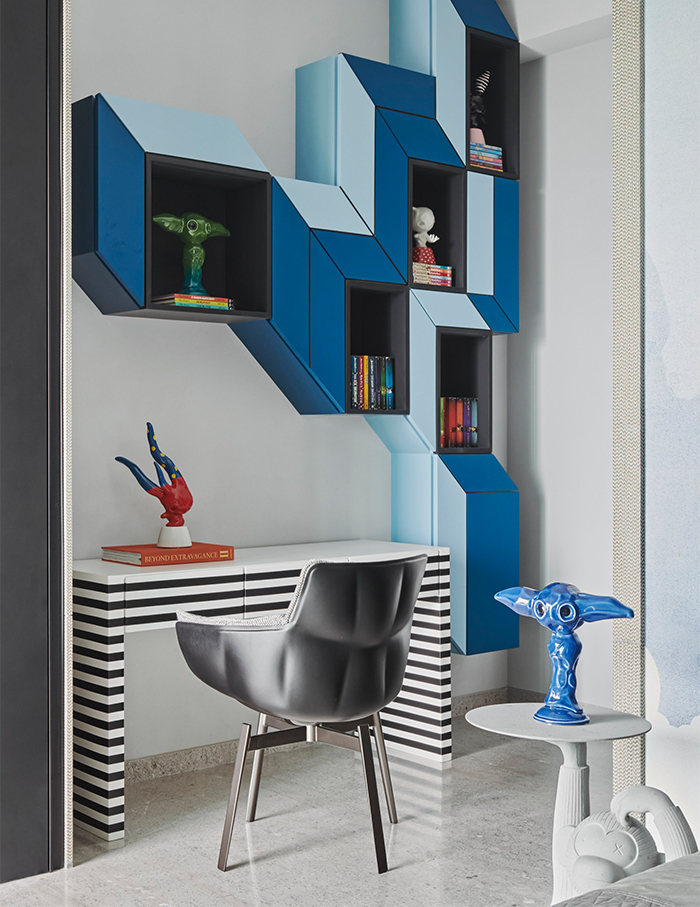 Encompassing ornate decor pieces and accessories, this Mumbai home breathes moments of wow from time to time. Concluding on notes of true efforts that Jobalia put in, he says, "A designer has to learn how to see, never stopping at their initial convictions and to ceaselessly search through instinct and reflection for the defining aspect of each project."
Scroll down to see more images of this stunning space—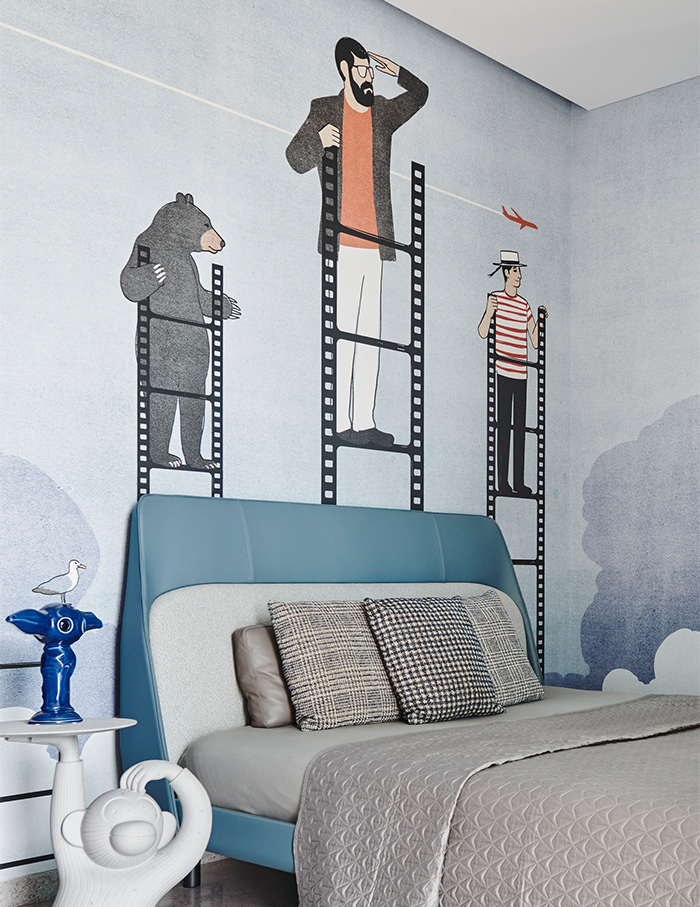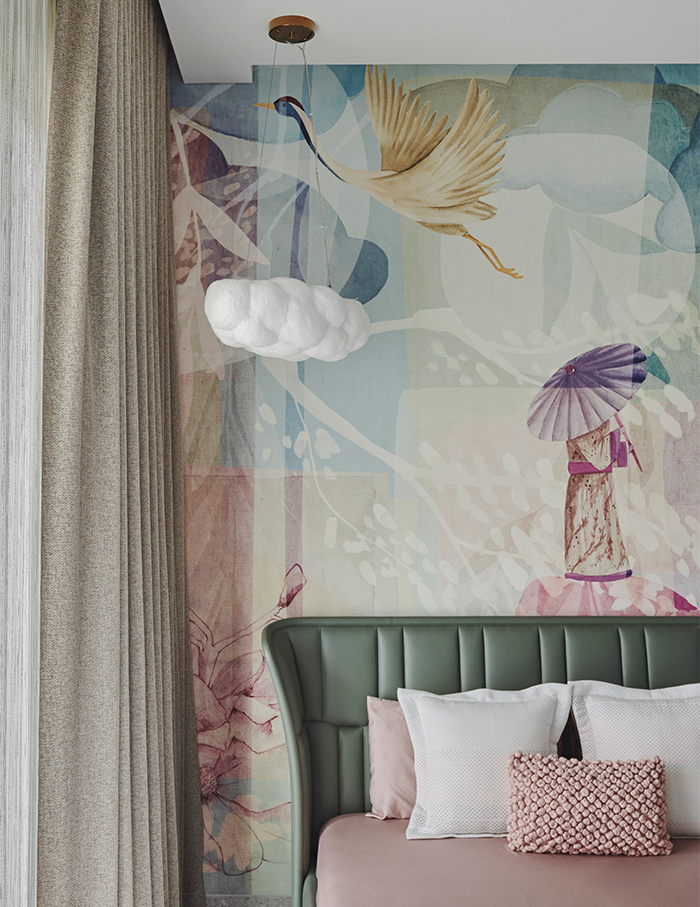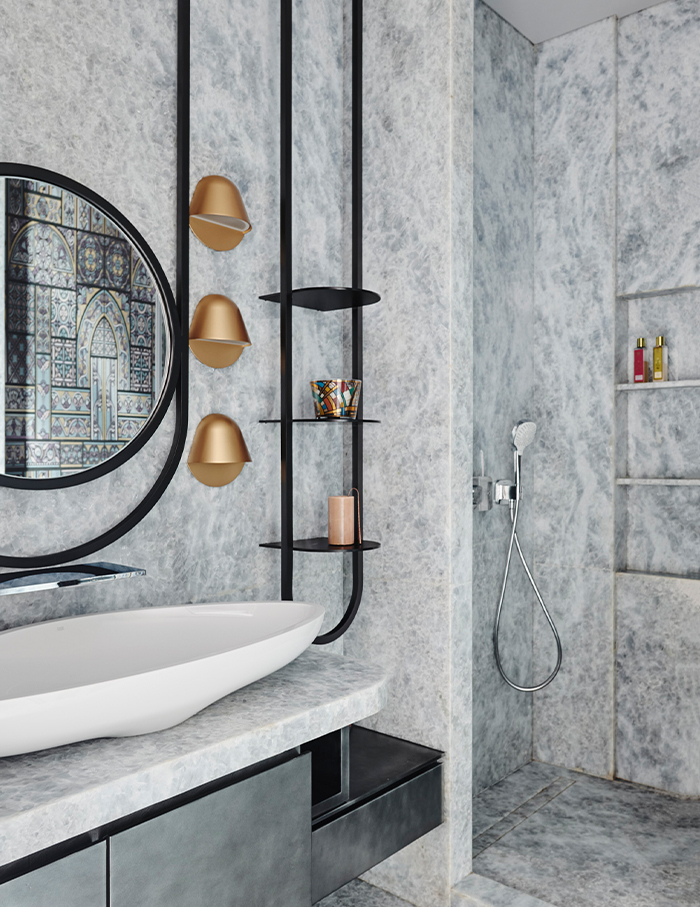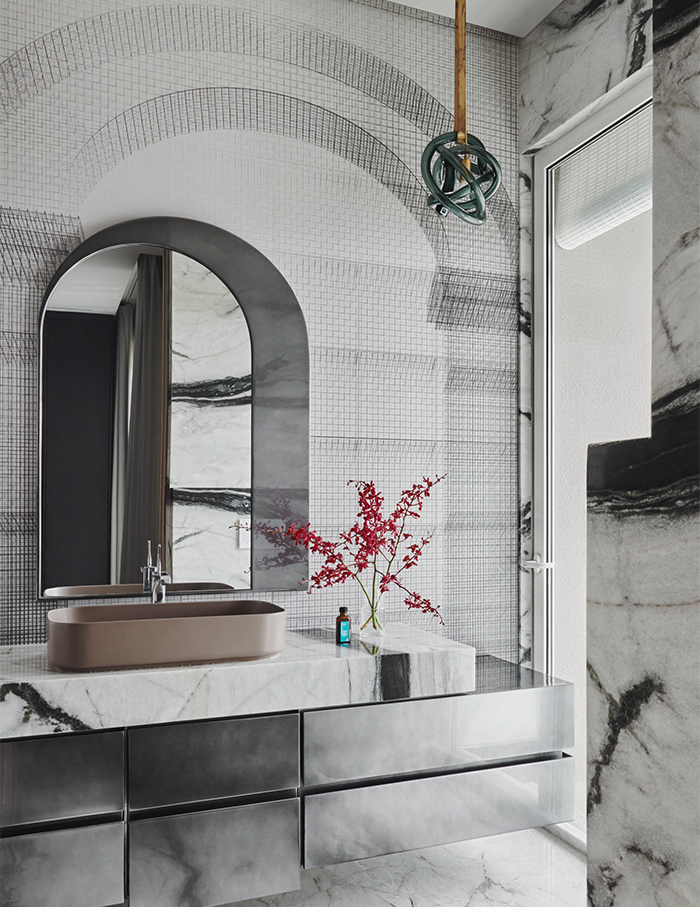 If the captivating beauty of this apartment made you plan for a quick home update, make sure you check out this Chennai home by Sailakshmi Architects!