People
Jason Wadhwani showcases his Mumbai studio, which is nothing short of a symphony of symmetry
DEC 19, 2020
| By Jason Wadhwani
The last time my studio cabin had been renovated was 10 years ago, so it was in desperate need for a change. It was definitely a combination of two factors—firstly, so much of it needed to be refreshed, serviced and repaired…the wooden flooring was coming apart, while moisture and leakage issues had ravaged parts of the cabin. And secondly, over time, my creative sensibilities had evolved and I wanted my space to reflect that.
This was basically just phase one in the renovation of my studio. Since it's only 150 sq ft, I decided to take this on during the lockdown, as the office was shut and operations wouldn't get affected. In a weird way, those days were a blessing in disguise.
I faced a few challenges but nothing that wasn't expected. Think lack of labour, delays in material delivery, etc. But I'd made allowances for these and eventually the entire execution took about two months.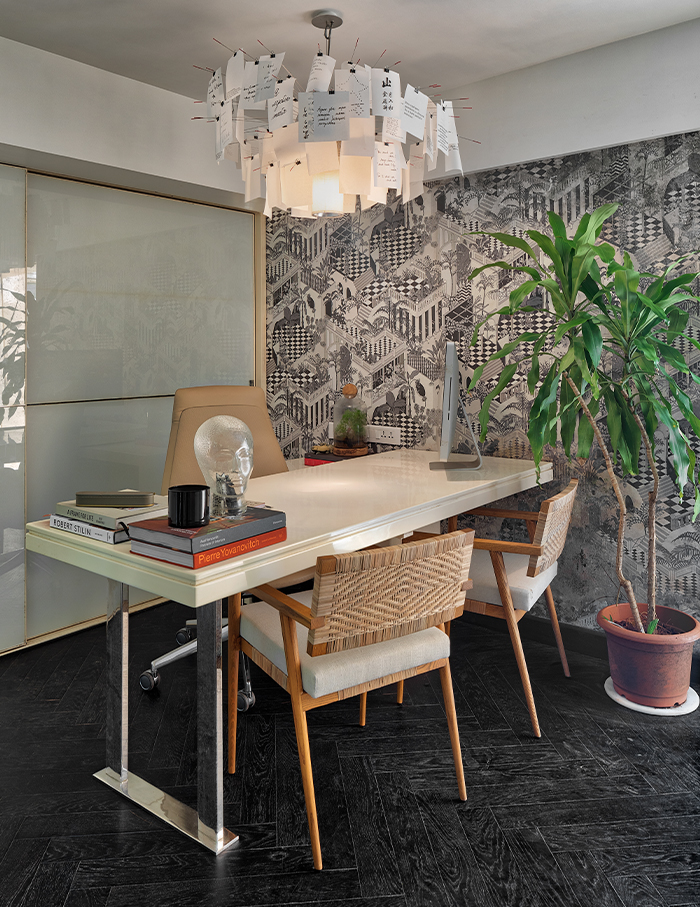 The basic design bones of the structure remained the same. It still had to be in keeping with my design aesthetic; so, a very neutral palette pops with monochromatic yet strong graphics and fun art.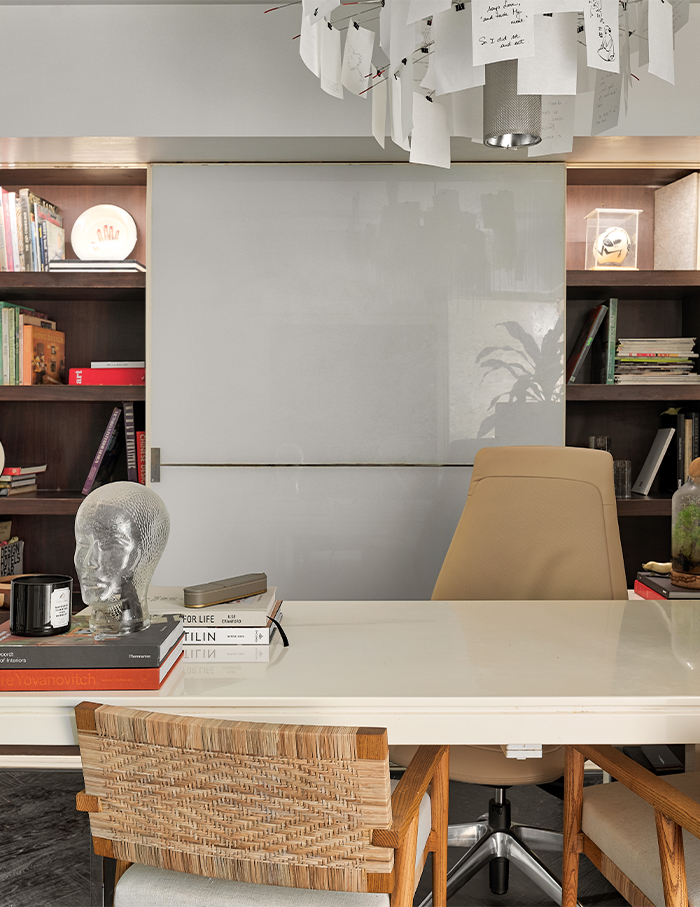 Of the things that remain untouched are the concealed library and my white work table. However, I replaced the old wallpaper with a bold graphic one from Cole & Son. For me, the highlight is definitely Ingo Maurer's iconic Zettel paper chandelier. I've always loved it, so I was super stoked to install it above my workstation. The visitors' chairs from Josmo Studio and my leather chair from Poltrona Frau offset the otherwise monochromatic room.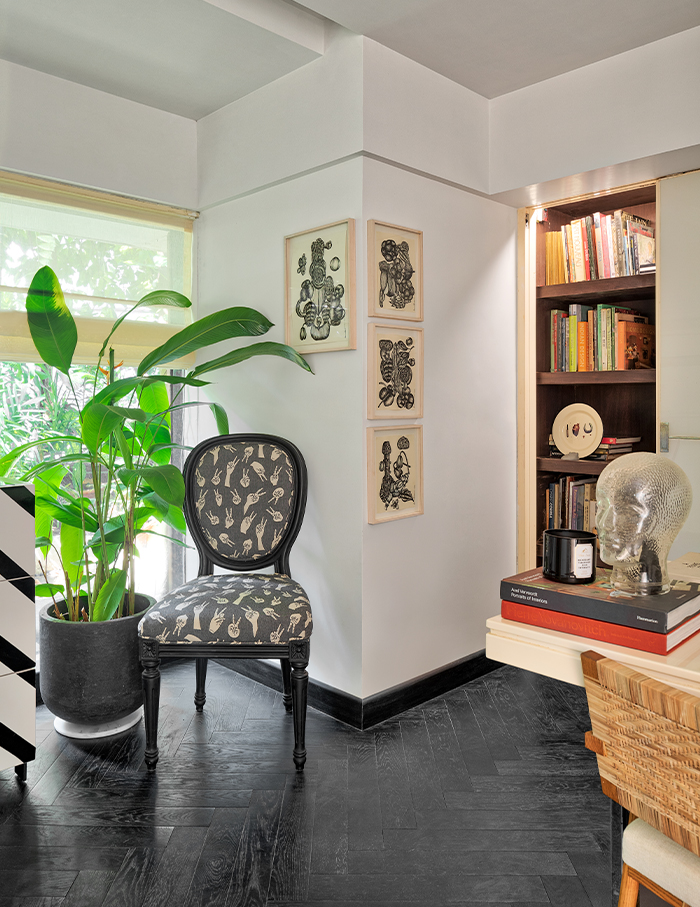 Another addition is a black-and-white striped sideboard I designed to store samples and catalogues. It is completed by the industrial buster and punch handles. Abutting it is a space I call the "detention corner", where a solitary chair clad in Safomasi fabric sits.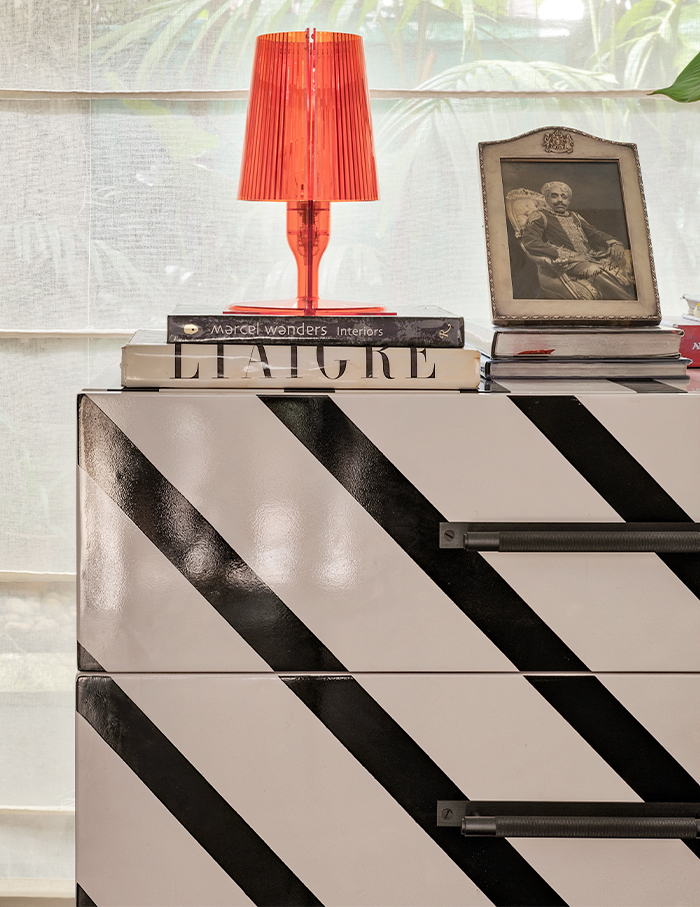 No project of mine would be complete without interesting art—I love collecting work by contemporary Indian artists. And I chose art by Samanta Batra Mehta and Yashwant Deshmukh to highlight the blank walls in the cabin.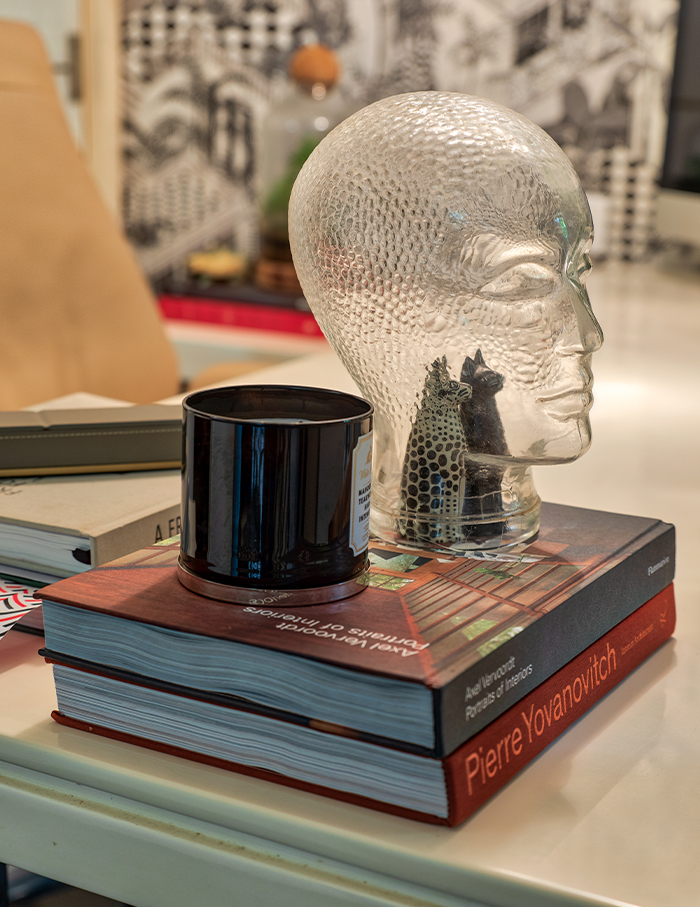 All in all, the studio had to feel like a creative cocoon, a place which inspires me to design and create. Another interesting feature is that the office is surrounded by greenery. There's a lush garden all around, so light filters in through the day.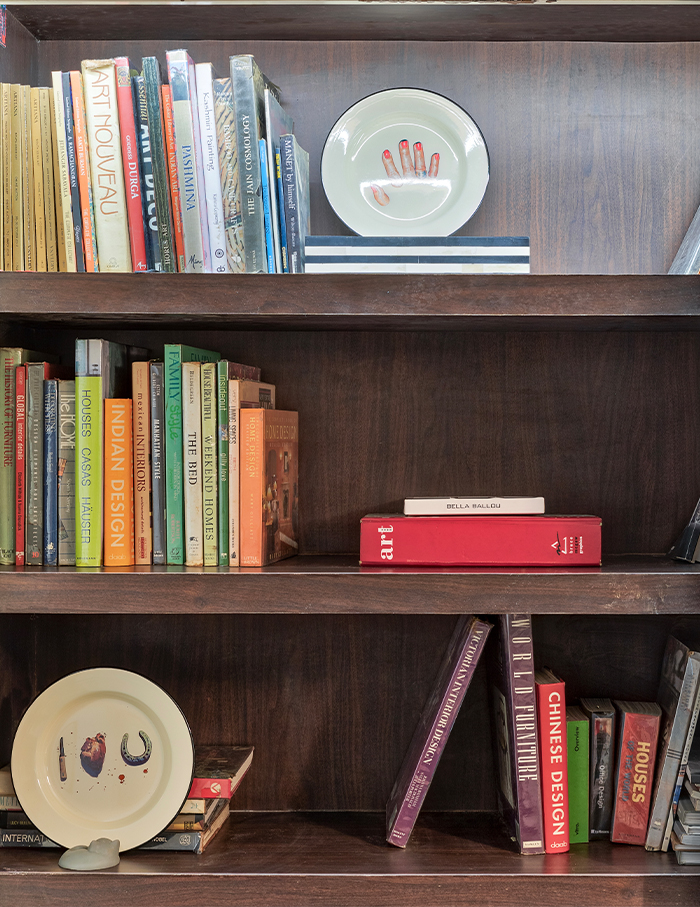 For phase two and three, which involve renovations of the reception and the designer's room, I actually have most of my ideas locked in. I'm targeting early 2021 as the completion date. It's going to be a lot of superficial changes, keeping in mind the aesthetic of my cabin. Design-wise though, I want it to flow naturally and in line with the sensibilities of my personal workspace.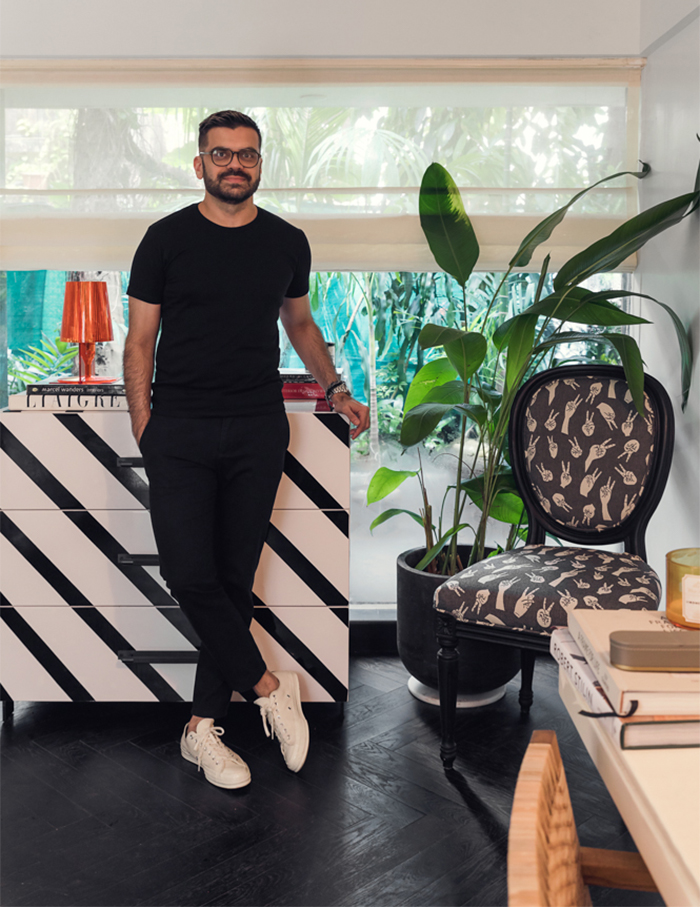 Yes, undoubtedly, there will definitely be a splash of monochrome, cool art, and a definite change in the lighting to make the space look like a cool, well-designed place that's conducive to creative thinking.