Homes
Explore this New York style bachelor pad by Jason Wadhwani
JUN 19, 2020
| By Vedika Nair
Cocooned in a sea of skyscrapers is a 4,200 sq ft bachelor pad that offers unobstructed, 360 degree views of the city. Conceptualised by Mumbai based designer Jason Wadhwani, this abode infuses motifs from a typical luxury New York penthouse with pops of equestrian themed art. Done up in a neutral and masculine palette, the spaces have been kept as clean and contemporary as possible. 
The pied-a-terre follows a largely monochromatic colour and material palette. In select spaces where warmer tones are used, muted shades of marble for the wall and beige and grey for veneers balance the look.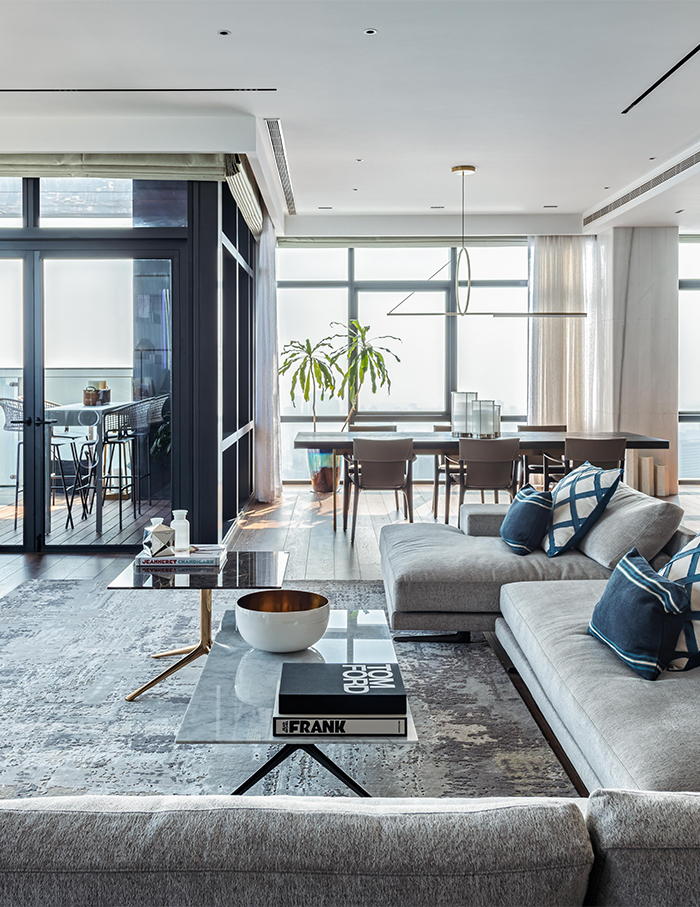 An artwork by Sacha Jafri showcases the owner's love for polo. The other significant work is by Aditya Pande, which is seen at the bar. The only spot of bright colour comes from the Blue Tufty Time couches from B&B Italia. "Not to say that my love for monochrome has taken a backseat, considering that the master bathroom has a black and white striped marble shower wall. There's also a black and white striped TV unit in the guest bedroom designed by me," says Wadhwani.
The formal living and dining areas as well as a powder room are accessed from the left of the entrance, while the kitchen and bar are placed on the right. As we meander inside, a lounge opens up with access to the master suite and guest rooms. All of these spaces have one unique theme, aside from the continuous use of a monochromatic palette of colours and materials: They look out to the city through floor-to-ceiling windows.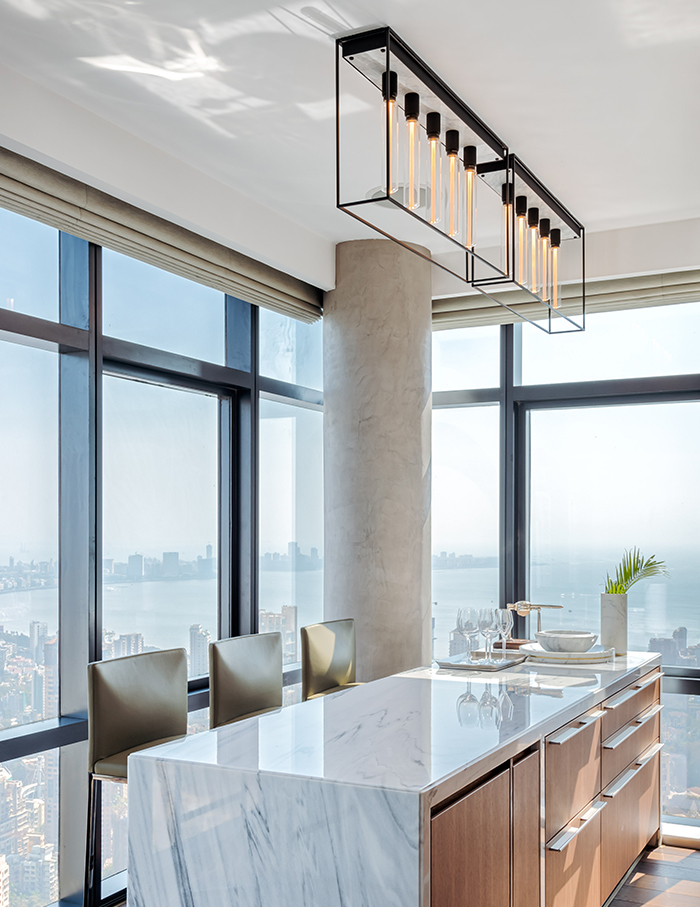 "Among the many spaces I enjoyed designing for this home, the one that stood out for me was the bar. To dedicate a smaller room solely to its function is a real luxury, especially in Mumbai. I gave the space a beautiful monolithic Bluette Greyette counter by Quarry Marble, Bulthaup cabinets and the industrial-looking Buster + Punch pendant lamp. Plus, the bar is fully fitted out with just about everything one would and could want. To top it off, the white marble cladding wall with a striking work by Aditya Pande adds a pop of colour," says Wadhwani.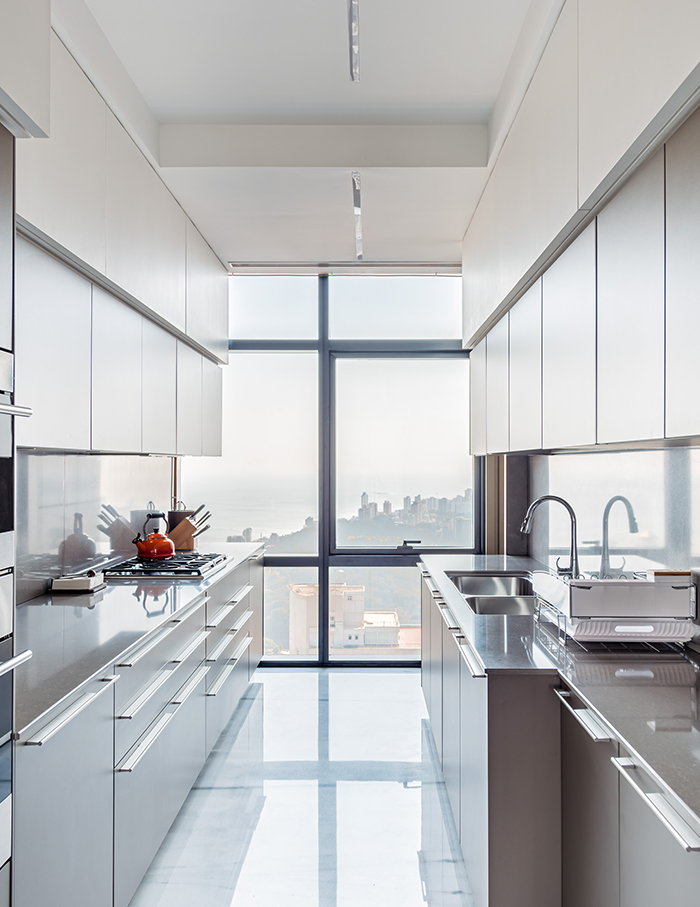 Wadhwani's minimal design allows ample space for movement in each section of the home, while retaining the panoramic view of the city from this 38th storey to add its captivating charm. For the living room, he has chosen soft grey and blue furnishings, while the lounge is done up in cushy midnight blue seaters, including B&B Italia's Tufty Time seater, and quirky lights.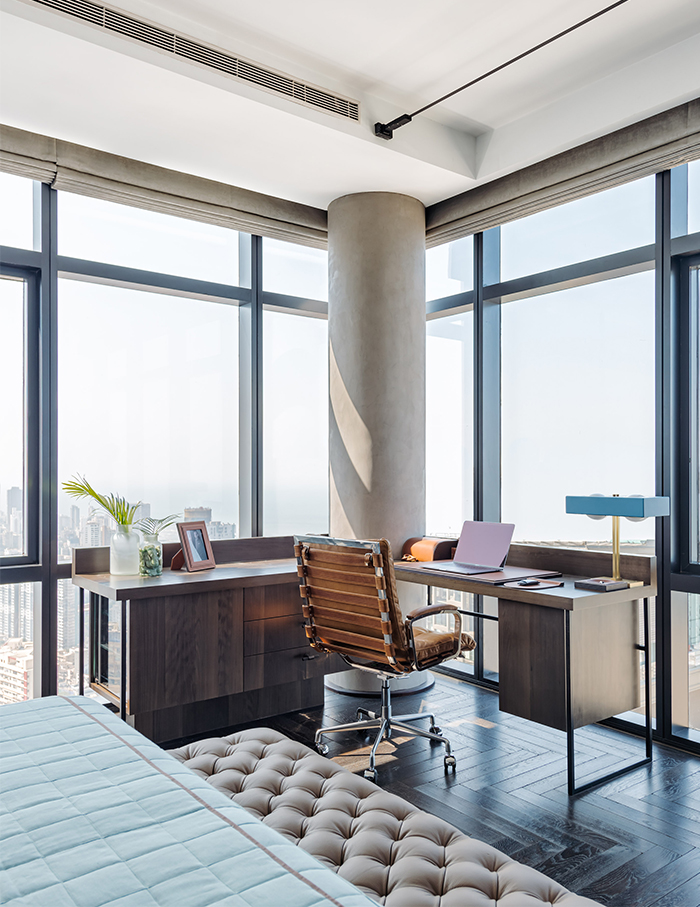 The dining space is subtle in its design to allow the uninterrupted city view to be the highlight. Alongside are an indoor bar and outdoor deck—both perfect for socialising and some down time. In contrast, the powder room uses bold tones but in line with the monochromatic palette. An element of quirk is seen in this space as "bits and gags for the horses have been turned into art and framed in glass boxes on the wall".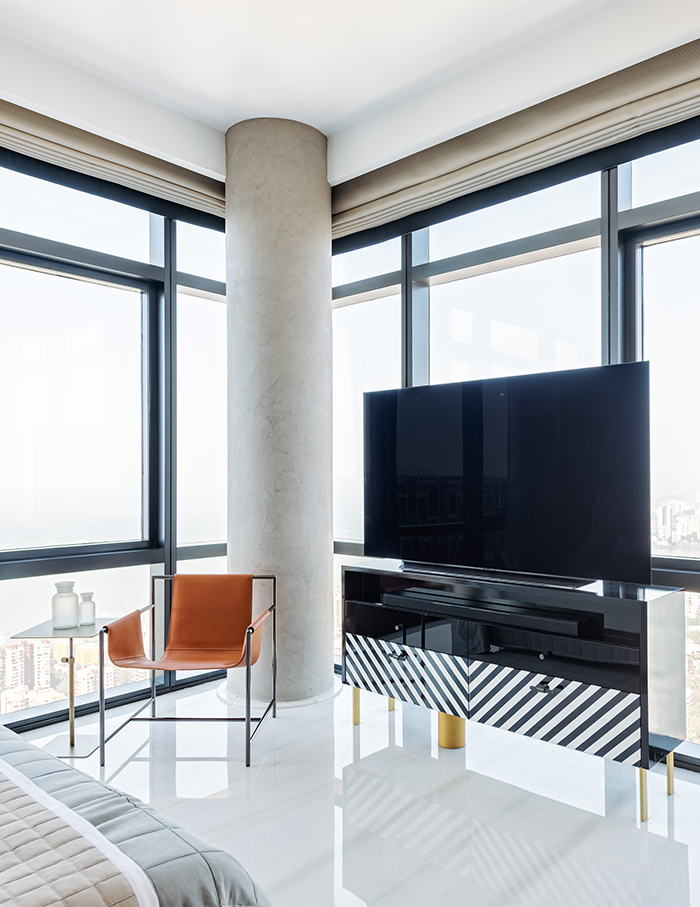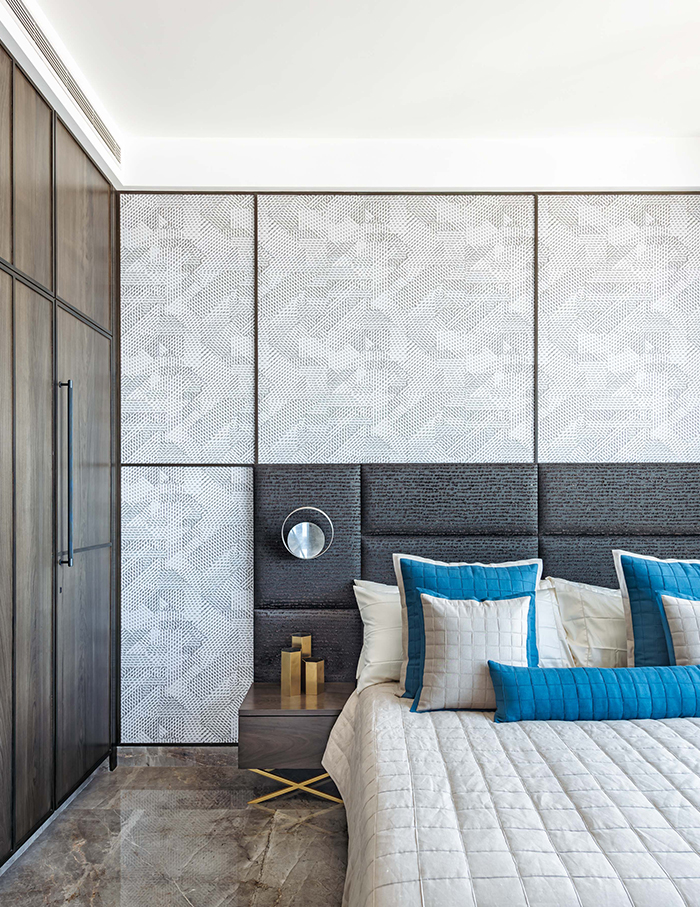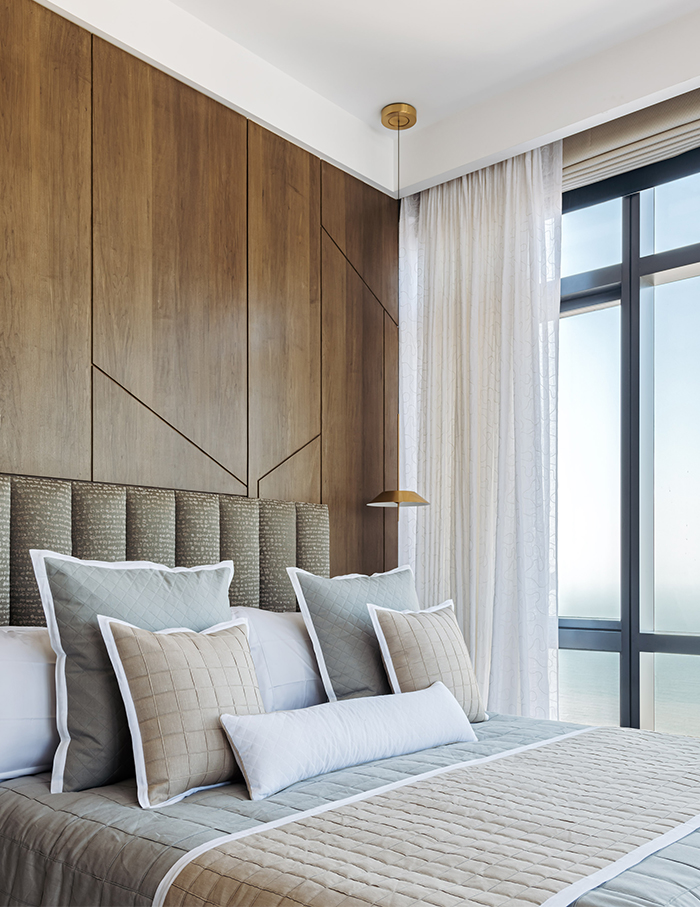 We love the luxurious master suite, for the bespoke bed, bench and study table by Wadhwani, soft linens and headboard, and especially for the ensuite bathroom that boasts a stunning view of the city. The other two bedrooms in the apartment are designation for guests—one of which highlights grey tones with a marbled bathroom, while the other uses wooden panelling and is paired with a bathroom that features a quirky circular mirror.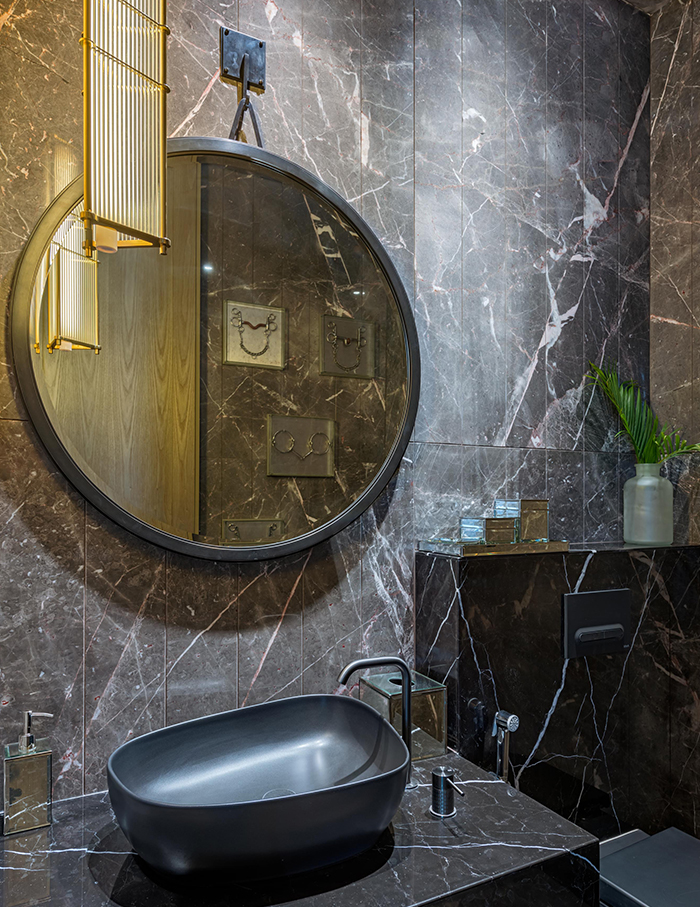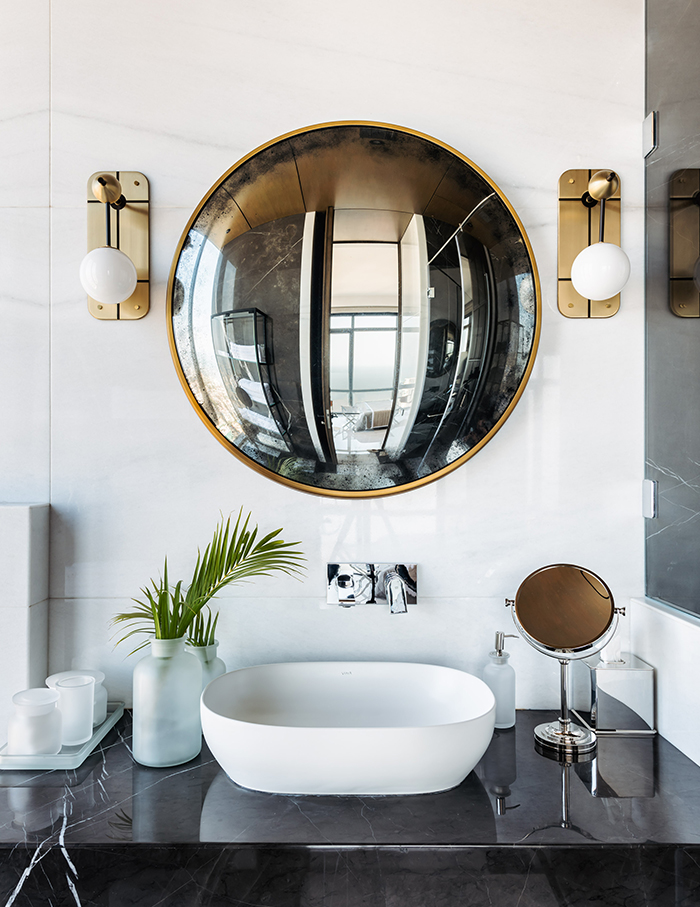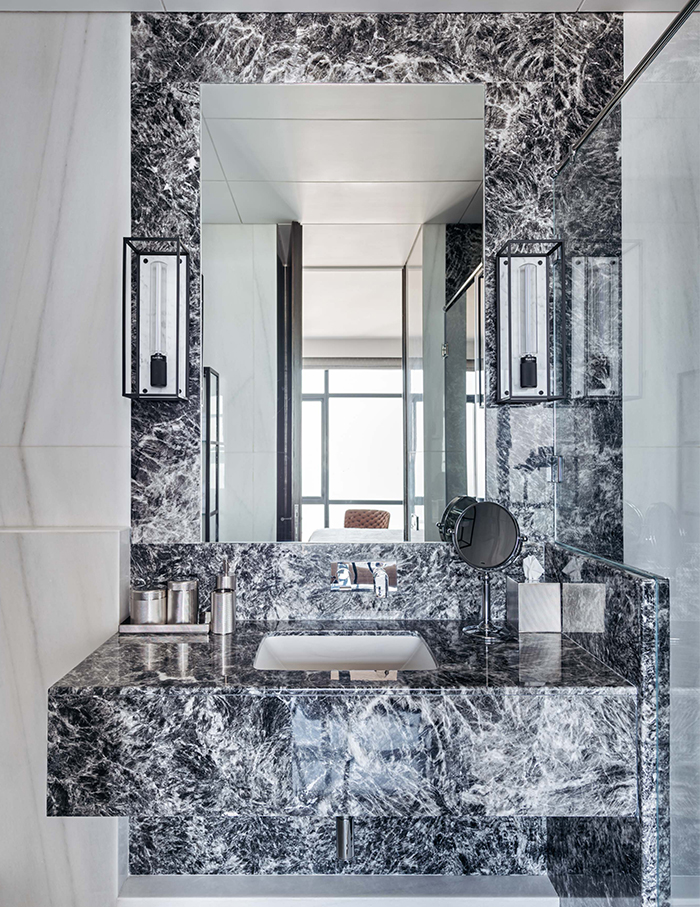 "My design philosophy is and has always been to design timeless, contemporary spaces with a bit of quirk. I don't believe in chasing trends. I work with a neutral or monochromatic palette with pops of colour or a strong graphic in some places. And I think that's very visible in this bachelor pad," concludes Wadhwani.