Design
In Studio with Sarah Sham — The creative behind Essajees Atelier takes us through her new Mumbai office and her best kept design secrets!
MAY 24, 2022
| By Pratishtha Rana
Let us throw a quick question over to you—what could be the recipe for building a lasting legacy in business? Well, the answer to this is a simple outlook of taking one step at a time because they say 'well begun is half done'. For the last eight years, interior designer Sarah Sham has been navigating a similar, passionate journey of sculpting and creating her own legacy that we know of as Essajees Atelier, a Mumbai-based interior design firm.
This new year in fact has been peppered with eventful moments for Sarah, with her unfurling the celebratory carpet at her new office in Nariman Point, South Mumbai, a few months ago in January.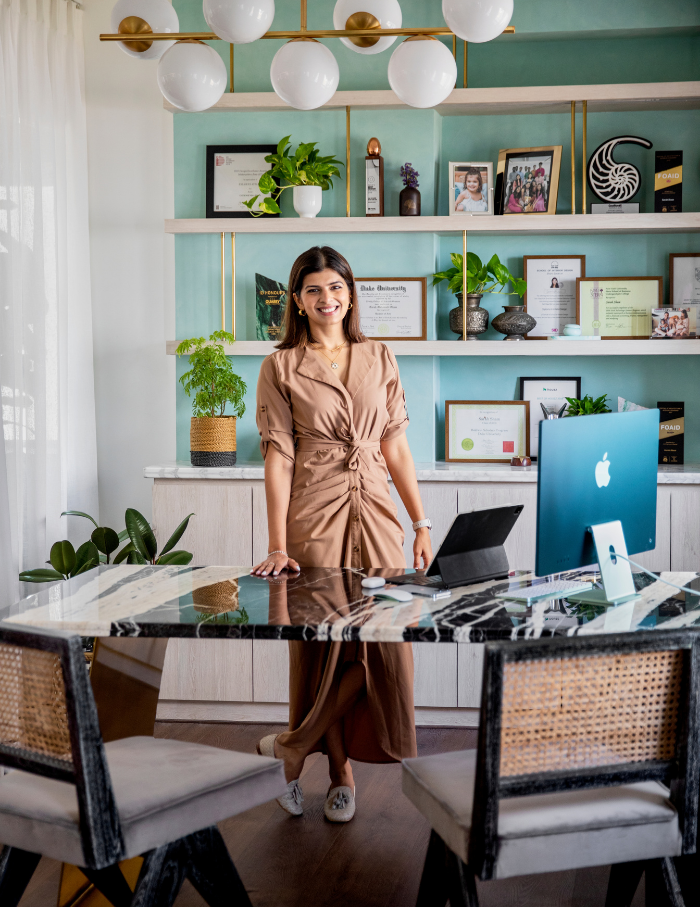 You may also like: Sarah Sham of Essajees Atelier creates a classic contemporary Mumbai home
SETTING THE BAR HIGH!
An ecstatic yet poised Sarah comments, "Having a child was life-changing, but second to that is having my own office. I never thought I would have my own space, my name on the door and to be in this position."
In moments between work, play and solitude, Sarah is still often gripped by lingering moments of sweet epiphany and a certain sense of overwhelm, "that this is me and the office is mine!"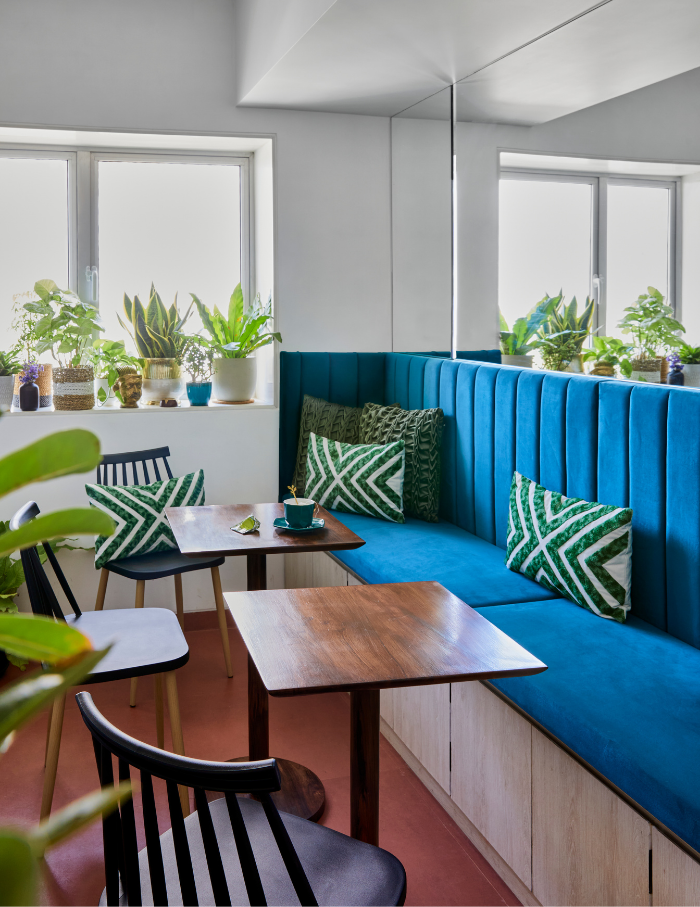 Scouting for a potential workplace is no easy feat, but Sarah had a checklist ready of what possibly could be her winning location. In proximity to the ocean that skirts the southern tip of the city, the cool breeze and of course the deluge of daylight—Sarah knew this is where her next barrage of creative ideas and crucial decisions for the firm will be born. "Within five minutes of walking in here, I signed the agreement."
DROPPING DESIGN HINTS AT EVERY TURN…
Compact yet commodious, elegant yet eclectic and importantly, an office yet homely—Essajees Atelier, chambered on the eighth floor of a commercial building is astutely designed, rejecting the limitations a 1,350 sq ft space may otherwise pose.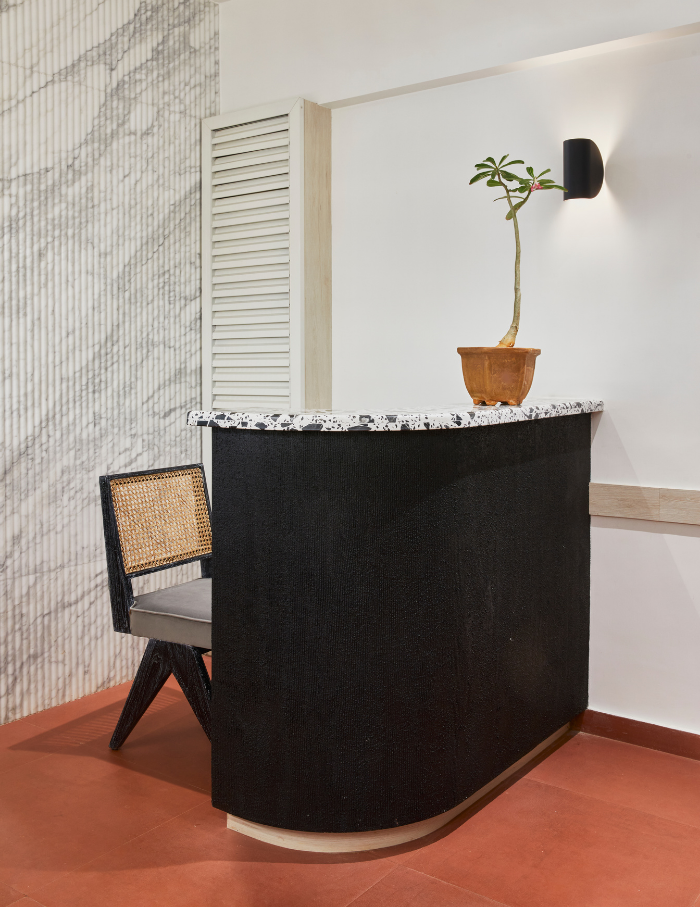 In a candid confession, she says, "I did not design this office and was rather a client. Nikhil and Vishal from my team were the designers." Before the space was dressed to the nines (or for nine to five) in 45 days, Sarah was presented with material charts and 3D walkthroughs. "It was an interesting experience. I got to see what it is like to be on the other side."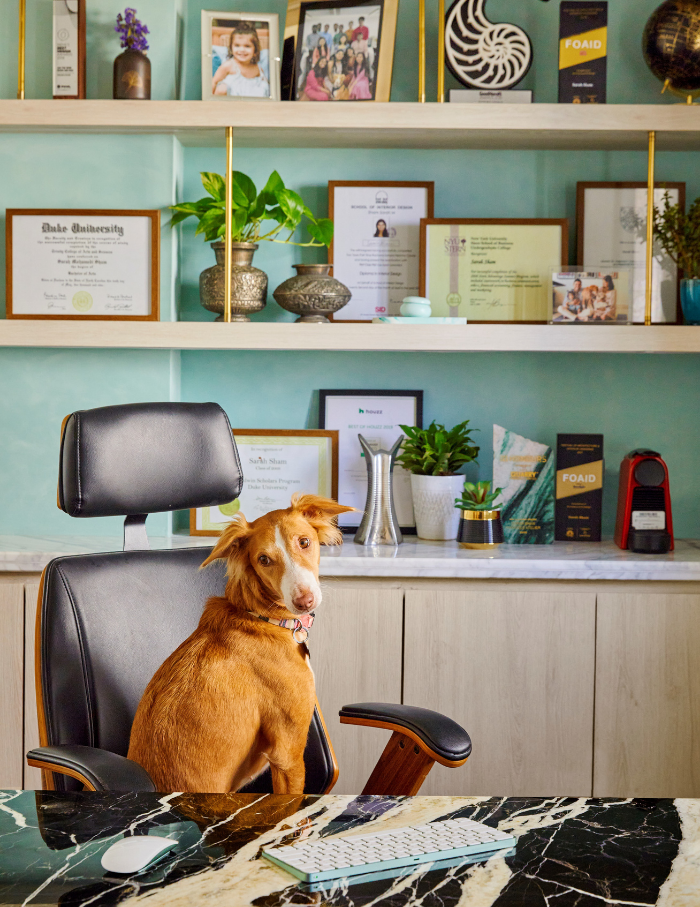 Ambling into Sarah's atelier, the entryway is aesthetically dressed with minimal but statement elements—with a fluted marble screen catching the eyes and artworks personally picked by Sarah. On the left is an open work area with desks and chairs berthed on a deep red tinted floor.
A PERSONAL TOUCH
Facing the entire office from a strategic vantage point, Sarah's cabin is a fresh dip into a palette of wood and mint. A dramatic cynosure is a marble table hosting her minimal workspace essentials with a West Elm chandelier drooping from above.
For the uninitiated, notepads are a rarity you'd spot on Sarah's desk, as she loves her in-phone scribbles. A lineup of accolades, family photos and decor finds sits on the shelves.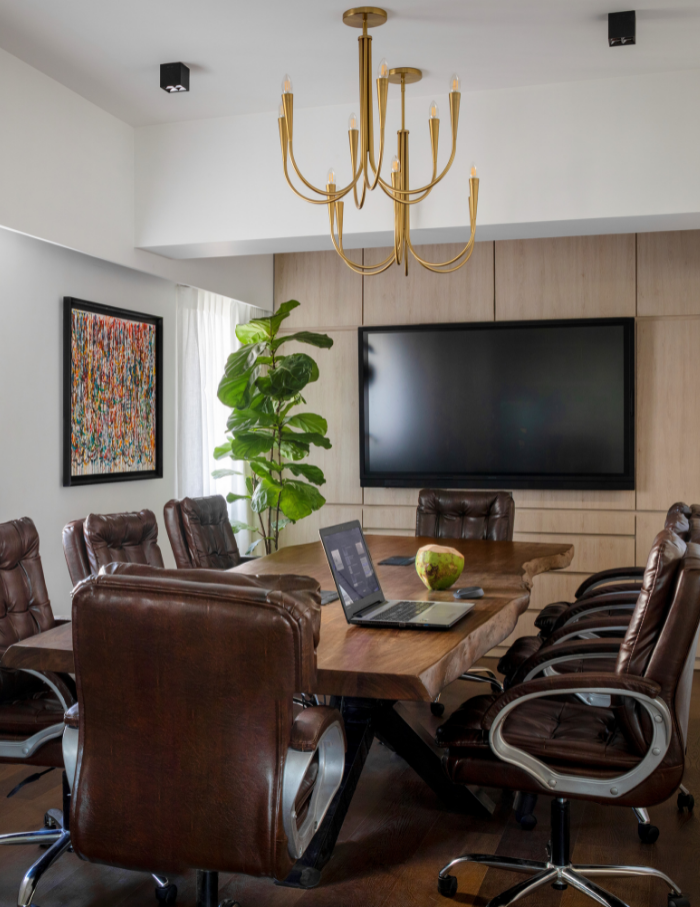 The cabin intelligently extends to the tech-savvy conference room with a glass screen standing in the middle. A pièce de résistance if you may call it, the meeting table in live edge wood is a gift from her father. This formal space flexibly turns informal during lunch hours. Sarah admits with a tinge of pride, "All of us love our lunchtime in the conference room. The whole team (who have all been together from the start) sits together and talks about our lives and everything. It helps us stay connected."
You may also like: A museum of past, present, future—Tour the Mumbai den of Godrej Vikhroli's CEO Anubhav Gupta