Trends
Hope 'springs' eternal… So, we're recommending springtime additions to add year-round hope and happiness to your home
MAR 26, 2021
| By Urvika Barua
#TrendAlert Vivid hues and floral prints add freshness to decor this spring! Check out our curated list of  must-have items to usher the sunny season in a positive light! Trend and Style Direction by Sonia Dutt
The House of Things
Green is a shade that represents prosperity and exuberance infuses homes (see scroll above) with love and unity. And this spring, the brand is helping embrace this serene hue with a luxurious emerald green sofa.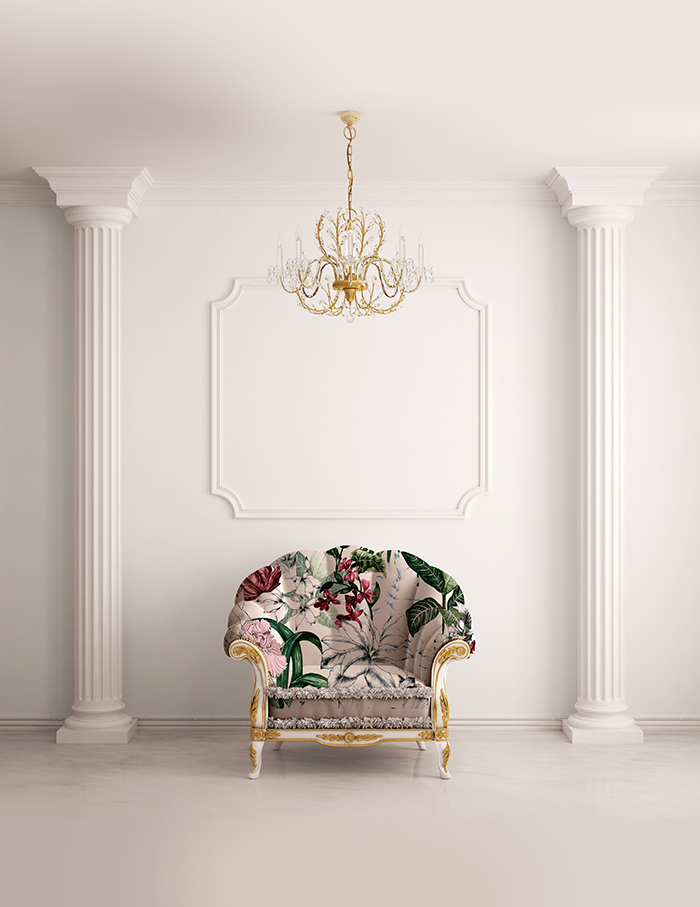 Ring in spring with the New Delhi-based studio's bespoke selection of upholstery, placemats, cushions, bathrobes, coasters even customised wallpapers, in vibrant hues and floral patterns
Floral Handtufted collection by OBEETEE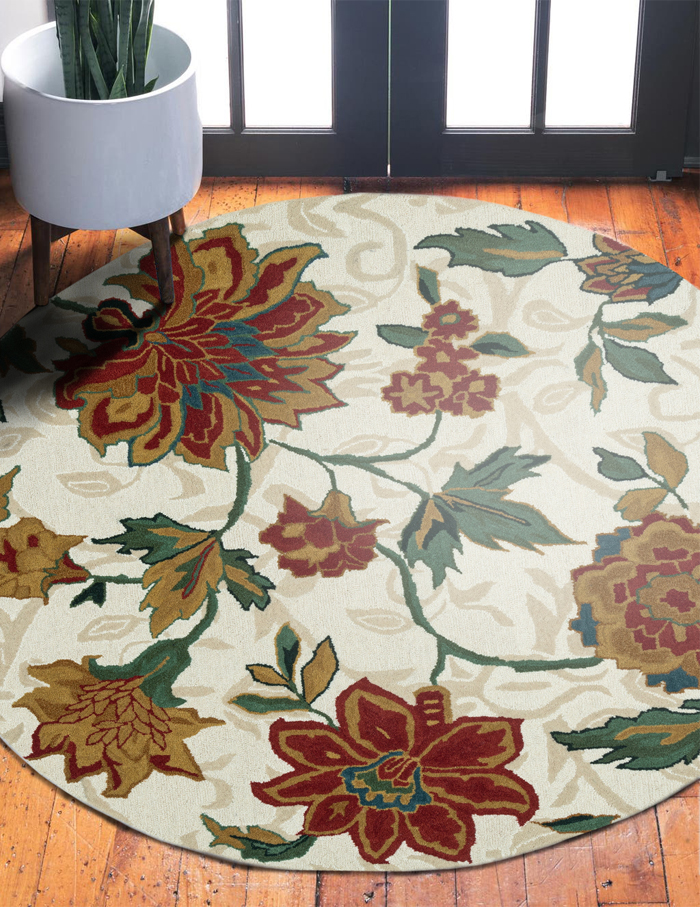 For over a century, the carpet marker has pioneered artisanal luxury rugs and carpets. This series is the perfect embodiment of springtime elegance and artistry, handwoven with devotion by skilled artisans. We love the Donna and Belle Grove pieces that are characterised by fresh, vivid yet sophisticated designs. 
Vintage Garden by Studio13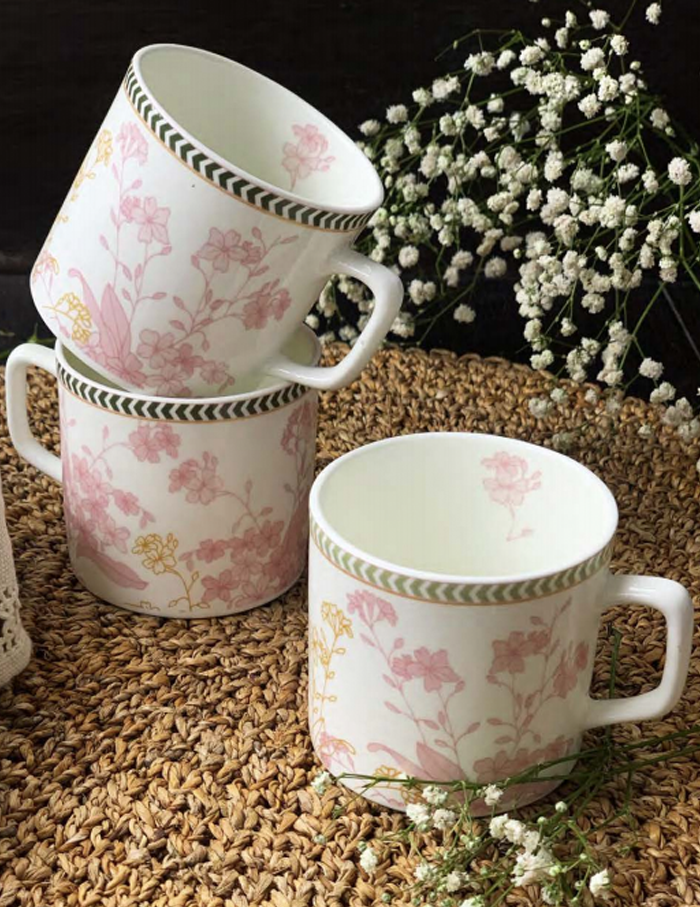 Influenced by hygge, the Danish way of happiness, this range of dinnerware, mugs and scented candles brings the outdoors in and makes us appreciative of the littlest pleasures of lives. Each piece is versatile in tones of blush and teal with intricate gold highlights. Plus, the designs blend the subtleties and lavish poignancy of Mughal architecture with modern aesthetics. 
Jessamine by Good Earth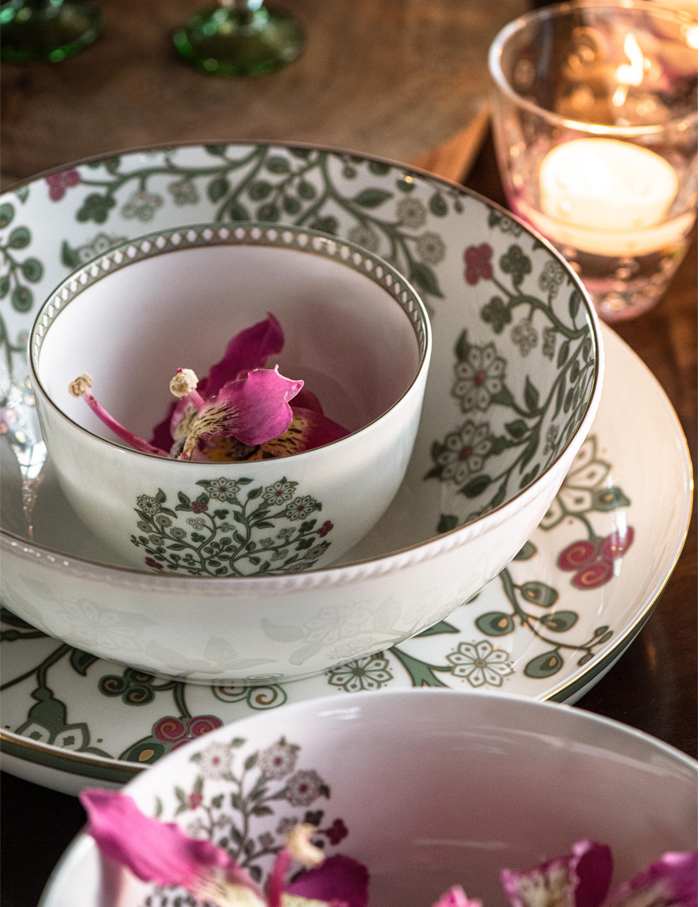 With this latest dinnerware line, the brand introduces the season's magic. The fine bone china set features fragrant wild emerging creepers and shrubs that are seen in the Himalayan countryside. We love the details on each and every piece, including the salad and soup cups, large mugs and even tea plates. 
Navya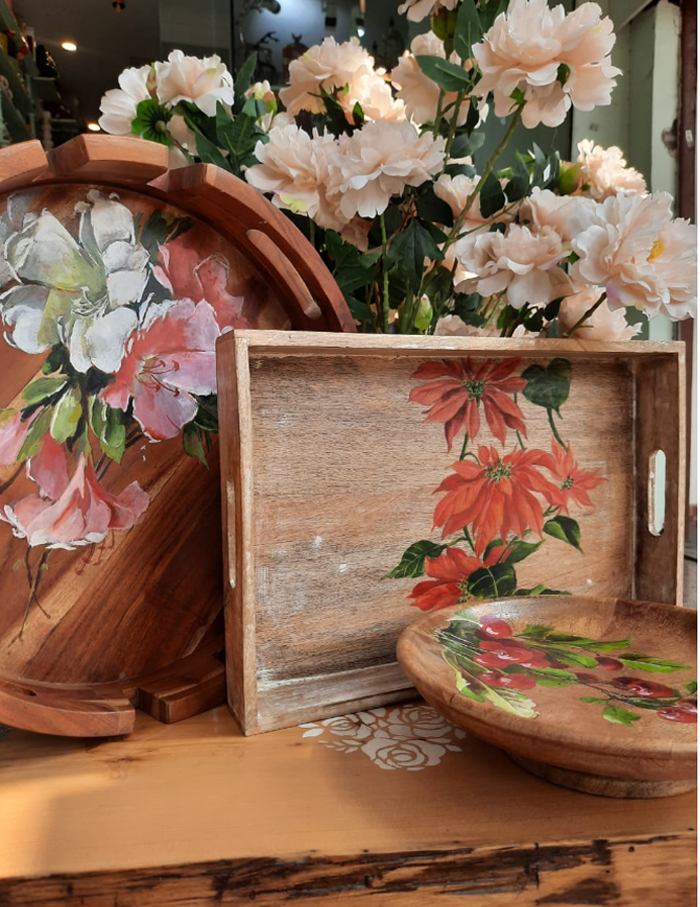 Vibrant greens and blossoming buds on timber from this unique home decor brand is a simple yet smart way to uplift decor spaces. If you're wondering where they get their inspiration, just look at their multi-city footprint! 
Rainforest by Baobab Collection by Sources Unlimited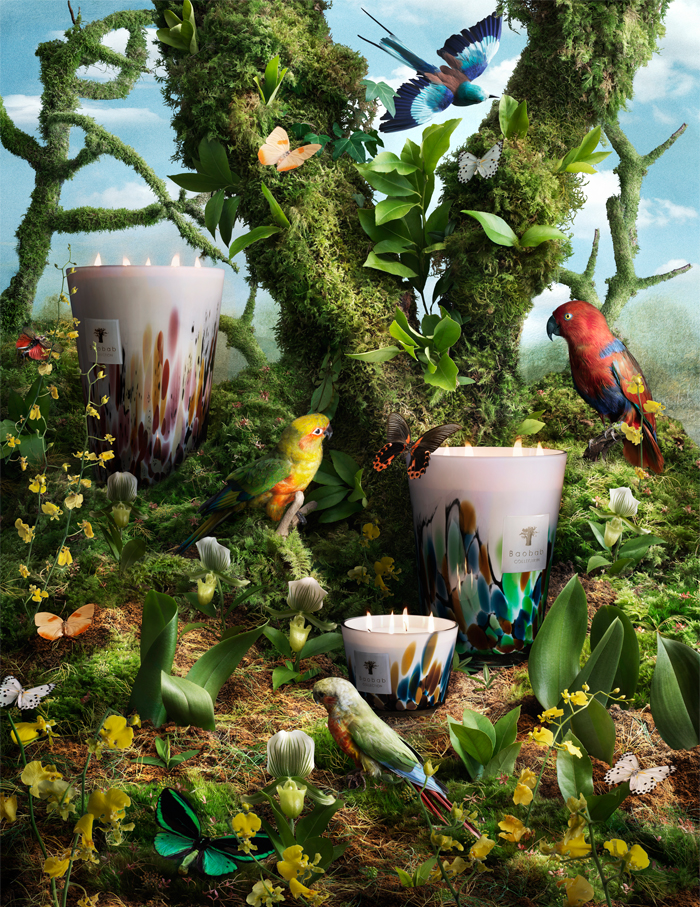 Vibrant hues and fresh scents embody the essence of spring and this collection! Scented candles that are presented under the Amazonia, Mayumbe and Tanjung lines are sure to uplift your mood and the ambience of any room!
Sarita Handa Wallpapers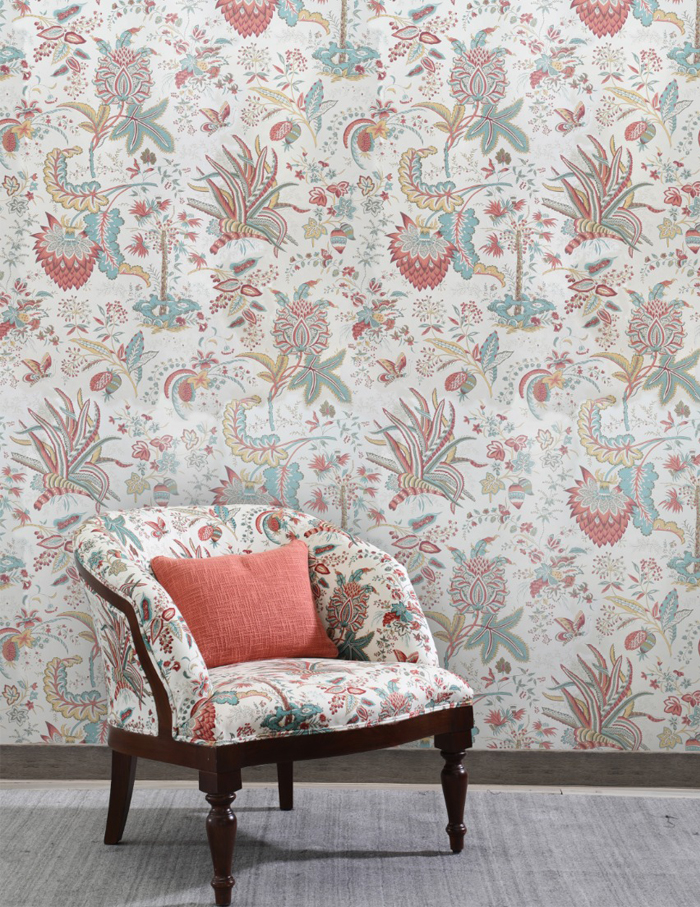 Known for its bold floral motifs, classic colours and intricate embroidery, the brand introduces a series of wall coverings such as wisteria, botanical springs, Persian fleur and tropical raspberry that look like embroidery on the walls.
Naqashi Basant Cabinet by Mangrove Collective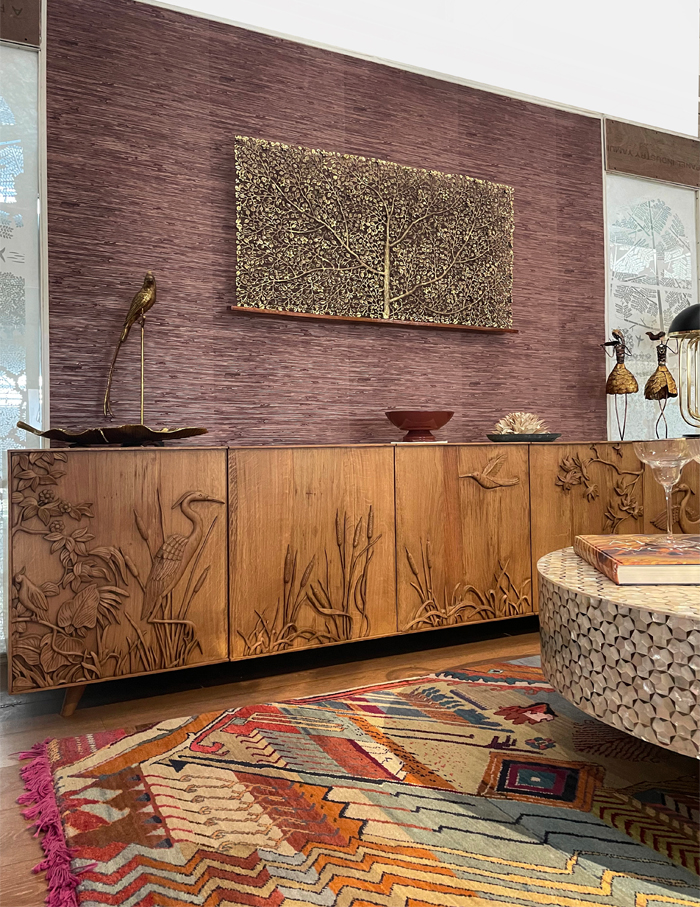 The skilfully made, elegant Hyde Park console by Mangrove Collective expresses the narrative of the native Heron and the Bakul tree, the harbinger of spring in India. It is crafted with precision by Naqashi craftsmen, who've carved all the panels of the cabinet with an independent set of motifs that represent the season.
Basant by SR Artefacts
Bask in the beauty and colours of this season with blooming flooring and chirping birds on fine silverware. The nature-inspired pieces bring vibrancy to the season into our homes in the form of the Bird Bath and Cockatoo Tub, the Dove Platter, Mexican Vase as well as the candle stands with doves, parrots, lotus, hibiscus, among other figurines.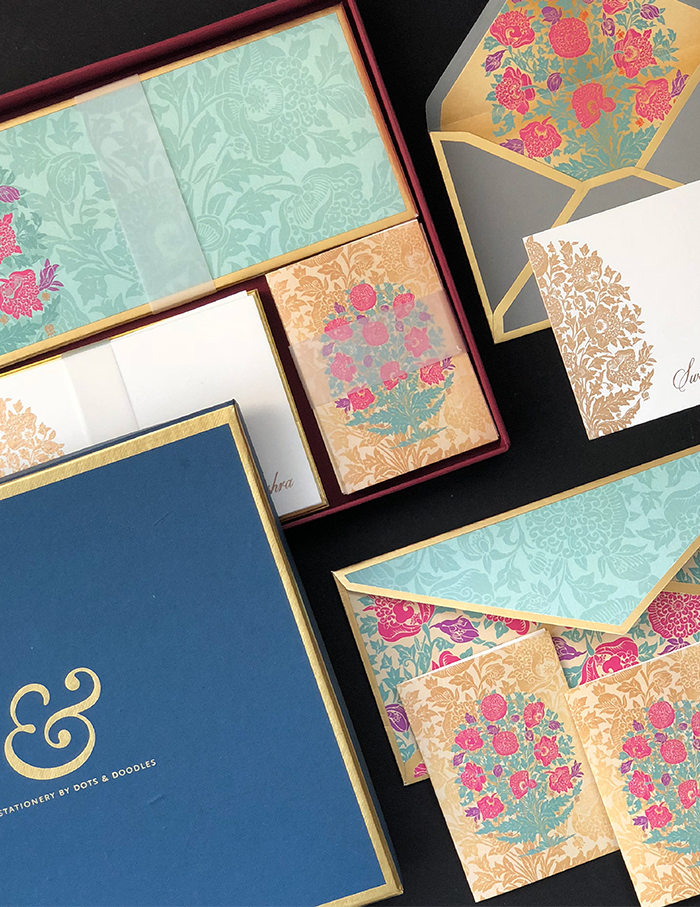 Get inspired by floral prints on stationery. Plus, you can choose to have these personalised—whether you're choosing notecards, thank you cards, hardbound books, gift bags, gift tags, wrapping sheets, announcements, invites, etc.
Spring collection by Nehal Desai Studio for textile artist Aditi Patwari
Ahmedabad-based textile artist Nehal Desai presents this peacock floral artwork for home textiles, drawing influence from Indian miniature art and motifs from mediaeval chintz designs.  Created for textile artist Aditi Patwari's spring collection, the repeated artwork is drawn and decorated by hand before being digitised for printing.
Pierre Frey Wallpapers x Caspari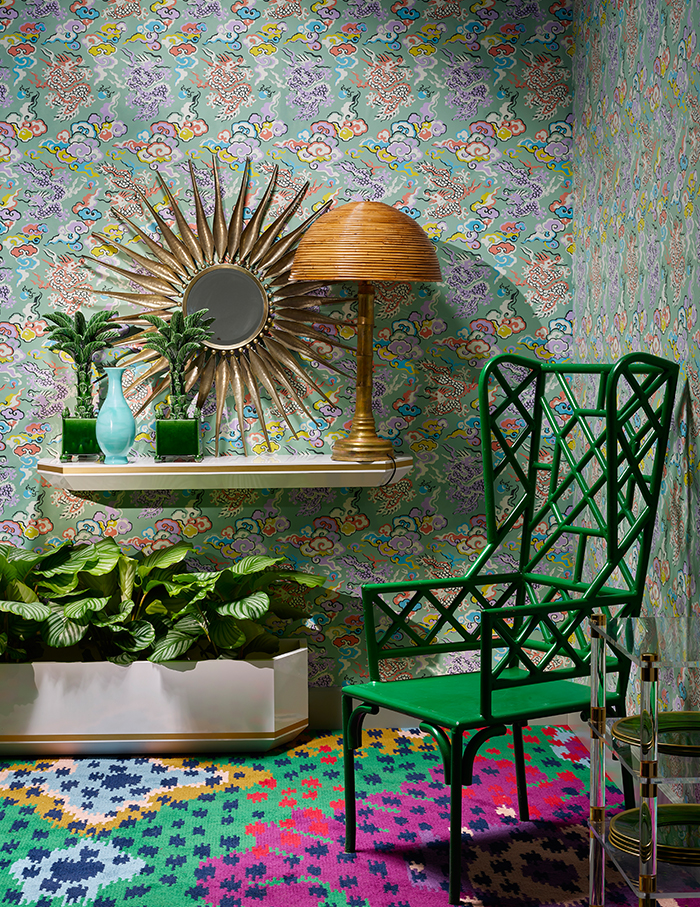 A burst of colours and floral motifs create an imaginative setting with the help of the fabric and wall coverings giant's latest, most captivating collection.