Homes
Grounded and centered, Joe Vadgama's striking penthouse in Goa is the perfect spot for some serious downtime
FEB 25, 2021
| By Joe Vadgama
Roman architect Vitruvius defined the three principles of architecture as solidity, utility and beauty. I would like to add one more to the list—harmony. A prime example being my striking penthouse in Goa, which not only fulfils all three prerequisites of a Vitruvius-certified home but is also in acquiescence with its peaceful surrounding. 
I'd envisioned the home for a long time. Being its designer and builder myself, I had the freedom to plan it so. The bigger challenge, however, was to build around obstacles and find solutions to the hurdles along the way—that's what's this an exciting journey.
I turned this 1,000 sq ft space into a sleek, imaginative, non-fussy and fairly rustic home, using a distinct warehouse-style. Concrete, brick and steel are employed for an unfinished look that's complemented by the many shades of grey. Since it is set on the banks of Goa's Nerul river, the home's fluidity is derived from the confluence of neat, straight lines.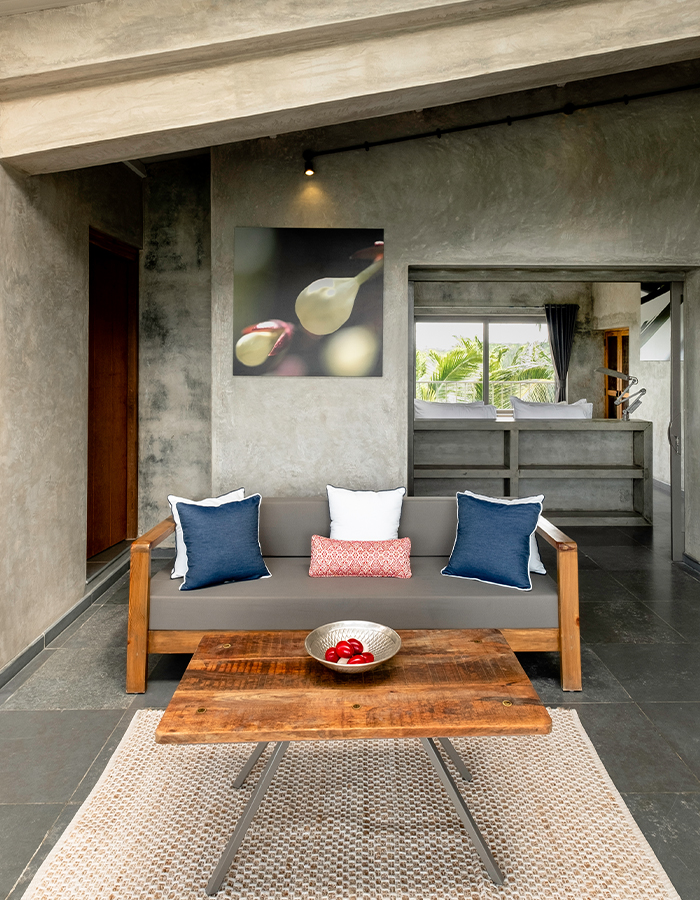 The untouched location has inspired the toned-down palette of raw timber, wood and steel. The blend of light and concrete works well together. It not only adds style but also provides a sense of peaceful cleansing (almost like removing any hint of commotion).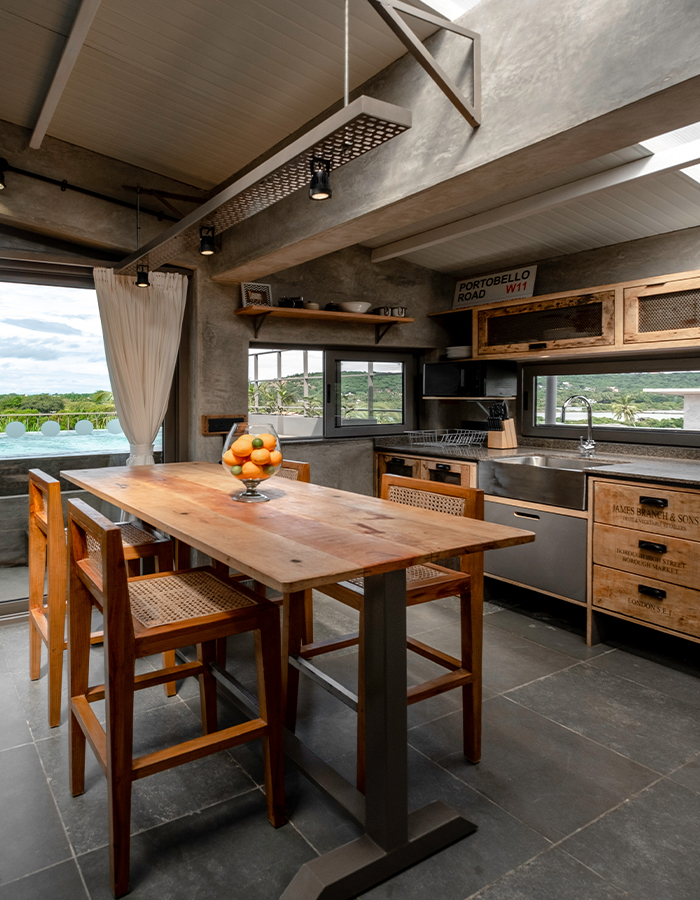 I've always used windows as a critical design element. In the case of this penthouse, they offer abundant access to breathtaking views of coconut treetops, verdant fields and spectacular sunsets. The most interesting as well as the most enjoyable aspect of this build was the kitchen window. The unique sash window opens horizontally upwards, using counterbalance weights to assist and relieve the overall weight of the window section.
The kitchen features interesting and unique materials. Unlike a modular flat-pack job, it is hand-built with doors textured for an aged-timber appeal. The drawer fronts are branded with text like in the markets of 1800s London. All the furniture is designed and made by hand onsite. The kitchen also features a double fridge freezer, gas oven, hob, water kettle, toaster and cutlery, all of which I've carefully selected myself.
The bedroom is spacious with an ensuite bathroom but the best part of this penthouse, especially for a guest, is, without doubt, the plunge pool. As you move to the terrace, bright pops of colour act as a pleasant surprise with breezy plants to complete the homely feel.
Coming to my principle of harmony—harmony with the environment holds up high for me. So, this home is environment-friendly and uses locally sourced materials and textiles. Our toiletries are organic and paraben-free; we use solar geysers and LED lighting. In fact, even some of the glassware in the bathroom is made from recycled beer bottles.
After growing up in London, I chose to settle in Goa and establish my company Vadgama Real Estate Developers here. (We're now working on our third project here in Goa!) This penthouse is a reflection of my love for architecture and design.
Joe Vadgama's penthouse is available for short-term leases on Airbnb. Click here for more information