Homes
Lori Morris transforms this luxury condo in Toronto into an ultra-modern millennial abode
DEC 15, 2020
| By Raashi Dev
Catering to the millennial cohort, this capacious 2,500 sq ft condominium by Lori Morris, atop a 54-storey luxury hotel in downtown Toronto, is an amalgamation of contemporary values. As a first home for a young couple, the space is loaded with quintessential Lori Morris design elements that are immaculately tailored to fit their needs.
The condo has been entirely restructured to expand the layout as well as install ample storage and state-of-the-art technology. The kitchen is opened up by removing walls and allowing more access from the living room, adding hidden depots and inbuilt shelving, and deconstructing walk-in closets and replacing them with customised floor-to-ceiling versions.
Bringing in an additional hallway and reconstructing the entry hall also provided fluid access to the master and guest bedrooms. Embracing her client's vision, Morris delivered a renovation beyond their expectations and imagination.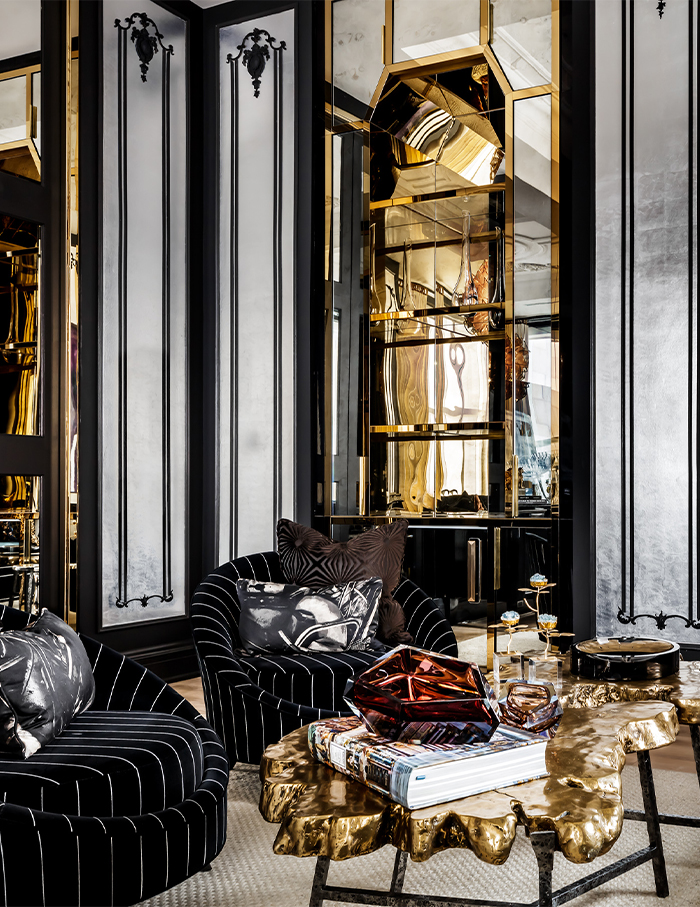 No Lori Morris transformation is complete without a grand entrance. "Just beyond the doors, silver wallpaper embellished with white cherry blossoms adorns the walls. A plush, velvet, inbuilt bench nestles against a window looking out to the dramatic downtown Toronto skyline. Above it is a length of storage space cleverly concealed along the length, owing to a stunning Murano glass chandelier," shares Morris.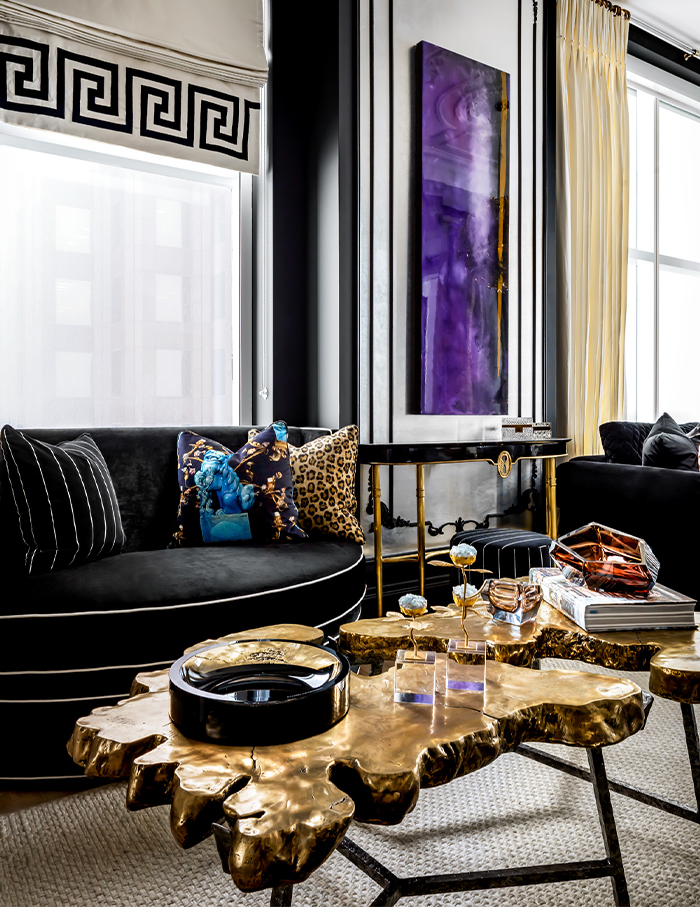 The black, gold and white palette continues to the living room. Ebony-hued materials such as velvet, lacquer, glass and ornamental moulding on silver leaf wall panels with custom mouldings draw attention. Amid the spectacular panoramic views of downtown Toronto, the room is augmented by a black lacquer bar with glass shelves, mirrored back panels and brass decorative details, as well as hidden cabinets to store bar supplies and accessories.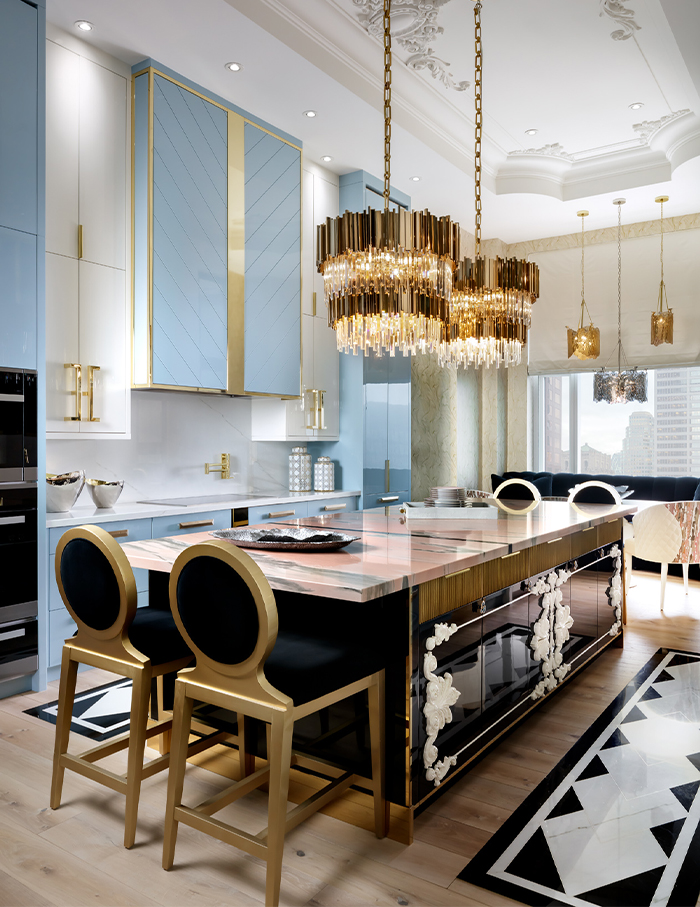 A seating arrangement—including a curvaceous, custom inbuilt, black velvet bench—encircles the gold and black coffee table, creating a perfect sanctum for entertaining guests or simply unwinding. The gold accents and furnishings delightfully offset the dark furniture, cabinetry and grand doors, lending an unadulterated look of opulence.
The kitchen is the perfect combination of magnificent and efficient. "The black, white and gold theme is interrupted by a daring contrast of pale blue cabinetry and pink marble on the oversized island, which is wrapped in high-gloss black lacquered cabinetry with delicate ornamental moulding. Bountiful storage is provided within the island, and the cabinetry extends to the ceiling allowing the homeowners freedom to keep on hand as many kitchen accoutrements as desired," adds Morris.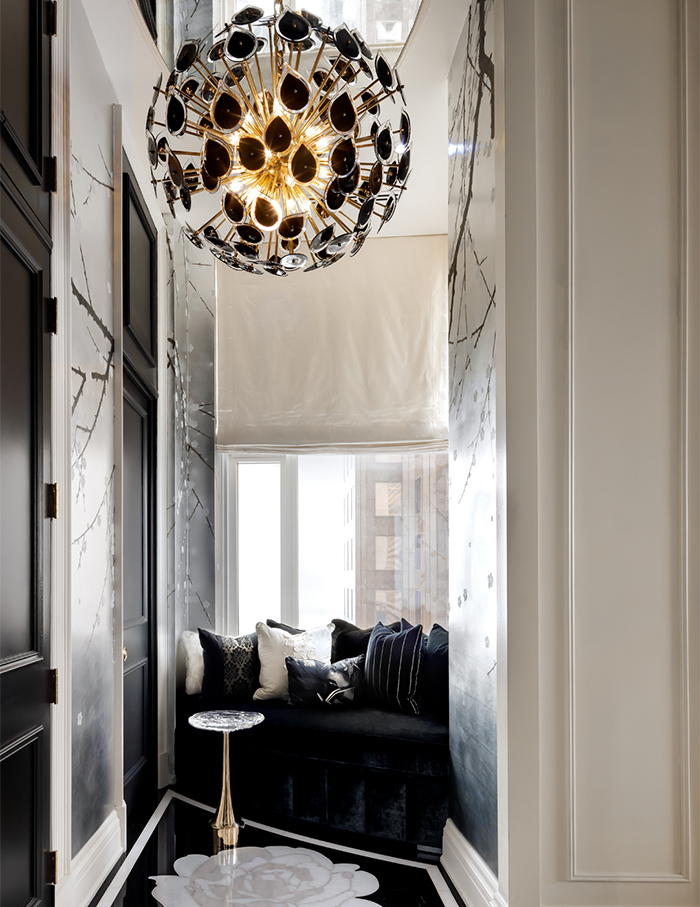 The kitchen is drenched in natural light, owing to a large wall of windows that offers impressive views of the Canadian city. Against the window, a custom-designed, black velvet covered inbuilt bench faces the oval and glossy dining table and velvet chairs with patterned fabric accents, creating an informal dining space conducive to the homeowner's lifestyle.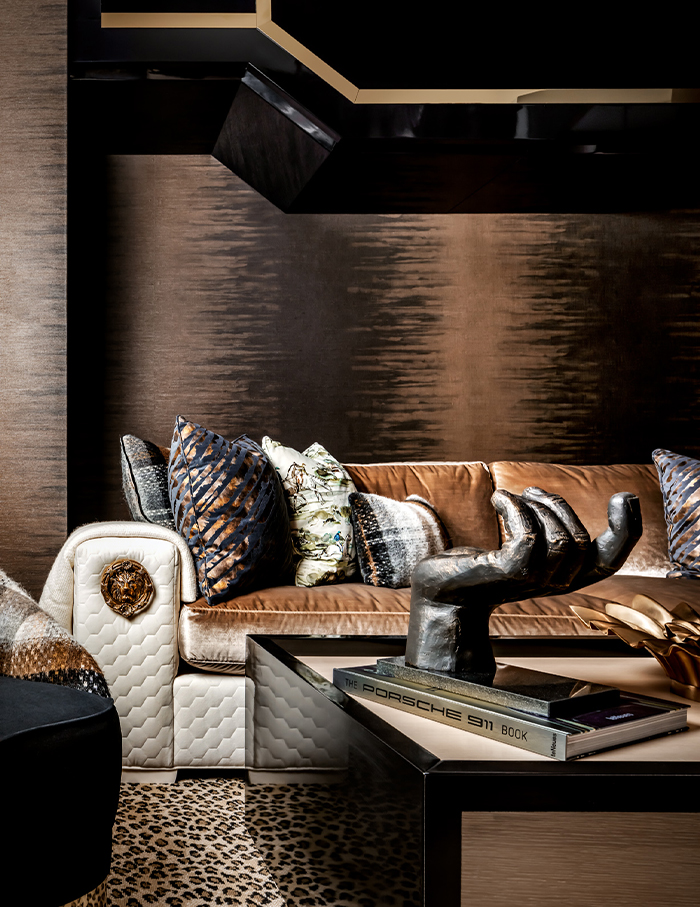 The master bedroom is a timeless pillar of elegance and grandeur, while also being rooted in functionality. It features a white fur and leather headboard, a chocolate brown textured wallpaper, silk linens and plush pillows in muted neutrals, creams and the palest of pinks. The overstuffed bed is grounded by a soft-hued velvet and brass bench at the foot along with a flowing skirt in layers of cream satin and charmeuse.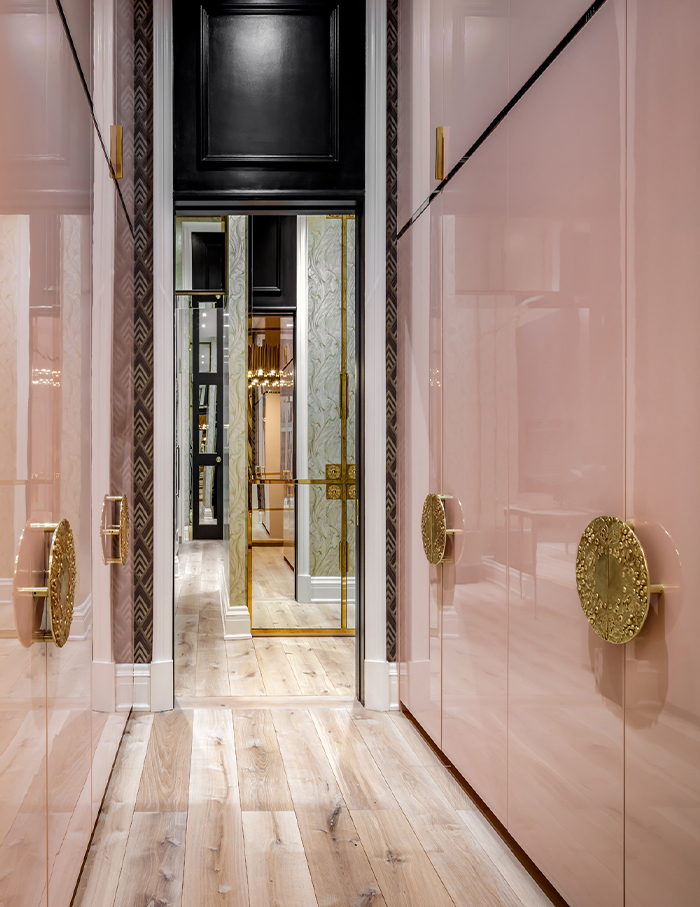 The vanity was built bearing in mind a bespoke, sun-basked area in front of a window (ideal for putting on makeup). The massive circular vanity mirror enhances the light flanked by the pale pink custom cabinetry with crystal hardware and an arch decorated with white ornamental moulding crowns the window. Drawers, shelving and custom-designed acrylic organisers make for an enchanted display while also ensuring sufficient storage.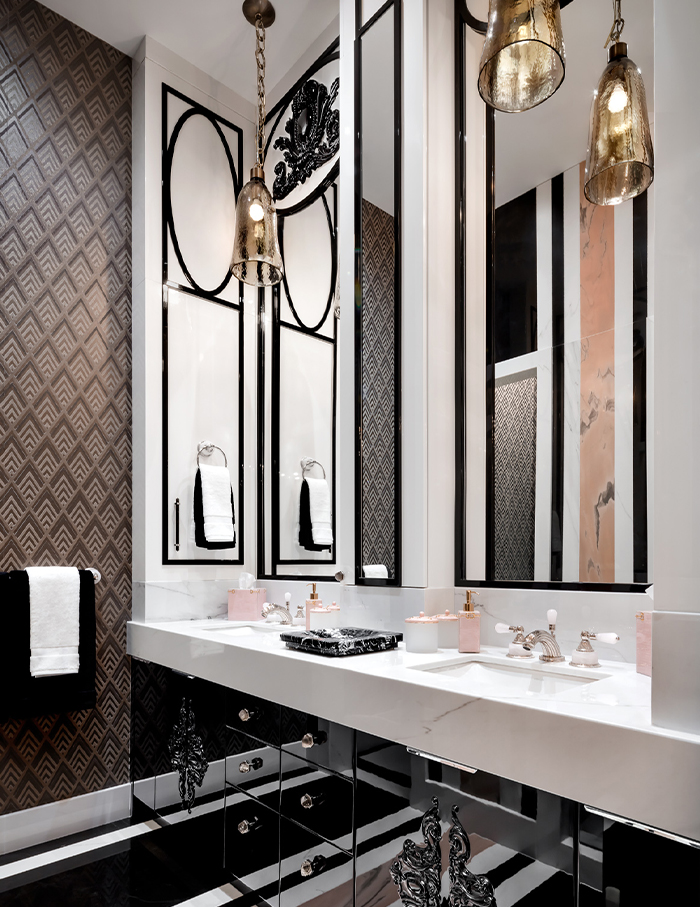 The master bedroom seamlessly transitions into an ensuite, which is yet another marvel of function and form. It sports the same textured brown, geometric wallpaper, high-gloss black lacquer cabinetry as well as shades of pink, black and cream. Its classic design is infused with an edgy feel in the asymmetrically placed, pink marble stripe that extends across the floor and up the wall.