Homes
Gayathri Padmam H of Aanai Design Studio fashions an intimate and minimalist cove in the garden city
MAR 1, 2021
| By Sanjukta Ghosh
Located in the plush residential area of JP Nagar in Bengaluru, this 1,100 sq ft abode by Gayathri Padmam H of Aanai Design Studio is designed to be an idyllic destination away from the hustle and bustle of India's silicon valley.
In keeping with the client's brief, the home is planned with open spaces, a familial narrative and to be as clutter-free as possible. "With minimal structural interventions and no changes in any of the flooring, major design elements were brought in through wall treatments, furniture, creative lighting, rugs and artworks," avers Padmam.
This is seen right from the foyer, where a console is adorned with terracotta pots and set against a Nilaya by Asian Paints wallpaper. The minimalist living room is furnished with a cushy couch, a half-moon table, a rocking chair and a rug from Carpet Kingdom.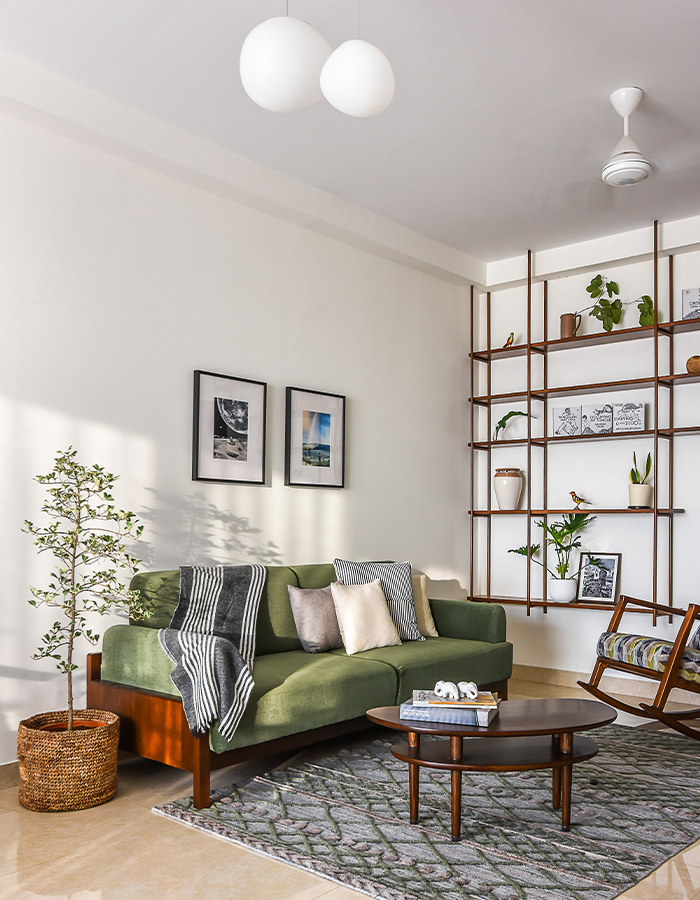 An open dining zones abuts the living room. It is set towards closer to the balcony in the way a breakfast nook typically is. It is functional and open, creating an elegant and fuss-free atmosphere.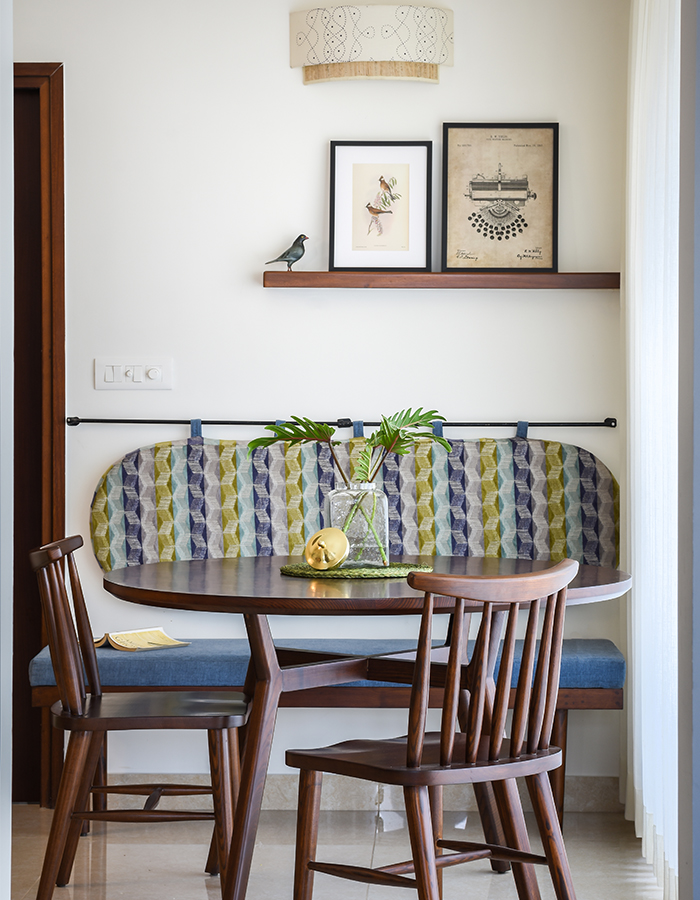 While the home is drenched in blue hues, accents of solid wood brass and subdued upholstery imbue a sense of harmony throughout. Seamless artworks are placed along the walls and desks to align the residence's visual rhythm and develop an unrestricted flow of spatial interaction.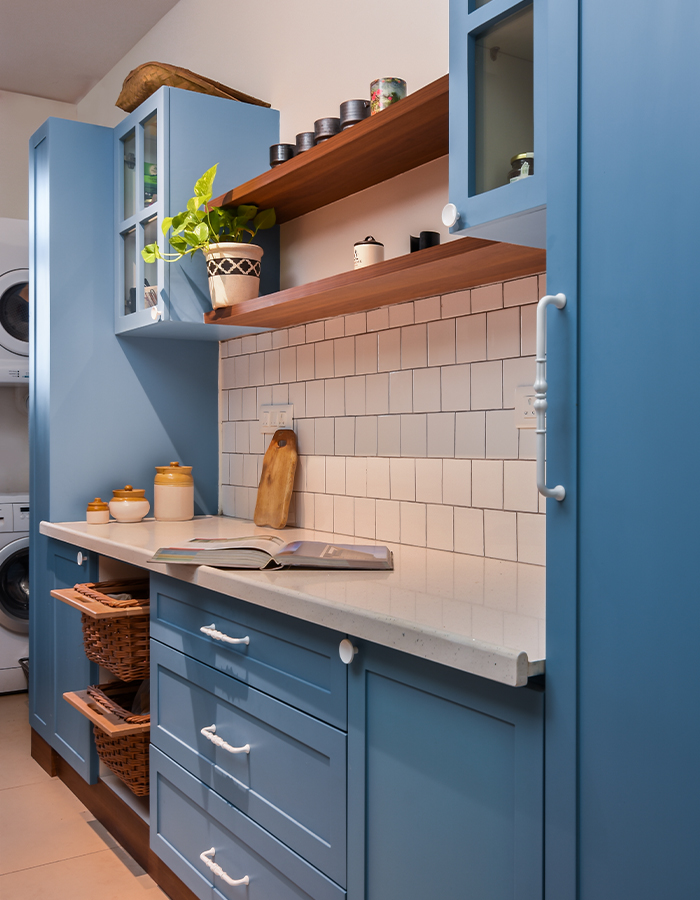 About the material and colour palette, Padmam says, "We started with the thought of using calm, soothing hues but did not want to go entirely pastel. The pop of blue in the kitchen dictated the colour scheme of the rest of the home. In all, white walls served as the perfect backdrop for the many shades of blue, wood tones and muted green couch used."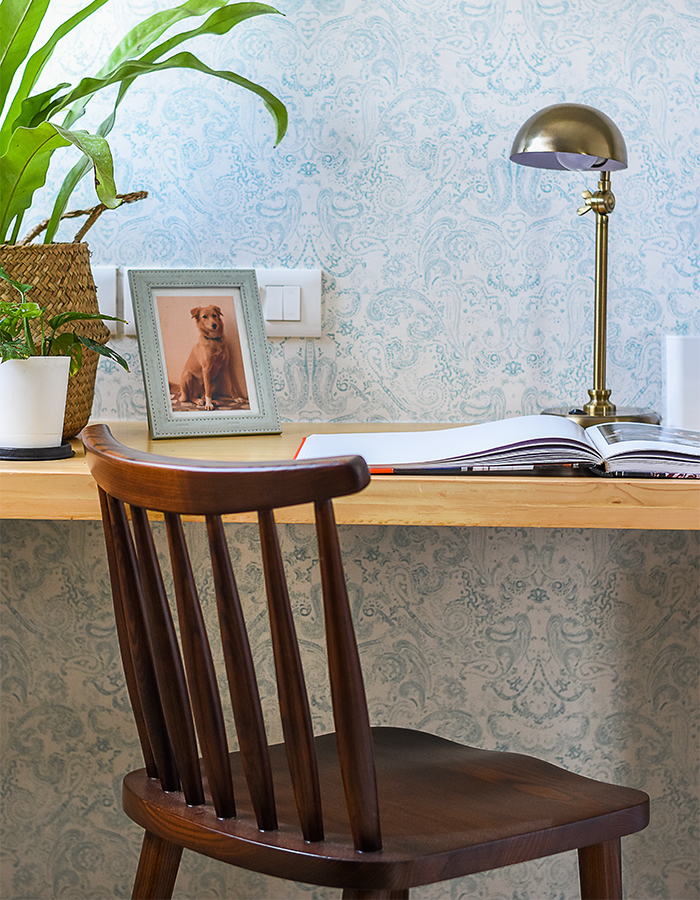 A blend of colours, textures and playful elements are seen in the master bedroom. The white wall-to-wall wardrobe is juxtaposed with the rattan airing closet at the end, where a laundry basket is placed in a recessed space. While aesthetics have played a big role, functionality took centre stage in the design of this residence.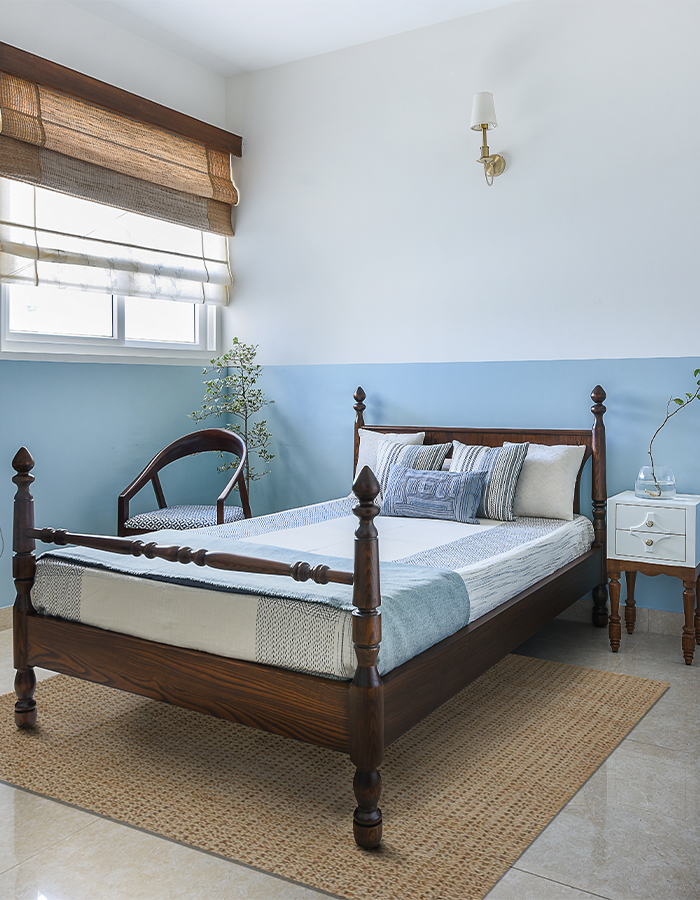 Keeping in mind that the couple works from home daily, the guest room is converted into a home office. A pinewood ledge and subtle blue wallpaper from the Nilaya Collection are planned here. Plus, having multiple plants and terracotta artefacts in this space lends a tropical feel.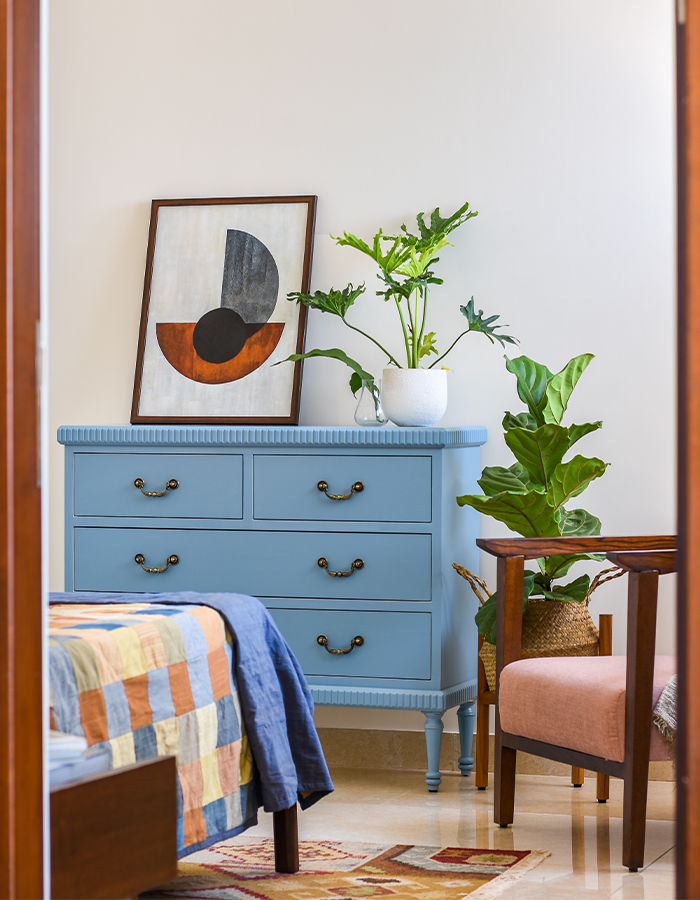 The powder blue colour palette sets the kitchen apart from the rest of the abode. Since there was no separate utility zone, Padmam fitted washing and dryer units here. From a hidden broom cabinet to vegetable baskets, the kitchen packs all the functional aspects within its limited square footage.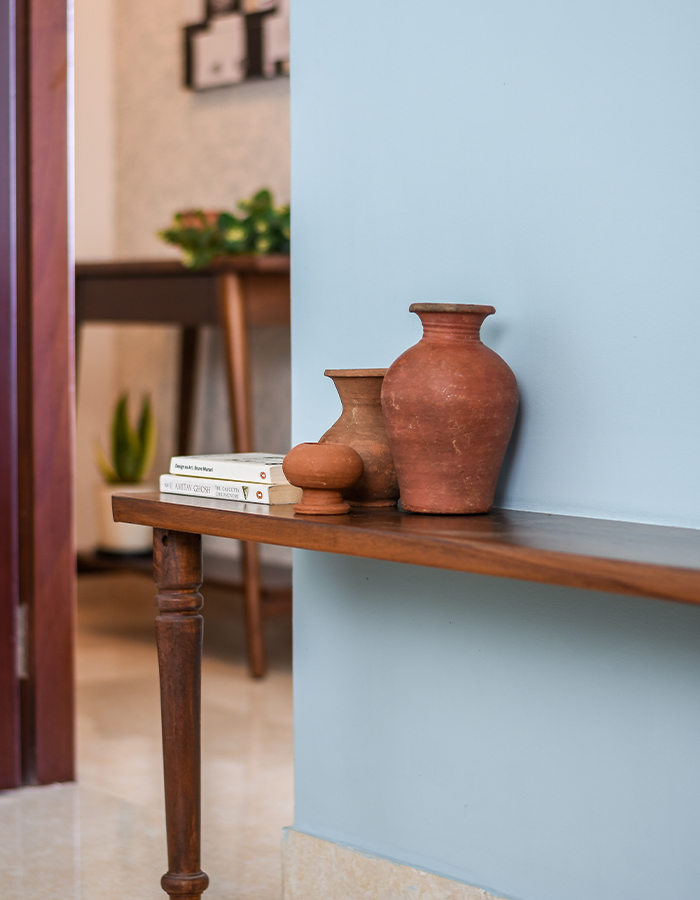 "We believe in a minimal design style and maximum use of locally crafted products and materials. Our design philosophy is rooted in designing spaces that age gracefully and we use materials that do exactly that! It is why, in this home, we've employed wood and natural fabric," concludes Padmam.