Design
From culinary delights to charming decor, the shroom is booming and blooming!
AUG 7, 2022
| By Shriti Das and Shriya Goyal
Equal parts deadly and delicious, mushrooms have been tripping and how! And like all good trips, the path has been anything but ordinary. Fun turns, a few surprises along the way, many discoveries and even incited a war. It is believed that the Austrian emperor Charles VI, fell to his death after eating a meal of mushrooms reported to be the deathly Amanita phalloides. What transpired next was the War Of Austrian Succession that lasted almost a decade and involved 11 countries.
But on the other side of fatal agony lies culinary luxury. Take for instance the rare white truffle of Europe, the Japanese Matsutake Mushrooms and the Himalayan gucchi (coincidentally resonating with Gucci) that are not only elusive to find but painstaking to procure. This funny, bizarre and fascinating fungus has over 10,000 variants. And closer to home, it has found way into equally outlandish decor avatars. ELLE DECOR India digs in! 
Every Day is a Protest—Wooden dolls by Princess Pea
The set of six Daadi sculptures fabricated in Ankudu wood represents women taking ownership over their lives. The artist wanted to break the common misconception around older women—innocent, weak or incompetent. Manifesting a different approach, the sculptures are portrayed as capable women that are strong, compassionate and defiant. 
The artist says, "Mushroom for us, is about resistance and survival. DAADI to me is wild, womanly, and complex; a symbol of resilience, a life coach, and a book of memories. Every Day is a Protest celebrates the power of grandmothers' movements in India and the world over."
Humanoid Coral 2, 2021 by Vinita Mungi
Hand built using coils and fired at 1000 °C – 1200 °C in an electric kiln, Humanoid Coral 2, 2021 is inspired by nature and natural looking forms. The work explores technical aspects of ceramics by combining two types of locally sourced clay—red terracotta and black fire clay varieties.
With its reproducing nature, the presence of mushrooms are prevalent in design and art in the current times. Vinita believes, "I use representations of mushrooms liberally in my work because I find them quite unique in nature. It doesn't resemble a flower or a plant or an insect or any other direct organic thing; it has its own form aesthetically and genetically. Its ambiguous nature reflects exactly what I am trying to convey with my notions about normalising gender and sexuality in society." Vinita's work is an exploration of what ceramic sculptures can be while pushing conceptual ideas and thoughts that might not be normative in society.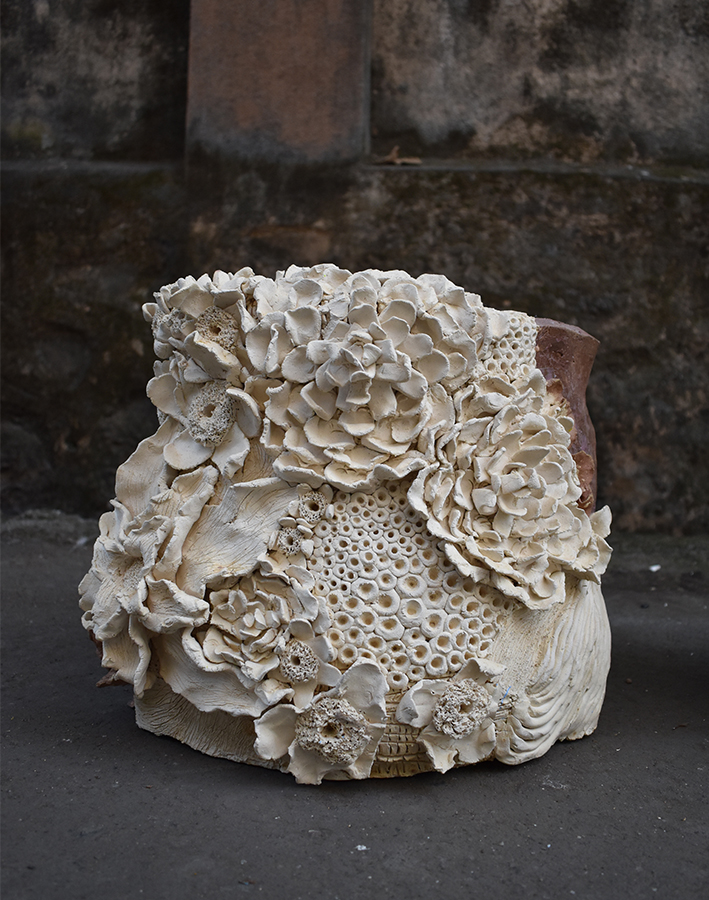 Raja Sculpture by BoConcept
A characterisation of the mystical, fascinating world beneath the surface of the sea, this coral sculpture in resin captures the beauty and uniqueness of a petrified coral. Raja Sculpture may not be a direct influence of the mushroom form, but its subtle shade and unruly layers is a testament to nature and a reminder of beauty worth preserving.
Chanderi Silk and Cotton Wall decor panel and wall hanging by Vaishali S
Inspired by the unruly nature of mushrooms that alter the structured silhouettes of the fabrics, these decor panels and wall hangings are inspired by the essence of nature. Vaishali expresses, "My whole research in textiles runs around handloom and hand work on one side and nature and its representation on the other side. Conceptually I have always been inspired by mushrooms as a critical part of the life cycle. When everything seems on the edge of perishing, there comes the energy of mushrooms that manages to rebirth with beautiful shapes and colours. Inserting them in garments bestows movement and vitality."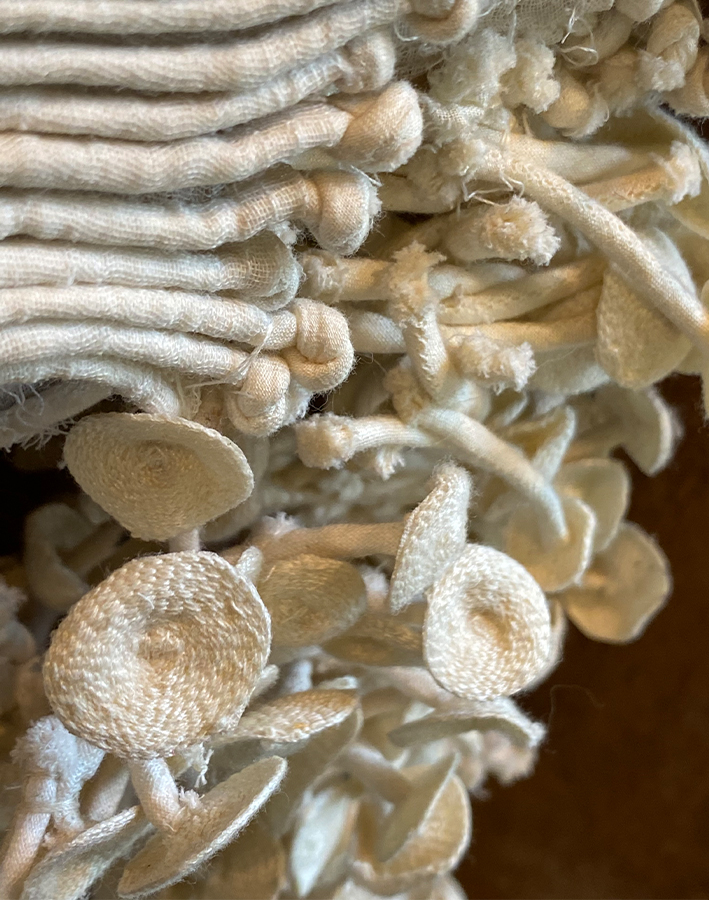 Rio in Travertine and Bloom by Harshita Jhamtani
A result of experimentation, Rio in Travertine is a take on the existing design with a variety of marbles. Carved out of a single block, the fluting details compliment the design. On the other hand, inspired by the process of growing, the Bloom stoneware lamp is handmade to represent a blooming flower.
Reminiscing the journey of this collection, Harshita says, "A year ago, I fell in love with clay and decided to use it to create some objects. Tackling the complexities of this otherwise flexible material, it took three months, four techniques, a lot of ruined clothes, countless failed pieces and help from the experts, to announce this series of five clay table lamps. For me, craftsmanship is not about making something that meets expectations, but creating something that changes them."
Voicing her take on the mushroom form, Harshita reveals, "Numerous designs and designers are inspired by forms in nature. The flexibility and versatile character of the mushroom form makes it acceptable globally. It's safe to say that this form has been around for quite some time and I believe it's here to stay."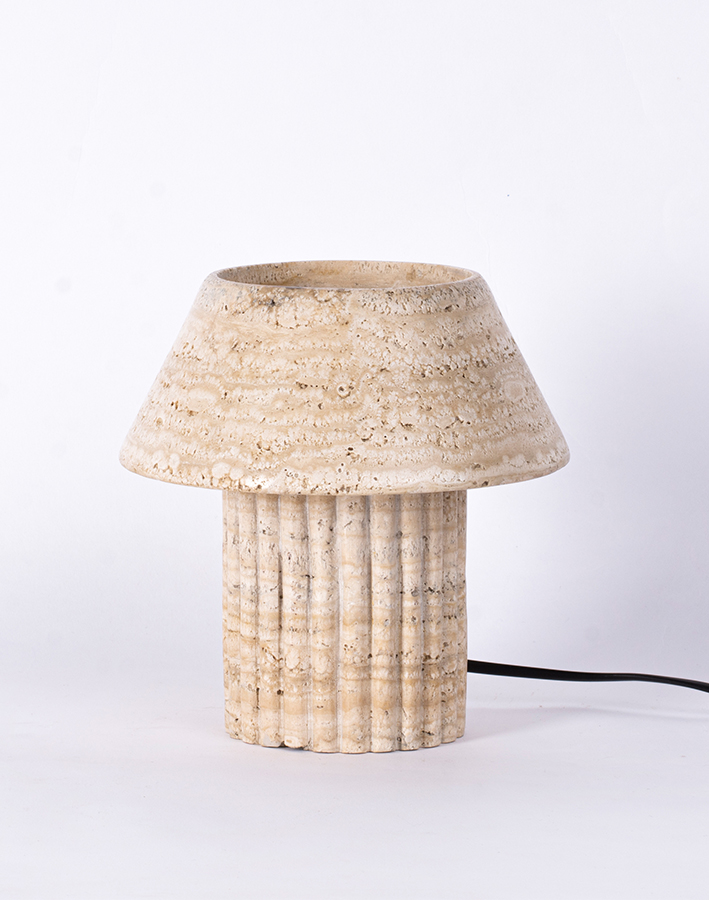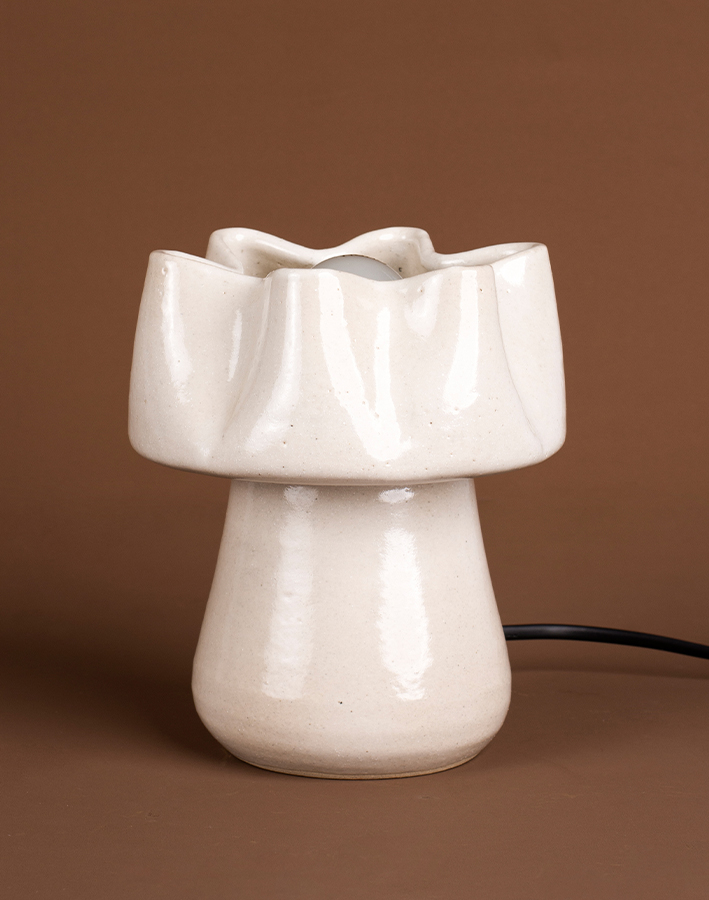 Mr. Bibendum and Lapel fabric vase from Dialogues by Nirmals
They stretch, shrink, tilt and flip over! By not being eternally the same, the Bibendums show an infinite variety of expressions that will keep the humdrum away. Portraying an important element in the history of fashion—collar, the Lapel flower vase is a collar for when you arrange flowers. One can spread the collar open to lay the flowers on the surface or fold it together and secure with a clip. Enjoy a lifestyle where you can fix the collar to bring flowers to life.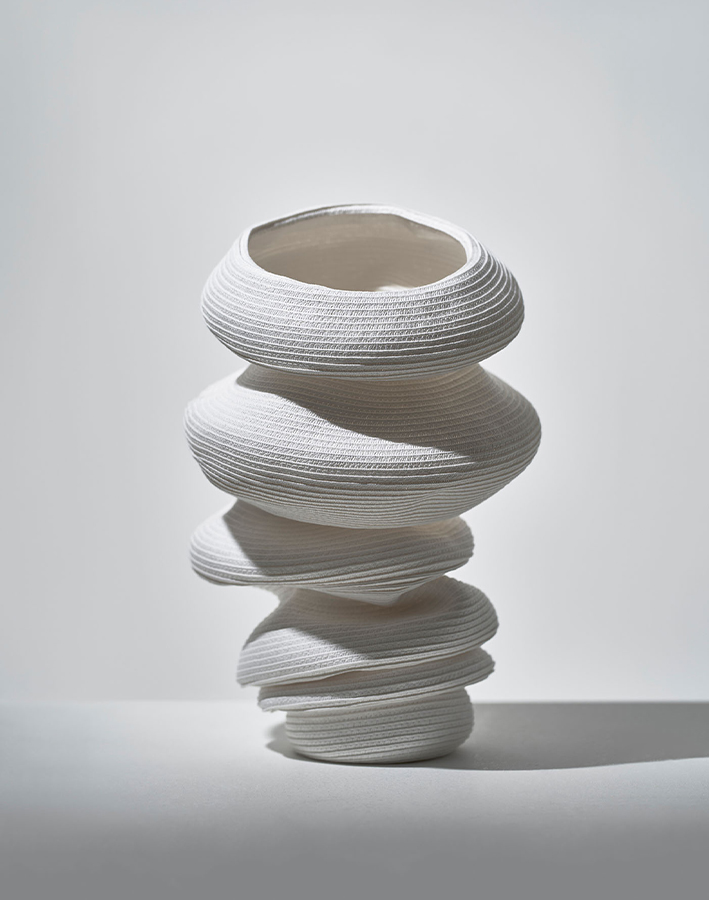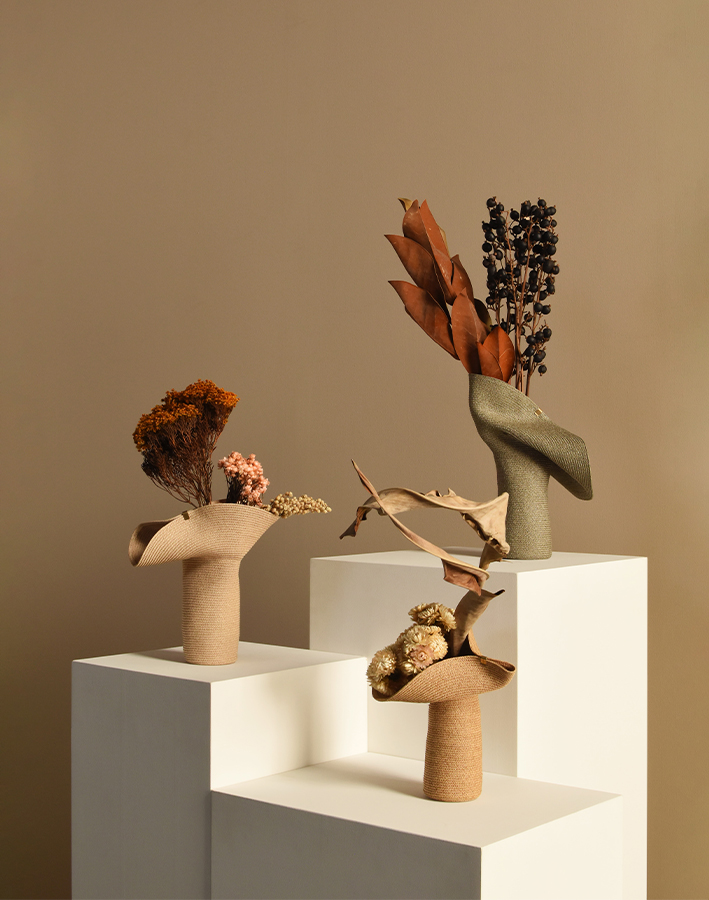 Large and medium Earth vase by Cottons and Satins
Inspired by natural elements—ocean and earth, the Earth vase brings an organic charm to spaces. Crafted from fine porcelain in shades of brown, grey and white, the neutral tones, intriguing shapes and rustic textures come together to make them a statement piece.
The brand expresses, "Mushrooms have been trending in the design space for over a year now. There is something magical about them, from mushroom shaped lamps to embroidered motifs on upholstery fabrics, they are everywhere. I think it's the appeal of the shape and the mystical quality of the properties that mushrooms are associated with that delights people and keeps interest alive. The fact that we still don't know about all the possibilities with mushrooms as material or medicine makes them exciting; especially since where there is possibility there is hope and that's what everyone needs the most in this post-pandemic world."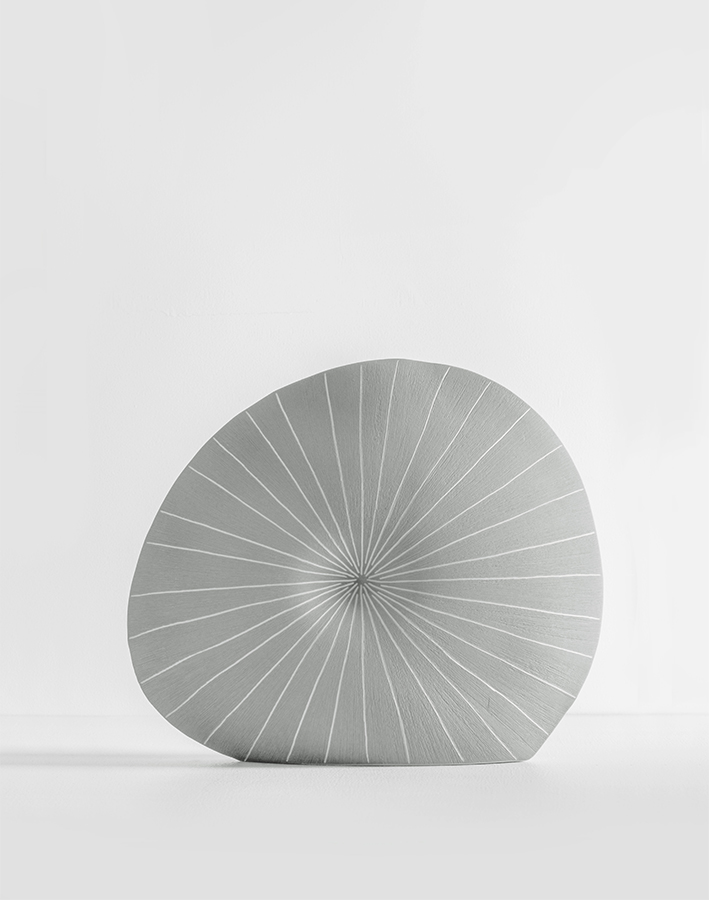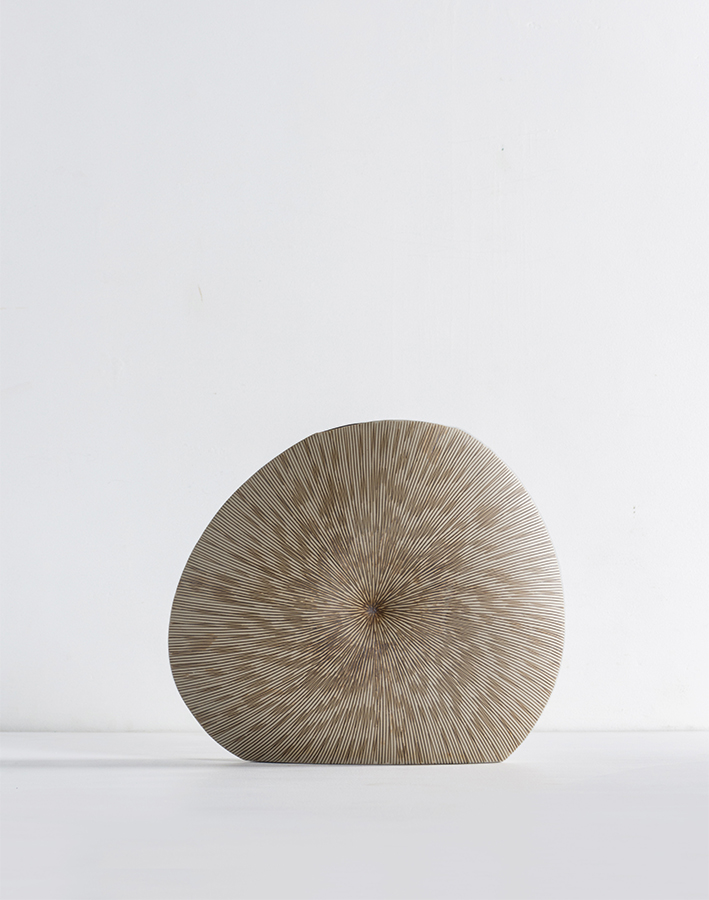 FLOS Bellhop lamp by Defurn
Resembling a mushroom, with its pillar and circular umbrella top, the FLOS Bellhop lamp is designed by Edward Barber and Jay Osgerby. Evoking the spirit of a candle, this portable tabletop lamp can be carried from room to room, casting a pool of direct light wherever it goes.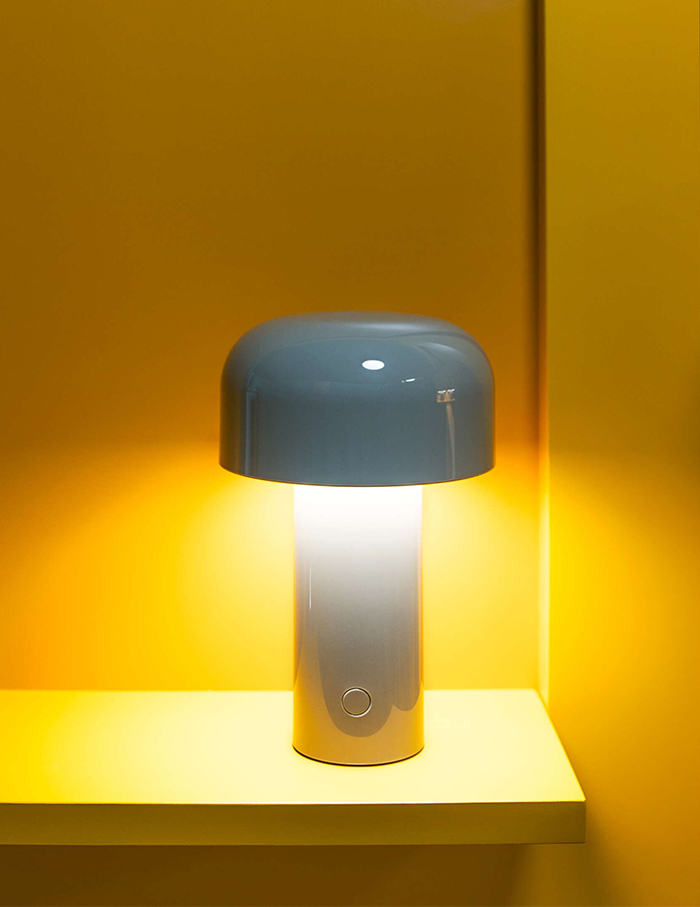 You may also like: The curious case of Chandigarh chairs by Pierre Jeanneret