Homes
Fresh air, serene aesthetics and luxe design—#EDLoves these splendidly crafted outdoor spaces!
MAY 22, 2021
| By Jayasmita Ray
As we miss being outdoors like never before, simple activities like walking barefoot on freshly mown grass or diving deep into an oasis of chilly water feel like a distant dream. Fret not, let's take a look at a few attractive outdoor spaces all over the country! Crafted by architects and designers, not only are these spaces a culmination of refined modern architecture with ecology but also offer an elevated sense of relaxation!
#EDCurates a list of the most calming and serene spaces by designers from across the country! Read on…
Spaces by 42MM ARCHITECTURE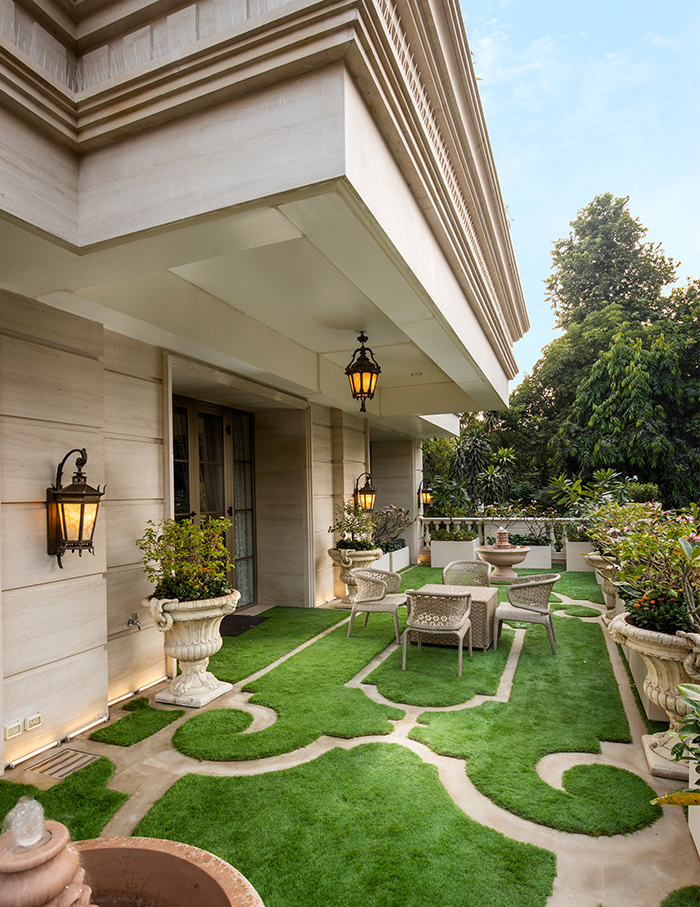 Stylised green intersections at different levels of the 42MM ARCHITECTURE house visually enlarge the dimensions of the plot in which it is set. The ground floor terrace adorns a classical flooring design accentuated by planter beds along its perimeter. Creating a serene ambience this space strikes an extensive character further enhanced by tasteful interiors.
A Farmhouse (see scroll above)
Camouflaging with nature, the verdant architectural intervention by New Delhi based firm 42MM ARCHITECTURE encapsulates a serendipitous personal space to unwind from the city bustle. The farmhouse is an oasis of evocative elements that revitalise through engagement with the environment. Blending modern design with traditional Balinese style, the landscape of the single-storey structure is rooted in the earth to create a seamless visual flow.
An abode in New Delhi (see scroll above)
Conscious use of plants by 42MM ARCHITECTURE as an embellishment is viewed throughout the house. Planter chandeliers as an art installation for the deck area add to the contemporary yet vintage soul of the space through ornamentation. The layering of textures and a diverse material palette consisting of wood, metal, concrete and stone is used to create a unique experience.
Spaces by A SQUARE DESIGNS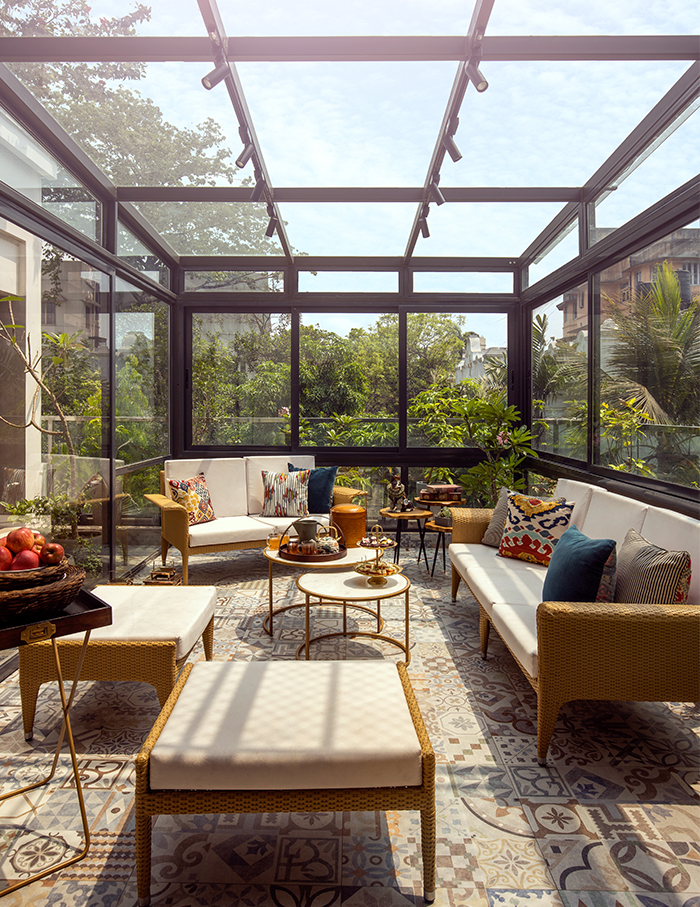 The Glass House by A Square Designs encompasses a charming terrace space with glass, allowing residents to celebrate the outdoors in style irrespective of the seasons. Geometric patterned tile flooring emanates a refreshing Mediterranean vibe complemented by elegant outdoor cane furniture in a neutral palette, further accented with vibrant textured cushions. A blooming Frangipani plant, hand-picked chic decor accessories and serve ware render perfect finishing touches to the conservatory-style outdoor space! Balanced contrasts of colours and prints add to the delightful environment.
Part of the Alipore apartment in Kolkata that Ajay Arya of A Square Designs has recently finished curating, the Glass House, is an exquisite marriage of a scenic place that bridges the home to its lush green exteriors. Sprawled over 350 sq ft, this lively terrace space attached to the day room is covered with glass using an MS structure and aluminium windows. The place is perfect for a lazy afternoon tea, or for a relaxed party with friends and family under the starry sky. The rotating track lights allow the owners to create a stunning ambience, stirring varied emotions through the senses.
Spaces by ESSENTIA ENVIRONMENTS
(see scroll above ) Gurugram based luxury design and architecture firm Essentia Environments embodies the amalgamation of noble traditional and sleek modern reaches, adding new dimension with the interesting interplay of rich materials. An expression of striking beauty, originality meets iconic design in the patio setups, refined by sculptural silhouettes, sumptuously composed furnishings and fine details.
(see scroll above) The earthy colour palette and tailored details showcase understated luxury in this welcoming patio by Essentia Environments. Statement décor pieces with distinctive furniture lend an exciting demeanour to the patio space.
Spaces by MADS CREATIONS
Envisaging a chessboard with the cadence of chequered black and white flooring, created using marbles of contrasting colours, the porch area by MADS Creations is an immaculate vision.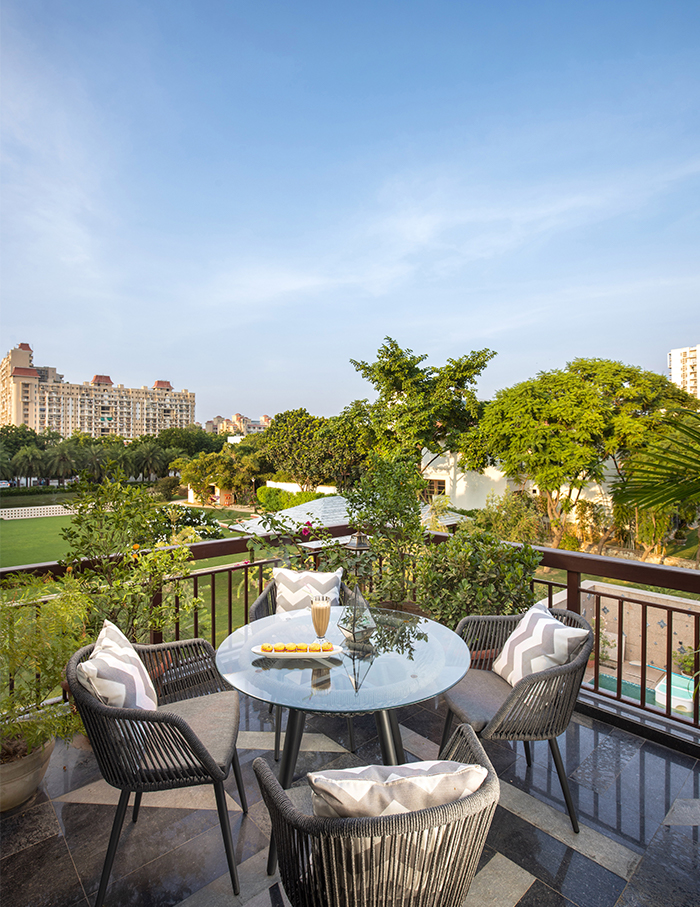 The outdoor space on the first level of the house recreates a patterned granite flooring to add excitement and expression to the green surroundings.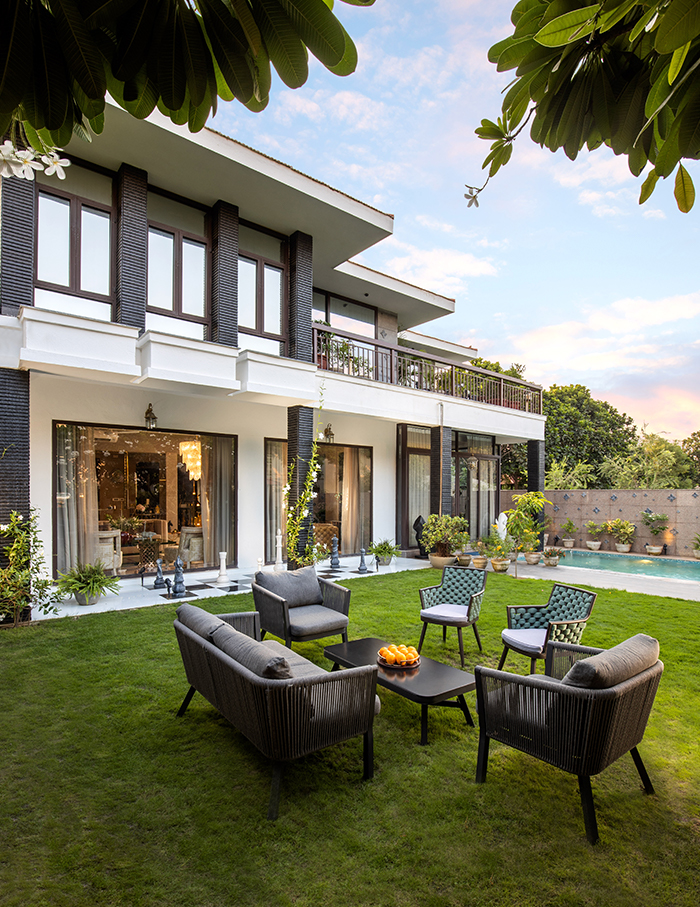 Green, clean and elegant, the outdoor areas of this MADS Creations luxury home in Gurugram brims with striking design elements and nuanced details. Custom woven outdoor furniture, stylised tiles of the swimming pool, as well as the details on the wall behind the pool, rejuvenate this expansive soothing lush lawn. We love the serene flow of the space brought to life by intricate details, textures and contrasting finishes!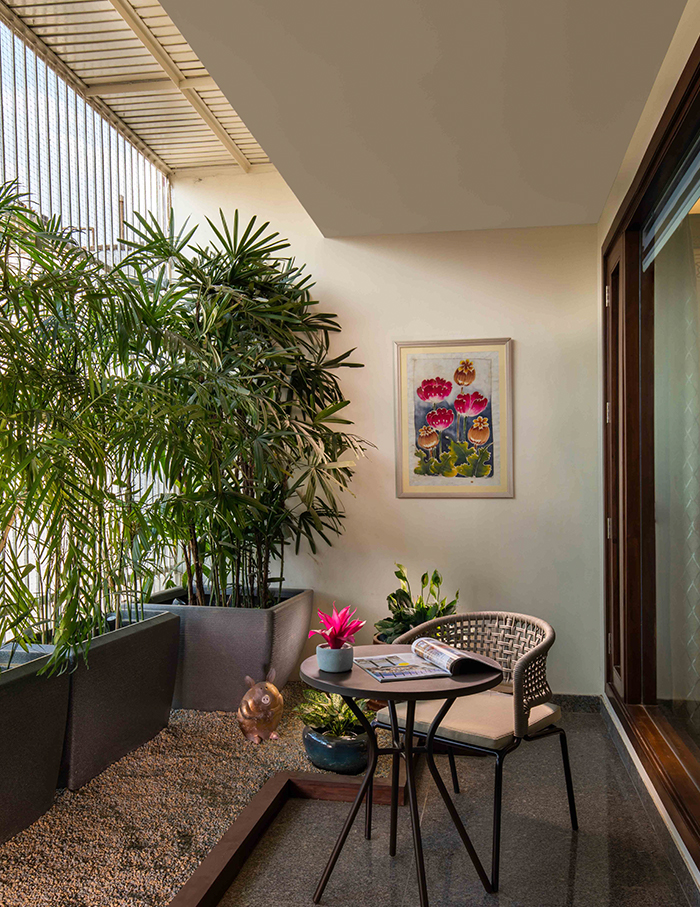 Luxury homes by Pramod Group reimagine this balcony space clad in earthy tones with granite flooring and pebble skirting. It serves a dual purpose by being the perfect spot for solitude as well as for a relaxed gathering with family and friends. Tall potted plants, bright artwork and outdoor furniture exude a sense of warmth and visual comfort.
(see scroll above) Bathed in greenery and light, the terrace area by Pramod Group is designed like a conservatory with MS grill and fibreglass ensuring unrestricted ventilation and comfort. Creating a bright and fresh environment equipped with weather-proof patterned wooden flooring, artificial grass and potted plants makes this outdoor space perfect for every season!
Spaces by APARNA KAUSHIK
(see scroll above) Organic landscapes lie deep into the designs by Aparna Kaushik giving a respite from the hectic pace of life to rekindle with the landscape and interiors. The tranquil landscaping has an intimate connection with the spaces of the house that reveal themselves from various angles through expansive windows in this farmhouse. 
(see scroll above) A rustic wooden pergola surrounded by foliage and wooden benches by Aparna Kaushik along the periphery of the wall creates a stunning outdoor space perfect to unwind while you gaze at the urban skyline!
A luxury pool house by BEYOND DESIGNS
(see scroll above) Watch how traditional design elements meet utmost luxury to create this elevated gazebo pool by Beyond Designs. With ambient lights on and the wonderful glistening pool, the gazebo transforms this opulent congruence of material, colour and form into a magical space!
An elegant conservatory by CHROMED DESIGN STUDIO
(see scroll above) The conservatory designed by Chromed Design Studio is a must-have for today's sophisticated trendsetter. Stunning clandestine chandeliers exude an intensified charm of this glass conservatory designed by Abhigyan Neogi. Incorporating wooden flooring, cane furniture and a muted colour palette, the space exemplifies minimalistic luxury. With a modish seating setup and a seamless view of Humayun's Tomb, this conservatory serves as the most remarkable area of the house. Poised interiors from Outdoor Furnitures and Emanate Home adorn this space.