Homes
Dappled in warmth amidst the forests of Khandala is this home by Shiraz Jamali Architects
OCT 2, 2023
| By Rajlakshmi Dastidar
Emulating the majestic contours of mountain peaks, the architectural frame of the Forest Home symbolises the family's deep passion for backpacking and their profound appreciation for the wonders of the natural world. Standing firm in the centre of a 20,000 sq ft plot is this home where nature yet again becomes the protagonist of a home, metaphorically and literally, entitled the Forest Home.
When Shiraz Jamali, Founding Architect, Mohit Darji, Project Architect and Mammen Paul, Associate Architect of Shiraz Jamali Architects were approached to design this 2,400 sq ft space in Khandala, Maharashtra, they zeroed down on one significant aspect — melding metal into the exterior of the treehouse-inspired A-frame while inside wood ruled the roost!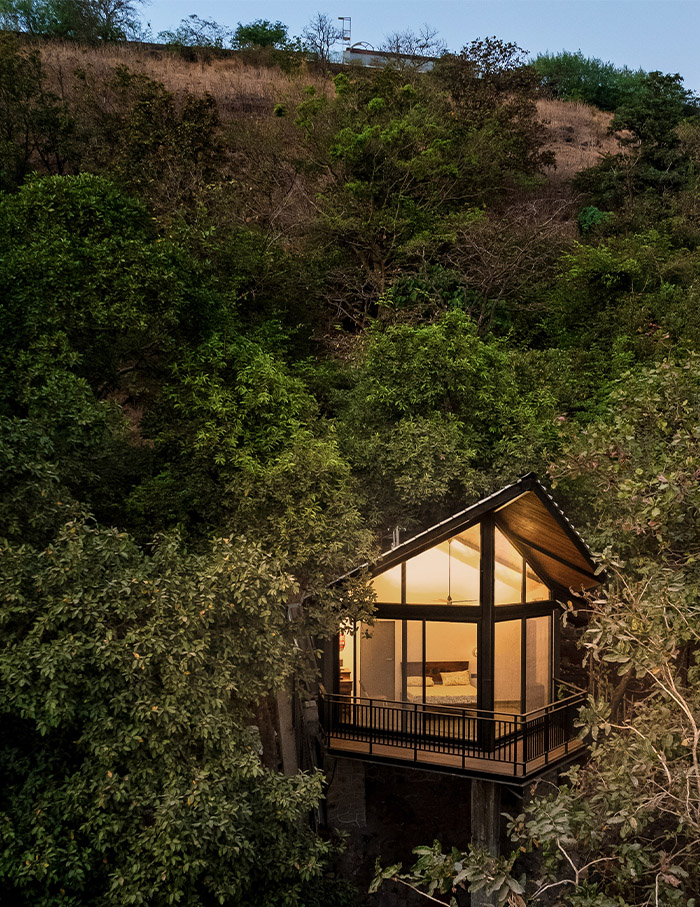 Truly-tree-mendous
Effortlessly mitigating the boundary between indoors and outdoors, the metal A-frame structure of the Forest Home is sewn astutely with nature, precisely the thick foliage that it's nestled in. 
"Detailing the structure was most pleasurable as this was our first encounter with stew structures. Designing the roofing and its flashings and various connections was most challenging," enunciates Shiraz. Charting a path to sustainable living, the design language revolves around an eclectic visual style which pulls elements of rustic aesthetics with a touch of modernity. 
Creativity treks off the beaten path
Bringing in the elements of the forest and hills nearby, the double-storied, A-frame takes cues from the site's 1-metre slope from one side and responds with a stepped design. At the same time, the area represents a self-supporting tree house with an en-suite toilet accessible by stone steps carved through the terrain. 
Going further, one will notice a staircase bridge that merges both A-frames together. The glass facade on both sides leads you into the double-height open kitchen and dining area that extends towards the pool deck.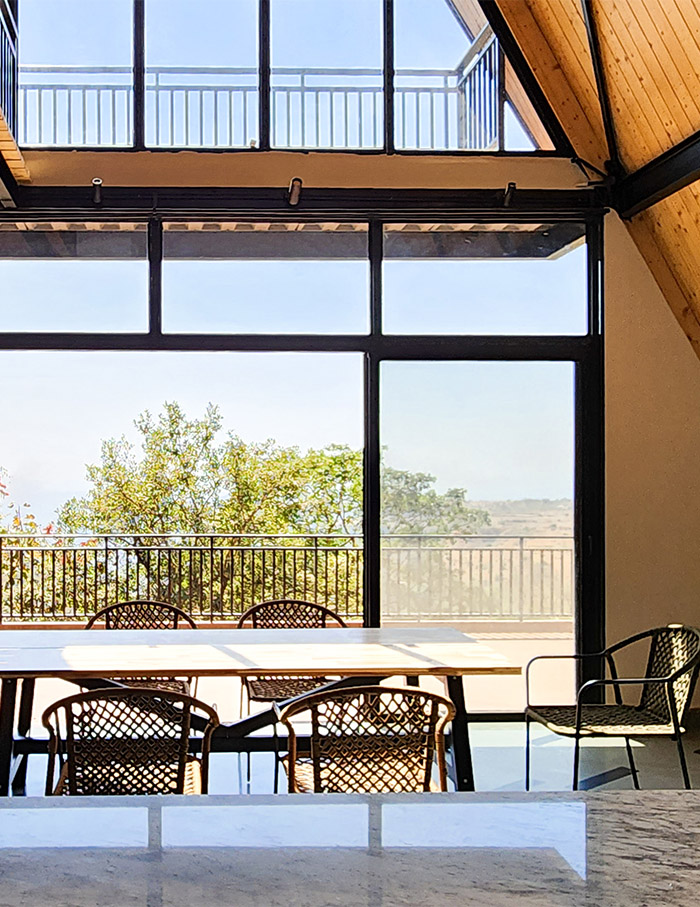 Picking a favourite corner might be difficult but the living room, opening into the deck is like a dream come true with a commanding view of the garden on one side and vistas of forests towards the rear. Climbing up the stairs, each A-frame houses a bedroom with a balcony. 
Only a handful of materials and a limited colour palette for finishing are used in the house. The design team chose a metal roof that merged durability with lightness. They handpicked galvalume sheets, known for their enduring qualities and natural silver sheen.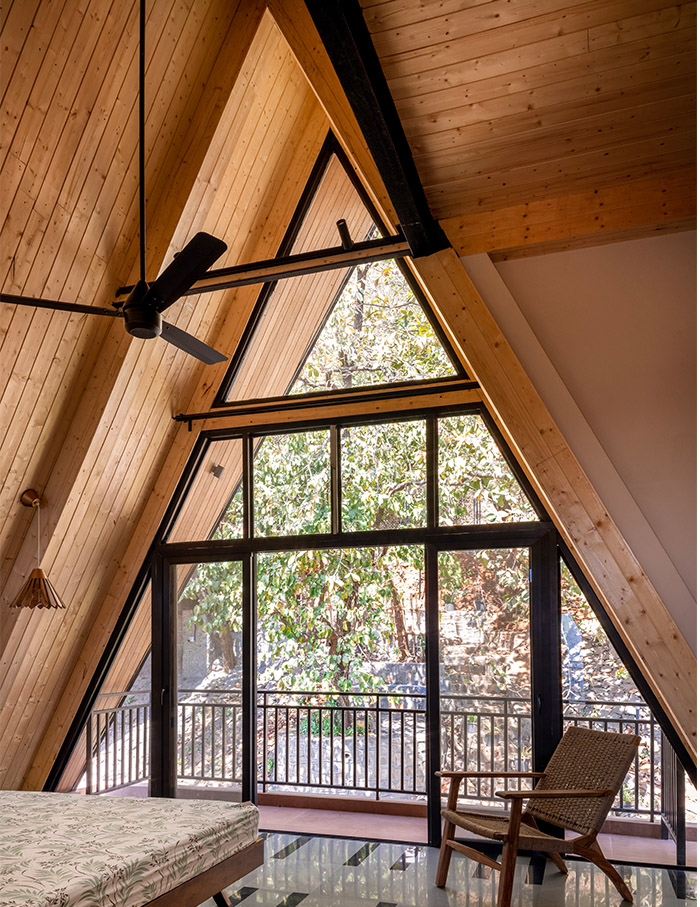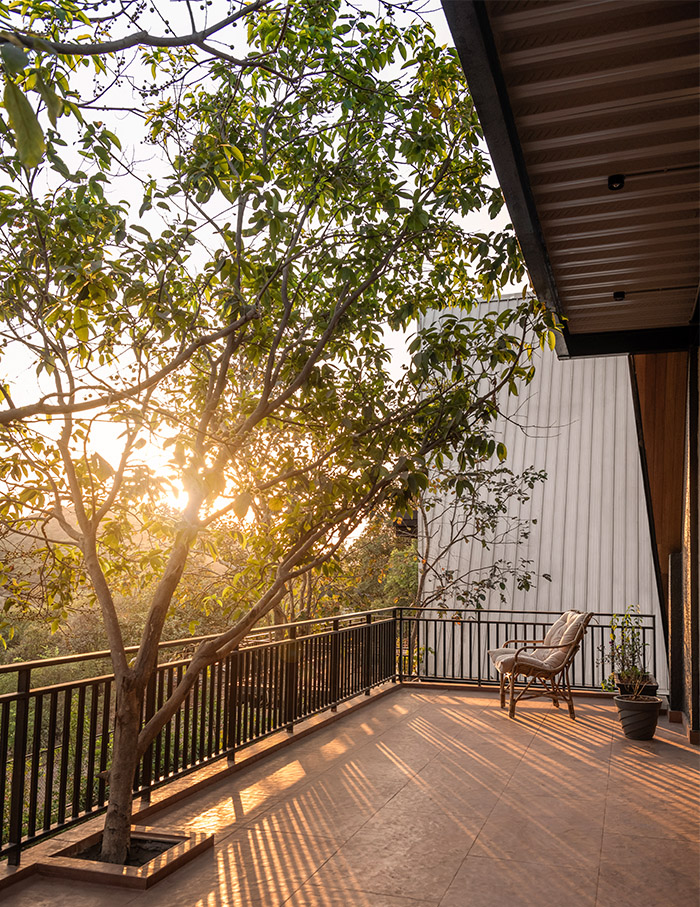 This reflective surface dances in harmony with the striking contrast of black structural frames. These contrasting elements are enhanced by the warm, woody hues dominating a staggering 75 per cent of the interior ceiling, resulting in a masterpiece that captured the imagination.
Navigating this challenge was no walk in the park, like embarking on a backpacking adventure across rugged landscapes. The Forest Home is designed in a way that a simple and sustainable choice emerges — building small on expansive plots, leaving just a 12  per cent footprint. It's a humble harmony with the land.
You may also like: Where the grass is greener: Nakul Munim rethinks slow and soulful living in an Alibaug home