Design
Food takes centre stage as Neogenesis+Studi0261 designs a platform for Churn'd by Multi-seed to display their cherished delicacies
FEB 20, 2023
| By Siddharth Babani
Multi-seed's latest offering in the developing Pal district in Surat, could well be a metaphor for a theatre where food embodies the actor and the restaurant its setting. Manifested by the need for minimalist design, Churn'd by Neogenesis+Studi0261 uses muted palette with a spot of red to abridge the design aesthetic with the brief provided by the owner. 
With a Scandinavian influence at the heart of design, lead architects Chinmay Laiwala, Jigar Asarawala and Tarika Asarawala, crafted this 668 sq ft café around the principles of  hierarchy and functionality.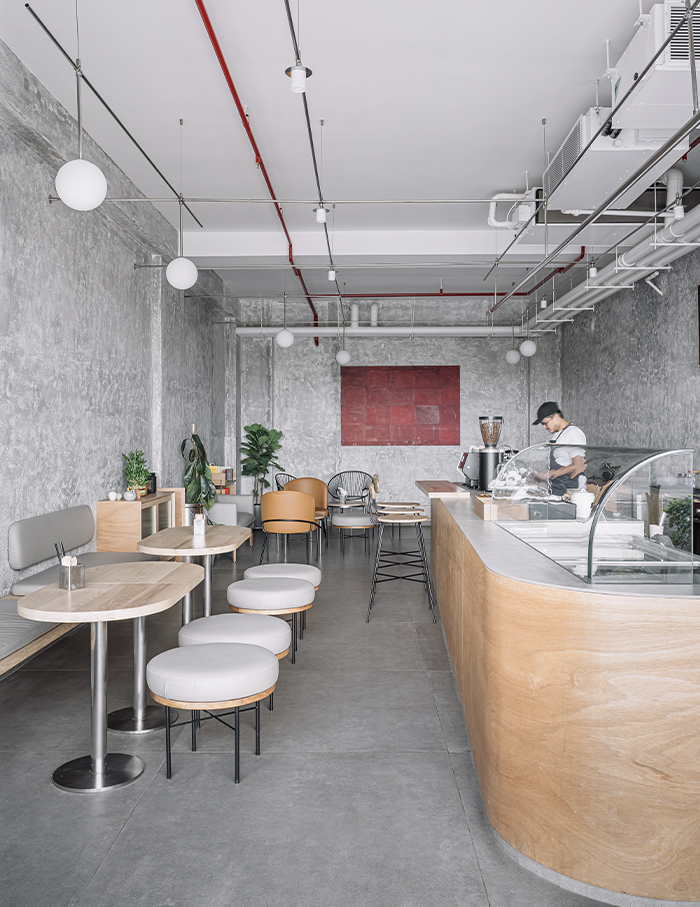 A pop of colour breaks the monotony of the stark grey walls that defines the design approach to the space. The dark crimson artwork draws you into it's depths where you find yourself surrounded by a motley selection of seating options that further demarcates the space creating segregation and privacy. 
A rather large wood-panelled counter revels in its sense of place, while seating is allocated along the periphery of its interiors. Aside from sustaining the delectables, the countertop is highly utilitarian and easily accessible, so as to create a divergence between customers dining in, to those stopping by to pick up their treats.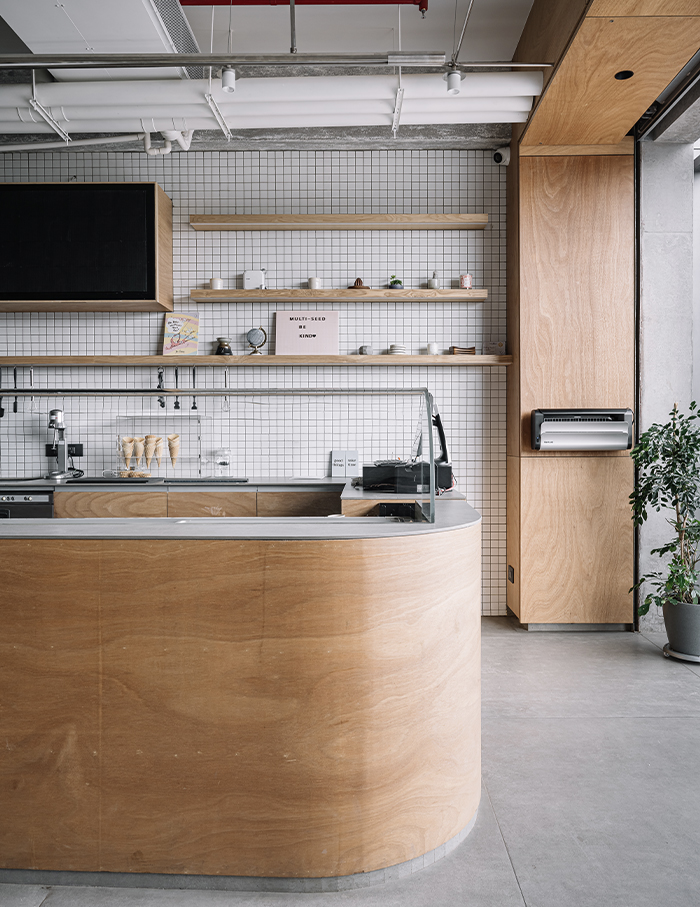 Sitting over a lovely wooden frame, a dark green sofa is placed beside the counter. It forms an intimate corner for well-acquainted customers. A pair of steel frame chairs embellish the far left corner of the store along with a little library, a discreet unit with its fluted glass shutter, to keep customers entertained. Another seating arrangement can be found near the front of the store where a grey backrest and grey cushion deck the wooden bench flowing against the left hand side wall. 
With the quality of light being an important element, the architects used this opportunity to add a touch of the contemporary. Bespoke spherical fixtures fitted with Chip on Board LEDs keep the space well lit.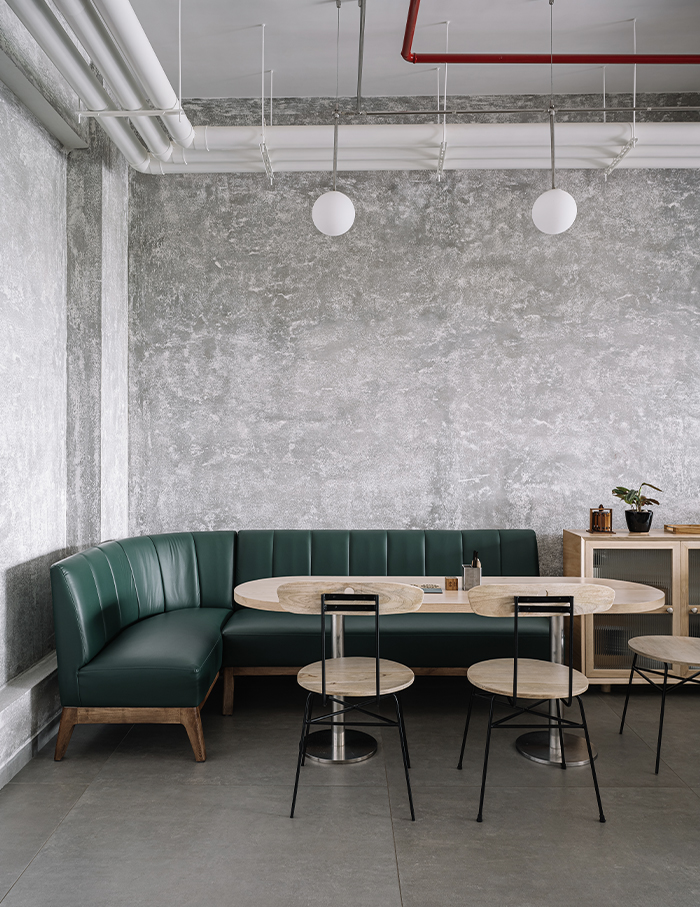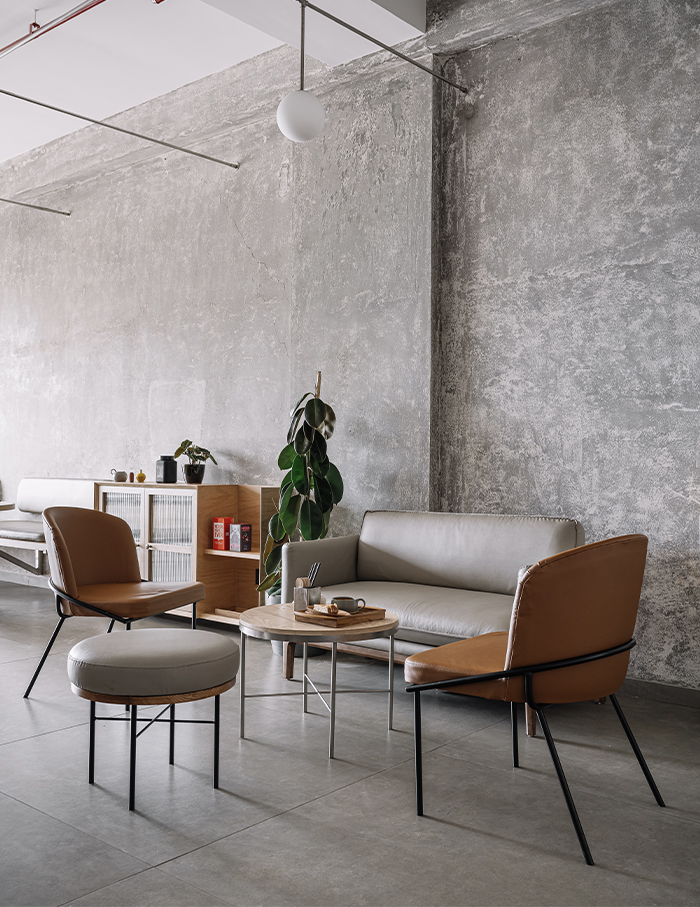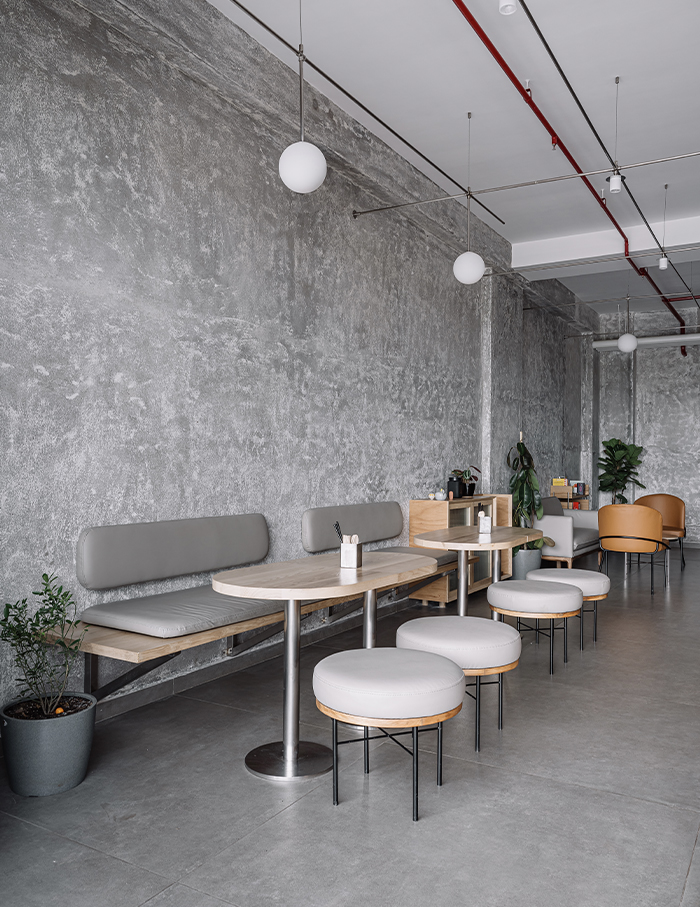 Having experimented with a variety of textures and colours, Neogenesis+Studi0261 have brought a sense of warmth and comfort to the space with the use of soft fabrics and hand polished reclaimed wood. In contrast to the clean lines of the furniture and the delicate ceiling lights, the textured walls are an alluring addition to the store. The confluence of style exudes gravitas – a bold concept contributing to a memorable experience.
You may also like: Myriad discourses take shape inside the expansive flagship store for Dialogues by Nirmals in New Delhi