Design
Fondest memories are made when gathered around the table. Here are memorable restaurants which you need to bookmark ASAP
JAN 3, 2023
| By Akshay Bipin Luthiya
As the quote by Alan D. Wolfelt goes "Food is symbolic of love when words are inadequate," restaurants are the go-to gathering place be it for Gen Z or Millennials. 
Creating a festive atmosphere with a mixture of cuisines, cultures and choices, ELLE DECOR India brings an edit of restaurants that offer delicious dining options by curating a happy marriage between ancient and modern varieties without compromising on quality and quantity. 
Traditional Italian trattorias inform the design of this pizzeria at Mumbai's Jio World Drive. Inspired by the energy of a traditional Italian kitchen, designed by principal Asha Sairam of Studio Lotus, the eatery offers diners numerous ways to interact with the live kitchen by introducing a variety of sights. Motodo is a celebration of familiar details that cohere into a veritable portrait of Italy's intimate relationship with food. It is an ode to the hospitality and conviviality that the country is renowned for and speaks of nostalgia for a largely bygone era amidst the hubbub of the 21st-century food scene. Taking cues from the Italian approach of high-quality craftsmanship, the space is furnished with marble, timber, leather, and wrought iron furniture manufactured by Lap and Dado as well as vintage decorative lighting.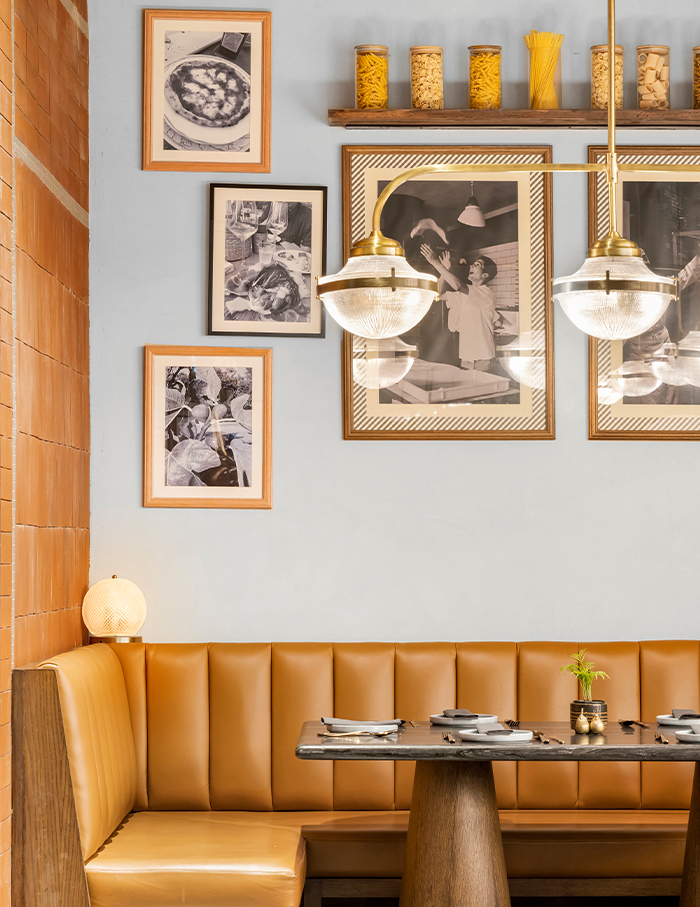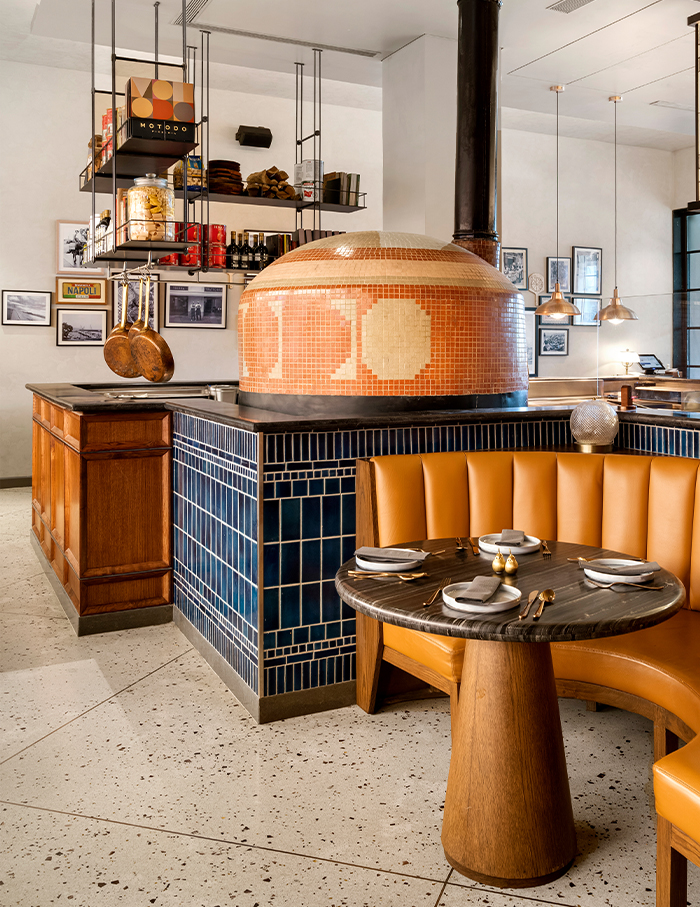 The Petite Pie Shop, a new Parisienne bistro with a classic French flair by Chef Vanshika Bhatia channels earthy and relaxed French elegance with its laid-back approach to cuisine. Casual and chic, this bistro welcomes you with open arms, whipping you into a frenzy of mouth-watering pies, pizzas, quiches and tarts along with a variety of coffees and teas. Chef Vanishka Bhatia says, "Our new bistro is at an iconic market which is central and known to all. We are also introducing a new concept of Petite Plates, which are bite sized appetisers to compliment the beverage menu." Grab a quick bite or have an uncomplicated power lunch here as Petite Pie Shop generously caters to a diverse array of taste buds. Let your inner chef create the magic as the place lets you craft your own pie!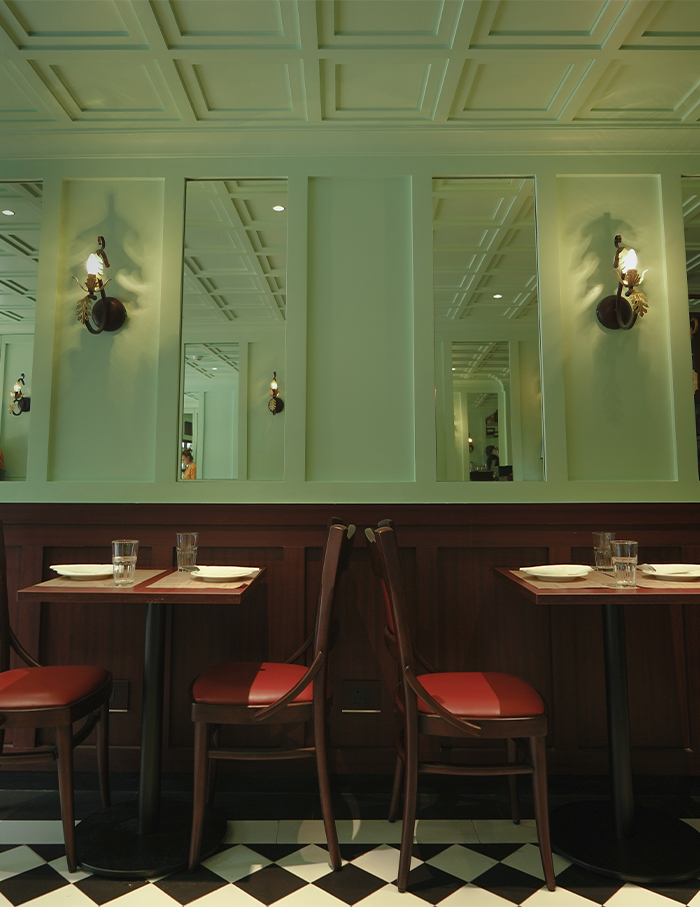 This aesthetic and zestful cafe, conceptualised and designed by Chromed Design Studio, led by architect Abhigyan Neogi, mentally transports one to the vibrance and serenity of Greece. Owing its name to Queen Cleopatra, the owners envisioned the place to have a simple and clean-lined architectural design with pops of contemporary appeal with the very essence of Greek elements. The nonchalant, free-spirited and pioneering design elements come into play to lend a contemporary aesthetic to the space, fostering impressionable experiences that will last for the users. Kleo celebrates top-notch and exceptional Indian craftsmanship that creates out-of-the-ordinary and functional interiors, relentlessly making its mark in the industry. Kleo is not just a lounge but a clean, chic and contemporary space, acting as an initiator of conversations.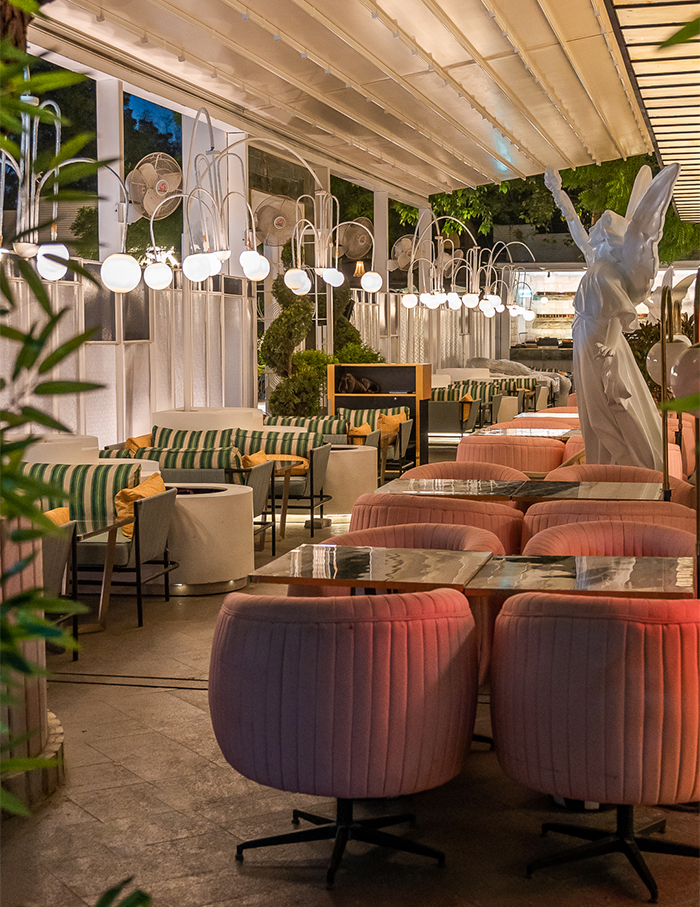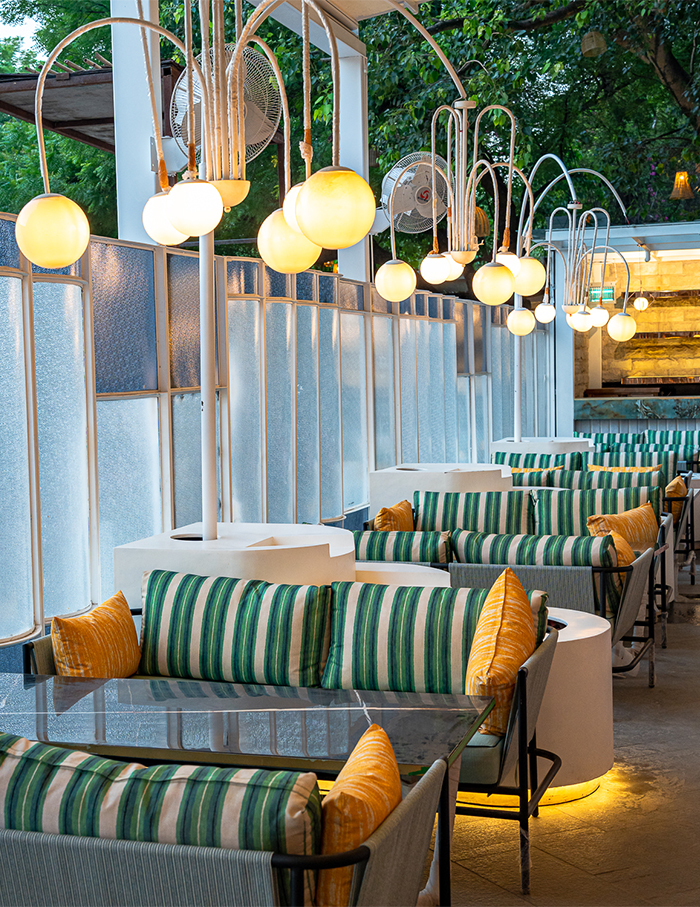 The Conservatory, Juhu founded by Suren Joshi and designed by Parzan Daruwalla and Natasha Chawla of Studio 6158 is a beautiful garden bar and cafe that allows its guests to connect with nature while they enjoy south-east Asian cuisine with European cooking style influences, with great local and imported produce. The space is adorned with muted decor made with natural elements and mushroom-shaped handcrafted light installations custom designed and brought in from Bangalore by the interior design duo. "The idea was to feel like you are in your friend's backyard or your friend's patio, enjoying conversations and celebrating special days amidst all the plants around." says founder Suren Joshi.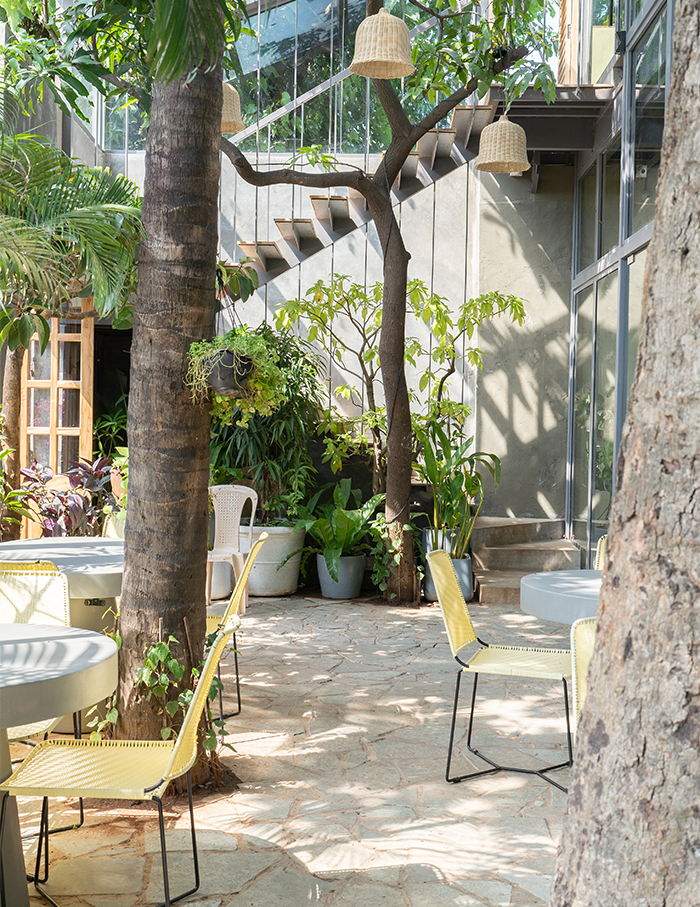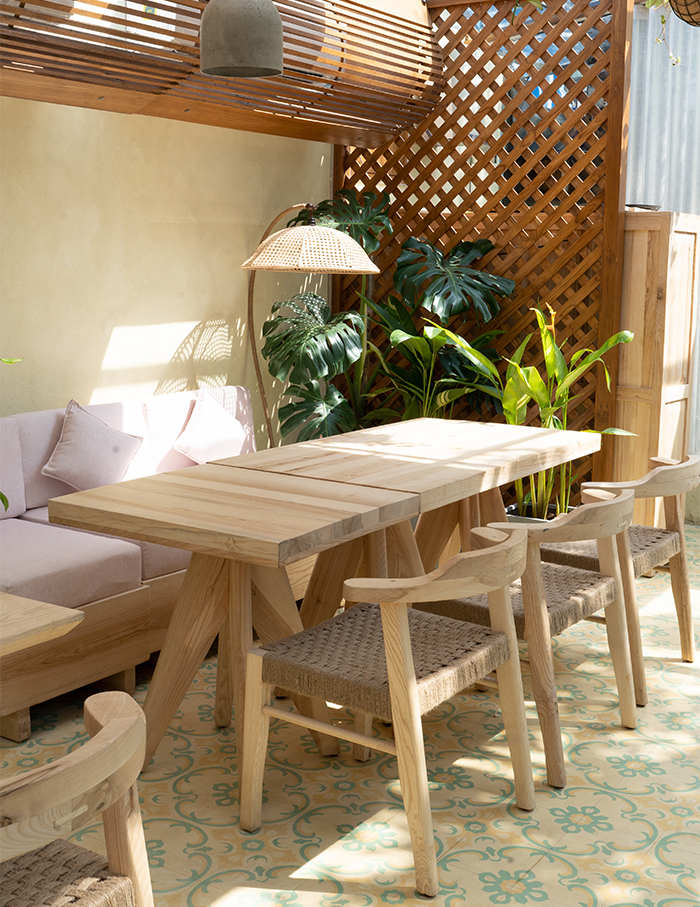 Demy, the all-new dazzling restaurant located in Kamala Mills, designed by Keith Menon is a breathtaking evolution of culinary adventures, founded by filmmaker Sanjay Shetty and the serial hospitalitypreneurs Chrome Hospitality comprising Dhaval Udeshi, Pawan Shahri, and Nikita Harsinghani. The authentic and sophisticated cafe, and bar, offers a wide array of global cuisines. It is a place where you can savour the taste of the most popular cuisines in the most relaxing setting, and exchange old memories with your loved ones, so get ready to embark on a flavoursome journey of a lifetime. The menu is a global comfort menu where there is something for every day- from all-day breakfast to mains. Each floor on Demy will have a different culinary experience.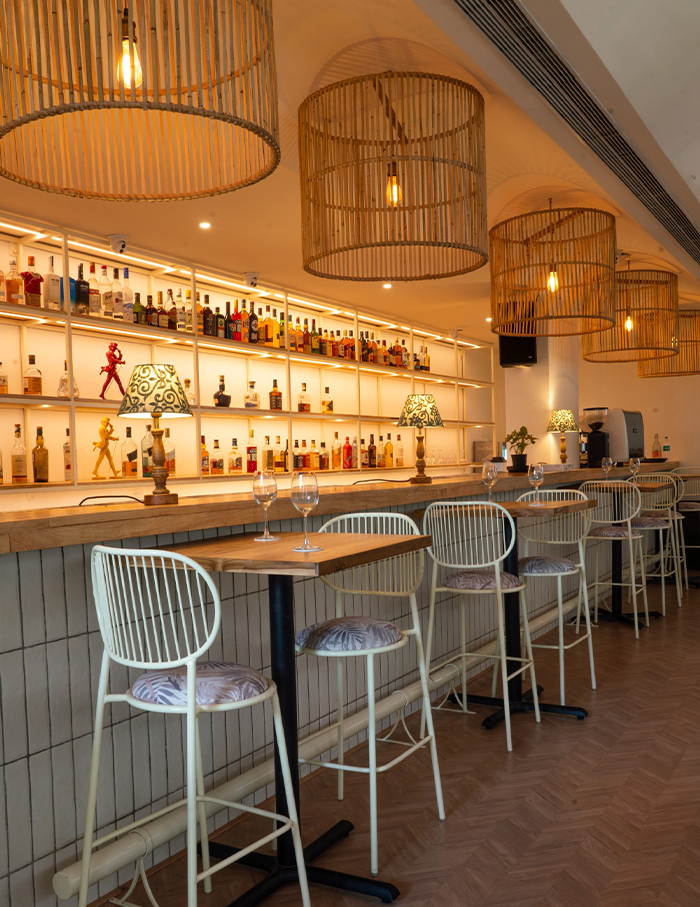 Located in Khar, founded by Anuj Chugh, Gaurav Parikh, Varun Chugh, and Ketul Parikh, this quaint restaurant is the perfect setting to engage in some heart-warming encounters with your loved ones and embark on a one-of-a-kind gastronomical adventure as you savour every flavour and enjoy some mouth-watering delights put together with artistic chef special culinary experience. "The restaurant is a subjective concept where everyone is treated as Saints," says  Ketul Parikh. The diversity and variety of the interiors soothe all of the senses. The soft lighting and smooth, relaxing music, intricate fabrics, and the refreshing aroma of the cuisines create a pleasant and relaxing vibe that swiftly elevates your mood and indulges you in a truly carefree and exciting atmosphere. The restaurant is all set to buzz with happy faces and loving embraces, while the tempo turns up in the background, making it a go-to restaurant that is second to none for fabulous dining or a fun night out. So book your tables NOW!
The newly-launched restaurant draws inspiration from founder Anushka Pathak's travels and Chef Akash Deshpande's stints across the globe to serve ingredient-driven cuisine right in the heart of Mumbai, in Bandra. Brought to life by Tejal Mathur Design, Nava's interiors mirror its name by diffusing an essence of simplified newness and freshness. While the doors and walls are infused with European classical elements, lending the furniture a light and edgy look reminiscent of a typical Parisian apartment, the irregular form and shape of the bar give the impression of being cut out of a deep wall. And then, there is the open kitchen where all the magic happens, giving the view of incredible plating of desserts in swirls and spots of Van Gogh and Klimt. Lastly, a hint of interpreted Banksy on the walls gives a surreal spin to the space.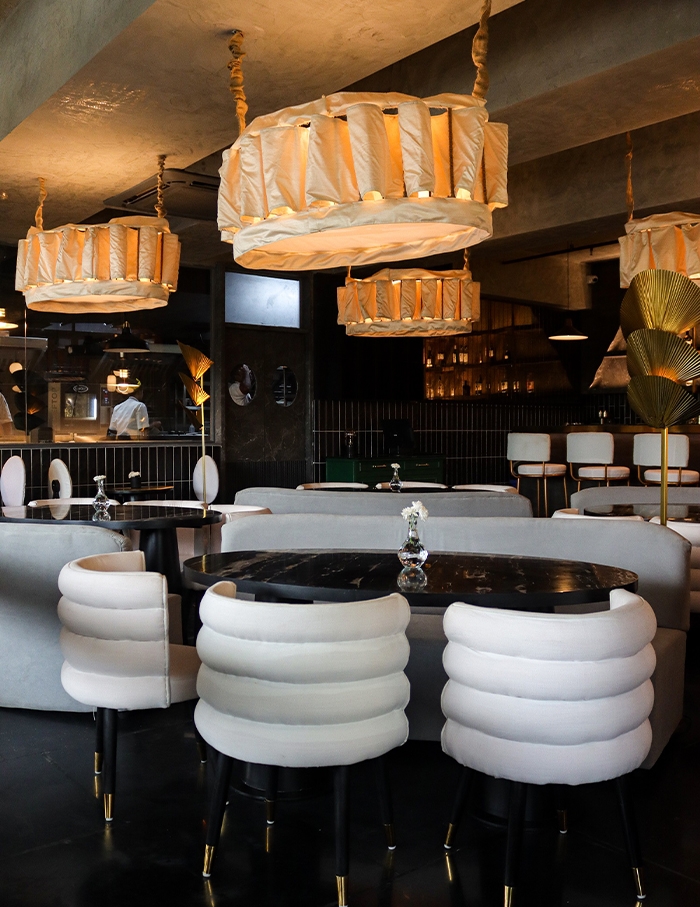 Inspired by Paris to give the users a Parisian vibe the moment they enter the space. The House of Bakers is an airy and polished venue in north east suburb of Mumbai, Mulund. It is designed in a neutral blush palette with a few touches of deep colour by Kiran Mistry, Founder and Principal of Studio Septray. A monochromatic hand painted wall art when viewed from a distance brings in a feeling of walking into the Paris streets. The entire beauty of this bakery lies in the 30' long back counter display with carved moulding and showcase of their delectable selection of pastries, cookies, cakes, breads and front counter with an Italian marble top and panelling with lamps mounted enrich the look of the bakery and provide the unique touch it needs.  Lined with their brand medallion on the floor to an uber luxury chandelier adds in more drama to an already rich ceiling landscape, it is this element that defines the space and elevates its look.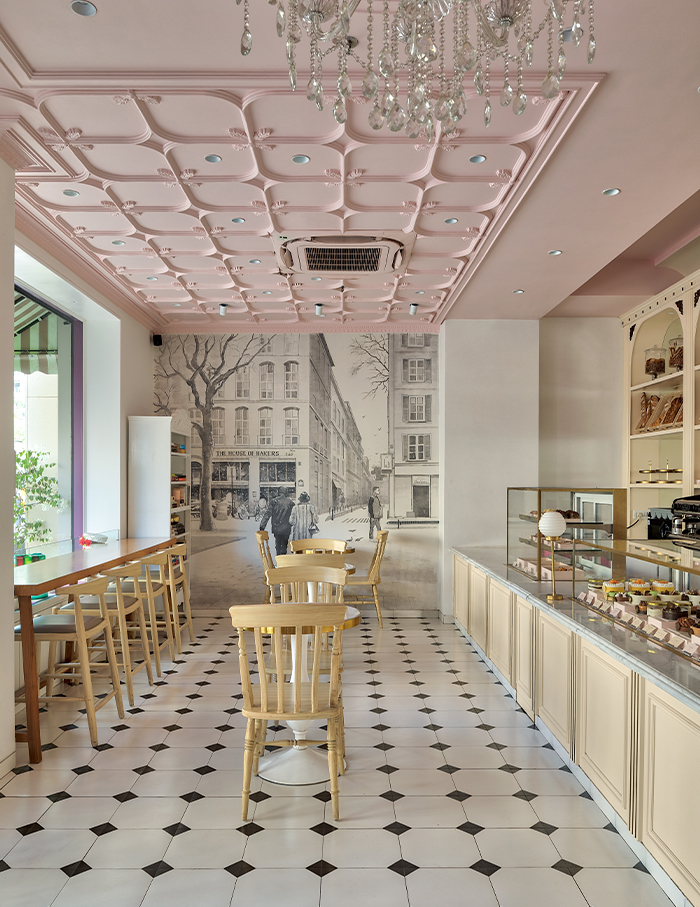 Juliette is a love affair between good food and fine cocktails. It's a vintage romance in the modern world. The food is inspired by Traditional European cuisine using modern cooking techniques. A place that curates gourmet food, delicious cocktails, and an unimaginable dining experience with international standards. To provide an international dining experience, that relates with the best in the world in terms of food, beverage, and overall dining experience.  A 4000 sq. ft. space with a premium dining area and a vivacious alfresco seating style are synonymous with the artist Sumessh Menon. The nature-inspired elements like the larger-than-life tree installation in the dining section and unique art wall features inspired by pea pods are sure to conjure up images of a pleasant day spent in the shade of nature.
Designed by 42MM Architecture, Levana brings focus to an impeccable homage to the Mughal and French architectural heritage of Lucknow. One of the striking elements is the Floating glass box with a glass roof which that converts into a dance floor. This area also houses a bar, a major attraction due to it being clad with logs of charred wood, embellished with metallic buckles and has metal and glass storage to create the perception of restoration. The restaurant is perceived as a restored structure due to its tactful placement as a backdrop to a 30' high wall cladded with bricks and held together with imposing metallic columns and tie bars to suggest it has withstood the test of time. From the regal interiors reminiscent of the heritage and legacy of the city's architectural history to the outside that shows the dense city fabric and its iconic structures, Levana truly gives not only a holistic feel to the city but also its underlying cultures.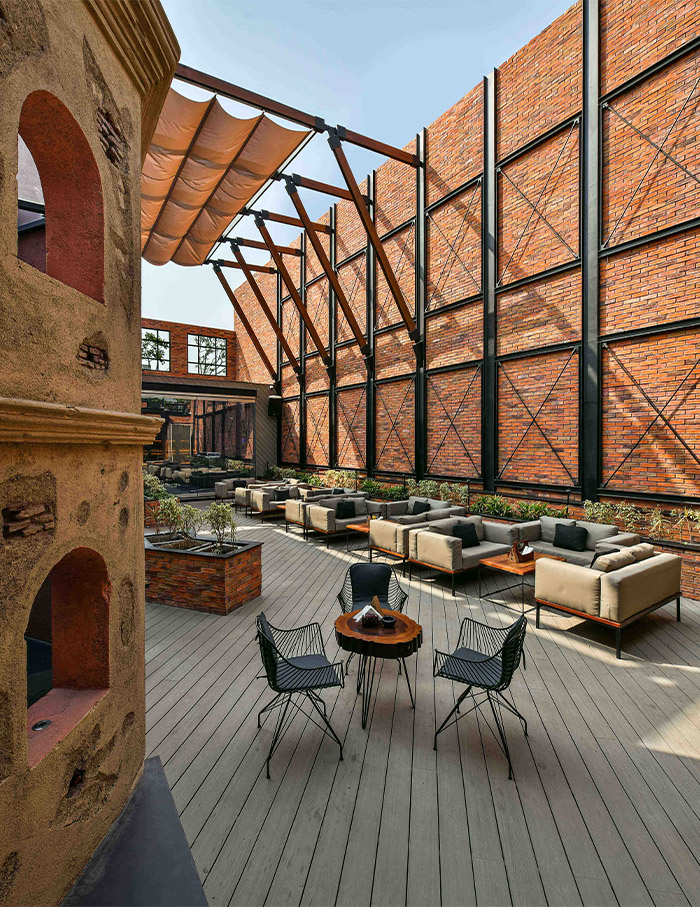 Akachōchin, New Delhi
An unorthodox retreat nestled in a newly rediscovered and revamped urban market space. Aesthetics splashed with pan asian flavours, firmly rooted in the idea of bringing the vigour of izakayas to the heart of the country's bustling capital. Akachōchin is Studio Dangg's eccentric endeavour to capture the essence of Japan's age-old street bars, and curate a space conducive to casual conversations and mirth over endless courses of food and drinks. The unmissable red signage for the bar along with the external neon lights catch the potential patron's eye by engulfing a strata of the façade in scarlet hues. The space effortlessly transitions from being a bistro fit for a quick catch-up over lunch to a speakeasy in the evening, perfect for energised conversations over drinks post work. The overarching ambience of the bar, which goes by the name of Gonzo, remains easy-going and unpretentious, silently encouraging patrons to settle in and lose track of time.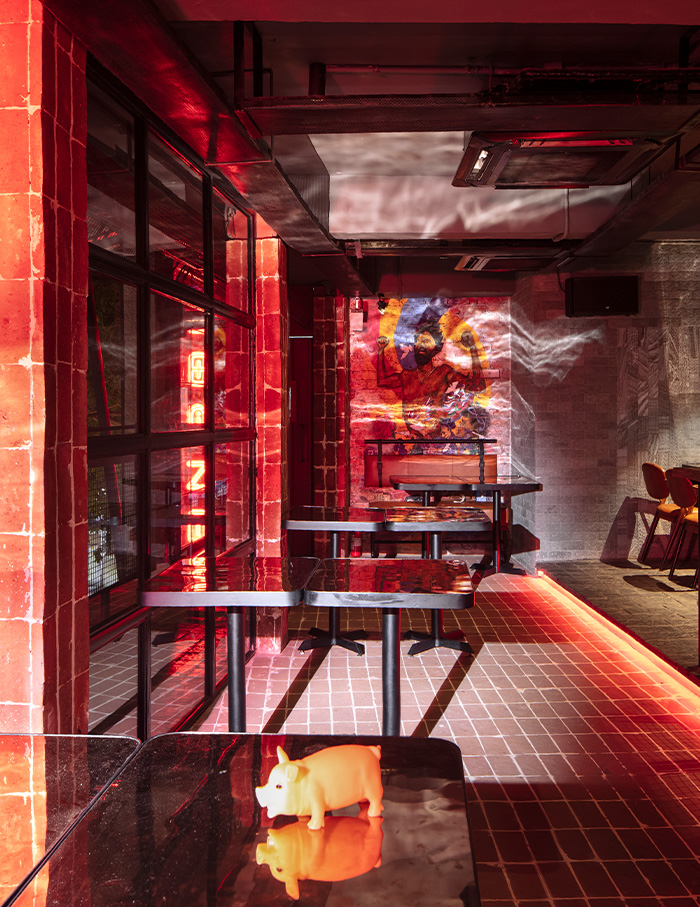 Eager to visit these restaurants? Make sure you check out this list too!