Design
Fine food and finer interiors: The most buzzing restaurants in Mumbai, Delhi, Goa and rest of India to bookmark!
SEP 19, 2022
| By Pratishtha Rana and Shrimohi Shah
What is my favourite thing to do? What do I wish I could do in excess and not face the repercussions? What is the best part about exploring new cities? So many questions, a straightforward answer – good food! 
Sometimes, a craving for scrumptious delicacies is not enough. We say that because, with an elevated ambience, the food becomes more than just a meal. It becomes an experience. ELLE DECOR India's curated list of restaurants brings forth a range of flavours that marinate well with their unique interiors.
Diona at The Grand Anukampa Hotel, Jaipur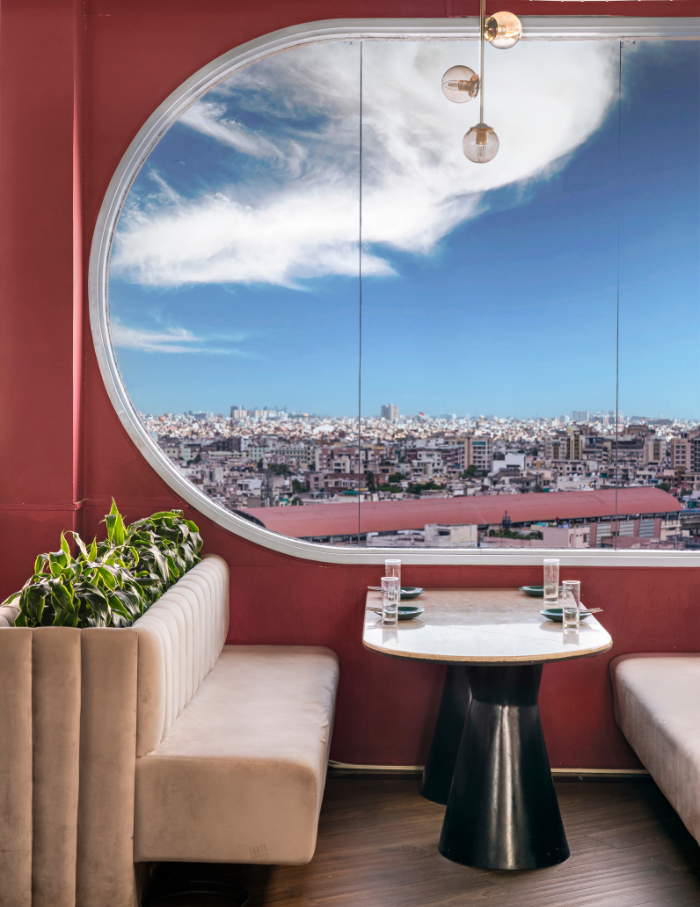 Diona by Chromed Design Studio is an amalgamation of volumes, niches, rounded curves, and monochromated themes. The stones and marble used, emulate the layout and dynamism of Santorini. The white-painted wall made of broken marble complements the labyrinth of arches and vaults creating a captivating contrast against the pink city scenery and making its eccentric design stand out. 
As one exits the elevator, a gleaming crystal ceiling is covered by a massive green wall with an artful emblem that is now buzzing on Jaipur's social media. However, Alfresco, the outdoor area has cabana seating, ivory gazebos, and natural ambient lighting which is a complete contrast to the crystals. Alternately, Diona hosts a dining space overlooking the infinity pool with an Instagrammable bar in the middle which gives a whole other luxe side to the space, alongside a private lounge that witnesses heightened views of the Jaipur sky. 
The Olive Cafe & Bar, Chandigarh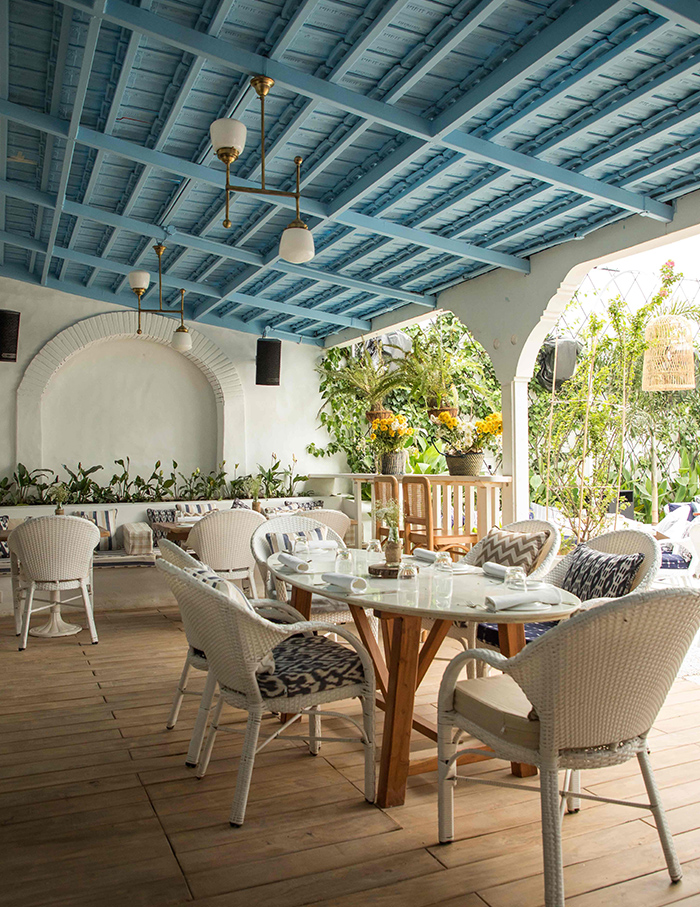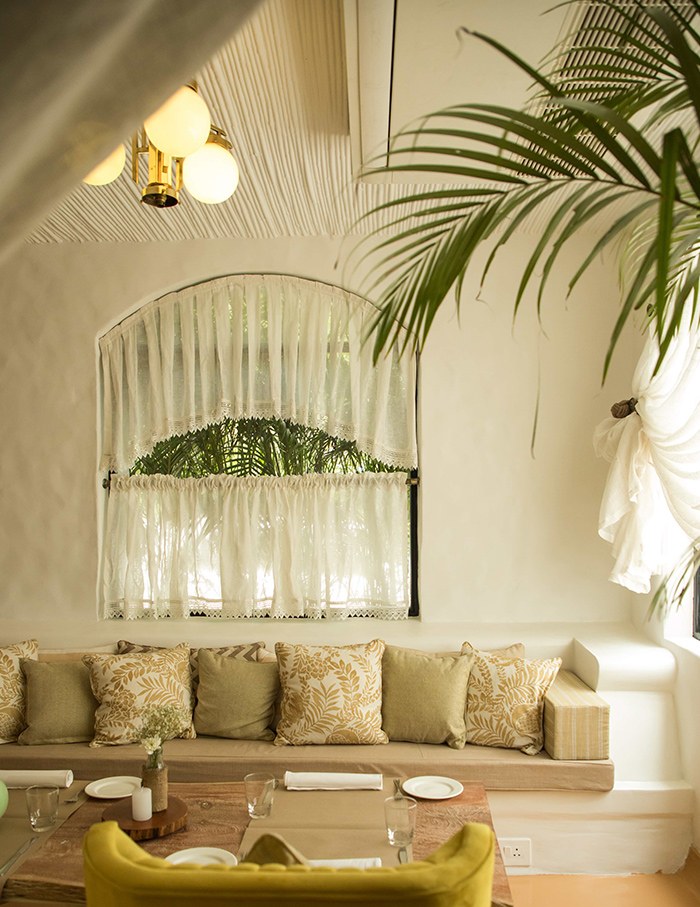 Embarking on an all new journey of newer design aesthetics and a refreshing table of gourmet food by chef Jyotika Malik, The Olive Cafe & Bar unfurls its latest outpost in Chandigarh helmed by founder and MD AD Singh of The Olive Group of restaurants. White washed walls, tropical settings, sun-bathed courtyards and a breezy mood altogether, the new avatar of the restaurant in Chandigarh is one to gaze at. 
As you trail through the space, coastal elements layered in gorgeous sober tones, arched windows, bamboo baskets, hand-finished terracotta tile covered patio and more such details reveal themselves – a design canvas directed by Sabina Singh and executed by architect Vivek Popli. "With two bars and one giant kitchen, Olive's feast-friendly!" And that's how the restaurant likes to sum itself up in a nutshell.
Bar Stock Exchange- Vashi, Mumbai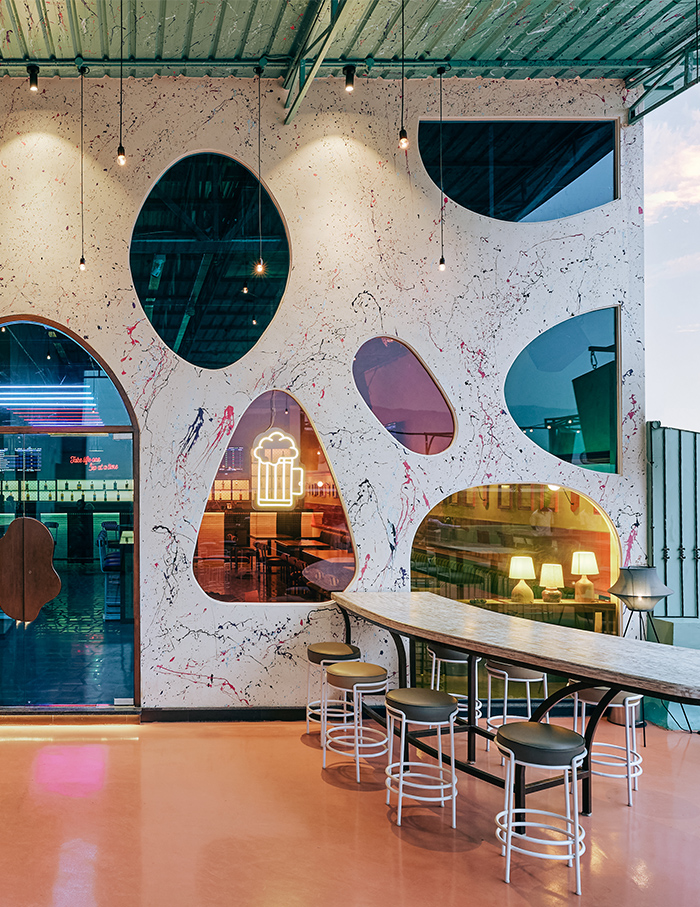 Bar Stock Exchange (BSE) crafted by Saniya Kantawala of her eponymous firm Saniya Kantawala Design encompasses a large outdoor seating area and an expansive indoor section. What makes the exteriors truly exquisite are the glazed openings with layers of coloured film, evoking traditional stained glass windows. The interior is almost as intriguing if not more than the exterior. It's dressed in shades of red with a black and white bar counter in piccolo tiling spanning the room and forming the centrepiece. The bar counter too features a free-flowing painted pattern in nature-inspired shades. 
The hues, patterns, and playful installations overall create a lively, youth-centric ambience that is a perfect reflection of what BSE brings to the table!
Mensho Tokyo, Greater Kailash, Delhi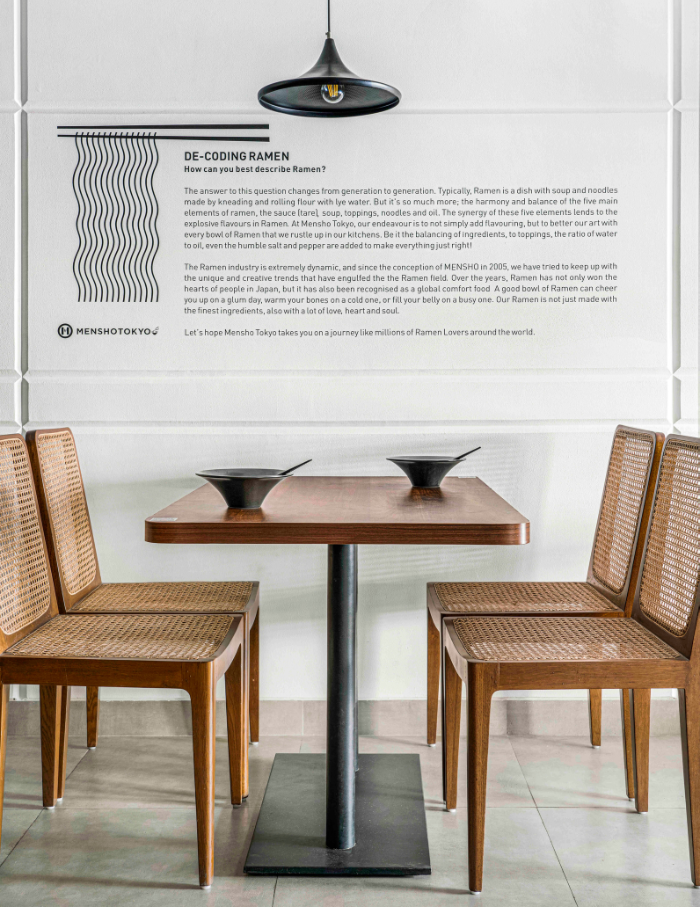 The sense of interiors of this four-walled restaurant by Architect and Interior Designer Paushika Gupta, Founder of Paushika Gupta Architecture+Design is all about experiencing a modern take on a traditional Japanese-style ramen shop. 
The interior design of the space aligns with the restaurant's ever-evolving yet simple and traditional Japanese cuisine who's primary focus is food, and the harmonious combination of traditional Japanese design elements with contemporary twists provides guests with a refreshing open-dining atmosphere wherein one can view the skills of the chef preparing food.

Dobaraa, Mumbai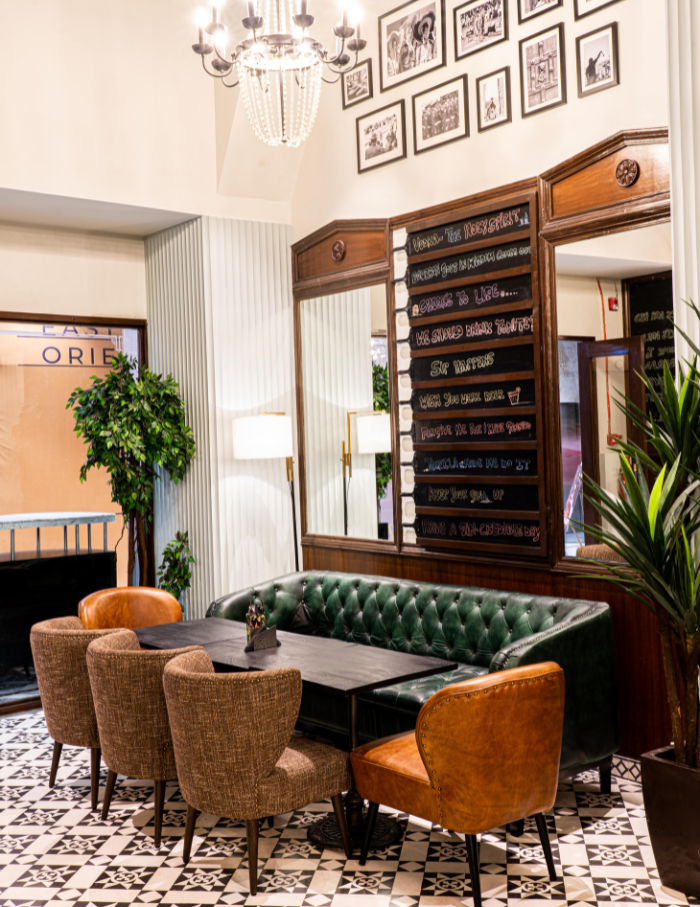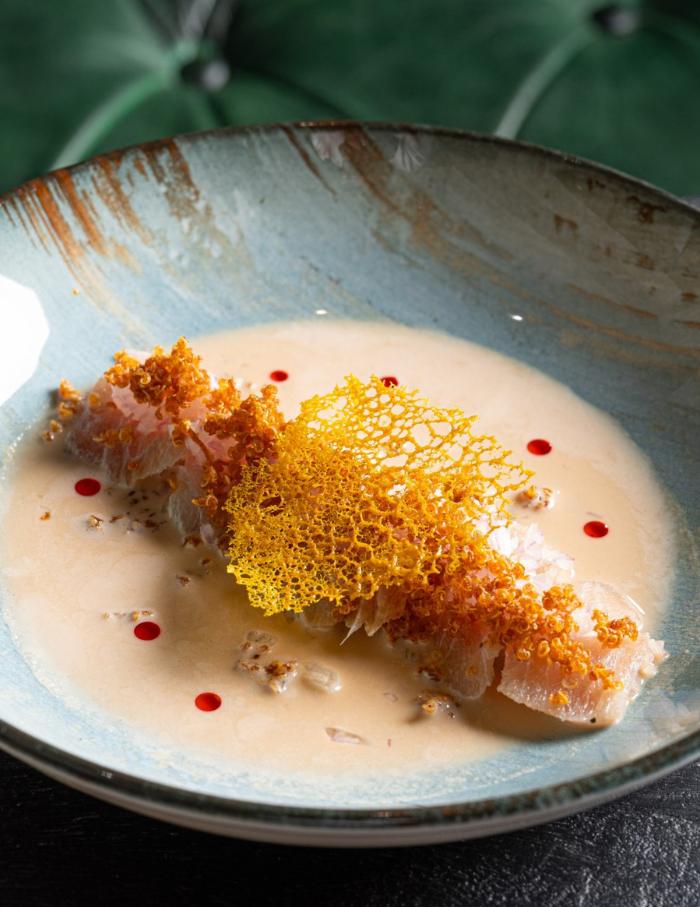 Dobaraa in Mumbai likes to call itself a design agnostic venue! A sense of dramatic liberty captures the space with an aim to create a vibe that would push you to take on the world. To represent this, the restor-bar has inscribed unabashedly on their wall, 'Float like a butterfly, sting like a bee'. Their interiors are a blend of both worlds, elegant in some corners, and grunge in others, still being easy and fluid to the eye!
Their cocktails aim to please as they offer 'Not just mixed beverages but moods' which sounds perfect for a heavy work day or a chill day with your gal-pals. They carter to calm, frolic, frivolous, walking-on-the-ceiling! They invent, reinvent and observe new ones every now and then at every table or corner making this place ideal for any time and any day.
Ombré (BarBar), Varanasi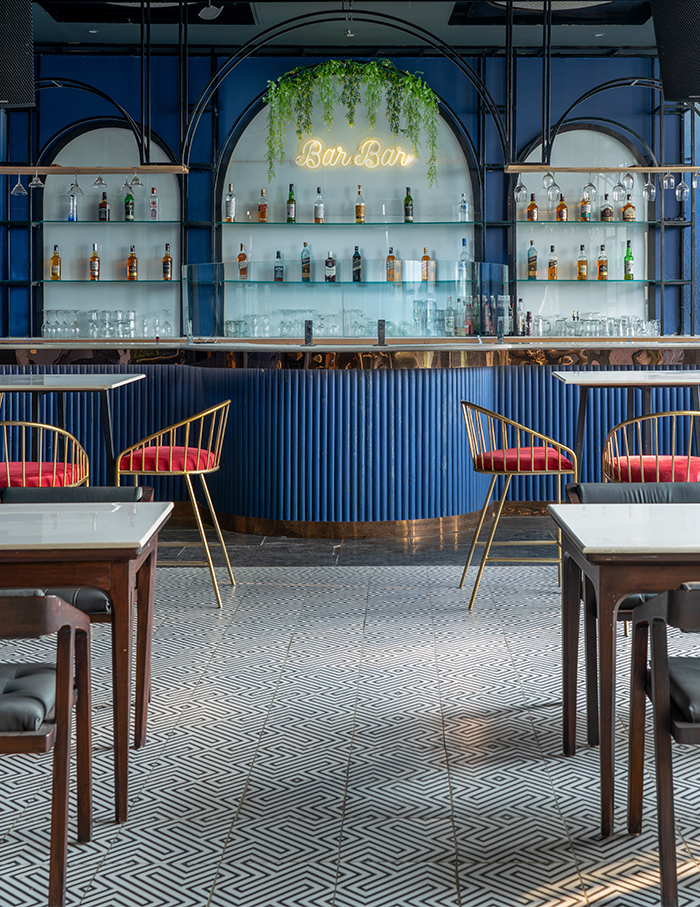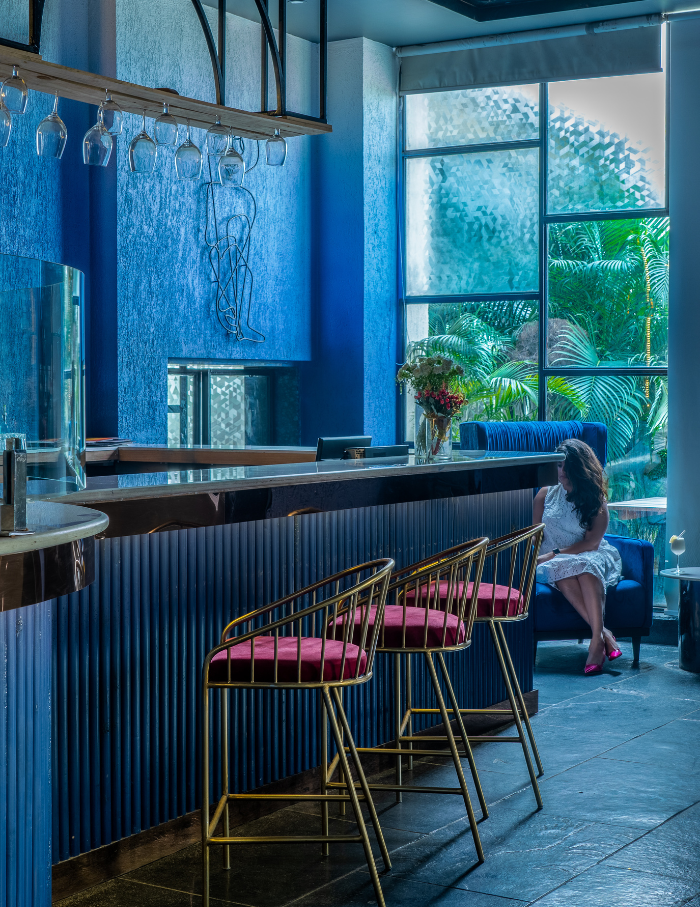 The ancient city of Varanasi exudes a laid back, cosmopolitan but free-spirited mood. Located here is a cosmo-resto bar, Ombré, a rooftop bar along Mint Road at Subroto Chowk designed by Urban Mistrii Studio's Ritika Rakhiani. It is one to please as it embodies the tranquil and powerful identity of the city while giving it a strong, modern interpretation.
The ombre colour palette goes from soft powder blue to a strong navy blue–signifying the river Ganges–its calm yet powerful charisma. Complementing the scheme, are the fluidic light fixtures transcending into the river like holy lamps. The light frame arches anchor the space–an expression of the built character of the city.
Overall, minimal additions to the walls, such as a wire-framed sculpture and wall quotes along with the ombre shadings break the monotony of the place. The gold bar furniture plays an essential role in harmonising the visual experience along with the overall vibe of the venue.

YOUnion, Kamala Mills, Mumbai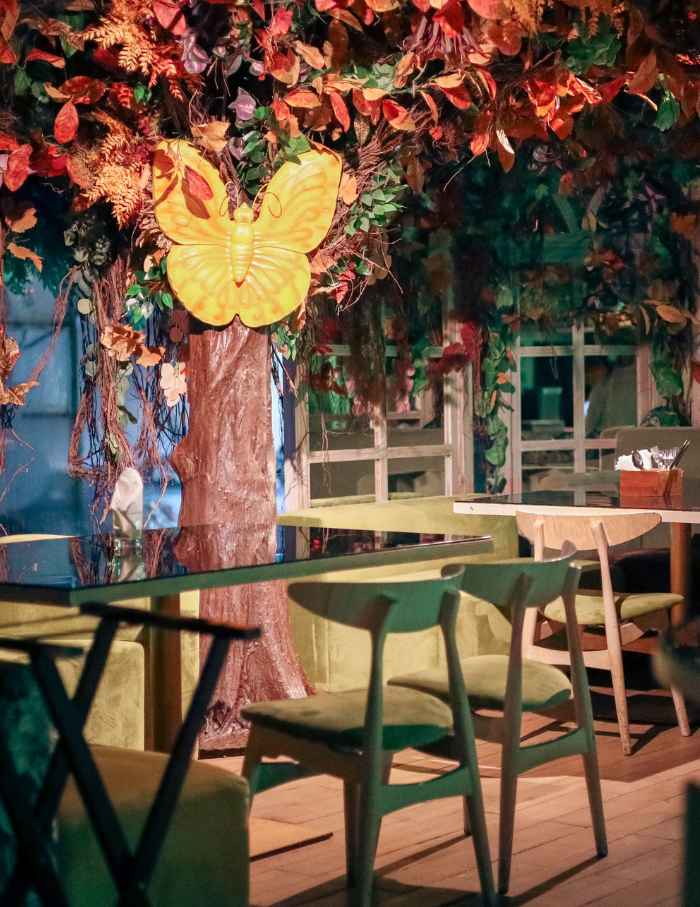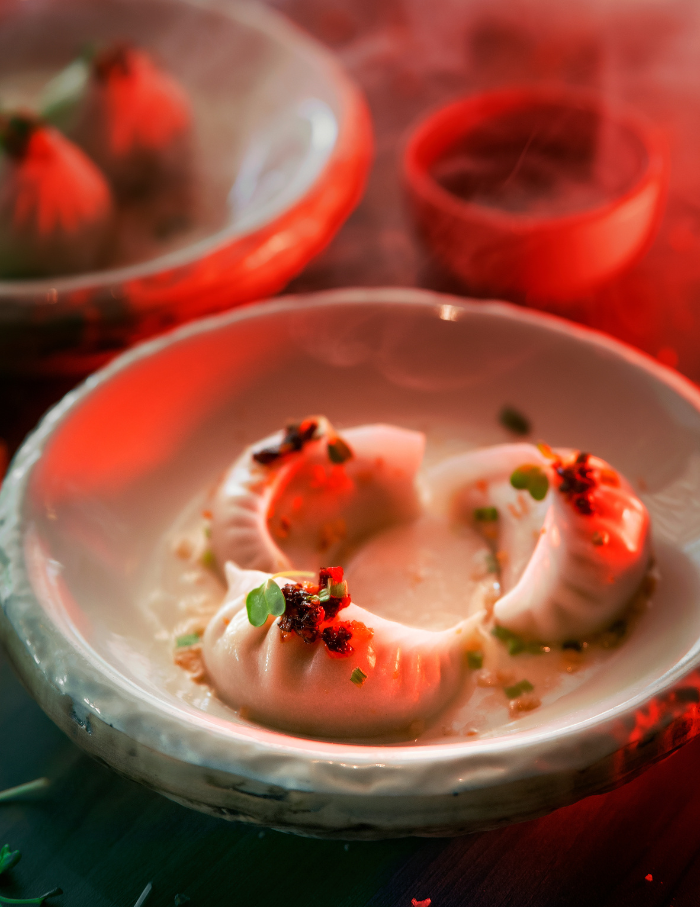 'Young' and 'Wild' are two words that accurately outline the mood that captures YOUnion. Keeping the jungle theme in mind, restaurateur Zorawar Kalra aimed at creating an ambience that translates for and pays homage to the millennials. The all-day gastro-bar encompasses a carnival-like vibe created in line with dramatic interior elements like neon green lights behind the bar, green veils that dive into the idea of wilderness, and gold furniture that transpires a sense of easy-luxe.
Beyond decor, YOUnion has the country's largest menu dedicated entirely to 300 types of shots including a 'Make Your Own Shot' option. They also have fifty different types of Long Island Iced Teas, which is truly a dream for anyone who enjoys a glass (or more) of drinks.
Butter Bar & Kitchen, Pune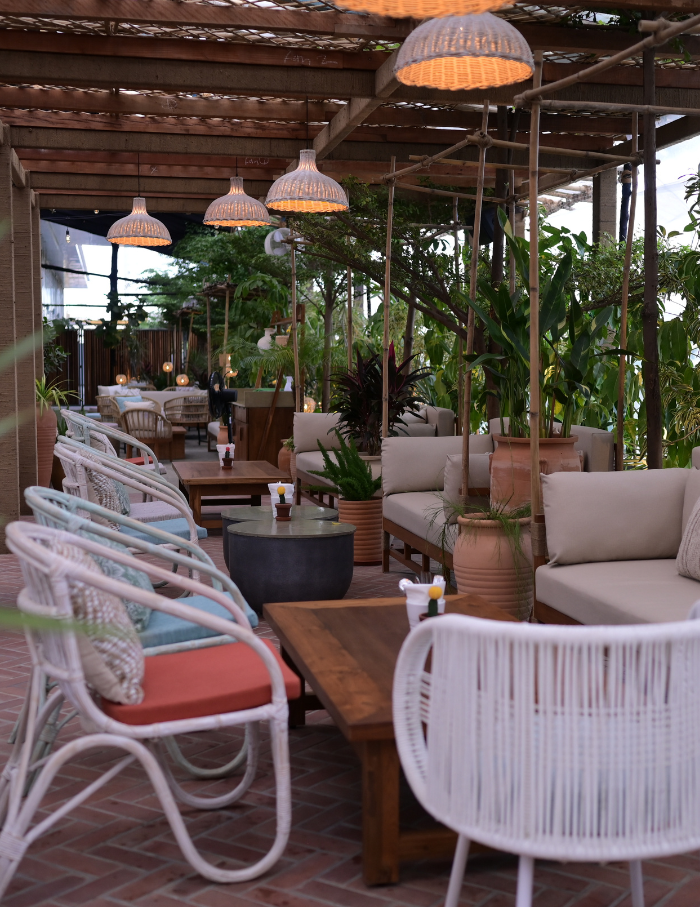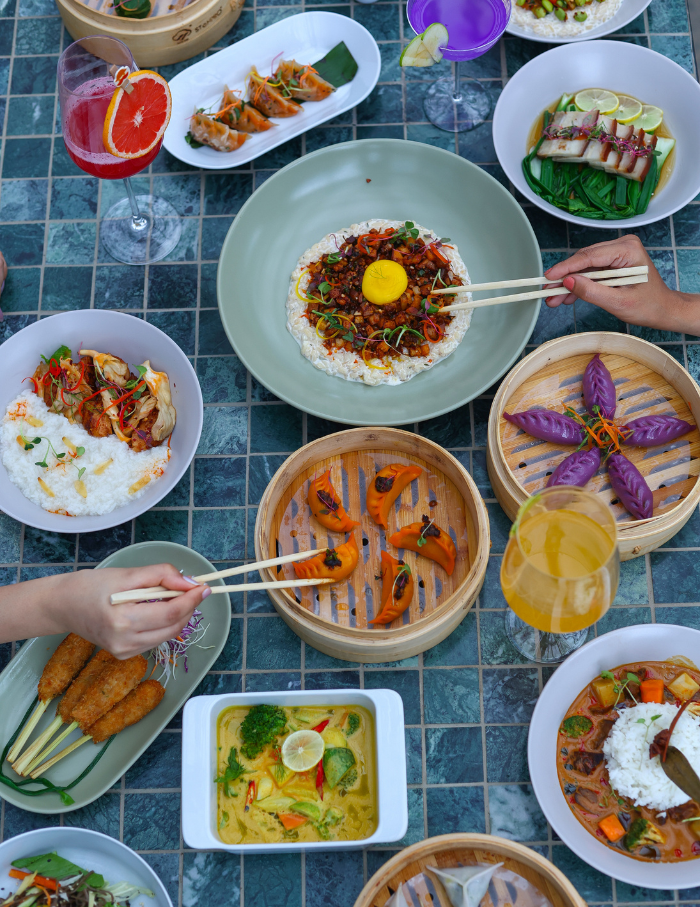 If that glaze-y, smooth texture of butter could be translated into a restaurant, it'd be Pune's new hotspot Butter Bar & Kitchen, a project by Meraki Hospitality and partners Hrishikesh R. Shinde, Sangram Shirole and Suryabhan R. Shinde. Designed by Minnie Bhatt, the 8,000 sq ft restaurant brings to the table a modern European-Asian fare amidst what feels like a rustic hideaway wrapped in elegance.  
Minnie muses, "The word Butter speaks of a feeling of fluid ease, warmth and joy. The interiors have been conceptualised to bring to life this feeling—one that has an easygoing casual vibe." The menu is devised by chef Shailendra Kekade, while the drinks curation comes from the mixologists Nitin Tewai and Suyash Pande
TKYO, Goa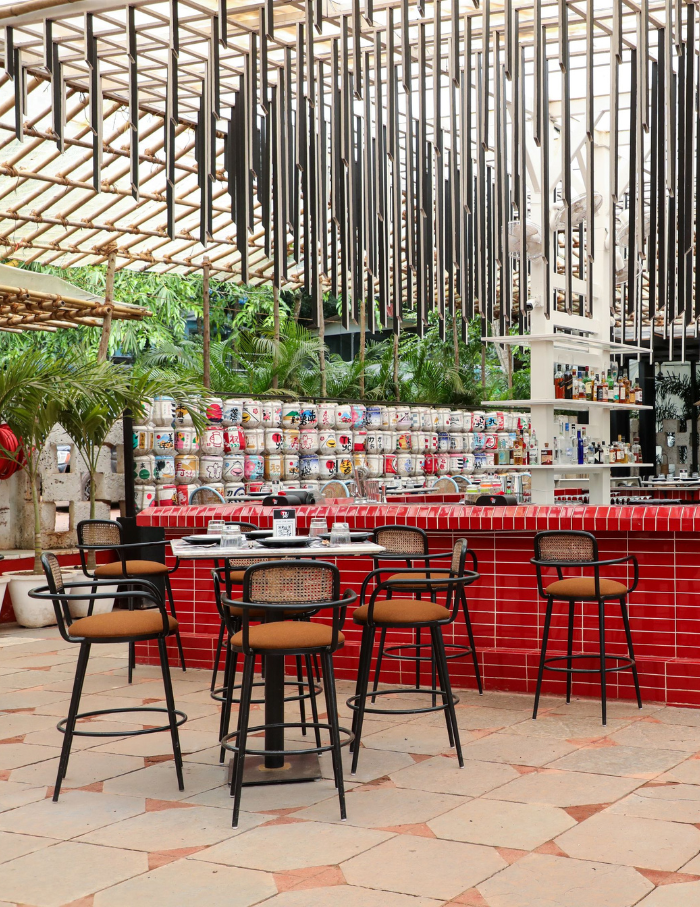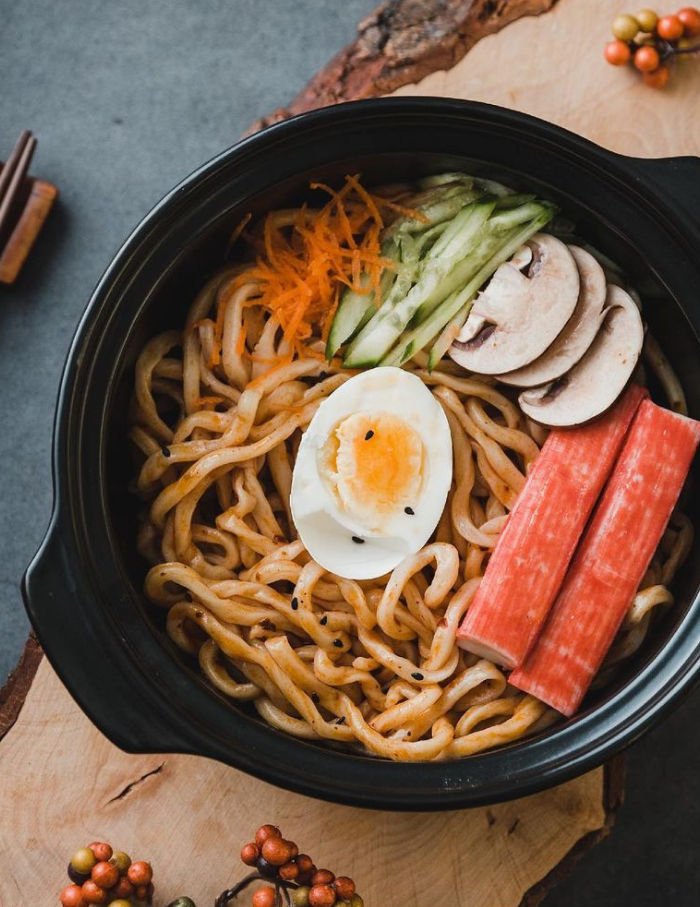 TKYO is imagined by Chromed Design Studio's Abhigyan Neogi and Ankita Mehra, and this is the place to be at, when in Goa! It is nested in the heart of Anjuna inside a century-old Portuguese house, which is miraculously preserved as it yet retains the verandahs and patio seatings from that day and age. It is a whopping 11,500 sq ft property that can house more than 200 guests and offers both indoor and al fresco dining options, inspired by Japanese architecture and house elements like a conventional Tori entrance, an impressive pagoda-style illuminated island bar, a prominent sake barrel wall and several wall murals painted by local artists, authentically emitting the venue's essence.
TKYO is the crossroad of Japanese & Portuguese architecture with seamlessly integrated Goan design elements that makes the place feel refreshing and equally refined!
Silly, Mumbai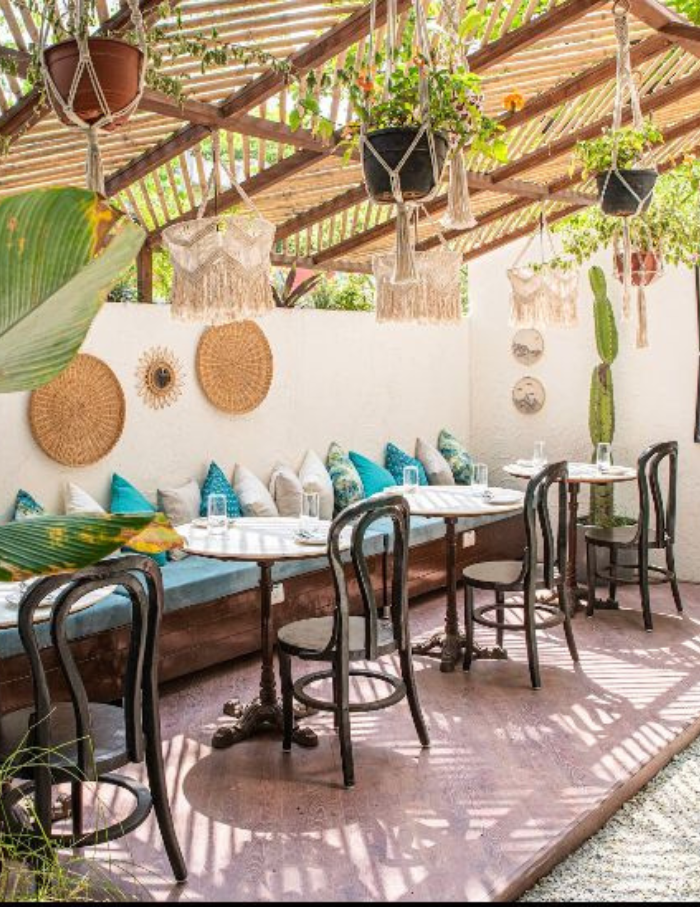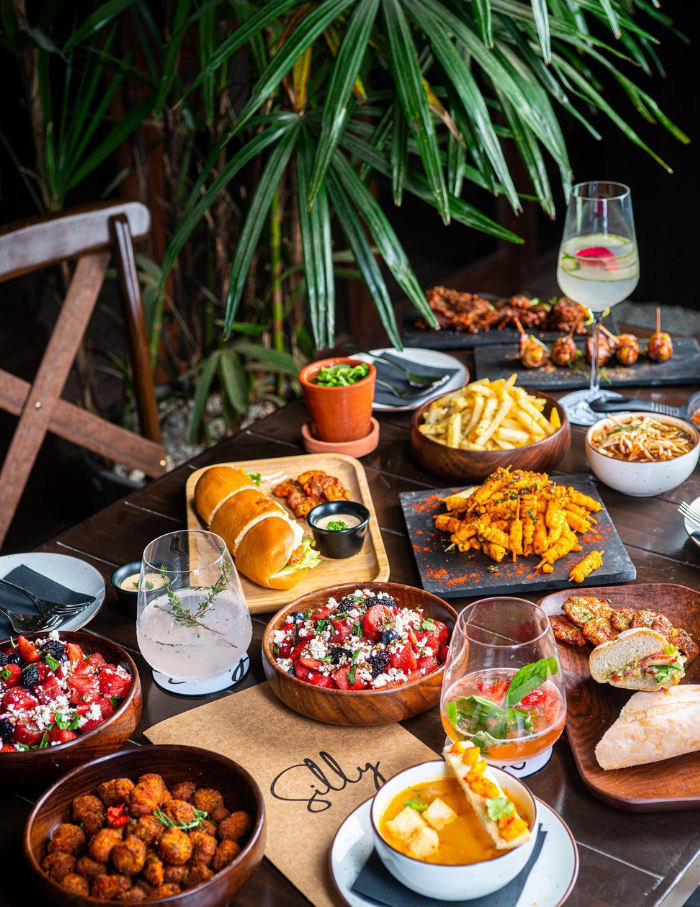 Silly, says a grand off-white door in one of the lanes of Khar in Mumbai, inviting one to its gorgeous 4,700 sq ft venue filled with whiffs of contemporary-vintage interiors, scrumptious food and a rather refreshing escape from the industrial moodboard of the city life.
The all day cafe and bar crafted by interior designer Keith Menon of Spiro Spero also hosts a 65-year old mango tree and a striking white-grey gravel pathway that nestles an outdoor garden seating. While the bar incessantly stirs up some of the coolest drinks and cocktails, a swing set inside the venue poses as a sweet spot to lounge at, with the mezzanine floor housing two long co-working tables for guests to relax at!
Fig at Malcha's new home is a rejuvenated 60-year-old building in the middle of Lutyens Delhi. A confluence of Japanese design and the Nordic way of life, it revitalises the area in Malcha Marg's market with modern architecture without losing any of the age-old elegance of the components around it. The concept of Fig at Malcha is well-thought-out and made for the purpose of artistic expression. Fig at Malcha's genuine identity is rooted in basic, meticulously picked, and handcrafted materials, and these attributes are reflected in the restaurant's classic white decor, seamless concrete flooring, and terrazzo counters.
"Our team's dedication to providing a genuine mindful dining experience is reflected in the place we've created thanks to our uncompromising approach and flair for exceptional craftsmanship," shares Manish Yadav, the founder of Fig at Malcha.
You may also like: Levana rooftop restaurant in Lucknow is a fusion of regal Mughal architecture and French influences