Design
Focus on Storage: Spruce thy homes and spaces with stylish storage and cabinets designed to marry utility and flair
MAY 26, 2022
| By Shriya Goyal
Produced by Yashika Punjabee
We love…
……this storage unit in wood and glass with antique white polish finish renders an old-world charm with a dash of contemporary appeal. Designed by Shabnam Gupta, Founder and Principal Designer of The Orange Lane for a bungalow in Mumbai, the cabinet doubles up as a partition between the entrance foyer and the dining area. The interiors are clad in wallpaper created by Sabyasachi for Nilaya by Asian Paints, accentuated by wooden mouldings on shutters and drawer fascia knobs from Dubai to display the tableware collection and set of as the piece de resistance of the room.
Stay updated on more hot trends by subscribing to ELLE DECOR India's April-May 2022 issue…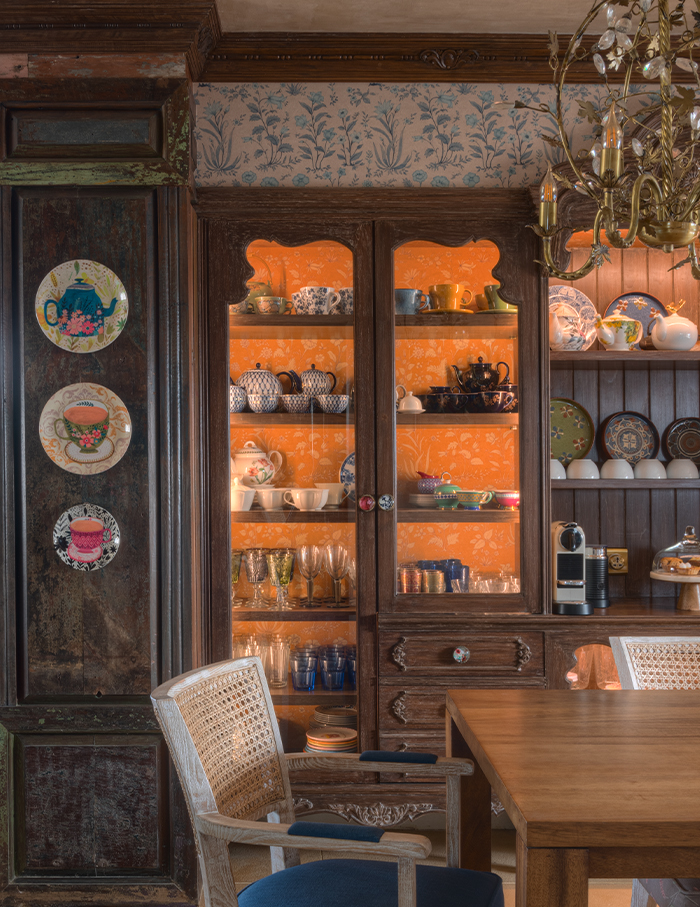 Hot trend: A NEW CANVAS
Paint myriad pictures of art and ecstasy on the blank canvas of your shutters to accentuate and enliven decor
WARDROBE BY FUSIONSTUDIO
Set foot into a valley of fauna and greens with a quaint imagery of blooming trees and chirping birds illustrated by a powder blue handmade wallpaper by DeGournay. Wrapped in this visual is the wardrobe by Nicola Gerber and Tiran K Driver of FUSIONstudio. Crafting an aesthetic of a large art piece, sofa by Montbel, Italy and wooden flooring by STP, Spain brings about celebrations of spring into the bedroom.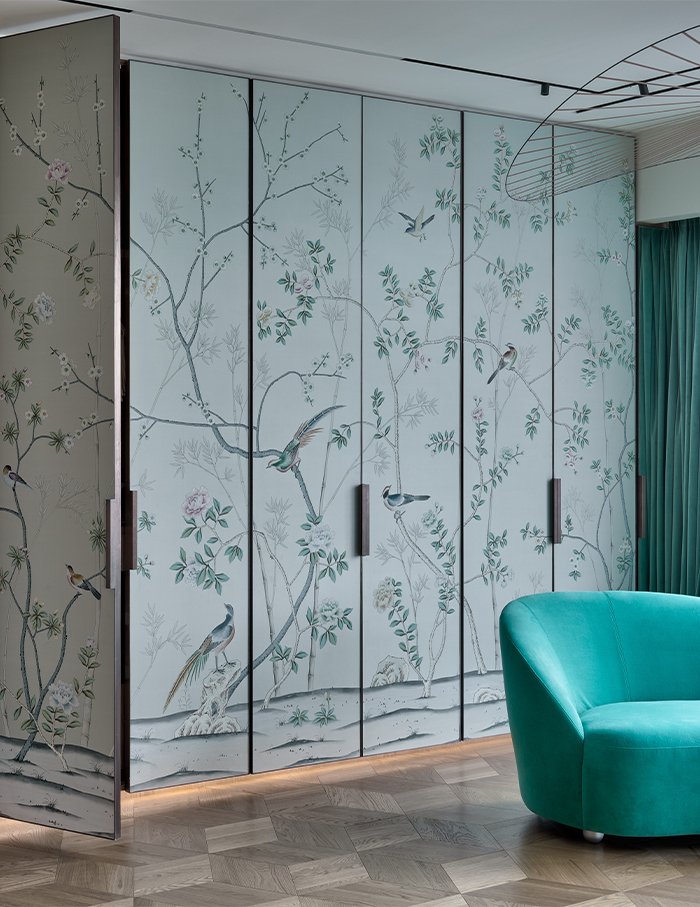 FACE TO FACE CABINET BY FREEDOM TREE
Face to Face Cabinet in acacia, engineered wood and metal stand. Handcrafted and painted by Freedom Tree.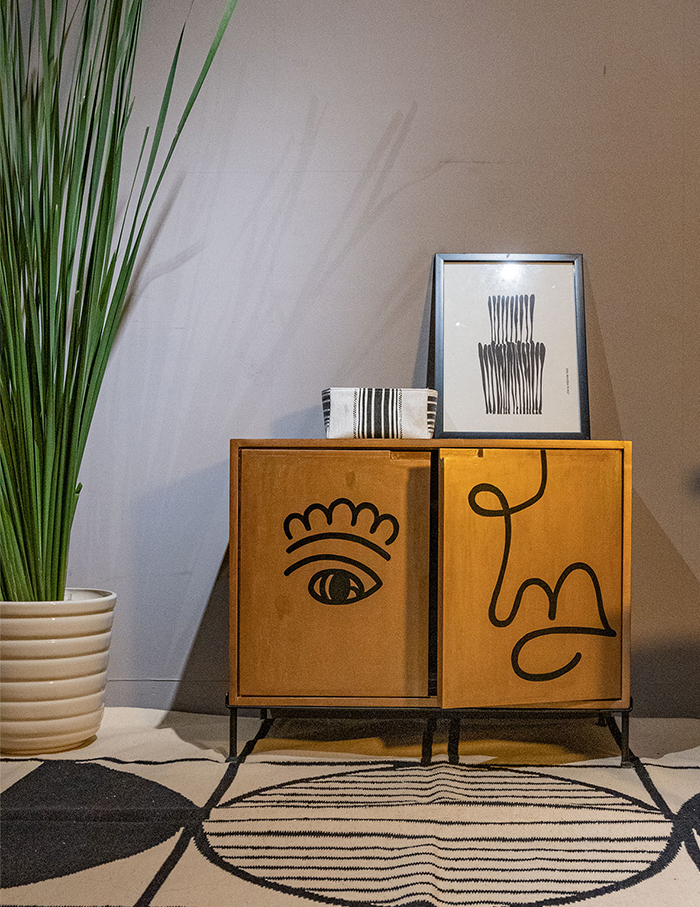 LULU CABINET BY SCARLET SPLENDOUR
Lulu Cabinet in plywood with a brass eye-lip feature in the centre surrounded by an elliptical web of brass and resin by Scarlet Splendour.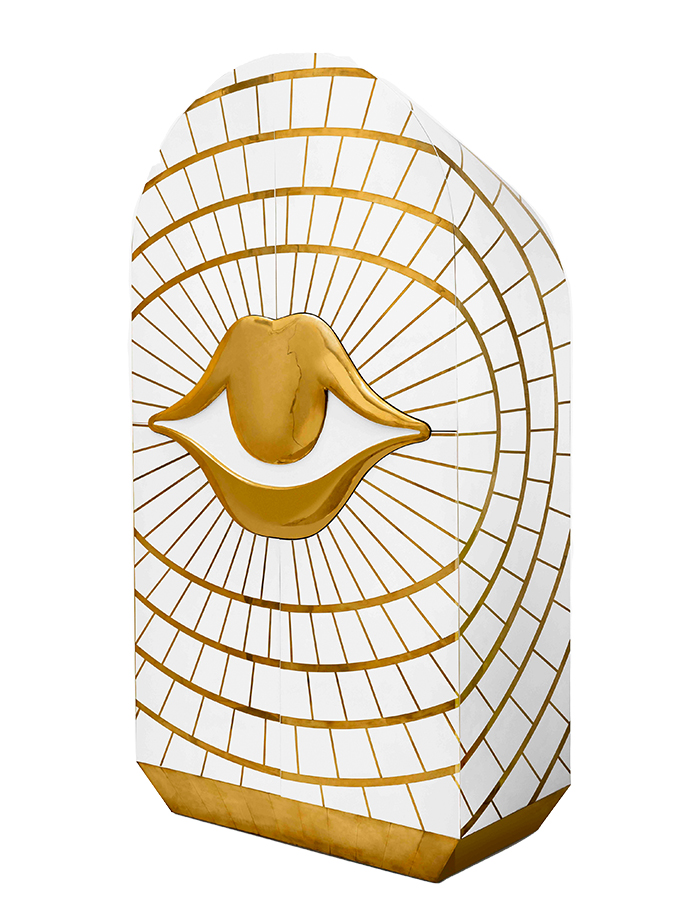 THE UDAAN VITRINE ARMOIRE BY CHIPPIWARA IN COLLABORATION WITH BARO
The Udaan Vitrine Armoire in with marquetry technique in natural coloured timbers by ChippiWara in collaboration with Baro.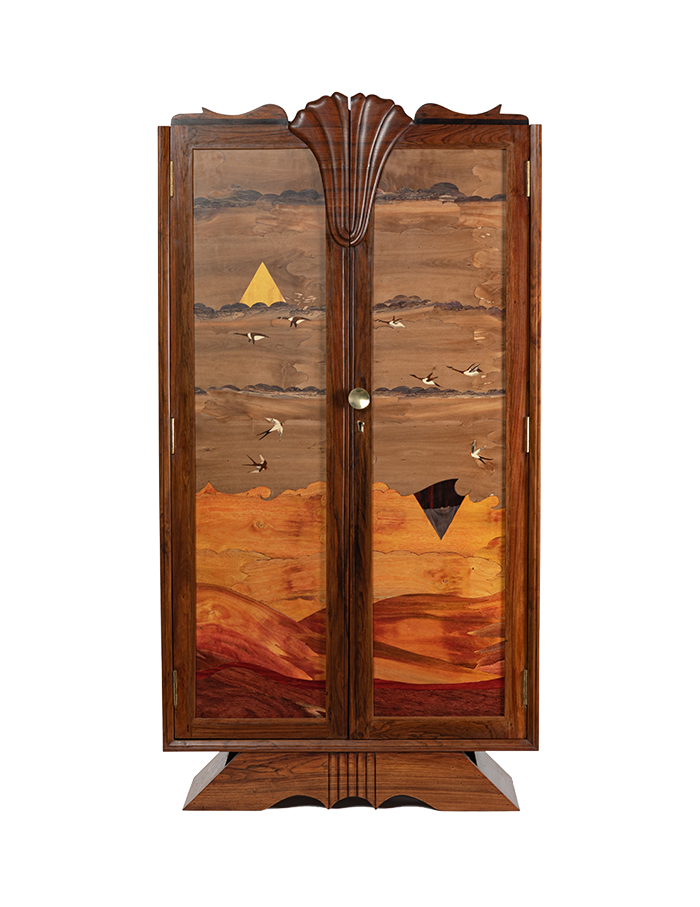 Hot trend: NAKED
Think outside the box and render every nook and corner with open shelving units as they make the most of the space
SHELVING UNIT BY STUDIO-IN-DTALE
A paradox of boxed masses and slender demeanours and of solid and voids, this shelving unit by STUDIO-IN-DTALE spearheaded by Pooja Shah, Birju Shah and Dhara Shah, breaks the monotony of a central double height volume. A part of a monolith cube in Neha Consultancy's office that displays accolades and featured publications, it is crafted in a 6mm MS sheet and finished with a clear metal coat against the backdrop of birch ply polish to enhance visual appeal and bear weight of the partition upto the ceiling.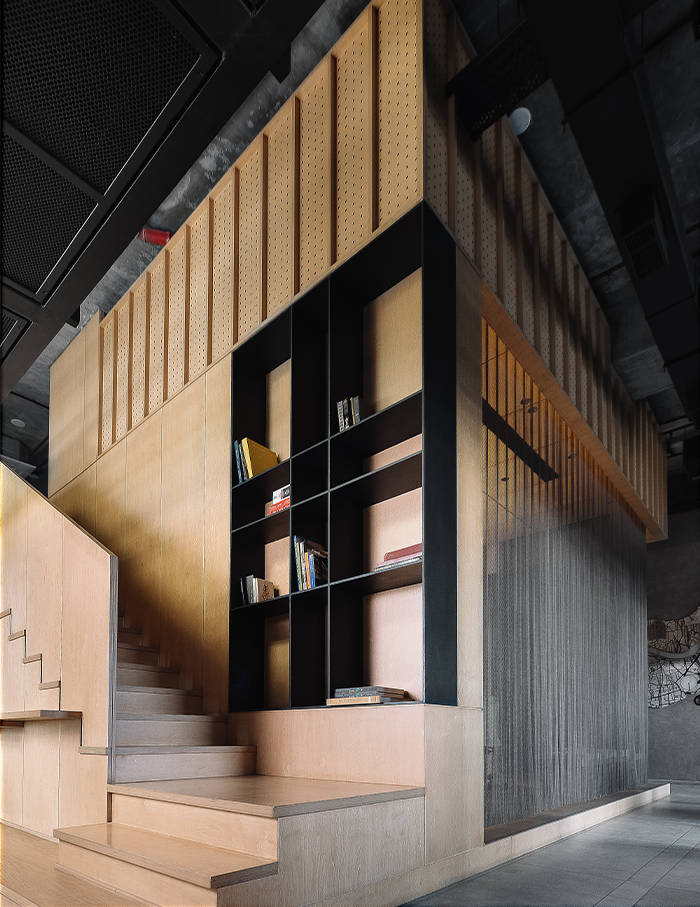 MASSÉ DISPLAY STORAGE UNIT BY DTALE MODERN
Massé Display Storage Unit in European ash wood with burnt amber and sayerlack finish by DTALE Modern.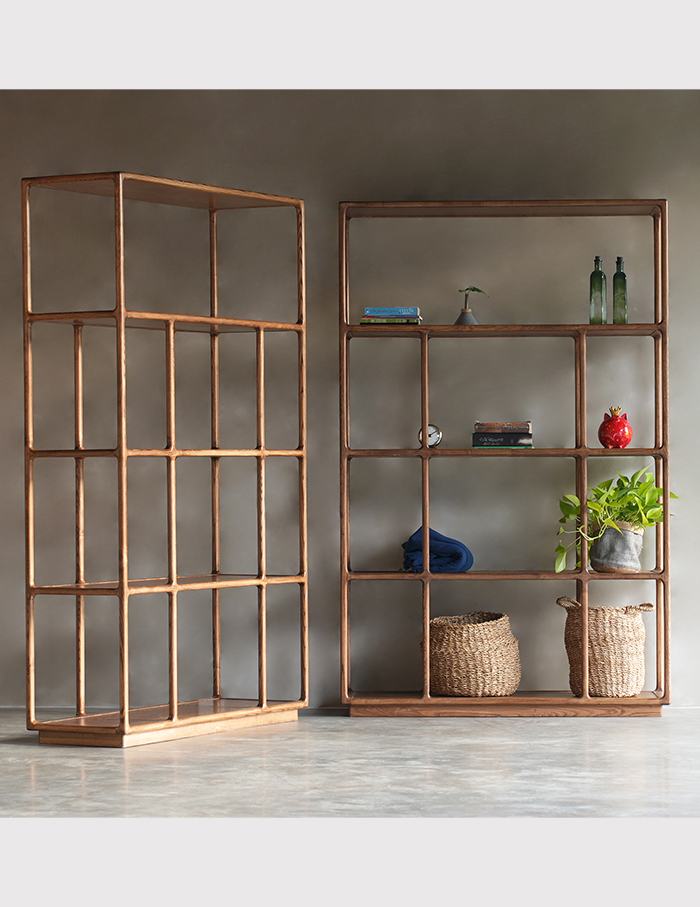 SPINDLE BOOKSHELF BY FREEDOM TREE
Handcrafted Spindle Bookshelf in teak wood by Freedom Tree.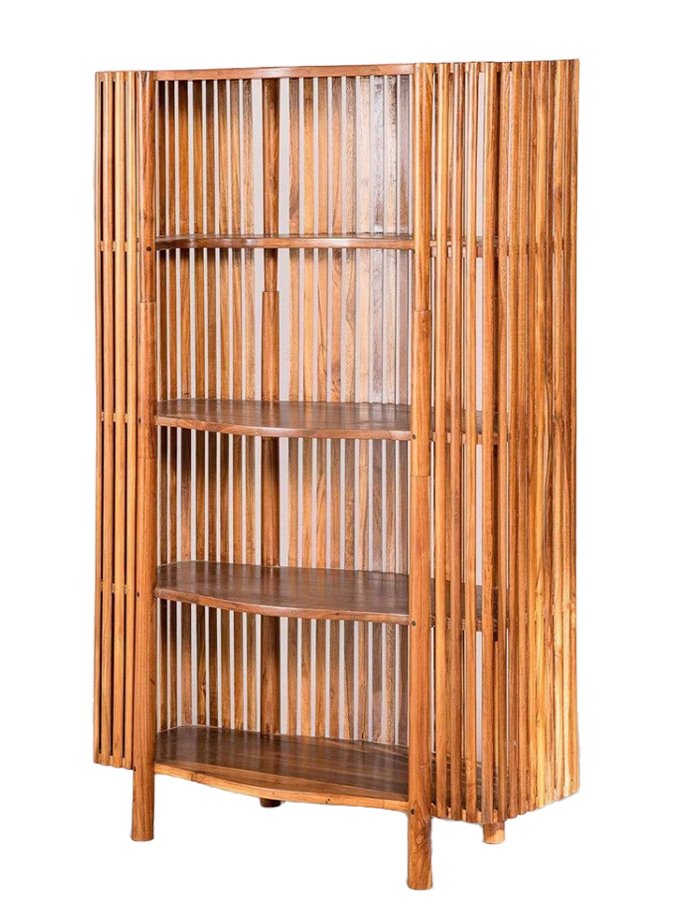 THE STOCK RACK BY DIESEL FOR SCAVOLINI
The Stock Rack system with an aluminium frame, in a bronze-finish, and smoky glass surfaces by Diesel for Scavolini.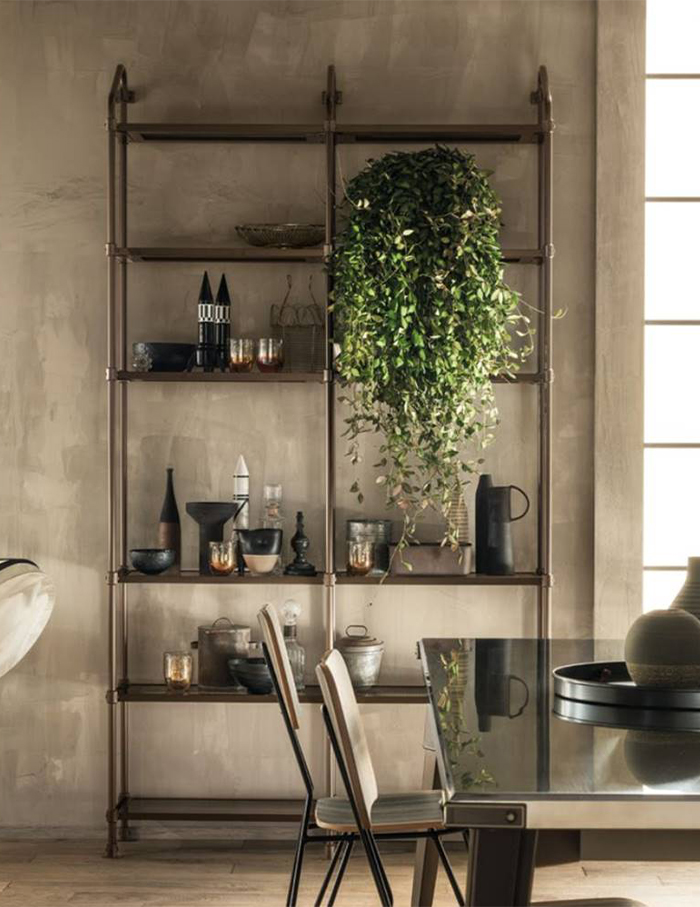 JASPER WALL SHELF BY ORANGE TREE
Jasper Wall Shelf in Acacia wood and metal with black finish and clean lines by Orange Tree.
THE CODE RANGE SHELF BY AKFD
The Code Range wall mounted shelf and console in iron and brass with vintage black and satin finish by AKFD.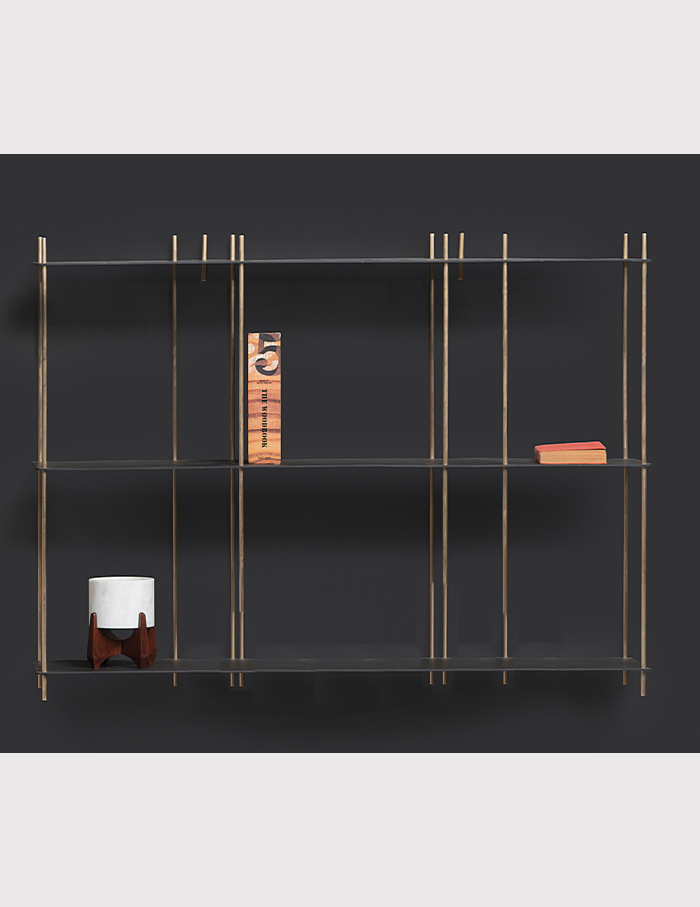 SAMOS SHELF BY IQRUP+RITZ
Weathered Black Samos Shelf by Iqrup+Ritz.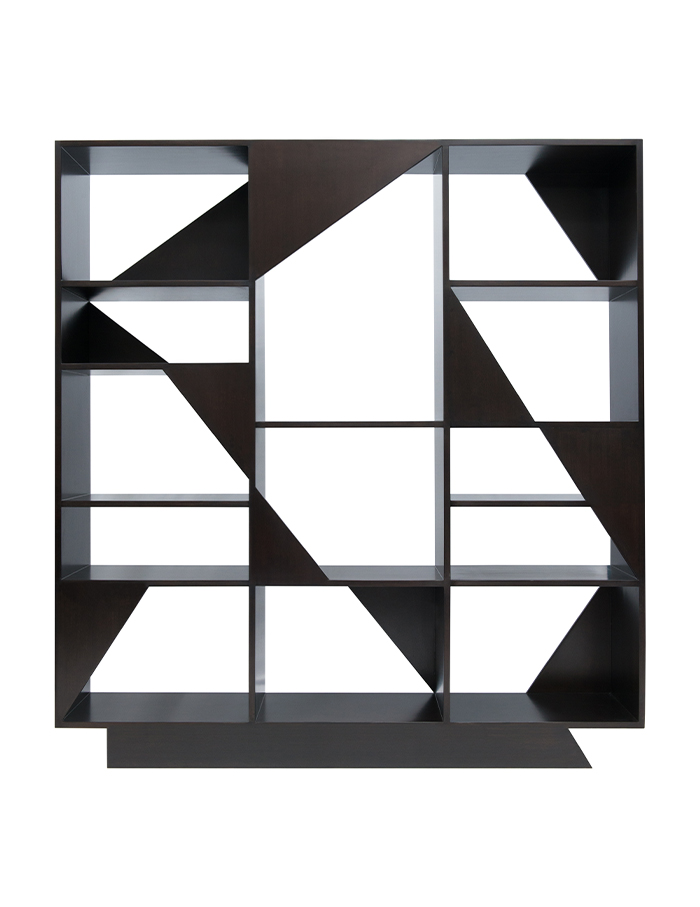 Hot trend: SCULPTURAL
Double thy storage with bespoke units, cabinets and consoles that are sculpted to invite conversations beyond mere functionality
THE NIGERIAN TEAK WOOD UNIT BY MUSELAB
Space for art or space in art? An Art Deco inspired geometrical sculpture encompasses three storage modules with arched recesses in wooden panels at a Pune-based residence by Huzefa Rangwala and Jasem Pirani of MuseLAB. With a play of span and orientation, each section transforms into drawers and shutters. The Nigerian teak wood unit, finished in a natural water based PU polish rests on wooden spheres.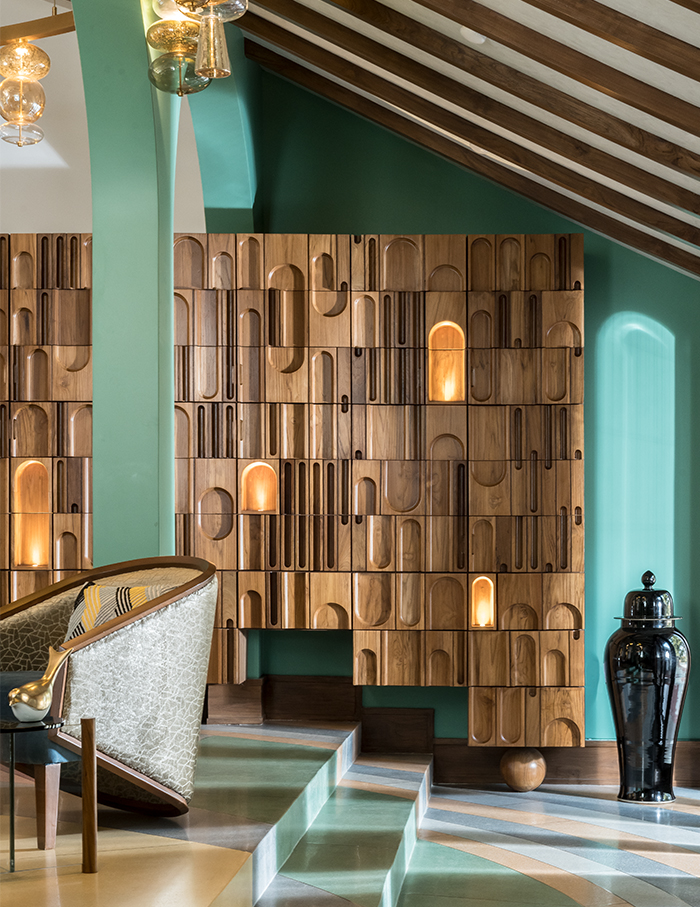 PEACOCK CABINET BY VIYA HOME
Peacock cabinet in brass and patinated gold finish by Viya Home.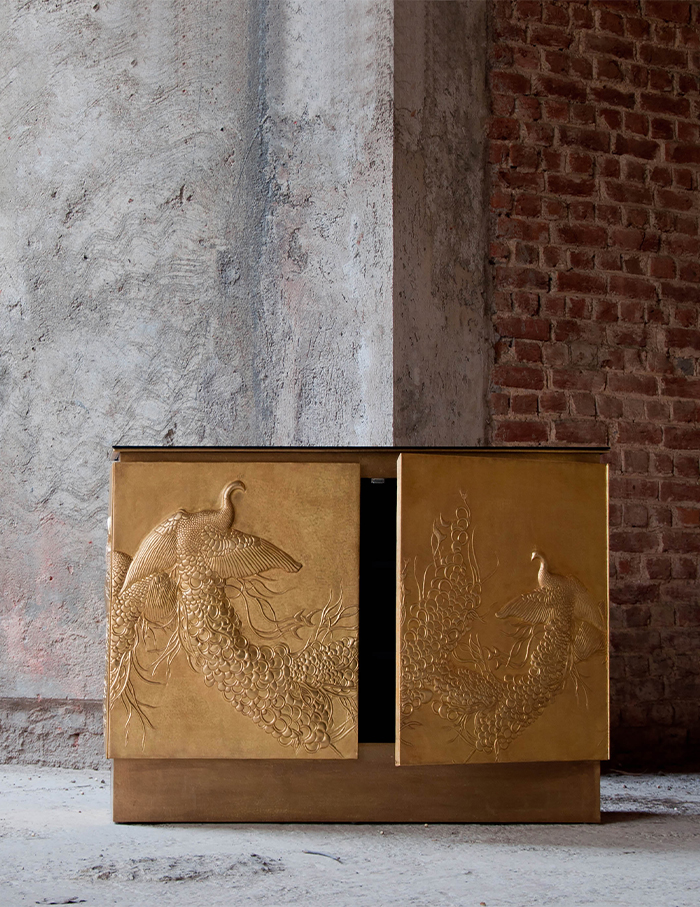 BRAMANTE CABINET BY MASSIMILIANO RAGGI FOR SICIS
Bramante Cabinet with bronzed brass knobs and mosaic inserts is designed by Massimiliano Raggi for Sicis, available at Tessera India.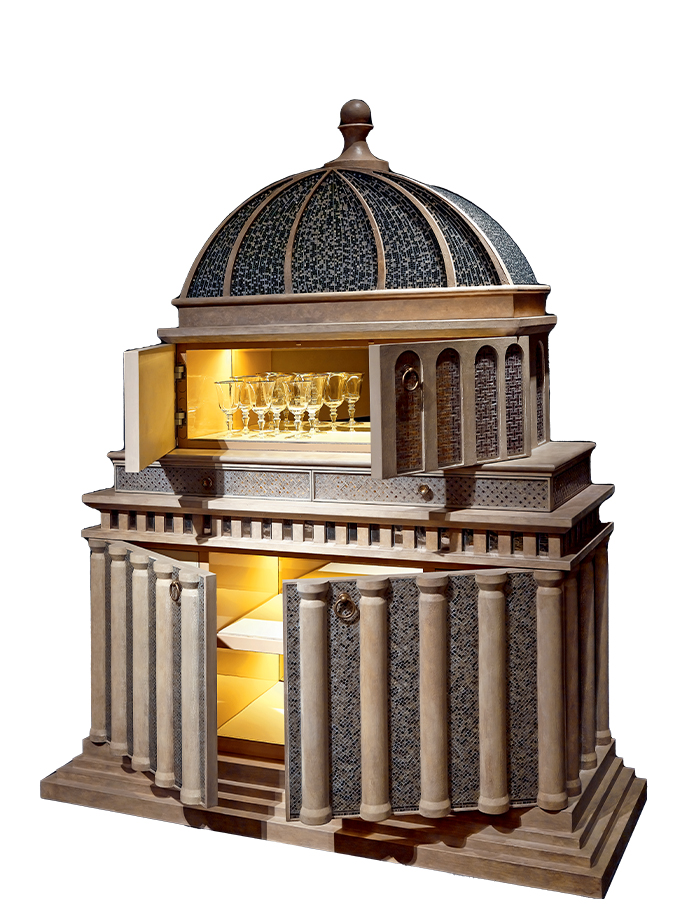 SAPELI HOLLYWOOD SIDEBOARD BY IQRUP+RITZ
Sapeli dark Hollywood Sideboard with solid brass base by Iqrup+Ritz.
GURVI STORAGE UNIT BY ALANKARAM
Gurvi Storage Unit with a teak wood body, natural finish and matte black stain by Alankaram.
ORFEO SIDEBOARD BY MANZONI & TAPINASSI FOR NATUZZI ITALIA
Orfeo sideboard in plywood with matte anthracite, black brunito and brass finish by Manzoni & Tapinassi for Natuzzi Italia.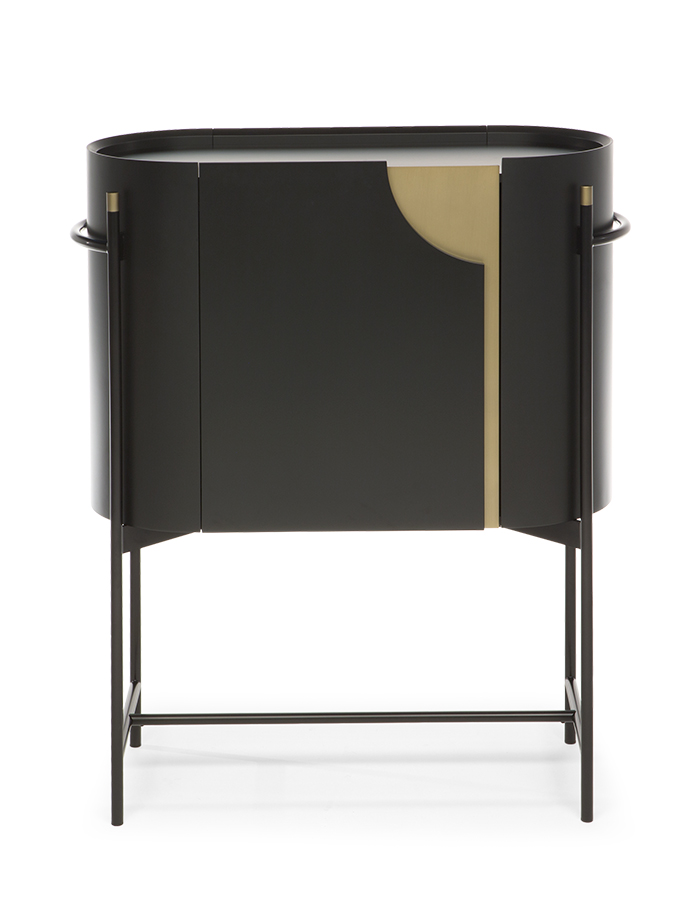 PICTOGRAPH MEDIA CONSOLE BY WEST ELM
Pictograph Media Console in solid mango wood with metal legs by West Elm.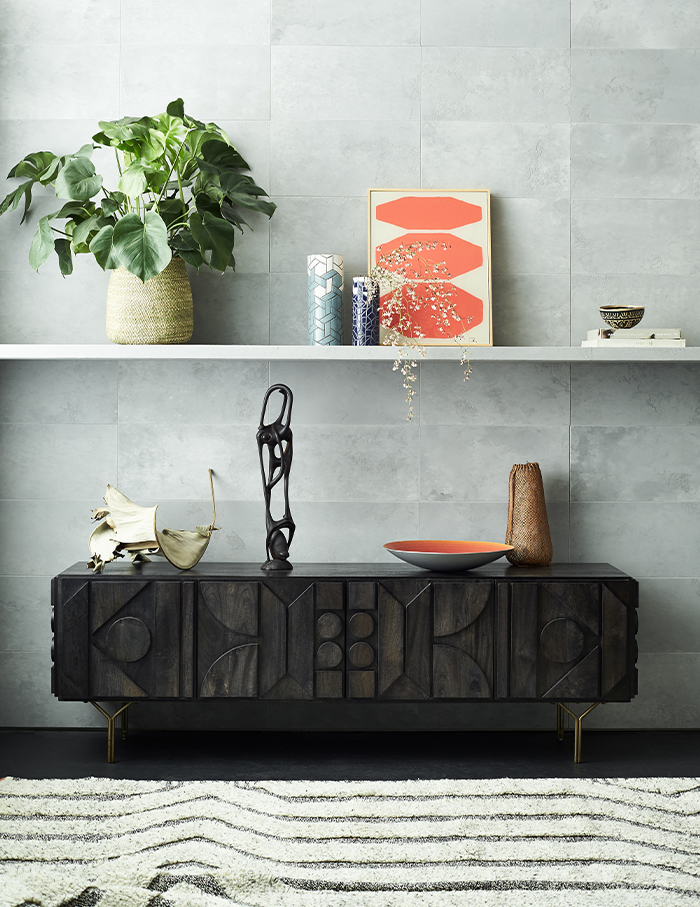 Hot trend: SEEN UNSEEN
Cut the clutter by concealing shelves and storage hidden behind unexpected decor interventions
TROPICAL BAR BY PURPLE BACKYARD
Concealed within a subtle tropical rendition, an element of drama and pizazz unfold at the House no. 7, Mumbai as bar shutters unveil a tropical paradise at the expansive home designed by Kumpal Vaid, Founder of Purple Backyard. The brick panel cladding blends the prohibition era-esque bar into the wall that opens into the radiant Birds of Paradise inspired wallpaper.
Website: www.purplebackyard.com
CESTLAVIE ACCESSORY BY POLTRONA FRAU
Cestlavie Accessory in leather and metal by Poltrona Frau revisit the traditional sewing basket.
DRUM STORAGE COFFEE TABLE BY WEST ELM
Drum Storage Coffee Table with walnut veneer top and spun metal base by West Elm.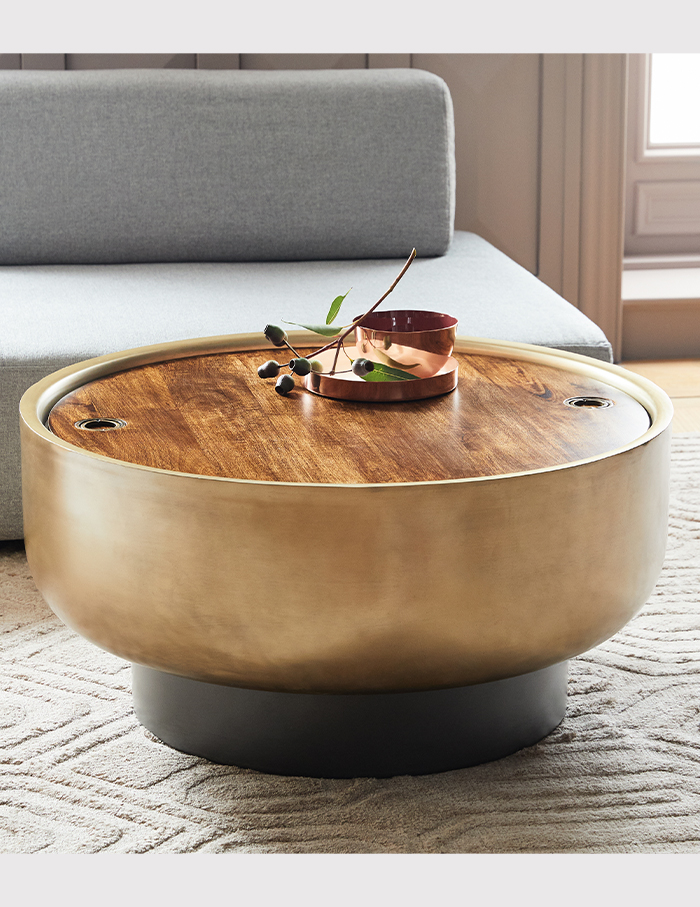 Loved this edit of storage and cabinets? Stay updated on more hot trends by subscribing to ELLE DECOR India's April-May 2022 issue…