Trends
#Focus on Just Walls: Take cues from an assortment of innovative surface elements as colours, materials and textures combine to beautify walls that enrich interior ambience
SEP 1, 2021
| By Saloni Rege
#Focus on Just Walls: Enrich the ambience with exquisite surface elements as colours, materials and textures combine to beautify walls… Trend and  Style Direction by Sonia Dutt, Produced by Mansi Bhatia
We Love…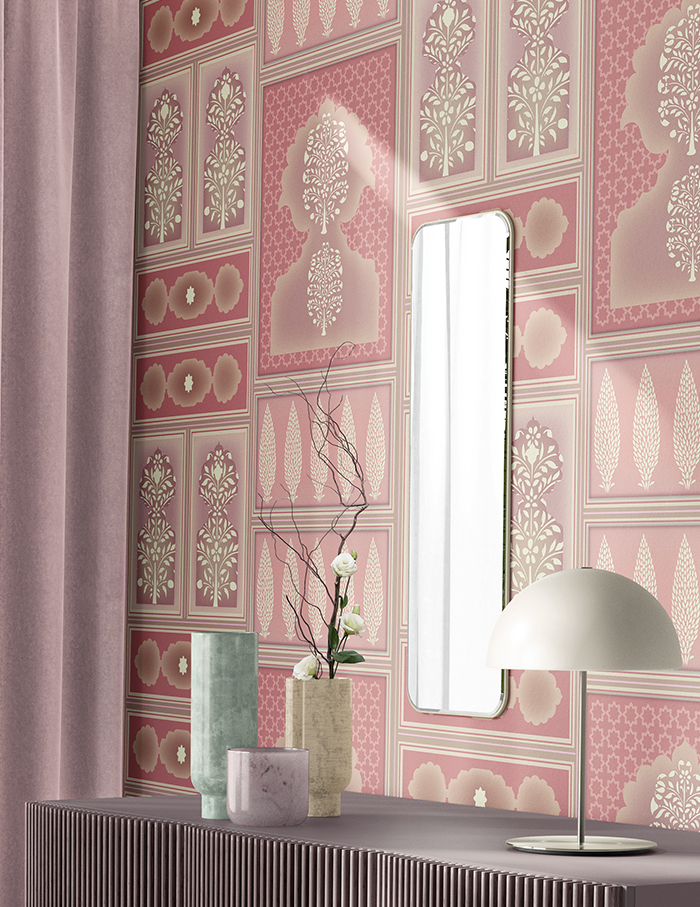 This Sheesh Mahal Wallpaper in perfumed rose that imbues space with heritage spirit! Designed by Toile Indienne, the elegant wall covering belongs to the Mughal Florals collection, which showcases graceful motifs derived from paintings, inlaid and carved marble, carpets, textiles and monuments that are inspired from the rich architectural era.
#HotTrend: UNDAUNTED
Uplift enormous walls with bold graphic tiles as motifs, ceramics, stones and fabrics coalesce to form grandeur that exhibit a colossal setting.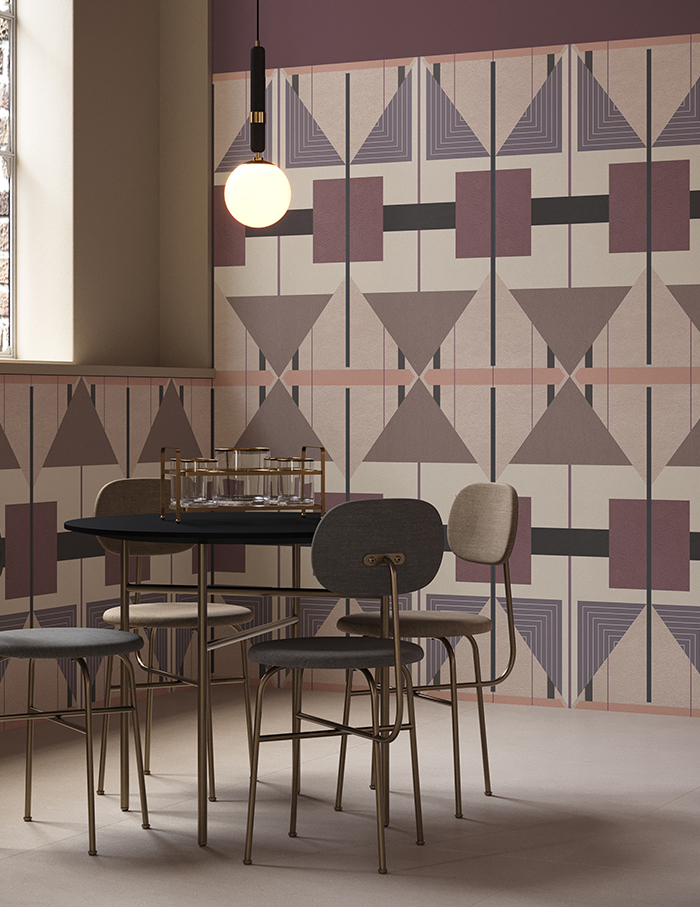 Renowned designer Elena Salmistraro combines Greek mythology with striking graphic themes through the Chimera collection for CEDIT. A plethora of forms that blend colours and textures, mimicking surfaces of stones, fabrics and leathers—envelop large ceramic slabs, adorning walls. A part of the series, Radici is a tribal statement that pays ode to primitive rituals, evoked by an interplay between figurative fragments and a sequence of triangles and rectangles. The surface finishing technique elevates the wall decor, offering tactile sensations like never before!
#HotTrend: HETEROGENOUS
Render walls with attributes of disparate materials as finishes, metals and modules fuse together to create interesting blends that impart a distinct demeanour.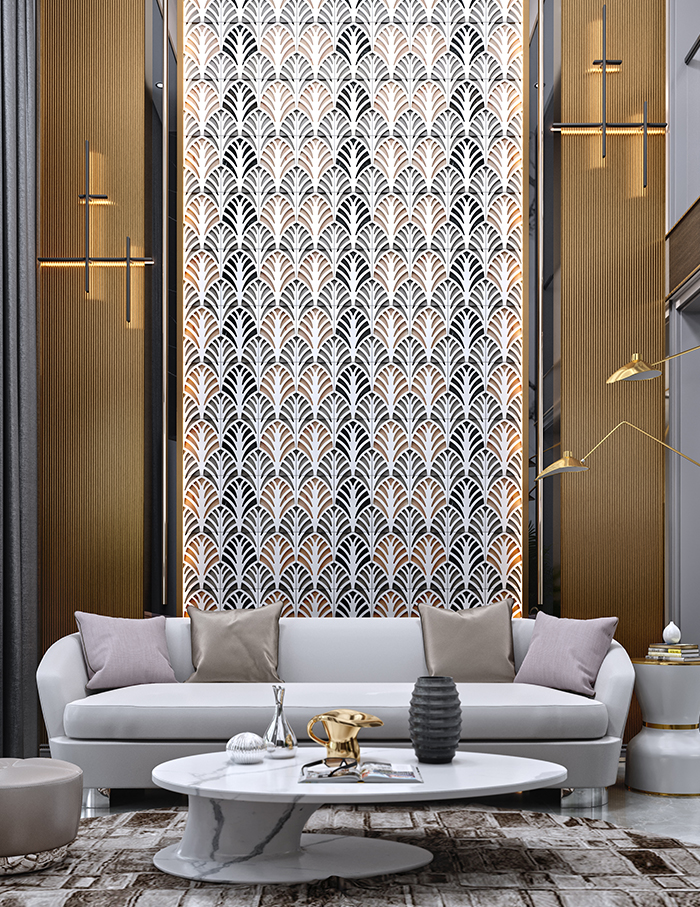 Arnaya fuses semi-precious stones with marble through Palm Lead 2D Tile to imbue spaces in vivid shades and reinvite nature indoors. As bespoke stones nestle within the leafy engravings of the tiles, marble outlines a stunning composition.
#HotTrend: LEGACY
Celebrate heritage with elegant inclusion as figurines, features and prints revisit novel walls to embrace them in ancient culture that exudes a contemporary vibe.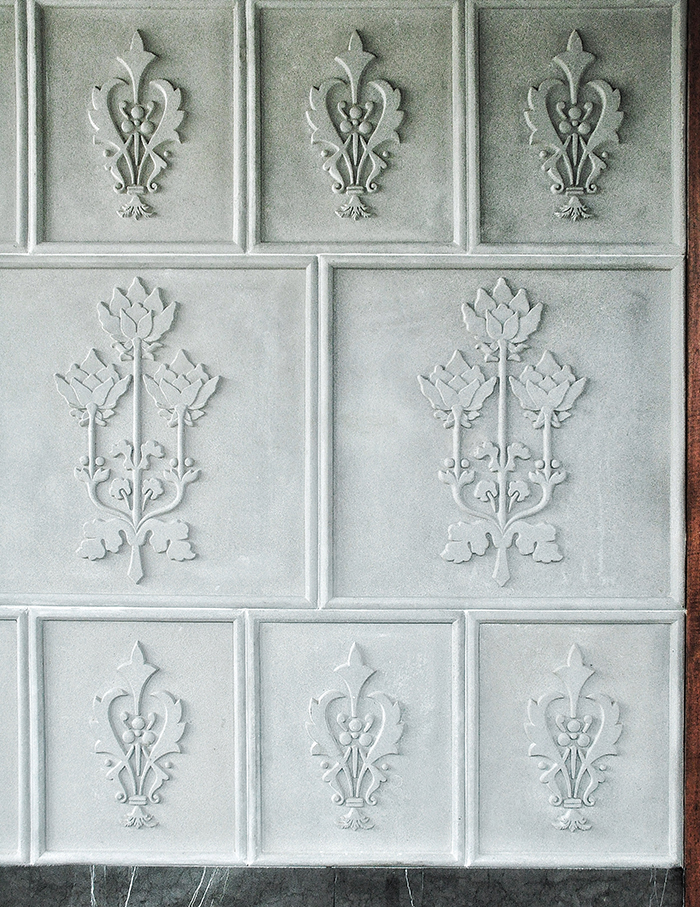 Resonating with classical patterns and lush textiles in an interwoven imagery, The Purnakumbh or the plentiful vessel is created by Tejal Mathur Design. It showcases self-embossed, lightweight concrete panels, which are synonymous with the delicacy and colour of a tapestry. Emanating a temple wall aesthetic, the material combines with dry spray technique of GRC cladding for lightness and even finish.
Click here for more hot trends featured in the August-September issue of ELLE DECOR India…