Trends
Focus on craft: Keep up with India's heritage through this assortment of local crafts and cultures
MAR 1, 2022
| By Kashish Kaushal
Trend and style direction by Sonia Dutt 
We love…
…this gond tribal art illustrated meeting room in the Trilegal office by Studio Lotus. Serving inspiration on a wall, stories from
the forests of Central India come alive through age-old storytelling traditions and elements of nature. Bringing into play gond's
signature dots and small strokes, artist Dilip Shyam paints recurrent motifs—tigers, deer, birds, flowing rivers, flowering trees,
and snakes on a green background to evoke the imagery of a forest.
Website: studiolotus.in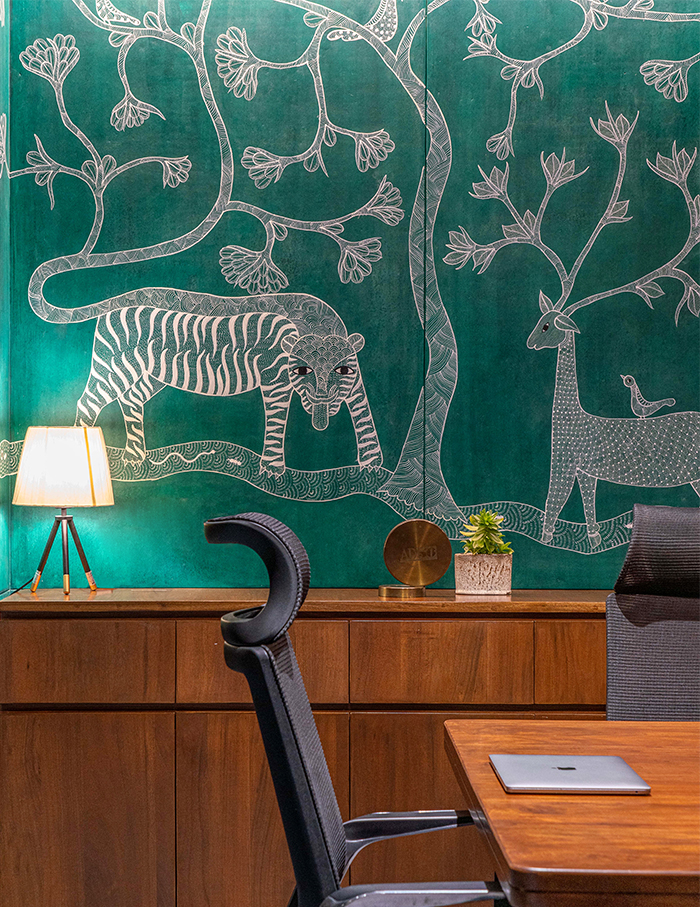 Hot Trend Repousse
Used extensively throughout the history of metalworking, hammers and punches underline intricate details by raising parts of its surface
GARDEN OF LIFE BY VIKRAM GOYAL
Portraying myriad asymmetric flora and fauna on brass, this wall sconce and sculpture is a part of Chinoiserie—a series that employs the technique of repoussage extensively by Viya Home. Witness a thrilling composition of Indian, Tibetan, Chinese, Japanese and European influences as multiple layers of chased brass sheets flock together with varying silhouettes, combining sculpture with functionality.
Website: www.viyahome.com
To read the full story on craft and design trends 2022 subscribe to the latest ELLE DECOR India's February – March 2022 issue…
Hot Trend Brass Etching
Pioneers of modernising crafts, Good Earth narrates stories of fine craftsmanship, resilience and beauty with etched brass
ISFAHAN VASE & ISKANDER VASE WITH THAAL BY GOOD EARTH
Heritage of the past seeds the future with Isfahan Vase and Iskander Vase With a thaal by Good Earth, crafted in brass with handmade necks and etched bodies. Tinned inside and antique plated, the vases are designed to hold mid-sized stems and bouquets.
Website: www.goodearth.in
Hot Trend Hand Knotting
Pinnacle of luxury, beauty and practicality, this oldest form of weaving method adds a touch of sacredness as each knot is meticulously tied by hand
INDE ROSE BY VINITA CHAITANYA
Coordinated carpets mark a scintillating debut in Chaitanya's latest outing in collaboration with Jaipur Rugs. Inde Rose is a collection of five detail oriented, exquisite hand knotted carpets inspired by a plethora of traditional Indian art styles of miniature paintings. Each carpet has a graphics heavy piece coupled with
a visually lighter one that offsets its palette and patterns. Textures and traditional motifs called booti in the visually lighter pieces along with the detailed gultarashi technique add life to the rugs.
Website: www.vinitachaitanya.com; www.jaipurrugs.com
Hot Trend Madhubani
This craft originating from Bihar will leave you spellbound with its thought provoking motifs that are famous for bringing peace and prosperity
WALL ART BY AMRITA GUHA AND JOYA NANDURDIKAR
In this 18 ft wide Madhubani painting, Matsya—sanskrit for fish and the first form of Lord Vishnu's ten avatars is decorated on a handmade fabric using naturally extracted colours takes centrestage as the room's focal point. Furthering the narratives of craft is a bespoke Indian rosewood headboard, supported by a wooden frame and hung on the wall to complement the antique ikat chest.
Website: www.untitleddesign.org
Hot Trend Tazia
Inspired by history, this icon of art and tradition continues to radiate its brilliance in the design arena all thanks to its versatility and ability to adapt
ZEPPELIN LIGHTS BY AYUSH KASLIWAL
Handcrafted in bamboo, these lights breathe life into the ancient Tazia craft traditionally used to create miniature mausoleums for Muharram processions. The outer skin is banana leaf paper, pieced in a geometric pattern as a counterpoint to the teardrop bamboo inner structure. Rendering spaces with magical patterns, the multipurpose and ethereal Zeppelin Tazia lights can rest on a table, illuminate the floor or, be ceiling hung in clusters, to form sculptural marvels.
Website: www.anantayadecor.in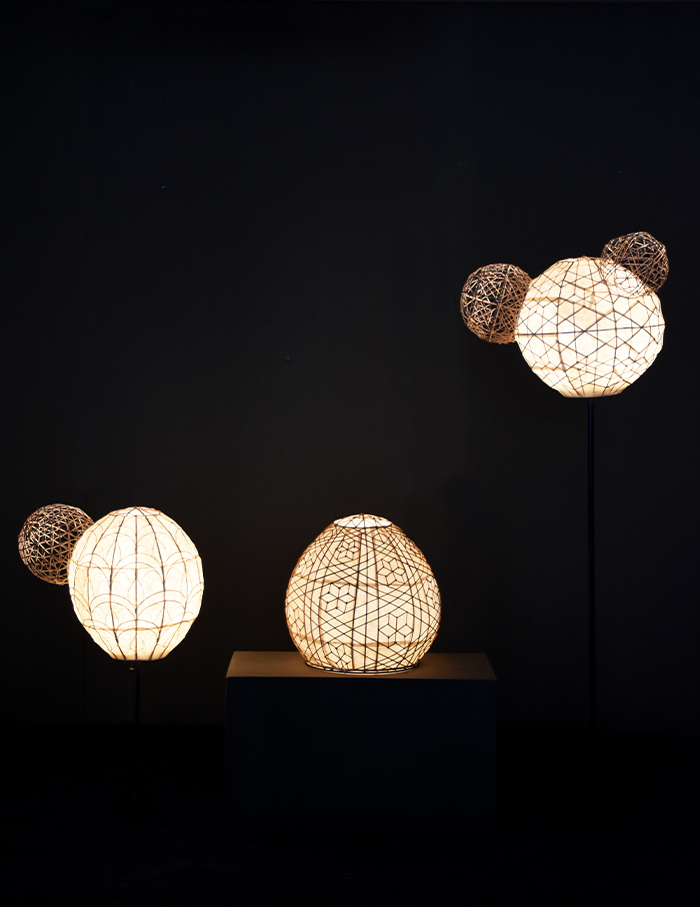 Handcrafted in bamboo, these lights recall the ancient Tazia craft used to create miniature mausoleums for Muharram processions; Photograph by AnantayaHot Trend Dhokra
From the heart of Chhattisgarh comes an art so eternal, cast in the absoluteness of metal that aptly reflects the dexterity of the artists and talents our country has
THE DHOKRA MAQUETTE'S' BY ASHIESH SHAH
With attributes like primitive simplicity, enchanting folk motifs and forceful form, Dhokra from the Bastar in Chhattisgarh celebrates individuality and mettle of Indian tribal crafts. In his maiden attempt with the craft, Shah has fashioned these baskets from bronze and copper based alloys using a 'lost wax casting' method. Sitting pretty on the atelier table 'Something Walking', these baskets take months to be manufactured.
Website: www.ashieshshah.com
Hot Trend Bidriware
Blending creativity with craftsmanship, this art form weaves a contemporary narrative dominated by aesthetics and artisanal techniques
KATHA RIPPLE COLLECTION BY SAIF FAISAL
Giving a modern twist to this 700 year old craft is this collection that imitates the transitory moment of ripples on water. Used both as a vase and as a sculpture, the combination of silver and copper inlay on black oxidised Bidriware alloy creates a striking effect offering disparate visuals when viewed from different perspectives.
Website: www.saif-faisal.com
Hot Trend Chanderi
Combining the skills of the past with the technology of today, this dynamic approach infuses the world's finest crafts with the dexterity of modern design
FLAGSHIP STORE OF VAISHALI S ART AND INTERIORS
Raw textural elements dominate the installations on this mud clad wall reminiscing country homes at former EDIDA winner Vaishali Shadangule's store in Mumbai. In the simple rhythm of a handloom, threads intersect to illustrate a rare finesse. These installations are a memoir, a souvenir of the journey of that thread that took the craft to new heights.
Website: www.vaishali-s.com
Buzz Focus
Made using indigenous materials and techniques and with an eye for the finest details, each piece recreates an amazing story of crafts being passed through generations
Stay updated on hot design trends in 2022 by clicking here ELLE DECOR India's February – March 2022 issue…