Homes
Escape the city's bustle with this serene cove by Aashna Desai and Suketu Shah of Dreamscape Architects
FEB 9, 2021
| By Vedika Nair
In a world of skyscrapers, sometimes all we want is a home that lets us live and breathe around verdure. For this Ahmedabad home christened Tavish, Aashna Desai and Suketu Shah of Dreamscape Architects decided to connect it with nature by planning open yet intimate spaces.
The 10,000 sq ft residence is a blend of open plans and sophisticated design, making it a haven for its inhabitants. It is dressed in teak, wallpaper motifs and grey-tinted flooring. But the outdoors are done up in brick terracotta and exposed RCC.
A canvas of reds, blues and greens highlights the aesthetics of the home and complements the furniture.
"We first designed the outdoor spaces that were green and open. The built form was designed later to complement it. We designed two gardens as well as a jungle whose dense plantation attracts birds. Smaller gardens are located near the living room, while the larger one is planned along the swimming pool to give it an infinity pool-like feel as well as to ensure privacy for the family," shares Desai.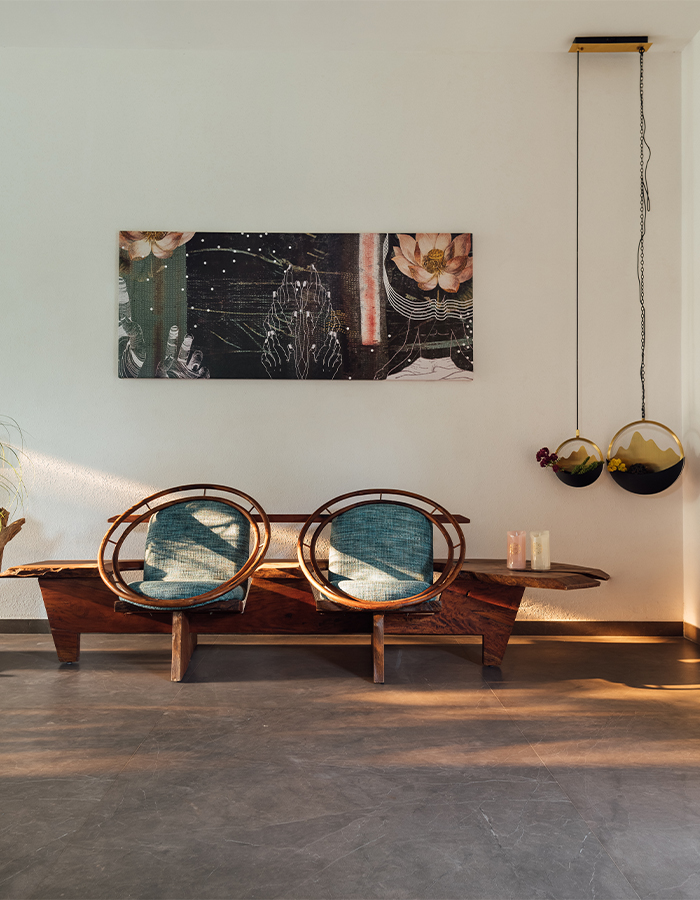 Upon entering the home, we're greeted by a view of the serene jungle that lies adjacent to the grandparent's room. The corridor wall is adorned with a magnificent Pichwai from Udaipur. Nearby, on the ground floor, the family room, overlooking the front lawn, can be segregated to create formal and informal settings.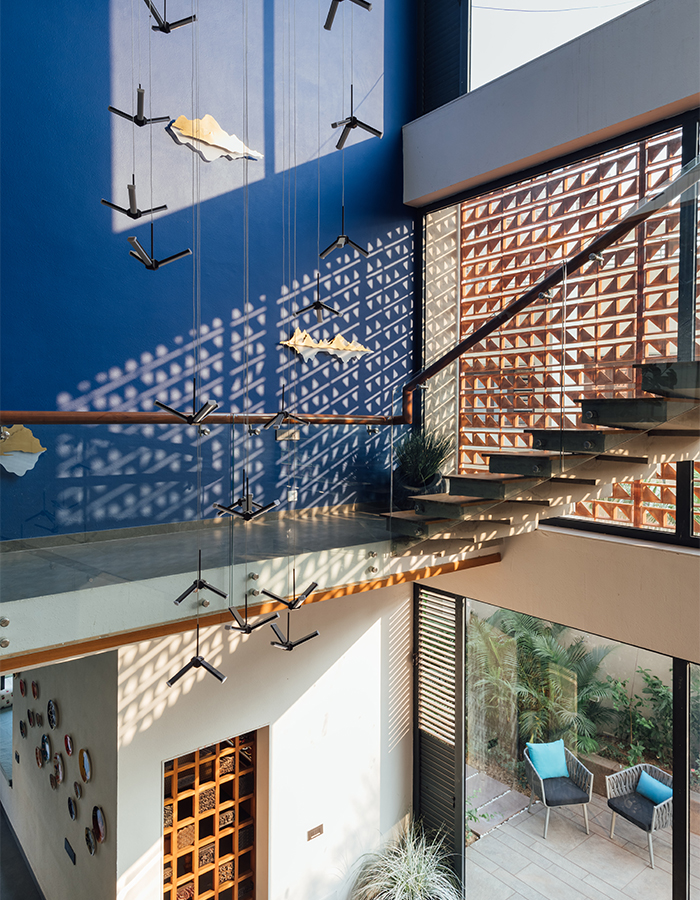 Further inside, we step into the courtyard, which is built exclusively to accommodate the family's beloved African Gray Parrot named Maccu. A triple-height foyer rises above the courtyard. Looking up reveals a blue-tinted wall decorated with abstract cloud-shaped lights and a chandelier depicting the flight of birds, which integrate a sky-like theme.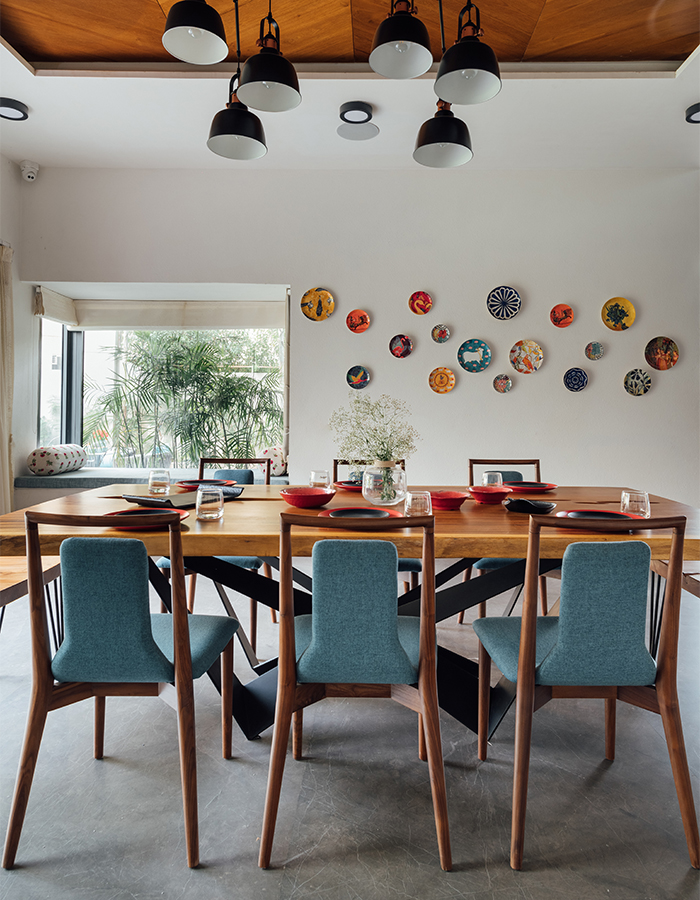 The kitchen is placed in front of the courtyard, while the dining space opens to the backyard. A prayer room inspired by the rich textile heritage of Ahmedabad is present here with a wall cloaked in a wallpaper by Sabyasachi.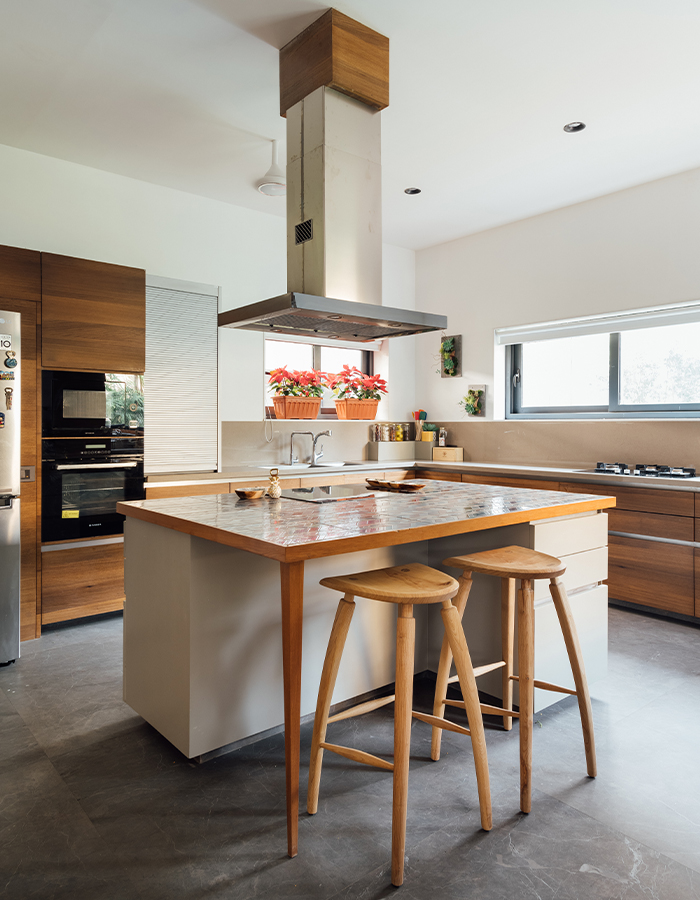 Overlooking the front garden is one of the master suites, which houses daybeds and green walls. Another is placed on the floor above. It features a backdrop created from the cast of window and balcony railings from old Pol houses in the city, juxtaposed with a faux exposed concrete wall.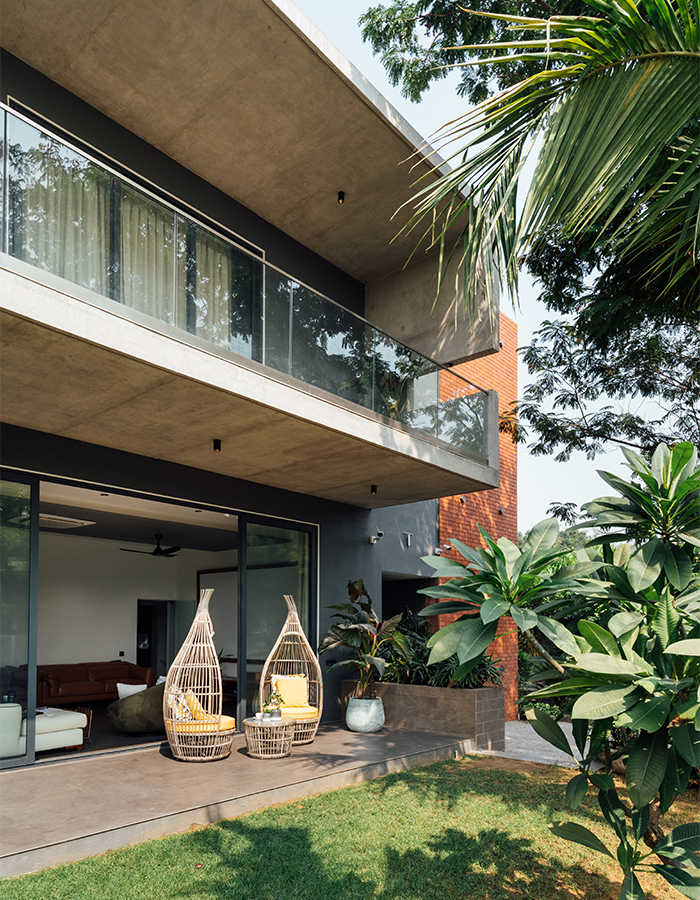 "The distinct element that sets the guest room—an otherwise basic living space—is the red Sabyasachi wallpaper for Asian Paints' Nilaya," adds Desai. A study area and entertainment lounge are also seen here.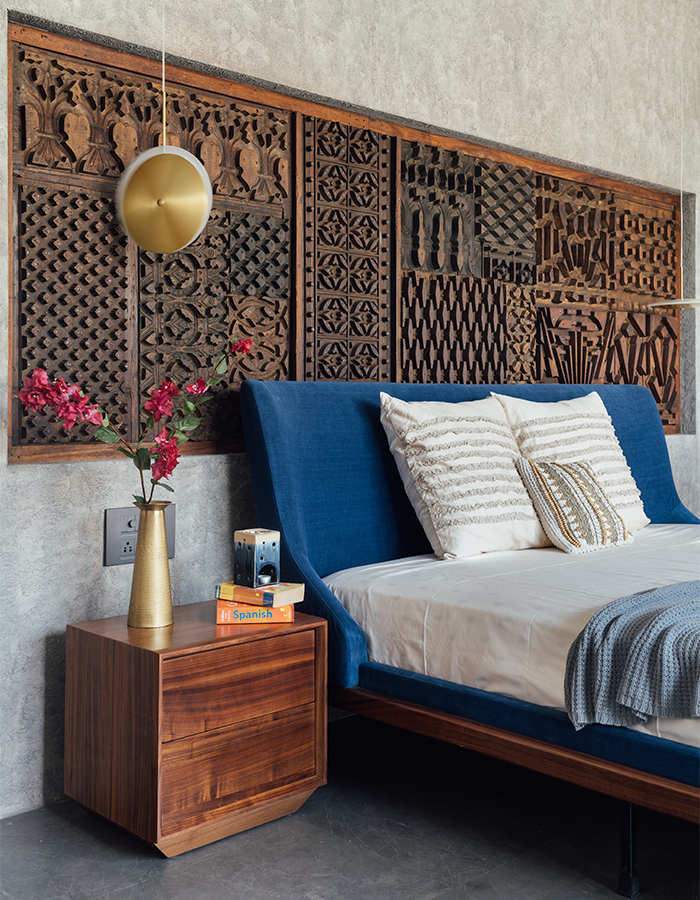 Located on the second floor, the third master bedroom is designed with a cooler aesthetic and is provided with a balcony. The spacious house also accommodates a gym, gaming zone and a terrace garden, which is yet another open space for the family to use when hosting soirees.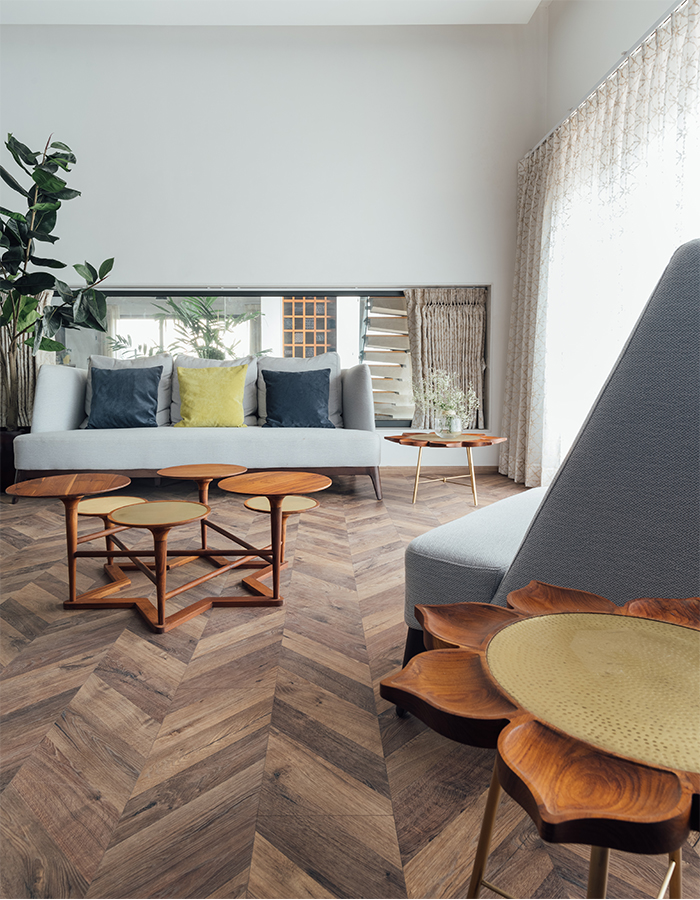 "Considering the homeowners are quintessentially Gujarati, we've integrated various art forms from this western part of the country while designing this house," say Desai and Shah, adding, "This isn't new for us though. Ever since we began our architectural practice, we've derived inspiration from the five key elements of nature as well as our rich heritage."
Scroll to see more images from Tavish by Aashna Desai and Suketu Shah of Dreamscape Architects…