Homes
Ekta Khanna's "less is more" philosophy gets realised with this duplex in the lush neighbourhood of New Delhi
MAR 16, 2023
| By Suhaani Rai
There is a cultural shift with minimal homes making way into the mood boards of designers and being enthusiastically accepted by homeowners. Ekta Khanna, the founder of Ekta Khanna Design Studio found this project a cakewalk when she was entrusted with a bare shell to make it into an uncluttered modern home.
The 4200 sq. ft property is located in the upscale neighbourhood of West Punjabi Bagh, New Delhi. Segregated into two levels, the lower floor has a living and dining room, a master bedroom, a kitchen and a powder room. On the upper floor, there are rooms for the son and daughter, a media room, a guest bedroom and a small study tucked in the corner.
The curious brief
Ekta's design philosophy, "Less is more" is perfectly aligned with the mandate given to her— a sophisticated home without too many design elements. 
"I strongly believe that unnecessary and forced designs in homes take away the essence of a space and simply add clutter and decrease volume. In this home, elegant, panelled walls form the main feature, around which all other elements seamlessly blend. The house has one theme throughout— contemporary, modern home," elaborates Khanna.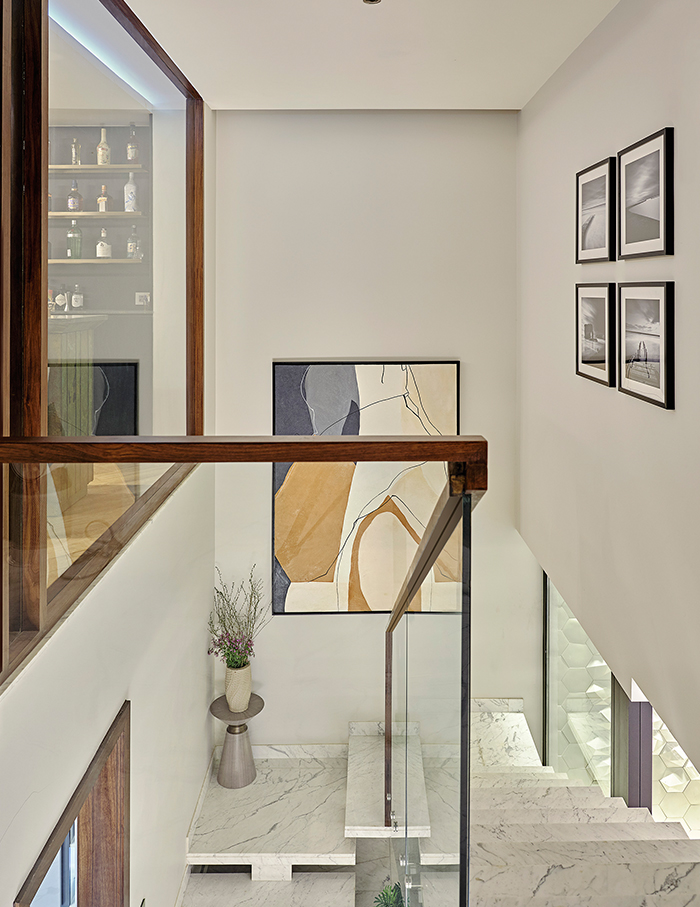 Tour every turn of this home
Upon entrance, one arrives directly at the central lobby which has a staircase and a dining room opening into a small atrium. Next is the living room—a dark espresso backdrop to a hand crafted leather art work and deeper accent furniture pieces. 
Light grey walls, cream beds and white panelled furniture are used in the master bedroom to make it look brighter and more spacious. The lower level also has a small powder room which is made of three materials instead of just one— a white marble floor, stainless steel mosaic wall and textured grey paint to hold the entire room together.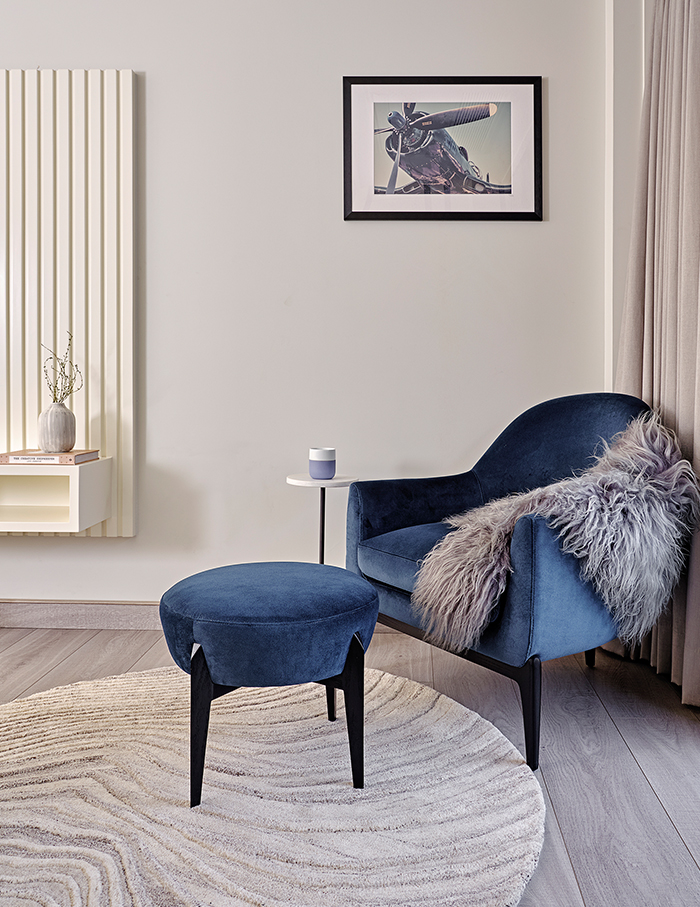 On the upper floor, the staircase opens into a media room, decked in red and purple design elements to give it an intimate and den-like appeal. A black panelled wall forms the main feature of the son's bedroom. The light grey wall and the greyish blue leather bed adds softness to the otherwise strong colour palette of the room.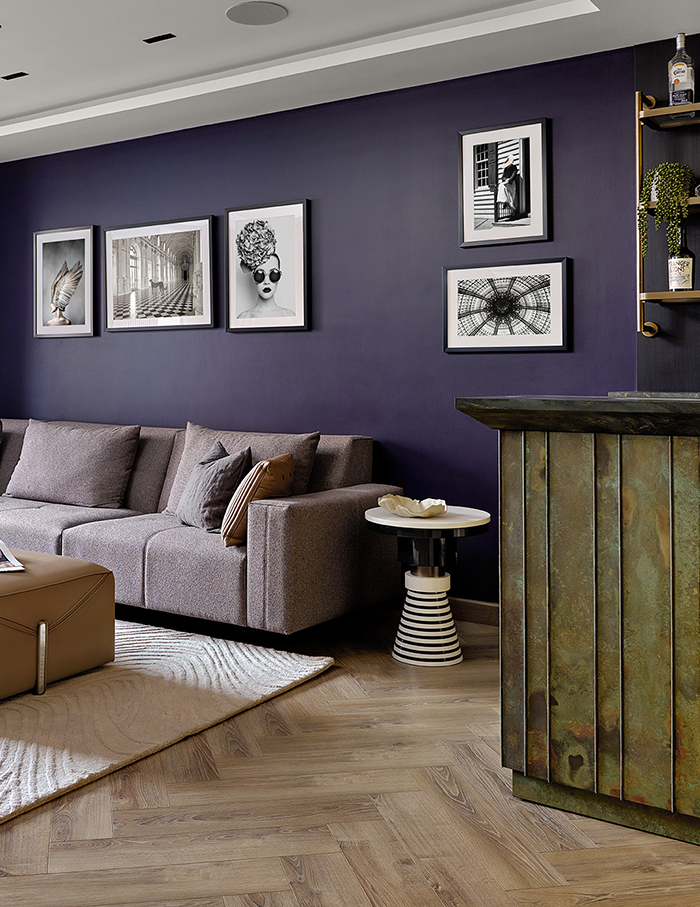 The daughter's room is decked in neutral tones with hues of blush pink and a tropical backdrop all of which comes together in an elegant manner. The room has wooden veneer throughout to enliven the room.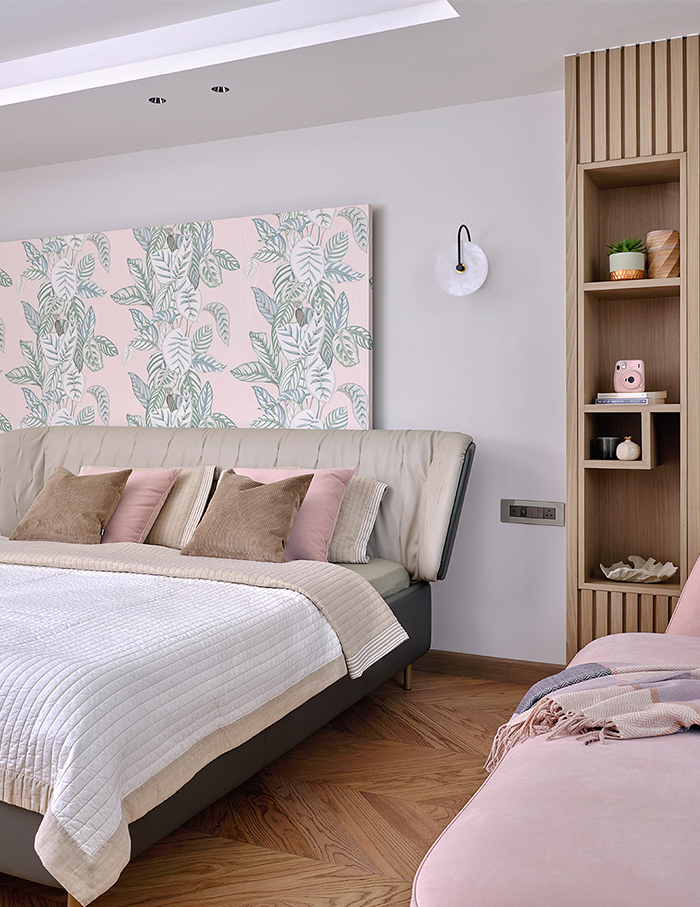 Ideas to bookmark
The low ceiling height of the entire house made it difficult to plan the lighting and false ceiling. Hence, it is planned using light coloured walls, floors and ceilings to make the rooms visually spacious. 
One thing that has been kept in mind throughout is the amount of natural light each room receives. The master bedroom and daughter's room are at the back of the house, so they are given soothing wallpapers and creme colour palettes. Whereas, the living and media room receive a tremendous amount of light, so deeper accents of furniture are added to tone down the respective rooms. 
All rooms follow a monochromatic theme with designs that echo their individual personalities. "I found designing the bedrooms the most fun as these were spaces for individuals and thoughtful planning and discussions went into it to finalise these designs" concludes Ekta. 
You may also like: Witness a flourishing confluence of different periods, styles and elements as Sage Living creates a sensorial experience within the walls of this Hyderabad home