Homes
#EDLoves this stunning Vadodara home by Usine Studio, which is a canvas of pristine white, pastel pops and delicate materials
FEB 4, 2021
| By Vedika Nair
While we all love a vibrant space infused with colours and textures, there's something unequivocally captivating about a minimal abode with pastel hues and delicate elements. As we tour this 5,600 sq ft home, designed by Yatin Kavia and Jiten Tosar, principal designers of Usine Studio, in Vadodara, we can't help but appreciate the beauty in its simplicity.
Drenched in white, this home for four is brought to life with a play of materials, artefacts and artworks. Pristine walls are paired with Michelangelo Italian flooring. Together, these surfaces encompass and complement the lacquered furniture and handpicked art that lies within. 
"To achieve our imagination of spotless design, we've kept the flooring and the walls in white. These act as a canvas to paint our colourful thoughts. Contemporary design with clean lines and subtle shades sets this home apart," shares Kavia.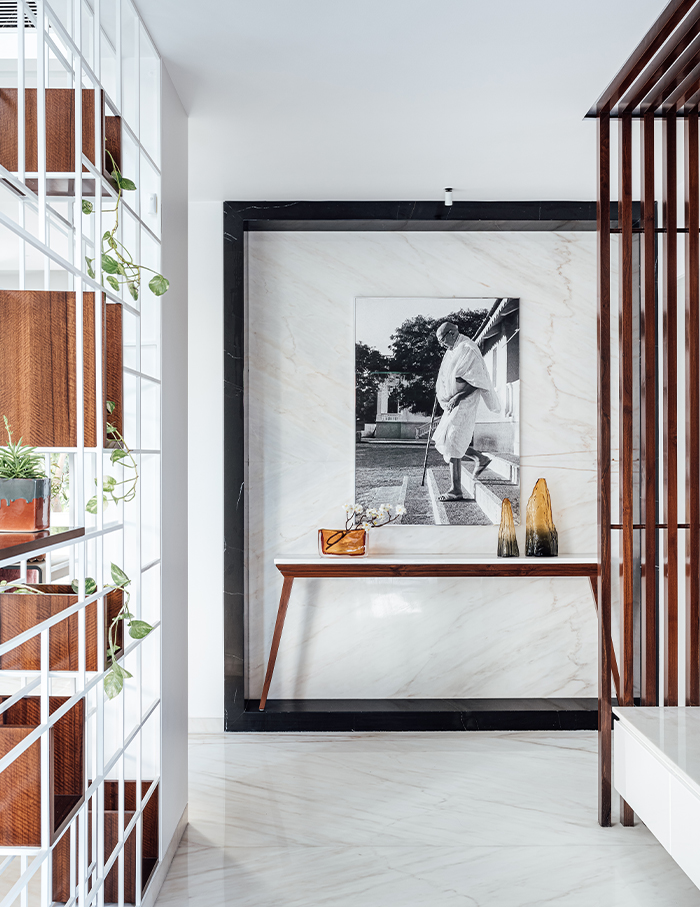 We're led to the foyer, which is flanked by a concealed shoe rack on one side and a partition to the living room on the other. A black-and-white portrait of Mahatma Gandhi commands attention here. On the left of the portrait lies the large living room, which is bifurcated into two seating zones. Ample sunlight streams in here and illuminates vibrant sofas, chairs and abstract paintings in this double-heighted space.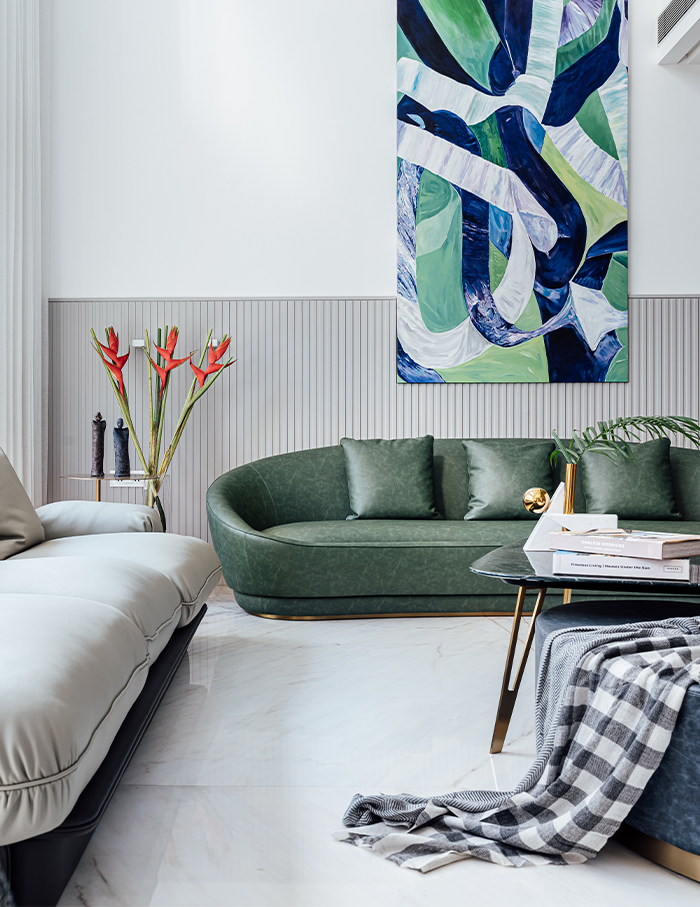 The living and dining zones are segregated by a stairway, opposite which is a minimally designed prayer room. Also on this level is the kitchen, which follows the theme of the home. It is done up in white with one popping royal blue cabinet, redefining the idea of a modern kitchen.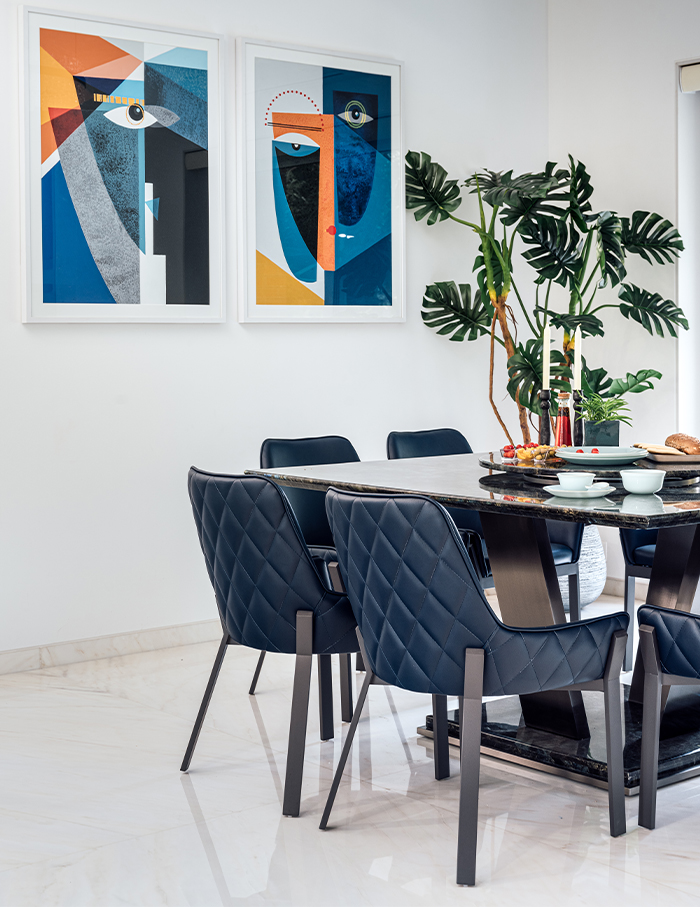 The passageway is large enough to double up as a seating area on occasion. And the one detail that becomes apparent is that a seamless flow is created between each section of the house by employing uniform marble flooring across the interiors.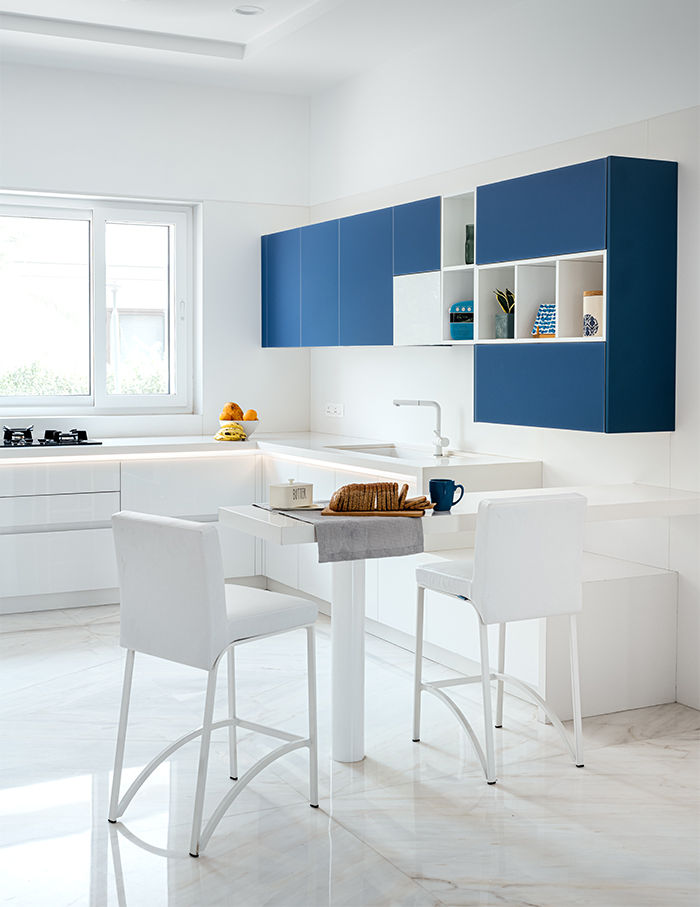 Located on the floor above, the master bedroom is outlined by Italian marble walls and subtle furniture. Detailing of brass and muted cabinets along with hand-painted floral elements add character to the space.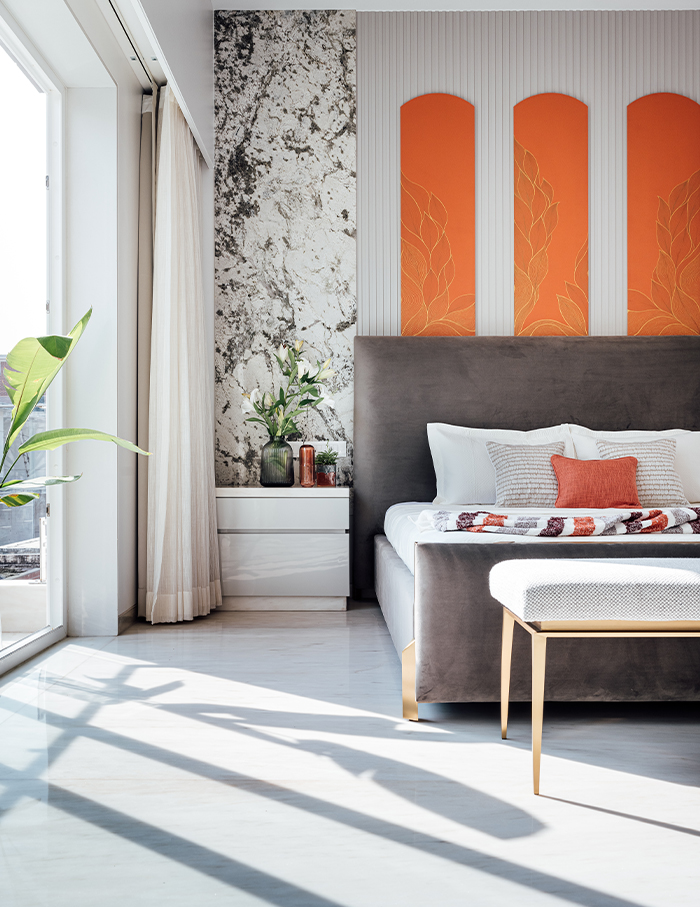 The elder daughter's room is minimal with wooden flooring, a dusky pink bed, brass leg side tables, an emerald chair and elegant lamps.
In contrast, the younger daughter's room is a curious mix of rustic and contemporary. Black mosaic tiles highlight the light wood furniture and pastel theme of the space. Here, an exposed white brick wall acts a backdrop the study, which is situated near the cosy balcony that uses custom tiles from Bharat Floorings.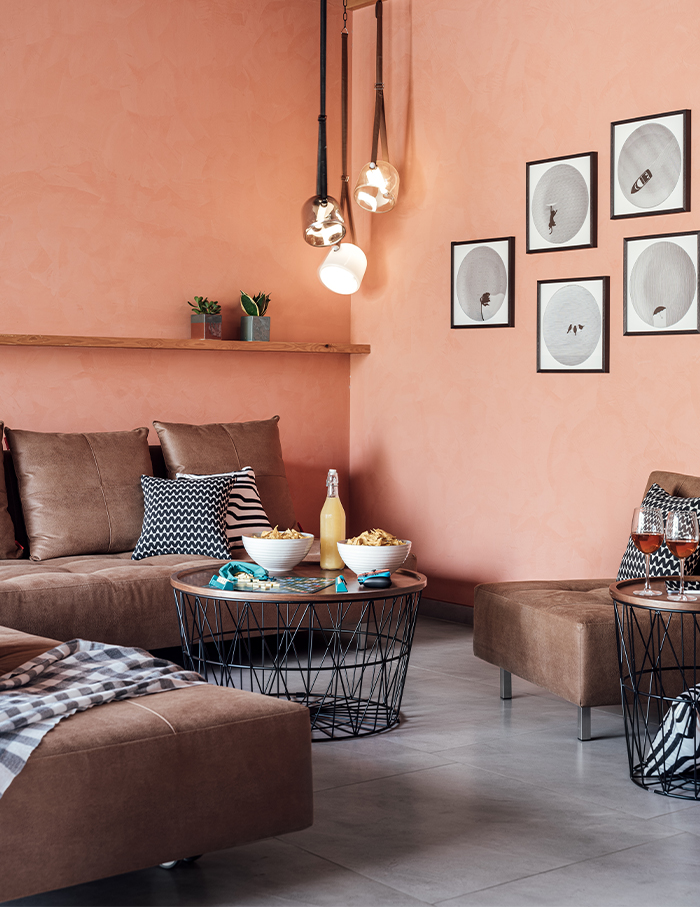 For some downtime, the family gets together in the multipurpose den on the second floor or the Zen terrace, which is the "heart of the house". The open terrace features an open-to-sky seating arrangement as well as a covered gazebo, which is the perfect outdoor spot year-round. "We loved designing the terrace garden, since we had a large, open area to play with, in accordance with the green surrounding," shares Tosar.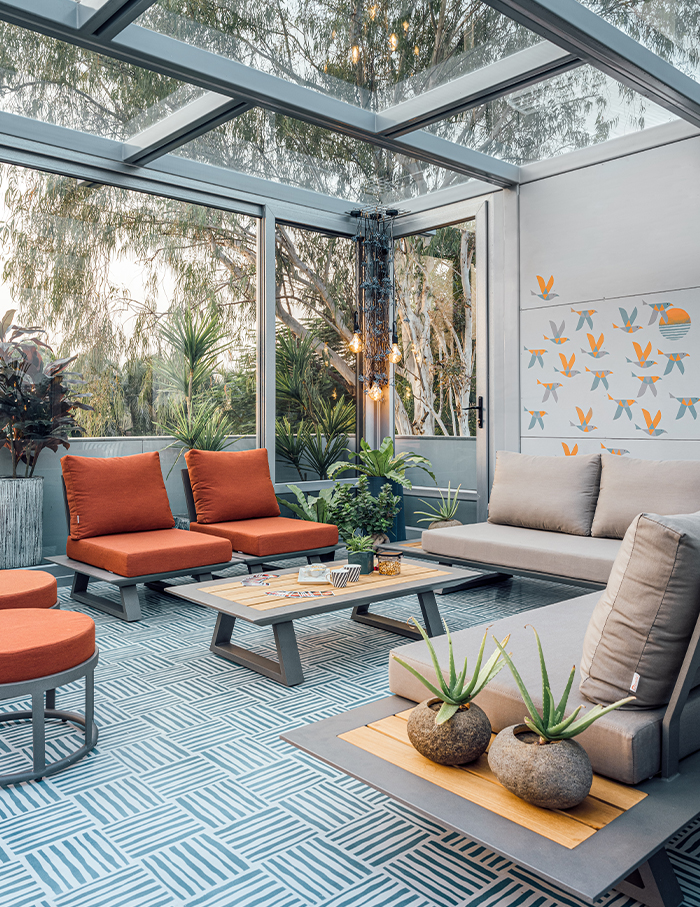 "As designers," say Tosar and Kavia of their practice' philosophy, "We opt for quality and timeless designs. We believe that every space should be a poetic response to its context while also being a living reflection of the those who inhabit it."