Homes
#EDLoves these luxury dining spaces by Farah Ahmed Mathias and Dhaval Shellugar of FADD Studio
MAY 8, 2021
| By Vedika Nair
Some of our fondest memories involve food—sitting across a table, eating, drinking, talking, laughing! Dining areas are, perhaps, the most underrated spaces in a home, even though they are excellent spots to bond over with family and friends. Imagine the aroma of lip-smacking cuisine, a close-knit circle of loved ones and the opportunity to dine in style!
EDIDA India Interior Designers of the Year 2019 Bengaluru-based Farah Ahmed Mathias and Dhaval Shellugar of FADD Studio believe that to create something new in every project means not just surprising clients but also themselves by experimenting with materials and colours."
Their collaborative design sensibilities have resulted in some of the most captivating spaces, including dining rooms! Here are our top favourite dining spaces by FADD Studio…
10. R House
Past a moulded architrave, a country-style powder blue kitchen (see scroll above) reveals itself. The dining ensemble is set against greige walls and vintage ogee-shaped flooring tiles with soft floral print. The old traditional Chettinad rosewood table has been transformed into a French-style piece with soft pastel roses.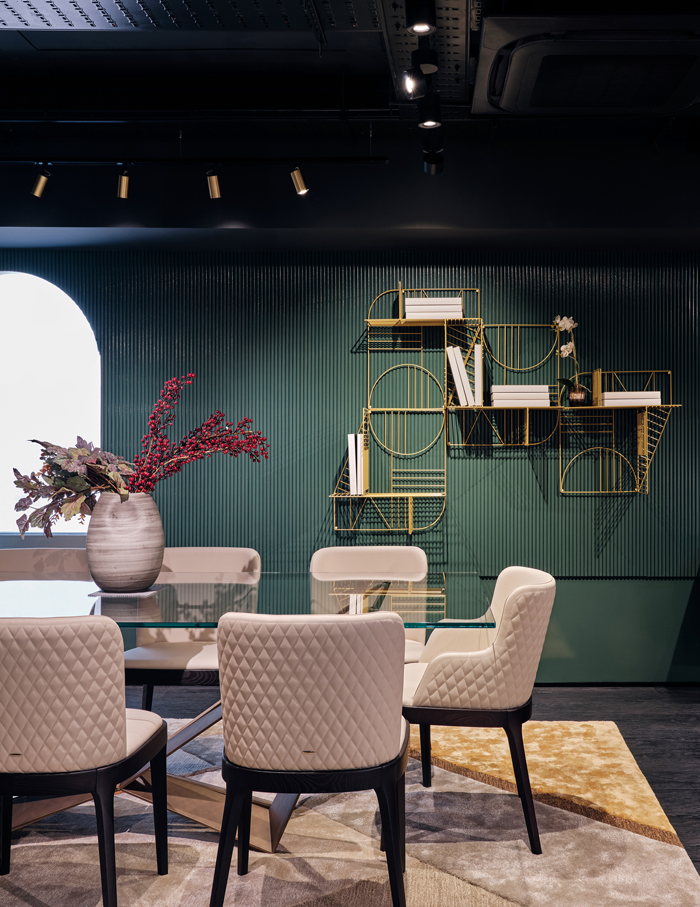 In this space, an emerald fluted shell houses a dining table cluster from Cattelan Italia. Diamond-textured chairs add a sense of fullness to the glass-topped table that comes with a titanium finished base. The whole setup sits on a Jaipur Rug, while a Mogg brass bookshelf completes the frame.
8. Bengaluru apartment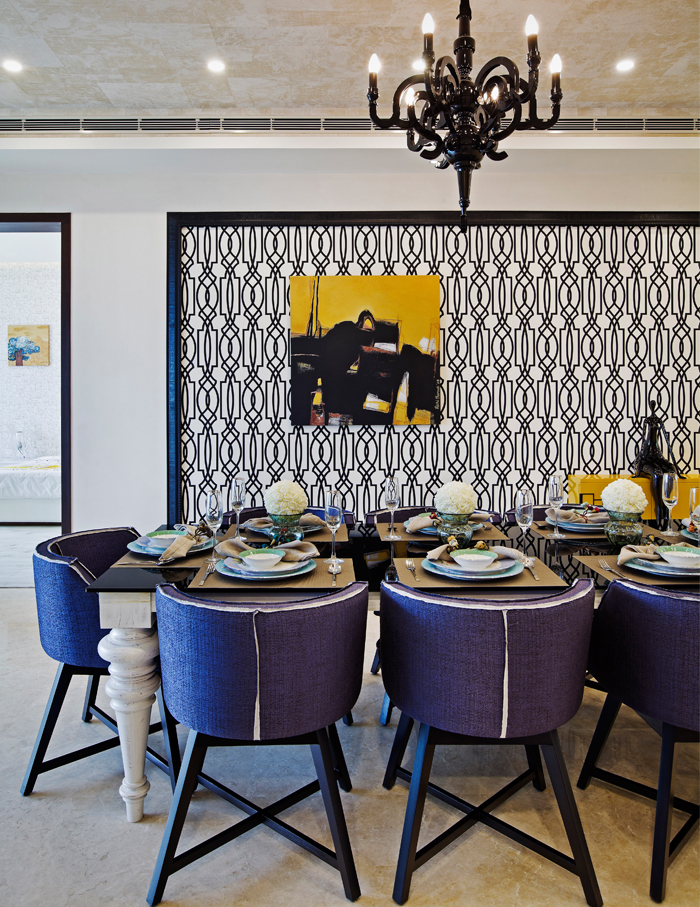 Drama and vibrance are evident in this heavy dining table with moulded legs that's placed near a black-and-white geometric wallpaper. Indigo boho-chic chairs, a pair of transitional black lights, an ebony sculpture on the console and a yellow painting complete the look.
7. Sky Garden residence
Cement-finished walls in charcoal create a delicate, chic and intimate experience in this dining space. Sage green veneer pieces are decorative and functional, opening doors to a hidden bar, a prayer room and a kitchen. Seen here are an oval dining table, a chequered console with tablecloth print and a modern painting by Julian Opie.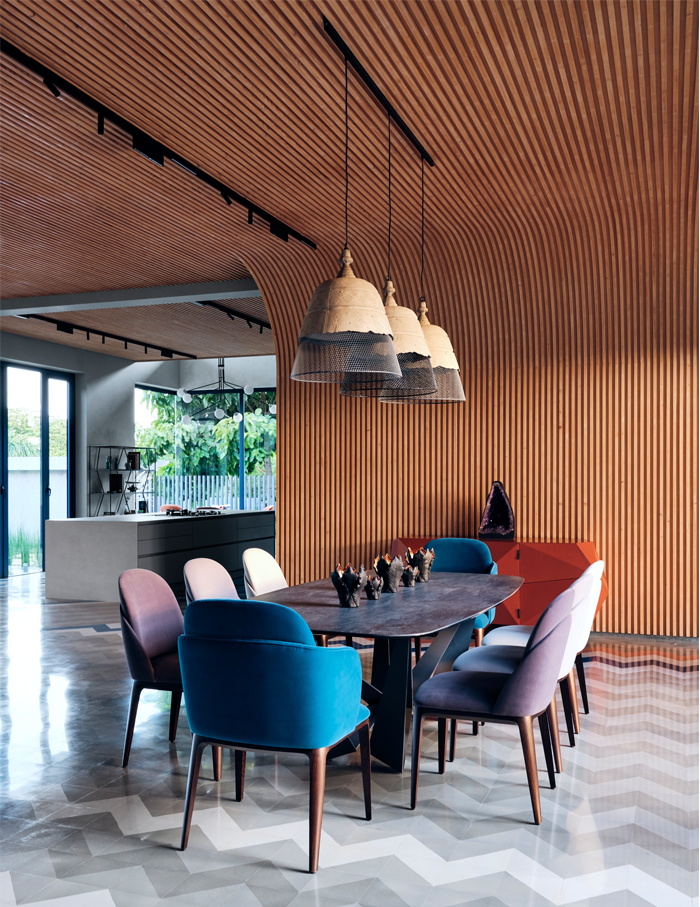 A meticulously detailed geometry of vibrant blue, soft peach and muted grey Bharat Flooring tiles imparts chic and rhythmic energy to the space. Thin slatted pinewood continues on the ceiling and starts to curve at the dining room, where a cement-finished tabletop is paired with blue and grey chairs (colours that are borrowed from the nearby Eggesman kitchen).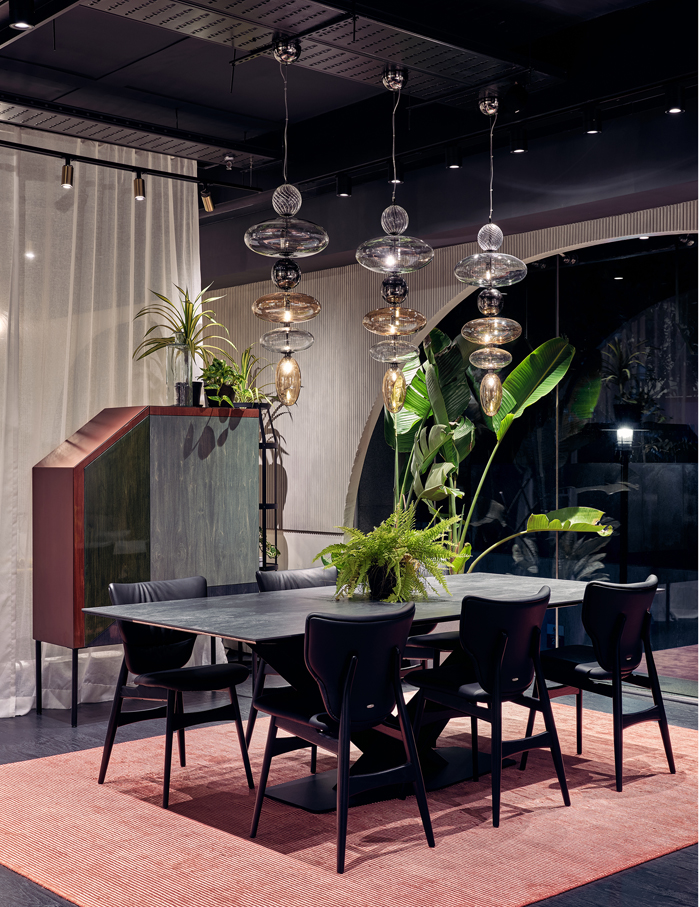 A black dining set with Cattelan Italia's unique Dumbo chairs sits atop a rose-pink Jaipur Rugs piece. The space is completed with the help of Baban lights with blown glass shapes and the MOGG unit.
4. Azalea (see scroll above)
Green walls, white stone floor and crimson red doors inspired by London's phone booths create an interesting canvas for the dining room (see scroll above). Here, Kartell chairs in mixed prints are paired with a simple black table and illuminated by textured black fabric lights.
3. Bengaluru home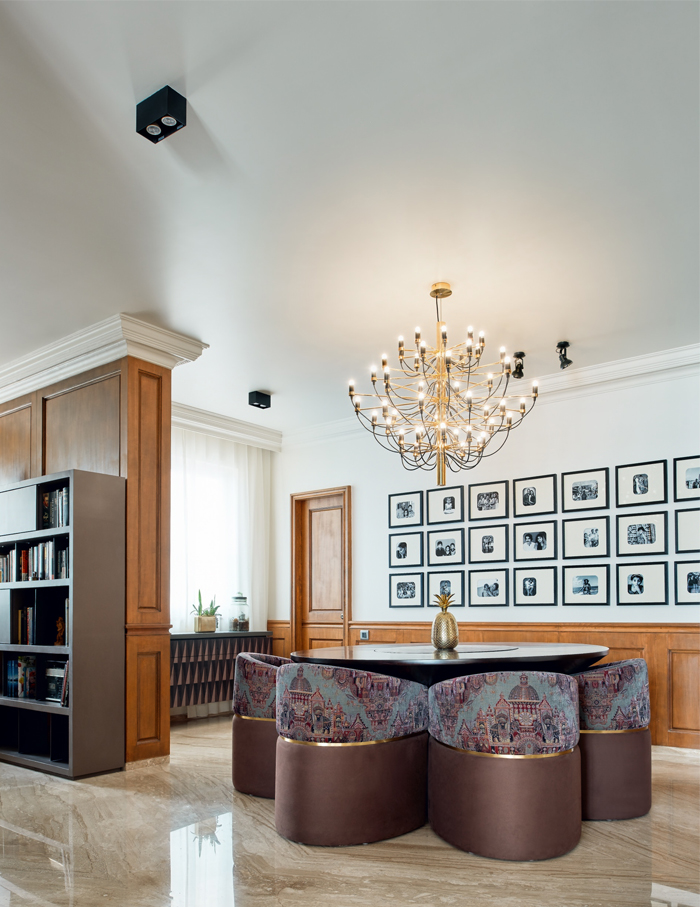 An old-world charm with contemporary highlights and Indian art is seen in the dining room. A carved round table, upholstered chairs from The Pure Concept, a collage of vintage family photographs and an opulent chandelier together make this a dreamy space to dine. 
2. Alenteho, Isprava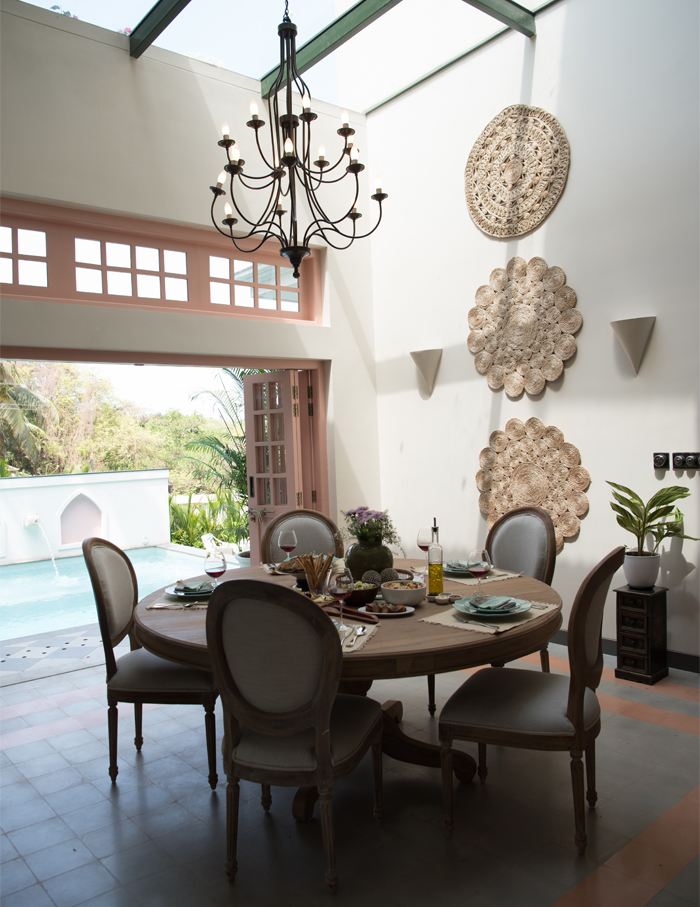 This Goa dining room tells a coastal story. Airy and breezy, peach-pink doors and colonial green ceiling and rafters are the signature elements. A simple round table in light wood with vintage Louie XVI chairs are paired with jute rugs to enhance earthiness and lightness.
1. Ash Abode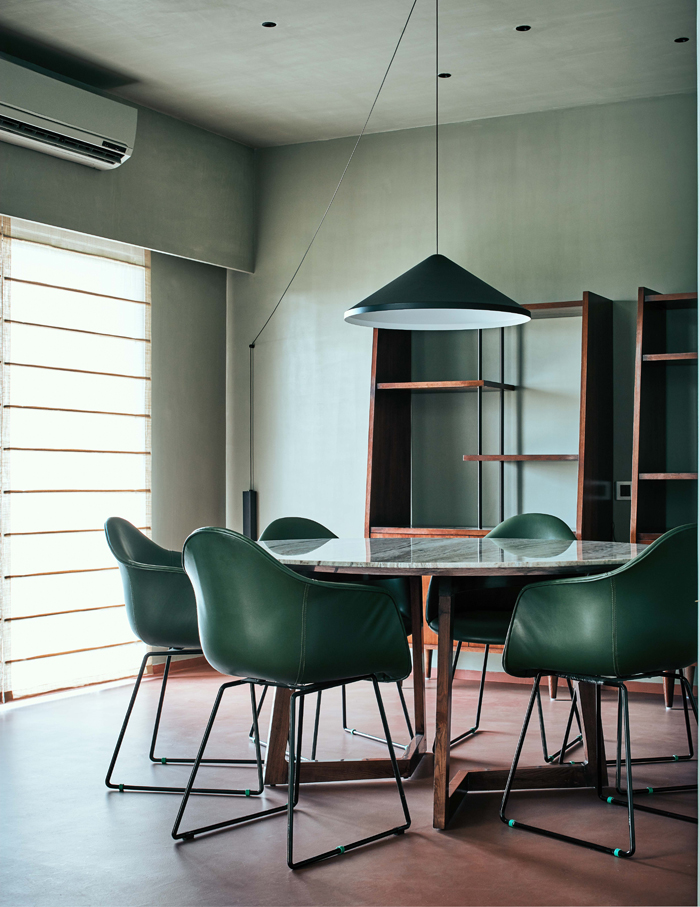 The unusual palette of cement-finished grey, sienna and sage set the stage for a refined shell that has a Zen-like calmness and stillness to it. Inspired by Corbusier and Villa La Roche, the villa boasts a round marble table supported by a wooden base, which is paired with chairs in leafy green leather—a nod to midcentury aesthetics.